Thailand is a thriving country. It has a booming economy and an ever-growing tourist industry. When traveling to this amazing place, you will need to know what to photograph in Thailand – I can help!
I have traveled to Thailand and witnessed what this awe-inspiring destination has to offer. This country is like no other – it is extremely diverse – a photographer's playground…
One day you could be taking photos of the chaotic streets of Bangkok.
The next day, you could be sailing through Mangrove forests in Phang Nga Bay.
After that, you could find yourself bathing with elephants in Chiang Mai.
From bustling cities to idyllic beach landscapes, there is something to suit every photographer. The following are some of the main cities and destination of note in Thailand:
Bangkok (capital)
Phuket (Island situated on the west coast)
Khao Lak (coastal region further north from Phuket
Chaing Mai (a northern city surrounded by epic landscapes)
Krabi (southern coastal location near Phuket)
Pattaya (party central, located to the south-east of Bangkok)
Phi Phi Islands (Idyllic island chain with gorgeous beaches)
If you visit any of the above locations you are guaranteed an amazing experience. In Bangkok for example, you can visit the immense reclining Buddha. Alternatively, you can look for a bargain at Chatuchak Market. In contrast, in Khao Lak, you can laze on one of the stunning beaches. You can also visit the inspiring Khao Sok National Park.
Whether you like bright lights, beaches, or beautiful scenery, Thailand has it covered. Before we look at what to photograph in Thailand, I will impart some basic photography tips – enjoy!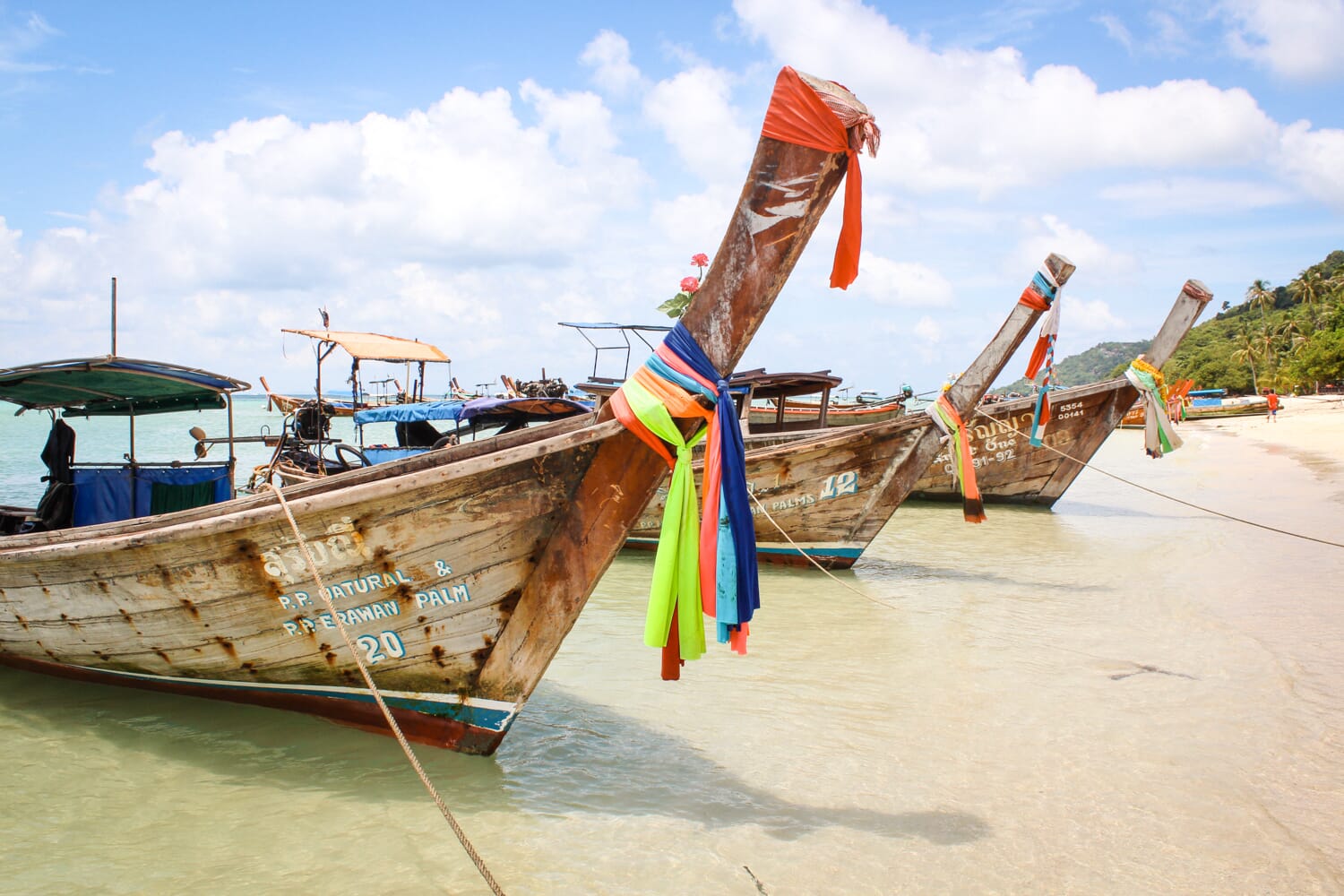 Thailand Photography Tips
I found Thailand such a photogenic place. It was easy to find what to photograph in Thailand – practically everything looked great on the camera! In terms of tips, I don't have many – if you understand your camera and have an eye for detail, you will find photographic opportunities. That being said, here are some basic Thailand photography tips:
1. Take a Gorillapod
When in Thailand you can find yourself on the go all the time. It is impractical to carry a huge tripod. Imagine trying to carry a tripod through the streets of central Bangkok? Or in the jungle?
I have a small Gorillapod and it's so useful! I used it in many places when I traveled to Thailand. This type of small tripod is portable – it can give you great stability in an instance. You can literally store it in your rucksack or camera bag and take it out when needed. It will serve you well for night shots of Bangkok, and long exposures of waterfalls, etc.
Related Post: Best Travel Tripods Compared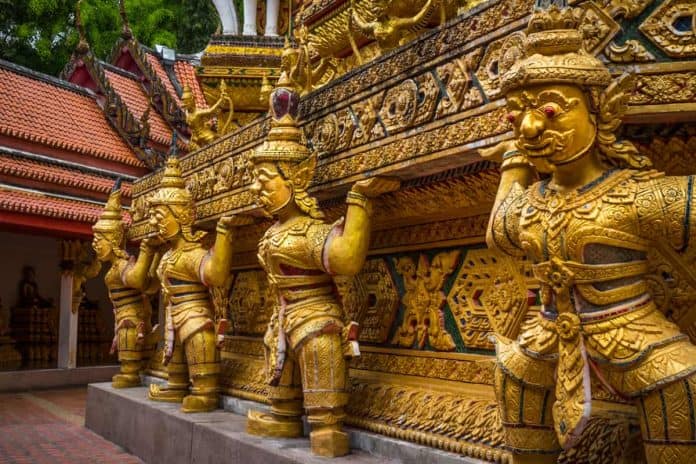 2. Be Respectful When Taking Photos of Temples
I hate seeing tourists being disrespectful towards other cultures and religions. Whenever you photograph a temple or shrine – ensure you have checked if you can do so!
If photographs are prohibited then don't take them! Don't be that person who breaks the rules and looks like a jack-ass. There are hundreds of temples and religious statues throughout Thailand – each one will have its own rules and guidelines. Show respect and follow those rules!
3. Invest in a Waterproof Camera/Go Pro
You will more than likely partake in a little swimming or snorkeling in Thailand. I took a boat tour to the Phi Phi Islands and got to snorkel here. Taking your DSLR camera in the water is a huge no-no!
Imagine if you dropped your expensive camera and destroyed it! But why should you miss out on some awesome underwater shots? To that end, I would suggest investing in a small waterproof camera or a Go Pro. I used a Go Pro hero for underwater footage and shots in Thailand – it worked wonders!
4. Use a Smartphone for Busy City Areas
Sometimes it is not practical to use your DSLR camera in Thailand. When walking through the busy streets of Bangkok – a DLSR camera can be a hindrance for example.
As a backup, I always take my smartphone with me and use it to take shots when a DSLR is too cumbersome. Moreover, a smartphone can be a great way to give yourself content for your social media pages such as Instagram and Twitter.
Things to Photograph in Thailand
Now we get to the good part – the best things to photograph in Thailand! I have by no means uncovered everything this country has to offer. I do feel that I have a sound understanding of the photographic opportunities it presents.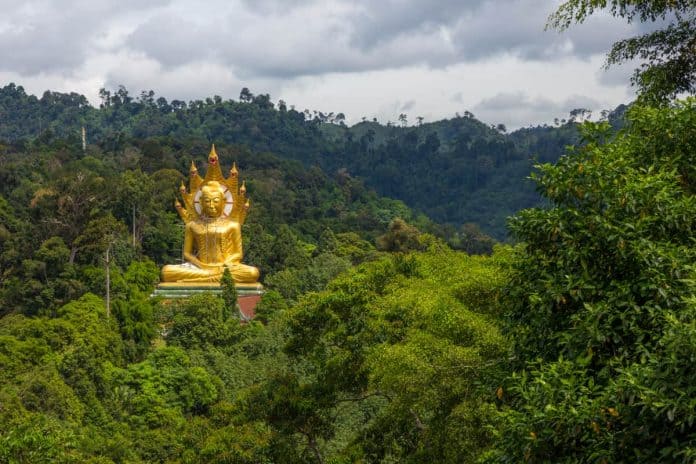 1. Temples
One of the things I loved most about Thailand was the amazing temples. I am not an overly religious person, but I can appreciate the fantastic architecture and history of these buildings. The temples I saw in Thailand were simply out of this world. In the UK we have ornate churches – these buildings do not hold a candle to the gorgeous shrines on Thailand's Buddhist temples.
Thailand's temples give you so many photographic opportunities – you can take close-ups of the features for example. Alternatively, you can take wide-angle shots of the impressive grounds and towers. The following are some of the most well-known temples in Thailand:
Wat Phra Kaew, Bangkok
Wat Phra That Doi Suthep, Chiang Mai
Sanctuary of Truth, Pattaya
Wat Arun, Bangkok
Wat Rong Khun, Chiang Rai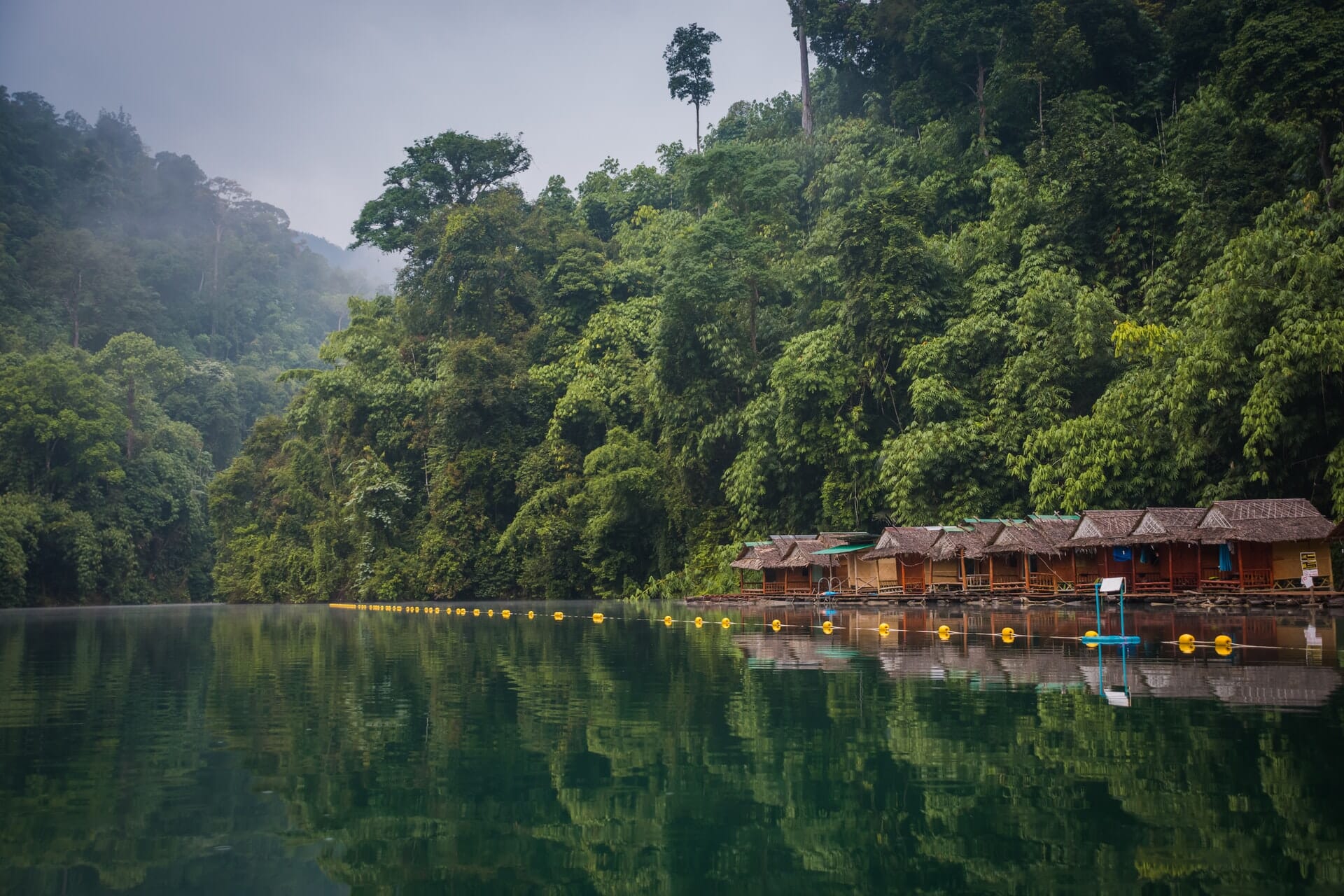 2. Jungle Landscapes
The northern and central regions of Thailand are covered in thick, dense jungle. These landscapes are captivating and offer much adventure and exploration. If you are a thrill seeker and enjoy hiking then these are the areas you will want to explore.
Furthermore, these areas are simply wonderful for photography. Imagine walking through the jungle and snapping photos of wild undergrowth, multi-colored insects and tropical birds.
Khao Sok National Park is a prime example of Thailand's jungle landscape. This sprawling expanse is a nature lover's paradise. It is possible to take jungle hikes here. Moreover, you can even enjoy a rafting experience on the Jungle Rivers. If you want to surround yourself in this environment, there are many jungle lodges you can stay overnight.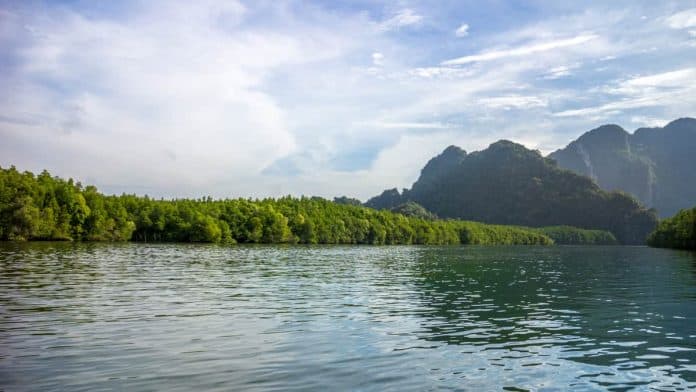 3. Mangrove Forests
The southern coastal areas of Thailand have some gorgeous marine landscapes. The Phang-Nga region, in particular, is bursting with impressive waterways.
Located to the north of both Phuket and Krabi, Phang-Nga is known for its mangrove forests and the beautiful Ao Phang-Nga National Park. Within this coastal park, you can find towering rock formations and sprawling waterways that pan out into Phang-Nga bay.
A boat trip through the mangrove forests is a special experience. I was lucky enough to take a trip on a traditional longtail boat (with a motor of course) through huge sections of waterways.
The mangrove roots dig deep down into the riverbeds and create a bizarre spectacle – the trees look as if they are sprouting out of the water. If you are lucky you can see various birds and marine wildlife too.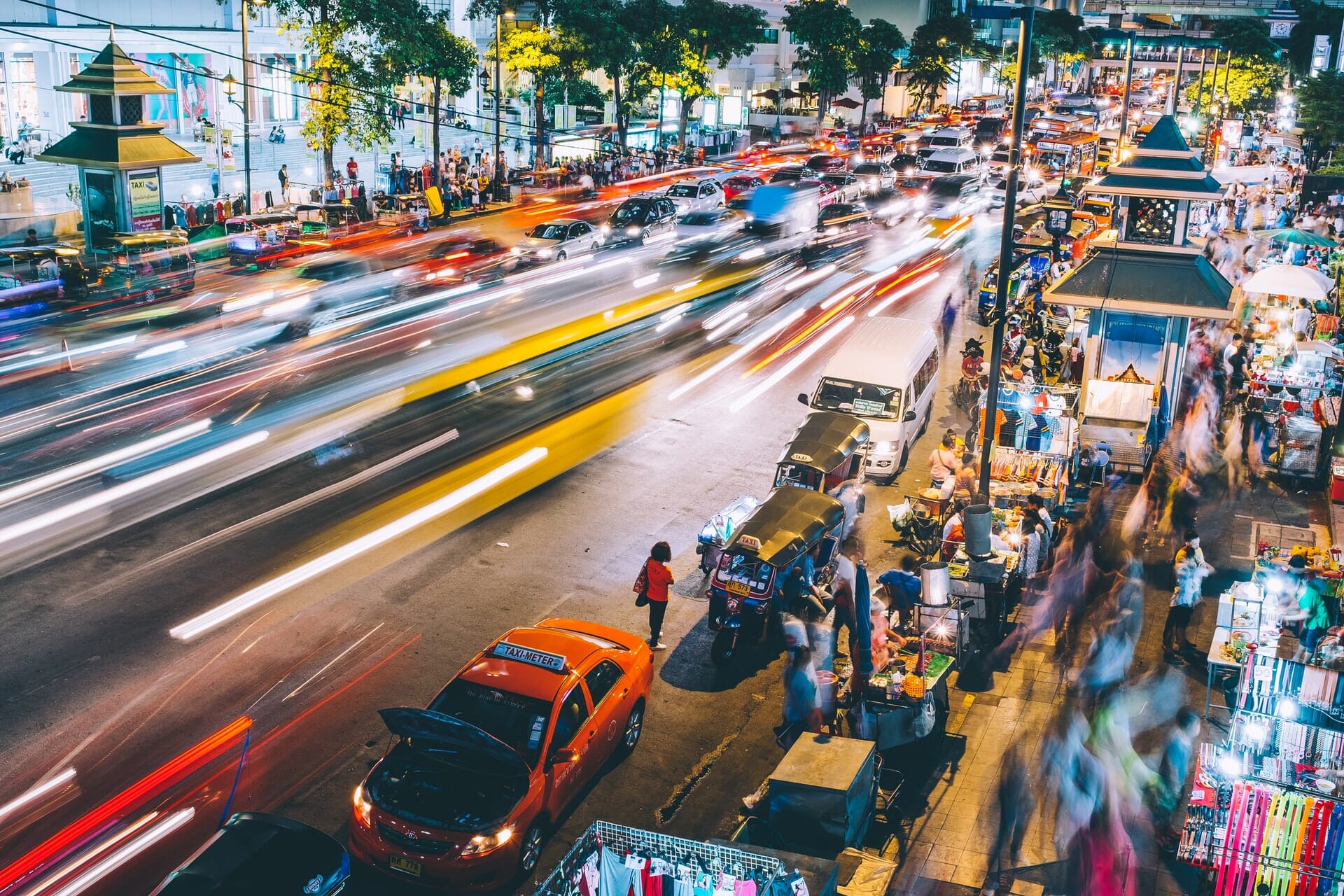 4. Bustling City Life
Thailand has some amazing cities. Bangkok is obviously the largest and the countries capital. Visiting these cities gives you the chance to witness everyday Thai life. You can watch people go about their daily activities.
Furthermore, you can see what makes the city tick. Aside from people watching, Thailand's cities also give you amazing photographic opportunities. This is definitely high up on your list of what to photograph in Thailand. I have already mentioned the main cities in the opening section. When visiting these places, head off the beaten track and see what treasures you can find!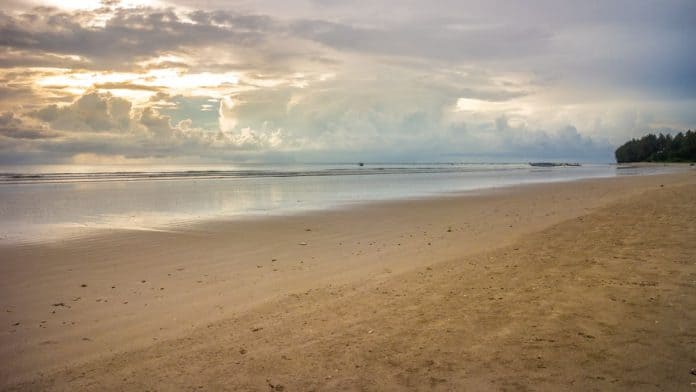 5. Picture Perfect Golden Beaches
When people think of Thailand, they usually think of immaculate golden beaches. This country indeed has some unbelievable stretches of white sand.
What could be more satisfying than a photo of an undisturbed stretch of golden sand that is being gently lapped by turquoise waters? I stayed in Khao Lak and the beaches here were gorgeous. Moreover, the sunsets were simply breathtaking.
Related Post: Best Photoshoot Locations in Oahu (Hawaii)
Beach photography can be creative. You can take straight shots of the sand, sea, and horizon.
Alternatively, you can take sweeping shots down the length of the beach.
Furthermore, you can take close-up shots of objects scattered on the beach such as driftwood and shells. The following are some popular beaches in Thailand:
Phra Nang Beach, Krabi
Karon Beach, Phuket
Khao Lak Beach, Khao Lak
Phi Phi Don Beach, Phi Phi Islands
Bophut Beach, Koh Samui
Bottle Beach, Koh Phangan
Bang Bao, Koh Chang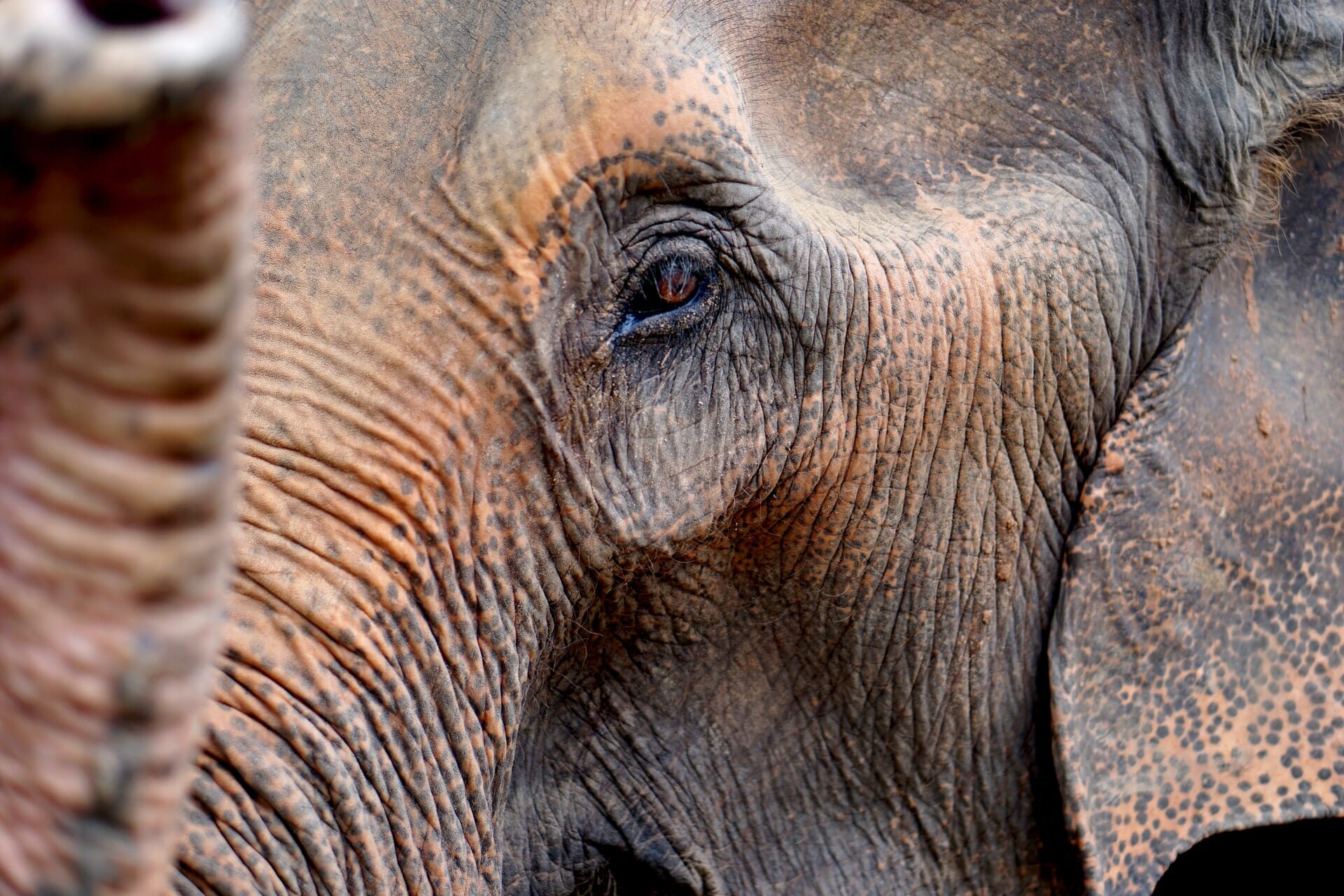 6. Elephants
The elephant is Thailand's national animal. This animal is part of their culture and heritage and is highly revered. At various locations throughout the country, you can get up close and personal to these amazing animals.
I would give a strong word of warning, however – elephants are not always treated with the same level of care. The sanctuaries in Phuket, for example, are not as high quality as the more remote locations.
If you want to photograph elephants in Thailand, ensure you research the location/tour group beforehand. I booked a tour with Eco Khao Lak and their elephants were looked after and well-treated. It was such a fantastic experience bathing with these giants! The following are some reputable elephant sanctuaries within Thailand:
Elephant Nature Park (60km from Chiang Mai)
Boon Lott's Elephant Sanctuary (5 hours north of Bangkok)
Wildlife Friends Foundation Thailand (2 hours from Bangkok)
The Happy Elephant Home (Chiang Mai)
Elephants Hills (Khao Sok National Park)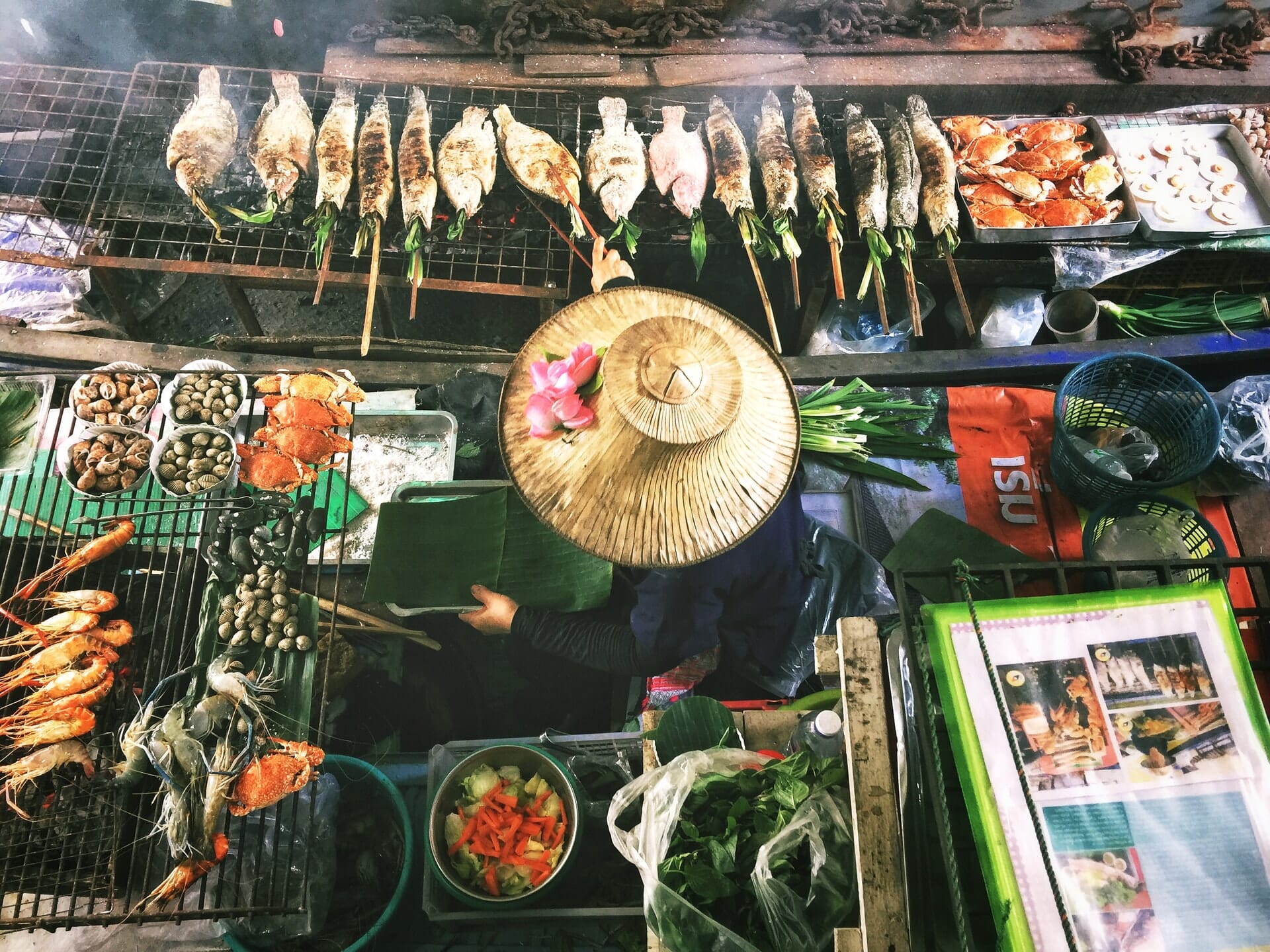 7. Street Food
If you love street food then Thailand will truly delight you! Practically everywhere you go you can find street vendors selling freshly cooked food. Always be sure to check the quality of the vendor – there is no denying that some of the food can disagree with your stomach. In most cases however the street food is properly cooked and sanitary.
During my time in Khao Lak, I visited the Bang Niang Night Market. It was simply fantastic! We tried a selection of food including spring rolls and some fried chips sprinkled with spices. I even brought some fried insects wrapped up in a bamboo leaf – the silkworms were a little crispy!
Street food gives you so many photographic opportunities. Be sure to use a large aperture and take a mid-range zoom lens to help get a decent focal length.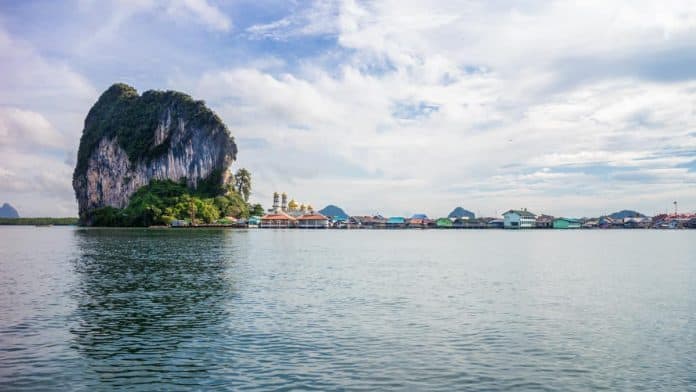 8. Limestone Formations
Throughout Thailand, you can find some amazing limestone formations. The ancient geography of the land has left some weird and wonderful rock escarpments. In Phang Nga Bay, for example, you can sail past these immense limestone towers. This region has over 40 different islands complete with limestone formations. Two notable limestone formations include Ko Khao Phing Kan and Ko Panyi.
Ko Khao Ping Kan is more popularly known as James Bond Island (it was featured in the James Bond Film, The Man with the Golden Gun).
This is an iconic limestone formation that is extremely photogenic. Ko Panyi, on the other hand, is an impressive limestone island that has a village built on stilts. You can visit this village and take photos of the various stilted buildings.
There Are Even More Incredible Photography Spots in Thailand
These eight subjects are just the tip of the iceberg (or the mangrove forest!).
Thailand has so much more to offer. I hope to return to this fascinating country soon. I have only just begun to uncover the amazing landscapes and captivating people.
As you can see, you can create some absolutely unique and fascinating photographs. You are only limited by your imagination. You should now have a clear idea of what to photograph in Thailand. If you have visited this country yourself, leave a comment and share your snaps!