Yosemite is one of the USA's most iconic and spectacular national parks. Recognized for its impressive valley packed with geological features, Yosemite has an enormous range of photography spots including towering waterfalls, lush green forests, rocky cliff faces, and majestic mountains.
I visited Yosemite a while ago – back in 2009 – and I remember being awed by the massive scale of its attractions. Its tallest waterfall reaches a height of 2,425 ft (739 meters) and rock formations such as Half Dome stretch an impressive 5,000 ft (1,500 meters) above the valley floor. Because of this, Yosemite is truly a must-visit destination for those interested in landscape photography.
If you're planning to venture into this fantastic wilderness area, here are some suggestions on where to find the best photography spots in Yosemite National Park.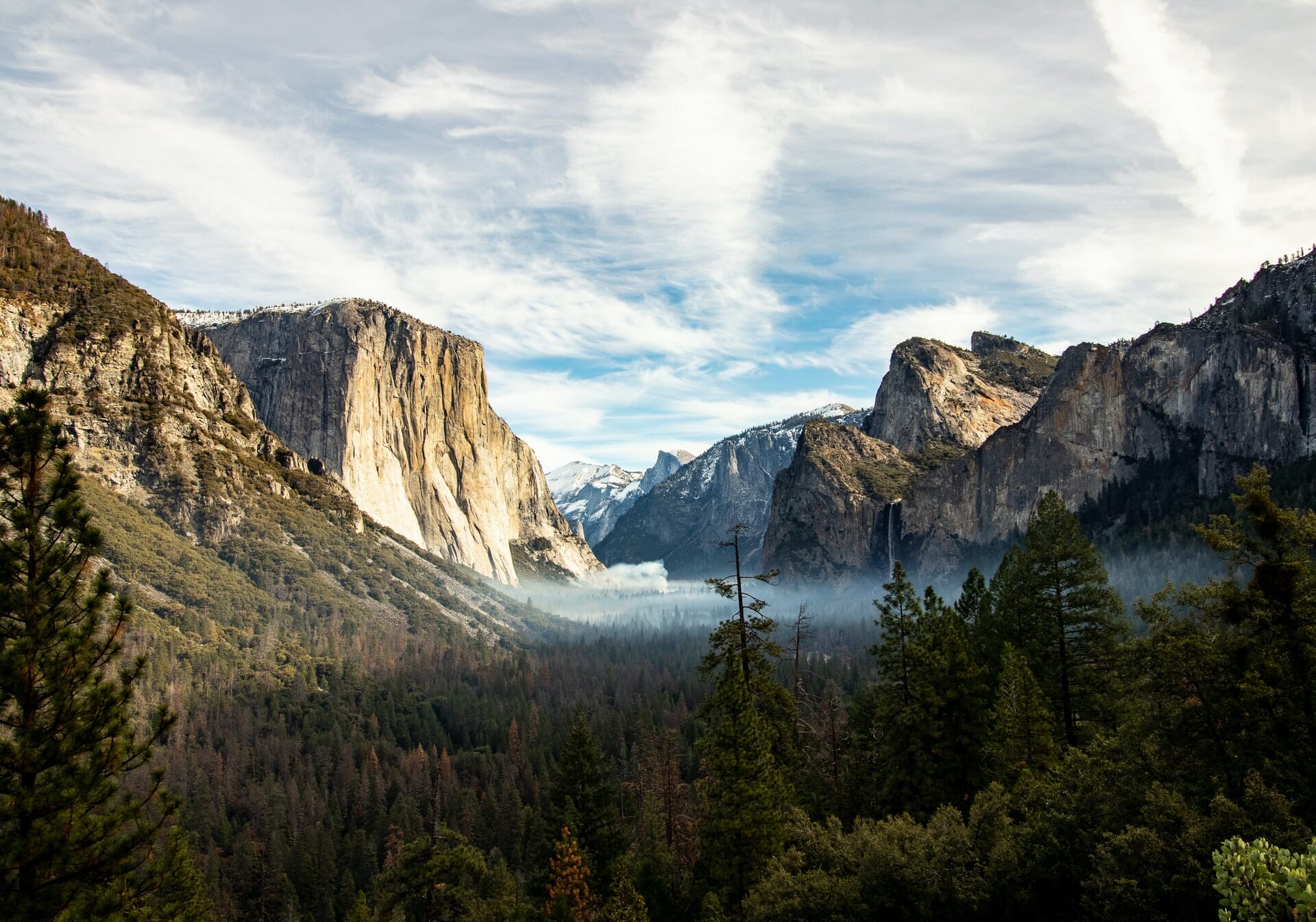 Best Yosemite Photo Spots:
Keep in Mind When Visiting Yosemite:
The park is most easily accessible by car, so you will need a vehicle to visit many of these Yosemite photography spots. A national parks pass for your vehicle can be purchased at the park entrance as you drive in.
As with Yellowstone and the Grand Canyon, this national park is busiest in summer during the school break, when families are taking road trips around the country. Spring is a great time to visit Yosemite as the park is less crowded than in the summer and the snowmelt provides water for the falls.
Some of the roads within the park are only open during certain months, depending on the seasonal conditions. Glacier Point Road is one of them, which opens from May to November each year. Head to the NPS website for information on road closures and alerts.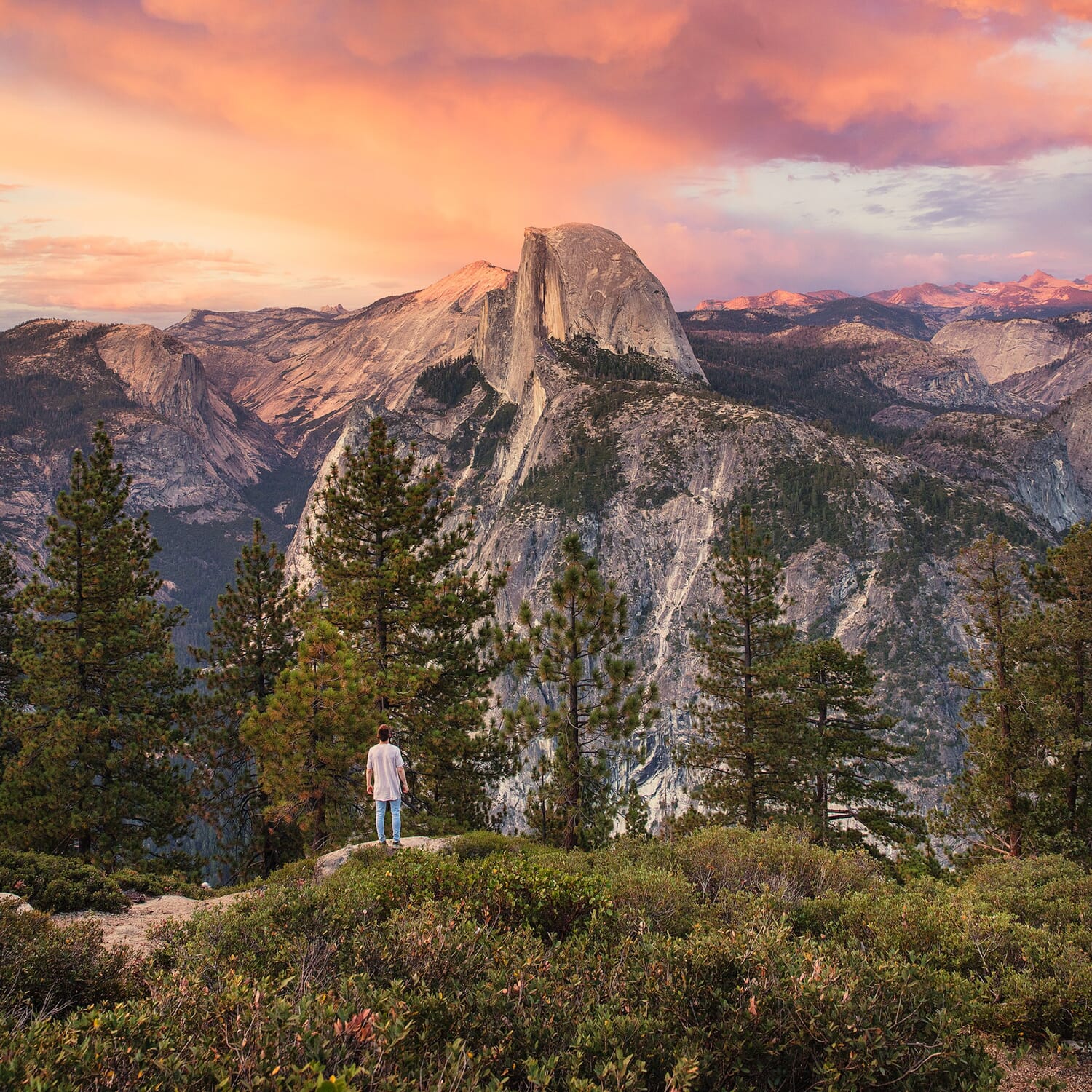 Yosemite Photography Tips:
Be careful. Some of the walking trails and overlooks do not have protective barriers to stop you from falling off the edge, which can look better in photos but can also be more dangerous!
Keep your distance from wildlife. The NPS recommends staying at least 25 yards (23 meters) from all wild animals within national parks. If you want to zoom in for close-up shots of the wildlife, use a telephoto lens.
Don't take a drone. Unfortunately, aerial photography is prohibited inside national parks. If you don't want to get fined, leave drones out of your travel kit.
Stay a few days. It is technically possible to see all the Yosemite photography locations in one day, but it will be a much more pleasant experience if you take your time and get the conditions right for each of your shots. Yosemite Village has multiple options for camping and lodging.
Best Yosemite Photography Spots:
1. Glacier Point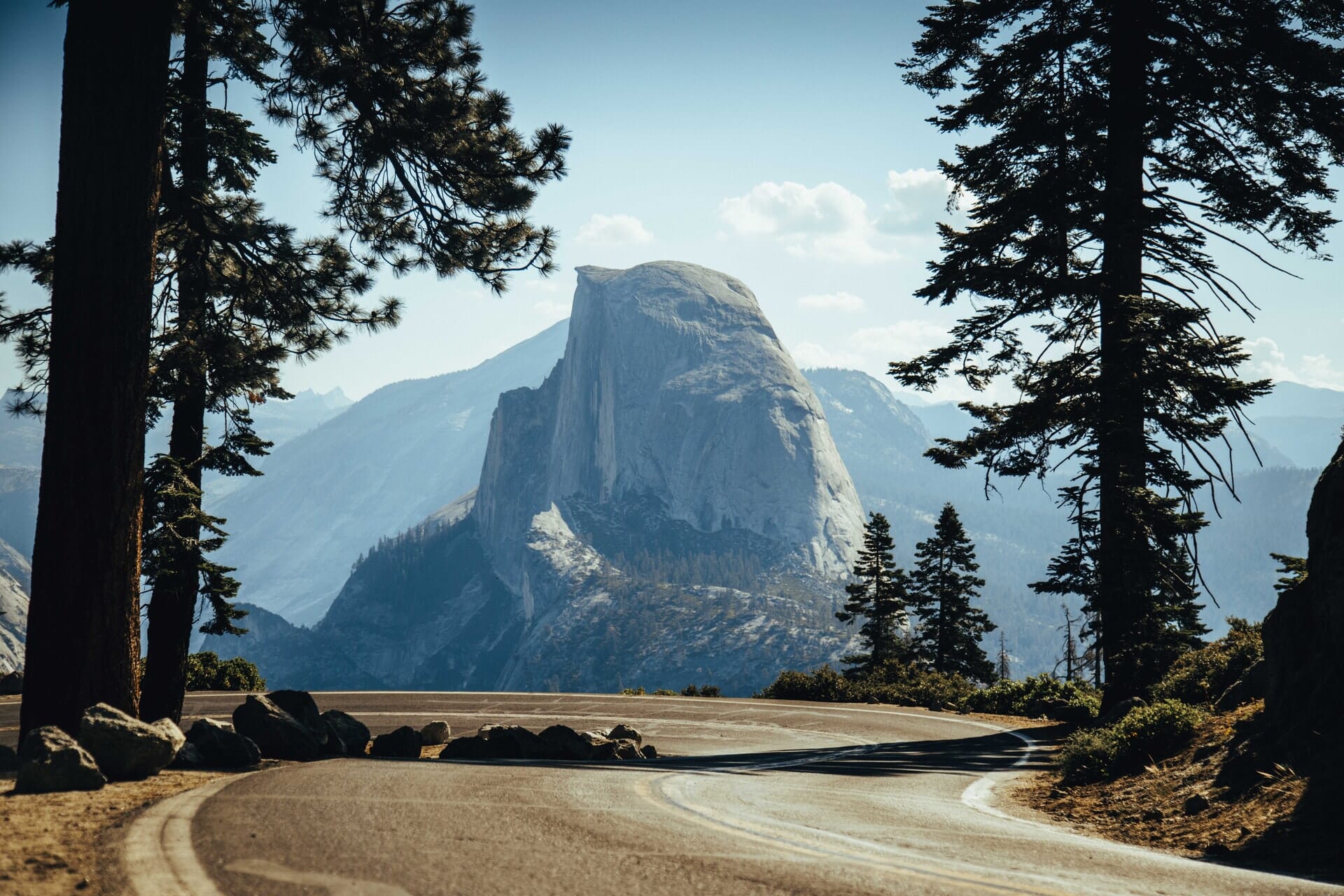 Glacier Point provides one of the most incredible views in Yosemite National Park. The viewpoint features an elevated vista of Half Dome standing over the expansive valley. Three of the park's waterfalls can also be spotted in the distance.
Just before you arrive at Glacier Point, there is a curve in the road which looks spectacular in photos when situated in front of Half Dome. This spot looks especially great with a person looking small in the frame for perspective. Just be aware of cars on the road while you are taking photos here!
2. Taft Point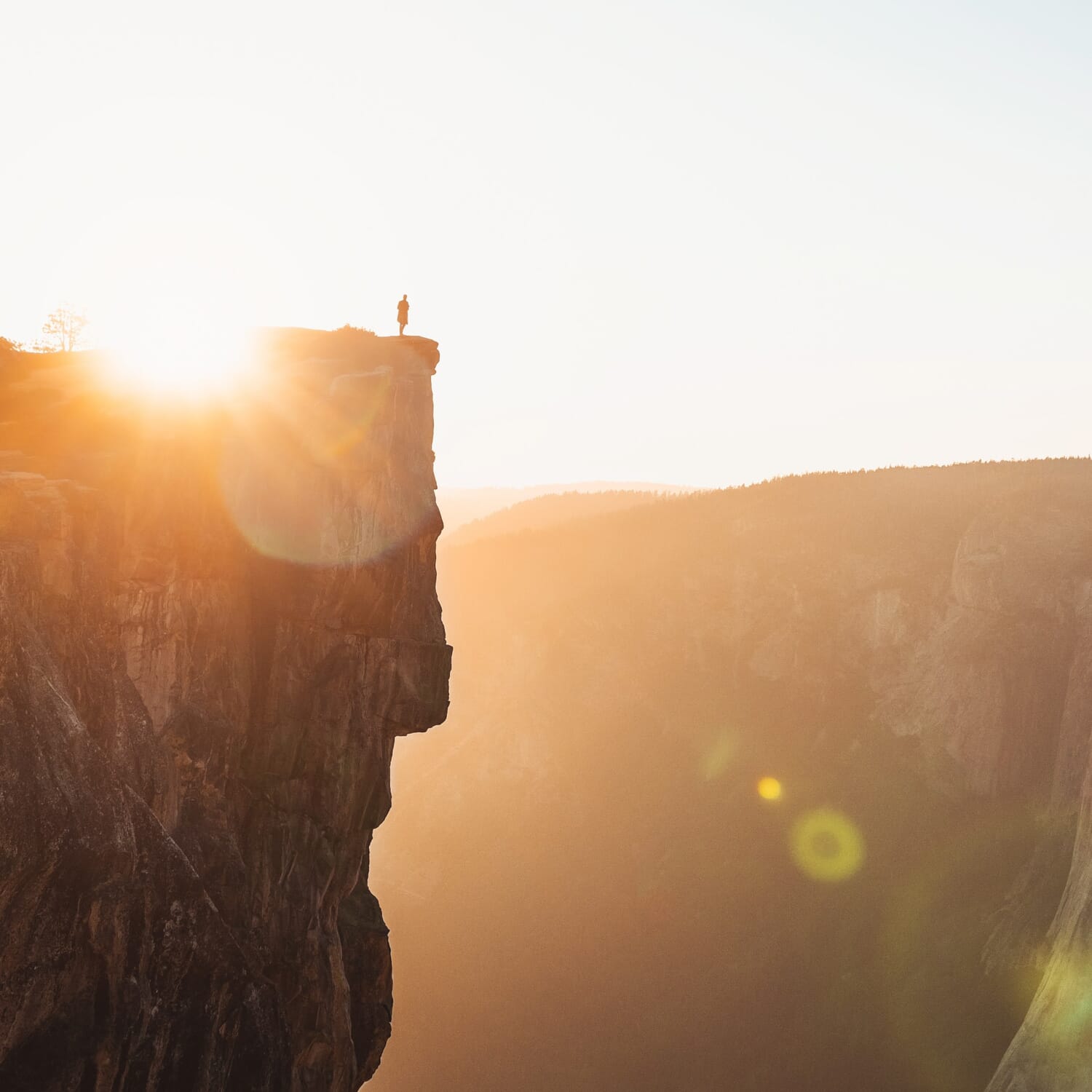 Taft Point is one of those locations where you can capture a person standing on a rocky outcrop, looking almost as though they're standing on the edge of the earth. This location is best during golden hour, when you can experiment with silhouette photography at sunset.
It's a short hike to access Taft Point so you'll want to travel light with only the necessary camera gear, but do include a telephoto lens in your kit as your subject will be standing at quite a distance away for this shot.
3. Tunnel View Overlook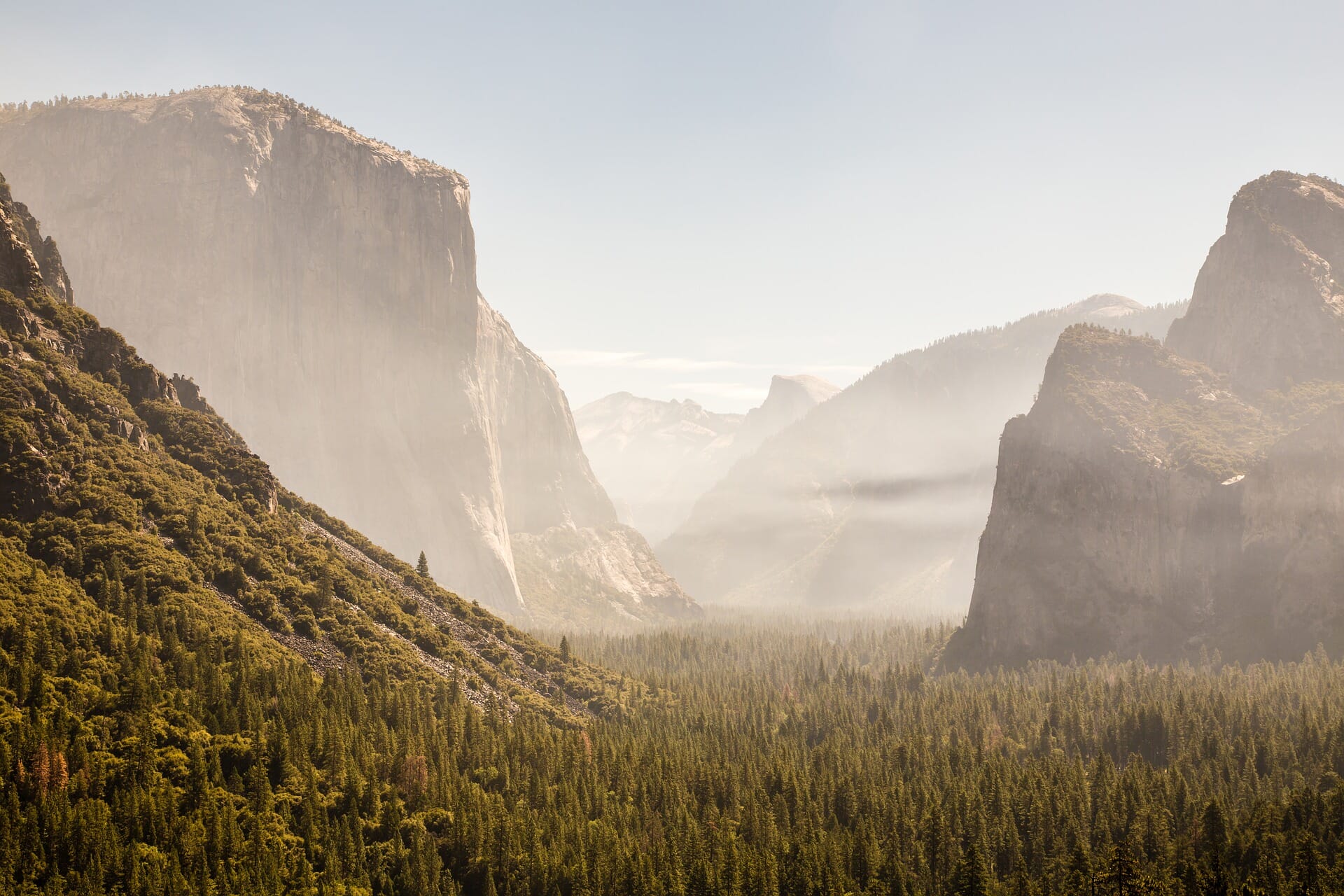 Perhaps the most recognised Yosemite photo spot, Tunnel View Overlook has one of those incredible panoramic vistas that is often featured as a desktop computer wallpaper. The overlook allows you to see right down the middle of Yosemite Valley, with the El Capitan rock formation standing proudly on the left and Bridalveil Falls flowing over the cliffs on the right.
This spot is very popular with tourists, but there is ample space for photographers to set up for landscape shots of the impressive valley. If you arrive at this location for sunrise, you may see El Capitan glowing pink in the morning light.
4. Wawona Tunnel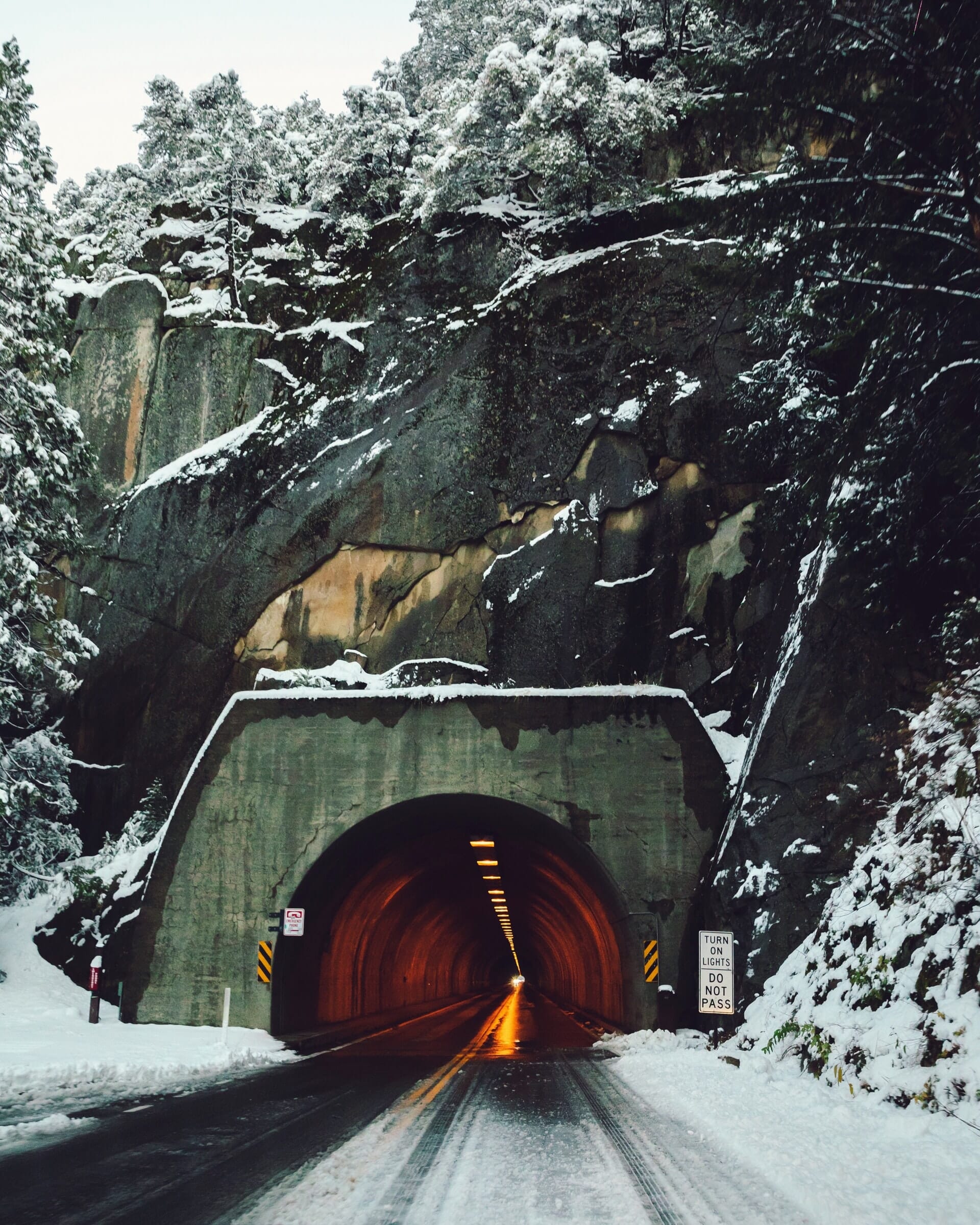 It may be somewhat of an unorthodox photography subject as most people come to Yosemite to see the natural scenery, but the Wawona Tunnel is undoubtedly an interesting place for photography.
Park at either end of this half-circle tunnel to snap a photo looking straight through as the tunnel cuts into the mountainside, with the row of ceiling lights providing some neat leading lines.
5. Yosemite Valley View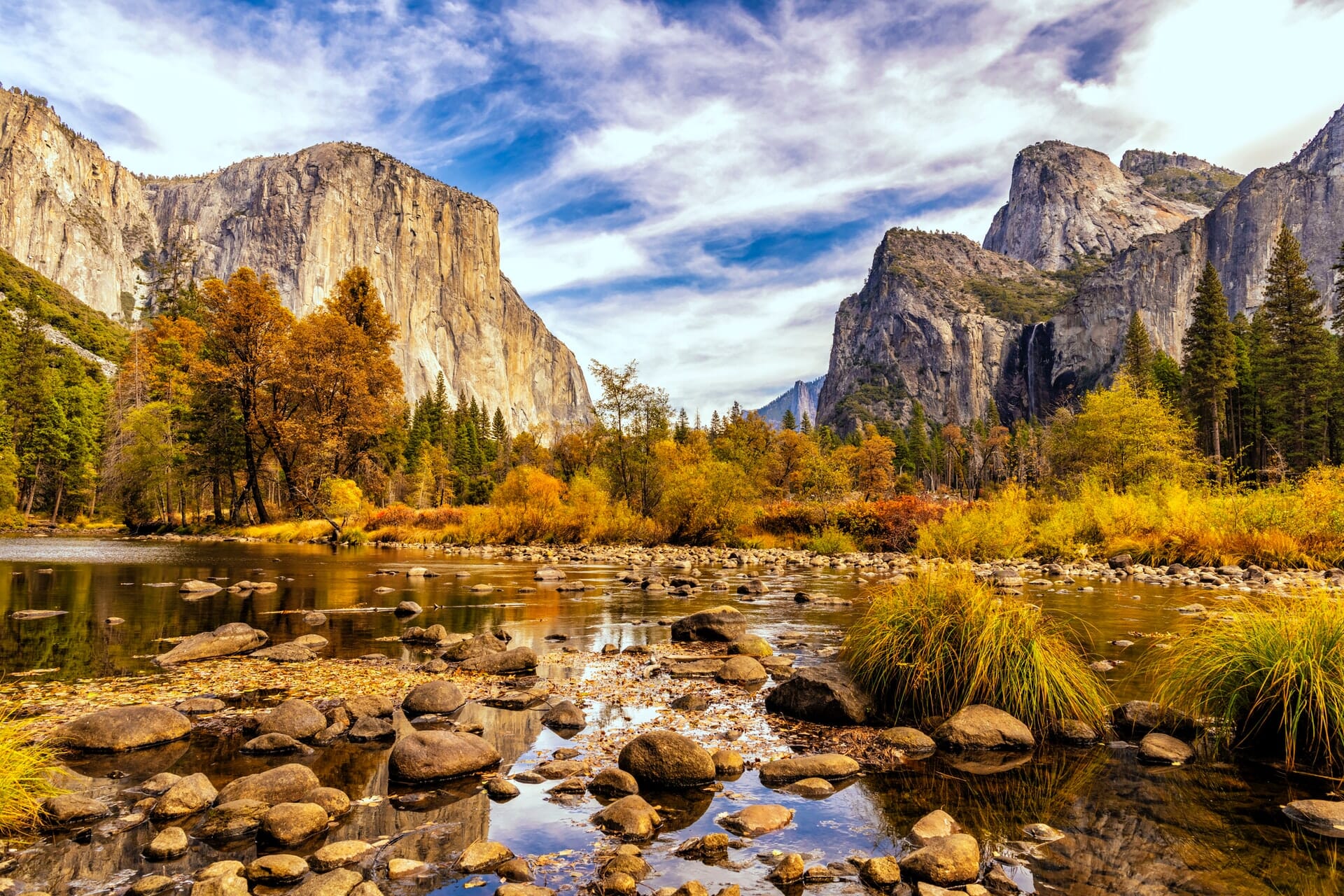 This photo spot has a similar vista to what you'll see from the Tunnel View Overlook, but this time you'll be seeing it from the valley floor along the shore of the pretty Merced River.
Take a tripod here to smooth out the river flow as you take your pictures. Also, keep in mind that there is limited roadside parking for this Yosemite photo location, so arrive early in the day to ensure you grab a spot.
6. Cook's Meadow Loop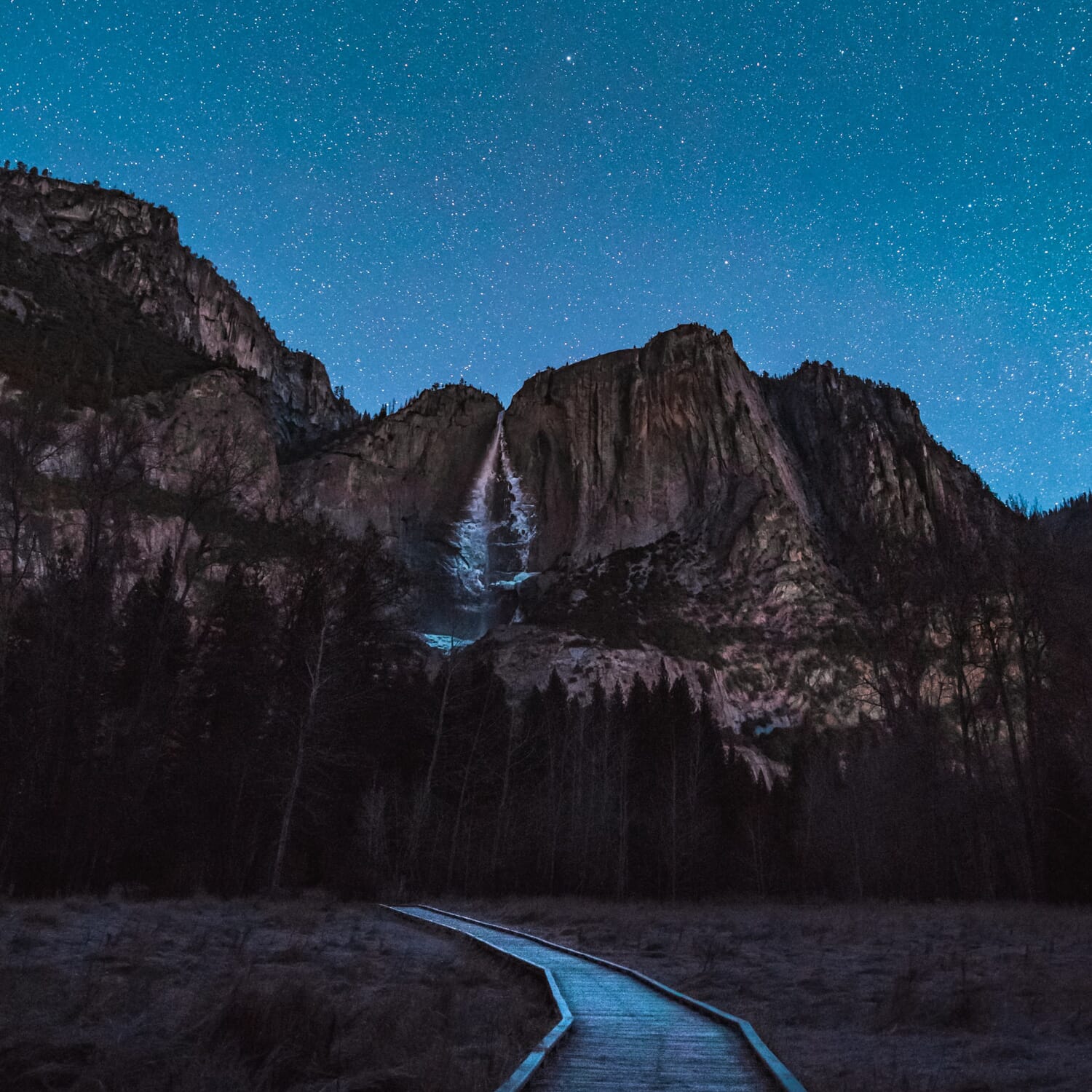 Cook's Meadow Loop is a favorite Yosemite Instagram spot, located at Sentinel Meadow opposite the Lower Falls trailhead. Here, you'll find a picturesque wooden boardwalk leading through a small grassy plain with views of Upper Yosemite Falls in the background.
Just around the corner is Sentinel Bridge, where you can see Half Dome reflected perfectly in the center of the Merced River. This area is particularly popular for astrophotography as there are low levels of light pollution and stable surfaces for setting up a tripod.
7. Yosemite Valley Chapel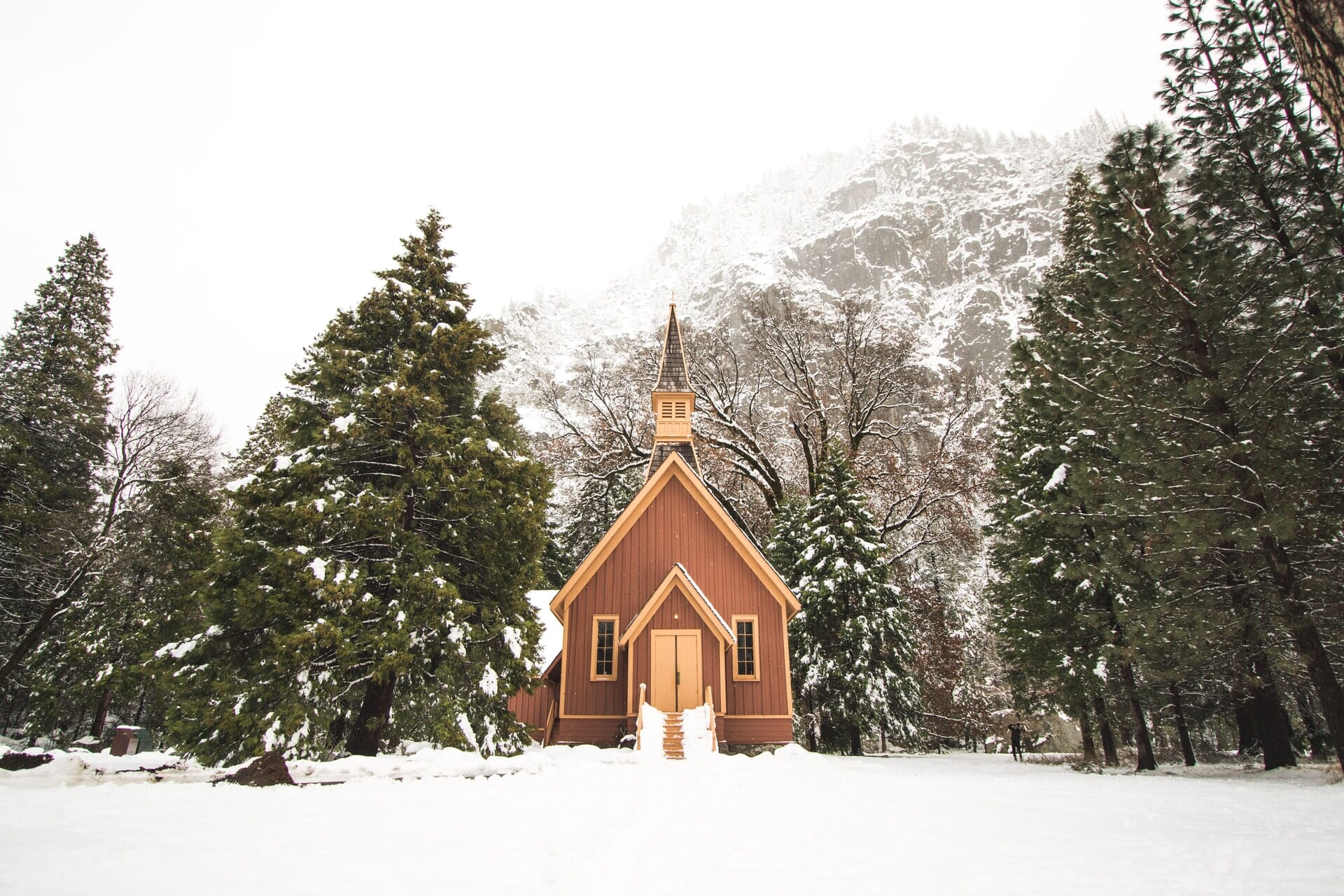 The ultra-cute Yosemite Valley Chapel is one of those buildings that photographers adore. As the oldest structure in Yosemite National Park, its red and yellow facade stands out against the green of the trees but somehow it seems to fit perfectly into the natural surroundings.
The chapel can be dwarfed in shots by capturing it head-on with the mountains behind, or at a side angle with Yosemite Falls in the background. It looks particularly pretty in winter when the colors of the building are contrasted with the white of the snow.
8. Horsetail Fall (Firefall)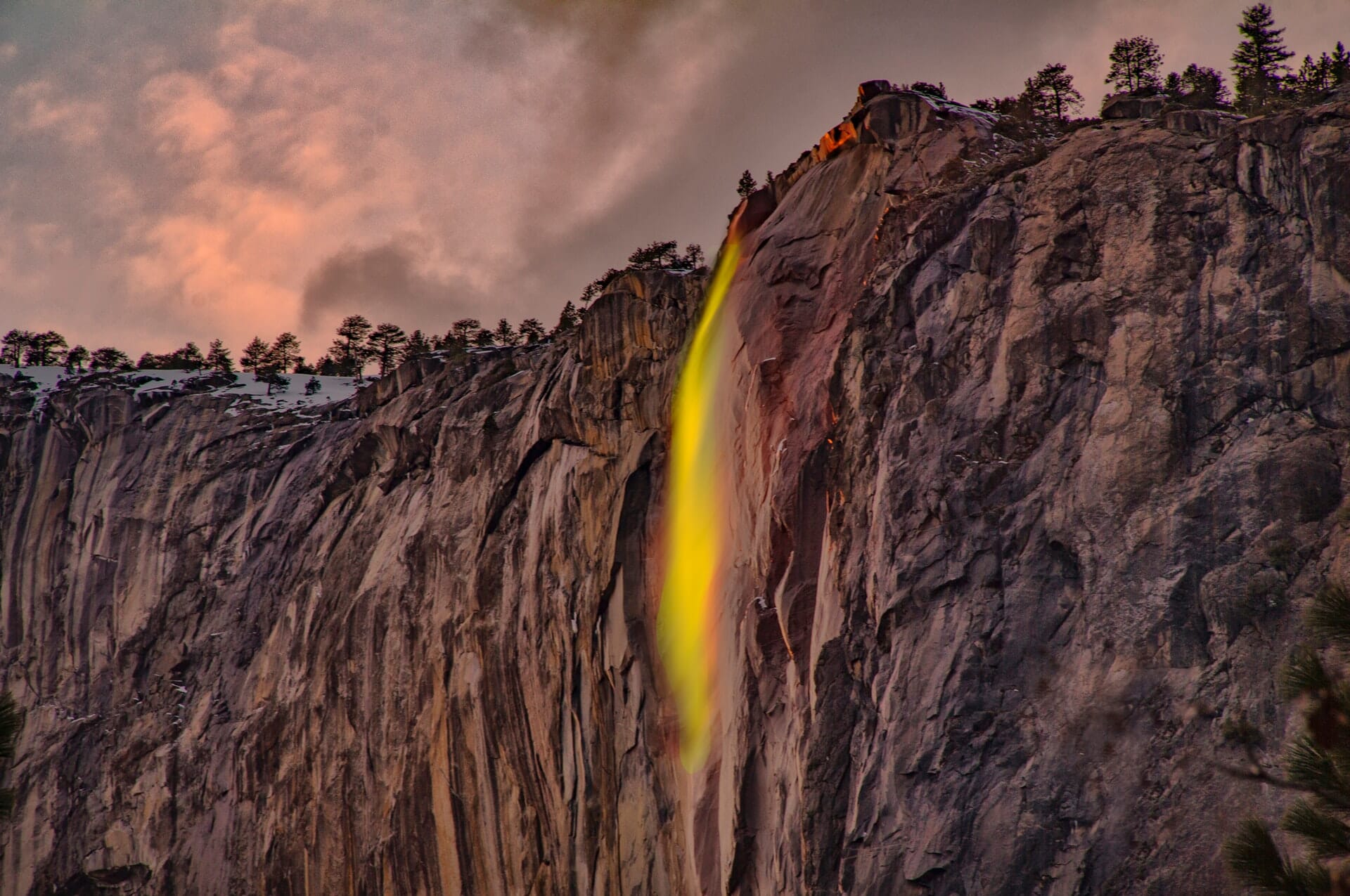 During a two-week window in mid-late February, a strange and beautiful natural phenomenon happens in Yosemite National Park. The snowmelt that fuels Horsetail Fall combined with the setting sun hitting a certain angle illuminates the upper section of the waterfall flowing over the eastern face of El Capitan.
This is an exceptionally rare spectacle as the stars really have to align for Firefall to happen (enough snow to feed the waterfall, warmish conditions to melt the snow, and a clear sky to the west to catch the evening sunlight).
If everything goes well, the waterfall will glow a golden-red for approximately 10 minutes. Photographers can capture it from various locations between Yosemite Valley and El Capitan Crossover.
Finding the Best Yosemite Photography Spots
What did we miss? If you've got your own favorite photography locations in and around Yosemite, let us know in the comments below!