When it comes to traveling, Riga might not be the first place that comes to mind as your next holiday destination. However, Riga is a great place for travel and there are many sites that are worth visiting and capturing some memorable shots of. In this article, we'll give you a rundown of what to photograph in Riga so you can get some truly stunning images.
General Thoughts About Riga
I'll start by saying that Riga is a place rich in history and the overall aesthetic of the city portrays that. When you visit, be prepared to immerse yourself in some of the most prominent historical events. These events include a fight for liberation and independence and the tragedies of World War II.
Another thing worth thinking about is the time when you travel. I was in Riga in Autumn and the fall colors were truly astonishing and prominent throughout the city's many parks as well as further afield!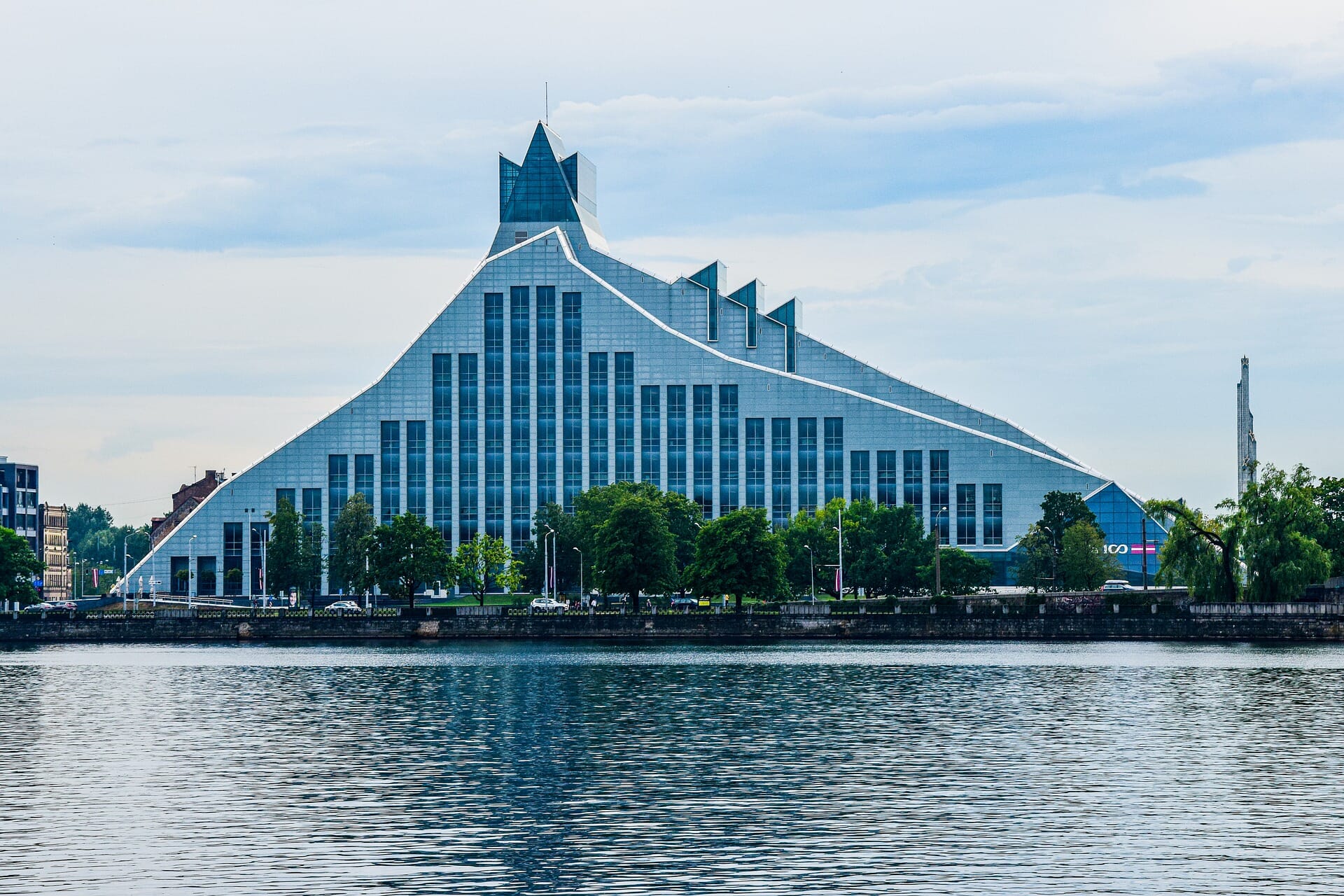 Architecture
The architecture of Riga is a mixture of styles from historic to modern. Art Nouveau is the most prominent of these and comprises a third of the city's architectural style. The diverse range of architecture means that you can explore and experiment with trying to capture changes from old to new and the smaller details that make up certain buildings.
I highly recommend going on a general wander through Riga with your camera so you can snap anything that captures your attention.
Memorial Sites and Museums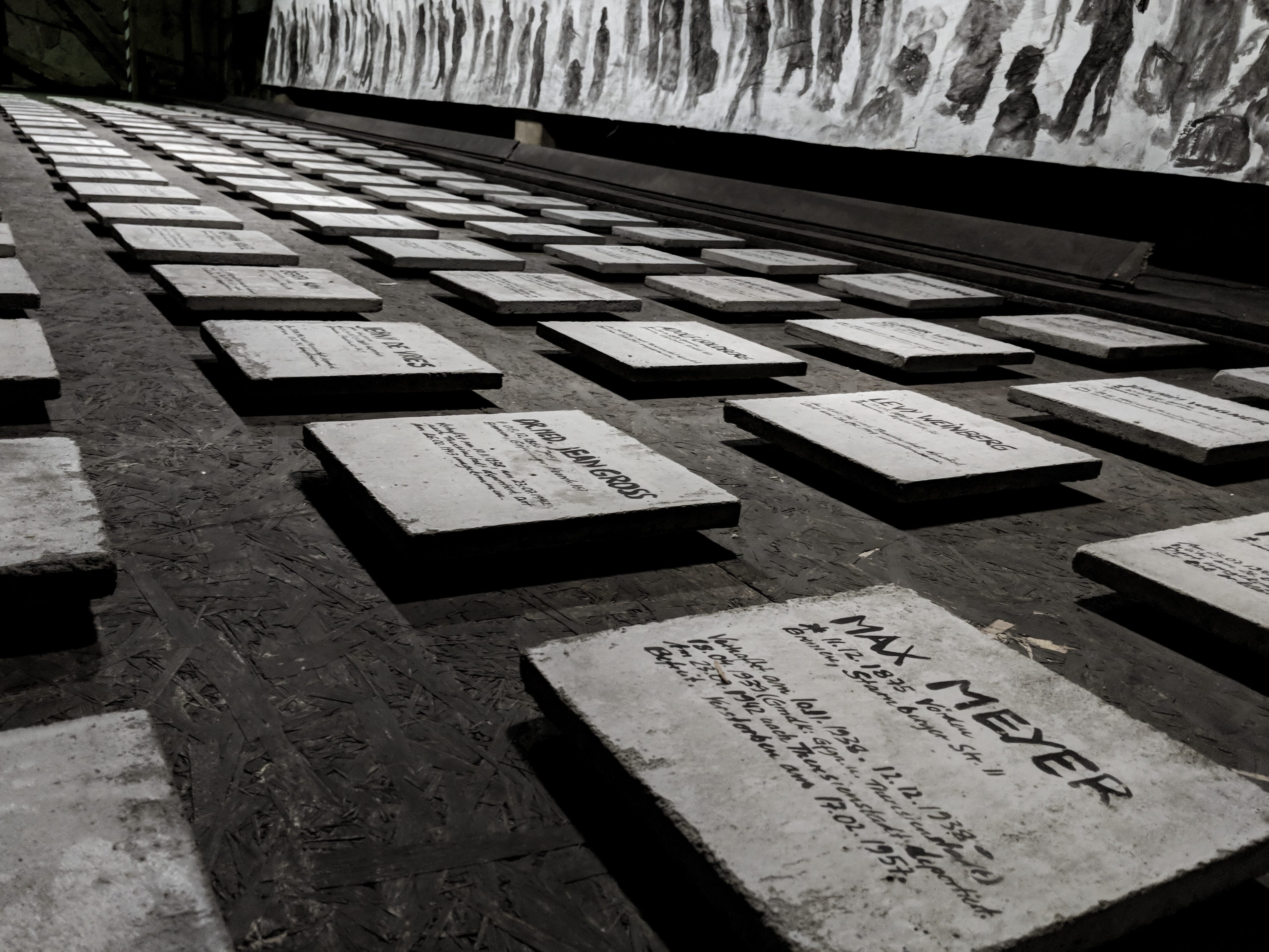 When it comes to what you can photograph in Riga, what you can do whilst visiting those places also comes into play. As I mentioned, Riga is history-rich and this means there are a number of museums to visit as well as various memorials. Visiting these places can really help you build up a picture of Riga throughout the years.
Related Post: How to Photograph Memorials
One area I found particularly interesting was surrounding the events that occurred in Riga during WW2. I visited the Riga Ghetto and Latvian Holocaust Museum. There is a range of exhibits on display highlighting the struggles of the Jewish people, even prior to the German occupation.
Another, more harrowing site I visited was the Bikernieki Forest memorial. This took me on a path similar to the Jewish death walk, ending with a memorial that was, frankly, breathtaking.
Art Around the City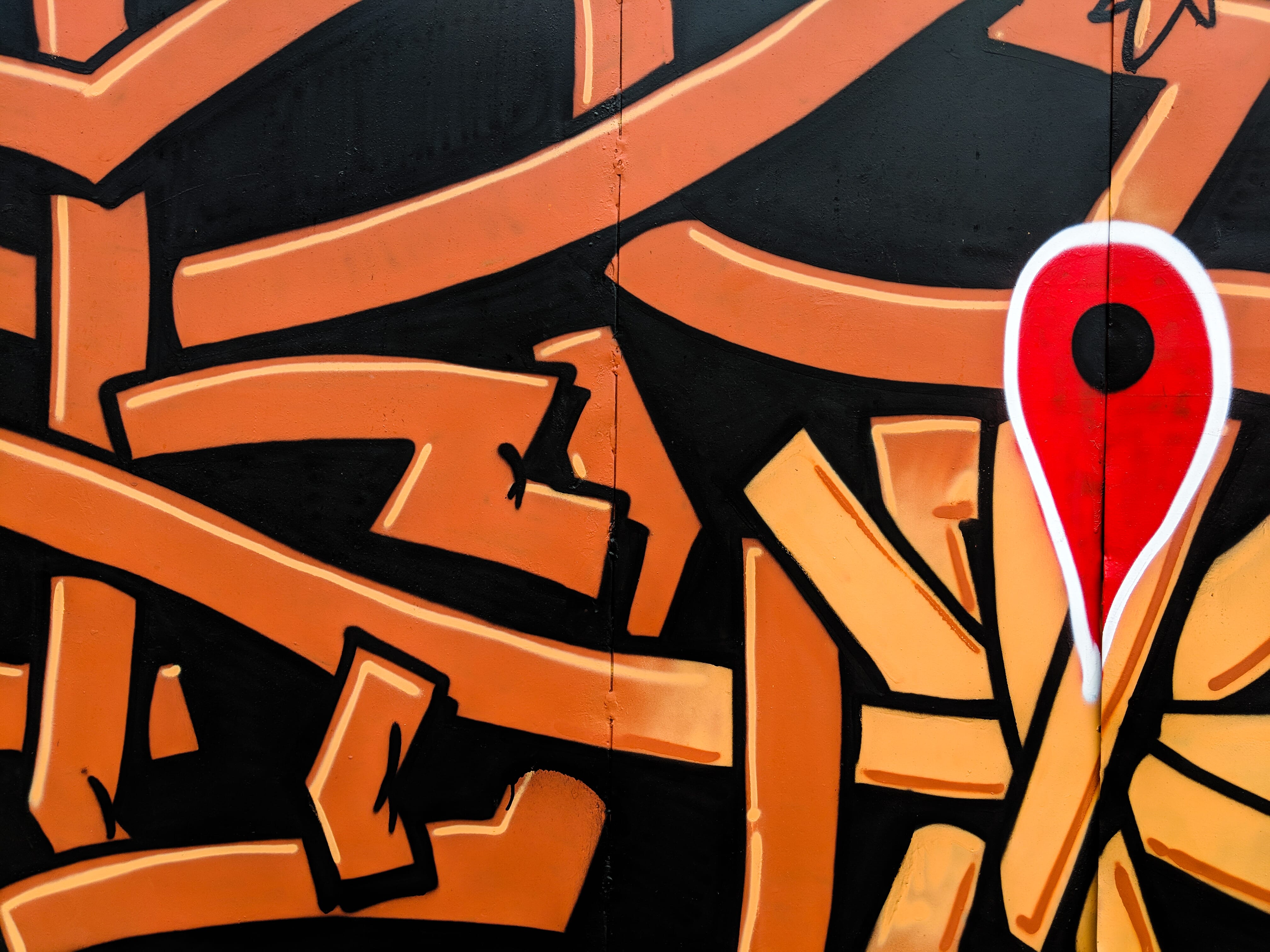 In most of the places you stop by in Riga, you're going to find some form of artwork. There are places with graffiti on the walls, if that seems like your sort of interest. Patriotic sculptures/designs in some locations. Flags on most buildings. And lots of interesting sculptures out and about.
If you have an interest in capturing artwork, you could dedicate plenty of time in Riga finding things to photograph!
Street Photography Opportunities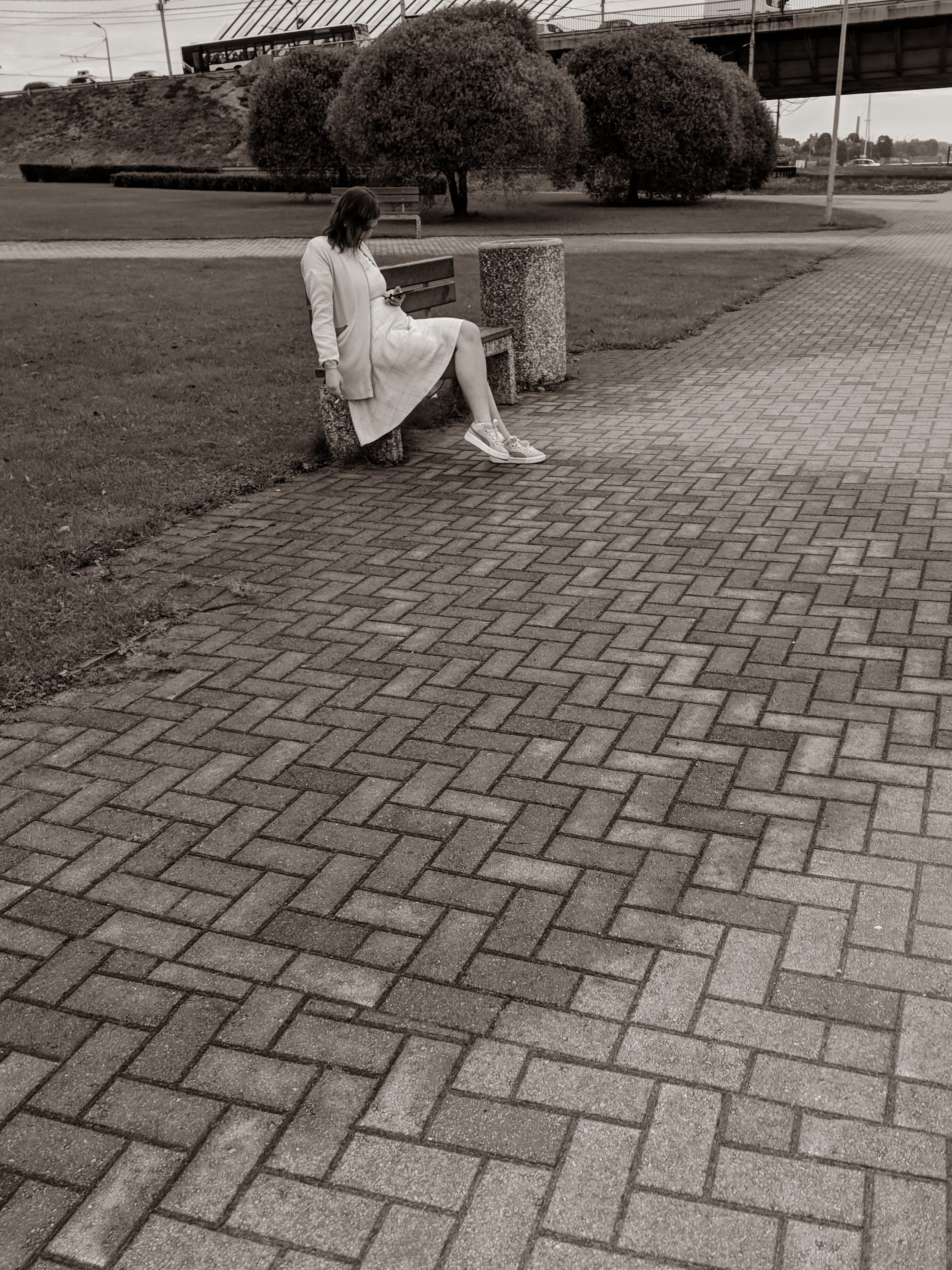 Going to a new place can be a great way to capture some different street photos. Customs differ, styles are different, and the scenery is totally transformed.
Riga is a great place to put your street photography skills to work. I say this because it is a totally different place. The buildings provide a nice background aesthetic and if you want a more natural look, head to one of the many parks to get your images.
I will say that it is important to exercise caution, however. You are a visitor in this country and some people may not appreciate having their photos taken. A language barrier could be a significant problem if someone asks you to delete their photos. So make sure you get yourself clued up on some key phrases in case of an emergency!
What to Photograph in Riga: Key Sites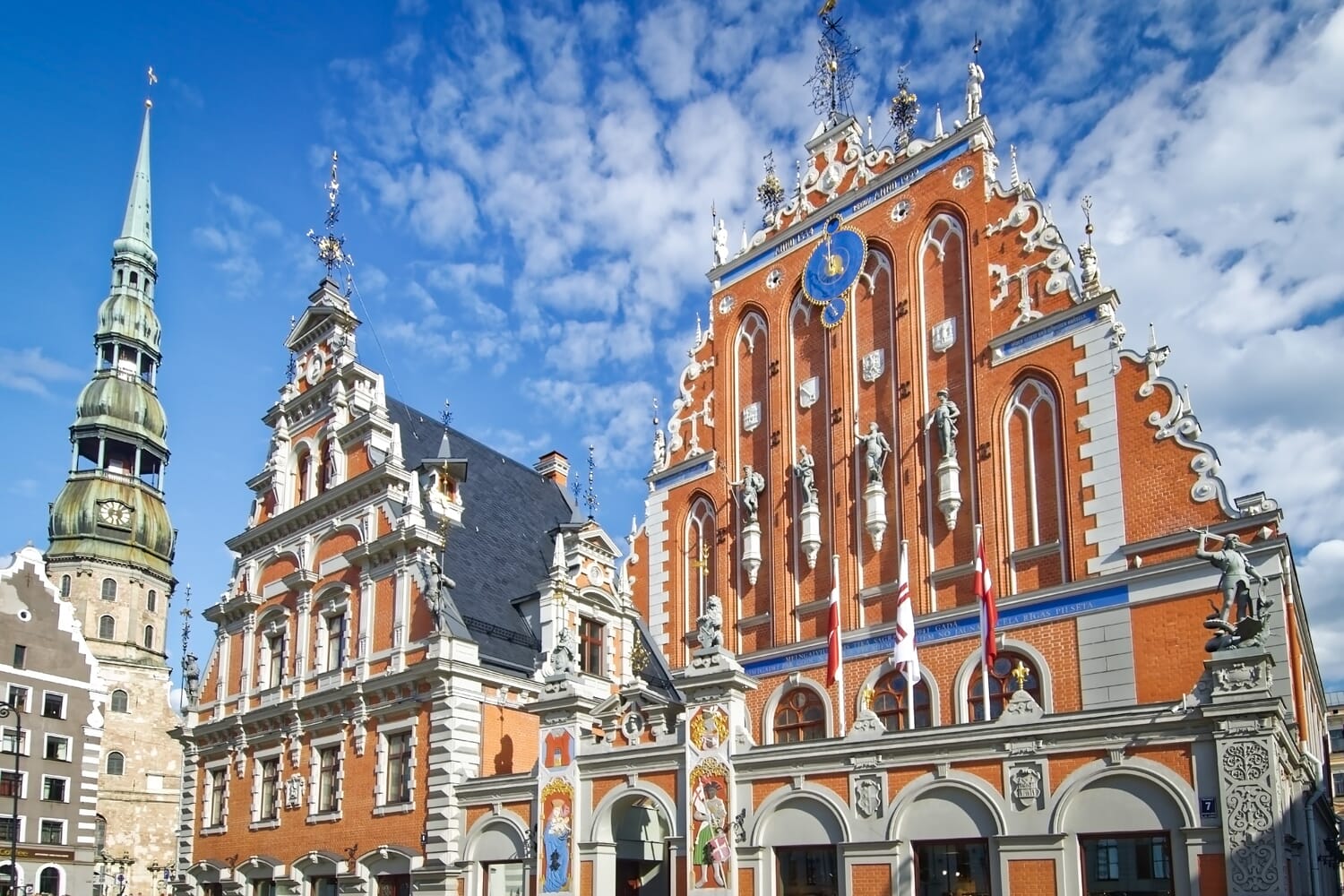 Town Hall Square with the House of the Blackheads
For a photo opportunity with one of the most iconic buildings in Riga, Town Hall Square in Old Riga is the place to go.
The architectural beauty of this building is astounding and its high-class history booms in even the smallest of details.
The House of the Blackheads is a site that was once used for functions to promote trading and business opportunities. Nowadays it still serves a similar purpose, offering exclusive events. Fortunately, for us tourists, there are also opportunities to explore the inside of the building and see how it was used in years passed.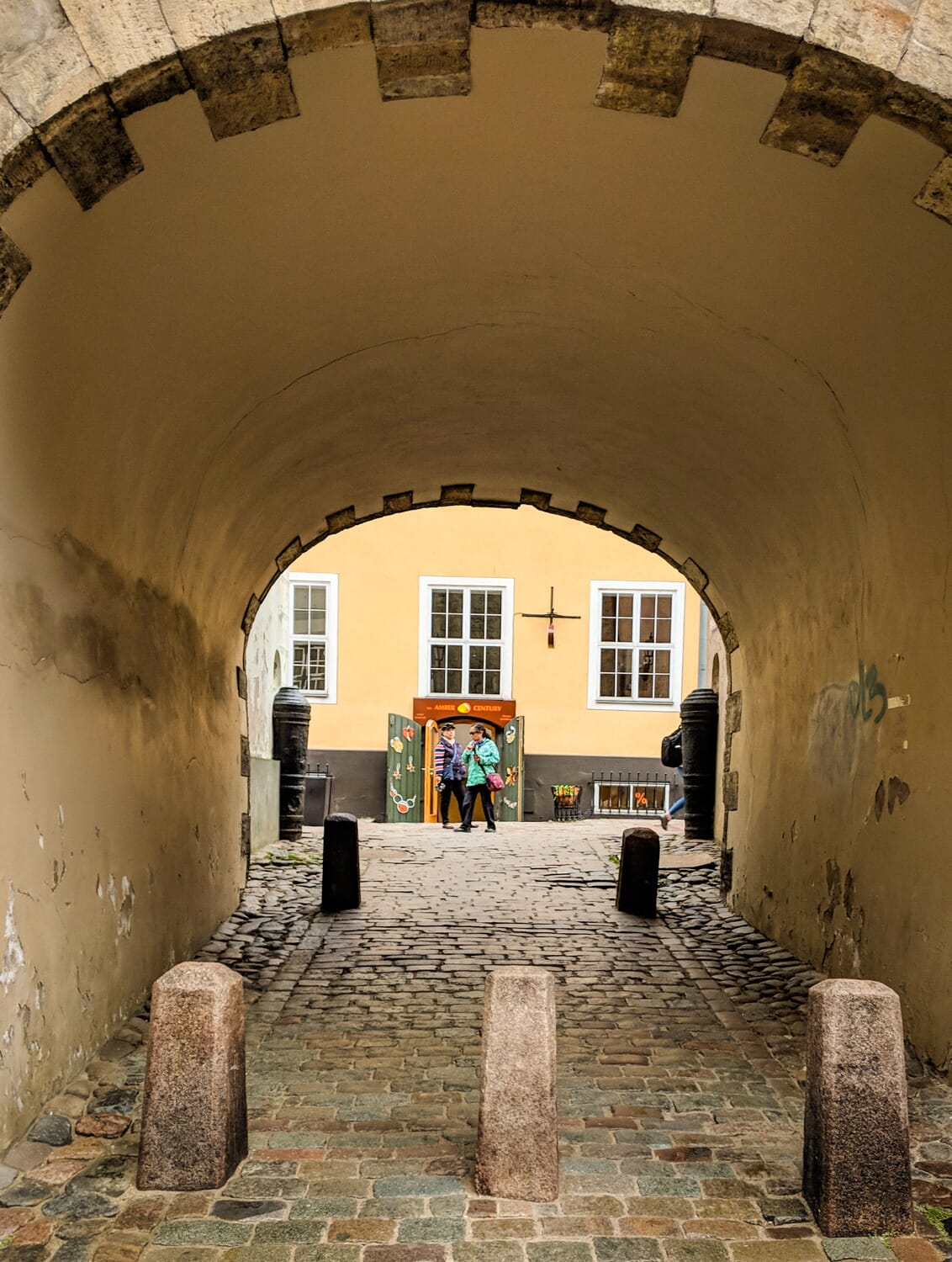 Swedish Gate
Riga's Old Town is really where all the history is at and it doesn't really get more historical than visiting the only remaining gate from the ancient city walls.
Swedish gate was one of eight entryways into the walled area of Riga during the medieval period and it is the only gate that survived. It got its name during the Swedish occupation and has donned it ever since.
The small throughway has some interesting stonework and decoration surrounding it and is a perfect photo opportunity! You can simply capture the details of the gate or have a friend pose in it. If you're anything like me and you love street photography, why not try and get a shot of a single passerby going through the gate?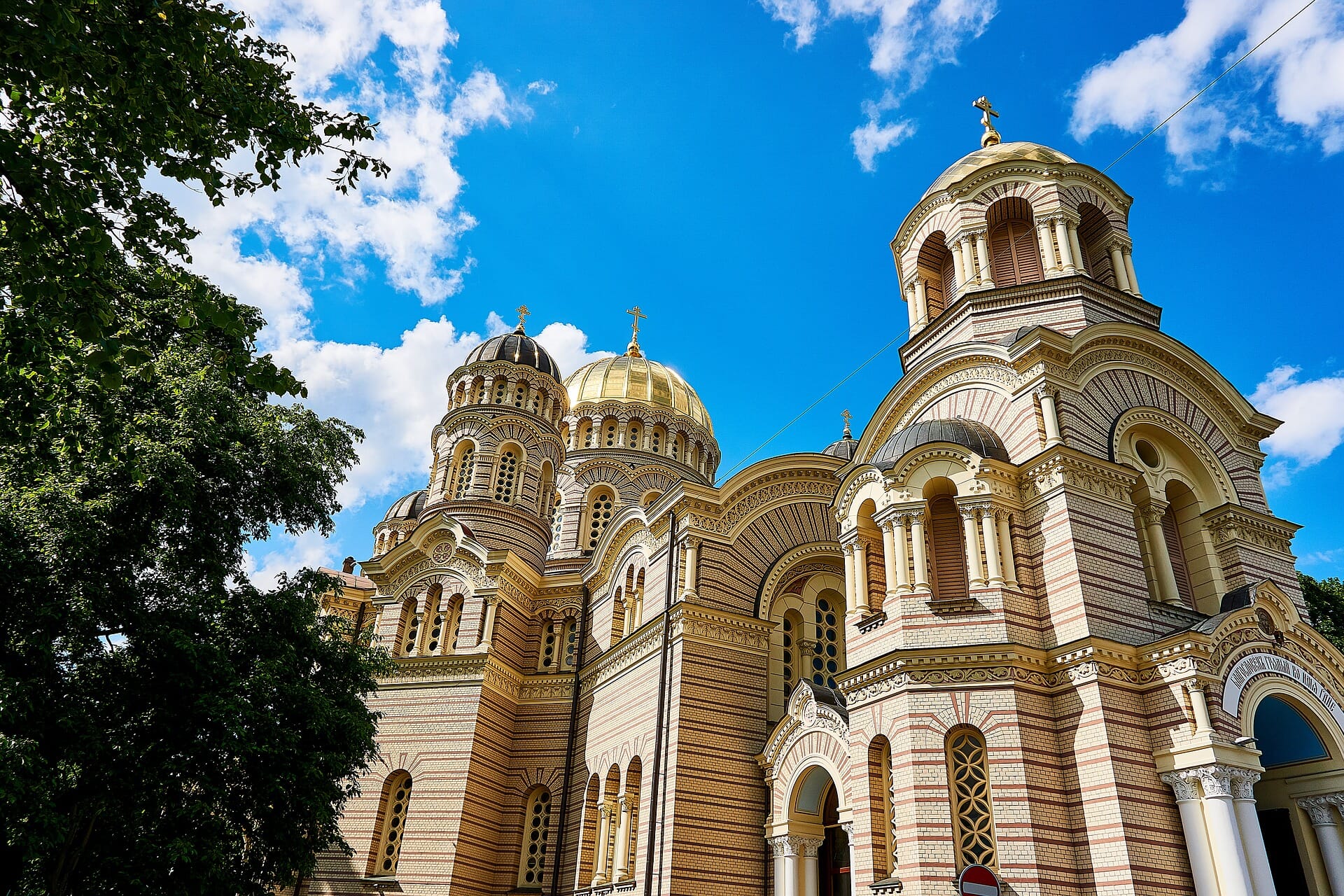 Nativity of Christ Cathedral
Riga has a number of Cathedrals and each one of them has a very unique style to it. The colors and designs of these places of worship are extravagant, to say the least!
One of the most notable cathedrals to visit is the Nativity of Christ Cathedral. The Nativity of Christ Cathedral has some of the most striking designs. A gold-topped roof and white patterned exterior. This particular cathedral is located near a gorgeous parkland which has lots of trees. This can make for some interesting and more artistic shots.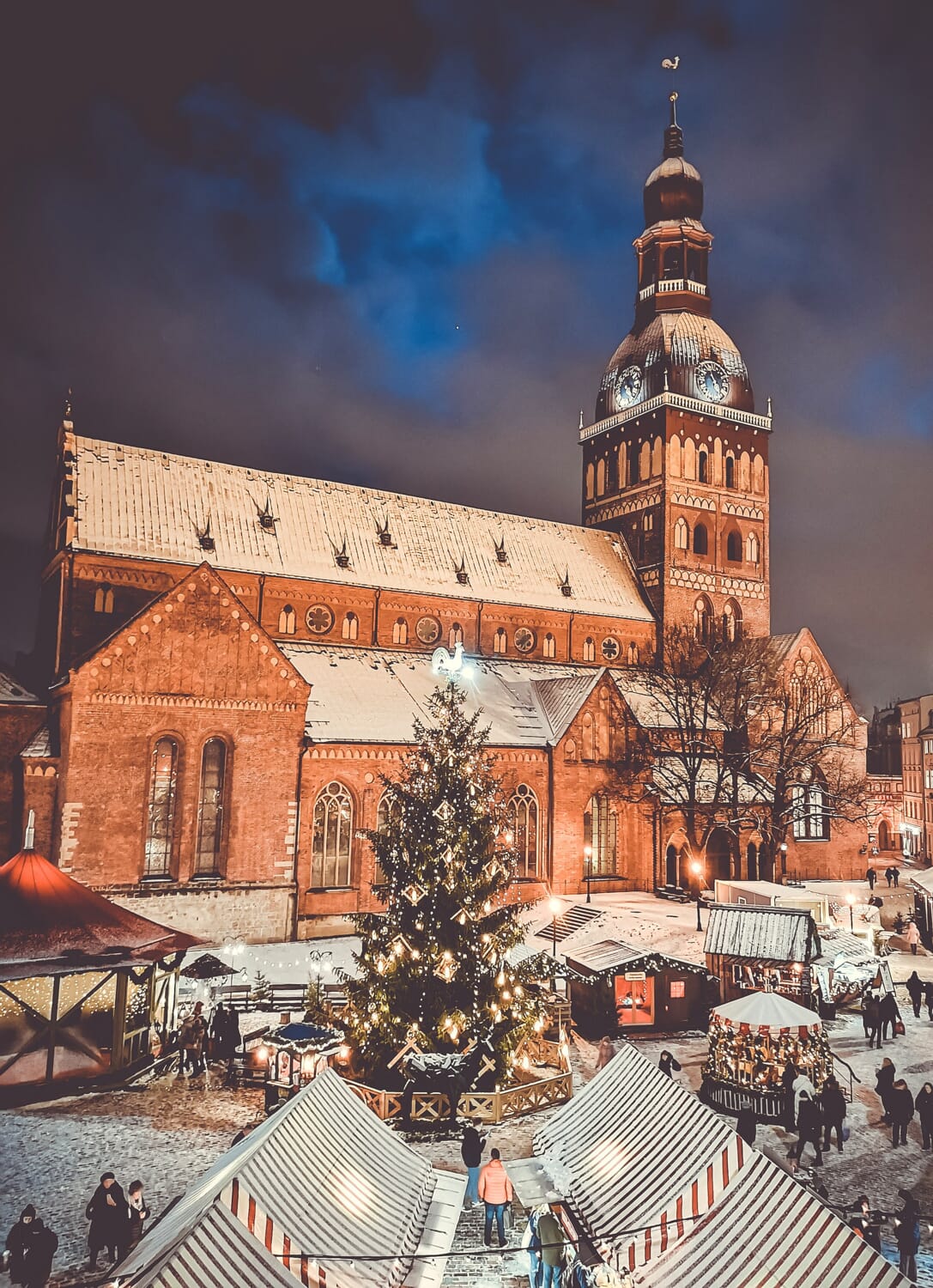 Riga Cathedral
Another cathedral that is worth a visit is the Riga Cathedral. Contrastingly to the Nativity of Christ Cathedral, this is situated in a rather built-up area by the Old Town. One way you can have fun with this is by incorporating the general vibe of the street into your photos.
Now, there are plenty more than just these two cathedrals. They're dotted everywhere! So if you're interested in getting some colorful, unique images, find the cathedrals!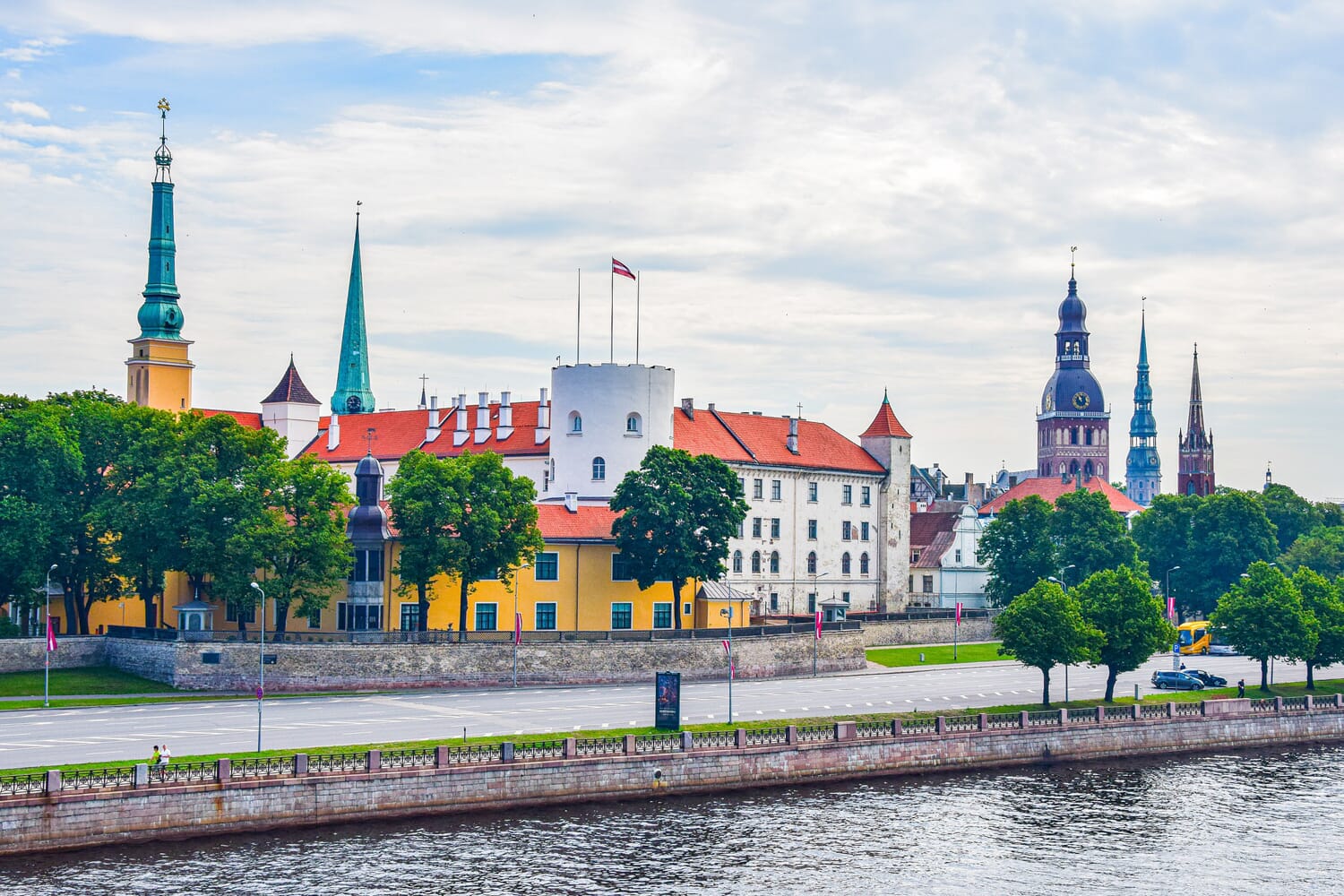 Riga Castle
While you might think of a castle as the home of some form of monarchy. It might surprise you to know that Latvia has no royals, yet still has a castle with a resident. That resident is the President of Latvia.
This castle, in my opinion, doesn't exactly look like a castle. But it is worth the visit for a picture or two. The very front of the castle is a bright yellow and along the exterior, you will find numerous flag posts flying Latvian flags.
If you explore the outermost limits of the castle area, there are also some interesting statues to take pictures of.

The Freedom Monument
There is no way you can miss this monument during your visit to Riga. This structure towers over everything that surrounds it, standing at a whopping 42.7m tall!
The Freedom Monument represents Latvia's struggle for independence and what freedom is to them. There are a number of layers to the structure, representing different aspects of Latvia's freedom. The woman at the top holds three stars to show the unity of the historical three regions of Latvia.
The monument has a guard of honor situated at the base that stands on duty in order to protect the monument. You can try and incorporate their presence in your images or even focus on the details of them.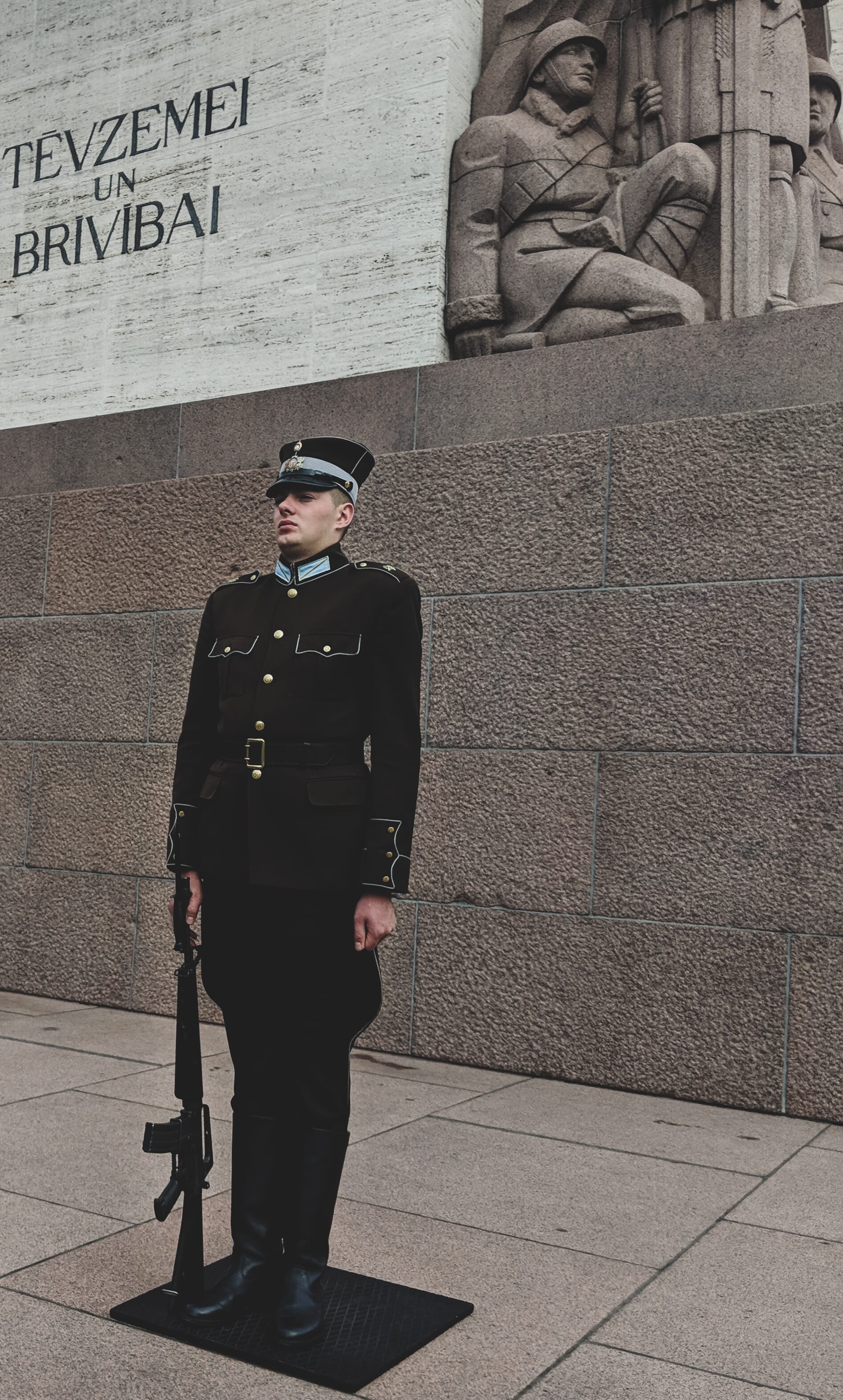 What to Photograph in Riga: Closing Thoughts
Riga is a place full of potential and you should never struggle to find something to photograph in this amazing city. Whatever your interests, Riga has something to offer. You can capture history, art, people, religion, and so much more! Why not plan your next trip to Europe and visit Riga?