If you're planning a trip to Salzburg and want to practice your travel photography while you're at it, you are in luck! Knowing what to photograph in Salzburg means a little research ahead of time so you won't be overwhelmed by all this renowned city has to offer!
What First Time Visitors Can Expect In Salzburg
Salzburg is famed for its grand Baroque architecture which is a great start to any list of what to photograph in Salzburg.
Did you know Salzburg even the birthplace of the legendary composer, Mozart?
Not to mention, the city and surroundings became famous in modern history as the setting for the musical film, The Sound of Music.
And as cool as those two things are, Salzburg has so much more to offer photographers!
As I mentioned, it has absolutely stunning architecture.
Buildings such as Salzburg Cathedral and Hohensalzburg Fortress are renowned throughout Europe. Moreover, the picturesque setting of the Austrian Alps offers a sublime backdrop and endless photographic opportunities.
In fact, we've listed some of the best things to see in Salzburg for the first-time visitor:
Hohensalzburg Fortress
Mozart's Birthplace
Mirabel Palace and Gardens
Schloss Heelbrunn
Salzburg Cathedral
Untersberg Mountain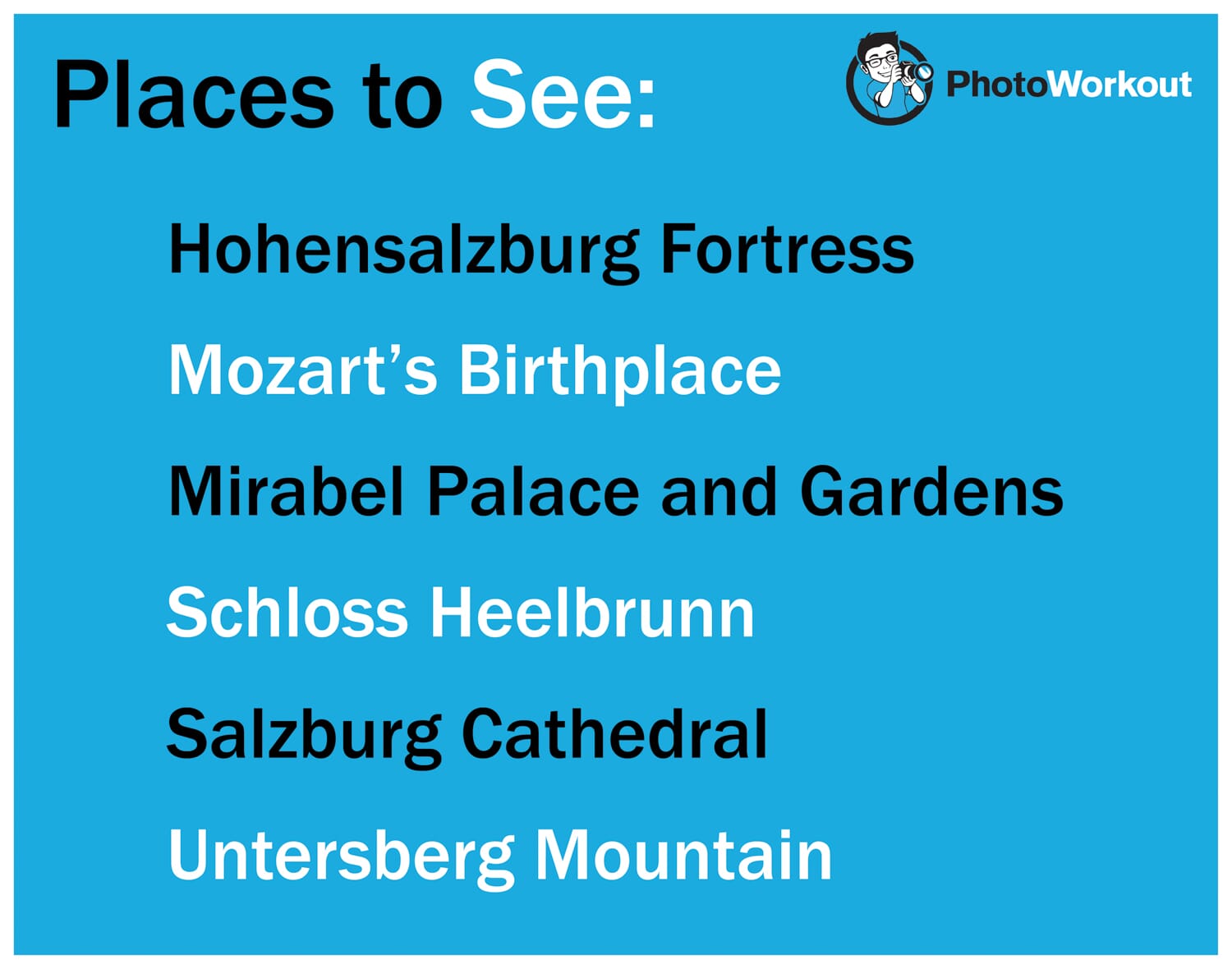 RELATED POST: Travel Photography Tips You Can Use Right Now To Take Better Photos
How To & What To Photograph In Salzburg
Before jumping into what to photograph in Salzburg, here are a few basic travel and photography tips.
Use HDR Shots For Alpine Landscape Photography
Photographing the Alpine landscapes can be tricky.
Tricky, but not impossible! Here's the deal:
The weather plays a huge role in photography. Consider the scene – sprawling snow-capped mountains stretch out in-front. At the same time, beautiful clear skies dotted with clouds meet the peaks.
This creates contrast and makes it difficult to find the correct exposure.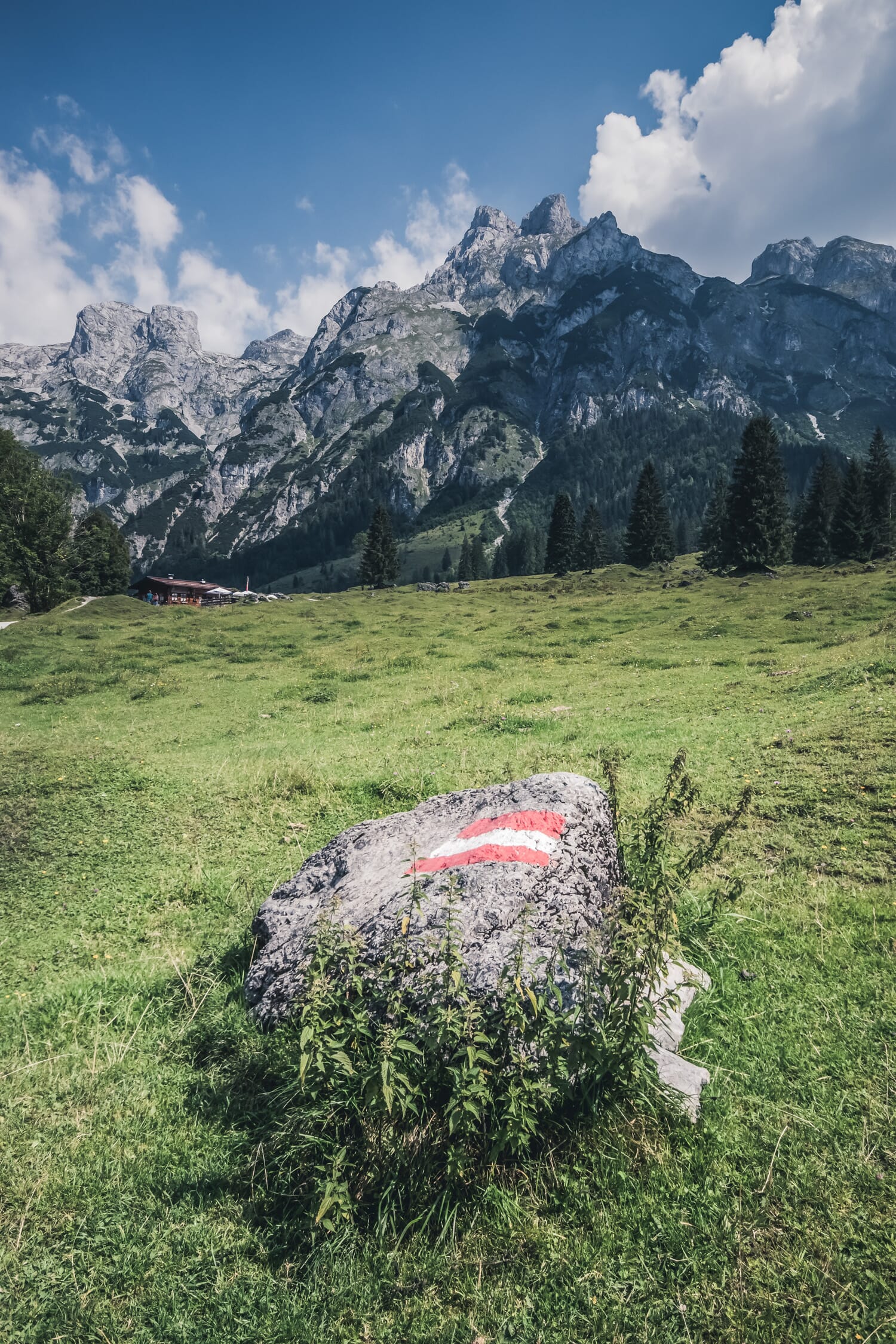 If you expose for the mountains, the sky is over-exposed. If you expose for the sky the mountains are under-exposed and wreathed in shadows.
The solution? Use bracketed shots to create HDR compositions. This holds true if the sky is particularly bright too, or it's a wonderful clear day.
RELATED POST: HDR Photography Explained
Snap Unusual Angles of Tourist Sites
If you search on Google for Mozart's Birthplace, there are hundreds of the same photo taken from the front of the building. Ugh.
When looking at what to photograph in Salzburg, consider unusual angles.
By all means, take the typical front shot. But, use your imagination and look at different compositions too. Pick out small features or angles not commonly photographed.
Create inspired shots of popular tourist sites that stand out.
Check out this article on forced perspective photography for some more creative photography pointers.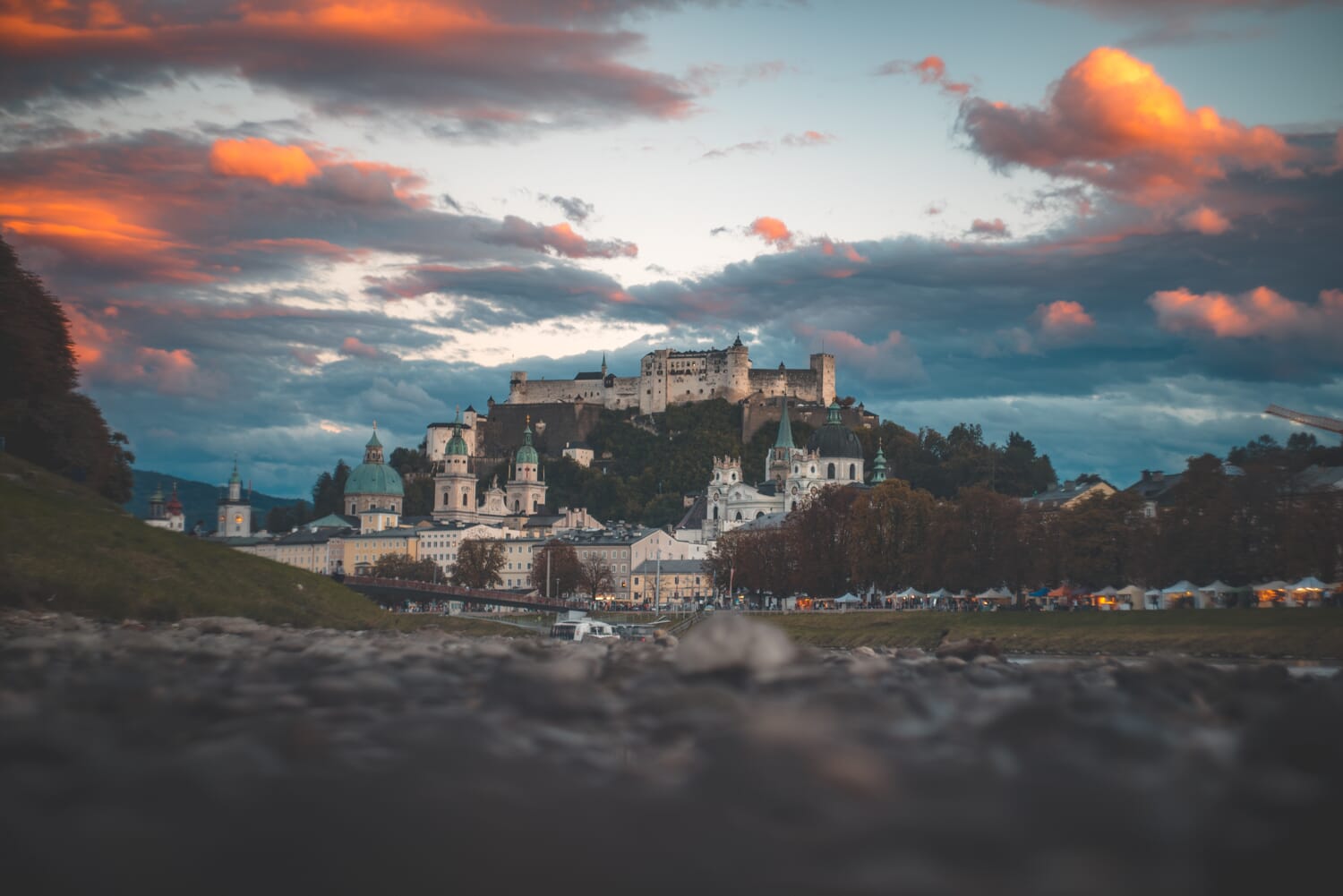 Consider A Day trip From The City Center
Salzburg has an abundance of sites. However, the surrounding region is also packed full of interesting sites and landscapes.
When considering what to photograph in Salzburg, consider day trips too. The Alpine region provides endless opportunities for epic landscape shots for example.
Whereas locations such as The Eagles Nest, Wolfgangsee, Hallstatt, and the Salzkammergut region are simply bursting with interesting scenery and architecture.
RELATED POST: Essential Travel Photography Gear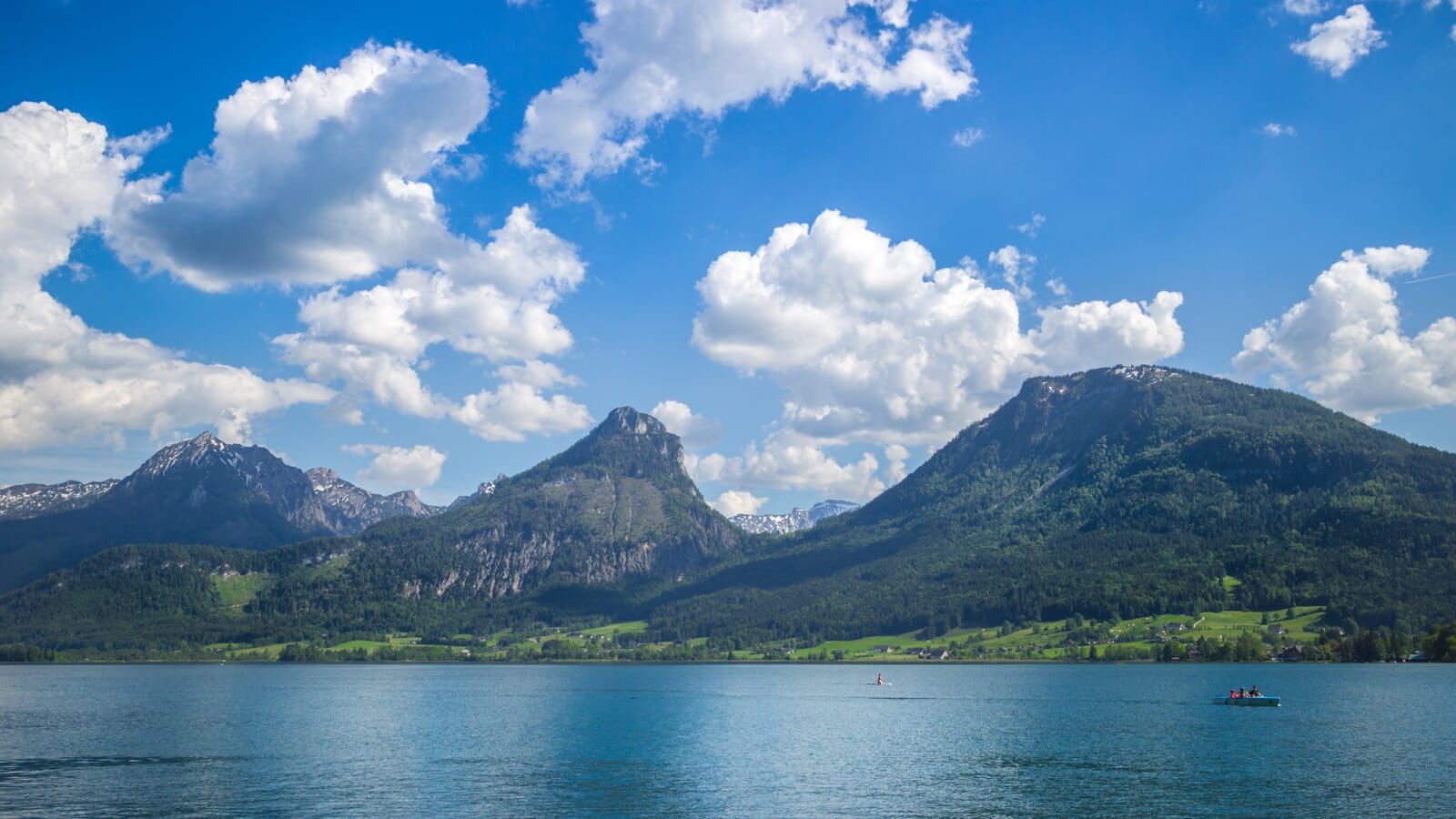 What To Photograph In Salzburg
Hopefully the above has given insight into the best sites in Salzburg. A long weekend to this fantastic European city will provide fantastic memories.
Moreover, as you will see from below, there are some awesome photographic opportunities…
Thus, we now look at what to photograph in Salzburg including Mozart's Birthplace, and Hohensalzburg Fortress:
1. Mirabel Palace and Gardens
This is one of the most popular sites in Salzburg and it's easy to see why.
First, the palace itself has a superb design–its architecture incredibly interesting.
You can create some excellent photographs that show the contrast of the palace against the modern architecture of the city.
Moreover, the intricate detail of the front façade and statues provide brilliant close-up shots.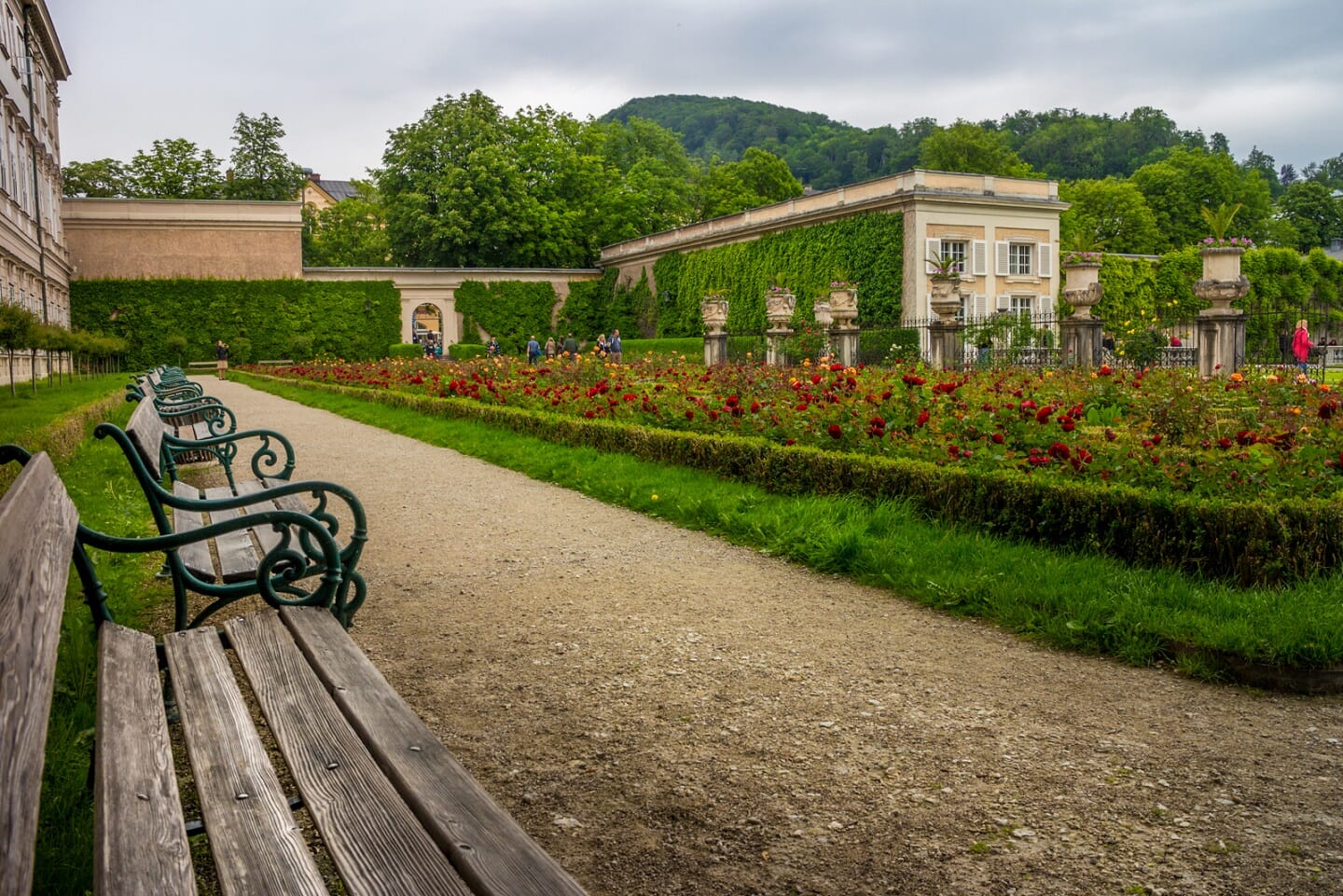 Whilst the palace is a true spectacle, the gardens are simply gorgeous. Nature lovers will appreciate the effort that has gone into this sublime outdoor space.
The gardens are split into several areas and there's a beautiful area full of different tree varieties. Furthermore, there are several walled gardens with stunning flower arrangements.
Finally, there is also an array of greenhouses packed full of exotic plants and flowers.
2. Salzach River
The Salzach River splits Salzburg in two. It runs directly through the city and is one of the reasons why it's so picturesque.
This river is a tributary of the larger Inn River and runs through both Austria and Germany.
The way that this body of water splits the city creates perfect photographic opportunities.
First, standing on either side of the river, sweeping shots are possible.
The photo below was taken from the far side of the River next to the Markarsteg Bridge. As you can see, the photo has great compositional elements – the sweeping sky, vivid colors of the river, and bright colors of the houses on Franz-Josef road look wonderful.
Moreover, Salzburg Fortress is seen in the background, looming over the city.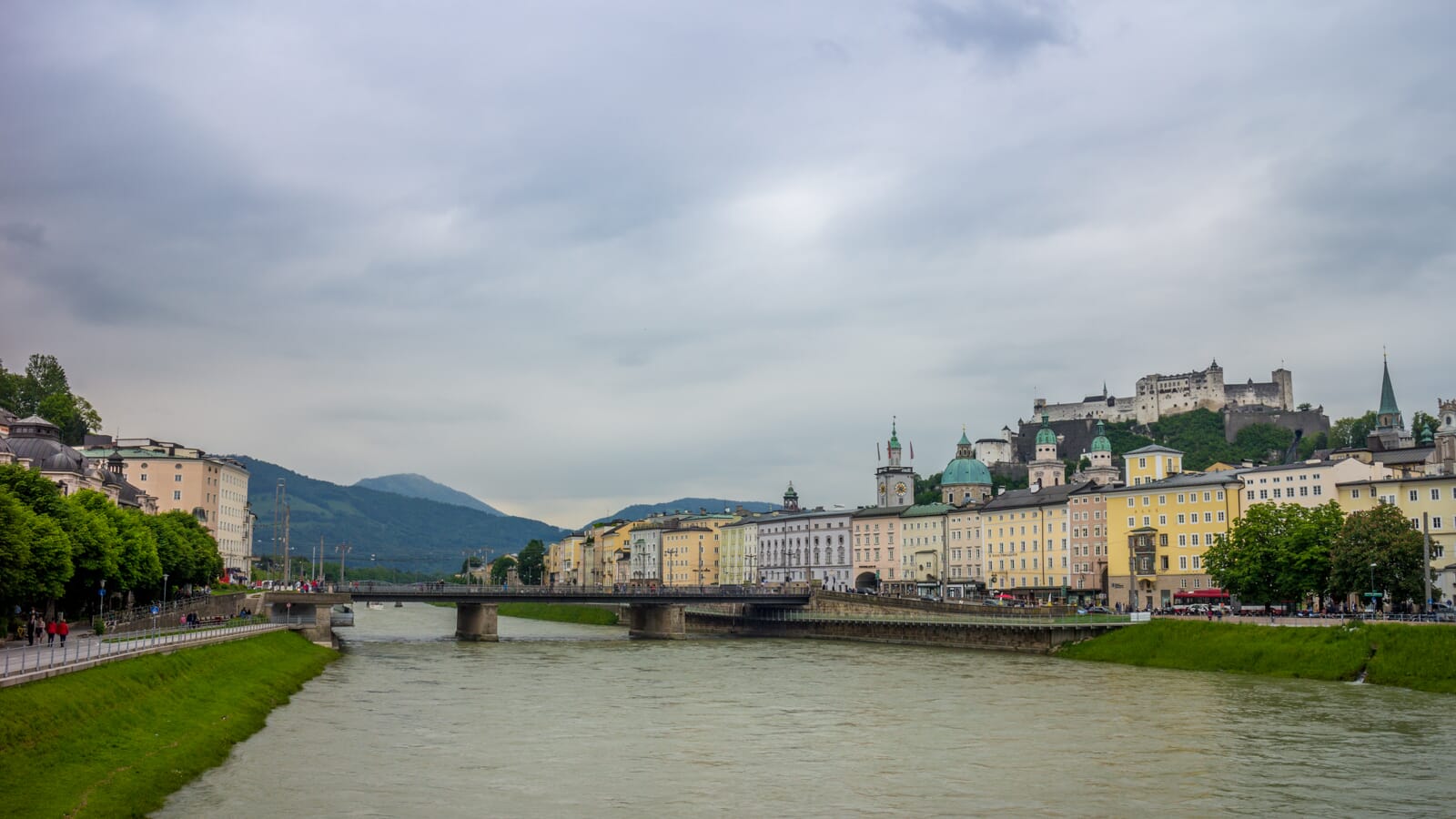 River shots are fantastic. Don't forget to walk along the different bridges, or even take a boat cruise.
Salzburg has several different bridge styles and boat cruises provide a lower perspective of the Salzach River.
3. Salzburg Cathedral
Located in Residenzplatz, Salzburg Cathedral is a monumental building.
This structure has a contrasting interior and exterior. It's this contrast that makes it high on our list of what to photograph in Salzburg.
Outside, the cathedral stands tall. Actually, it dominates the surrounding buildings. The architecture is plain, but the copper domes form an excellent contrast.
Inside, the interior is magnificent.
Exactly what you would expect from a Baroque cathedral – opulent, laced with gold, and packed full of awesome detail.
Practically every wall, ceiling, and knave has brilliant decoration. Moreover, there are stunning frescos and altar decorations.
The photo below was taken inside Salzburg Cathedral. The black and white stucco plasterwork form a brilliant contrast with the painted fresco and golden lighting.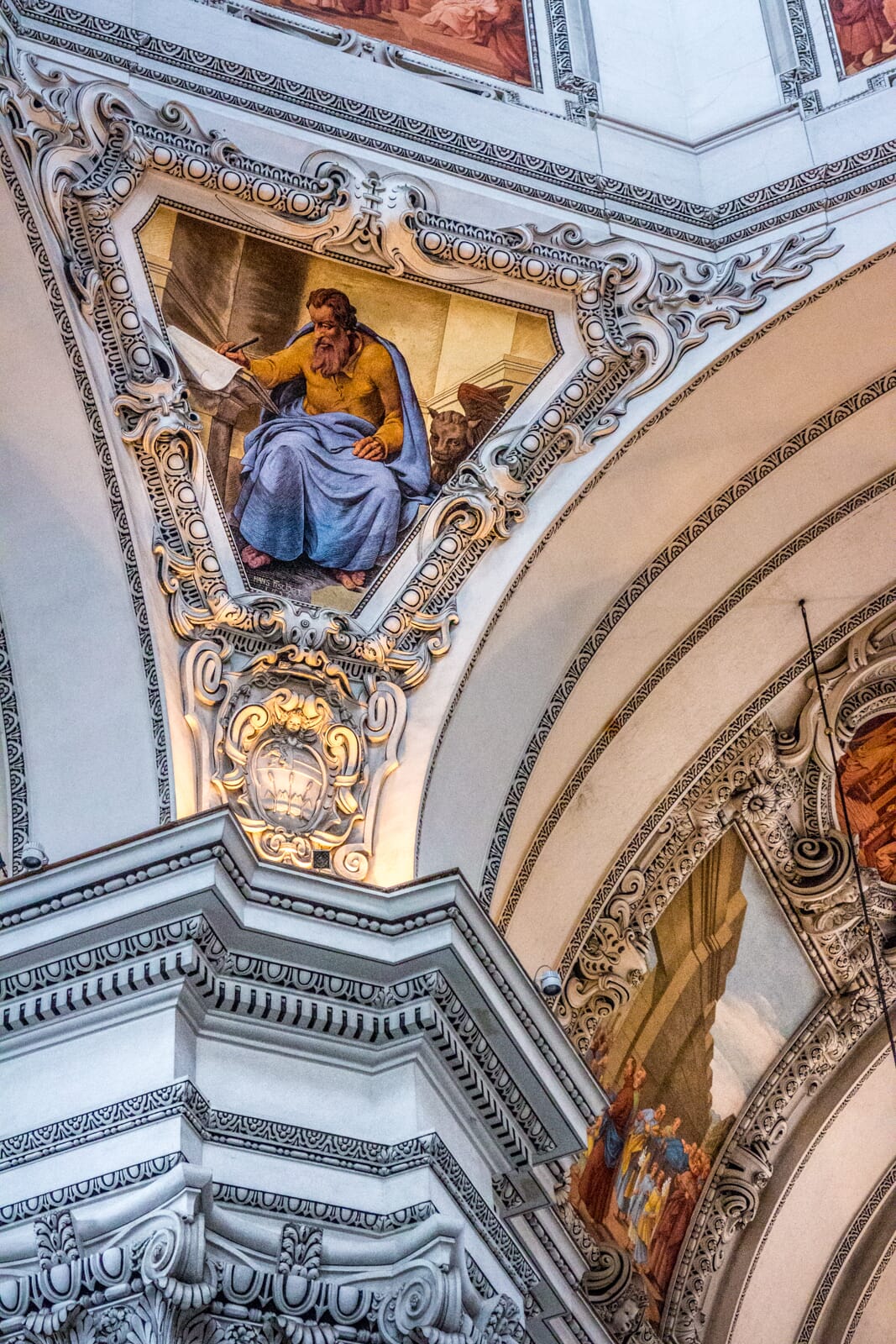 4. Austrian Alps
Want to be surrounded by stunning Alpine landscapes? Salzburg is the place for you.
Within the city, you can photograph this awe-inspiring backdrop – mountains covered with snow, towering to the heavens.
If you travel to the small town of Grodig however, you can scale the heights of the Untersberg Mountain range. Regular buses travel between Salzburg and Grodig and the cost is minimal.
Use the cable car to access Untersberg. The journey is amazing! This journey itself provides some great opportunities in your search for what to photograph in Salzburg.
At the top of the mountain, there are unparalleled views of the Salzburg region. You feel as if you're at the top of the world.
As you can see from the below photo, there is a brilliant combination of greenery, mountains, and small cities and towns scattered beneath you.
5. Hohensalzburg Fortress (Salzburg Castle)
The castle dominates the landscape surrounding Salzburg. It sits high on a hill and commands a dominating view across the valley. It's easy to see why it's been a fortress for hundreds of years.
Since the 1400s, this structure has changed, grown and evolved. It now stands as an icon of the city, and one of the most popular tourist attractions.
Reaching the castle provides some cool photographic opportunities in itself.
There's a funicular railway that scales the side of the castle. Aside from the railway, other photo opportunities include the panoramic views from the highest tower.
The views are fantastic.
Moreover, the castle has a myriad of interesting museums packed full of military equipment and a detailed history of the structure.
Keep your camera ready at all times as you walk through the different corridors and paths, a photo opportunity could suddenly appear.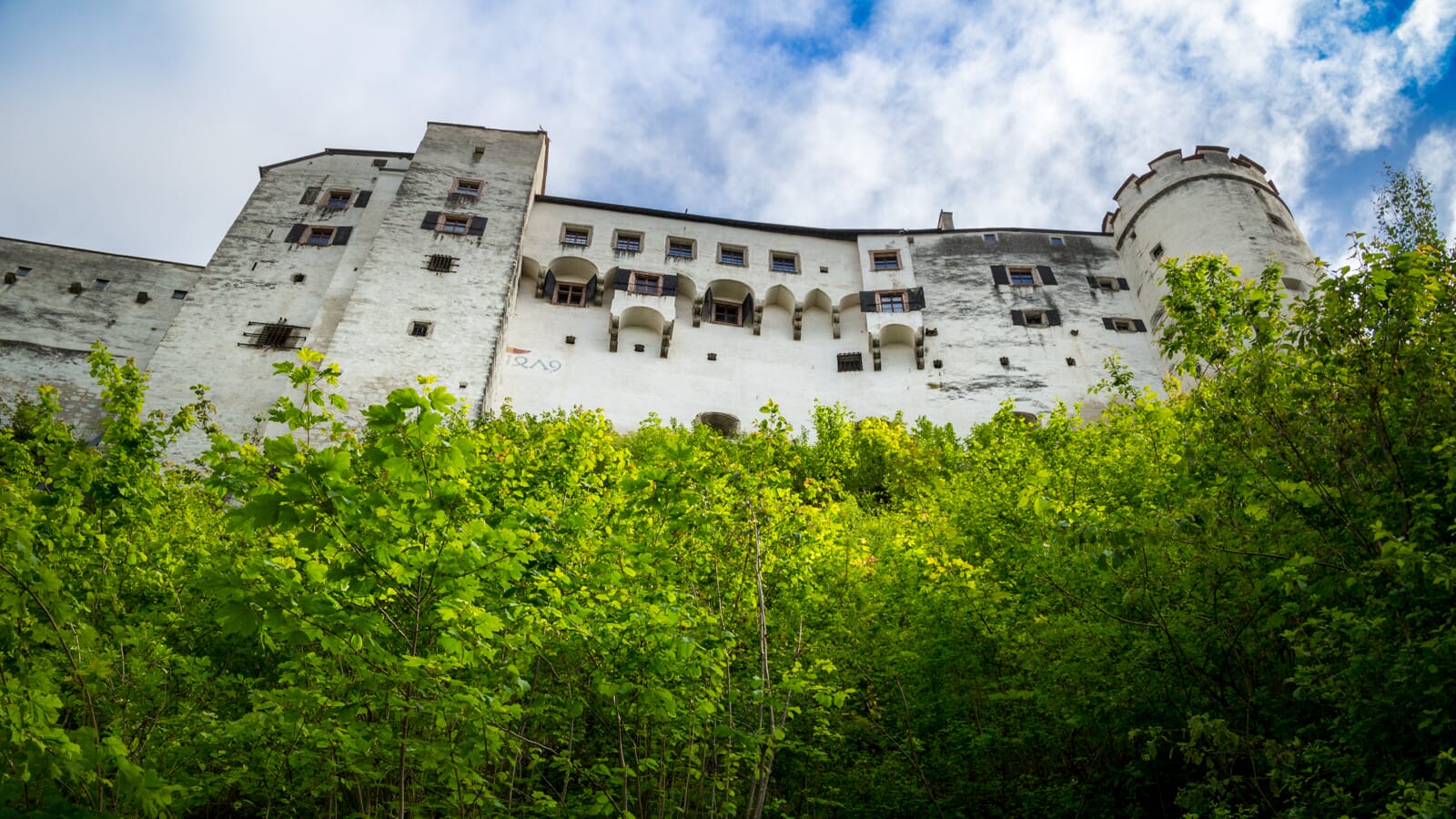 6. View From Hohensalzburg Fortress (Salzburg Castle)
Hohensalzburg Fortress is obviously an interesting subject to photograph. Another interesting aspect of this immense fortress, however, is the views it provides.
The castle is situated high above the city. Due to this fact, the battlements provide a stunning view of both the Salzach River and the architecture of Salzburg.
Photographic opportunities from this viewpoint are numerous. If you have a zoom lens, it's possible to pick out interesting details such as the dome cupolas on Salzburg Cathedral, or the chessboard in Kapitelplatz.
Alternatively, a wide-angle lens allows some excellent panoramic compositions of the cityscape.
The below photo was taken from the fortress battlements – here we can see the cathedral, the river, and even Mirabel Palace in the background.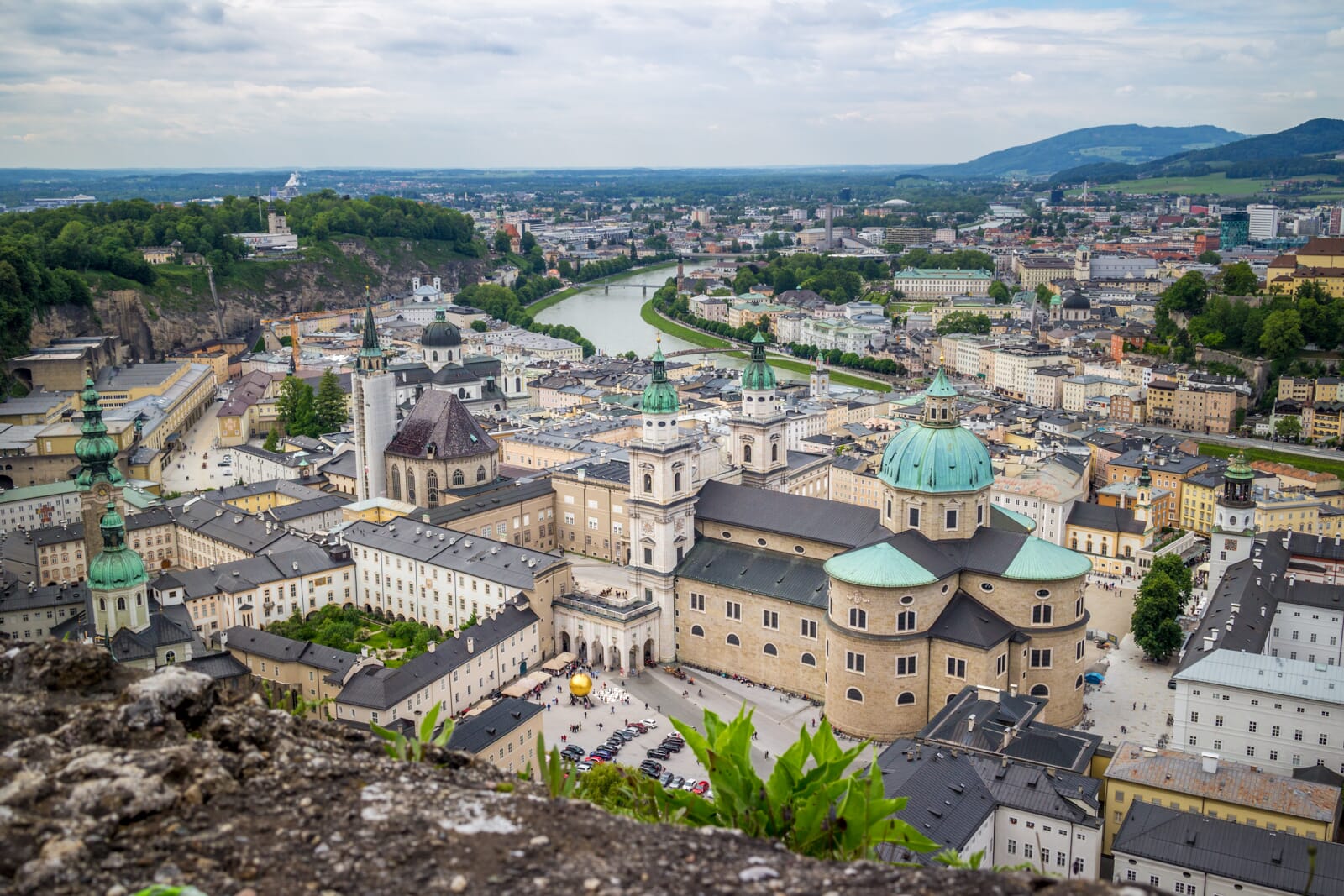 RELATED POST: How to Become a Travel Photographer (Steps to Boost Your Career)
7. Residential Architecture
Salzburg is known for its superb architecture. This extends past the churches, fortresses, and palace, however. Remember that Salzburg was a powerful European city for hundreds of years. The city is well developed, yet retains much of its historical architecture – even in residential areas.
This is why we've included residential architecture on our list of what to photograph in Salzburg. Simply walking through the streets will provide numerous interesting photo compositions.
The residential architecture, for example, is bold and encompasses a number of different styles. The buildings are brightly colored and have interesting features.
When walking between tourist attractions, head away from the crowds and see what photos you can create down quiet streets.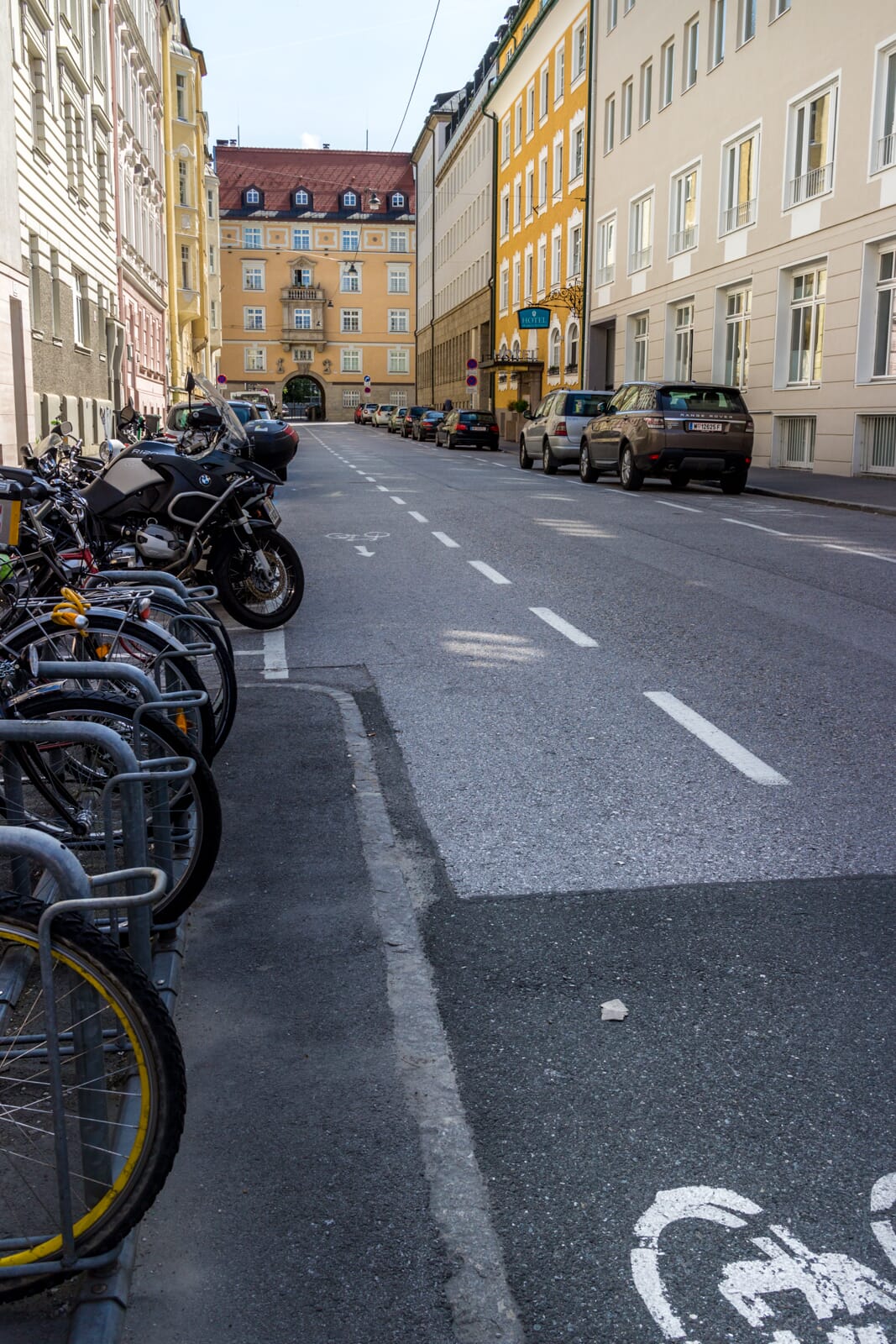 8. Mozart's Birthplace
Wolfgang Amadeus Mozart is a legendary composer. His musical talent was apparent from an extremely young age. Moreover, he went on to create some of the world's most iconic classical music that has stood the test of time.
Mozart was born and raised in Salzburg. The city and the composer have since become synonymous. Naturally, one of the most popular tourist attractions within the city is Mozart's birthplace.
The interior of the building provides the best photographic opportunities.
The museum contains a myriad of excellent artifacts relating to the composer. Every room you enter offers new treasures to photograph such as musical instruments, documents, and portraits.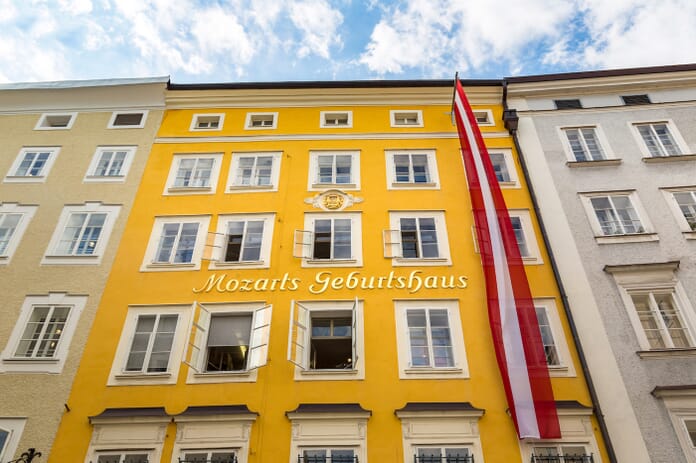 9. Getreidegasse
Salzburg has a number of interesting streets and districts. One of the best known is Getreidegasse. This popular shopping street is found in the historic old town of Salzburg.
Both sides are covered with towering townhouses. Furthermore, each shop or building has an interesting iron sign hanging above the shop façade.
Walking down this street offers a myriad of interesting photographic opportunities.
First, the iron signs have excellent detail and look fantastic. Second, the narrowness of the street and its enclosure from the townhouses also creates an interesting perspective.
And, third, the shop windows and displays are often colorful and bursting with interesting trinkets and crafts. Don't forget to look out for the Marionettenfrau (Puppet Woman), who has been selling puppets since 1987!
Don't forget to look out for the Marionettenfrau (Puppet Woman), who has been selling puppets since 1987!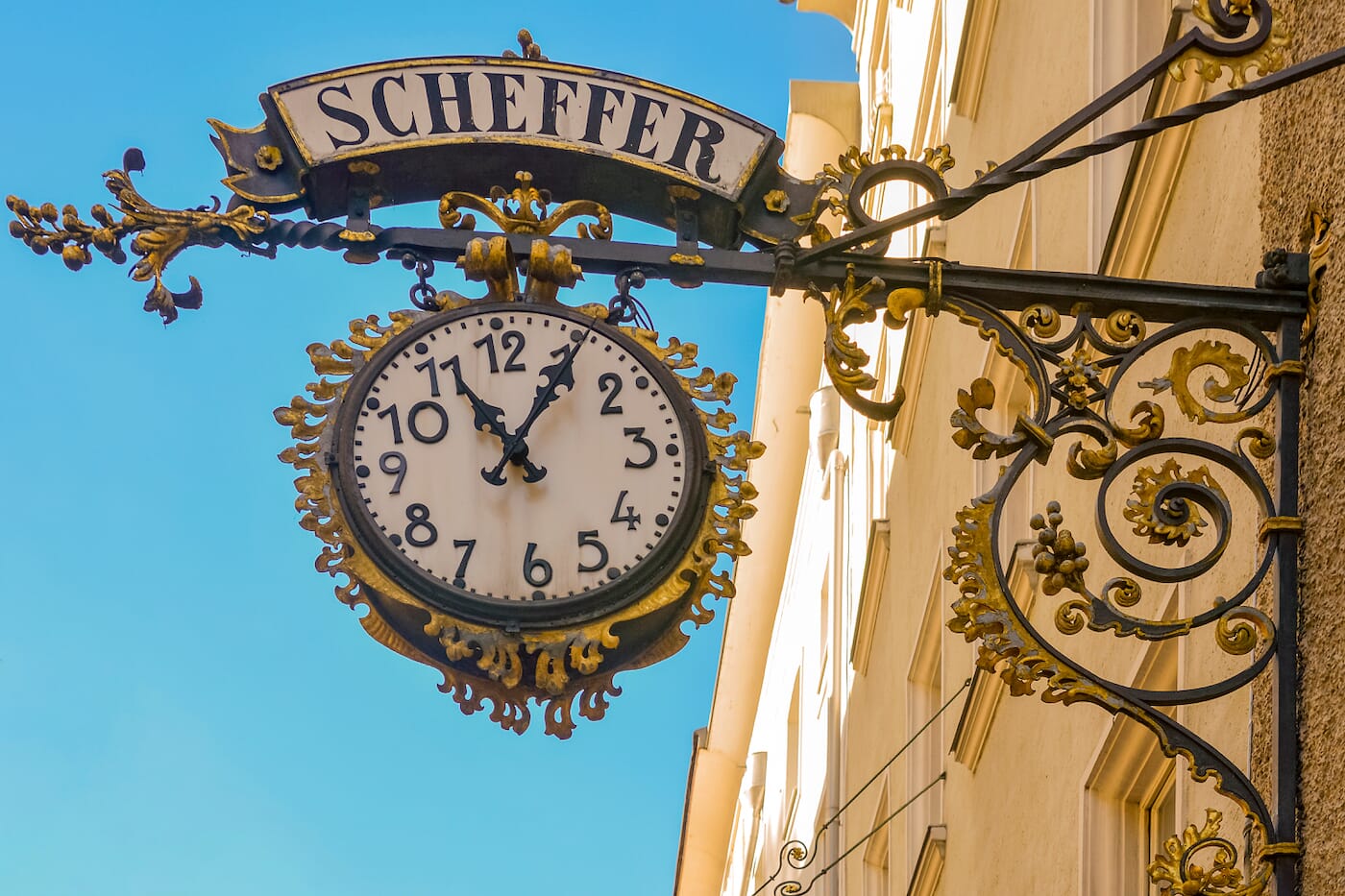 RELATED POST: Best Travel Cameras Compared (12 Picks)
10. Hangar 7
This structure is located at Salzburg Airport and is a dream for both automobile enthusiasts and photographers.
Furthermore, the structure itself offers numerous photographic opportunities – it has a modern style with numerous glass panels. Inside, however, there's a multitude of airplanes and Formula 1 racing cars.
The display is great and the different models offer so many compositions.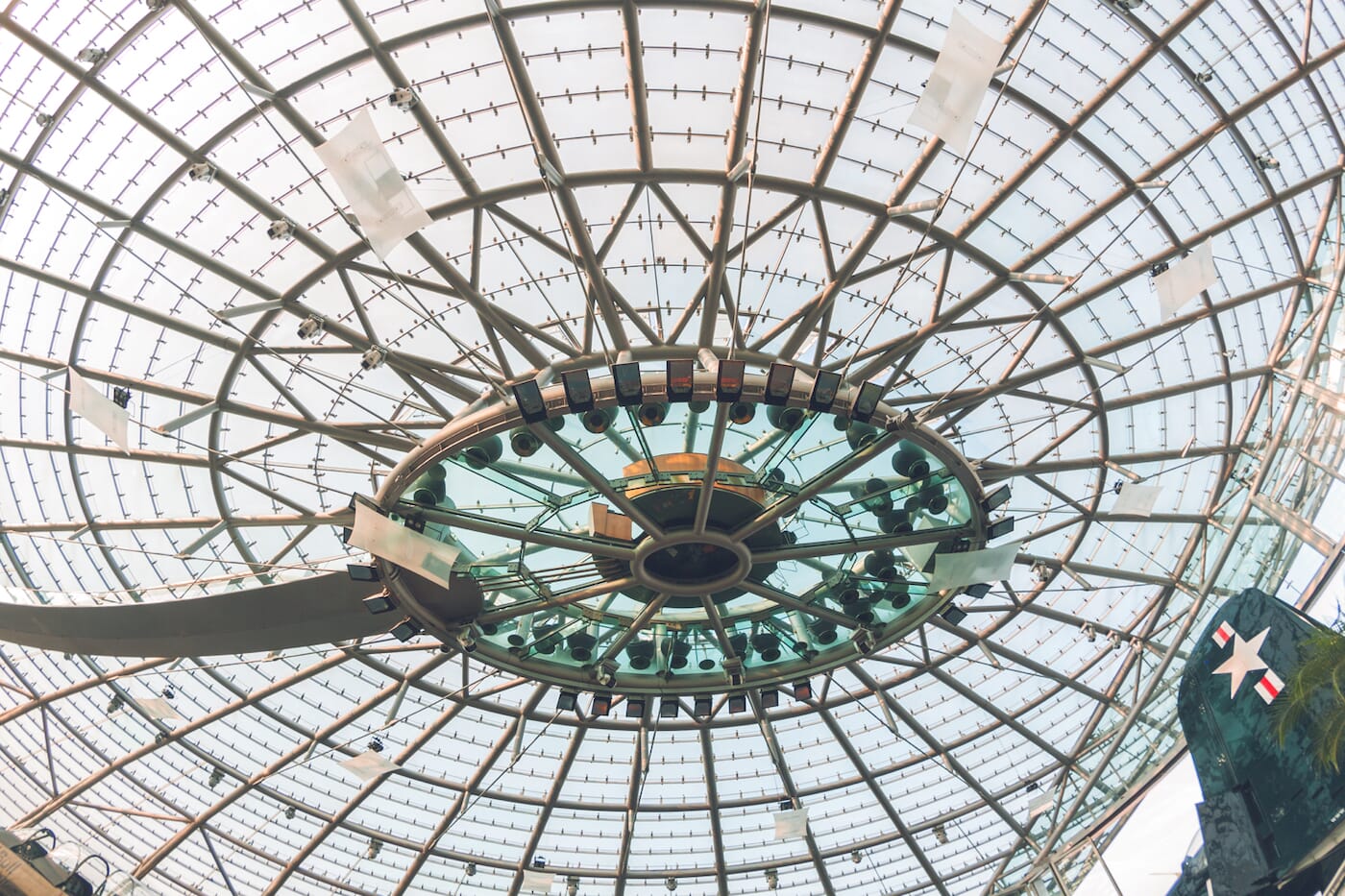 Now You Know What To Photograph In Salzburg
Hopefully, you now have a firm idea of what to photograph in Salzburg. This Austrian city is simply amazing.
The combination of culture, historical sites, and bold characters create an interesting blend. Moreover, locations such as Mirabel Palace and Hohensalzburg Fortress offer both natural and architectural photographic opportunities.
If you've visited this fantastic region of Austria, leave a comment share your own photos!
Paul loves traveling and photography. He is also a Lightroom and Photoshop expert and likes to test new photo software, apps, and gear. Paul frequently shares his travel photography tips on his travel blog and writes for known photography publications.