Sikkim's unique location in the Indian sub-continent gives it a strange mix of flora, fauna and geographical bounty. It is the home of the eastern wing of the mighty Himalayas. The question what to photograph in Sikkim?
Unfortunately, this question has no straight answer. You have to decide for yourself what you want to photograph after you have seen all the options…
Sikkim is a tiny state in the eastern part of India, nestled between Tibet (China) on the North, Nepal on the West and Bhutan on the East.
On the South, it is connected to the rest of India via what is frequently referred to as the 'Chicken's Neck'; a small corridor that connects it to West Bengal and the North-East. It is a part of the Eastern Himalayan region and is the home of the third largest mountain on the planet – the Kanchenjunga.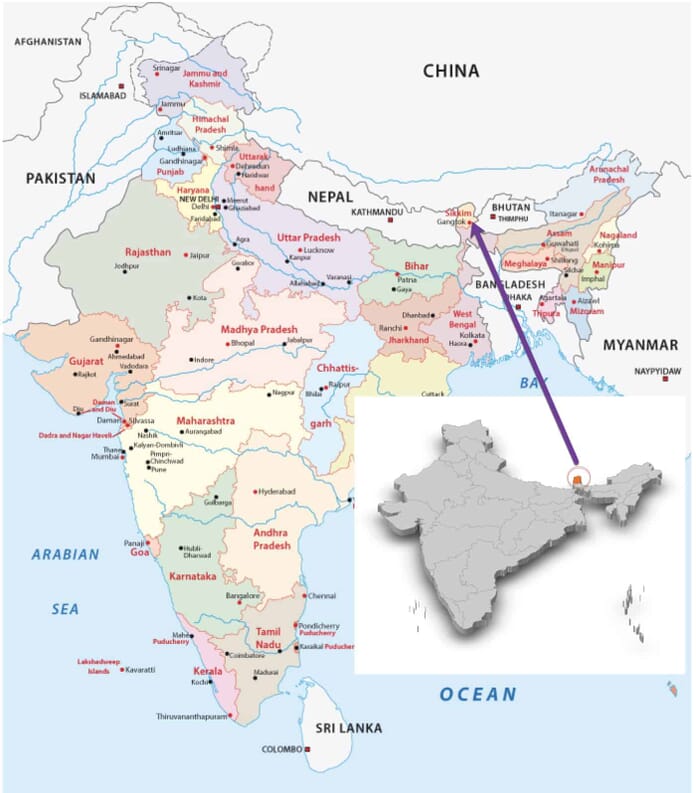 Sikkim's unique location gives it a biodiversity that is unique in the whole of India. The state is divided into four zones/districts. North, South, East, and West.
My favorite being the North. The North being connected with South Tibet is rugged and mountainous. It is dotted with some of the highest peaks on the face of the Earth and a fast-changing landscape that goes from gentle sloping mountains dotted with small hamlets to rugged 7 thousanders (with the exception of the Kanchenjunga that goes well beyond 8000 meters) that stand like an impenetrable wall and finally to snow-covered valleys and glaciers that stretches across the horizon.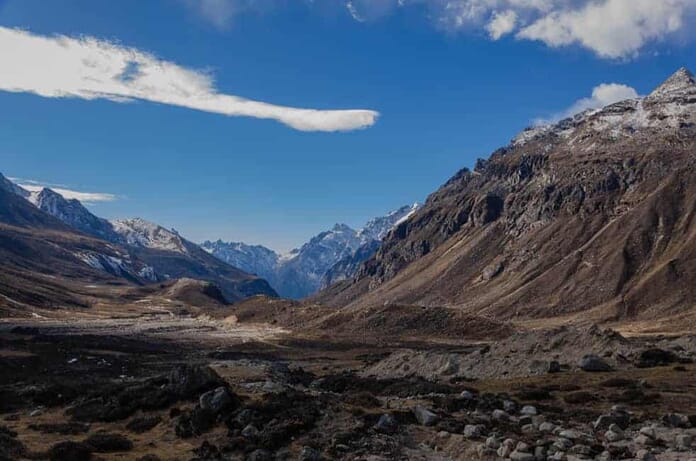 My favorite place in Sikkim is the North District. Especially the areas of Lachung, Lachen, Yumthang, Yumesamdong, and the sparkling Gurudongmar Lake. A true photographer's paradise and a must go if you are in India for at least two weeks.
Another must go route is the West district, especially the Singalila route which is also a popular trekking route in this sector. Speaking of which the West is also where the Kanchenjunga National Park is located.
This region of Sikkim is also popular for its wonderful bounty of flowers.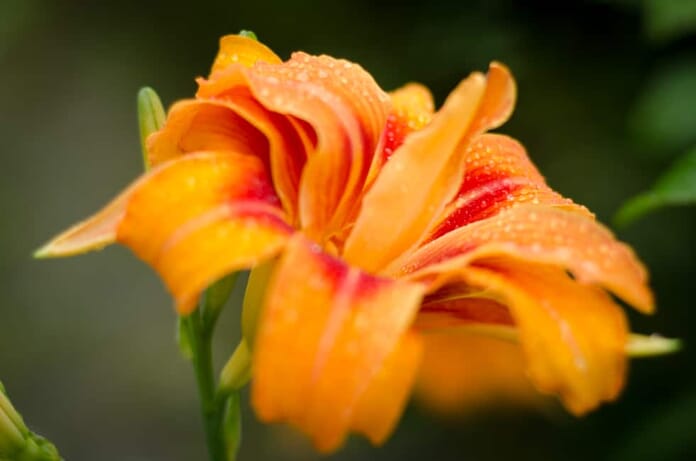 Travel Tip
Sikkim being a border state, both Indian and foreign nationals have to acquire a permit to visit the border areas. Which also happens to be the best of places for landscape photography.
If you are traveling in from New Delhi, you can get your permits from the Tourism Department. You can Google details about permits and how to obtain them. Indian tourists can get their permits from Gangtok on arrival.
Things to Carry
Tripod
A mere GorillaPod will not suffice as you will often be standing and shooting long exposure photos with the camera on a cable release. You need a sturdy tripod that reaches up around your eye level (with the central column extended) and the camera mounted on top of a ball head (ideally). Needless to say, you need a good ball head and not a PT head. We had listed some excellent travel tripods here.
Cable Release
That leads us to the second of the mandatory tools: a cable release.
Pick a cable release type and not one of those wireless ones. That said the wireless ones will allow you to step into a shot and fire your camera from quite far away. With a wired cable release type you are limited.
Waterproof Material
Depending on the time of the year you are visiting Sikkim, it may snow heavily in the northern parts of the state or rain. It is imperative that you carry some sort of waterproof material for your camera bag or the equipment itself. If you could afford weather sealed cameras and lenses then nothing like it. That reminds me you should pack a rain jacket too and good shoes which are ideal for mountain terrain. Especially if you are traveling between late May and late September.
Batteries
Carry extra batteries because the cold weather of the place especially in the North will drain your batteries faster.
Variable Neutral Density Filters
Must have if you don't want to miss out on some of the best long exposure daylight photos you could get.
General Guidelines
The first thing that you need to know is that the people of Sikkim are very friendly. But even then there are limits to which you can go without getting reprimanded or getting frowned at. Aiming your camera at rank strangers is not something that you should be doing. Asking for permission before you shoot your images is the best way to go. Or shoot discreetly without drawing attention. A mirrorless camera might help you achieve that.
Sikkim has a sizeable population that follows Buddhism. Therefore the state has a number of Monasteries. Some monasteries like the one in Rumtek strictly prohibit photography inside the main sanctum. You can, however, make as many images you want to in the courtyard and the surrounding areas.
That said, there are other monasteries which allow you to shoot inside the main sanctum. It is always best to see what the locals are doing and accordingly follow their lead.
Travel Tip
Never travel around a Chorten or a monastery in an anti-clockwise direction. It is forbidden as the locals believe it brings bad luck. Plus, you will be frowned upon when you do that. Same goes when turning the prayer wheels, which you will find in all monasteries in Sikkim.
Related Post: What to Photograph in Bali, Indonesia
Your Main Photography Subjects
People
People are one subject that you cannot and shouldn't miss. But it is not always easy to do people photography anywhere in the world. I was traveling between towns and I came across these bunch of school children. Their school cab was being repaired and they all swarmed by the side of this small bridge. We alighted too. I trudged around making some casual shots. But my main focus was to take an image of these children.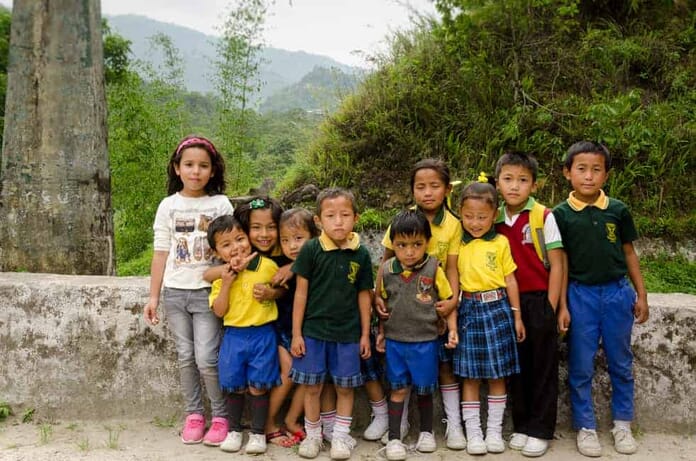 After a while my daughter befriended them (children gel together surprisingly fast all over the world). She shared chocolates, we even sang a Nepali song together. At the right moment, I asked them to pose for a photograph.
Monasteries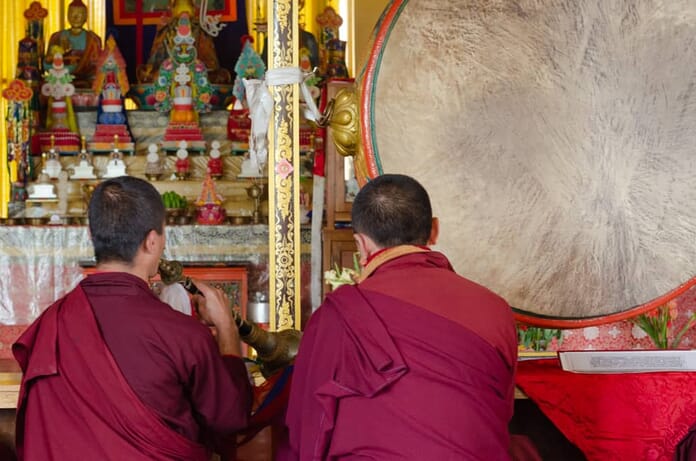 If you are wondering what to photograph in Sikkim, start with monasteries. Monasteries are the second most beautiful subjects that you could photograph in Sikkim. Second only to the landscape of course. A majority of Sikkimese people follow the Vajrayana Buddhism.
The monasteries are brightly colored and beautifully decorated. And they make perfect postcard type images of this beautiful place.
Ranka monastery, along with the Rumtek monastery are two of my favorites to photograph. But there are others as well like the Enchey monastery which offers a beautiful exposure to the local customs and religious practices.
Landscapes
If you are a landscape photographer your first port of call should be Lachung after a short one night halt at the state capital – Gangtok. That said if you don't love shooting landscape photos you have no purpose being in Sikkim.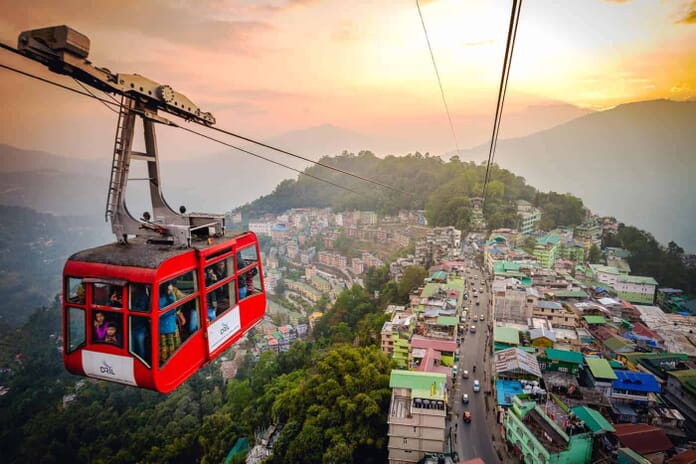 If you don't have your permits done for North Sikkim then Gangtok is also the place where you could get them. North Sikkim is divided into two distinct areas. The Gurudongmar route which goes via Lachen and the Yumthang route which goes via Lachung. You could do both these places in a minimum time period of 4 days and 3 nights.
Gurudongmar is a high altitude lake situated at an altitude of 17800 ft (5430 m). Three religions (Hinduism, Buddhism, and Sikhism) of the world revere the lake. Even though the lake is situated at such an extreme altitude, it is never completely frozen.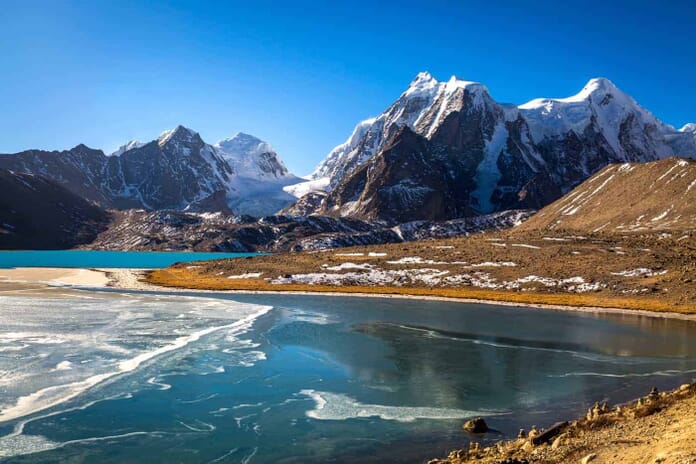 There is an interesting story behind this phenomenon. It is said that the locals had approached Lord Padmasambhava (also known as Lord Rinpoche) about the needs of drinking water in this region. Buddhists believe that Guru Rinpoche had blessed the lake by touching it with his hand and that prevented the waters from freezing completely, even in the height of winter. Thus, it provided a source of fresh drinking water the year round. Sikhs also have a very similar story which involved Guru Nanak who founded their religion.
Whatever may be the myth or the legend, Gurudongmar remains an intriguing destination. It is a tough 3-4 hour drive across some of the scariest of mountain roads you will come across. As a detour, there are two other destinations which you can visit to. One is Chopta Valley and the other is the viewpoint at Kalapatthar. You get amazing views of the surrounding mountains and the snow-covered landscape.
From Lachen, there is a beautiful trekking route that goes to Goecha La. La in Tibetan means pass. It is the artery that connects two places going through a mountain range. This is the base camp for those who are aspiring to scale the Kanchenjunga or the nearby summits. You get an unhindered awe-inspiring view of the mountain and no less than 3 7-thousander and half a dozen 6-thousander from here.
Another equally beautiful place is the small Hamlet of Lachung which is the gateway to the Yumthang valley and the beautiful Zero Point.
Food
The best place to make images of local food is in Gangtok. Being the capital city it also has the largest choice of Tibetan, Nepali, and traditional Indian cuisine. But I would recommend keeping to the traditional Nepali and Tibetan cuisine.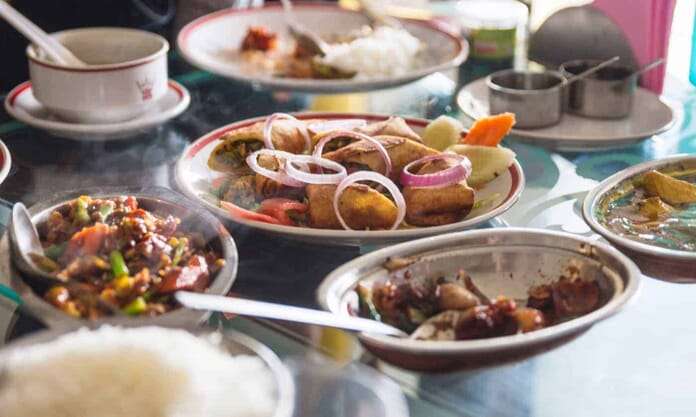 Gangtok is a surprisingly clean city when you compare with the other major capitals of the other states in India. So, street food is limited to restaurants. There are no joints on push-carts the sort of you would find in New Delhi or Mumbai.
A great place to explore is the Snow Lion restaurant which is a part of Hotel Tibet located near the Fire Station in Gangtok.