Known as one of the most beautiful and unique cities in Europe, you may struggle to choose what to photograph in Venice. There's just too much to choose from!
Finding what to photograph in Venice is an enthralling experience
Venice has been a center of culture and arts since the Renaissance and it's easy to see why! First of all, it's hard not to mention the fact that Venice sits in the middle of the vast Venetian Lagoon – and who doesn't enjoy an island nation?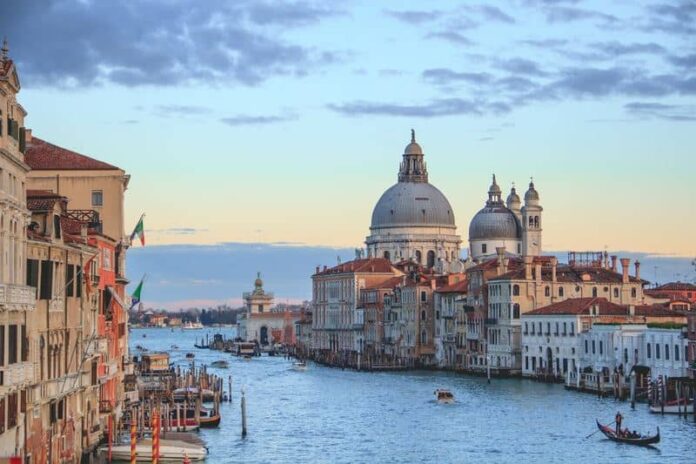 Top Photography Spots & Themes in Venice:
And, with all that water surrounding it, why not make use of it? Within Venice you can find hundreds of small interconnected canals – it's like a complex network of waterways.
A city break to Venice will provide you with uncountable photographic opportunities. If you love photography, pack extra batteries because your camera will never stop! There's just so much to see – it's a unique city like nothing else you'll experience in Europe.
But don't worry, we're here to help you get some epic shots. Read on to see some of my top tips, and a list of what to photograph in Venice!
Considerations when choosing what to photograph in Venice
Okay, before we look at what you should photograph while in Venice, let me impart some advice I learned the hard way…
It's an extremely interesting city for photography. We've already covered that. But, because of its uniqueness, you should take a slightly different approach to get the most out of it.
Photographically speaking, that is.
With that in mind, the following are some basic tips to help during your Venetian adventure: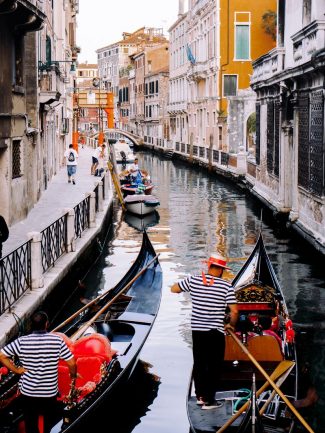 Make use of water transport to get great photos of Venice!
As stated, Venice is an island. Well, a series of interconnected islands to be exact.
To travel quickly around the central island we advise using water transport. You can take public boats to different islands such as Giudecca, San Marco, and Santa Croce.
Additionally, you can use the small gondolas to travel from one side of the grand canal to the other – this is hugely convenient and saves you time trying to find a bridge to cross.
It's plain and simple…
By using water transport, you'll be able to travel to more sites and take more photos!
For the best photos of Venice, don't limit your travels
This city is certainly packed full of amazing sites and attractions. Our list of places to photograph in Venice mainly consists of places and attractions within the main island. But, surrounding Venice, there are a plethora of other places to explore too.
So, don't overlook them!
For example, the places listed below also offer excellent photographic opportunities:
| | |
| --- | --- |
| – Venice Lido | – Mazzorbo |
| – Murano | – Lazzareto Nuovo |
| – Burano | – Sant'Erasmo |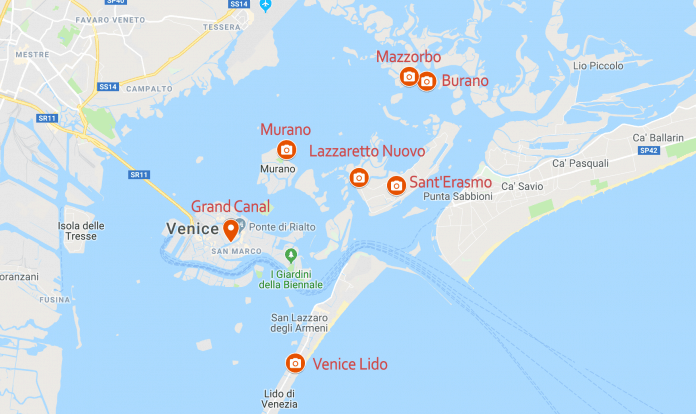 Protect your camera with a waterproof case
When traveling through Venice, you'll come in close contact with water. If you have an expensive DSLR or mirrorless camera, you will want to protect it. Imagine traveling on a gondola and dropping your $2000.00 investment in the Grand Canal.
Ooof. 😭
Protect your camera!
Purchase a waterproof case or you just pick up a waterproof carrying case. Furthermore, ensure you have a secure strap and that your camera cannot easily fall out of your reach.
Ideally, you pack your photography gear into an anti-theft camera bag.
Still not sure what to photograph in Venice?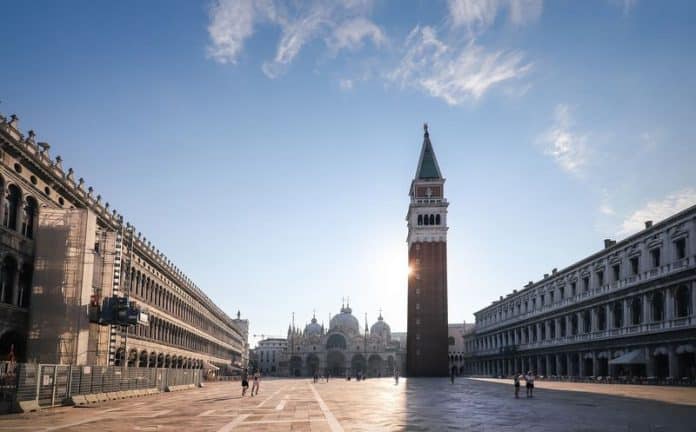 When taking photos of Venice, try to capture its beauty and fantastic architecture. Shoot photos that convey the island nature of this sprawling city. Incorporate the waterways, boats, and canals into as many photos as possible.
The weather should generally remain pleasant – the Adriatic coast of Italy experiences beautiful weather with fantastic temperatures. Below, I've created a list of what to photograph in Venice – from St. Mark's Square and food, to the canals and bridges.
Best Photo Spots in Venice
1. The sea of terracotta rooftops
This might seem like a strange entry into what to photograph in Venice, but you'll understand when you set foot in the city.
In fact, to show what we mean, look at the Google Map of Venice just below. Go ahead and scroll in a little bit–don't be shy! Let's take a good close up aerial look at this amazing place.
What can you see?
A man-made sea of bright orange terracotta rooftops, right?!
Now, I don't want to deprive you of any views, so scroll back out and take a more birds-eye view while you're at it.
See how beautiful this place is?
To see this spectacle clearly, there are numerous vantage points. I'm convinced there's not a bad angle from which to see this city.
The best is undoubtedly St. Mark's Campanile. This immense bell tower offers superb views of Venice. From here you can take some magnificent photos of the orange tiled rooftops.
Related Post: Best Places to Photograph in Barcelona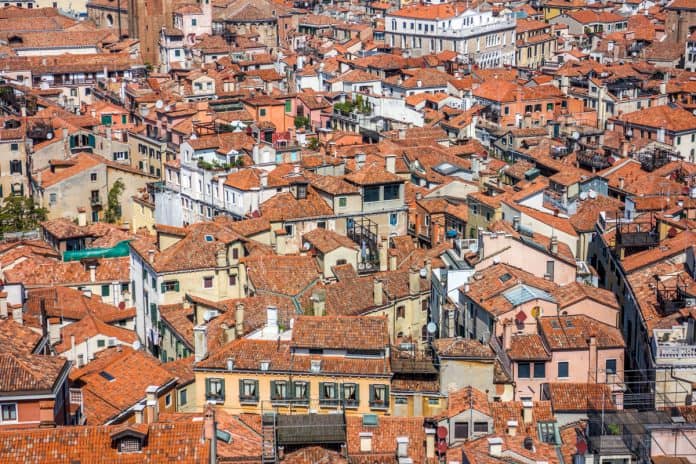 The resulting photos are excellent and hugely detailed.
Not to mention…
The recurring tiled pattern creates a brilliant effect. As you can see from the photo above, the rooftops look like a brightly colored maze and hide the many canals in the streets below.
2. Smaller canals
Did you know that Venice has over 150 canals?
The Grand Canal is the largest, but the smaller canals provide some exceptional photographic opportunities. You could spend days walking through the streets of Venice exploring the different canals.
Practically every new corner can offer a new and exciting angle to take photos of the waterways.
One lesson you'll learn while taking photos in Venice, Italy is to always have your camera ready! 📸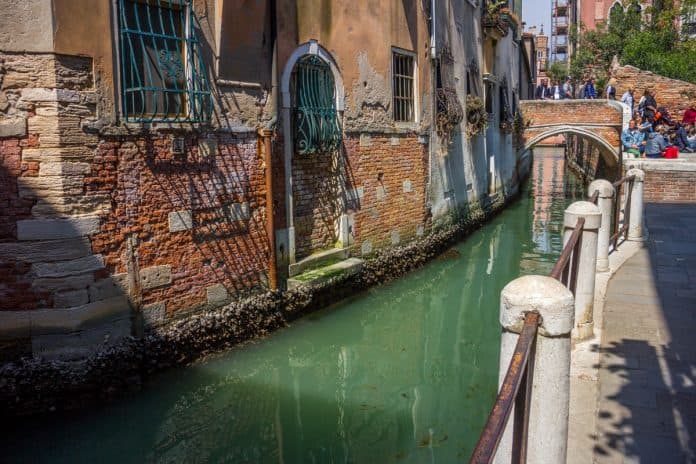 In the photo above, we can see how the canal cuts through the buildings at a nice angle. Furthermore, it creates a leading line that guides your eye towards the bridge and tourists.
Walk away from the main tourist areas and get lost along the canals.
You'll find some amazing photographic opportunities and some hidden gems. Just remember to keep tabs on your location so you don't get lost in the maze of side streets and waterways!
3. The Grand Canal
While the small canals offer some intriguing photos, the grand canal offers something completely different.
This is the main vein that runs through Venice.
The Grand Canal stretches from one side of the city to the other and winds through the center like a snake. This is the widest canal in Venice–and also the busiest. At any time of the day, you can see water taxis, gondolas, and other watercraft traveling along the turquoise waters.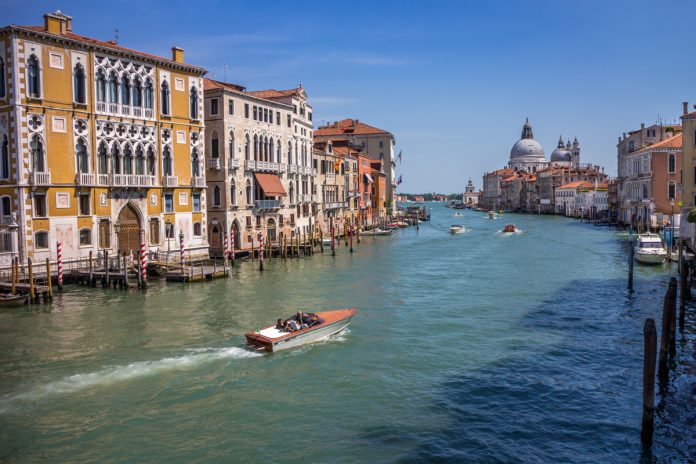 The canal is crossed by a handful of picturesque bridges. The architecture of the buildings surrounding the Grand Canal is fascinating – there's an amazing mixture of buildings and churches.
If you walk onto the bridges spanning the Grand Canal you can take some magnificent photos of this immense waterway and really capture how busy and important it is. The photo above was taken from the Ponte dell'Accademia.
4. St. Mark's Square
St. Mark's Square is one of the busiest and most popular locations in Venice. Within this amazing area, you can find a host of different things to photograph.
To be honest…
We could have written a list of what to photograph in Venice based just on this square alone! But, of course, you should venture into all the nooks and crannies this bustling city offers.
That being said, here are some of the compositions you can create while you're spending time at St. Mark's Square specifically:
St. Mark's Basilica
St. Mark's Campanile
The colonnades and arches of the square itself
St. Mark's Astronomical Clock
Pigeons
Street vendors
You could spend hours within the square and take a multitude of unique shots. Plus, because the square is always busy, you can capture some interesting action shots of the tourists, locals, and performers.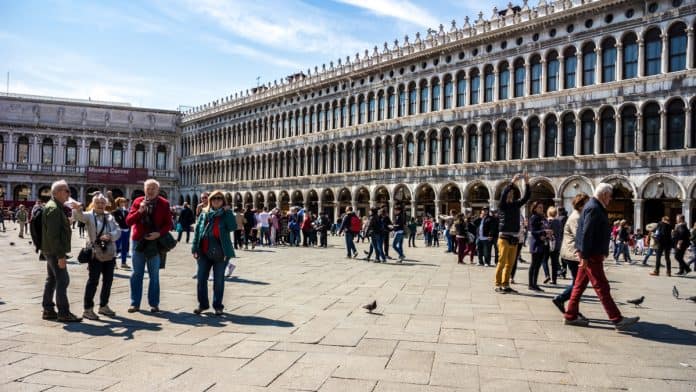 5. Long-distance shots of the city
This is much easier if you have a drone, but there are several vantage points within Venice that allow you to take wide-angle shots of the city.
The photo below was taken from the island of San Giorgio Maggiore. This small island lies at the eastern end of the southern island of Giudecca.
There's a large bell tower here next to the church. From here you can see the main island of Venice in all its glory. As you can see, the wide angle shots from here are spectacular – especially when you frame St. Mark's Square and the dominant Campanile.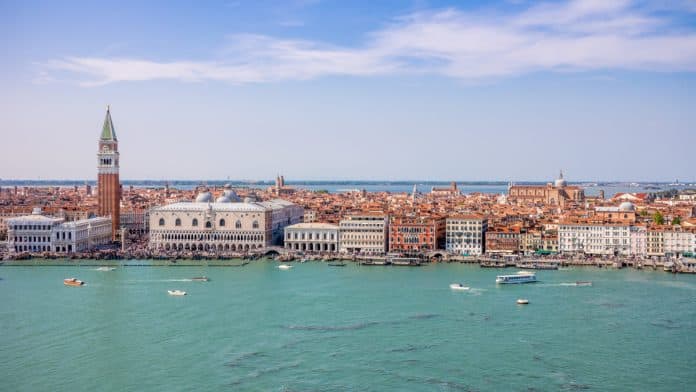 6. Food!
When in Venice you can indulge in some amazing meals. And, besides eating…
What else are meals, food, and drink good for?
Taking photos of course! You can take some Instagram worth pics of the delicious treats and meals you'll eat during your stay in Venice.
The following are some of the food types and drink that can create excellent photos:
– Pizza 🍕
– Pasta 🍝
– Ice Cream 🍦
– Bellini 🍷
What better way to showcase authentic Italian food than by taking photos? There's a plethora of amazing restaurants and cafes where you can pig out. (I speak from experience!)
Establishments close to St. Mark's square tend to be more expensive, but you can find affordable eateries too. When taking food pics, don't forget to use a wider aperture to create a beautiful out of focus background.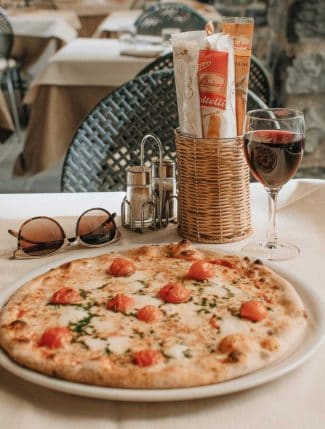 Related Post: Six Food Photography Tips for Beginners
7. St. Mark's Basilica
The Basilica of St. Mark is one of the most celebrated buildings in all of Venice. Once you step inside this masterful creation you'll understand why it's on our list of what to photograph in Venice.
The interior is lavish golden decor, as you can see in the photo below. The gold, frescos, and the many columns and arches create amazing compositions.
Moreover, the exterior is just as decadent. The mosaic frescos above the doorways and exterior arches look beautiful and provide great close-up shots.
If you retreat to the far end of St. Marks' Square, you can capture the Basilica together with the square itself, and maybe some of the hundreds of pigeons too. Always remember to be respectful of this important religious building and only take photographs where permitted. Don't forget to head up to the rooftop too for some amazing aerial shots of the square below.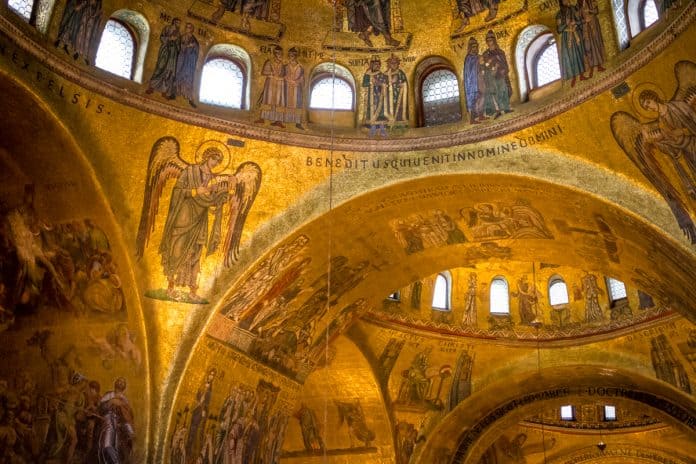 8. Taking photos in Venice of all the glorious bridges
As I mentioned earlier, Venice has a multitude of bridges. The Grand Canal only has two bridges along its expanse:
The famous Rialto Bridge
and the decorative Ponte dell'Accademia
Both of these bridges are totally photo-worthy. You can capture the architecture of the bridges, or use them as a point from which to photograph the Grand Canal.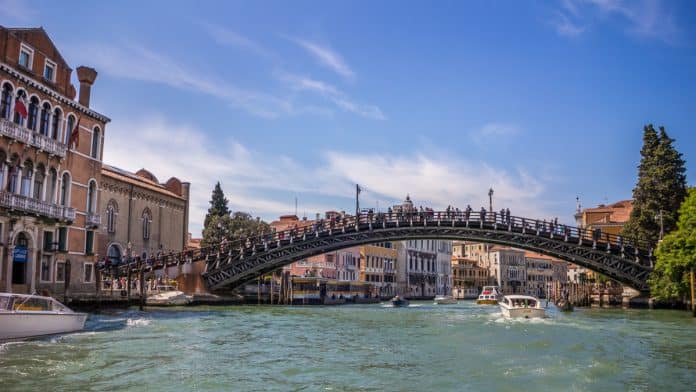 The smaller canals are also dotted with bridges. These bridges have been created over a number of different time periods and, as a result, there are many different architectural styles. Some of the bridges have metal railings. Others are made completely of stone. Some brides even have stone sculptures etched into the sides and pillars.
The bridges combined with the waterways really can provide some astounding photo compositions. These should certainly be high up on your list of what to photograph in Venice.
9. Boats and water transport
Gondolas, speed boats, water taxis, cruise liners – you can find any type of water transport imaginable in Venice and more! These watercraft create interesting photos.
First, you can take snaps of the vessels in the water – this helps give a sense of motion and action.
Second, as seen in the photo below, you can take snaps of the small details of the boats. This photo is actually of the interior of a water taxi that ferried people along the Grand Canal.
Be creative and use your photos of boats to show the uniqueness of Venice and how the city has evolved without reliance on cars.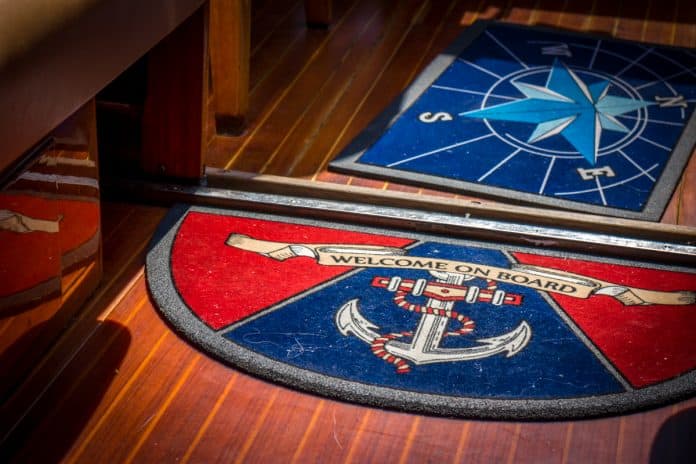 Our Take: You'll have no problem finding what to photograph in Venice
As you can see Venice really is a fantastic place to explore. It's a brilliant destination with a fascinating history and culture. Discovering what to photograph in Venice is going to be just as much fun as taking the photos themselves.
As a bonus, you should also be able to improve your photography skills with some of the challenges it will present while capturing this unique Italian city.
Have you visited Venice before?
Why not share your photos and share some of your experiences?