Ljubljana is the capital of Slovenia. And, in recent years it has become a popular European travel destination. If you're trying to decide what to do in Ljubljana on your upcoming trip to the city, we've got you covered!
In this Ljubljana travel guide, you'll find travel tips, the best places to visit, and some awesome photos too!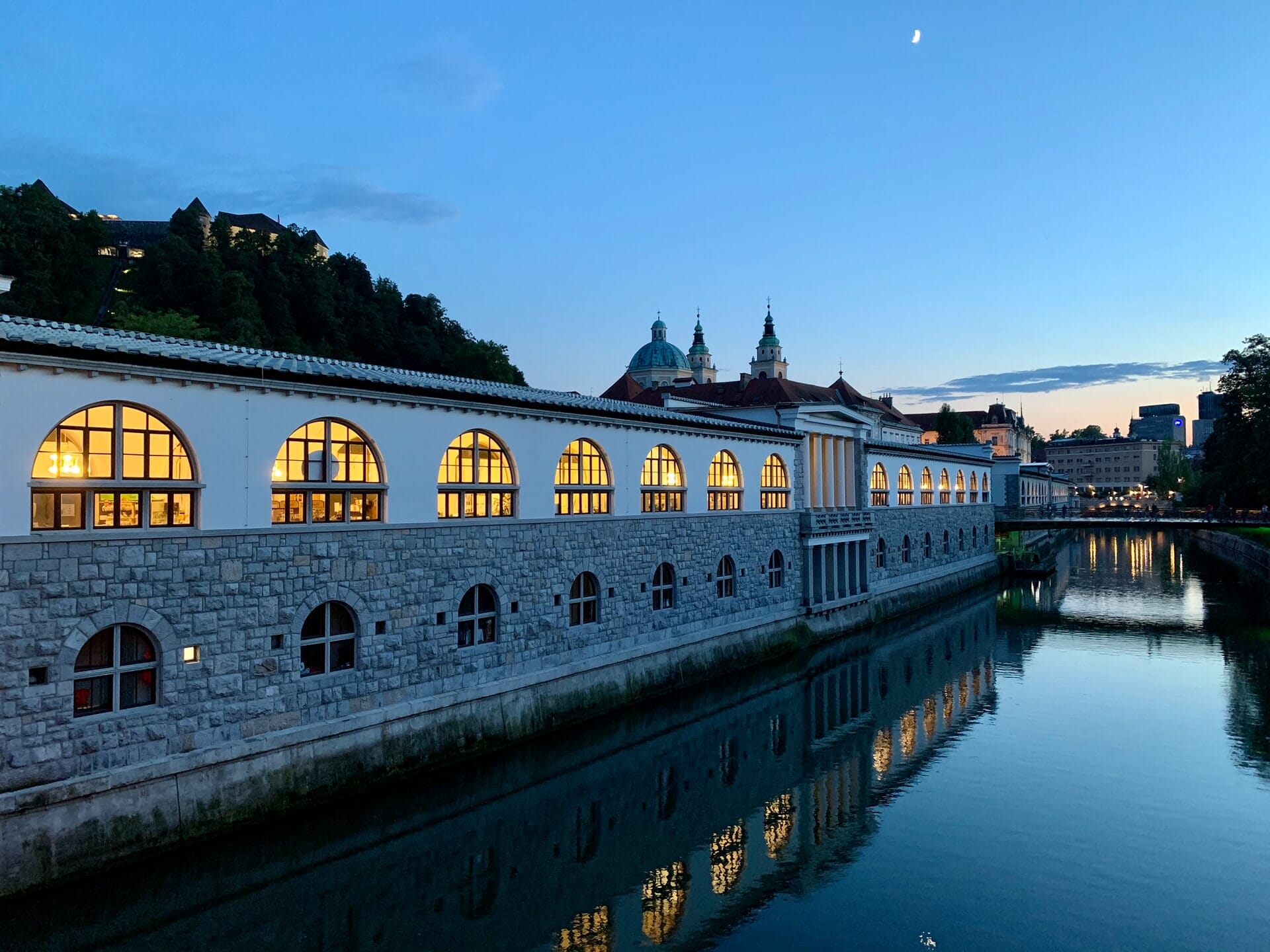 Ljubljana Travel Tips
Slovenia is a country that's a bit off the beaten path. Tourists generally prefer to visit other nations such as Italy, France, and Spain. What a shame!
Slovenia has so much to offer.
It's a country packed full of culture, tradition, and gorgeous scenery.
It's bursting with interesting places such as the castle and Dragon Bridge. Not to mention, the myriad of cool restaurants and bars. Aside from the city proper, the surrounding region has stunning scenery such as the iconic Lake Bled.
In other words, you've got a lot to look forward too!
Just a few quick notes of interest before we start talking about what to do in Ljubljana…
I want to share some basic travel tips for Ljubljana and Slovenia:
Currency: Euro
Language: Slovenian
Capital: Ljubljana
Borders: Austria, Hungary, Italy, Croatia
Driving: Right-hand side
Generally, the people of Ljubljana are friendly and welcoming. The weather is mostly pleasant. Although, during the spring and summer months, temperatures can be high. So pack accordingly!
The main airport is Jože Pučnik. From the airport, travel time to Ljubljana city center is approximately 45 minutes.
We would advise taking the number 28 bus. This travels directly to the city center and costs just over 4 Euros.
Another bit of advice, purchase your bus tickets online before you arrive.
When exploring Ljubljana itself, it is small enough to walk around. In fact, the old town is perfect to explore on foot.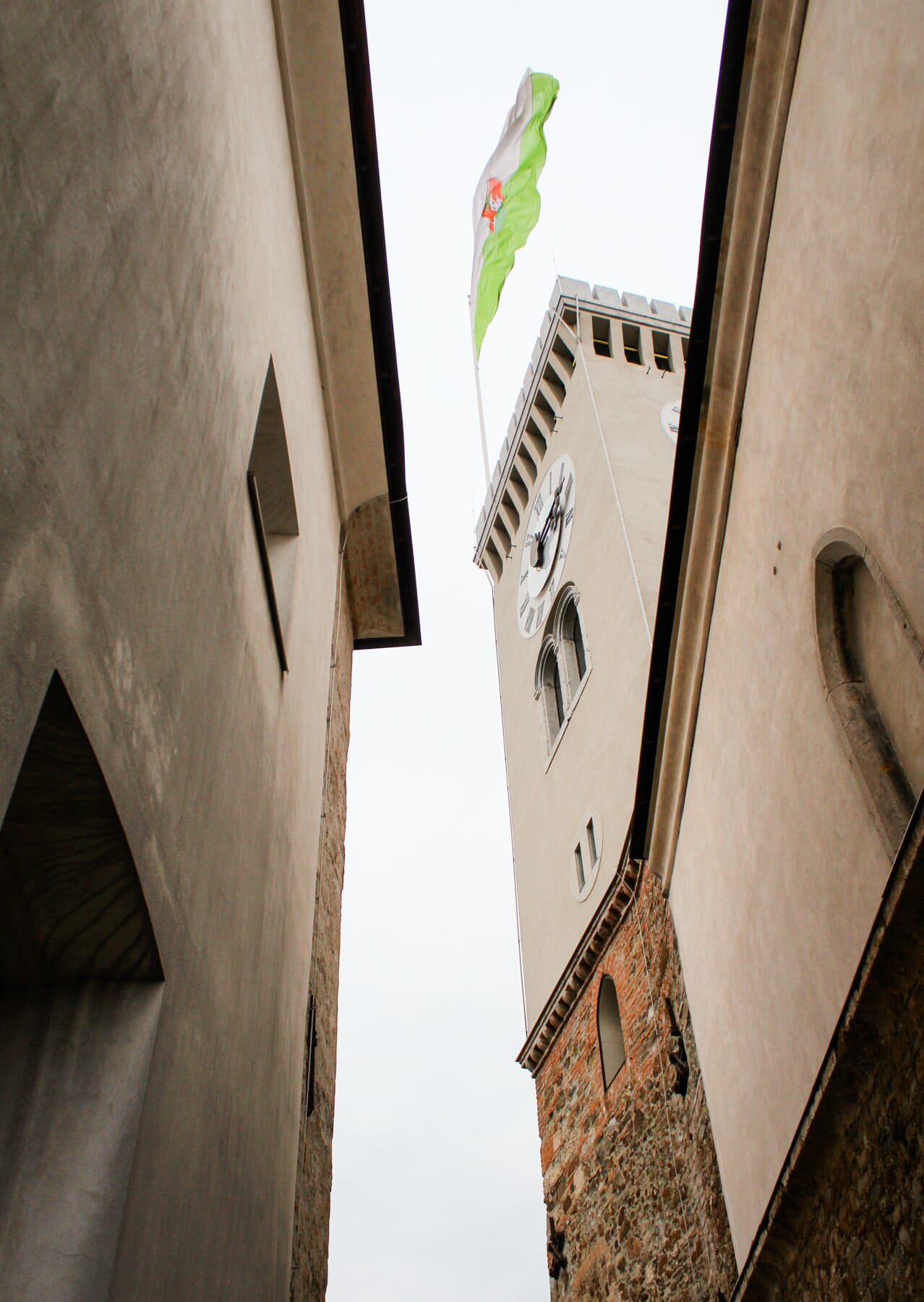 Top Sites In Ljubljana and Surrounding Areas
Now that you have a little information about Slovenia, let's look at some things to do in Ljubljana.
The city itself has many sites. It's a historic place that's played an important role in European affairs. Furthermore, if you travel outside of Ljubljana, the surrounding region is simply awe-inspiring.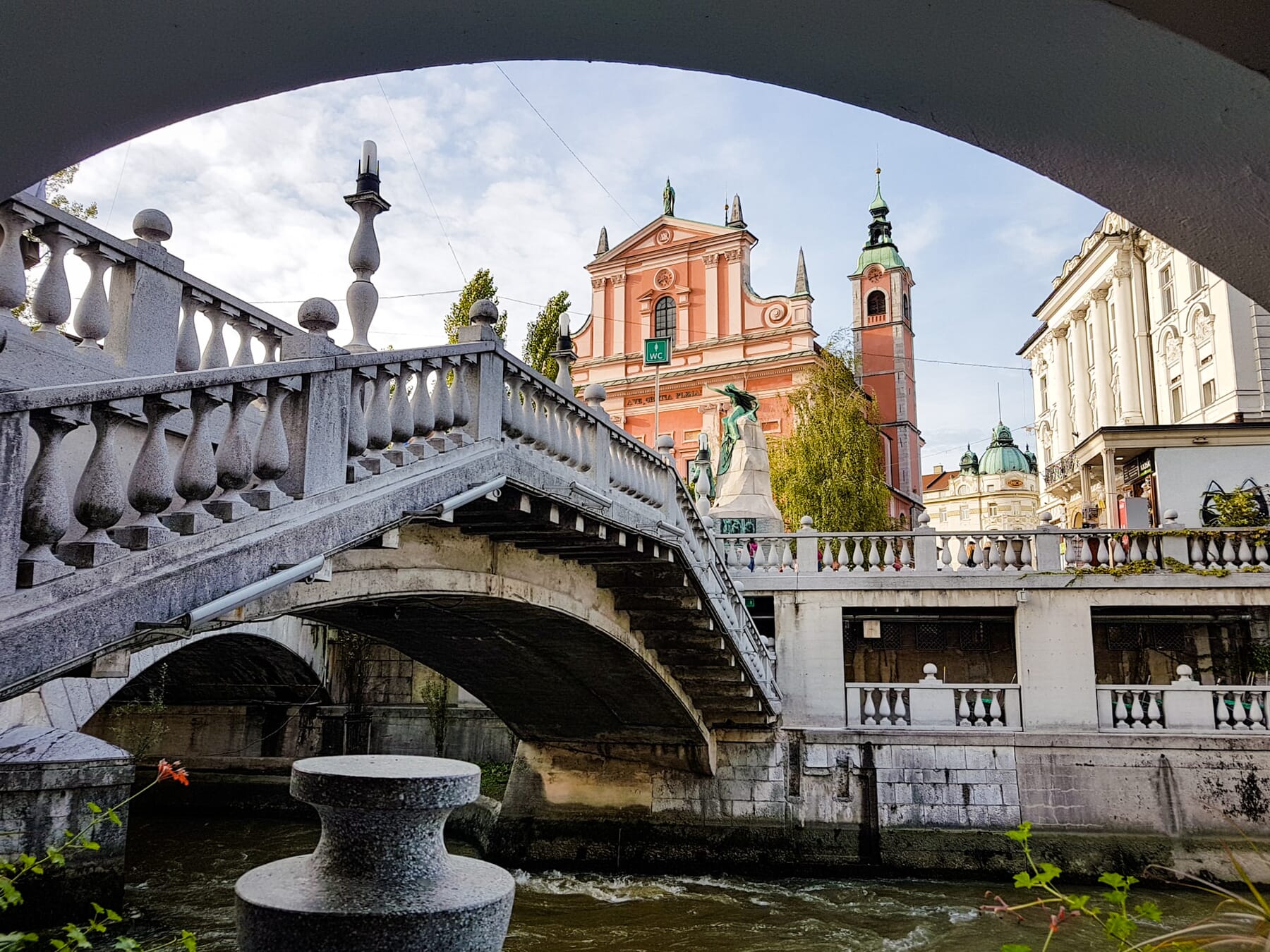 The Three Bridges
The Three Bridges (or Triple Bridges) is at the top of many people's list of what to do in Ljubljana.
These walkways connect two important parts of the city:
the medieval old town
and the modern sector
The bridges that stand now are fairly modern, having been built in 1932. Older versions of the bridges have stood for hundreds of years, however.
The famous architect and designer, Joze Plecnik, designed the additional two diagonal bridges to ease congestion that often occurred along the main bridge.
(Yep, just like the name of the airport!😀)
Now, this area is one of the most popular areas in Ljubljana to walk through. The surrounding Preseren square has fantastic architecture and many cafes and restaurants too.
So, have your camera at the ready! 📸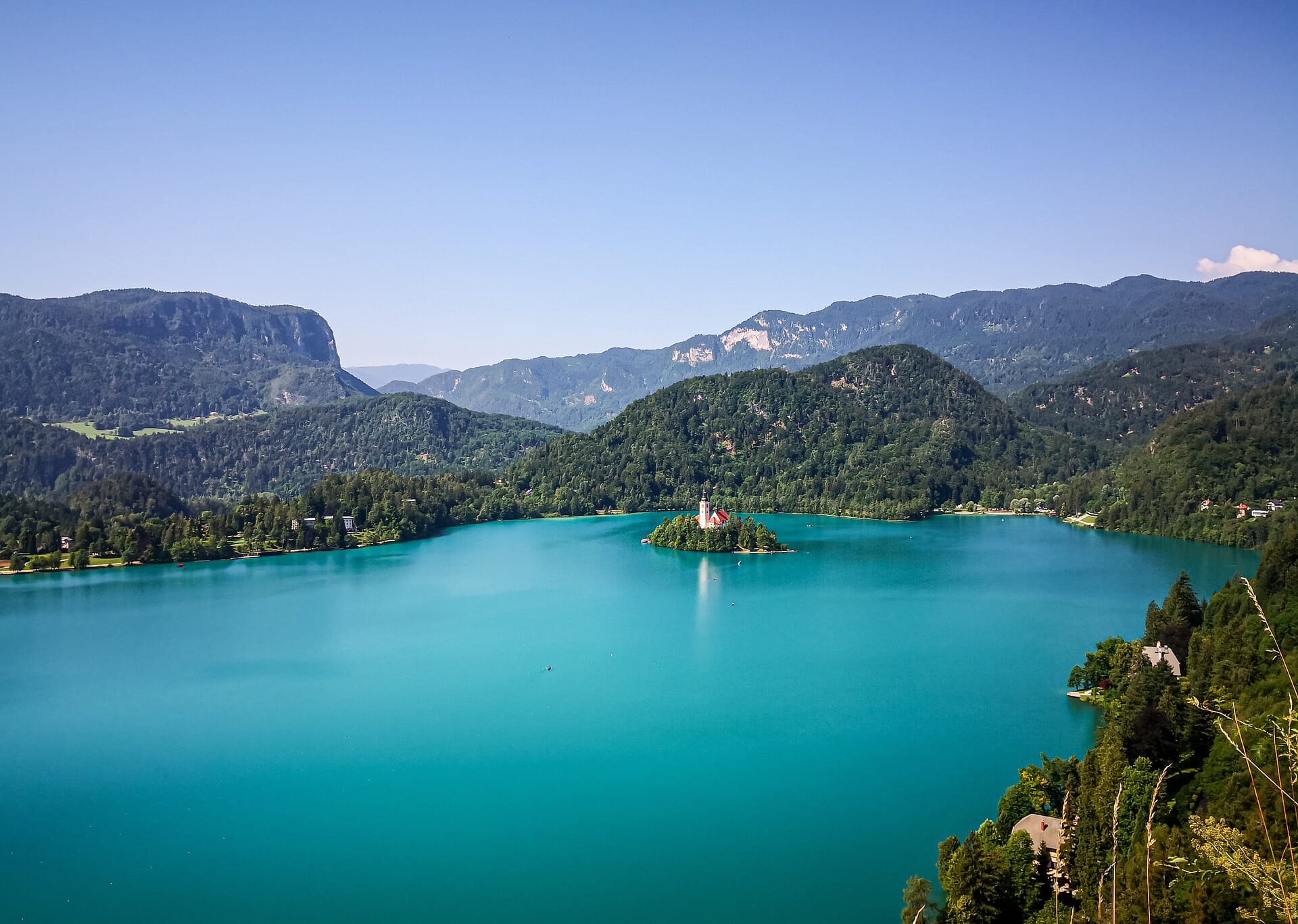 Lake Bled
Lake Bled is possibly the most beautiful natural spot in Slovenia. Actually, it's renowned throughout the world. As such, it's become an increasingly popular tourist destination within the country.
If you are looking at things to do in Ljubljana, Lake Bled is an absolute must. Various tour companies provide half and full day trips to this scenic spot. The tours can be nice, since, in most cases, you'll also see other attractions such as Vintgar Gorge.
So what makes Lake Bled so special?
Trust us, when you get there you will understand! It is stunning.
Landscape photographers, rejoice! The reflections of the mountains in the water are gorgeous.
Plus the small island and its quaint church that sits perfectly in the center of the lake. You're gonna love it. It has to be one of the most jaw-dropping lakes in the entire world.
And we haven't even got to the mighty Bled Castle that sits high on the surrounding cliffs.
Now are you starting to see why views of the lake from here are unparalleled? 🤩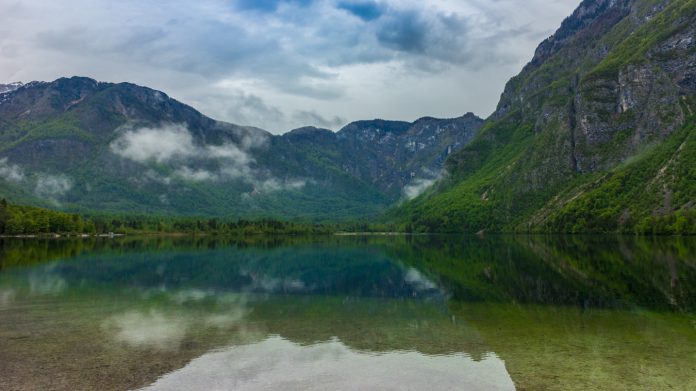 Lake Bohinj
Thankfully, Lake Bohinj is not as crowded as the more popular Lake Bled. After a busy boat ride on Lake Bled, retreating to Lake Bohinj presents a much-needed respite.
This is another gorgeous glacial lake that doesn't draw quite the same number of tourists. Bohinj is also surrounded by mountains and deep verdant forests. So, if you love nature, Bohinj will feel like heaven.
This lake has several points at which you can stop to take photos. For the adventurous, water sports and boating are also available during the summer months.
On the road-side of Lake Bohinj, there's a walking trail through the woods that you can enjoy. The solitude of the woods, combined with the sheer beauty of the water and surroundings rank this lake as a top thing to do in Ljubljana.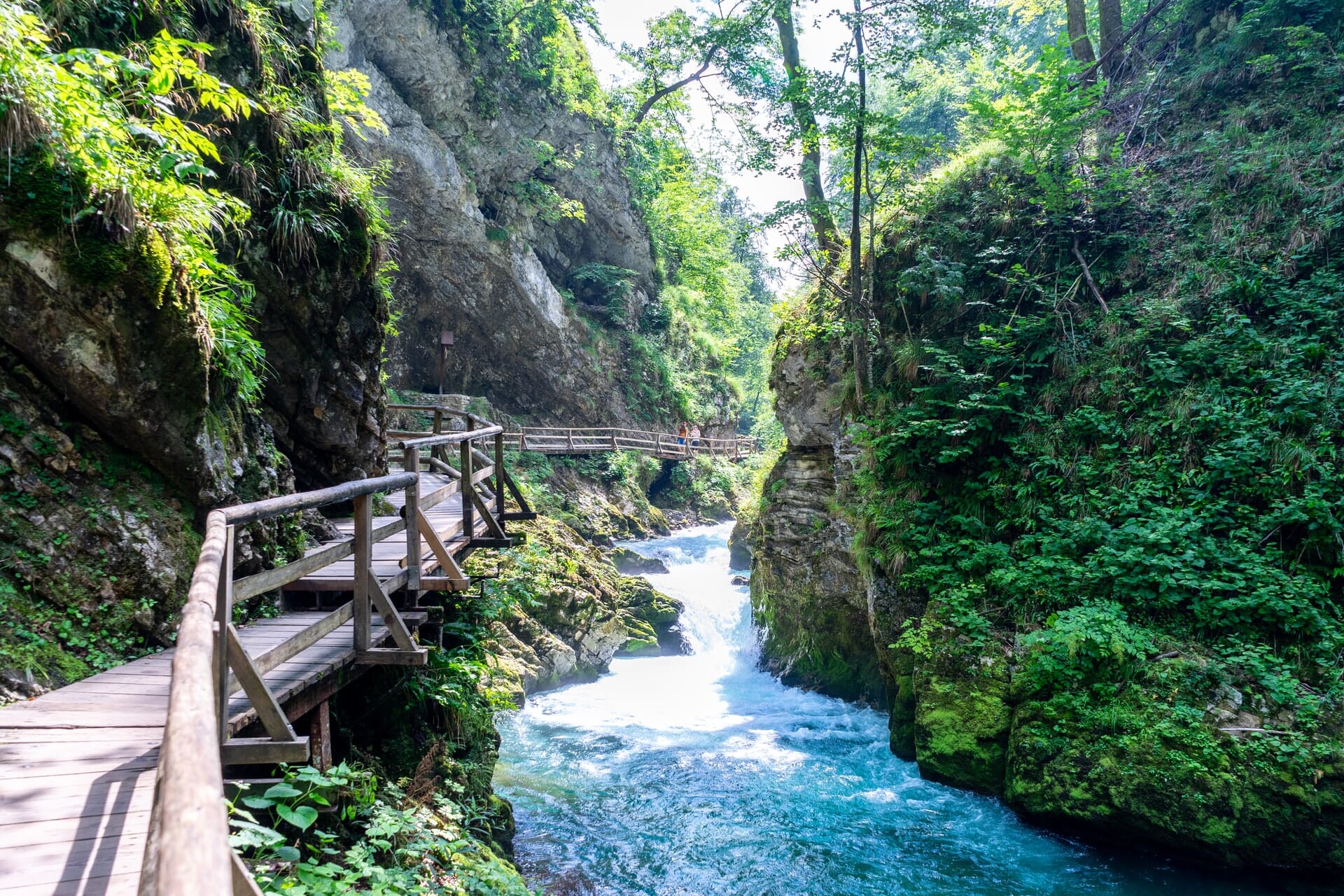 Vintgar Gorge
After Lake Bled and Bohinj, you'd think nothing could come close to their beauty. But, after hiking through Vintgar Gorge you may feel different!
This is a natural gorge that spans for about 1 mile within the Radovna Valley. A stream runs through the gorge and continues to erode the rock. It really creates some strange and unusual rock formations.
This gorge has been made accessible to the public by a series of paths and wooden walkways. You can hike the entire length of the gorge and take in the impeccable scenery.
As you're hiking you'll see clear turquoise waters–maybe even spot some brown trout if you're lucky!
As you're walking, look up and you'll see the canyon walls towering 330-feet above you in some places. It really is a beautiful place and demonstrates the magnificence of the Slovenian countryside.
RELATED POST: Best Travel Tripods in 2022 (15 Lightweight & Compact Options)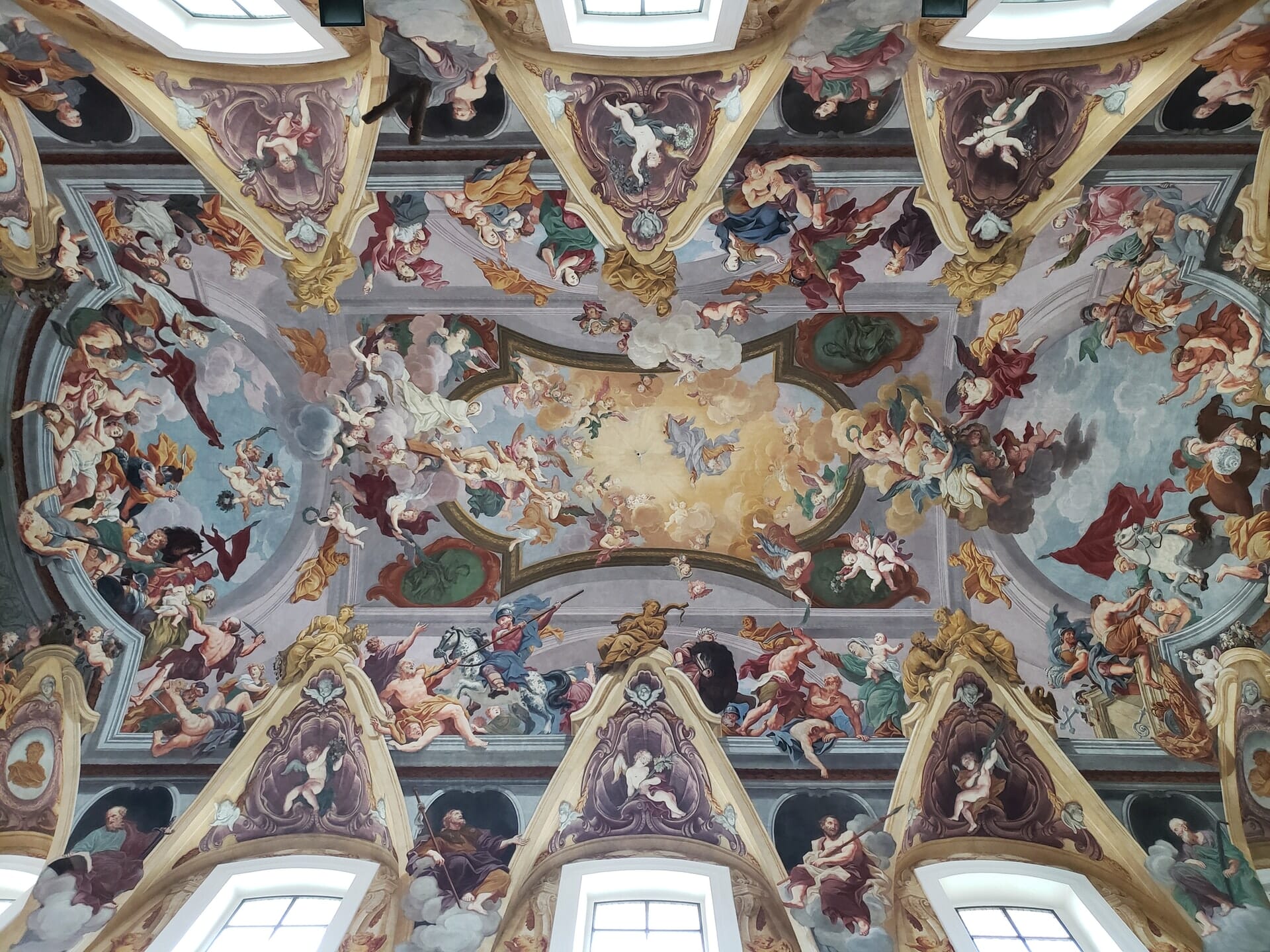 Ljubljana Cathedral
The Cathedral of Ljubljana was built in the 1700s and has a fantastic Baroque architecture style. Now, it'll cost you 2 Euros to enter, but it's a small price to price considering the stunning display of artwork and decoration inside.
Before you go in, be sure to scope out the exterior, as well. It has a recognizable dome and two bell towers at the front. You'll be able to see these at various points throughout the city. 🔔🔔👀
Inside, however, is the real treat…
As you walk in, look upwards.
You'll see the superb fresco painted by Giulio Quaglio on the ceiling. It's nothing short of stunning. Various scenes from the Bible are depicted in great detail. Furthermore, the main organ, altar, and pulpit are all richly decorated.
It is certainly one of the finest churches in Europe.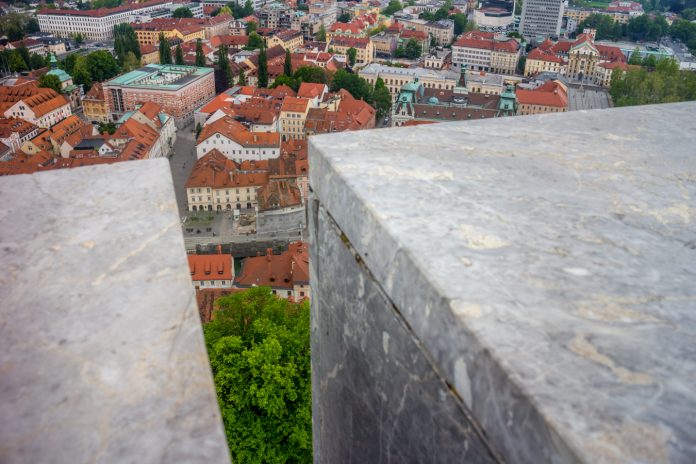 Ljubljana Castle
There has been some form of fortification at the spot Ljubljana Castle stands for hundreds of years. The castle sits on an ideal spot–hundreds of feet above the city below. Once you travel up to the castle walls, it's easy to see why this was a well-defended spot.
To ascend to the castle there are two options.
You can take a winding path that snakes up the hillside, or…
Take the quicker way: the cable train (it's easily accessible from just behind the Central Market)
Inside the castle, you can find an interesting set of museums and displays. Furthermore, there's a cafe and some great viewpoints to take photos from.
For the best view, head up to the top of the Tower of Whistles. This is the highest point and allows you to see for miles.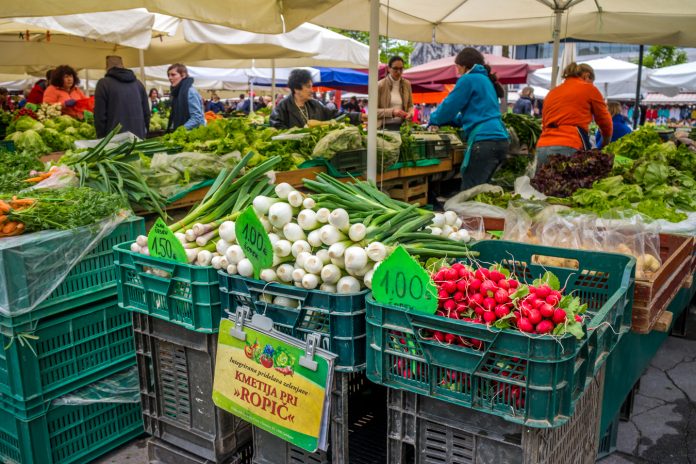 Central Market
If you love authentic culture, head to the Central Market. This huge open-air market is located on the south side of the river not far from the Cathedral. Within the market, you'll find clear sections – flowers, plants, fruit, vegetables, clothes and more! Every stall is packed full of interesting gifts and items for sale.
As you walk through the market, prepare to have your senses will be invaded.
You'll smell the delightful scents of the many flowers. And, along with that, you'll smell the assortment of fresh produce for sale. It is a pleasure to walk through.
You can take some interesting photos and watch the locals barter and buy their goods. Don't forget to buy some produce to taste too! The fruit is delicious and fresh. This is certainly one of the most interesting places on our list of what to do in Ljubljana.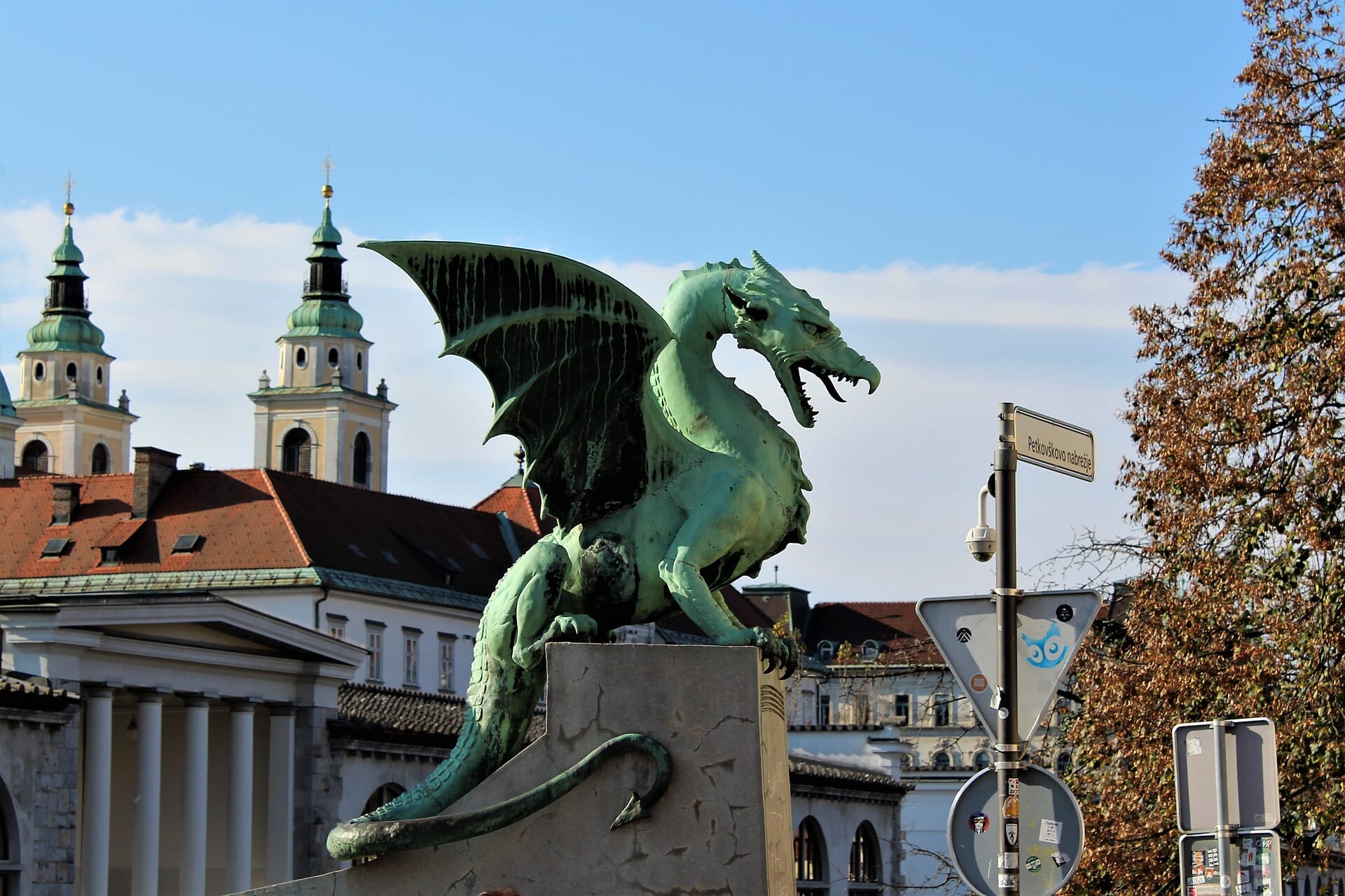 Dragon Bridge
Crossing the Ljubljanica River, the Dragon Bridge shares equal fame with the Three Bridges on Preseren Square. The dragon is the symbol of Ljubljana and is partially why this bridge has such renown.
It's adorned with 20+ dragon statues. The most striking, of which, are the dragons sitting at each end of the bridge – they stand proud with their wings spread and their mouths open in a silent roar.
Smaller dragons can be found guarding the lampposts that are just as decorative. That means there are lots of photo opportunities. Including the gorgeous river and surrounding architecture.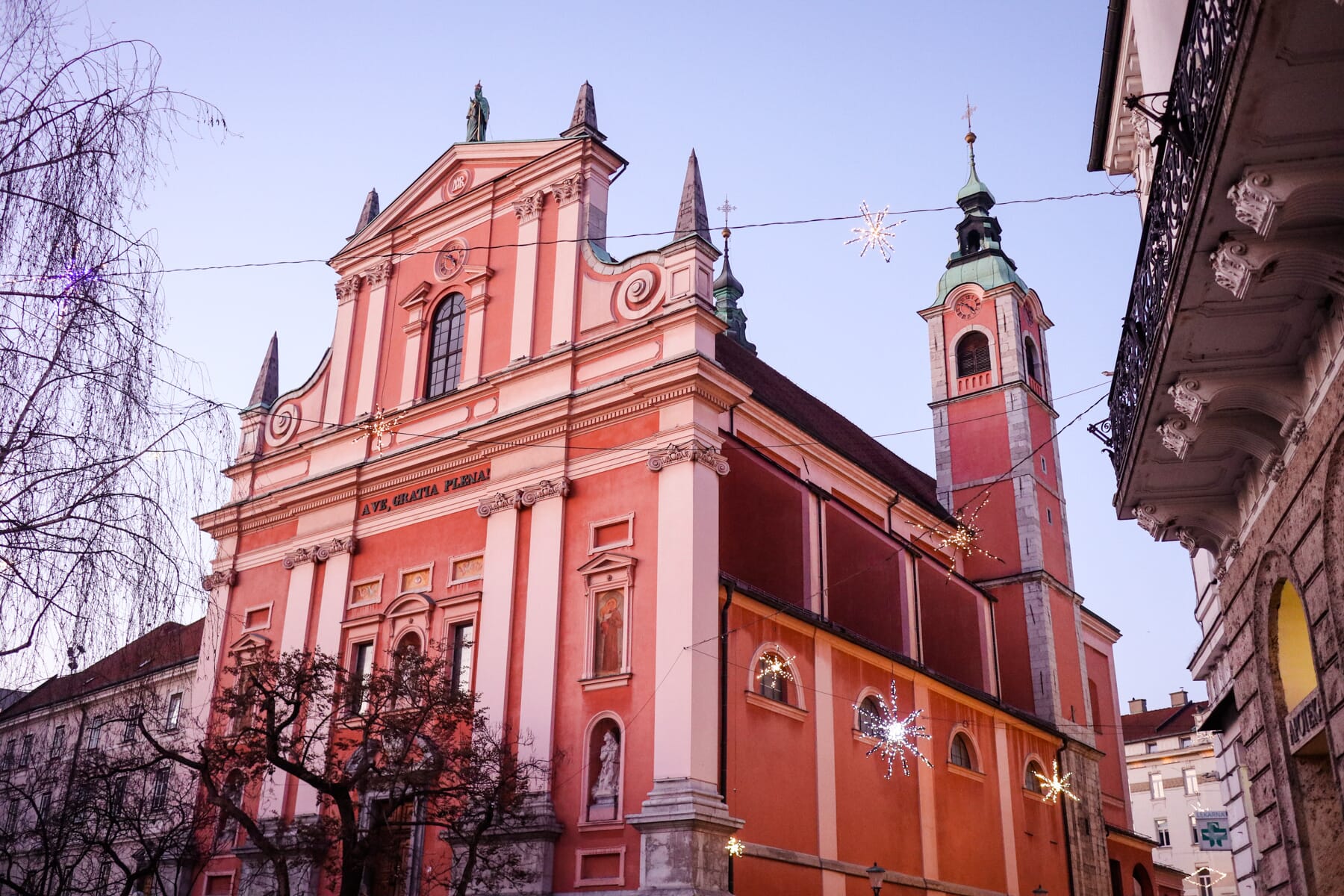 Preseren Square
Preseren Square is one of the main squares in Ljubljana. Surrounding it you'll find a myriad of interesting buildings including the Galerija Emporium and the Franciscan Church.
Plus, the famous three bridges sit at the southern side of the square for great photo opportunities. Additionally, there's the intricate statue of France Preseren.
Throughout the day and night, you can find street musicians here and it is always an interesting place to people watch.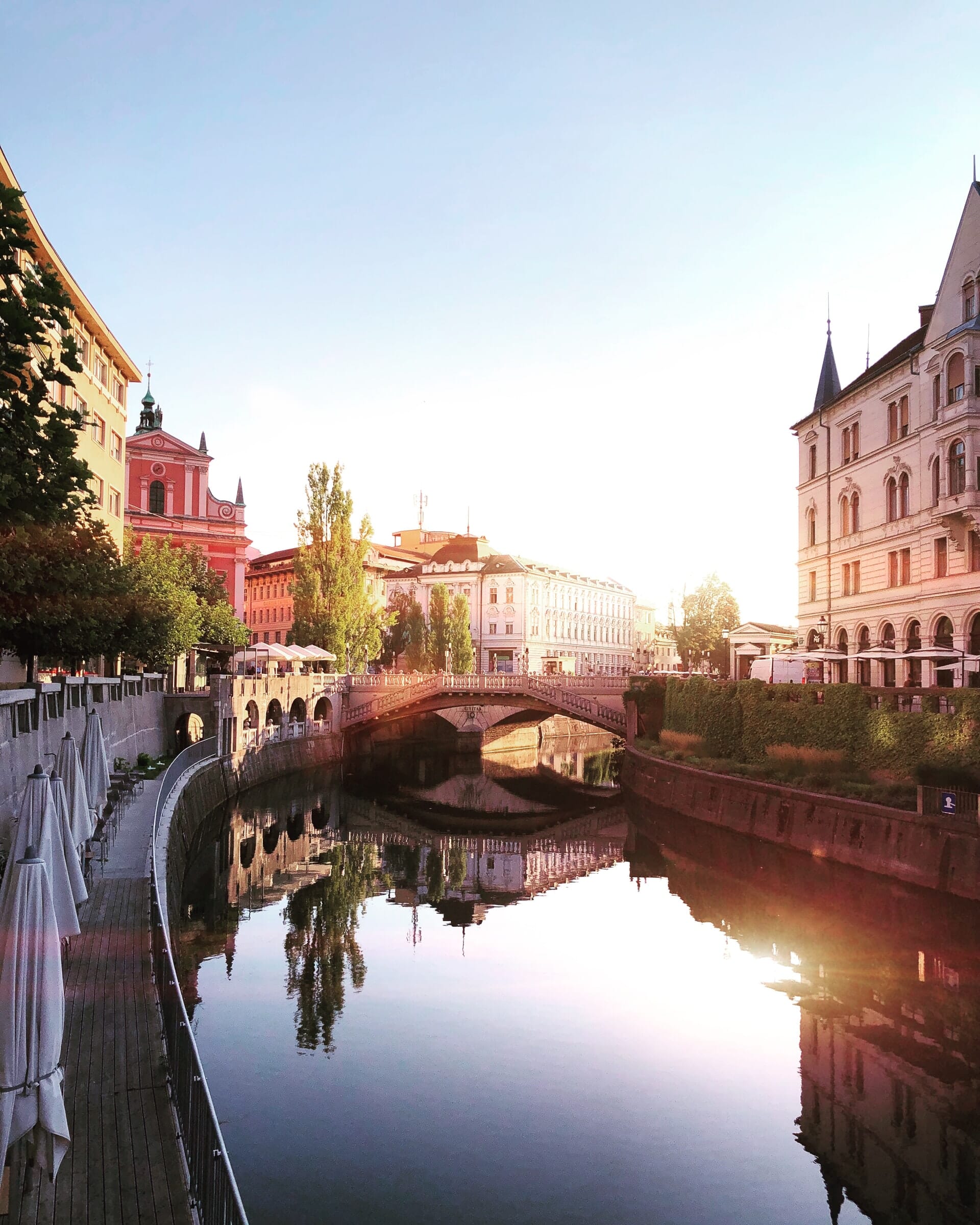 What to do in Ljubljana – Best Instagram Spots in Ljubljana
If you love social media, Ljubljana has some epic opportunities. The city is filled with Instagram worthy spots and epic compositions for Twitter. Your Facebook feed will be full of stunning pics, and your Snapchat stories will be the envy of your friends.
To help take your social media accounts to the next level, we have listed the best Instagram spots in Ljubljana:
Tower of Whistles – Ljubljana Castle
Mesarski Bridge – River Ljubljanica
Colonnades of the Plečnikove Arcade
Fountain outside the Puppet Theatre
Statue of France Preseren – Preseren Square
Each of these photo spots is perfect for a selfie. 🤳🏼
When traveling to Ljubljana, make sure you check out these Instagram spots and see what compositions you can create! By the way, be sure to check out these social media tips for photographers before you go.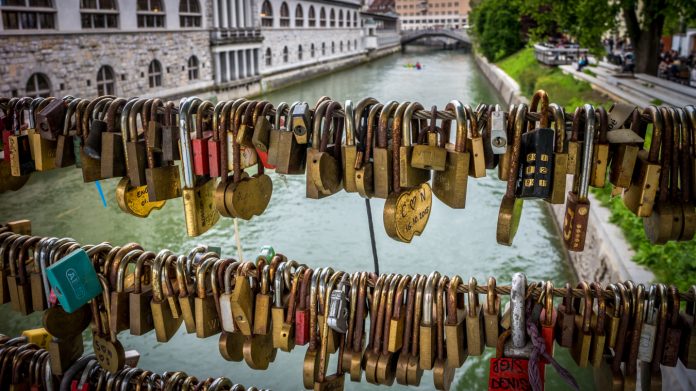 By Now You Should Know What to Do in Ljubljana
We hope you have found this guide on what to do in Ljubljana useful. Slovenia is a magnificent country to visit with so much to offer.
The city of Ljubljana has everything from a castle and cathedral, to a market and gorgeous river.
And, it has a booming food scene in which you can try some culinary delights. 🍴
Not to mention the nightlife–it's fantastic and lively! No matter what you enjoy, you'll find something to entertain yourself in the capital of Slovenia.
RELATED POST: How To Become A Travel Photographer
And, before I officially sign off and leave you to your travels, here's a summary of my favorite places to photograph in Ljubljana:
Places to Photograph in Ljubljana
1. The Three Bridges
2. The Dragon Bridge
3. Ljubljana Castle
4. Ljubljana Cathedral
5. Central Market
6. Ljubljanica River
7. Preseren Square
8. Tivoli Park
9. Franciscan Church
10. Town Hall
If you have other awesome sites that we have missed, why not leave a comment and share your own experiences of Ljubljana and Slovenia?