In this review post, we will be reviewing the ACDSee Photo Software 2019 Standard Edition (the basic ACDSee series).
We will also point out some pros and cons with the software, as well as share a few screenshots to give you a visual on what the software looks like.
Introduction Visuals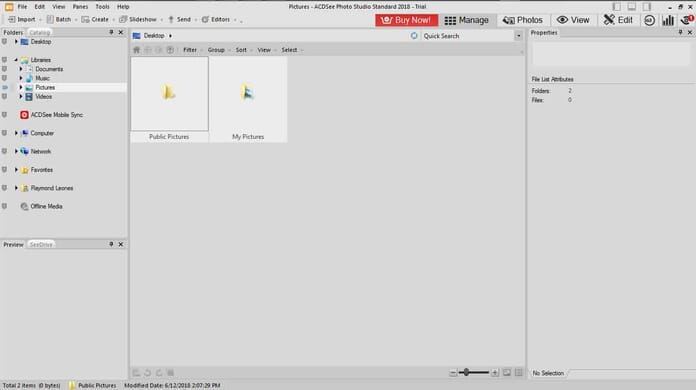 Though all the ACDSee photo software versions are available for download, they are only trial versions where you will also need an email address for you to download them, as well as purchase the license itself when your trial expires.
Related Post: Comparing the Best HDR Software
When you start using the software, it may seem confusing at first but fortunately, the software also provides you with a quick start guide to help you get yourself familiarized with how the software works after you've set up a folder to which the software will open automatically when it runs.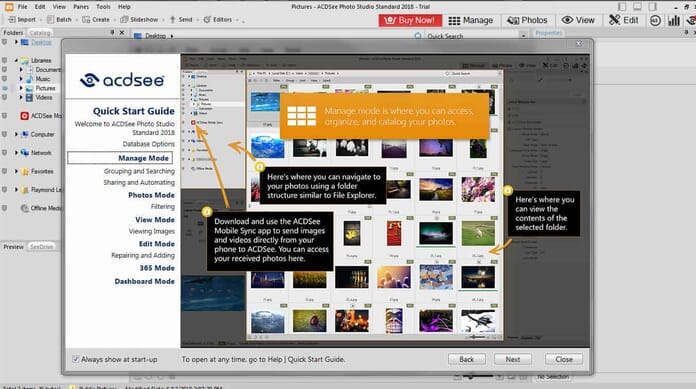 Once you're all settled and ready, you will be able to start editing your pictures. The software seems to be understandable at this point but a bit confusing if you're not used to editing your pictures in a semi-professional software.
You can also go to the website and check out their video tutorials, as well as their community page and live workshops which is helpful for starters.
Rcommended Software Deal (use coupon "PHOTOWORKOUT" for 20% OFF)


When you are done with opening your preferred pictures to edit, you can then start editing your pictures with the editing tools available which are located on your top left and left side area of the editing screen.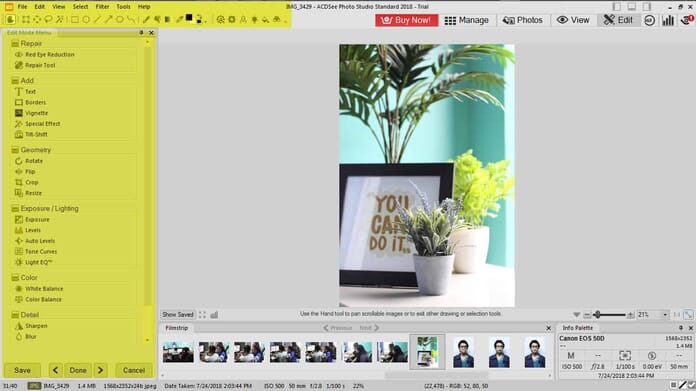 ACDSee's Basic Features
ACDSee introduces a variety of features, but here are some to help get you started:
Added Convert to Black and White
ACDSee standard edition gives you the ability to edit your photos into grayscales, or simply to turn your pictures into black and white images. This is highly useful if you want to place drama in your pictures. You can also add other effects to the special effects settings in the software.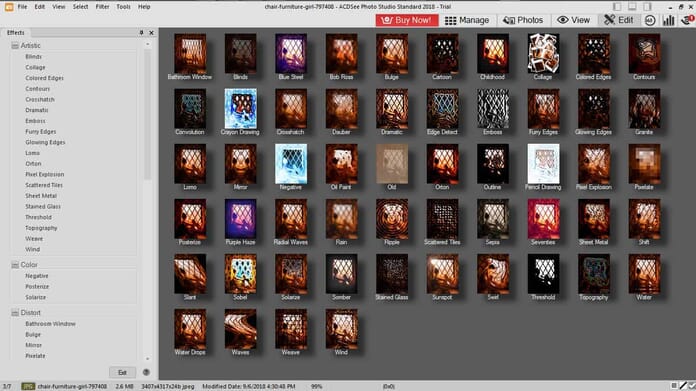 Added Watermark
Being able to add your own watermark will be highly useful when editing your pictures. This is also unique as not many photo editing software can provide you with a watermarking tool for your pictures.
AutoSave
ACDSee is also equipped with an autosaving feature to save the progress of your post-processing needs. This is also an advantage when something out of the blue happens like a power outage in which, this feature comes in handy instead of starting over.
Initially, the basic features needed are covered in the software, which should give you an edge when post-processing pictures professionally.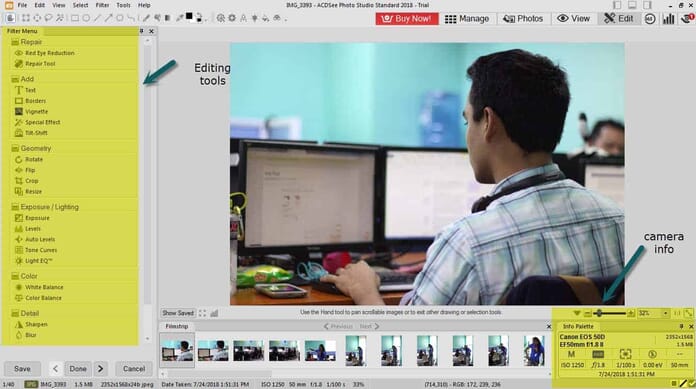 It is helpful that the general options for editing the picture are readily available when you want to create quick changes. The picture information is also available to give you a quick refresher on the camera settings used to take the specific picture.
Basic Functions
To help you retrieve and edit your photos easier, ACDSee displays some basic functions for you to retrieve, view, and edit your pictures. Some functions include to let you manage your pictures, basically for organizing purposes, photo album section, view mode, and edit mode.

The first function button which is the manage button lets you see your photos and the respective folders they belong to. You can use this as a quick reference if you need to search for photos. You can think of this as your library as well.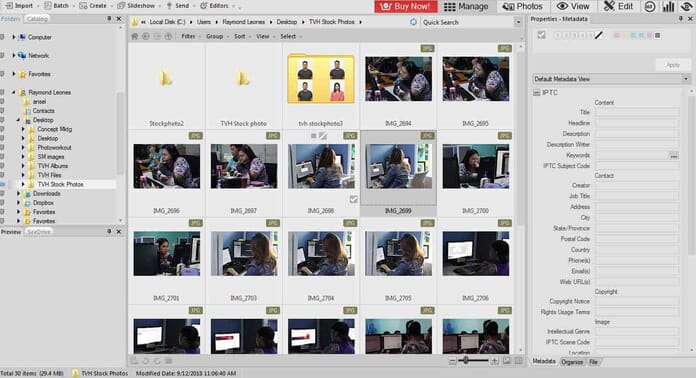 The second function button you can see is the Photos button. This lets you see your pictures in your selected folder. From there, you can also highlight the photo itself to view its basic details/properties.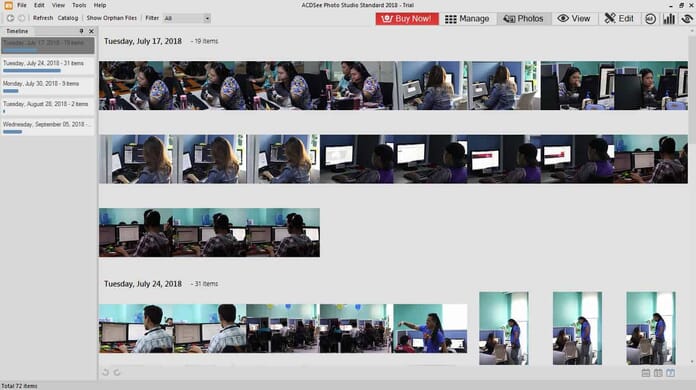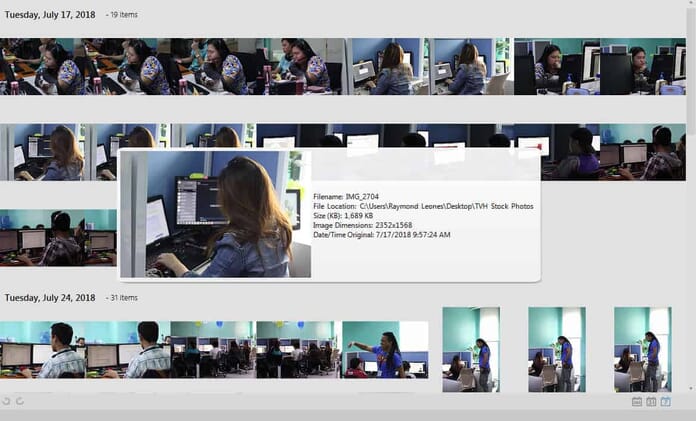 There is also a view mode function if you wish to have a more in-depth view of your selected picture. Here you can zoom in to your pictures if you wish to scan for particular details. Additional tools are also available like a rotation tool, scrolling tool, select tool, zoom tool, full-screen mode, external editors, auto light, and auto lens selection mode.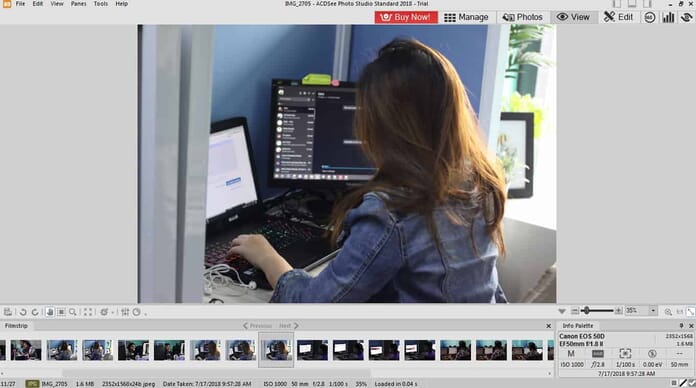 The next button is the edit button where you can start editing your picture. This is also where you apply your effects and where you can adjust your image as well. Besides the common function buttons, you will also see additional buttons like the 365 plan button, dashboard button, and message center.

The 365 button lets you go to their plans page where you can pick a plan/offer you would like. Other advertisements may also be viewed here as well.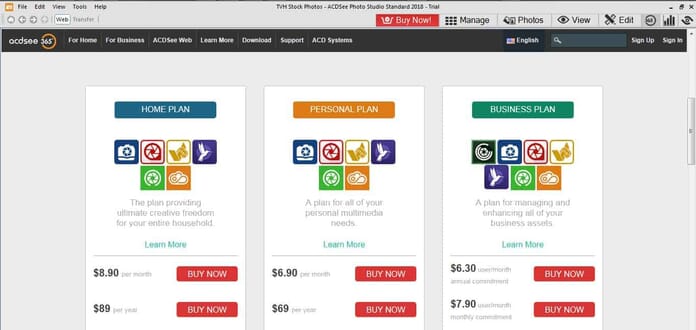 The dashboard button lets you open up the software's database where you can use it as a reference for your pictures collected and the number of cameras used, as well as settings and format used for your pictures. There are also other options where you can view your data for your files and cameras, as well as the main overview.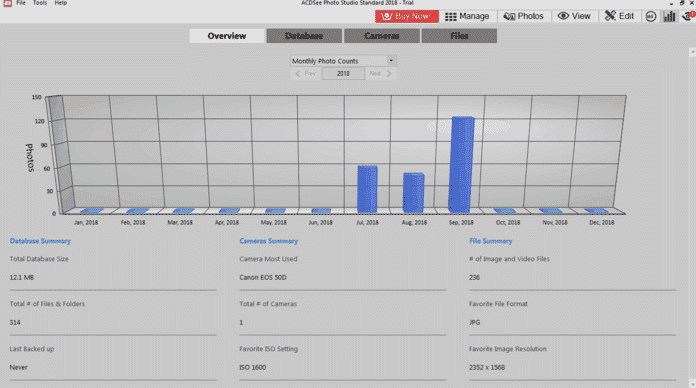 PROS and CONS
With every photo editing software, there are always its pros and cons. Below are the following for ACDSee's standard version:
Pros
The transition from Adobe Lightroom and Photoshop is easy. Guides are also available on the internet if you wish to look for help, or need assistance with migrating.
For a starter photo editing software, it features a lot of photo effects you can use to make creative photos.
All basic photo editing tools are visible for quick use.
An area for camera information is also available to track down camera settings used.
The software can also temporarily act as Adobe Photoshop because of its tools available.
Excellent organizational tools.
Blends Photoshop and Lightroom tools
Cons
Kind of hard to navigate when using it for the first time.
Editing tools are very limited.
The software is not that user-friendly compared to other basic software editors.
For a standard version, it is still quite pricey if you plan to purchase the license.
It still takes time to learn about the software
When choosing a specific editing tool, it opens the editing settings in a new tab.
ACDSee Photo Software Requirements
For a starter photo editing software that houses useful editing tools, it does not require you to have powerful computer specifications to get started with using it. A screenshot is also attached below for your reference, or you can also visit ACDSee's website for reference.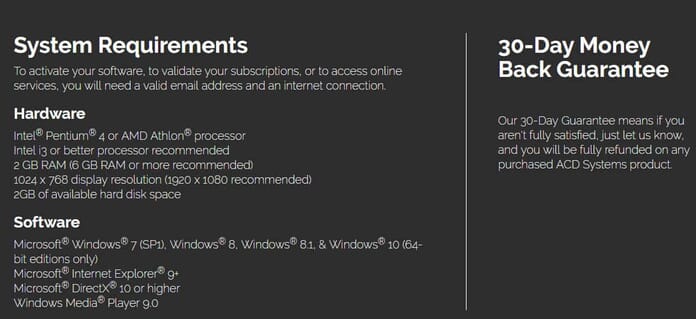 In the end, if you ever feel like that ACDSee software isn't for you, you can always opt to get a refund with its money back guarantee. You can give yourself a full week or two to get to know more about the software and then, ask for a refund in the next week just to be on the safe side if you don't feel comfortable using it.
Additional Features
There are also other improvements with the 2019 software that is better than its previous version. Below are the following improvements of ACDSee's 2019 version:
color grading of images by importing and applying LUTs as edit mode filters.
print adjustments are available to compensate for the printer's exposure, contrast, and sharpness handling.
HEIF file support(64 bit)
Automatically advances to the next image when adding or removing metadata
You can also check out the ACDSee photo editing software website to have a comparison with the 2018 version if you wish to know more about the improvements they made with the newest version. You can also click here to view the comparison.
Conclusion
ACDSee photo editing software is meant to be for people looking for a substitute from Photoshop and Lightroom. This software can also be used as a learning tool for photographers still new to the scene and post-processing their pictures. Though it gives you the basics you need, it may take time for you to adjust to the software and learn all about it, but it can also provide you with the tips you need to use it.