InPixio Photo Studio 10 is the latest iteration of this fantastic photo editing package. In this InPixio review I breakdown the three main components of the InPixio Photo Studio – Photo Editor, Photo Eraser, and Photo Cutter.
InPixio Photo Studio 10 is available for both Windows and MAC devices. Also, there is a free trial version that lasts for 30 days. This gives you the chance to test the editing software. However, when using the trial software, any images you save will have a watermark.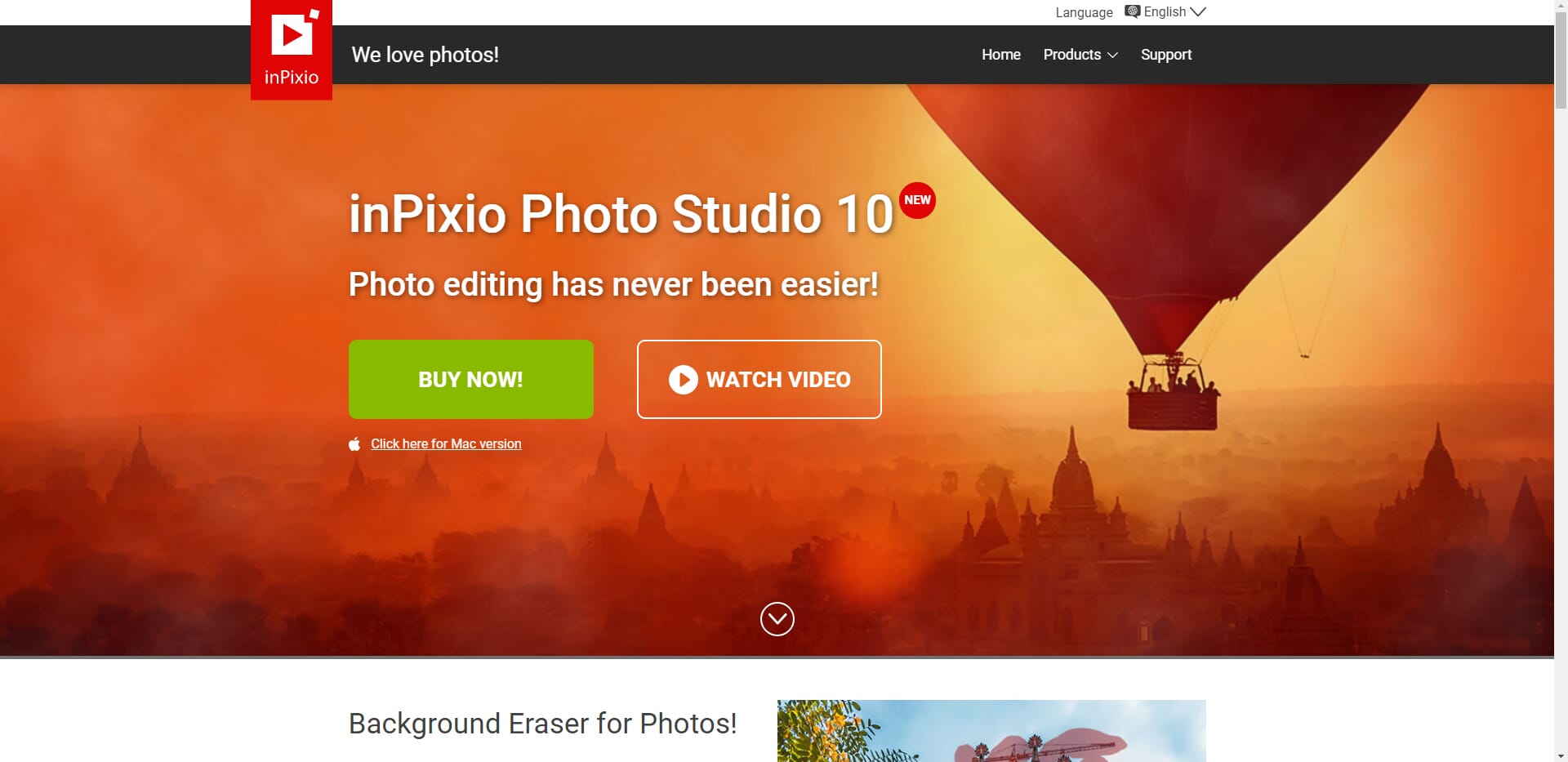 Before I start this software test, let me provide some background info. I would class InPixio Photo Studio 10 as a tool for beginners and hobbyists. I do not think it provides the same level of detail as programs like Lightroom 2020, and ON1 Photo RAW. However, it does have extensive editing tools, and both Photo Eraser and Photo Cutter and brilliant for manipulating images. 
InPixio Photo Studio 10 Review

Name: InPixio Photo Studio 10
Description: inPixio is a digital photo editing software. It allows you to delete or cut out objects, create photomontages and optimize images. The photo editor is easy to use and the pro version allows you to add filters and textures.
Offer price: 49.99
Currency: inPixio
Operating System: Windows, Mac
Application Category: Multimedia
Author: Avanquest
Price

Usability

Quality

Performance
Summary
Overall, it's a great product. For beginners and hobbyists, InPixio Photo Studio 10 offers a superb introduction into the world of photo editing.
Pros
Uncluttered layout
Ease to use tools
Allows for amazing creativity
Cons
No file management or rating system
Price and system requirements
To start this InPixio review, I looked at the price, and system requirements. This is something I do before testing any software. For me, performance is vital. Therefore, I want to be clear of the system requirements to see if my computer can run the program effectively.
Price
There is two versions available of InPixio Photo Studio – the standard version, and professional:
InPixio Photo Studio 10 – $49.99
InPixio Photo Studio 10 Professional – $59.99 – (you can get started with a free trial)
I would always advise purchasing the professional versions. For $10.00 more, you get access to all the features including the excellent one-click image correction. Moreover, the program is not expensive in itself. Compared to other editing software it is relatively cheap.
Additional Features included in the Pro Version
inPixio® One-Click Image Correction – Amazing pictures in just one click
Complete editing features allow you to edit, enhance, & touch-up photos
Improve the sharpness of your photos
30+ filters & effects: themes like sepia, black & white, romantic and more!
40+ original textures: add unique charm & character to your photos
Create professional looking photos with oval frames (vignetting)
Add customised artistic blur to achieve the perfect finish
System requirements
In this InPixio review, I looked at the system requirements. When running the software, I used my computer which has 24GB of RAM, and an Intel i5 3.3GHz processor. Needless to say, I found no performance issues at all. You can see the minimum system requirements for the software below:
Windows
OS: Windows Vista or later
Processor: Intel or AMD
Memory: 4GB of RAM
HDD: 700M of free storage
Screen resolution: 1024 x 768
MAC
OS: macOS 10.11 or later
Processor: 2.0GHz or higher
Memory: 2GB of RAM
Graphics: Minimum internal memory of 256MB
Screen resolution: 1024 x 768
As you can see, it is not a process-intense program at all. It is recommended that your computer has 8GB of RAM, but from my experience, I believe 4GB is more than adequate. The software is nowhere near as power-hungry as other editing software like Lightroom, ON1 Photo RAW 2021, and PaintShop Pro 2020.
InPixio Review – Three fantastic editing products
InPixio Photo Studio is separate into three main programs – Photo Editor, Photo Eraser, and Photo Cutter. I have created a review for each separate program inside inPixio.
As a whole, I feel the Photo Studio is well polished. It looks fantastic, is easy to use, and does offer great quality.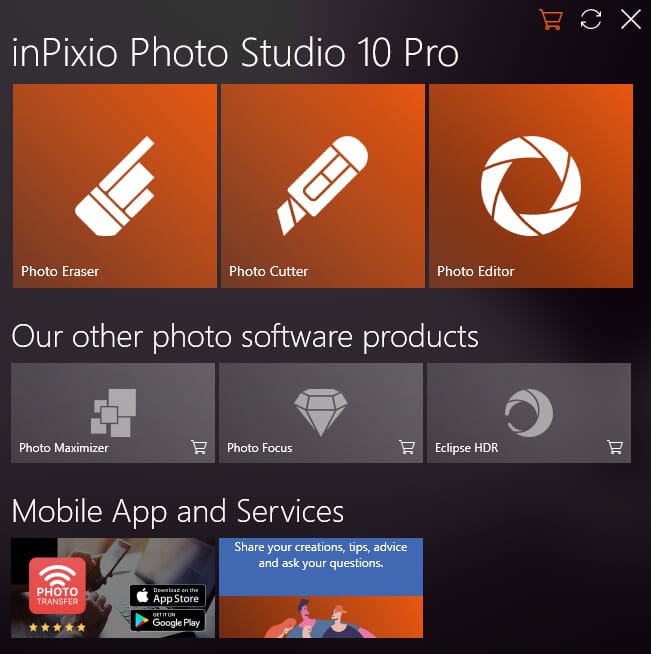 InPixio Studio – Photo Editor
Photo Editor is the main program. This is what you use to edit photos like Lightroom and Photoshop. I spent time using the different tools and testing the features to create an accurate InPixio review. I quite enjoyed using Photo Editor.

It has a range of fun but useful editing tools. Admittedly some of the features are not suitable for professional photo editing. However, using this program you are given excellent creative freedom. For those who love to experiment with different styles, InPixio Studio Photo Editor is a versatile tool.
The following are the different toolsets available:
Transformations
Full RAW editing
Selective retouching
Corrections
Effects
Textures
Frames
Text
Each of these tools is easy to use. The layout remains simple. In the centre there is the preview panel. Underneath this, a small file management bar. To the right, you can see all of the editing tools. I really like the simplistic layout – for beginners it would be so easy to use.

In the sections below I have described in greater detail some of the features I tested:
Presets
If you want to experiment with different styles or create artistic effects, InPixio Photo Editor has hundreds of presets. I was impressed with the varied selection of presets.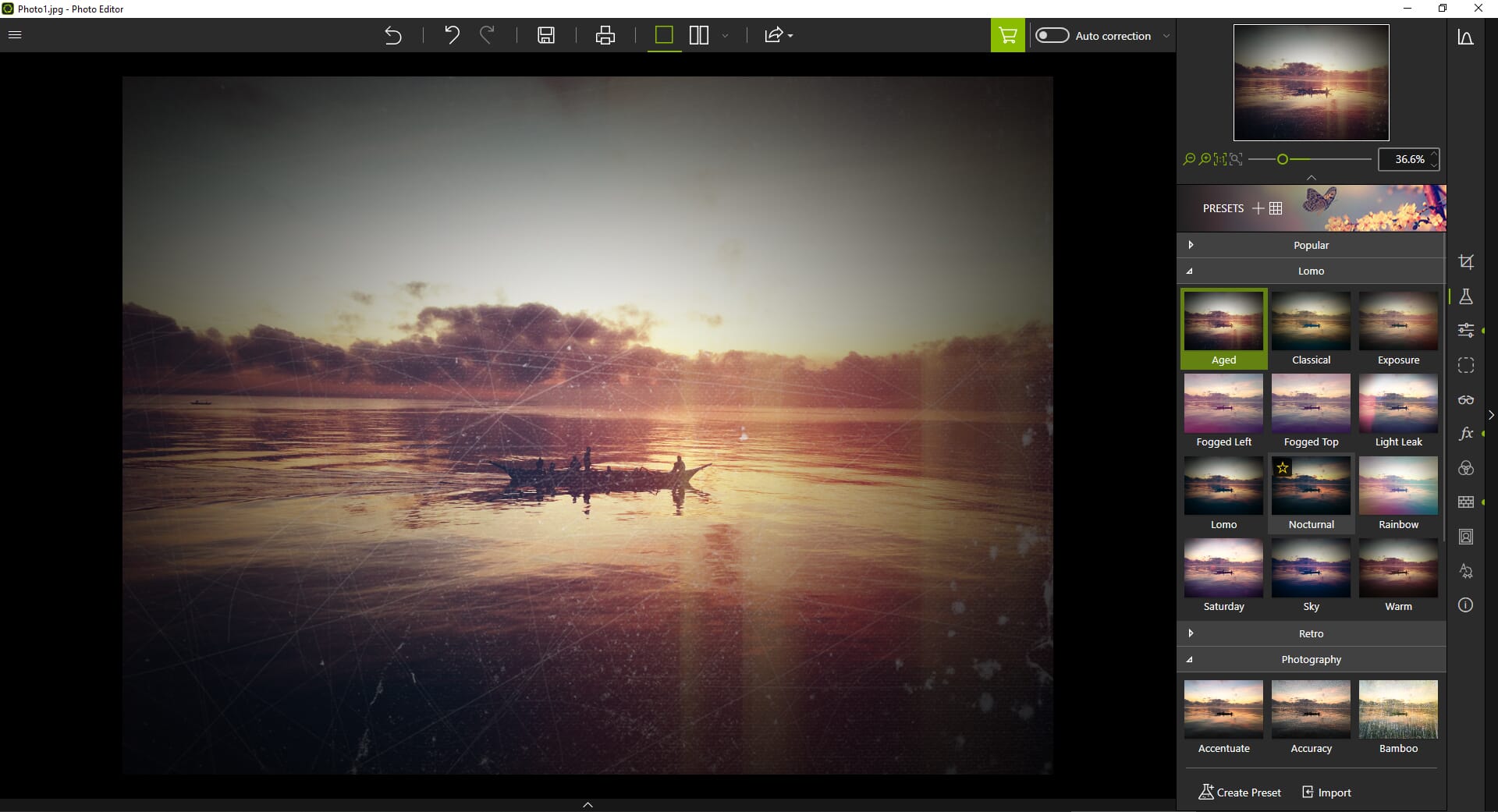 In addition to this, the presets were actually fantastic quality too. I tested a whole range of the preset and you can see some of the different styles below: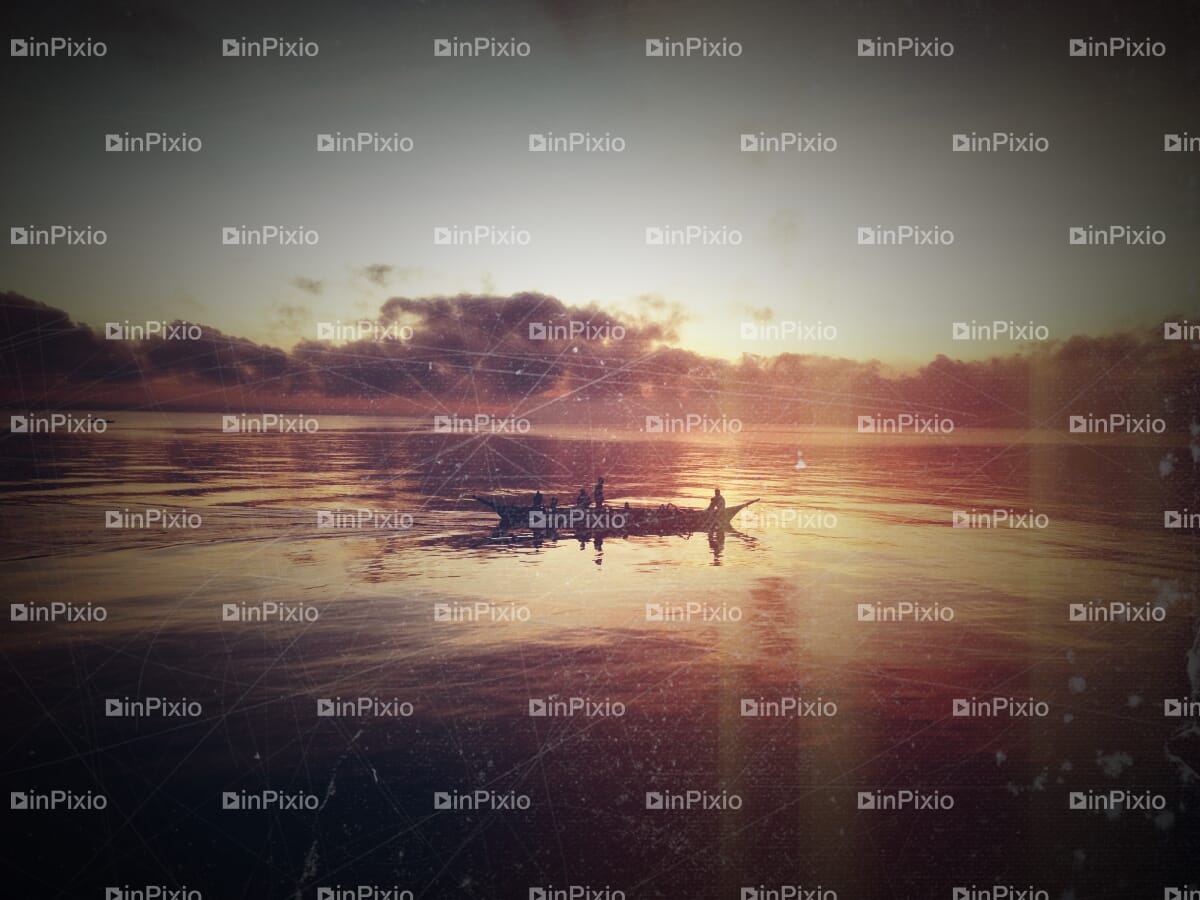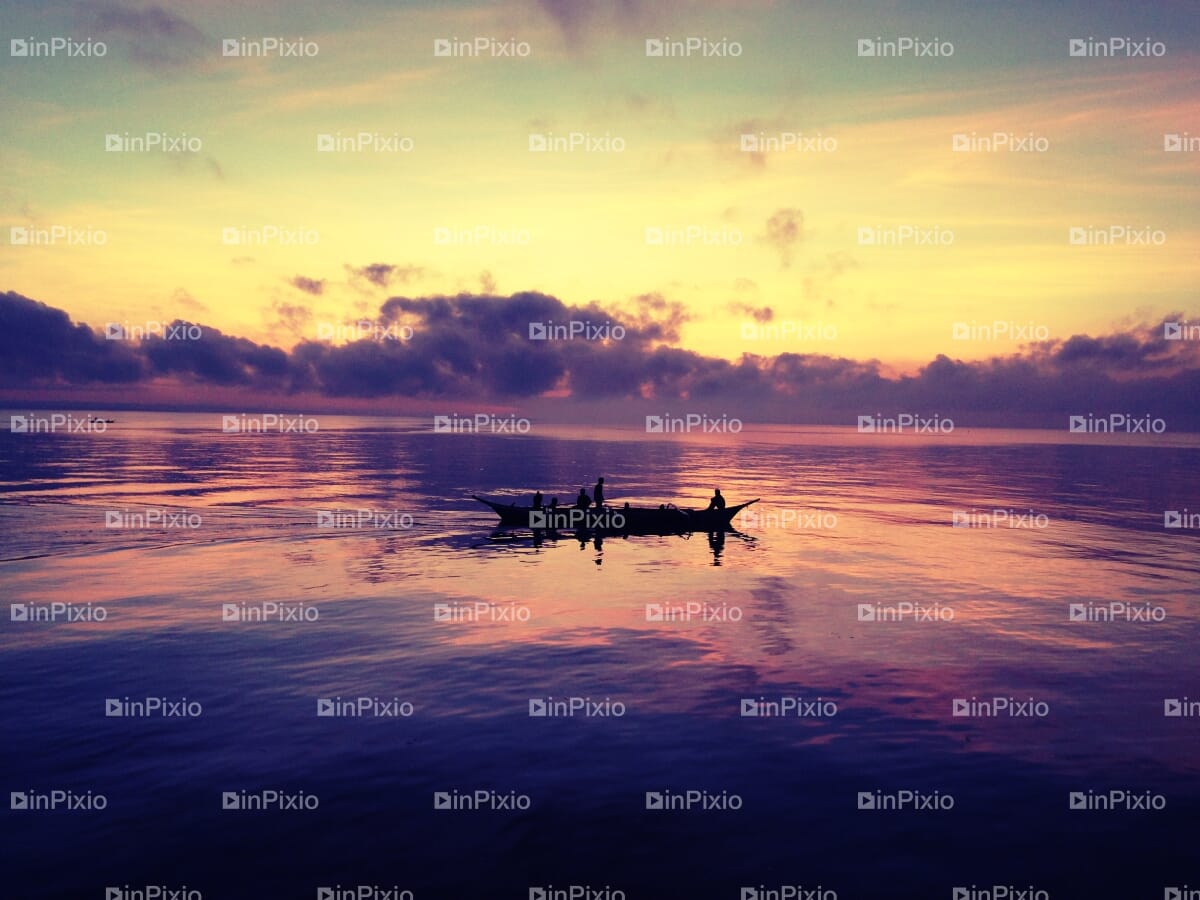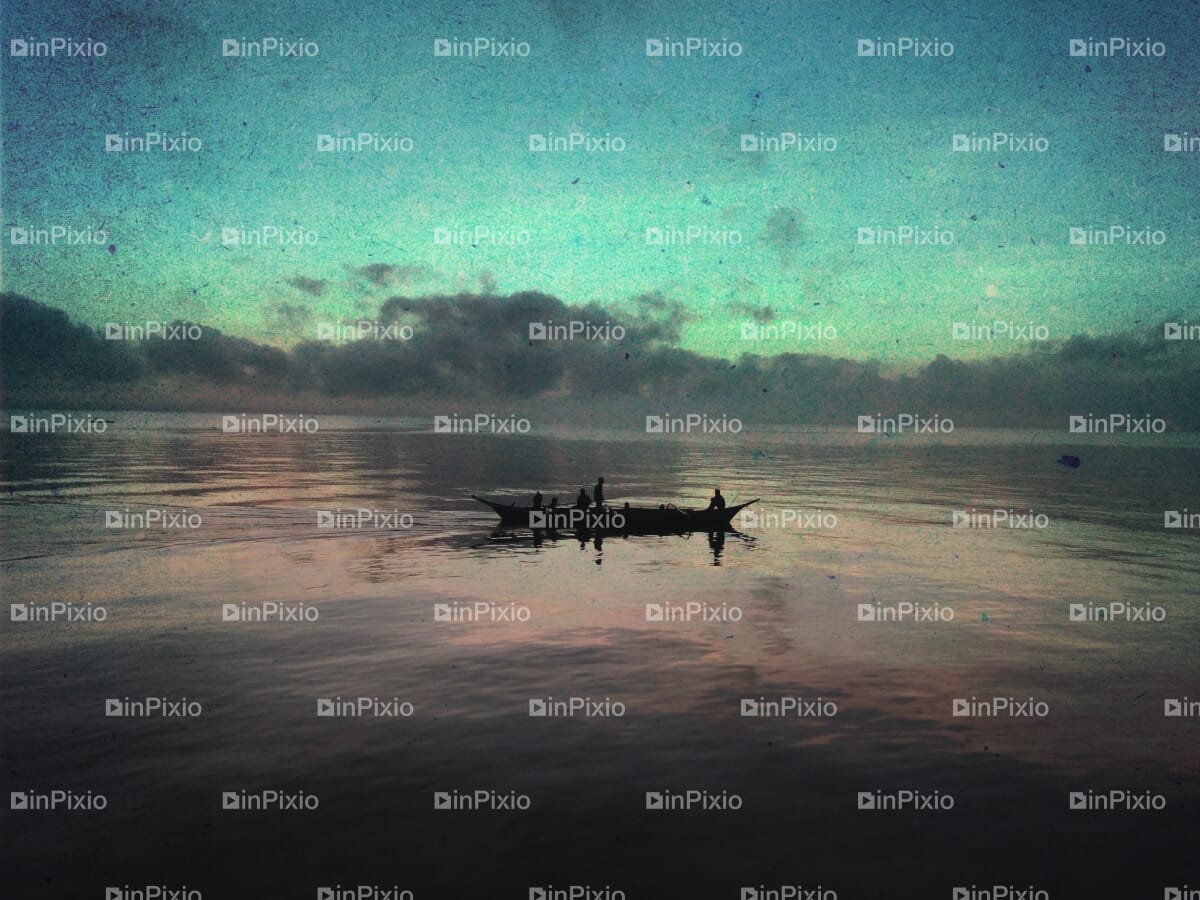 Textures
There is also an interesting textures tool. Using this, you can apply a myriad of different textured overlays to your images. Examples of textures include light leak, grain, film, bokeh, and materials.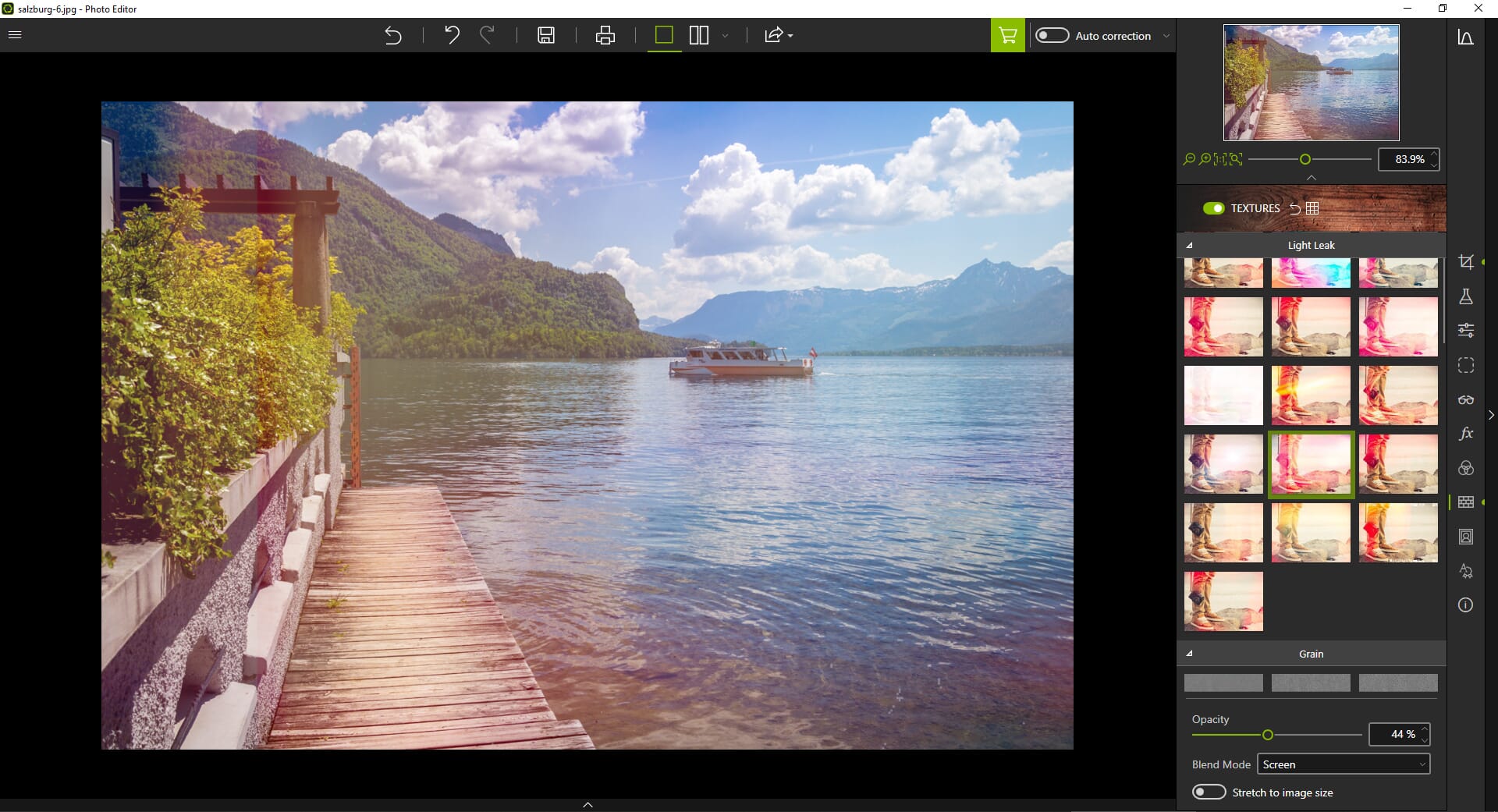 Whilst some of the textures are purely for fun, I felt that some have valid use. For example, the bokeh and light leak textures can create some amazing artistic effects.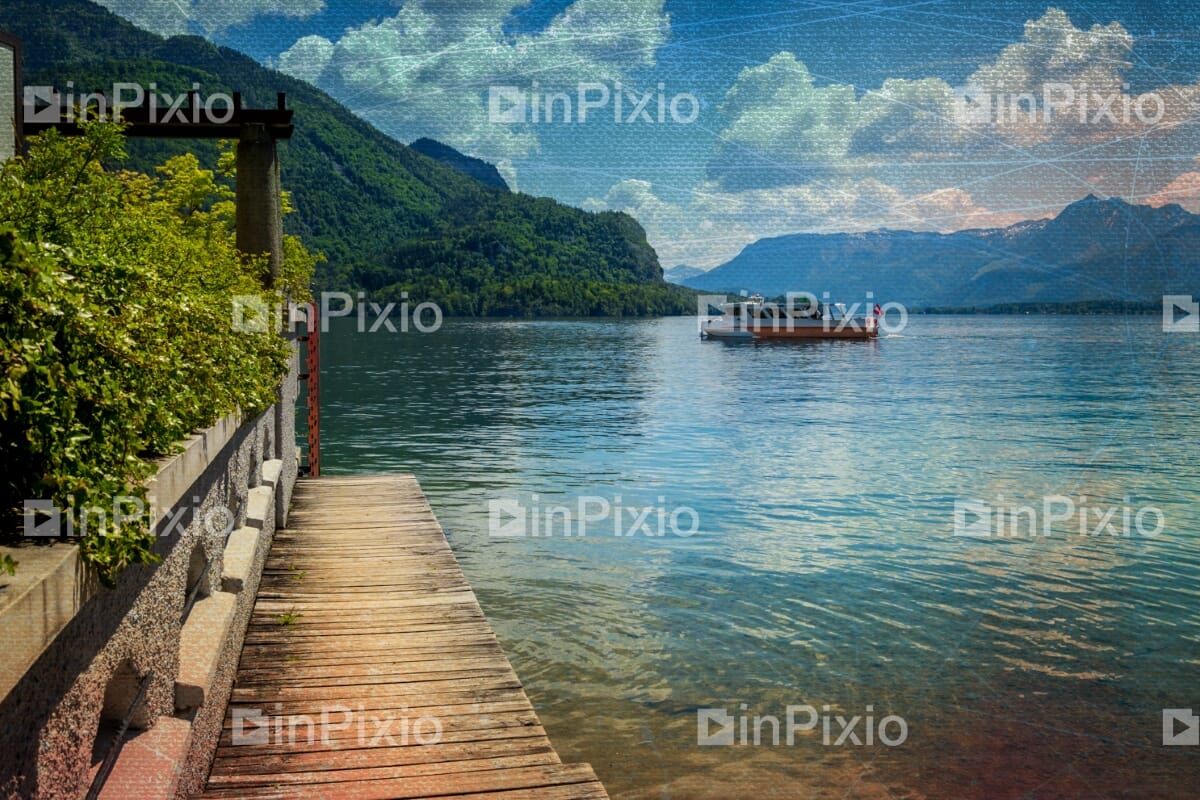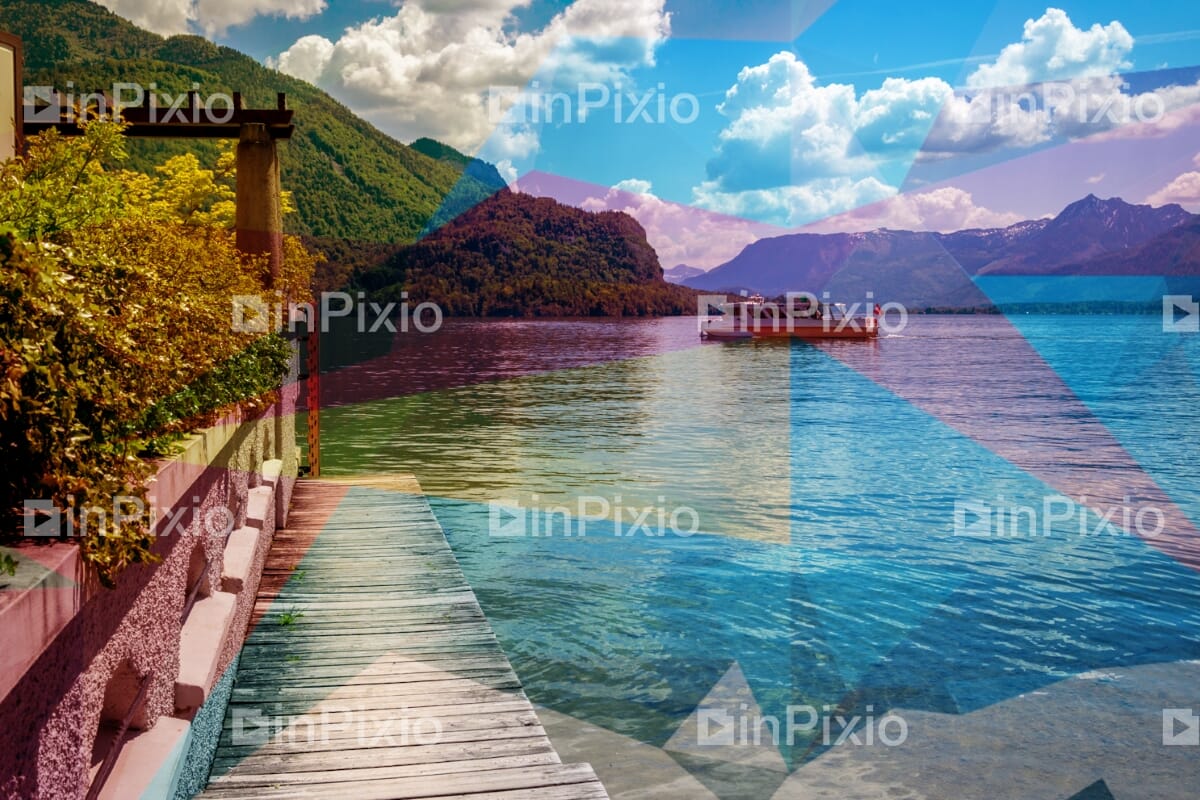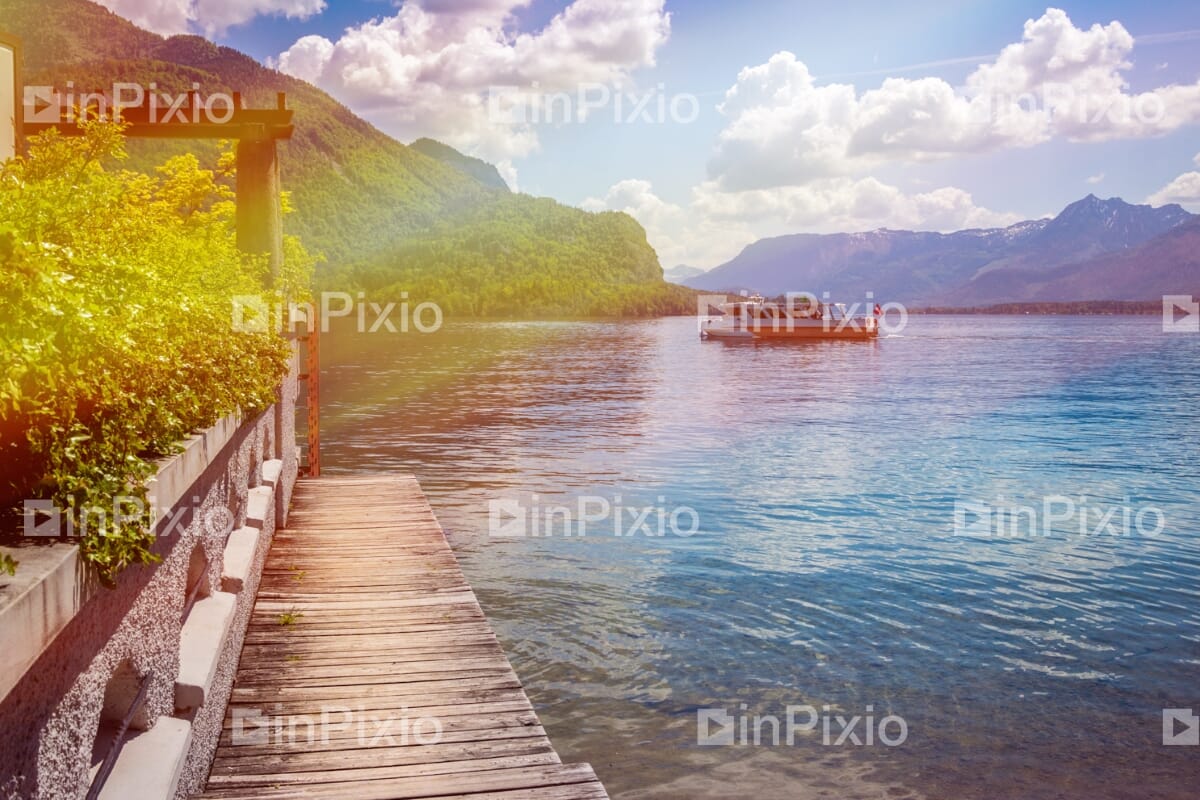 Auto Correction
The auto correction tool is meant to be a one-click button that improves the quality of your images. In all honesty I had mixed results with this. In some instances, it works well. However, I feel that the basic image has to be somewhat decent in quality to start with.
To show what I mean, look at the examples below. The first image is an original un-edited file. I applied the auto correction filter to this, and we can see the result in the middle image. As you can see, it hasn't really done much at all – I would say that it's increased the contrast and shadows somewhat.
In contrast, the third image is one that I edited fully using the InPixio Photo Editor's tools. As you can see, this looks much better and is what I would expect the auto correction tool to do! To conclude, I don't think the auto correction tool is meant to replace a full edit. I would only use it to improve images that are already quite balanced.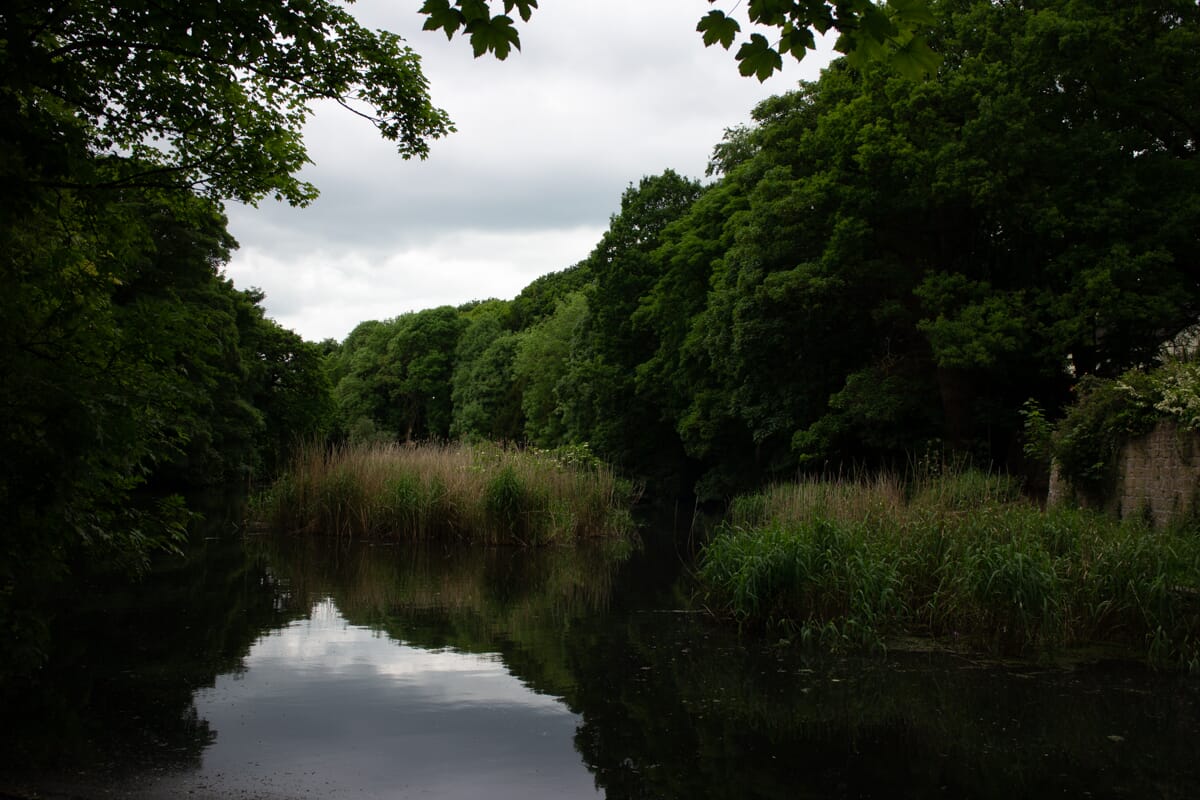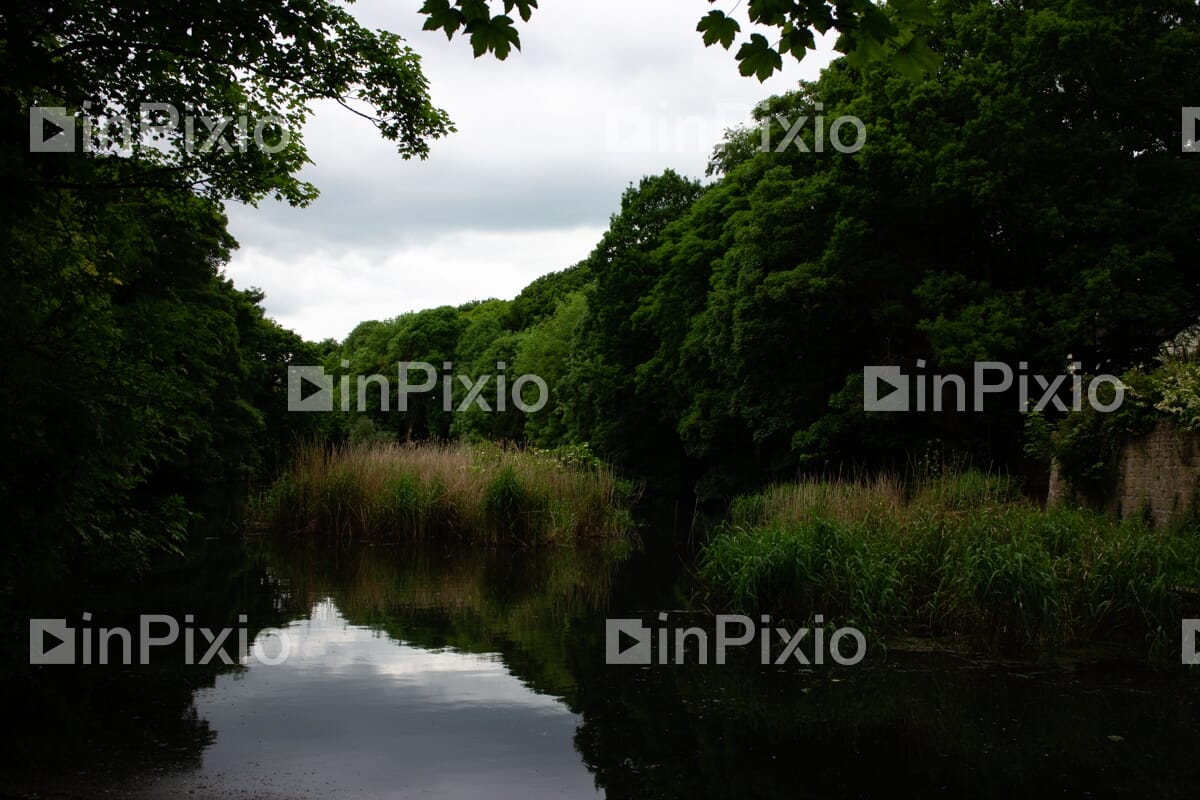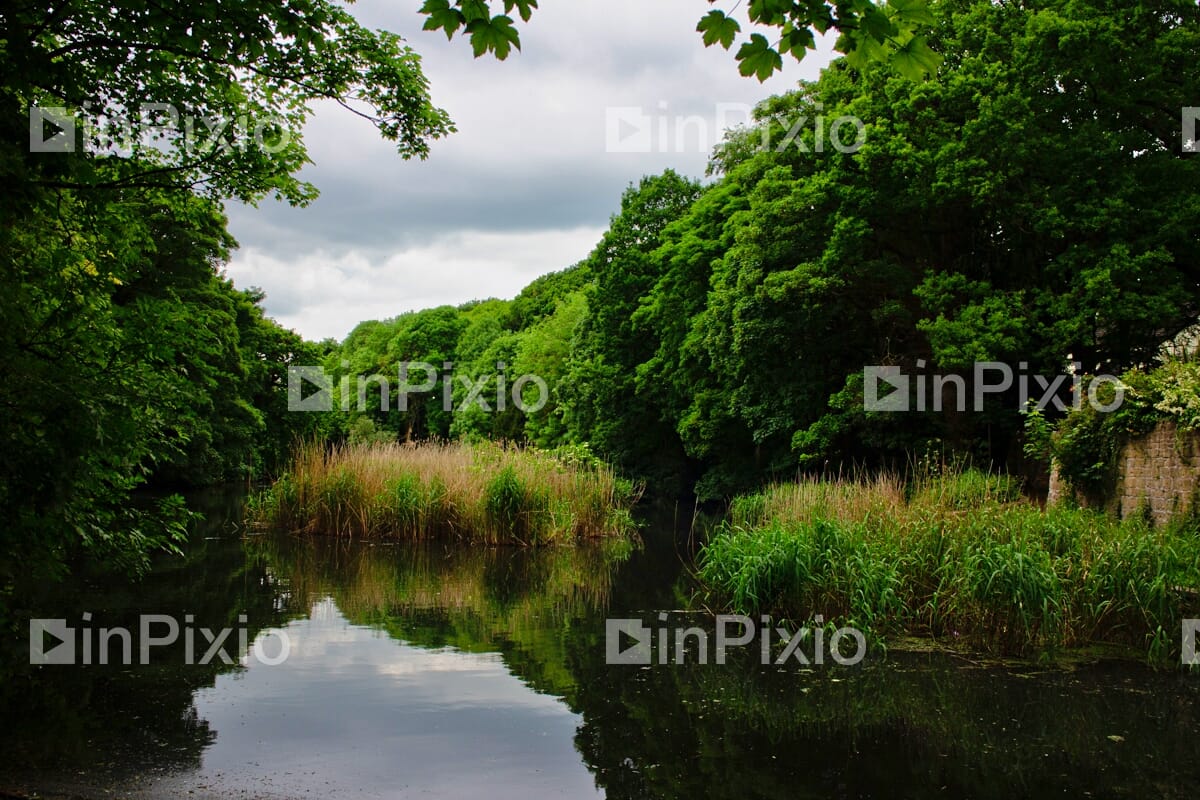 Adjustments
The set of adjustment tools is fantastic. You can edit temperature, hue exposure, contrast, and other important parameters. Moreover, everything is adjustable using sliders and the preview updates in real-time.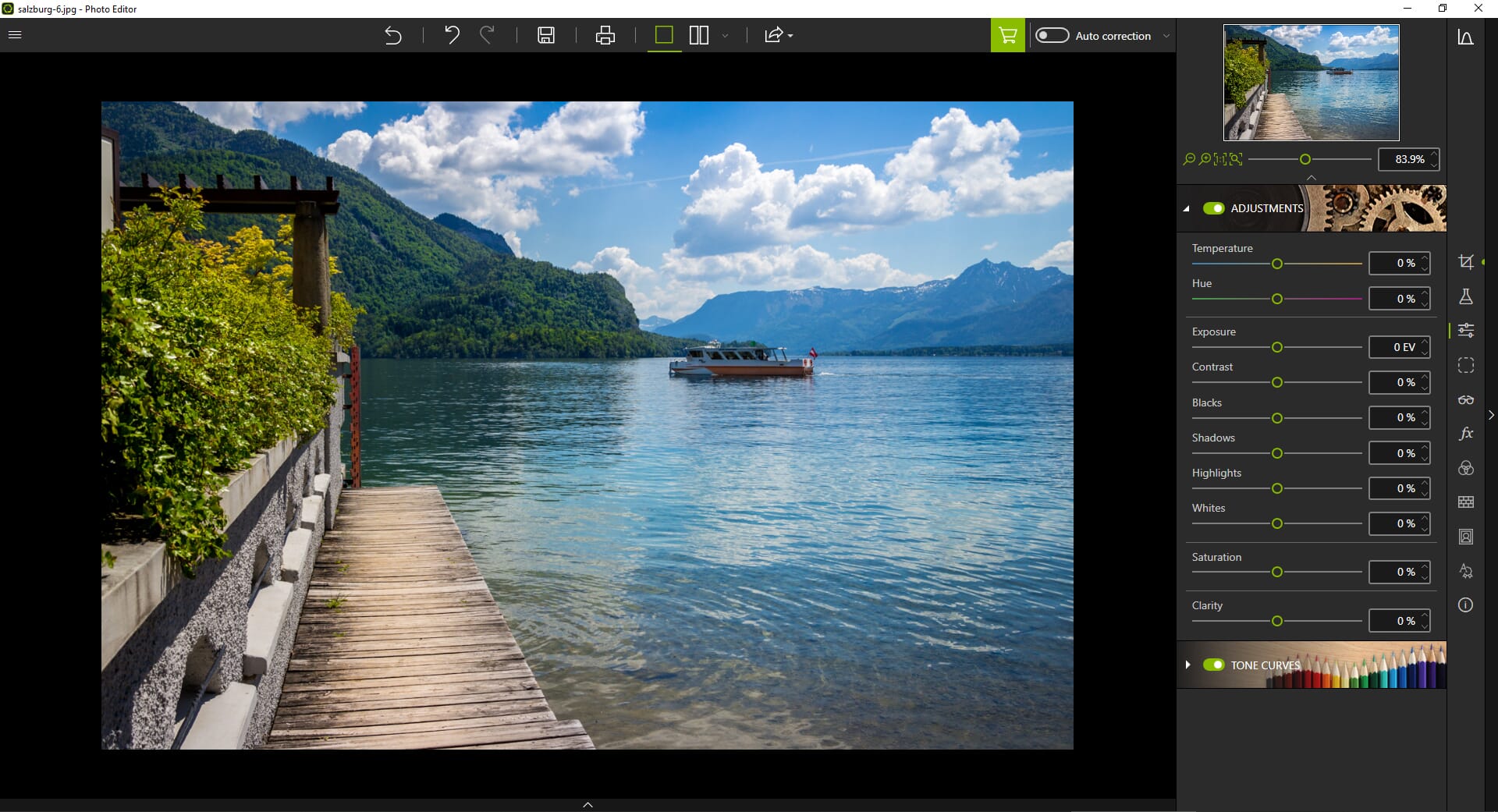 For basic photo editing, InPixio Photo Editor is an excellent tool and one of my favorite parts of this software test.
If you just want to use the basic photo editing tools, you could also try the free inPixio photo editor (available only for Windows PC). The free version offers one-click filters, frames, adjustment tools, and social sharing functionalities.
InPixio Studio – Photo Eraser
The Photo Eraser program is a brilliant tool. Using this program, you can remove unwanted objects from your photos.
In addition, you can perform basic functions like cropping and transforming the photo.
I generally find the tools to be easy to use. The quality really depends on the composition of the photo. You will find that some photos lend themselves to Photo Eraser, whereas others will be difficult to remove objects from – this holds true for any editor though.
Essentially, I would advise using Photo Eraser before editing the photo. You can transform it and remove any unwanted objects and prepare it for full post-processing. I have shown the basic layout of Photo Eraser below: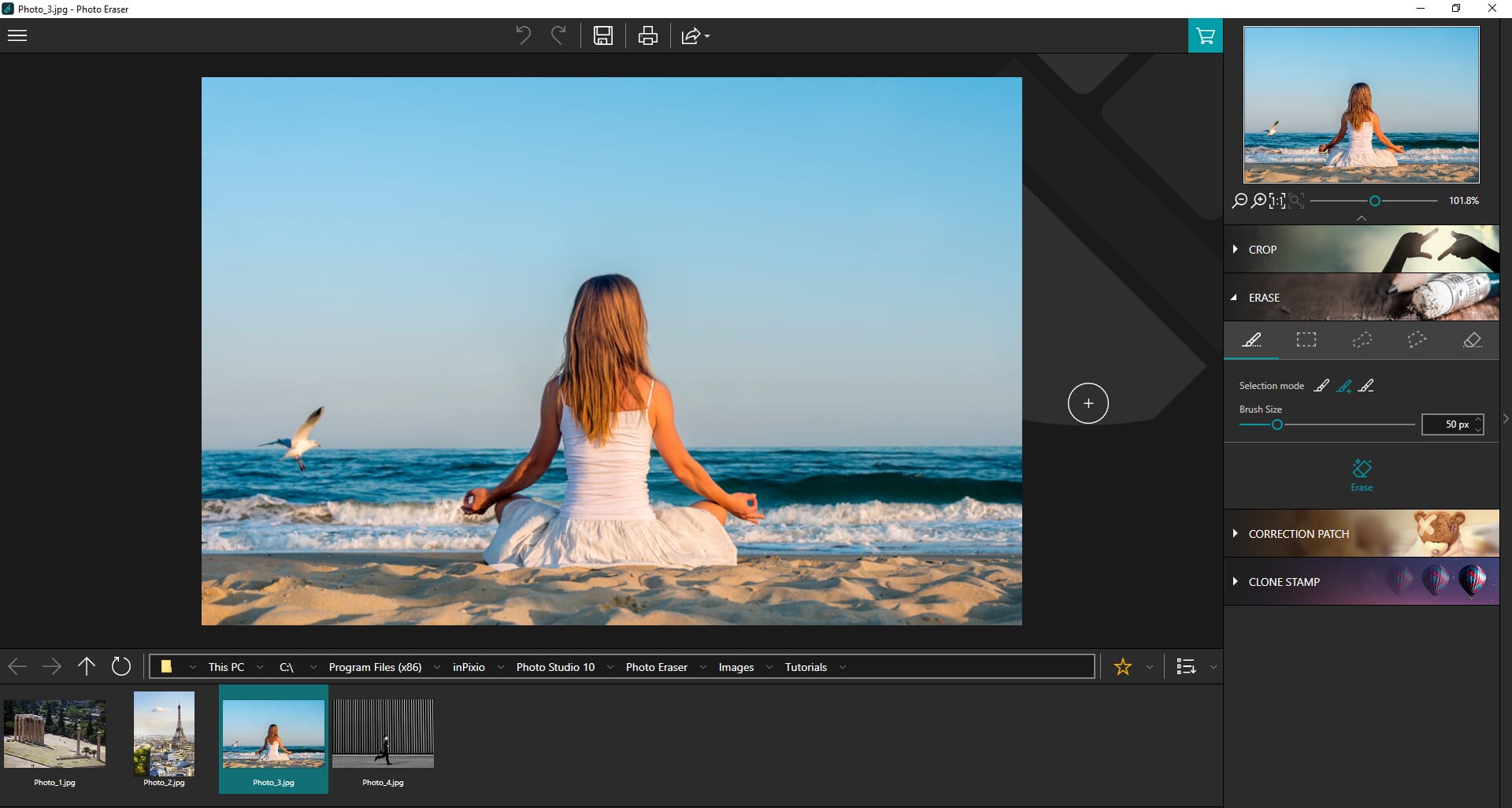 I like the simple layout of this program. It has an uncluttered layout with only a preview panel, and the toolbar panel. You can easily identify the different tools and options.
In addition, when you first open the program, a handy tutorial section is shown. Here you can open four different files and participate in an interactive tutorial that shows you how the various eraser functions work: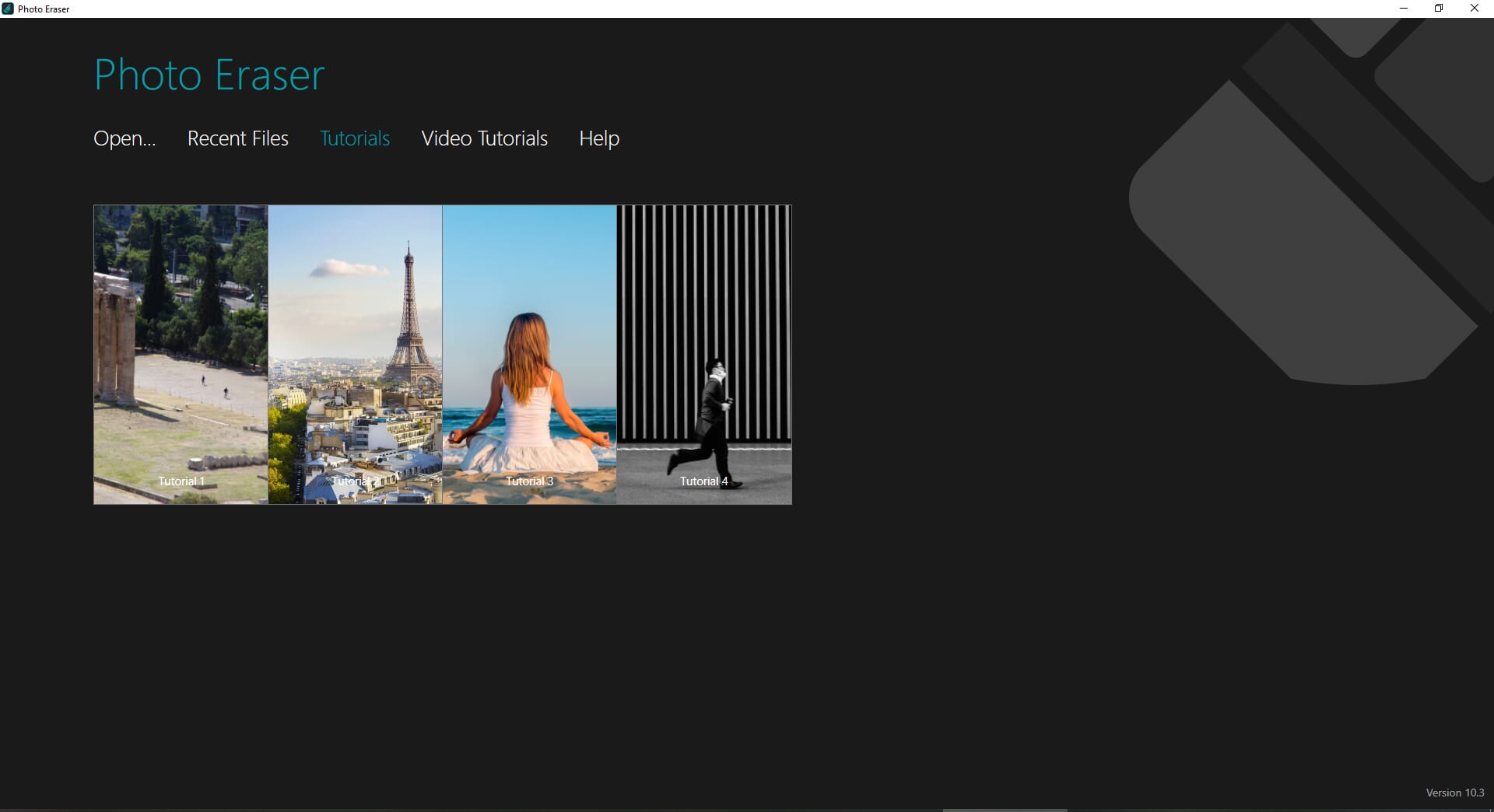 Tools available in photo eraser include:
Crop
Erase
Correction Patch
Clone Stamp
Crop – Basic transformation tool that allows you to manipulate the dimensions and composition of the photo.
Erase
Automatic AI erasing tool. I like the simplicity of this tool. All you have to do is draw around the object you wish to use using the selection tool. Next, click on the erase button and the object is automatically removed and the background replaced. The tool appears to be quite accurate too.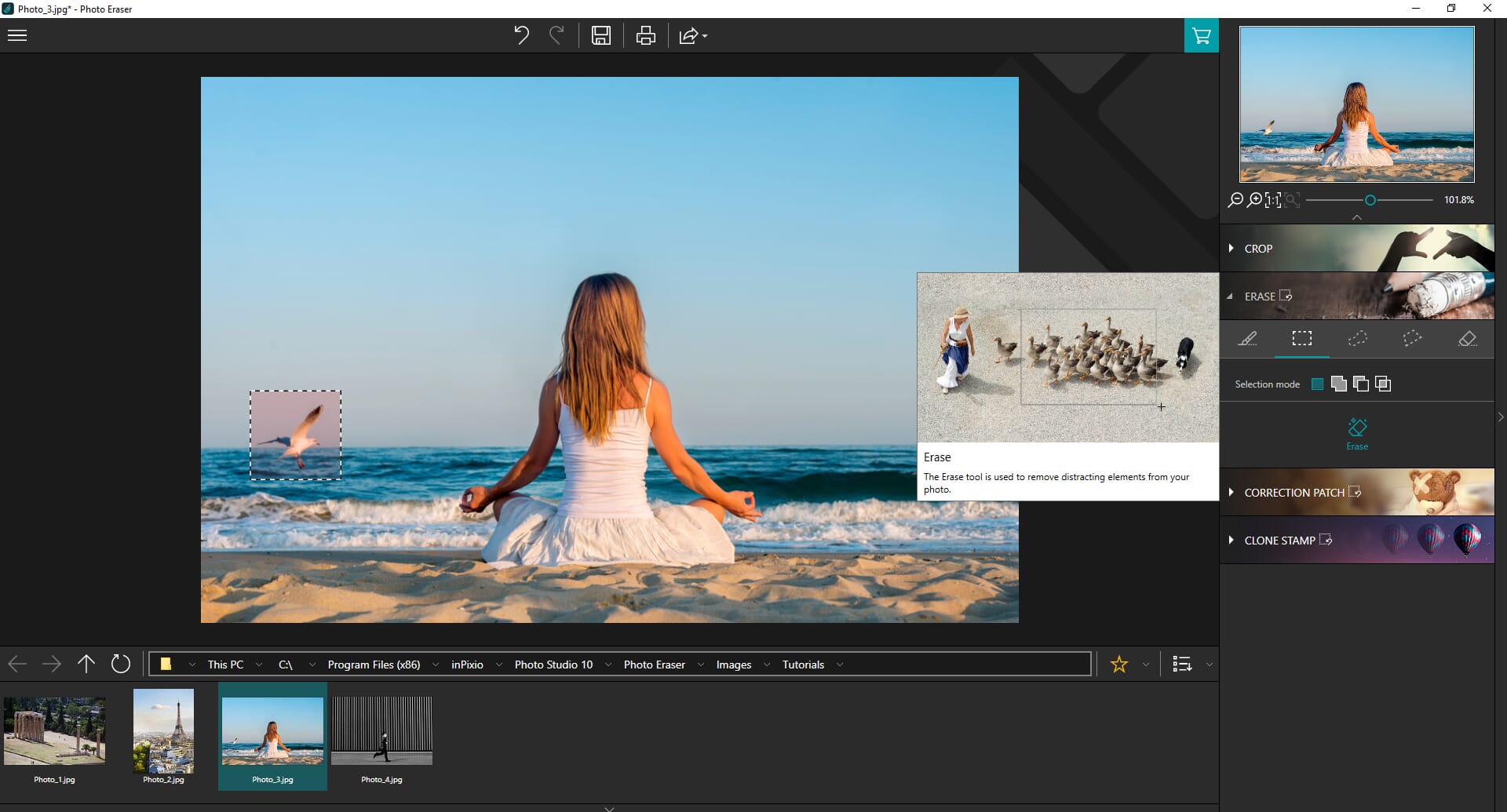 Correction Patch
This gives greater control than the erase tool. You can draw around an unwanted object using the selection tool. Next, instead of removing the object automatically, you manually select an area of the photo you wish to clone. The results of this tool vary depending on what is in your image. This tool is better used for photos with repetitive patterns or large patches of similar colors and scenery.
Clone Stamp
Finally, the clone stamp tool allows you to duplicate different areas of your photo. It works much like the clone stamp tool in Photoshop. First, select the source area you wish to clone. Next, paint the source area into the new place you wish to duplicate it. It's again an effective tool. As you can see from the example below, I had a little fun duplicating the seagulls in the photo!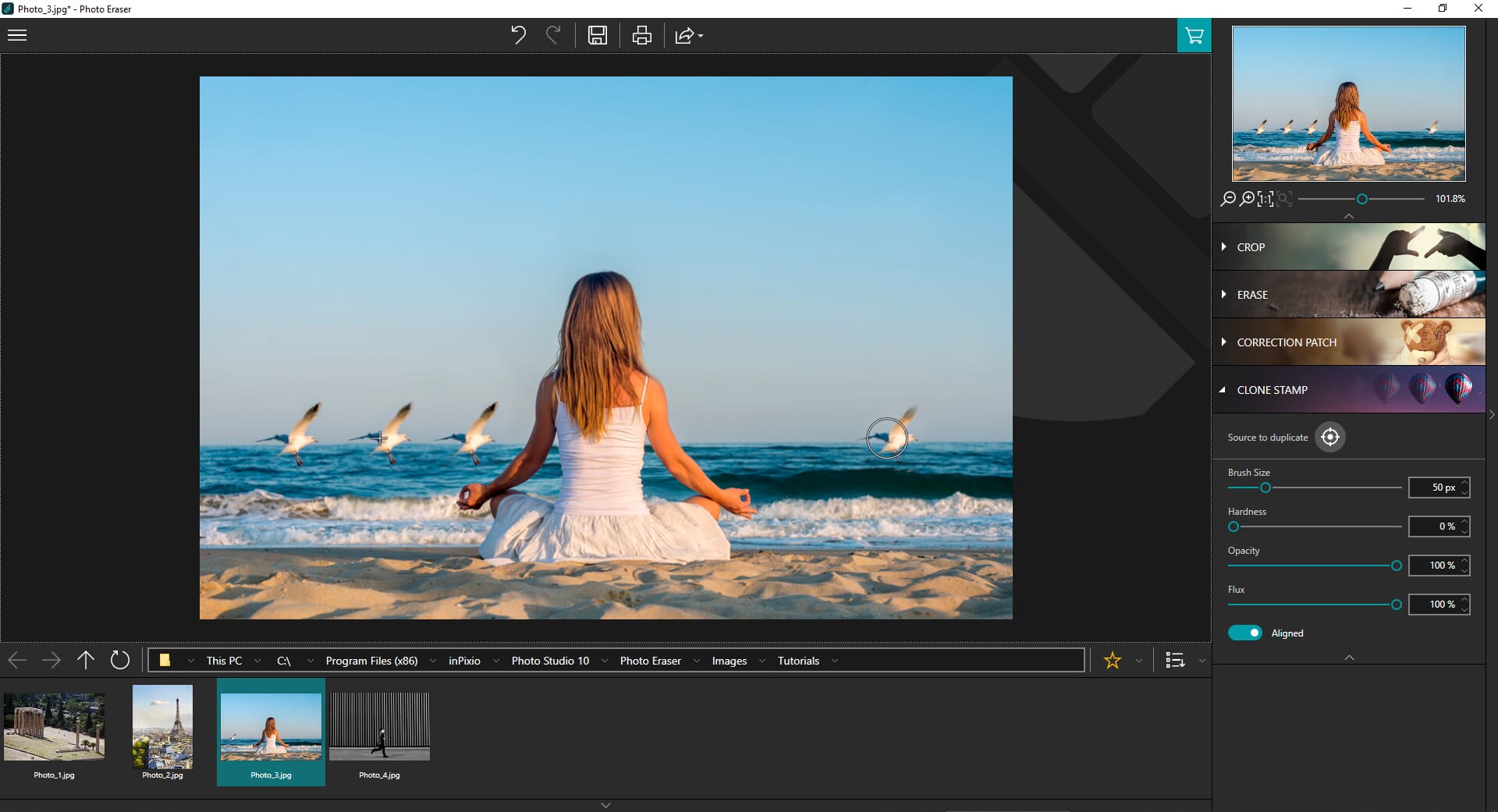 InPixio Studio – Photo Cutter
The last program in our InPixio review is Photo Cutter. This is another interesting program specializing in removing photo backgrounds or removing objects from photos to place them in different scenarios. I think it is a fun premise that has practical applications too.
As with the other programs, Photo Cutter has several tutorials that show how to use the tools. In addition to this, if you hover over a tool, a small animated gif is shown with clear instructions.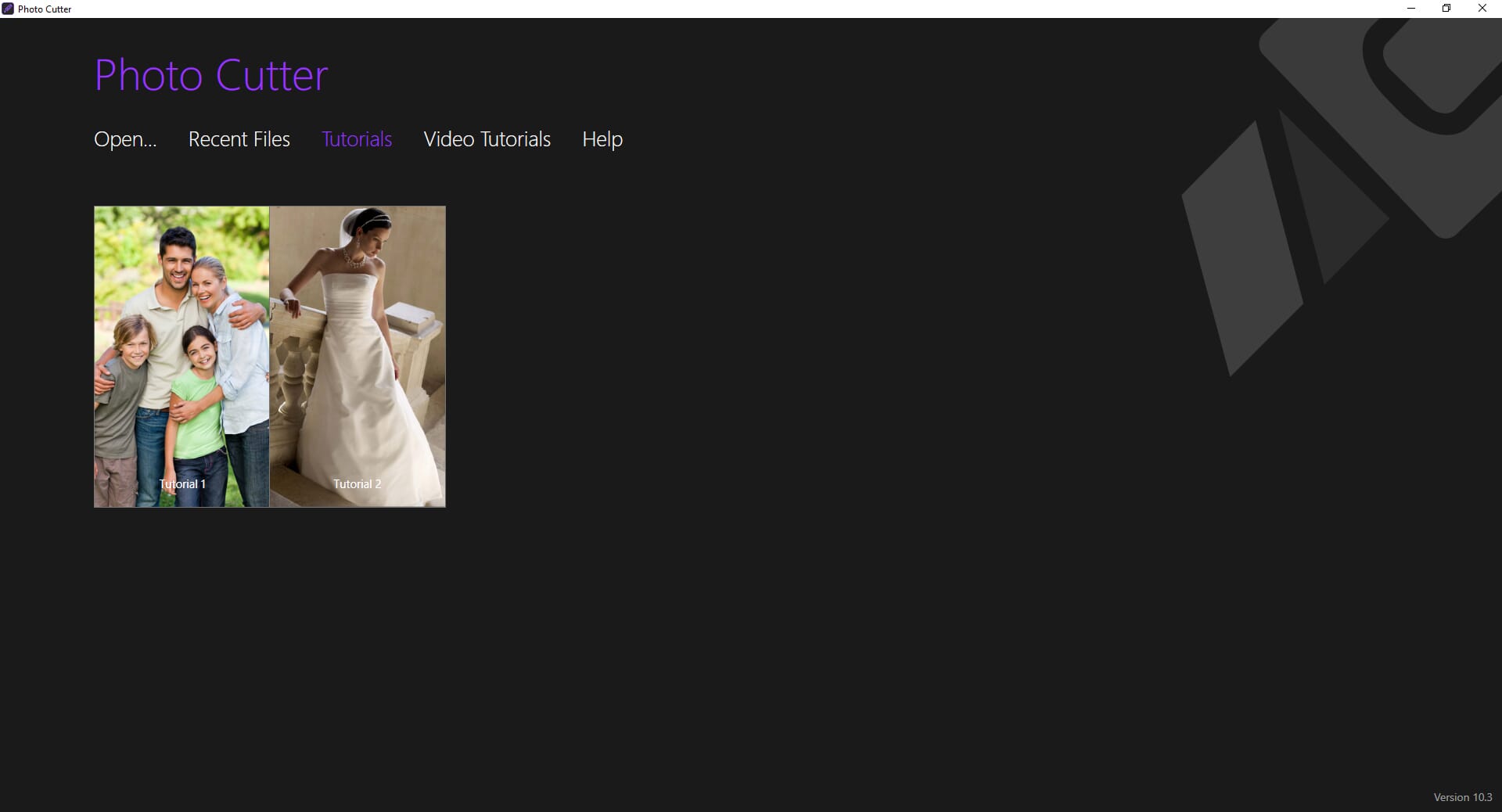 Photo Cutter also has a simple layout. I really like the simplicity of these programs – it cannot be overstated. Each of the InPixio programs is easy to use and have a minimalistic layout. For beginners, these tools will not feel overwhelming.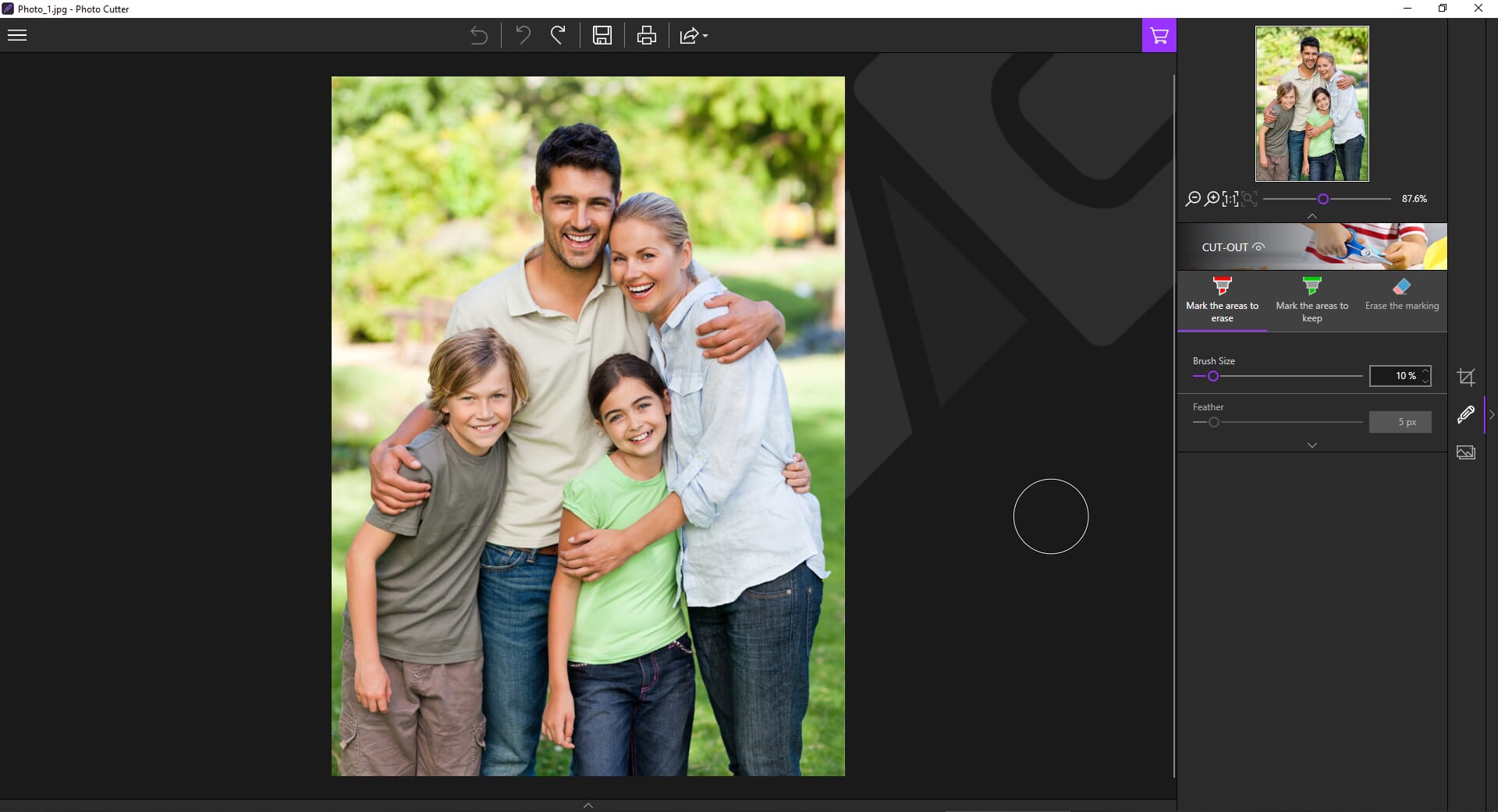 Using Photo Cutter is straightforward. First, alter the brush size and feathering. I would advise doing this first as it provides greater control. Next, select the "mark the areas to erase" tool and draw a simple line on the background area you wish to remove like below: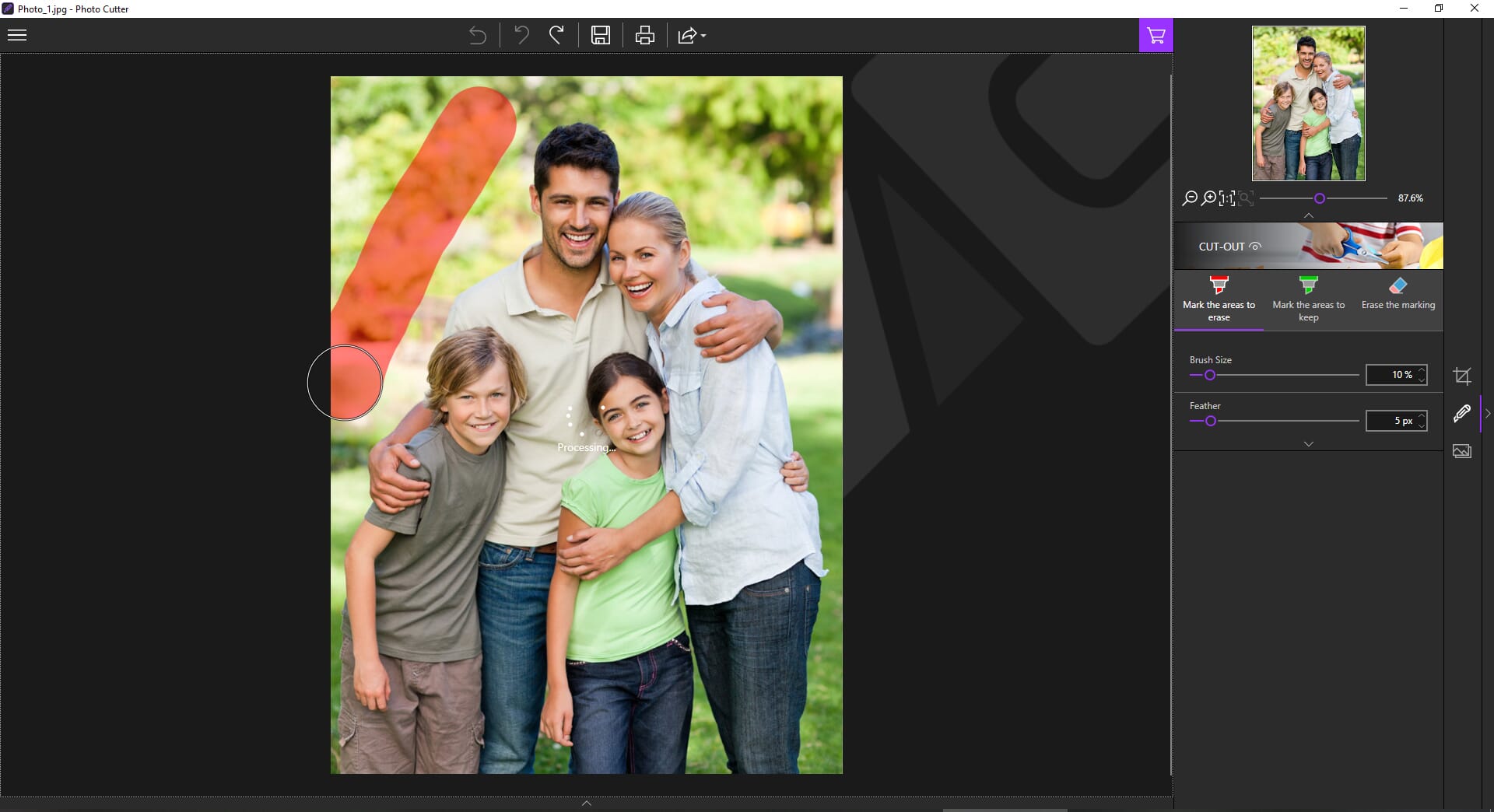 Once you let go, the AI technology will automatically remove what it deems to be the background. Depending on the background, it may remove everything first try. However, you may have to make small adjustments to remove areas that were not first picked up. As you can see below, the technology is really accurate: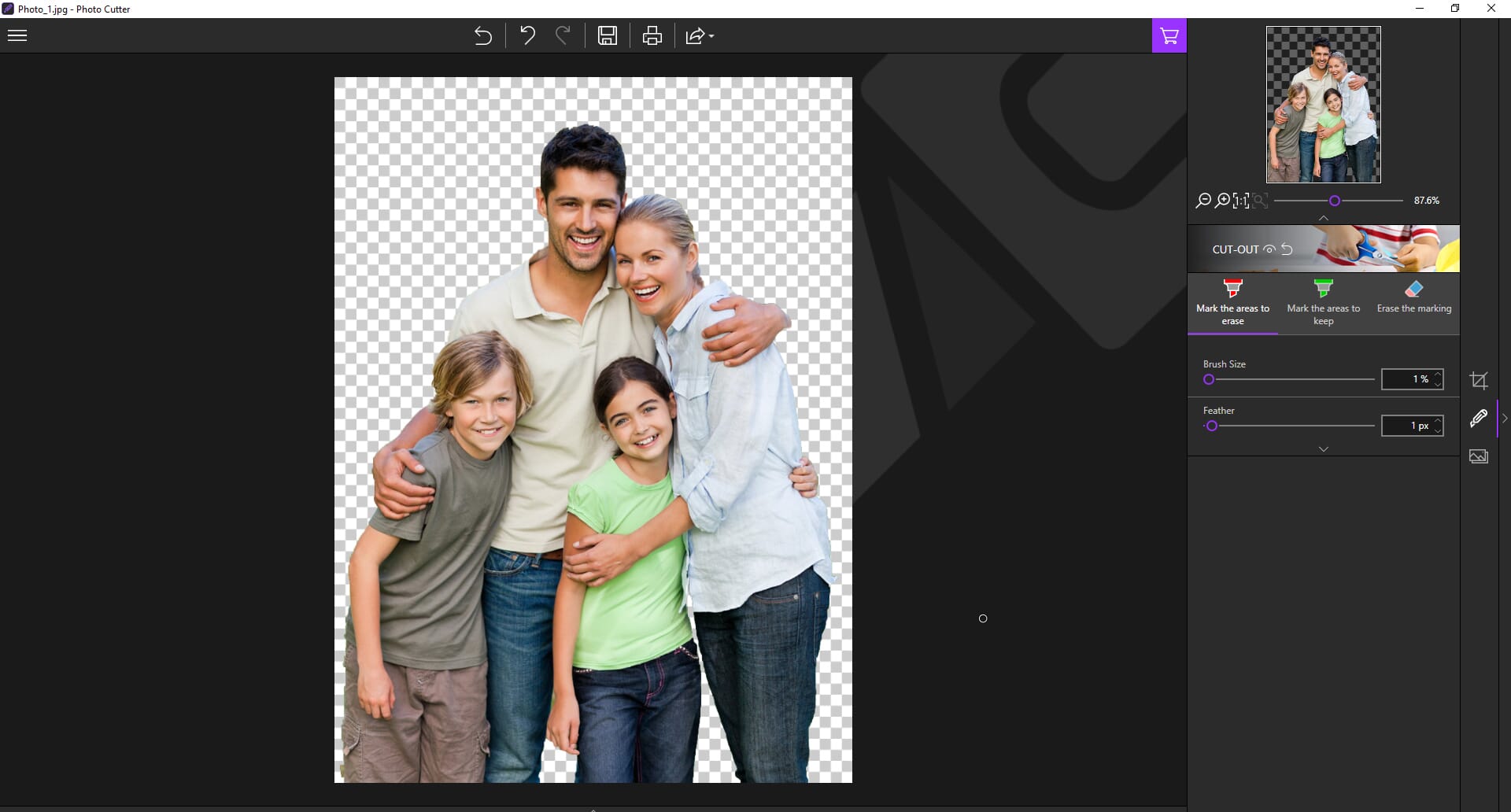 Using the photomontage tools
When you are happy with the cutout, you can do two things. First, you can save the cutout as a PNG. This means that the background will remain transparent, and you can then open it in other programs if you wish. Second, you can use the Photomontage tool.
This tool is great fun. It provides a myriad of images, photos, and other options which you can combine with your cutout. For example, you can add text, colors, and even banners.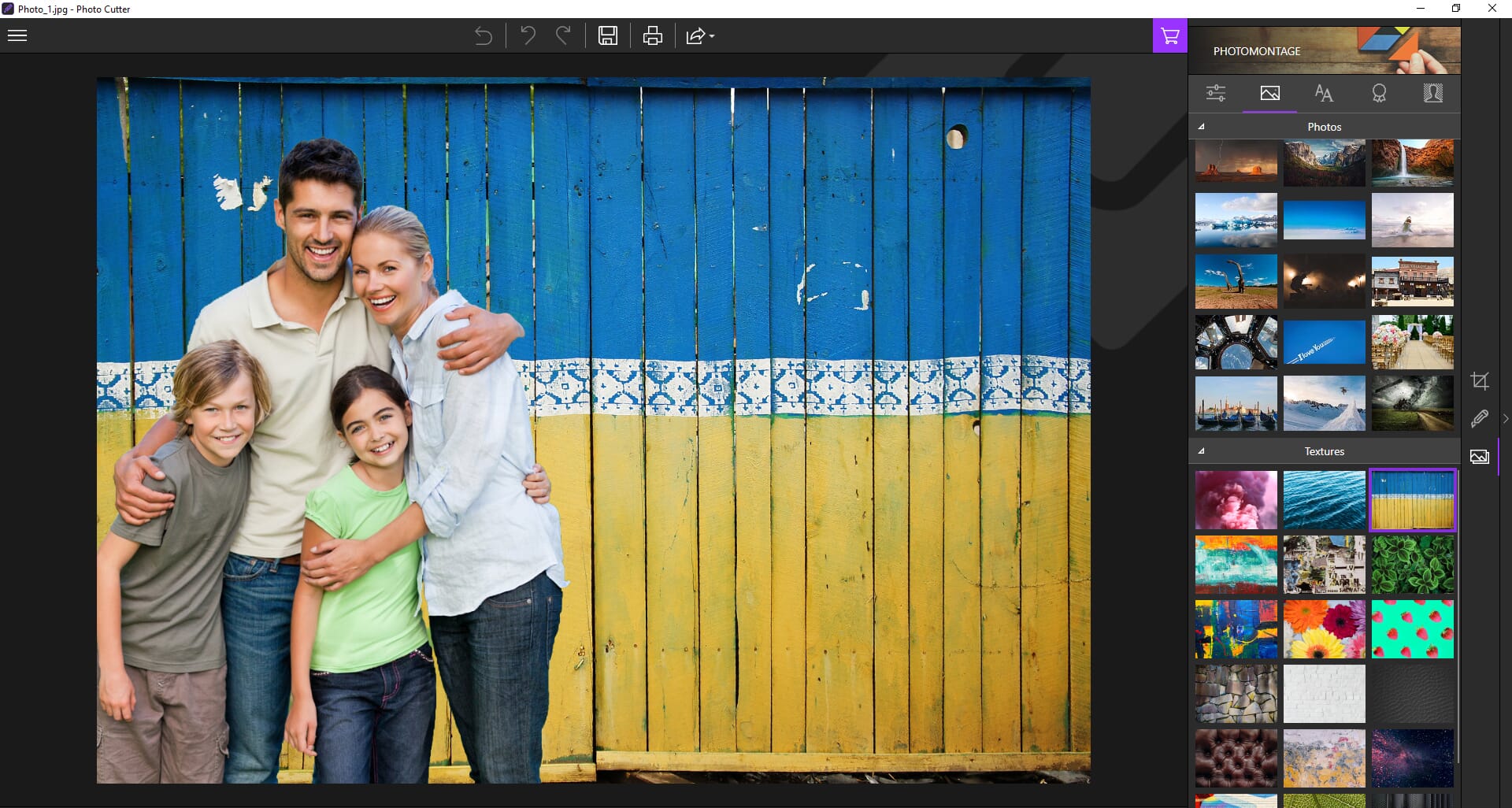 Whilst there isn't a huge variety of choice here, you can use the preset photomontage tools to have fun and see what different results you can create. I feel the true power of this program lies in the ability to save your cutouts as PNG images.
Is inPixio Studio a worthy photo editing suite?
Yes! After creating this InPixio review, I feel it is a worthwhile editing suite. I don't feel it can be compared to post-processing behemoths like Lightroom 2020 and ON1 Photo RAW 2021, however. This is mainly because it lacks an extensive file management system.
Also, I do not feel the editing quality and end results are quite as refined. Overall, it's a great product. For beginners and hobbyists, InPixio Photo Studio 10 offers a superb introduction into the world of photo editing.