In this InPixio Photo Studio 12 review, we look at the latest iteration of this simple editing software. Version 12 has some major changes and improvements, including a complete interface redesign. It also features improvements to various AI-enhanced tools.
InPixio Photo Studio 12 is meant for quick, concise, and smooth editing. It does not offer advanced tools, and it offers virtually nothing in terms of file management. Other editing programs, such as ON1 Photo RAW 2022 and Lightroom Classic, are better suited for those purposes. However, it does offer AI tools and a minimalistic interface that beginners and hobbyists will appreciate.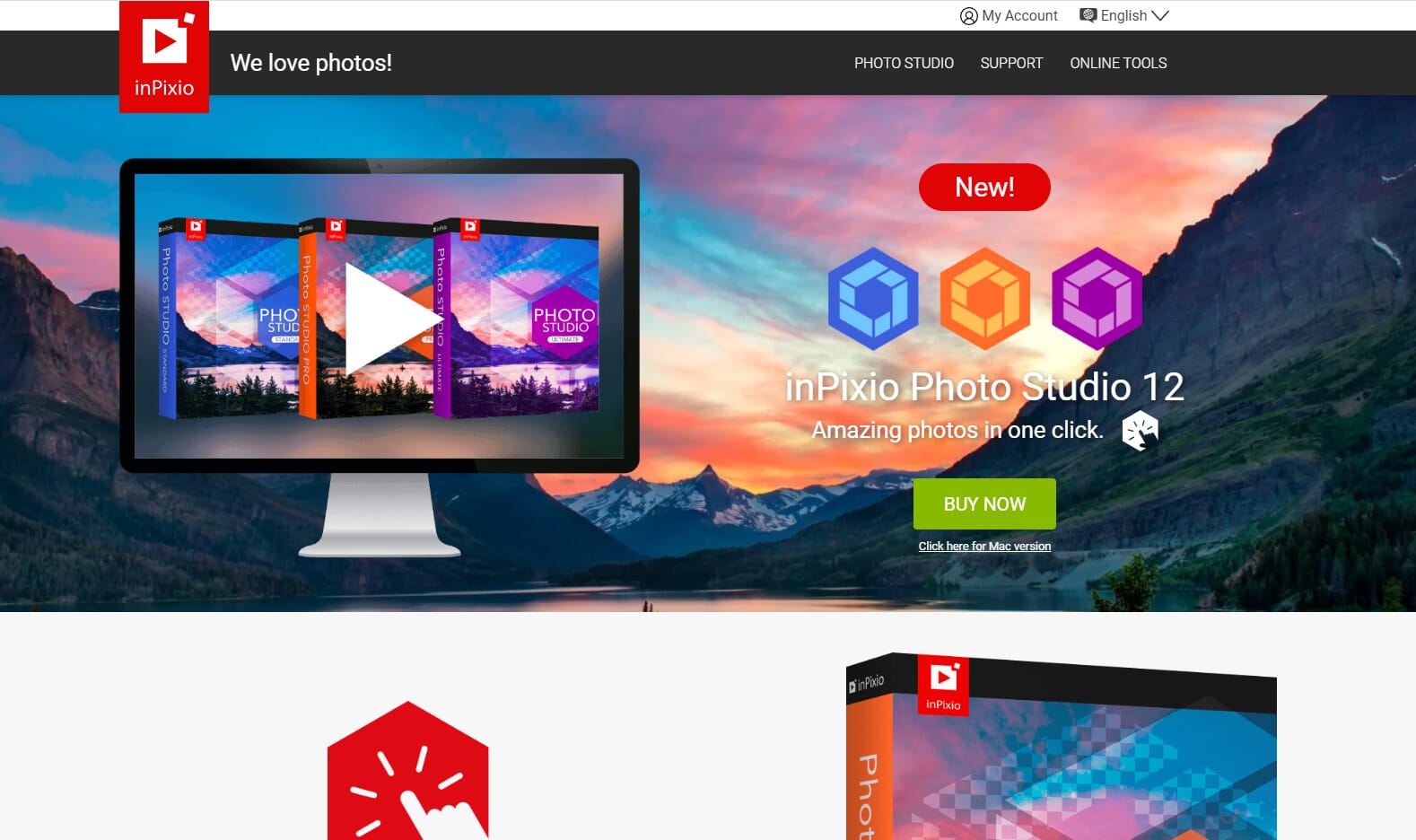 InPixio Photo Studio 12 Review:
When you buy through links on our site, we may earn a commission at no cost to you. We evaluate products independently. Commissions do not affect our evaluations.
InPixio Photo Studio 12: Overview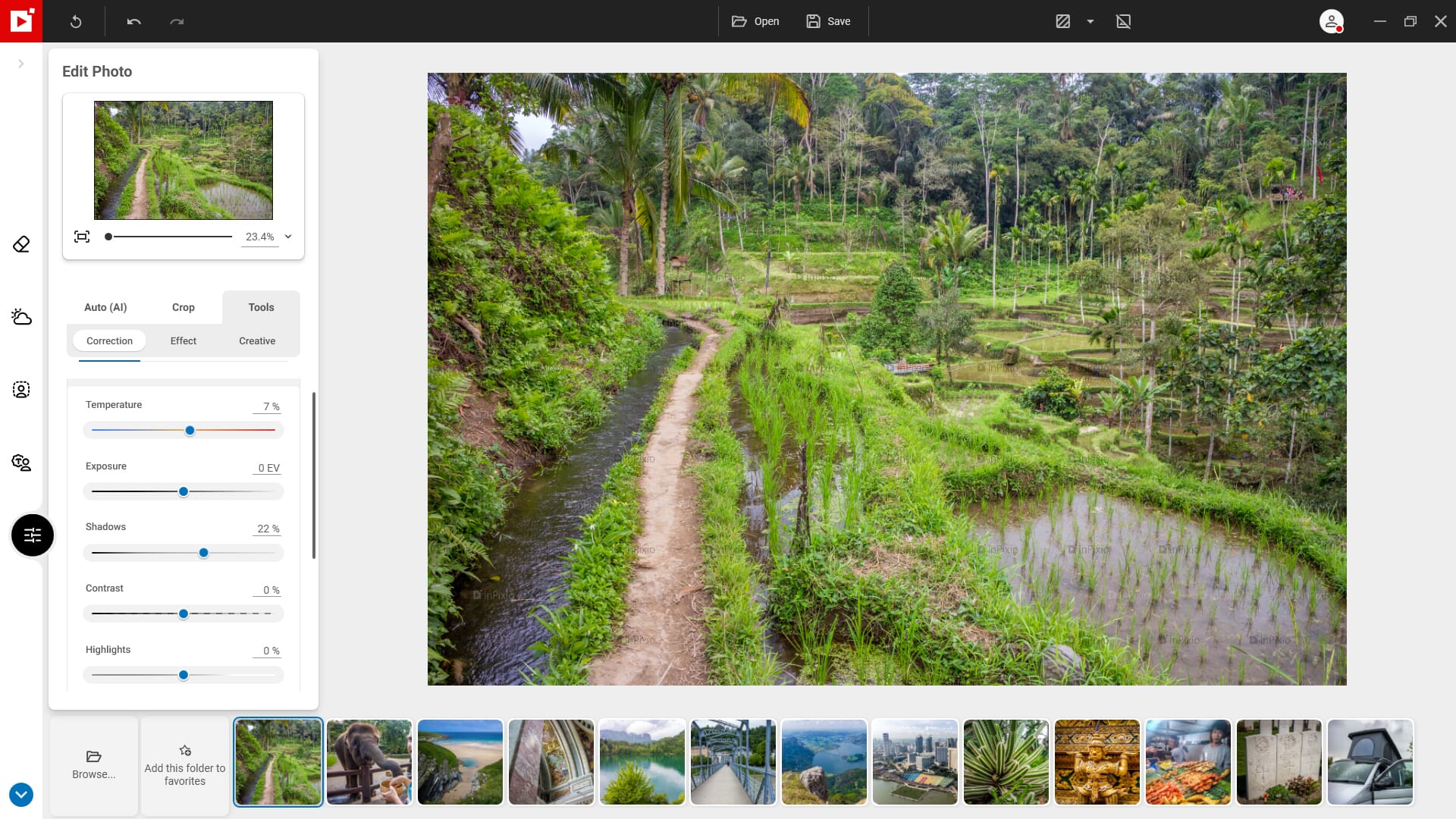 Great for simple and quick editing
InPixio Photo Studio 12 offers some great AI tools and is perfect for those who want to edit photos quickly with great results.
Pros
Minimalistic re-vamped interface
Simple and easy-to-use AI tools
Excellent performance
Comprehensive editing tools
Reasonably priced
Cons
Some basic parameters are missing
Pricing is unclear and deceptive
InPixio Photo Studio 12 is a re-imagined editing program that features some major changes; it has been transformed into a minimalistic, modern package with a simplistic layout that is great for beginners.
The various editing tools have also been re-imagined and improved. These include Erase Objects, Remove Background, Replace Sky, Photo Merge, and Auto AI. The tools are easy to use, and you can make quick edits to your photos without a detailed understanding of photo-editing software.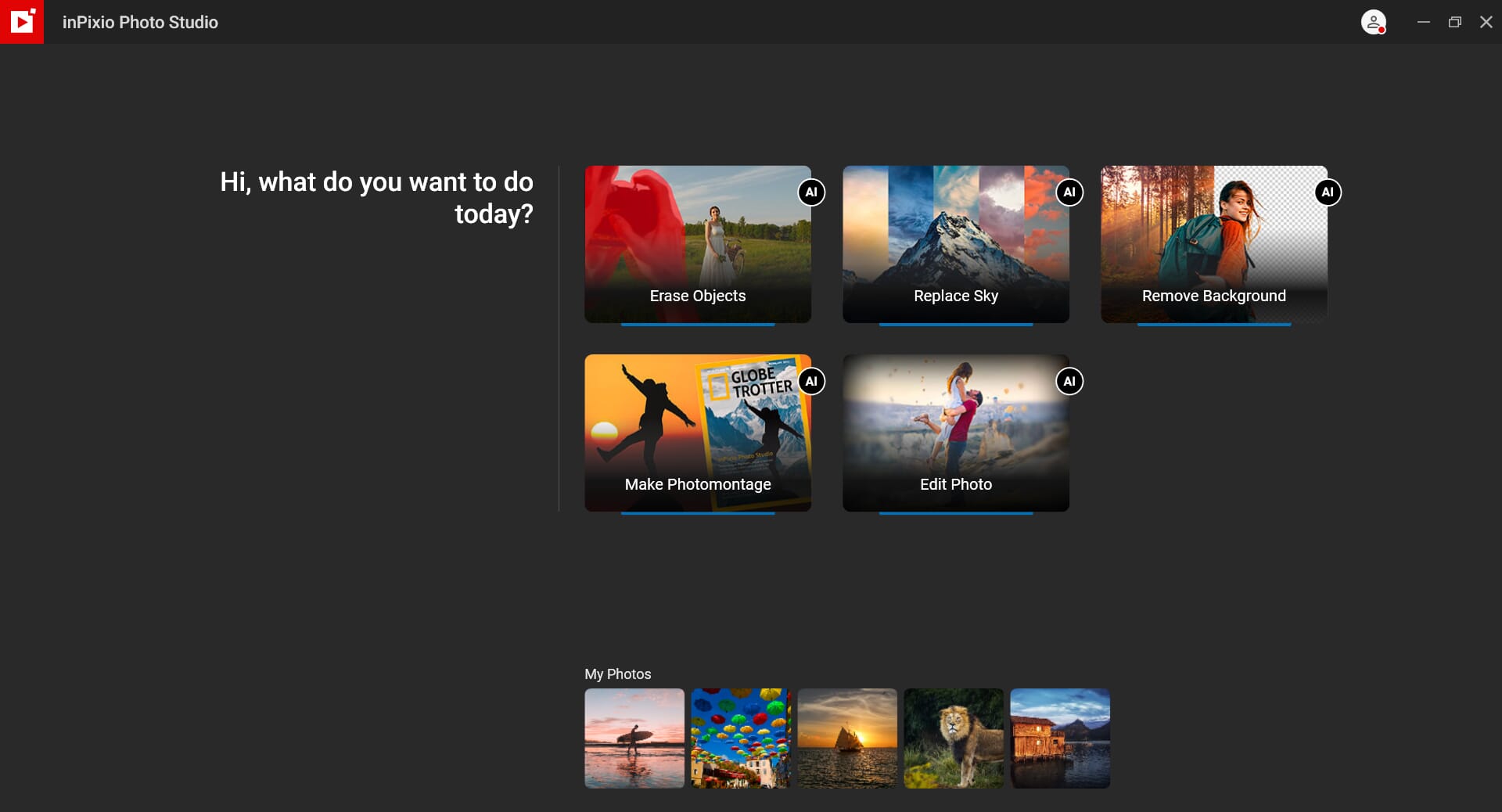 Like previous versions, the software has virtually no file management tools. As a result, it is purely a photo editor. If you are looking for a complete photo-editing and management tool, it is not the right choice.
InPixio Photo Studio 12: What's New?
InPixio Photo Studio 12 has some major updates. These include:
An improved intelligent Erase Objects tool
A revamped Remove Background AI tool
An improved Replace Sky tool
An Auto AI automatic-editing button
A revamped interface
Intelligent Erase Objects
One of the first features we tried in this InPixio Photo Studio 12 review was the Erase Objects tool. This was available in Version 11. However, it has been revamped and improved. The interface is completely changed. We like the changes; the tool is more streamlined and modern.
The Erase Objects tool is useful if you have unwanted objects in your photos such as people, or birds flying in the sky. It works like clone and heal tools in other software.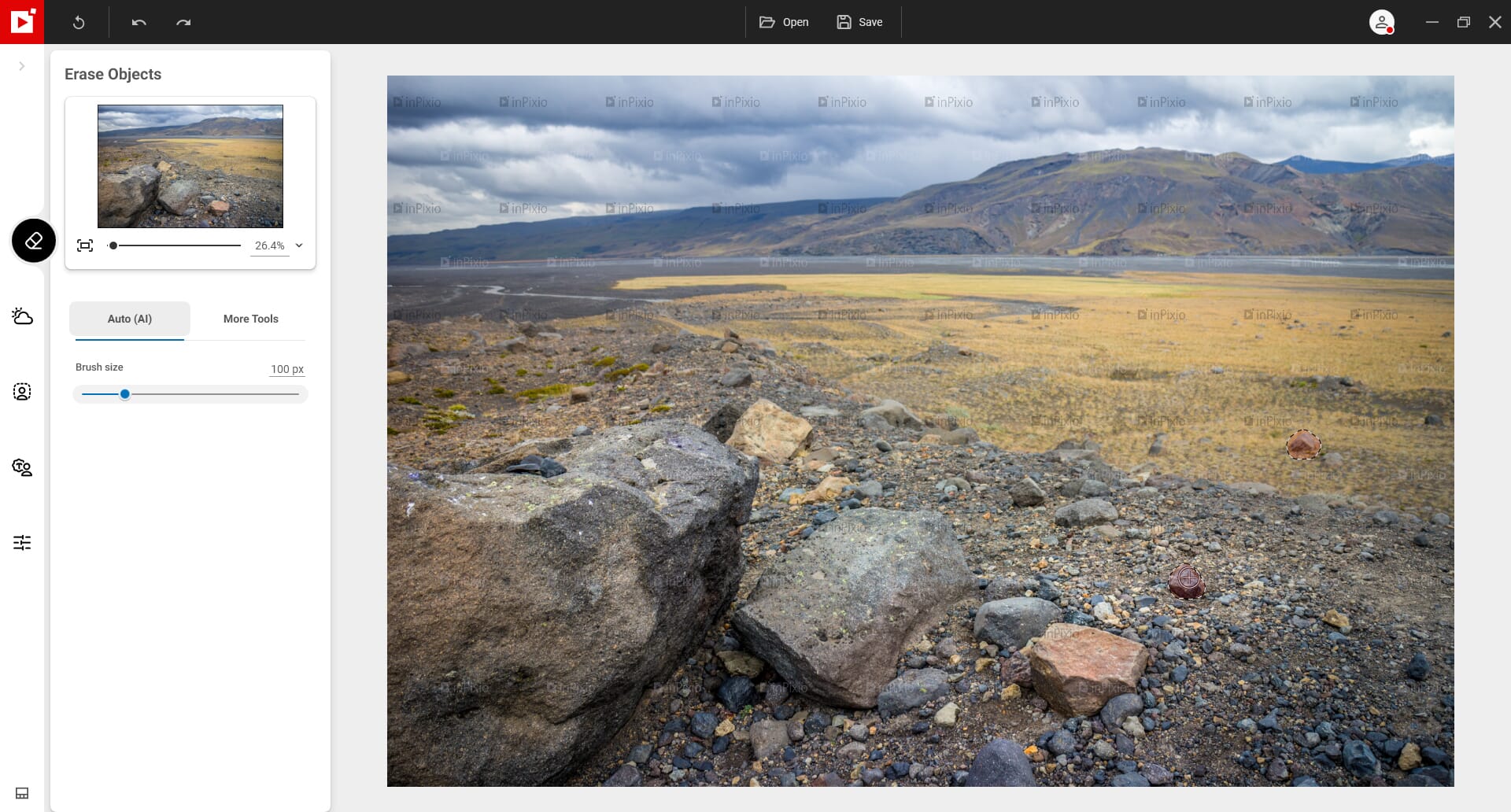 You can select either the automated AI tool or switch to a manual tool. The AI tool is quick and yields decent end results. However, for more control, the manual tool is preferable. You can select the part of the photo that you want to use to fill in the problematic area.
Remove Background AI
The Remove Background AI tool has also been revamped. It has a revised interface, and the AI technology appears to have been improved.
This tool is useful if you want to extract an object for other projects. For example, if you have a photo of a person but want to place them in a different setting, Remove Background AI will get the job done. It's great for marketing material, and it's also a great way to have fun with your photos.
The tool is incredibly easy to use. Simply upload your photo and the AI technology will automatically remove the background. First, it'll detect the background and the main subject. This can sometimes fail if the background is not clearly defined. If it does fail, you can automatically create a background mask. However, in most instances, it works fine.
The results are generally decent. We tested a few different photos. As you can see, the first background is removed successfully. However, there are some gray artifacts surrounding the subject's head and body that haven't been properly removed.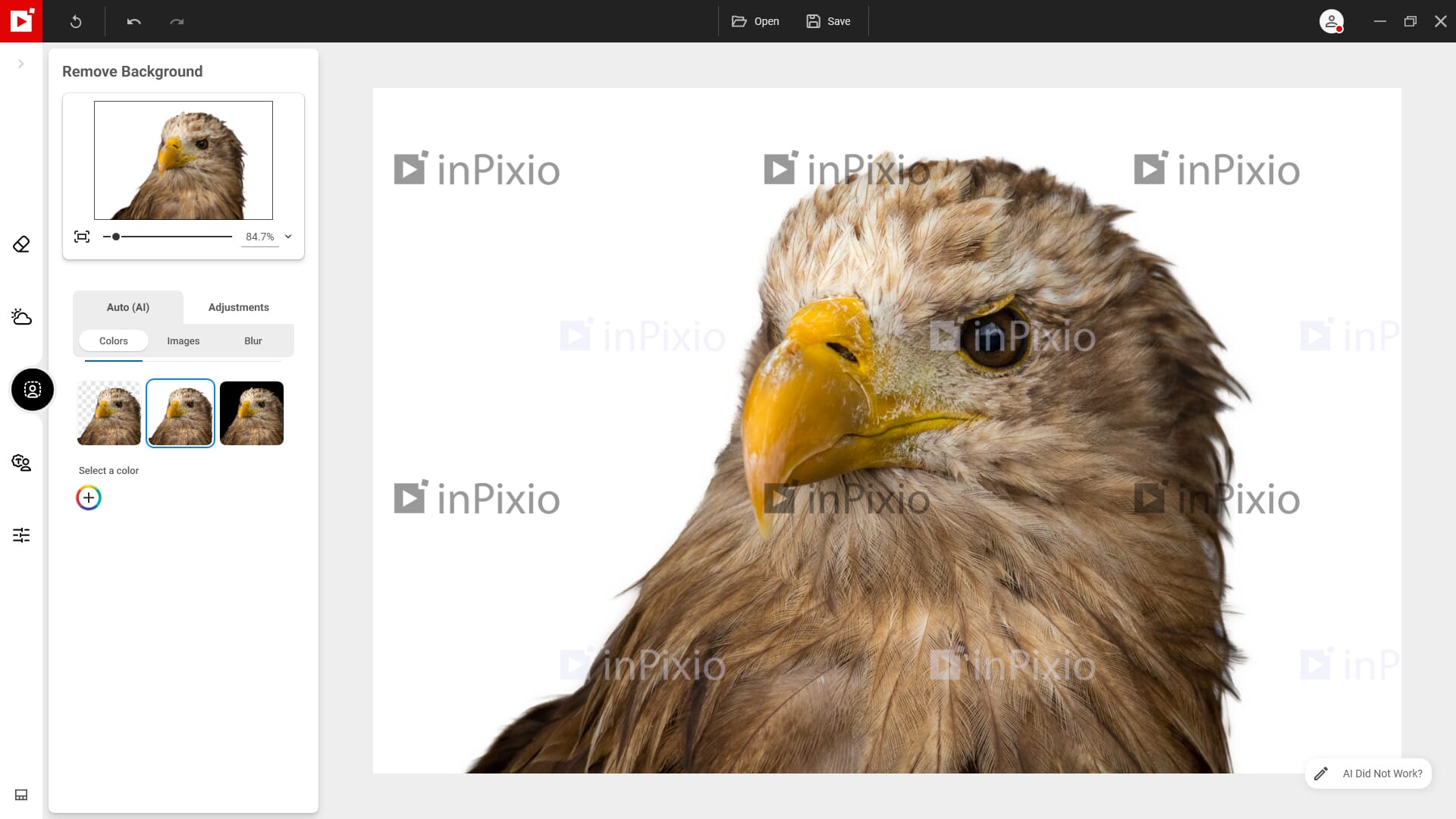 The second photo looks much better. The background has been removed completely. We are left with a clearly defined outline of the bird of prey. The tool even did a decent job around the feathers!
Replace Sky
We are fascinated by sky replacement tools; they can be used to completely transform landscape photos. The "Replace Sky" tool in InPixio Photo Studio 12 has been overhauled and improved.
It now has a great selection of preset skies, not to mention better underlying technology. We like the different categories of skies, including Blue, Sunset, and Stormy. This allows you to dramatically change the feel and atmosphere of your photos.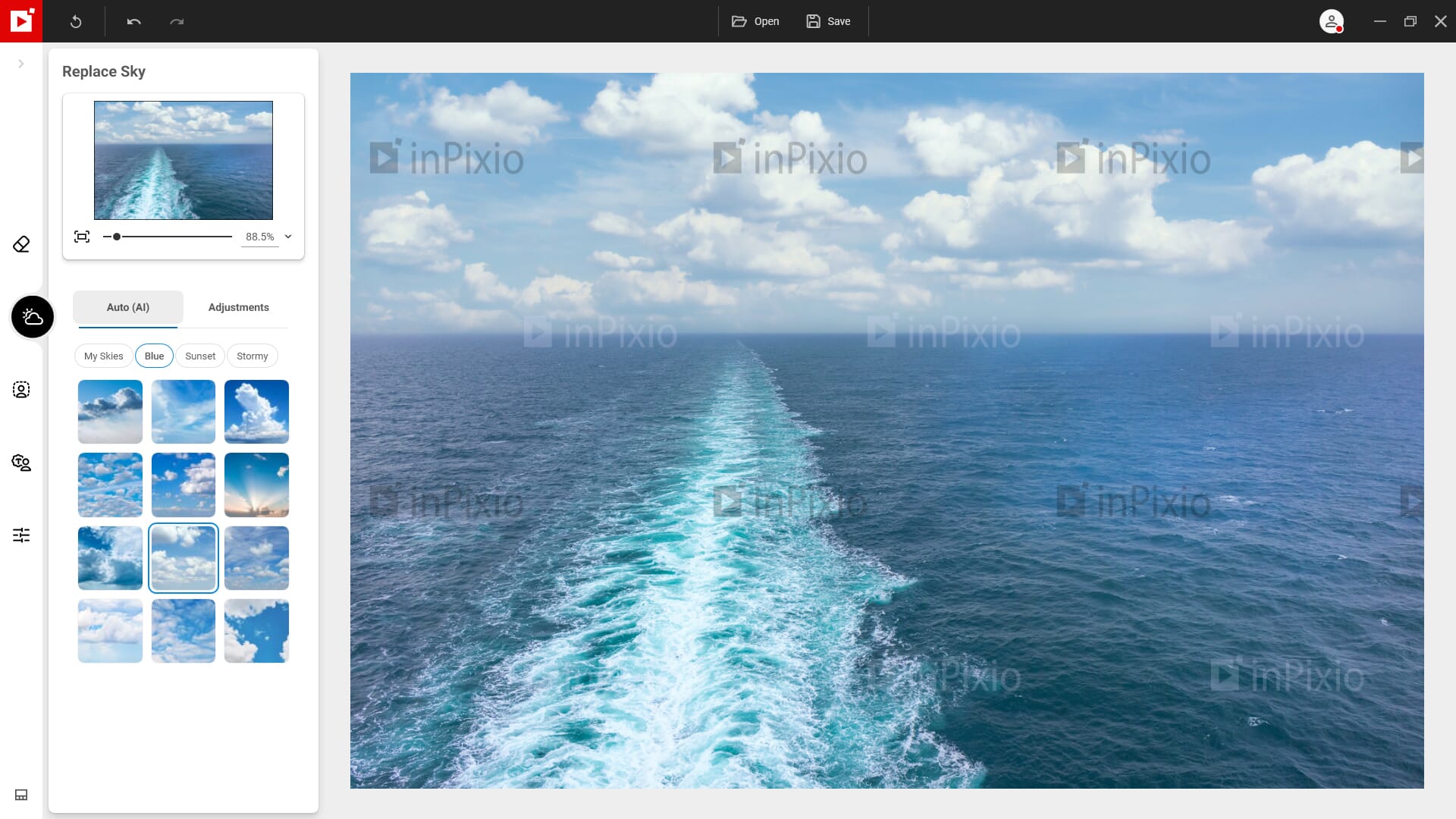 The AI masking is excellent – during our testing, it always selected the sky properly. And once you have a sky you like, you can do a bit of fine-tuning (for example, you can change the temperature and the scale of the sky).
More importantly, you can change the foreground color adaptation. This effectively changes the foreground so that it matches the new sky's tone and color.
The only downside is that the tool can sometimes fail to match the foreground with the new sky. And you may need to adjust the edge smoothing as the tool can create a noticeable shadow on objects in the foreground.
Edit Photos AI
For quick photo improvements, you can use the Edit Photos AI tool. We were expecting more from this and found it a little lackluster.
It does a good job, but it doesn't create that wow factor that we were expecting. For example, the image below has the Auto AI enabled. As you can see, there is an improvement from the unedited photo. However, the third photo is fully edited using the available InPixio editing tools, and it's what we would expect from an auto-editing AI tool.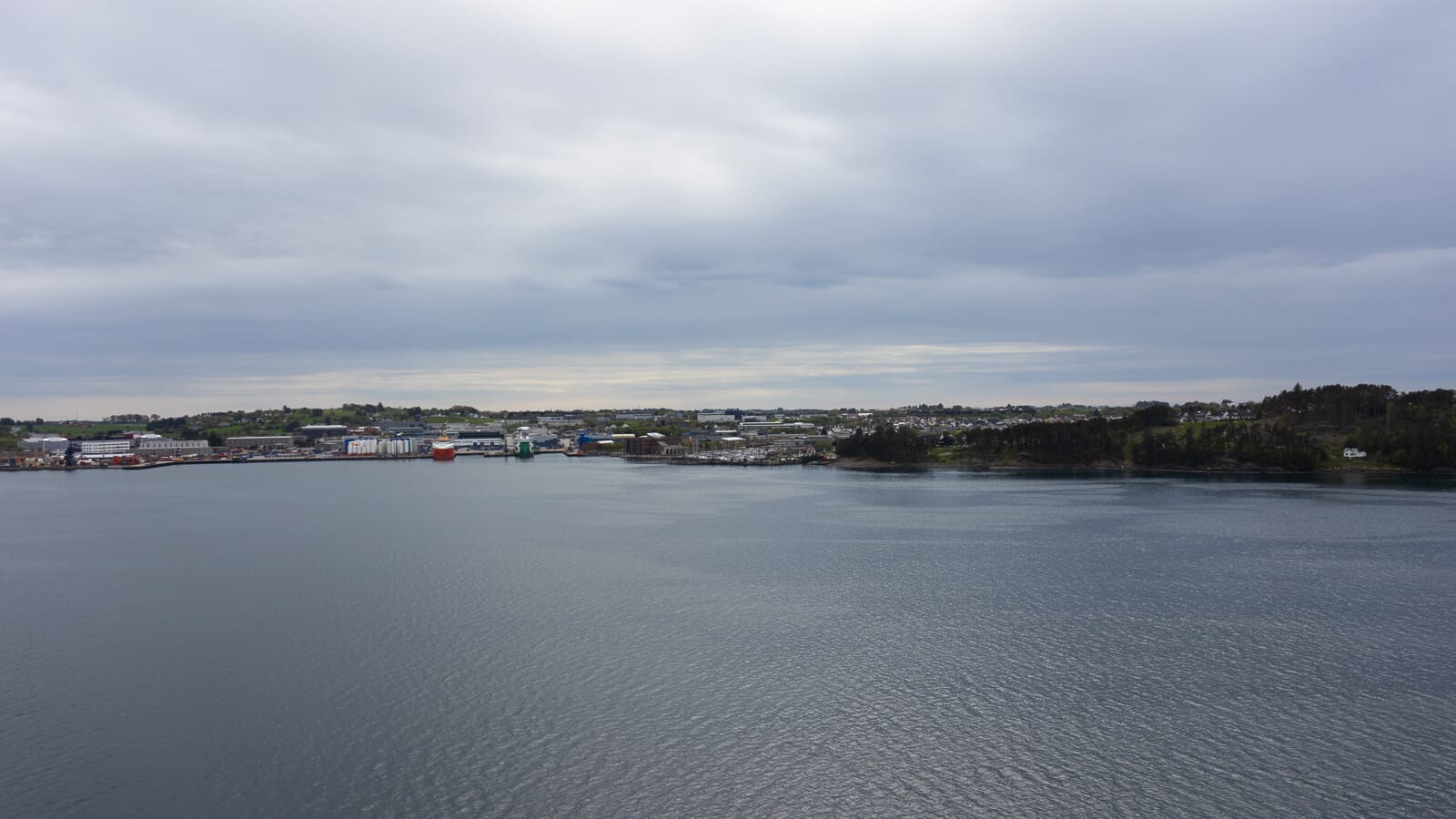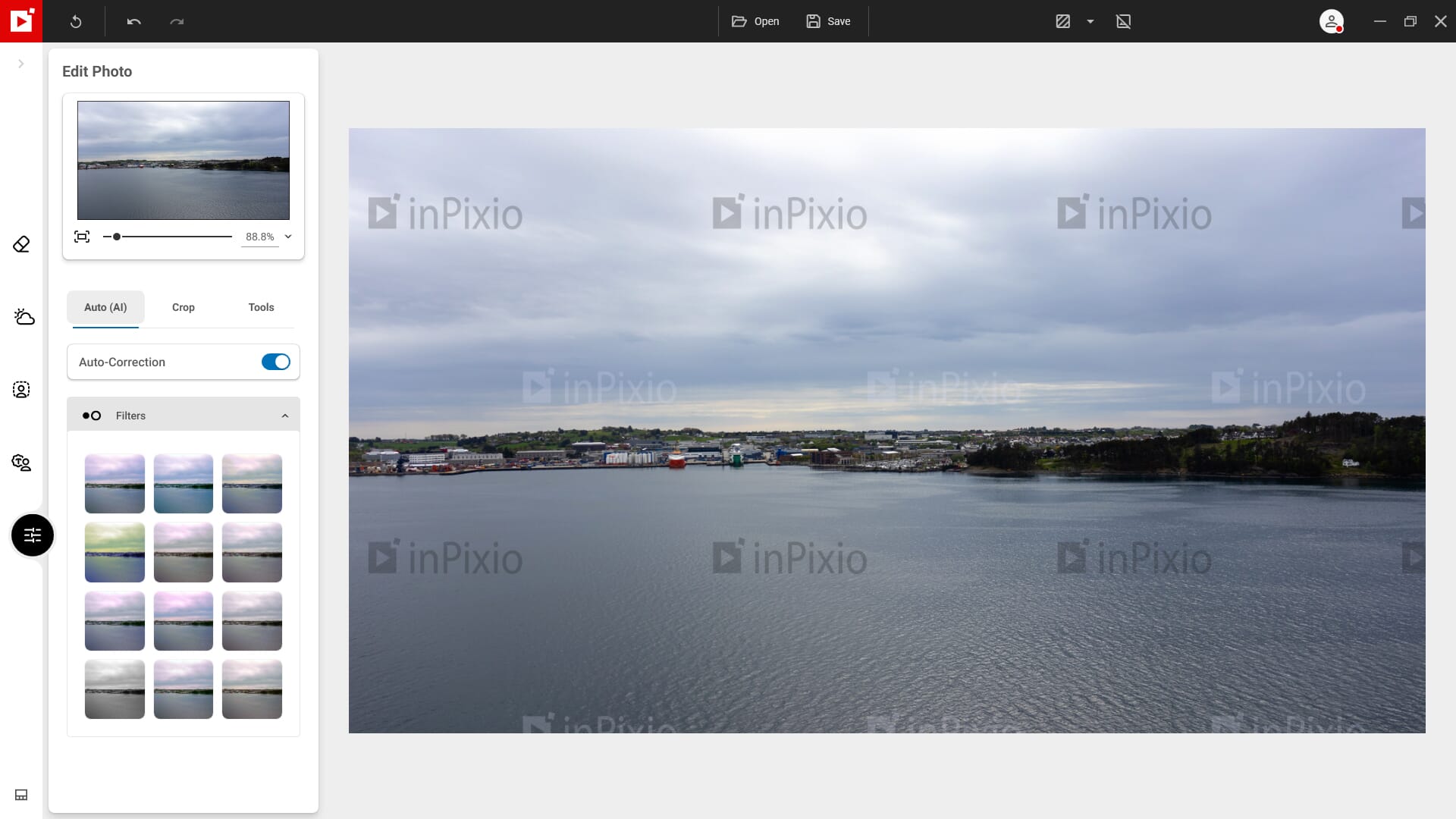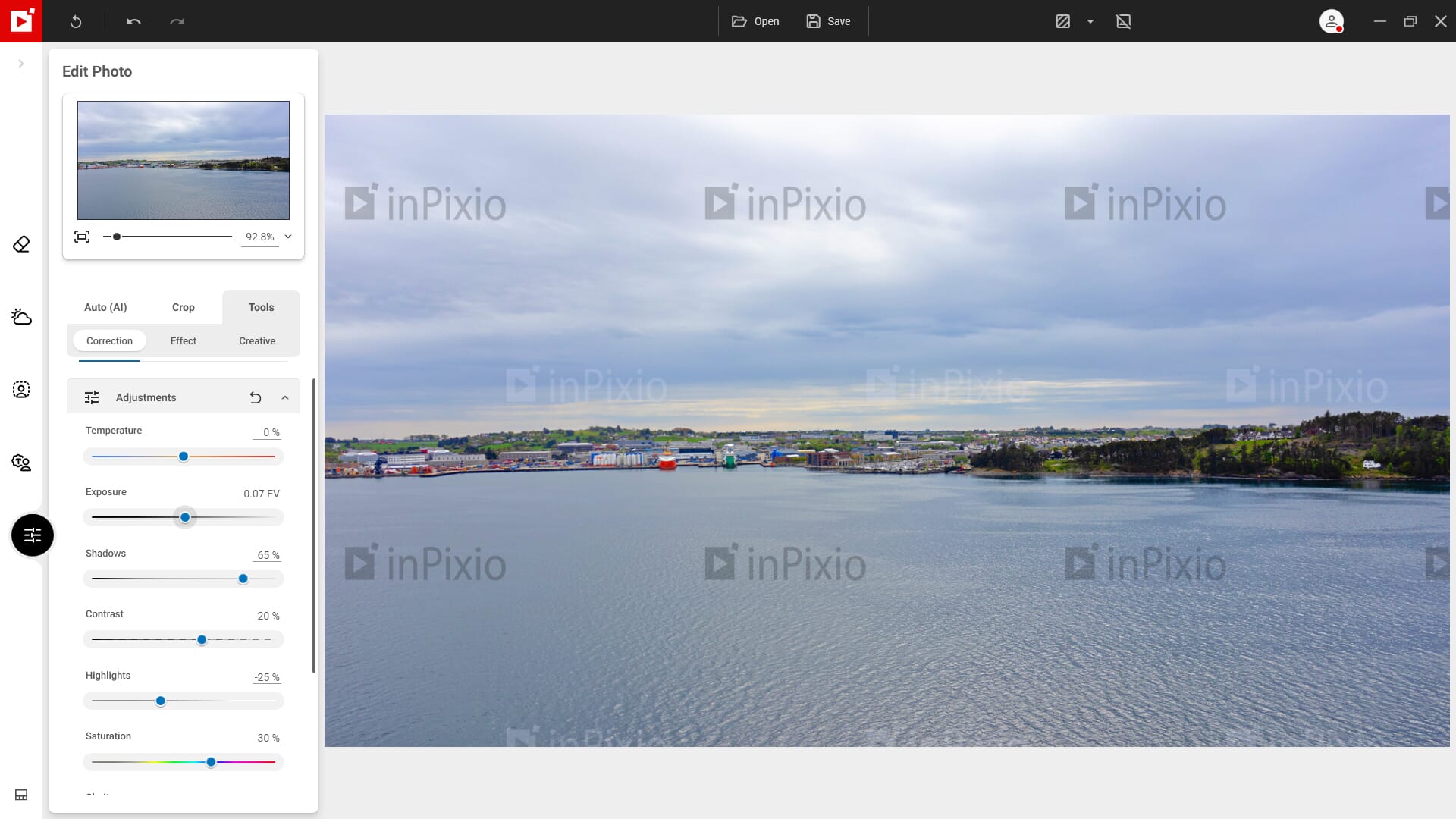 You can use the Edit Photos AI tool as a good starting point, but depending on the photo, you may still want to make additional edits.
Photo Merge
The Photo Merge tool is incredibly fun to use. You can use this to insert people and objects into different photos. The image below uses a preset template with a cut-out taken from another image. The cut-out was automatically created; we didn't have to do anything.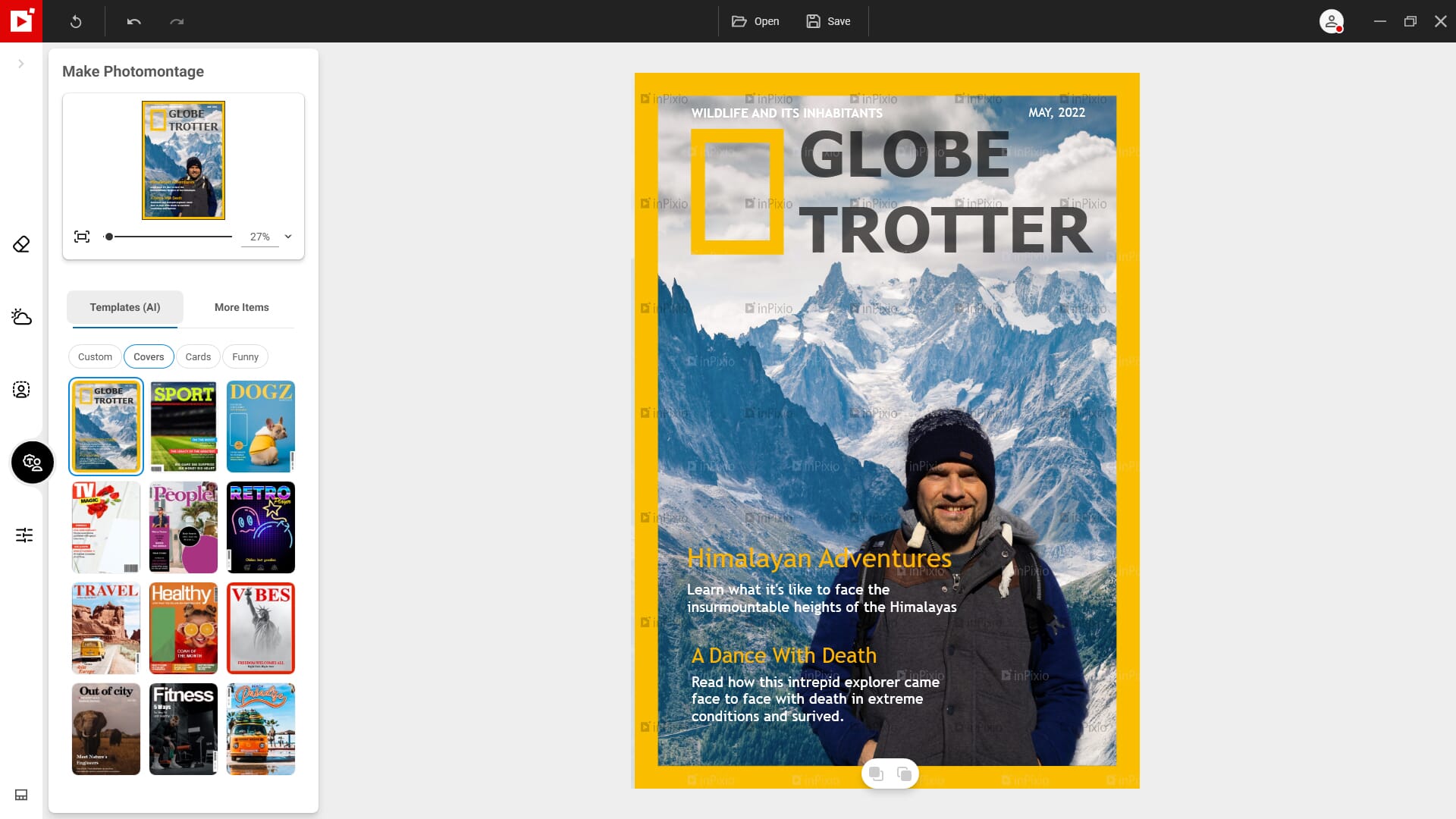 There is a limited range of templates to choose from, including covers and cards. You can also add text, graphics, and images to the resulting collage. The image below uses the same cut-out, but we've added some stylish sunglasses! We're not sure they fit the scenario, but you can certainly see the possibilities.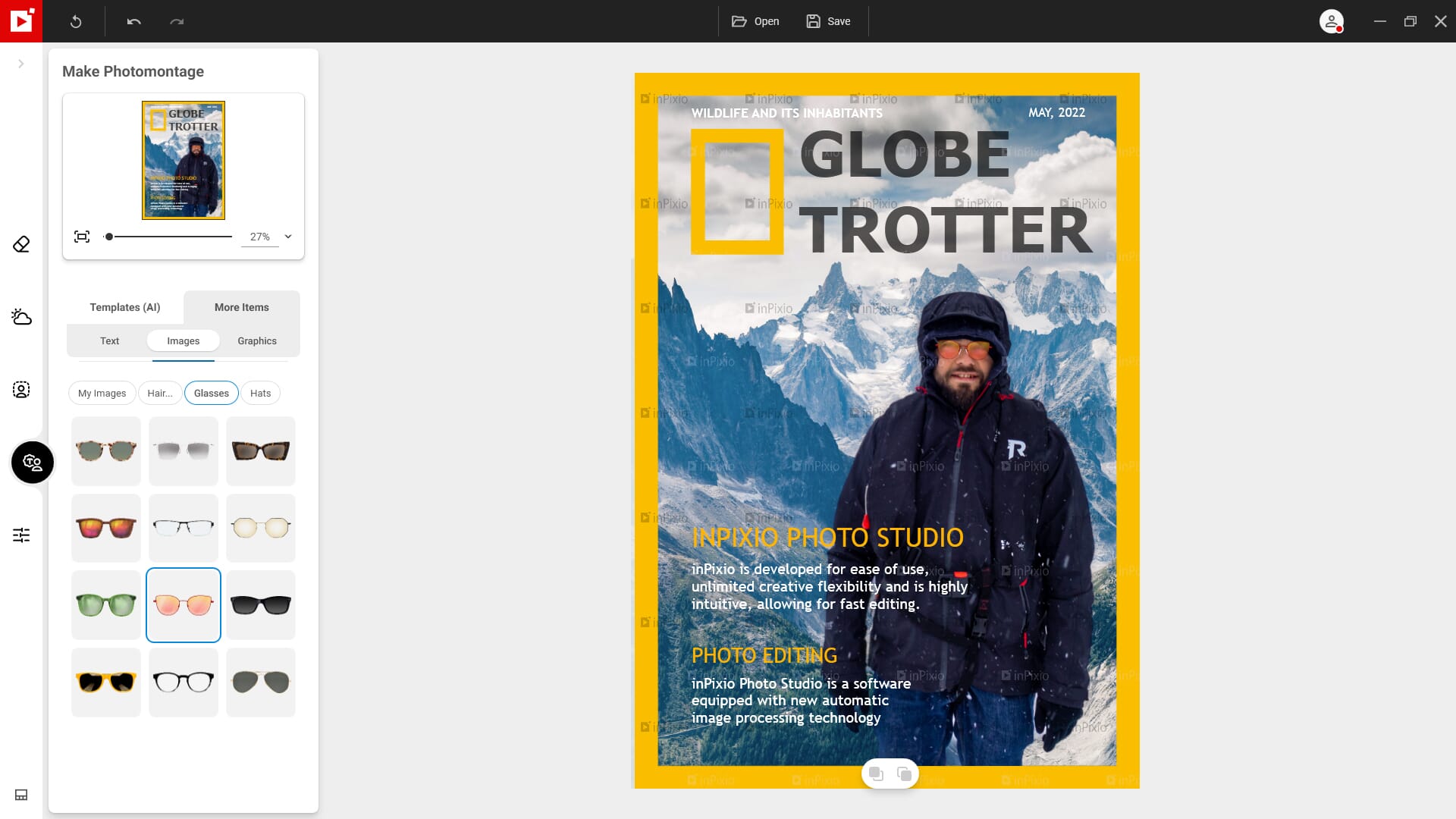 This could be a useful tool for creating marketing media. However, for professional work, a dedicated platform like Canva is the better option.
Revamped Interface
InPixio Photo Studio 12 has a completely revamped interface. Upon opening the software, you are presented with a simple home screen. This gives you quick links to the different InPixio editing tools.
Once you have selected an option, the main editing interface opens. This is completely changed. There is now a simple left-hand toolbar, which has the main editing tools: Erase Objects, Replace Sky, Remove Background, Photo Merge, and Edit Photo.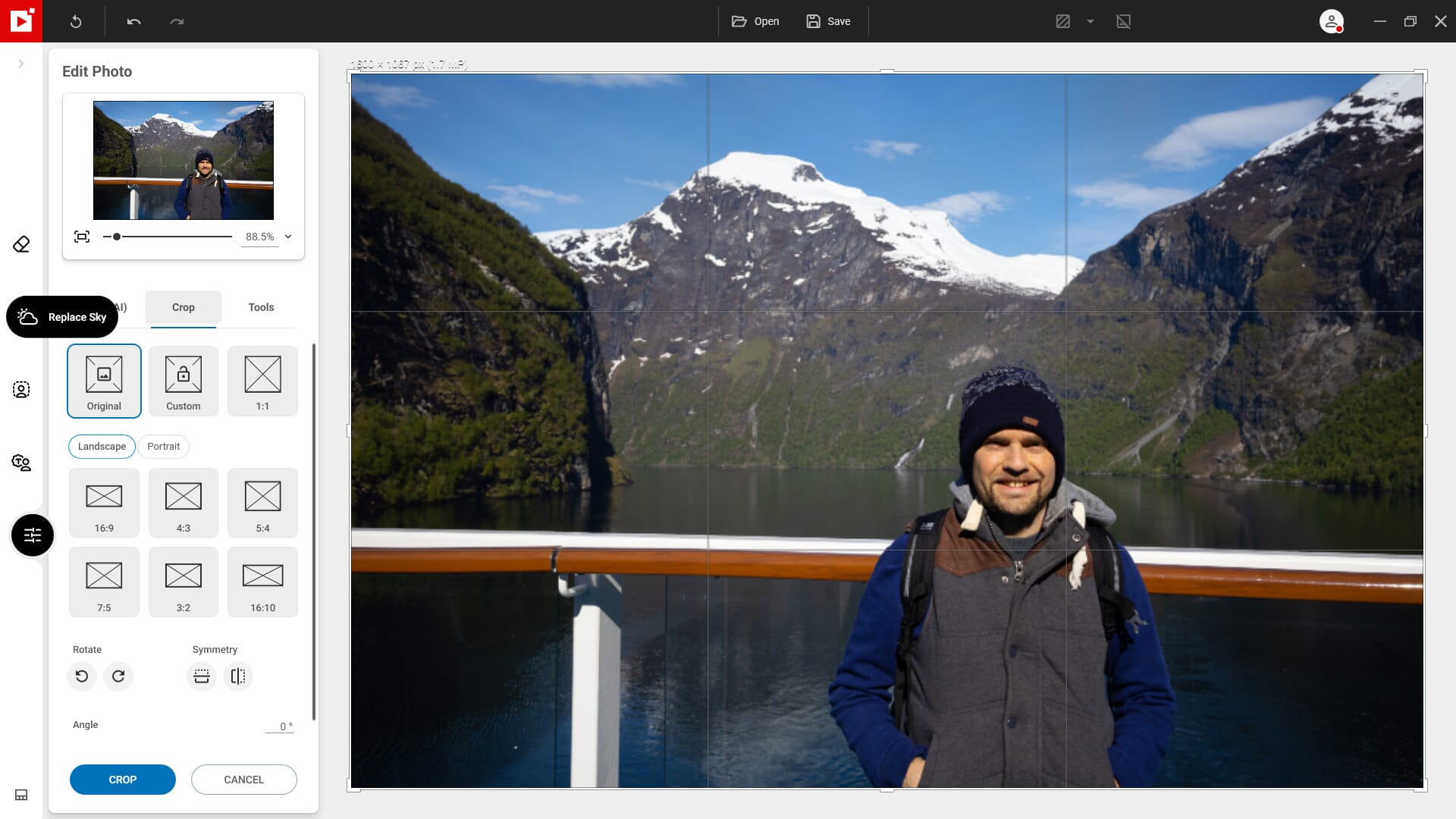 The preview of your photo is then shown in the center of the screen, and tools relating to the feature you have selected are on the left. We like this change; it makes the program incredibly simple and easy to understand. InPixio Photo Studio 12 feels minimalistic, and as a result, it's great for beginners.
On the flip side, you lose the control and flexibility offered by other editing software like Lightroom and ON1 Photo RAW 2022.
Related Post: ON1 Photo RAW 2022 Review
InPixio Photo Studio 12: Features and Utility
For this InPixio Photo Studio 12 review, we tested the different features and tools. Most of the review concentrates on the new and improved features (see the previous sections). However, we also touch on important aspects of the new program, including pricing and performance.
Performance
Editing software is often resource-intensive and thus you must consider the performance before buying. We tested InPixio Photo Studio 12 on a desktop computer with 32 GB of DDR4 RAM, an Intel Core i5 12th gen processor, and two Samsung NVME SSDs.
Below we look at the software system requirements and overall performance.
System Requirements
Processor: Intel Core i3 or better
Memory: 8 GB of RAM
Storage: 2 GB of free storage space
Screen Resolution: 1024×768
OS: Windows 8 or higher, 64-bit
The InPixio system requirements are relatively low. Many laptops suitable for photo editing and desktop computers will comfortably meet these requirements. Most laptops actually include 16 GB of RAM, and an Intel Core i3 processor is relatively cheap.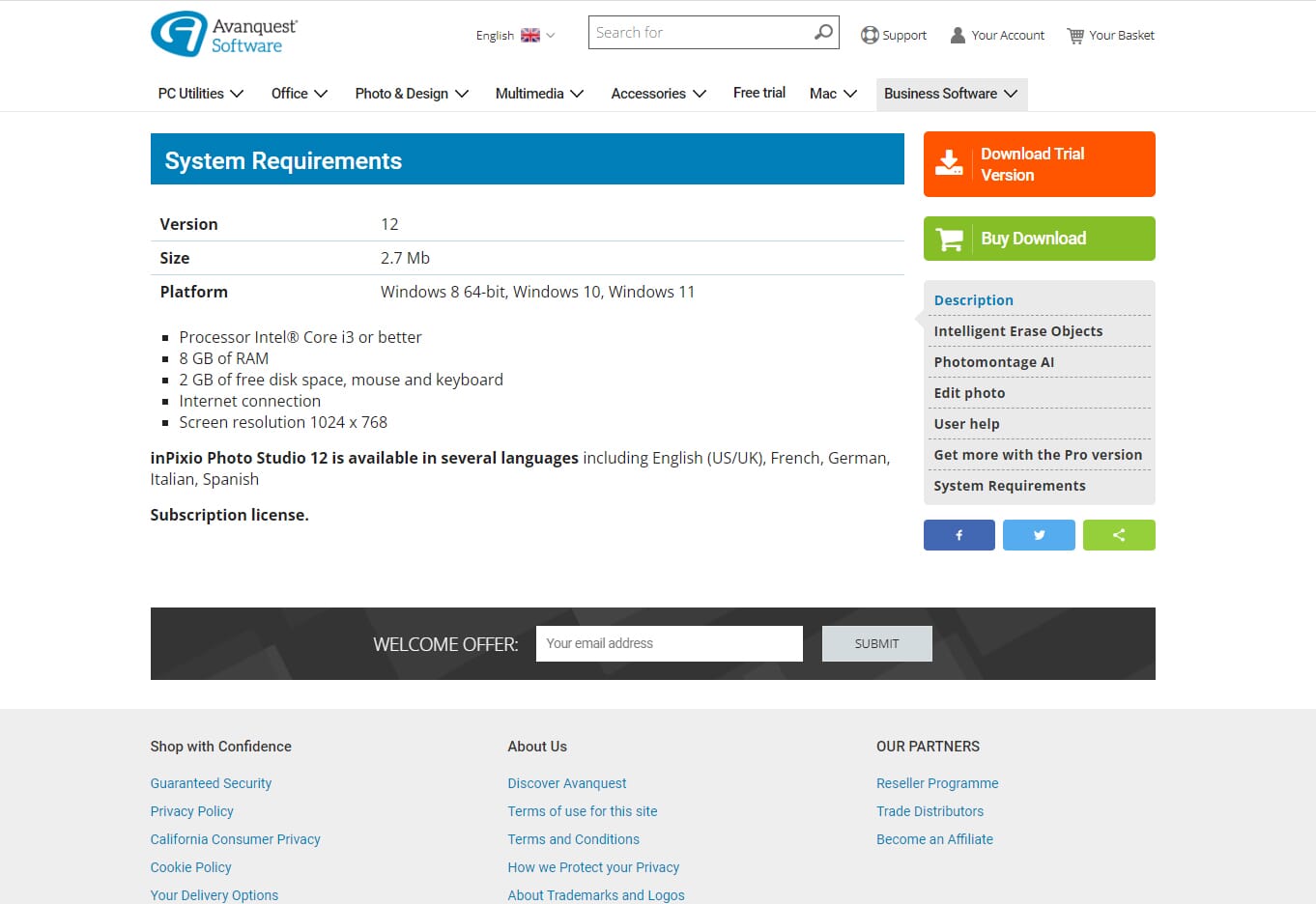 Even if you have a basic laptop or desktop computer, you should not experience any issues running InPixio Photo Studio 12.
Performance
As stated above, InPixio Photo Studio 12 doesn't require a beast-mode computer to run. It is not process-hungry. You shouldn't experience any problems, even if you're using a computer or laptop with the minimum system requirements.
The software itself loads quickly. Loading photos is also a quick process with virtually no lag. The only delays you may experience are caused by some of the more intense AI tools.
For example, loading a photo into the Replace Sky tool could take a few seconds. This is understandable, however. The software has to analyze the photo and create a mask of the sky. But once the initial image with its primary edit is loaded, there is no delay at all.
Using the basic editing tools is also a smooth process. When using the different sliders, the effects are applied immediately with no delay. It all feels smooth, fast, and simple.
Basic Editing Tools
If you do not want to use AI tools, InPixio Photo Studio 12 also has a basic editor. This offers the essential tools you need to improve the basic quality of your photos. The following are the available tools and sliders:
Auto AI
Crop
Temperature
Exposure
Shadows
Highlights
Contrast
Saturation
Clarity
Sharpness
Noise Reduction
This is a comprehensive set of tools, though there are a few important sliders missing, such as Hue and Tint. The editor layout is incredibly easy to work with, however, and you do have decent control when editing your images.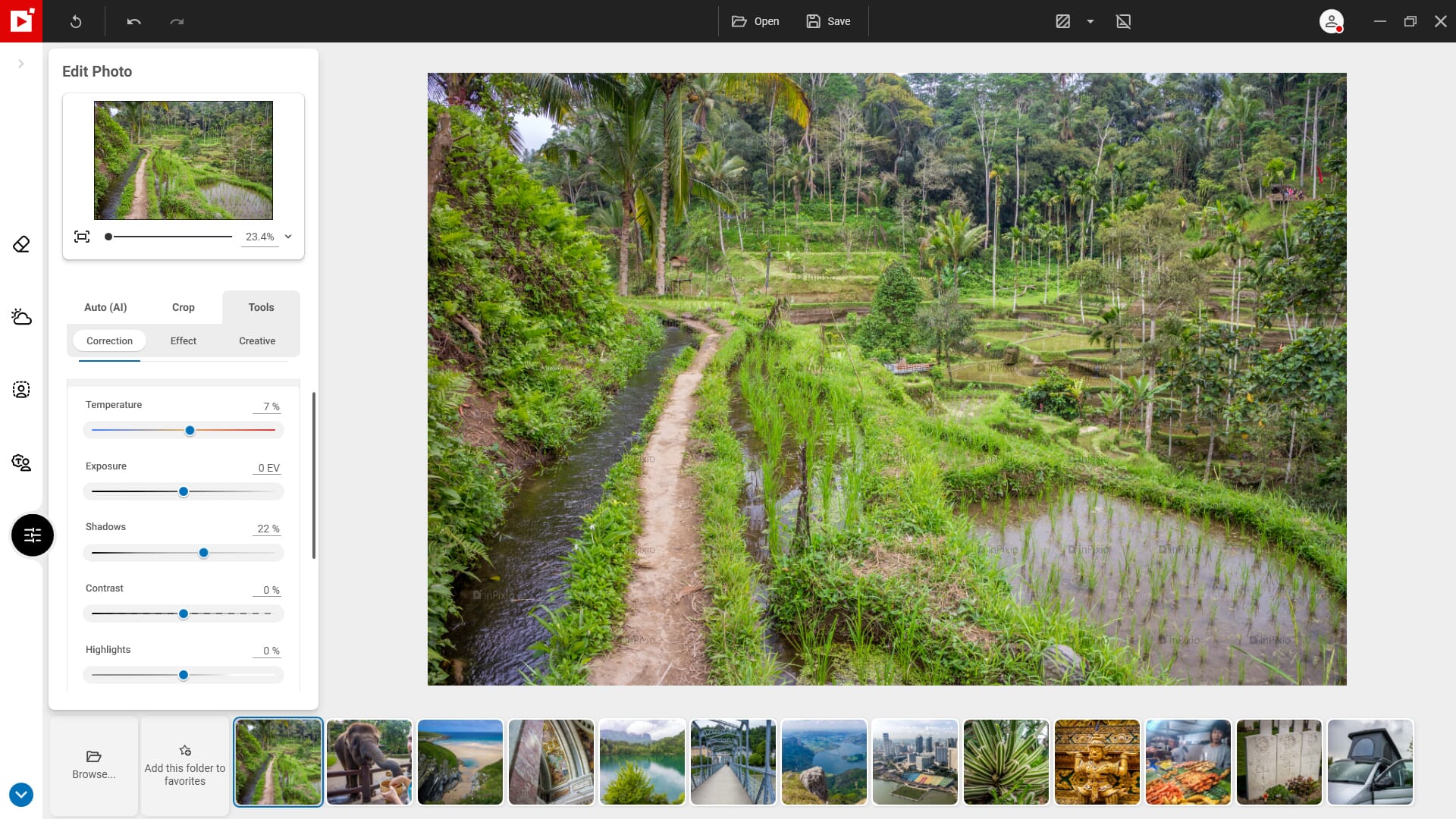 In terms of file support, InPixio Photo Studio 12 supports RAW files including proprietary formats like CR3. You can also edit basic file formats like JPEG, PNG, and BMP.
For standard editing, InPixio Photo Studio 12 offers everything you need. However, it lacks the control and flexibility of software like Capture One and Adobe Lightroom Classic.
Photo Previews
Within the main editor, you can choose different preview layouts. These include:
Single view
Vertical side-by-side view
Vertical split view
Horizontal side-by-side view
Horizontal split view
This is excellent if you want to compare your photos before and after they are edited. There is also a preview box in the top left-hand corner. Here you can change the viewing percentage or fit images to your current available screen size.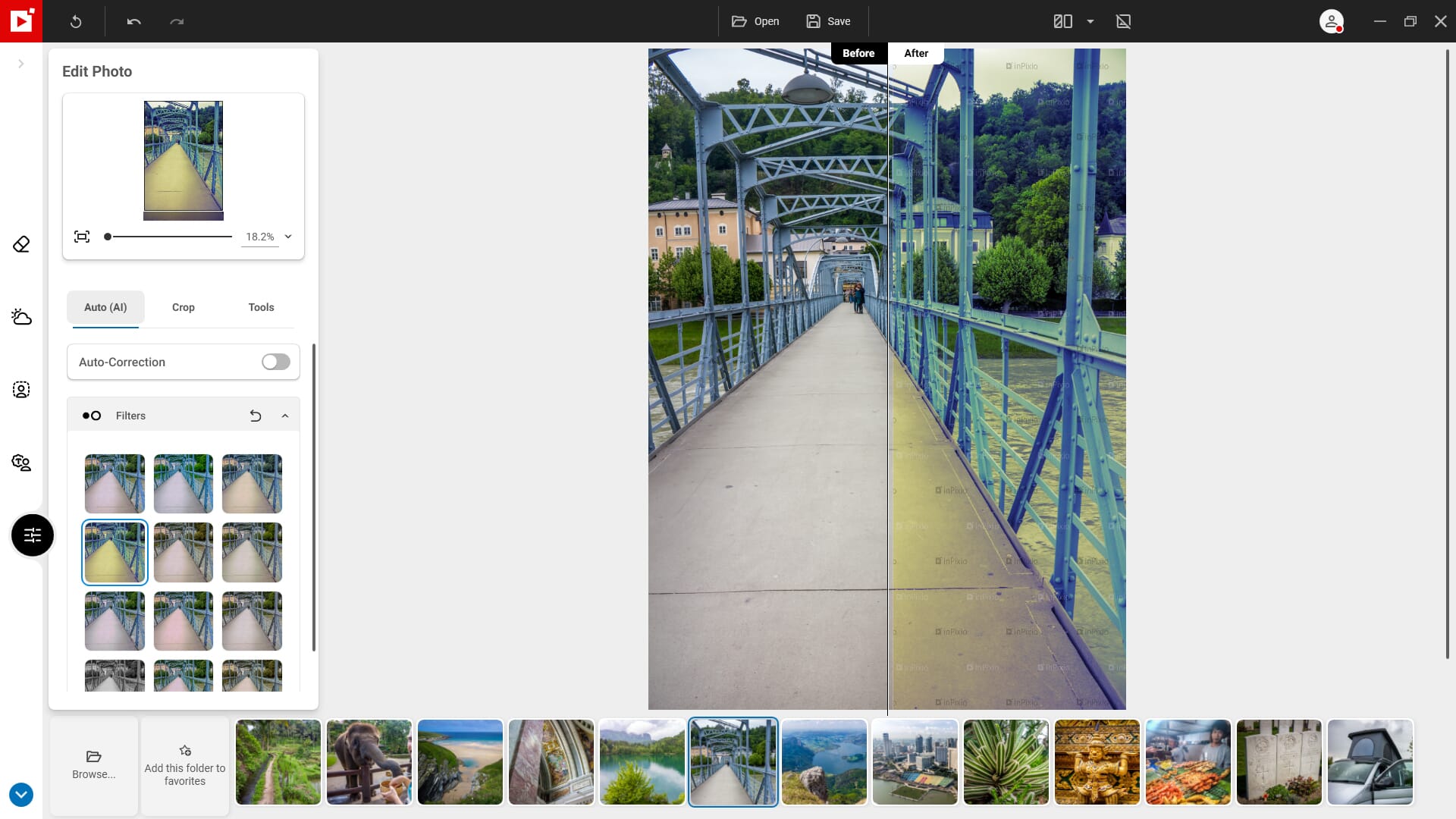 The only downside is that you cannot move the photos or the split-view slider, which can be incredibly frustrating. When using the vertical split view, a slider is placed in the center of the image, and you cannot adjust it! This means you can only ever see the right-hand half of the edited image, and it really limits the usefulness of the split-view preview.
File Management
File management is important if you have a large volume of photos. You ideally want software that allows you to easily manage, catalog, and filter your images.
Unfortunately, InPixio Photo Studio 12 offers virtually no file management. You can open single files and you can use the file bar at the bottom of the screen to browse through your photo collections and select different photos.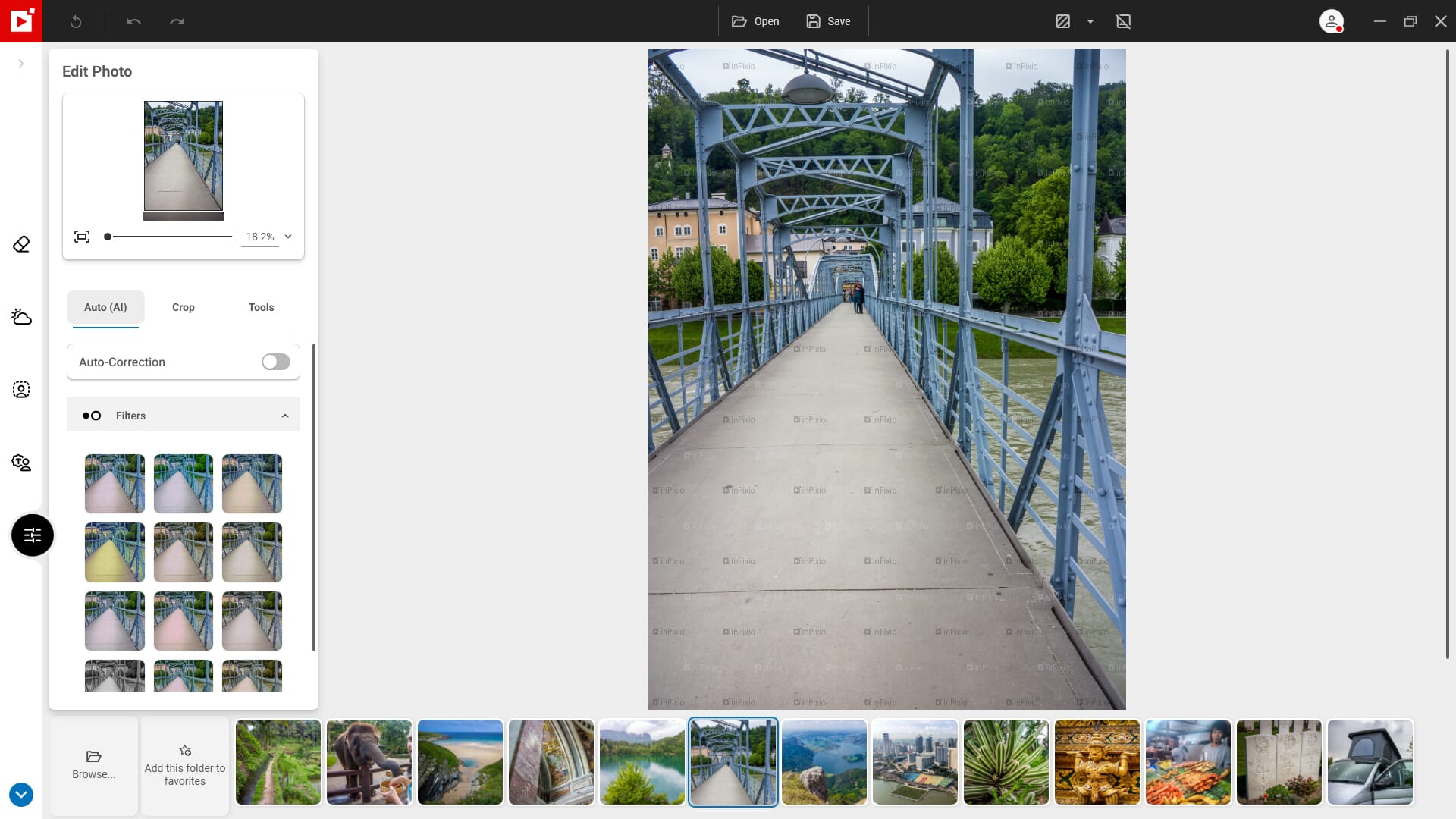 That's where the file management capabilities end. There are no advanced search tools, no keyword management tools, and no rating systems. If you want to manage your photos, you'll need to use some form of photo organizer software in addition to InPixio Photo Studio 12.
Bottom line: If you want software that can be used for editing and photo management, there are better choices.
Pricing
InPixio Photo Studio 12 has a simple price structure; however, it is a little deceptive. On the initial price page, it appears that it has a one-off purchase price for both the standard and the Pro software.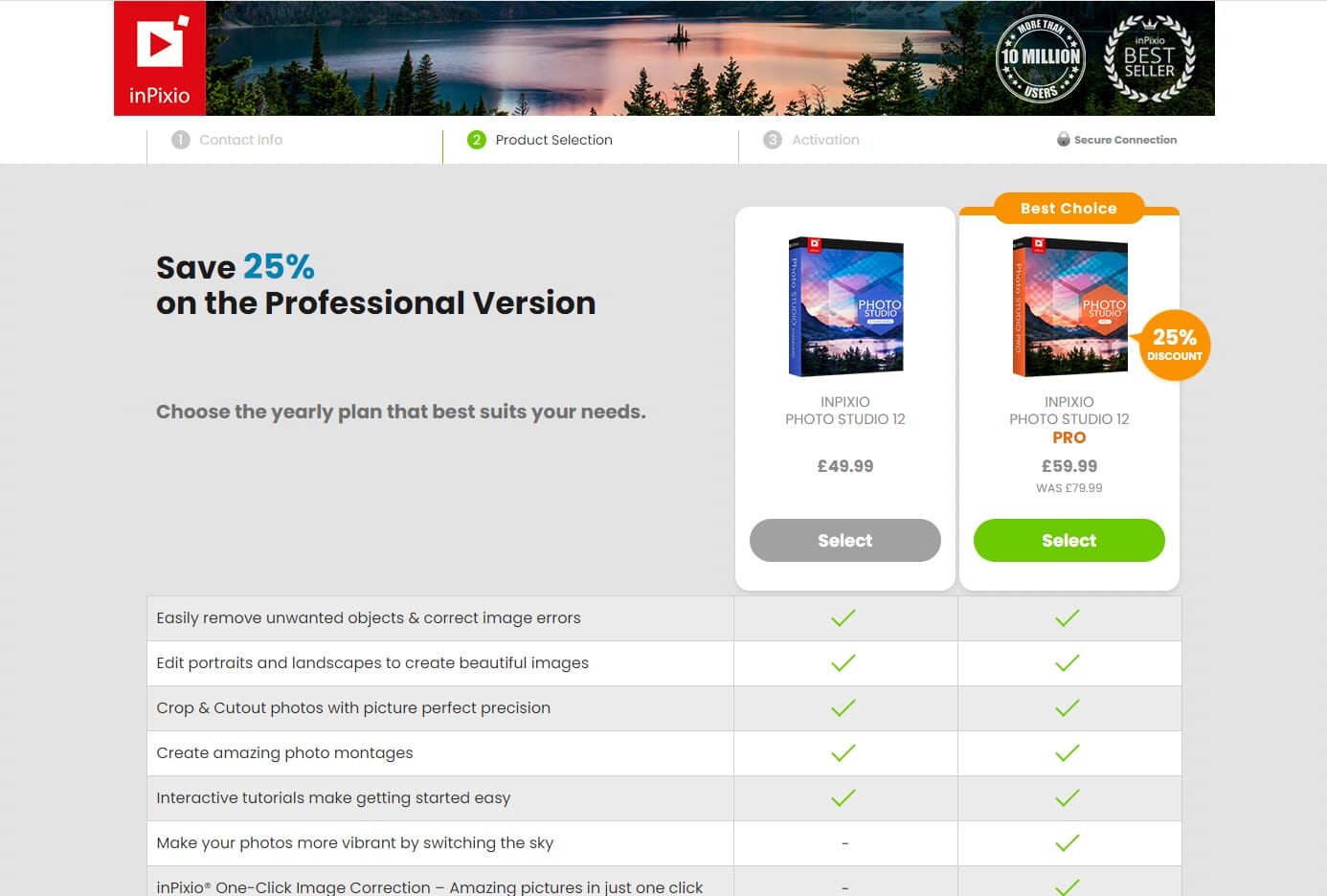 However, once you select an option, you are taken to the payment page. Here, there are various terms and conditions, and the software title now reads "InPixio Photo Studio Pro – 1 Year."
The text directly beneath this shows that by making a payment, you will be accepting the automatic renewal service. If you click on the "Learn More" link at the end of the text, a dialog box opens. It indicates that you will be automatically enrolled in the renewal service but gives an option to click "Do not automatically renew my subscription."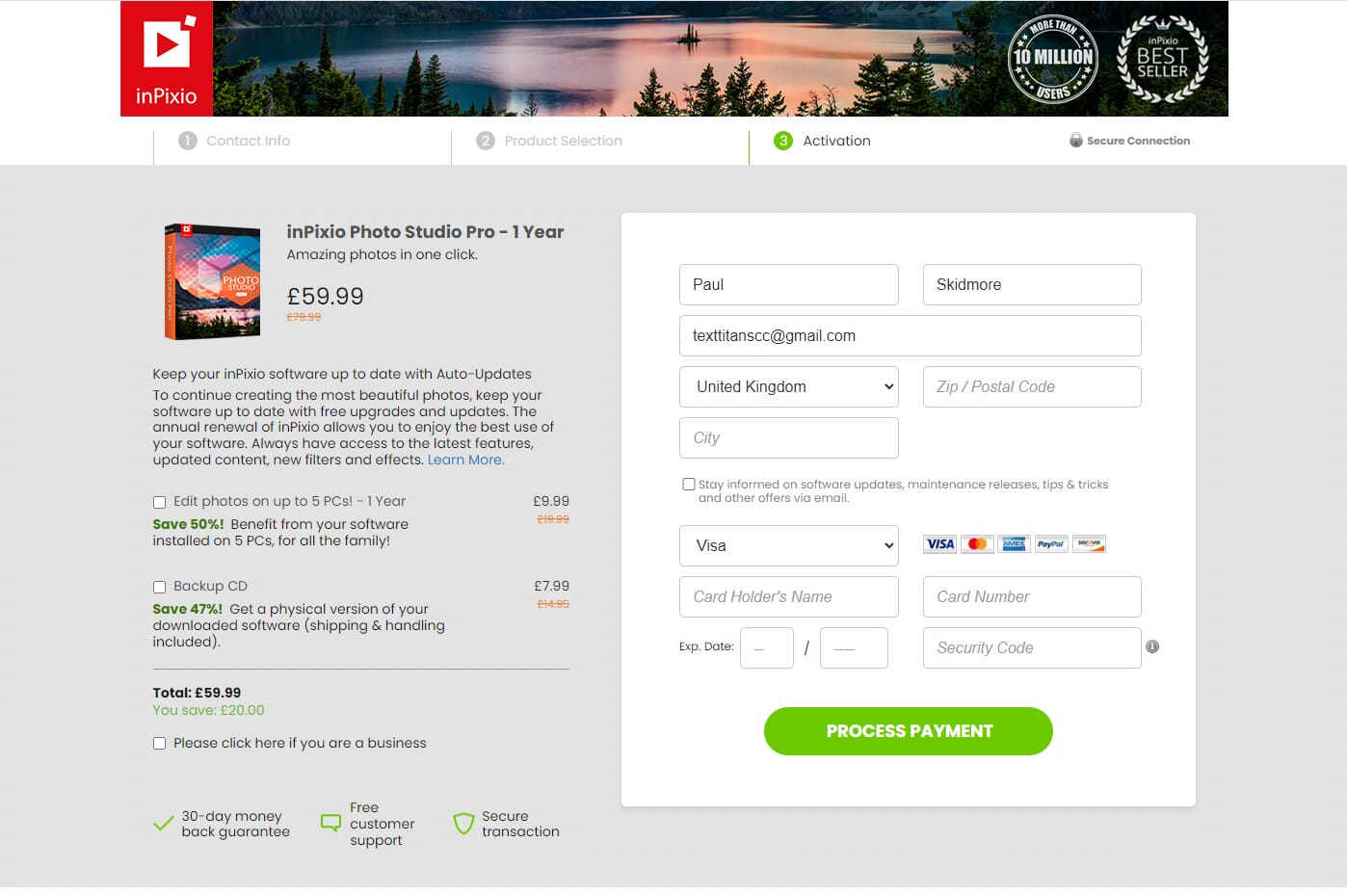 We do not like these deceptive tactics. The developers are exploiting the fact that most people won't bother reading the terms and won't click the link. As a result, many people will enroll in the automatic renewal service without realizing it. Also, the initial pricing page doesn't make it clear that the price is for only a year of use.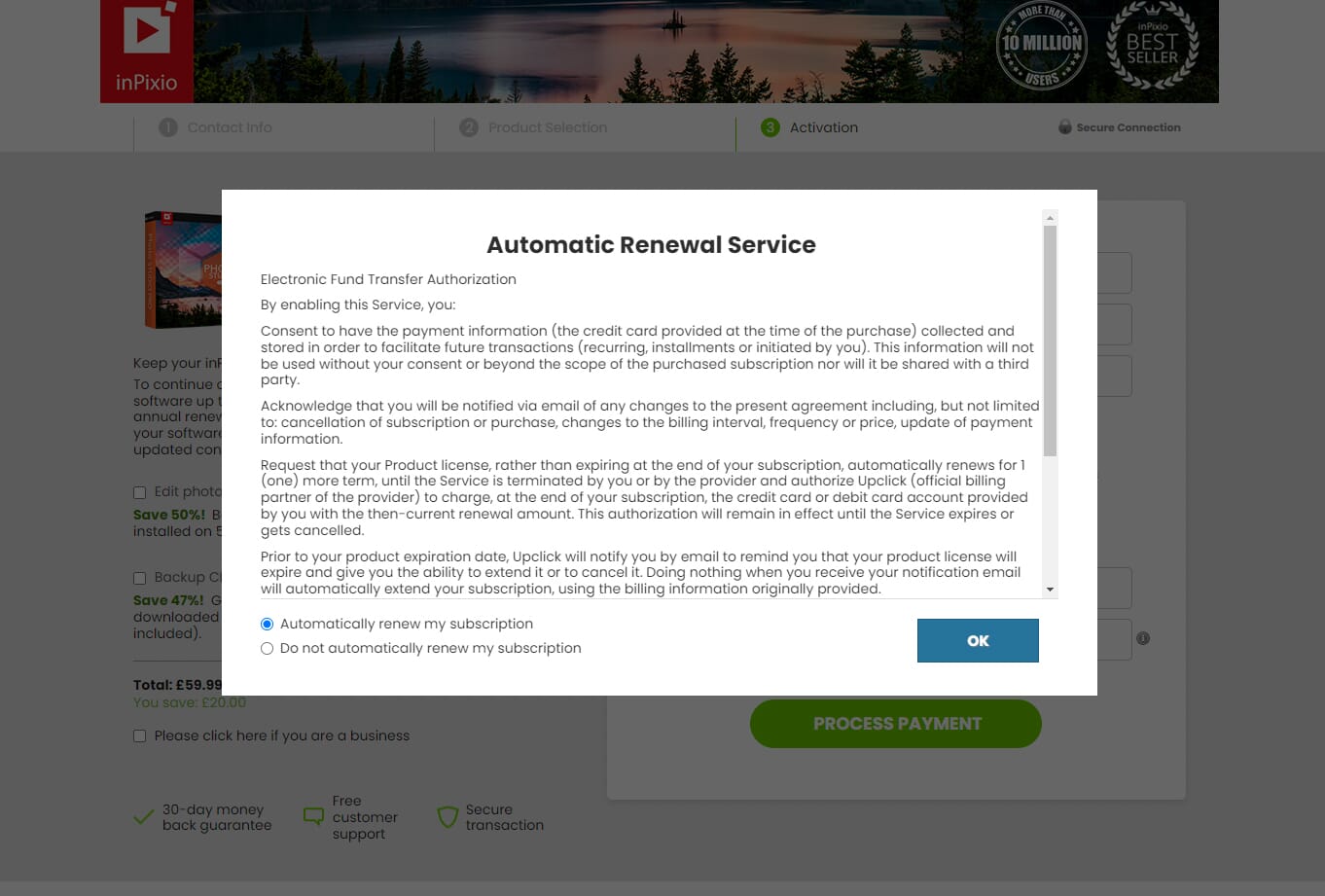 That being said, the prices are relatively cheap:
InPixio Photo Studio 12: $49.99 per year
InPixio Photo Studio 12 Pro: $59.99 per year
We would definitely recommend the Pro version, and it only costs an extra $10. The additional features offered by the Pro version are highly useful. We aren't sure why InPixio continues to sell the standard version – there isn't any reason to buy it over the Pro version if you are serious about photo editing.
The Pro version price equates to $4.99 per month. Compared to other subscription services like Adobe Lightroom, this is pretty cheap. However, the basic Adobe Lightroom subscription – at $9.99 per month – does give you two incredibly powerful editing programs (Lightroom and Photoshop).
InPixio Photo Studio 12 Alternatives
InPixio is a good program, but it's far from the only available editing software. Other potential choices include:
Luminar Neo
Luminar AI
Capture One Pro

ON1 Photo RAW 2022

Adobe Photoshop Lightroom Classic
InPixio Photo Studio 12 is on par with software like Luminar Neo and Luminar AI in terms of complexity and features. Like Luminar Neo, it has a good range of AI-enhanced tools to make photo editing easier. If you want a simple editor for hobby-level editing, InPixio Photo Studio 12 or one of these other programs could be a good option.
Related Post: Luminar Neo Review
However, compared to more complex editing software like ON1 Photo RAW 2022, Capture One Pro, and Adobe Photoshop Lightroom, InPixio seems a bit weak. For example, it does not offer any file management and some of the tools are not as complex. If you want to edit large volumes of photos professionally, one of those programs would be the better choice.
InPixio Photo Studio 12: Verdict
InPixio Photo Studio 12 Review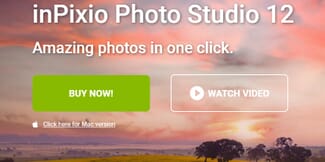 Name: InPixio Photo Studio 12
Description: InPixio is a simple editing program for beginners. It allows you to delete and cut out objects, create photomontages, and optimize images. The editor is easy to use and the Pro version allows you to add filters and textures.
Offer price: 49.99
Currency: USD
Operating System: Windows, Mac
Application Category: Multimedia
Author: Avanquest
Price

Usability

File Management

Performance

Automation
InPixio Photo Studio 12 Review
InPixio Photo Studio 12 Pro offers plenty of powerful – and improved – tools. It allows users to edit photos quickly and effectively. The interface looks great, the program is affordable, and it's easy to learn even if you have minimal editing experience.
Pros
Great interface

Simple and easy-to-use AI tools

Excellent performance

Comprehensive editing tools

Reasonably priced
Cons
Some basic editing options are missing

Pricing is unclear and deceptive
We hope you have found this InPixio Photo Studio 12 review useful. Version 12 offers major improvements over previous versions. It is clear that the software is aimed at beginner and hobbyist use. The re-designed interface looks great and is suitable for those who have little experience using editing software.
So who would benefit from InPixio Photo Studio 12? First, beginners just getting into photography and photo editing. The simple layout, AI tools, and fun features are very beginner-friendly. They provide a great starting point for those who want to dive into editing.
Second, InPixio Photo Studio 12 could be suitable for small businesses and those wishing to use their photos for marketing. The various editing tools will allow you to improve the quality of your marketing images, and the AI tools like Remove Background and Photo Merge could be used in the creation of online marketing content.
InPixio Photo Studio 12 is not suitable for professional work, however. The lack of file management capabilities makes organizing a large photo collection virtually impossible. The program also lacks the advanced editing tools that most professionals require.