Photography is a rewarding hobby, and the urge to snap hundreds of stunning new images can be impossible to ignore. But as a veteran photographer, I have to warn you: Without the right file organization workflow, it's only a matter of time before you're overwhelmed by the sheer depth and breadth of your image catalog.
Fortunately, software companies have developed photo organizer software that is designed to aid photographers – including Excire Foto, a dedicated program available for both Windows and Mac devices. Excire Foto 2022 allows you to manage large collections of files and promises outstanding image search capabilities, but can a standalone program compete with an all-in-one option like Adobe Lightroom Classic?
To find out, I spent several days testing Excire Foto 2022. I used my own photo collection to ensure a high level of realism, and I carefully analyzed the program's performance, features, and pricing. Below, I share my findings, so if you're in need of a photo management program but are struggling to make a final decision, this Excire Foto review should help you out.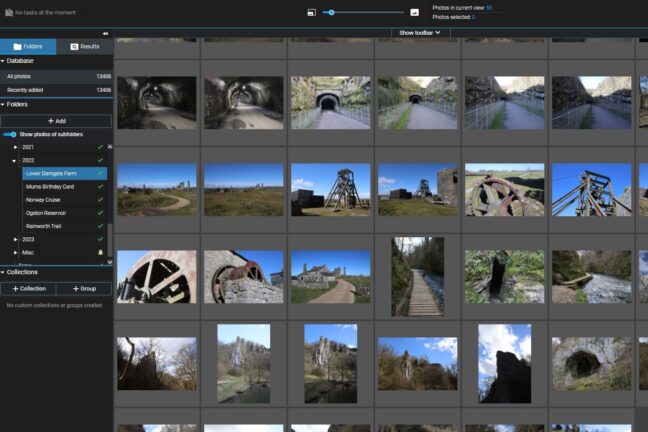 A Comprehensive Review of Excire Foto 2022:
When you buy through links on our site, we may earn a commission at no cost to you. We evaluate products independently. Commissions do not affect our evaluations.
Excire Foto Overview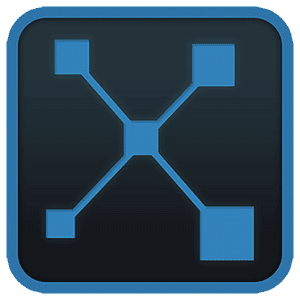 Great for organizing large photo collections
Excire Foto excels at managing large photo collections due to its simple interface, fast performance, and plethora of AI search tools.
Use coupon PHOTOWORKOUT for 15% off
Pros
Effective search tools
Ability to create collections from multiple folders
Simple photo metadata editing
Excellent performance
Intuitive interface
Cons
Lacks built-in photo editing tools
Initial image importing and analysis can be slow
If you need to efficiently manage a large photo collection, I recommend Excire Foto 2022. It performs smoothly, handles large numbers of files, and offers user-friendly features.
I love the variety and power of the program's search tools; they're particularly helpful when creating photobooks and albums that feature specific individuals or events. Instead of spending hours searching through folders, you can easily locate the images you want to include.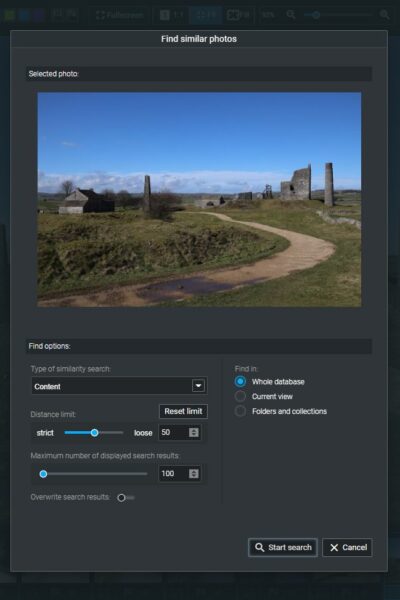 The rating tools and keyword management features allow for the logical organization and cataloging of photos. Although Excire Foto does have a higher price than options like ACDSee Photo Studio 2023, the usability and features it offers are worth it in the right circumstances.
New Features in Excire Foto 2022
Excire Foto is constantly evolving, and I love the support and development the software has received. In the latest version, the following features have been added or improved:
Duplicate finder
PSD file support
Increased maximum search results to 50,000
Improvements to similarity searches
The duplicate image finder was something I immediately tested – I can't stand having duplicate copies, so a tool like this is invaluable and great for saving HDD space. It's really easy to use, and you can access it from the top "Find" menu.
I like the flexibility of the duplicate search options. It allows you to either search for exact matches or near duplicates based on a similarity threshold setting. While identifying exact matches is ideal for weeding out unwanted copies of your files, the near duplicates search can be great when organizing files that should be grouped together based on content or when determining whether you're storing too many similar photos. I selected the "Near duplicates" option and changed the threshold to "strict:"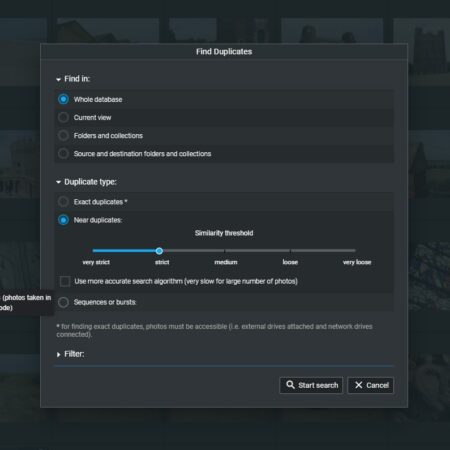 Once the scan was complete, I had a whopping 331 duplicates! As I expected, Excire Foto identified duplicates of the same images I had exported into different folders – even if they had different file names, which I thought was really clever.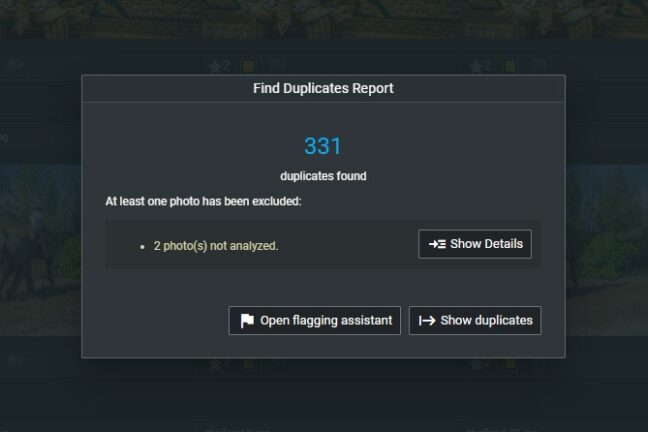 The duplicate finder is an amazing addition to Excire Foto, and if you have a large photo collection and/or need to save space, it's invaluable.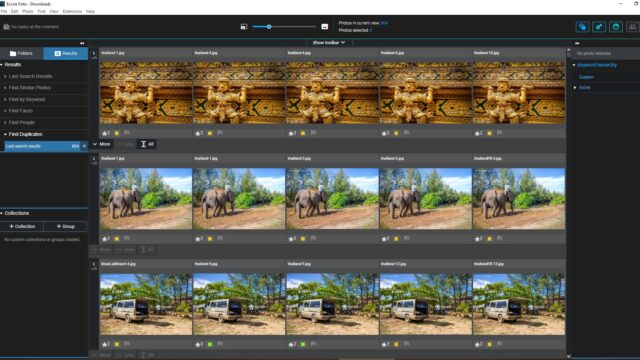 In-Depth Review of Excire Foto 2022
I have a huge photo collection of 14,000+ images, including thousands of RAW files, so I had plenty to work with when testing Excire Foto 2022. Below, I've detailed my findings so you can gauge if the software is suitable for your circumstance and needs.
Performance
I tested Excire Foto extensively using a capable photo editing PC with 32 GB of DDR4 RAM, an Intel Core i5-12400F processor, and two NVMe PCIe SSDs. Not surprisingly, I experienced no performance issues. I found it easy to navigate through my vast photo collection, and there were no problems loading the thumbnail previews or displaying things like metadata.
Everything just felt smooth, and I like how when you hover over image thumbnails in the grid view, a pop-up quickly displays important image data. Excire Foto is an easy program to use, and even with a large RAW photo collection like mine, I ran into zero performance issues.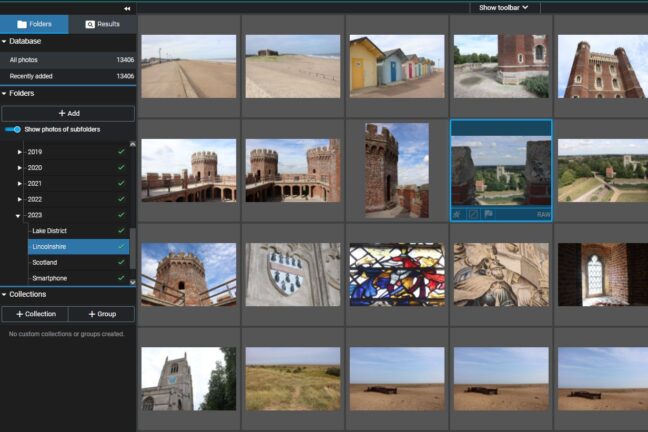 As far as I can tell, you need 8 GB of RAM to run Excire Foto, though I think you would notice some lag. It's recommended that you use 16 GB of RAM, and I also recommend picking up an external drive for storing your photos – either an SSD or a fast HDD. SSDs can handle files far more quickly, and the software loading time will also be far better.
The only minor complaint I have is with the initial database analysis and construction. When you install Excire Foto, you have to import your photos. I did this for my entire photo collection, and the process took 55 minutes. I understand that it was scanning 14,000+ photos, but an hour still seems excessive.
Supported File Types
Imagine you buy photo organization software only to find it doesn't support the proprietary file format your images are created in. Don't make this mistake! Luckily, Excire Foto supports virtually every type of common image format, including:
JPEG
PNG
CR2
CR3
HEIC
HEIF
PPM
RAW
SRF
BMP
TIFF
This is great news if, like me, you capture photos in a proprietary RAW format like Canon's CR3 or Nikon's NEF. Excire Foto also has full support for standard image formats such as JPEG, PNG, and TIFF.
Folder Management
I insist on using an organized folder hierarchy with everything separated into logical subfolders that correspond to individual trips or photoshoots. Excire Foto is great for this, and it has a full complement of folder management tools.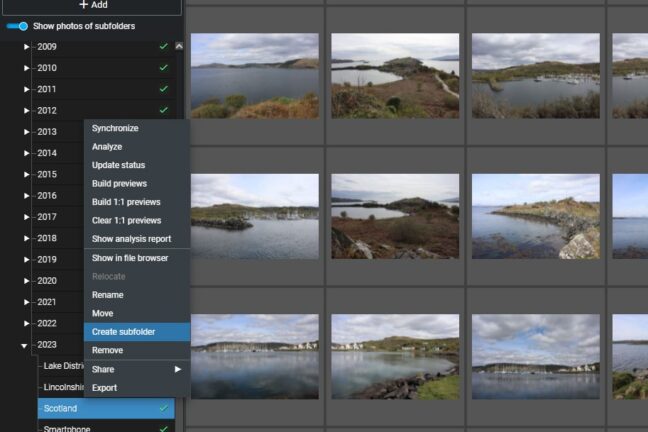 You can do pretty much everything, including creating new subfolders, renaming them, and moving files freely between folders. I also love that you don't have to start from scratch. Instead, just use the "Add folders" option to import your existing folder structure from your PC or external drive.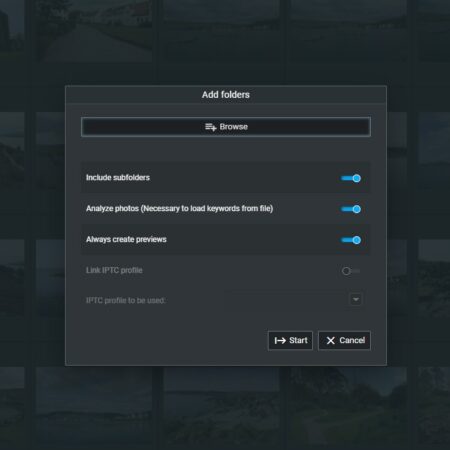 I imported my entire photo collection into Excire Foto. The import was pretty quick considering there were 14,000+ photos, and everything was added to my Excire Foto catalog without issue, including file metadata. There's also the option to import from cloud storage solutions like Google Drive or Dropbox.
You can basically use Excire Foto to do anything that's possible in Windows File Explorer. If you've ever used a file management app, you should have no problem organizing your files and folders in Excire Foto.
Individual Photo Management
While folder organization is key, I also need a level of control over individual photos for my editing process. Excire Foto 2022 gives me exactly what I'm after, including simple rating options like stars, colors, and flags.
For example, I typically rate my images depending on what I want to do with them. A 0-star photo is a non-keeper, a 1-star photo is to be edited, a 2-star photo has been edited, etc. You can do all this with Excire Foto for individual photos or select multiple files and assign them ratings together. It just gives you more control over your photos.
I love that you can edit the metadata too, as I often do this to add an image title and description or even location details. All this is done on the right-hand side, but when you click "Edit," a pop-up appears and you have a whole host of options. This keeps the interface organized and convenient to use.
The keyword management options are fantastic as well. I often forget to add keywords, so the automatic AI analysis and keyword selection really help.
For example, the photo below is of Inveraray Castle, and as you can see, Excire Foto automatically added the blue keywords: "architecture," "bright," "building," and "castle." This is great for finding particular photos or creating collections of similar images.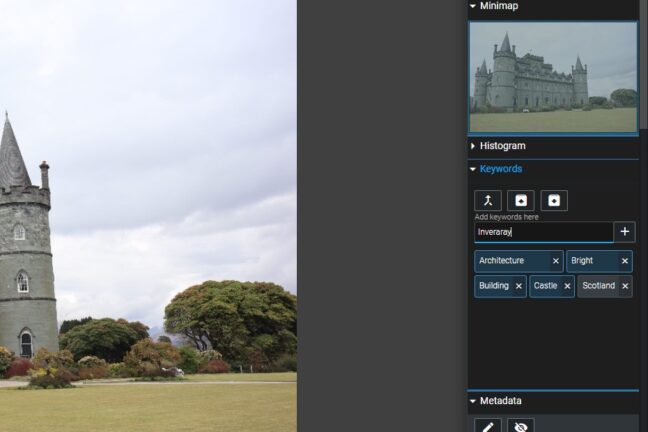 Photo Finding Tools
I have thousands of photos spanning a decade of adventures, so the array of photo finding tools that Excire Foto offers really helps. You can use the software to quickly find specific groups of photos, whether you need them for editing, creating albums, or producing beautiful prints.
Find People
The "Find People" tool is perfect for simply pulling the right photos for birthday cards all the way up to organizing client portrait work.
It's easy to use, too. First, select a photo featuring the person you want to find. Click on the top "Find" menu, then select "Find people." A pop-up box appears, and the face of the person is highlighted in green. I tested this feature using a photo of myself in New York: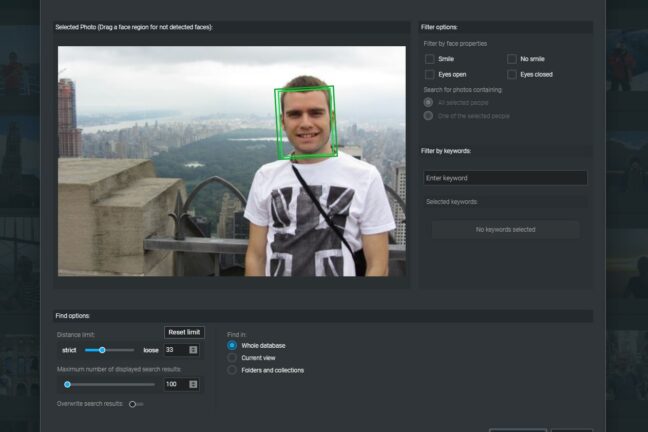 The program found hundreds of photos containing my face, and I like how you can even specify some facial features. For example, you can select "Eyes closed" to find all the dud photos where your subject blinked when the shutter was pressed!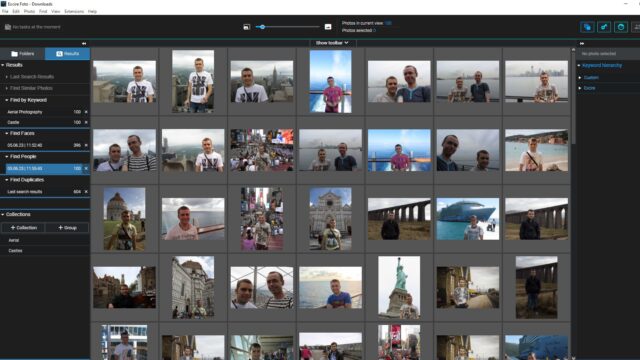 Find Faces
The "Find Faces" tool gives you more generic options instead of concentrating on finding one person. The tool is really useful for finding photos of friends and family, and the way you can narrow down the search really helps.
To get started, click on the top "Find" menu, then select "Find faces." You're presented with a pop-up box with different options to narrow the search. For example, you can select a male or female face and an age category:
It also lets you specify which folders to search and how many results you want to show. I searched my photo database for adult male photos. The results were really accurate, and aside from a few erroneous results that were photos of bank notes, the program did return shots with just one person in them.
Find Similar
I must admit, I was skeptical about the accuracy of the "Find Similar" option, but it works so well. This feature allows you to search your folders for similar photos. I tested it by selecting a sunset photo, then a castle photo, and finally an image of skyscrapers.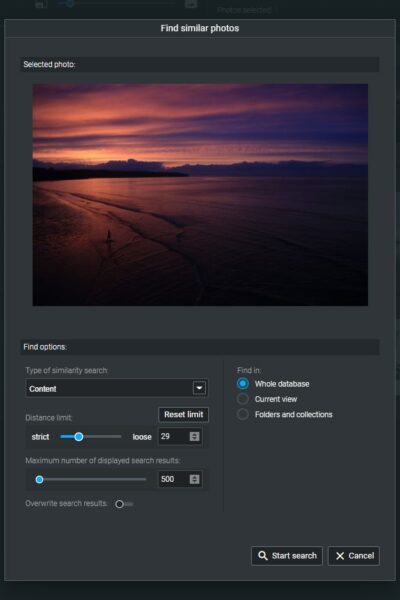 The AI is really intelligent, and the results were incredibly accurate. By changing the distance limit, you can also make the search wider or narrower to yield more or fewer results. This is a fantastic tool if you need to identify photos in a particular category for themed albums, for instance.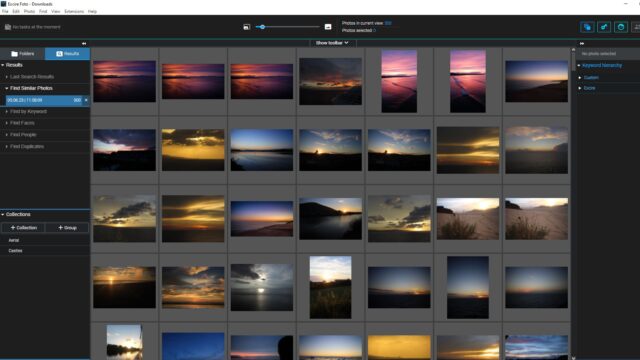 Find by Keyword
Lastly, if you often use keywords to identify your photos, you will find the "Find by Keyword" option invaluable. After selecting the tool, a dialog box displays your entire list of keywords, including the AI-generated ones.
You can then click on specific keywords to add them to the search parameters, or you can type new ones. I really like how you can select from several dominant colors, too; this means you can search for photos based on a particular color palette.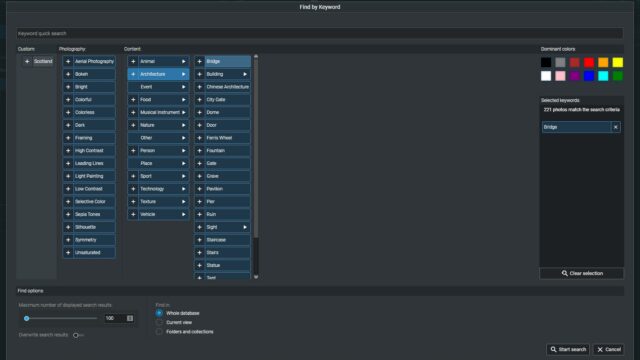 I tested this feature numerous times, and for the most part, the AI got it right. For example, I did a keyword search for "bridges," and as you can see from the screenshot below, all the identified photos did contain bridges!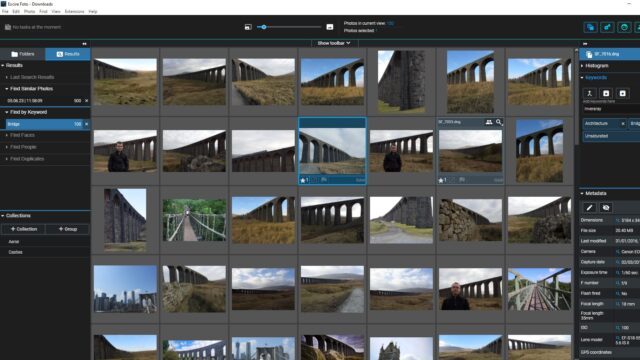 Collections
I often create photo collections when I want to print images or order a photo book, so I was very pleased to find that Excire Foto allows you to create virtual collections that don't change the original folder hierarchy.
For example, I created a collection of aerial photos that included files captured in New York, Singapore, Venice, and Slovenia. Although files from different locations were all stored in different folders, the collection simply resulted in a virtual copy and didn't mess up my careful organization.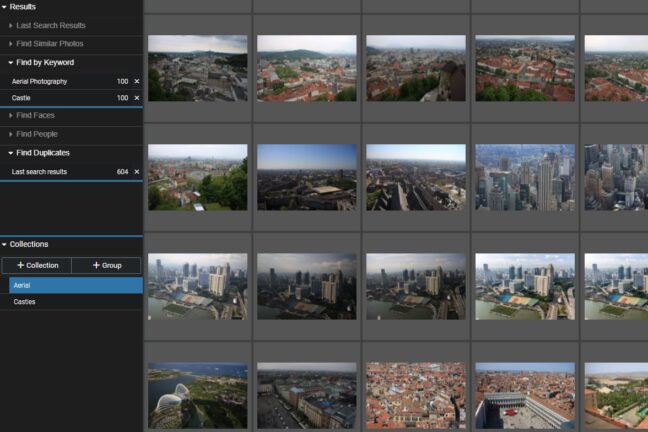 The collections are really handy and simple to create. If you often print your photos or upload albums to social media, this feature will really help. You can use different search functions to quickly add photos to your collections, too.
Pricing
Excire Foto 2022 is currently available for a one-off purchase price of $119.00. That's it – just one payment, and it's yours for life! I get that many people still prefer paying for the license fee instead of a monthly subscription, so if you are one of these people, then Excire Foto 2022 could be a great choice.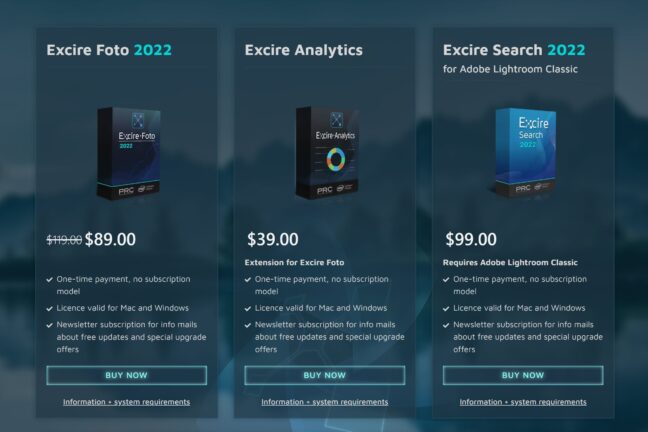 It might seem like an expensive program, but for what you get, I think it is reasonable. That said, compared to other dedicated photo management programs, Excire Foto's price is on the high side.
For example, you can grab ACDSee Photo Studio Home 2023 for around half the price. Therefore, if you're on a budget, it's definitely worth considering alternatives.
Excire Foto Alternatives
I think that Excire Foto 2022 is the best standalone photo organizing software, but it's not your only option. Other notable alternatives include:
Adobe Photoshop Lightroom Classic
ACDSee Photo Studio 2023
Magix Photo Manager Deluxe
Google Photos
These four alternatives serve different purposes. Lightroom Classic, for example, is the best all-in-one option. It combines photo management and photo editing so you don't have to switch between two different programs.
ACDSee Photo Studio 2023 has similar capabilities to Excire Foto, as does Magix Photo Manager Deluxe. They could be a better choice if you are on a budget, though note that Photo Manager Deluxe is a photo organizer for PCs, not Macs.
Lastly, Google Photos is a great option if you just want to manage your holiday snaps and don't want to pay for software.
Should You Use Excire Foto to Organize Your Files?
Excire Foto Review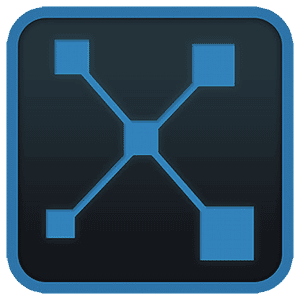 Name: Excire Foto 2022
Description: Excire Foto 2022 is a fantastic standalone image organization program for Windows and Mac devices. It has many powerful features, including AI tools that make it easy to find files and organize large photo collections.
Offer price: $119
Currency: USD
Operating System: Windows, macOS
Application Category: Photo Organizing
Author: Paul Skidmore
Performance

Usability

Folder Management

Photo Management

Price
Excire Foto 2022 Review
Excire Foto 2022 is a well-priced photo organizer that outpaces the competition with its advanced search functionality, but the lack of editing tools will limit its effectiveness for many photographers.
Pros
Excellent AI technology
Reasonable price
Fast performance
Amazing for organizing images
I hope you've found this Excire Foto review useful and have a clearer idea of what the software has to offer. But is it suitable for you? There's no obvious answer, but I would recommend it in several scenarios.
First, if you are using photo editing software that has no organization tools, Excire Foto is a no-brainer and an excellent complementary program. It's certainly the most advanced image management program available, and you can use it to enhance and simplify your photo editing workflow.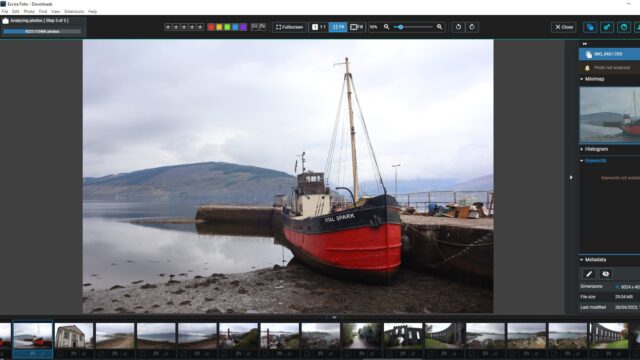 Second, if you are a professional photographer, digital artist, or digital marketer (someone who uses photos in a professional capacity), Excire Foto is again a great choice. It simply has more options, AI functionality, and versatility compared to competitors. If you frequently deal with client photos and large catalogs, Excire Foto will make your workflow much easier.
Lastly, if you already have photo editing software with built-in photo organization tools, you have a choice to make. You need to determine whether you would benefit from the additional organizing features Excire Foto offers and whether the extra features justify the cost. I probably wouldn't make use of the extra functionality, so Excire Foto isn't right for me – but it could be perfect for you!