Excire Foto is a dedicated photo organizing program available for both Windows and Mac devices. It allows you to manage large collections of images quickly and effectively, though it doesn't feature any photo editing tools and is not a one-stop solution that combines photo editing and management.
In this Excire Foto review, we explore the program's image organization features. We also discuss pricing and potential alternatives. By the time you're done, you'll know what makes Excire Foto great – and whether it's the right software for you.
Update: On 1st June 2022, Excire released Excire Foto 2022. The new version includes an advanced duplicate finder and the support for PSD Photoshop files.
Use our promo code "PHOTOWORKOUT" for 15% off.

When you buy through links on our site, we may earn a commission at no cost to you. We evaluate products independently. Commissions do not affect our evaluations.
Excire Foto: Overview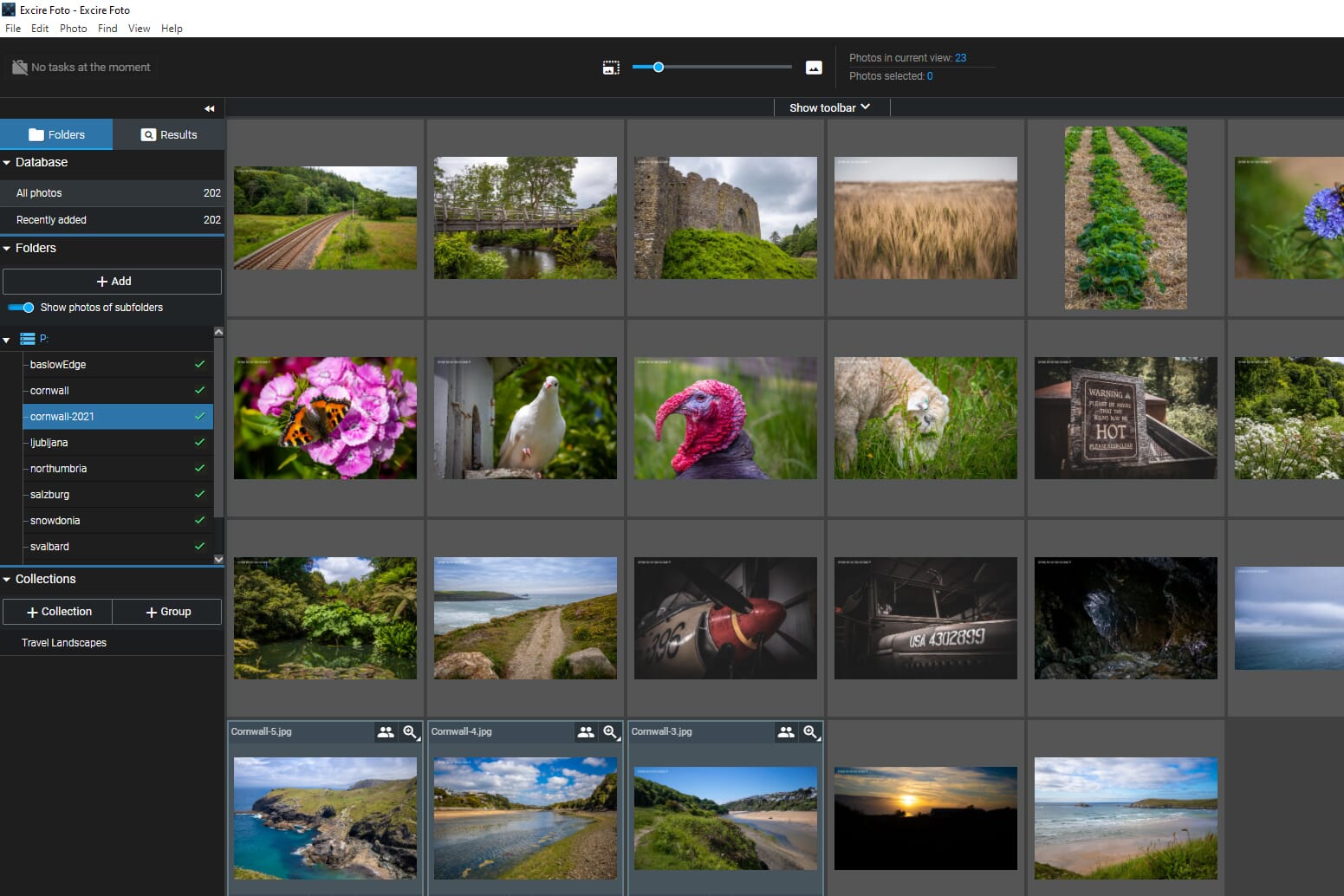 Great for organizing large photo collections
Excire Foto excels at managing large photo collections due to its simple interface, fast performance, and plethora of AI search tools.
Use coupon PHOTOWORKOUT for 15% off
Pros
Detailed search and find tools
Can create collections from multiple folder locations
Easily edit photo metadata
Great performance
Intuitive interface that is easy to use
Cons
Does not have any photo-editing tools
Folder management is done via a file browser
Excire Foto allows you to easily import photo collections and databases. If you have an existing photo collection, you can import it into Excire Foto. You can also create and manage folders via an external file browser.
Excire Foto is also great for adding keywords and ratings to photos. For example, you can add colors and star ratings to each file, plus the software also uses a host of AI algorithms and tools to automatically apply keywords (which you can then use to search for specific photos).
If you have a large, disorganized set of photos, Excire Foto will help you manage them effectively. Also, if you want to create collections of specific photos – either for business or personal use – Excire Foto is a great option.
Excire Foto Review: A Deep Dive
To give you the most detailed review possible, we spent time testing the software and using it to organize and manage a large selection of photos. We have broken this review into small sections so you can easily pick out what features and tools matter to you. These include performance, folder management, pricing, and search functionality.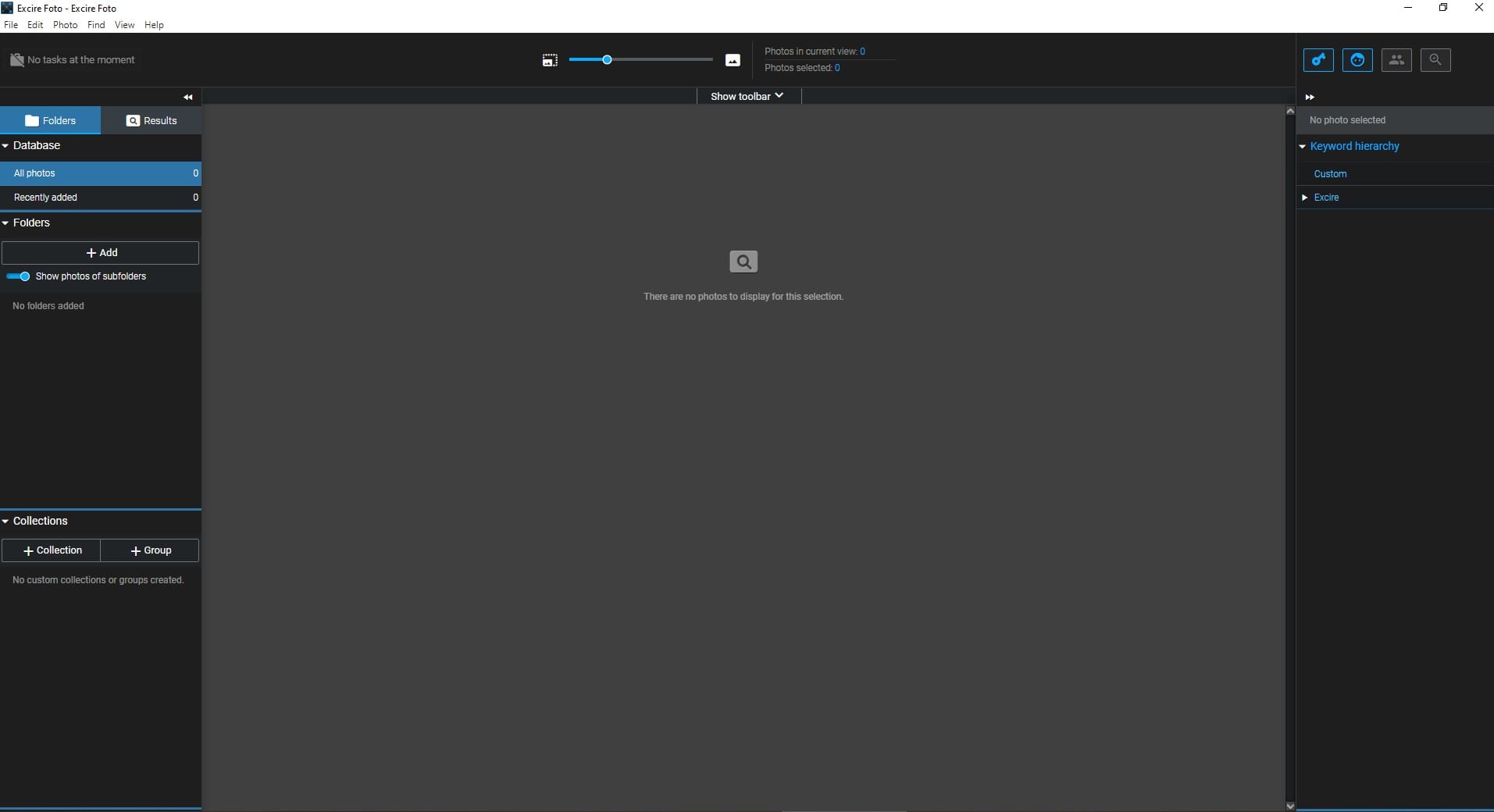 Performance
Not everyone has access to a powerful PC or Mac; therefore, you ideally want software that works fast without a powerful computer.
When testing Excire Foto, we used a PC with the following specs:
Processor: Intel Core i5-2500K
Memory: 24 GB
Graphics: NVIDI GeForce GTX 1050
Happily, we noticed zero performance issues. The folder import process was quick, and while photos were being imported, we could still use the software and even select images. Photo previews were generated quickly and there was no lag when switching between folders or selecting different photos.
The find and search functions were also quick; you can search entire databases of photos virtually instantly.
In summary, Excire Foto offers excellent performance. Even if you have a basic PC, you can still manage and search through thousands of files without any issues.
Supported File Types
Before choosing a photo organization program, it is important to know what file formats the software supports. In this review, we tested Excire Foto folders containing CR3 RAW files. Excire Foto also supports many other popular formats, including (but not limited to):
JPEG
PNG
CR2
HEIC
HEIF
PPM
RAW
SRF
BMP
TIFF
Folder Management
One of the most basic aspects of photo management is the folder hierarchy itself. If you have a large number of photos, you need software that allows you to easily create, move, delete, and edit folders to store your different photos.
The folder management of Excire Foto is decent. However, the main point to remember is that you cannot directly create new folders and move photos. Some may find this a drawback. You can rename and delete each folder that you import into Excire Foto. Also, you can choose to open the folder in the standard Windows file browser – and from here you can manage your folder hierarchy and move photos, etc.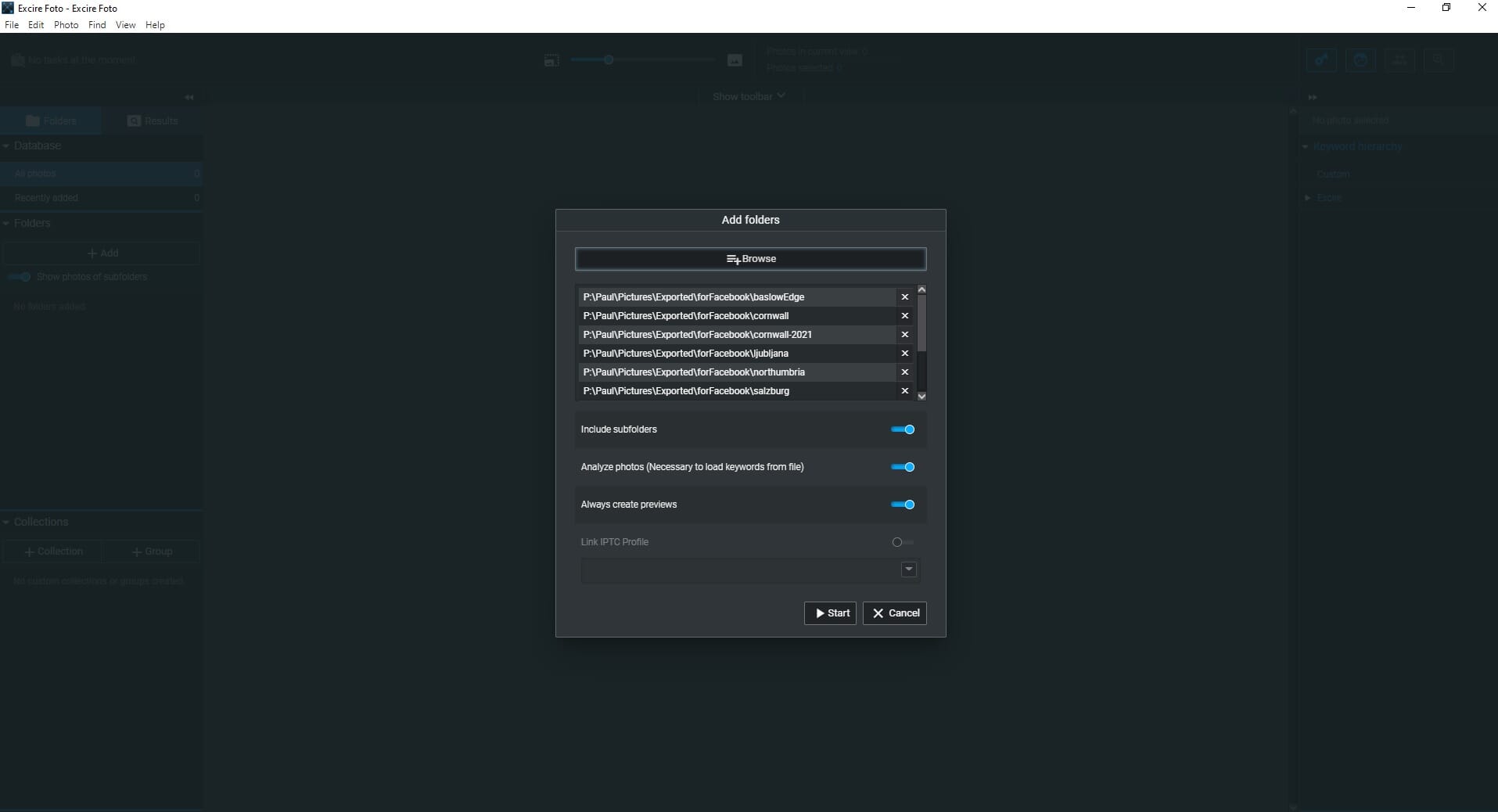 That aside, the import process, and the process of creating your photo directory, is simple. As shown in the above image, you can simply click on the Folder tab on the left-hand side and add existing folders from your hard drive or an external device. The photos will then appear in the Folder tab underneath their parent drive location. The different parent folders can be collapsed and these folder management tabs are easy to use.
You can also right-click on each folder for a set of advanced options. These include synchronizing, renaming, sharing via cloud storage solutions like Google Drive, and exporting the entire folder of photos.

Individual Photo Management
Excire Foto offers extreme control over individual photos. When browsing through your collections, you can double-click on a single photo to see a full-screen preview. Information for that photo is displayed on the right-hand side.
This makes it incredibly easy to manage individual photos. Along the top, there is a simple toolbar that has rating and preview options. For example, you can assign one of five different colors to your photos. (I typically do this to denote photos that I want to export or include in a collection, for example.) You can also assign a star rating and switch between a full-screen, 1:1, or fit preview of an image.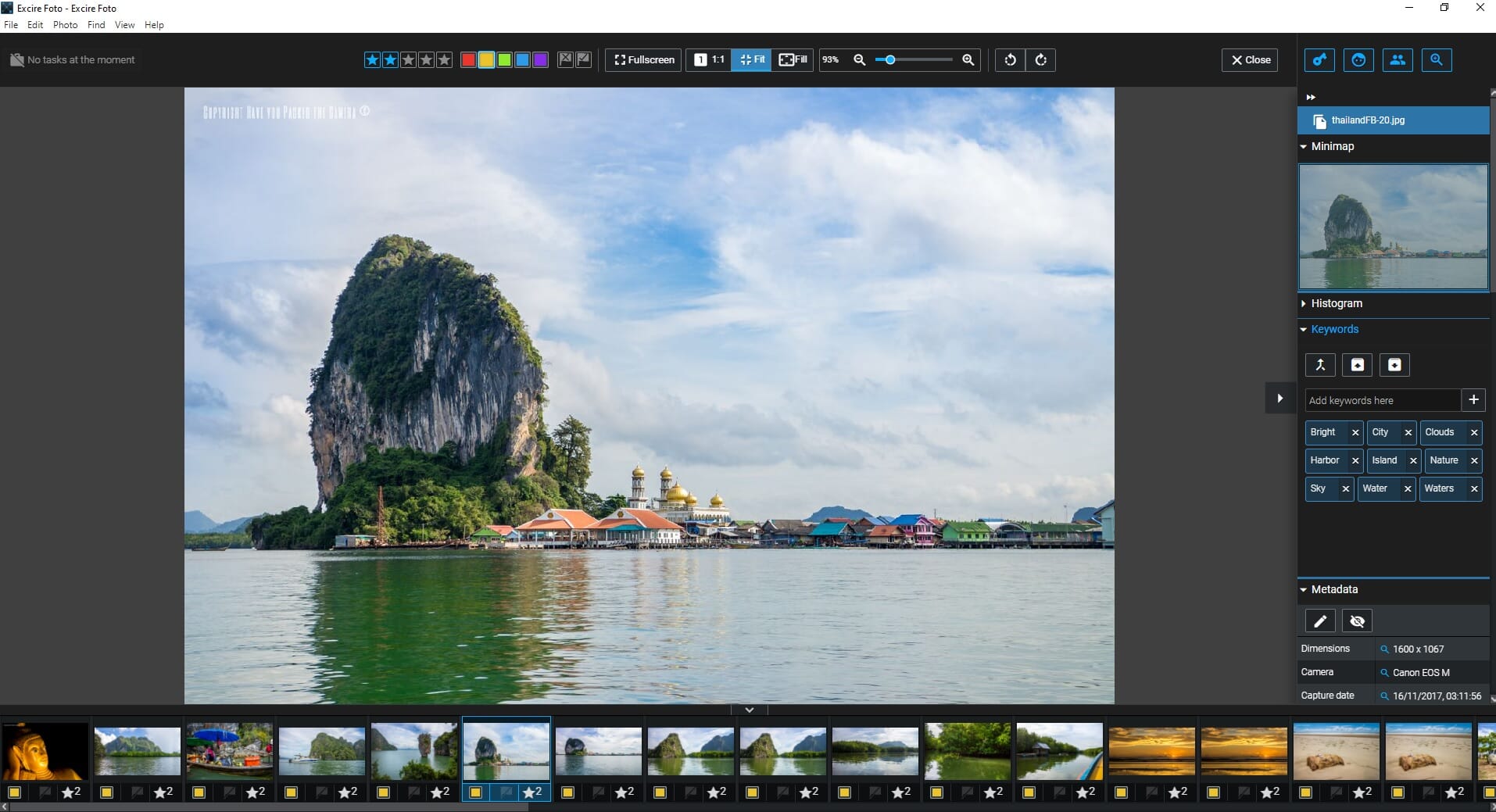 The right-hand tab also contains a host of useful info. It has a keyword tab, and for each photo, Excire Foto uses AI technology to automatically assign appropriate keywords. For example, the above photo is of a limestone island in Thailand. Excire Foto has assigned appropriate keywords, including "Island," "Water," "Nature," and "Clouds." You can also add keywords and even copy sets of keywords from other photos.
Lastly, the metadata is shown for each image. This is automatically imported from the image file. However, you can also edit the metadata; simply click on the Edit button and a new metadata window opens. Here, you can adjust metadata fields, such as the headline, description, category, and author information.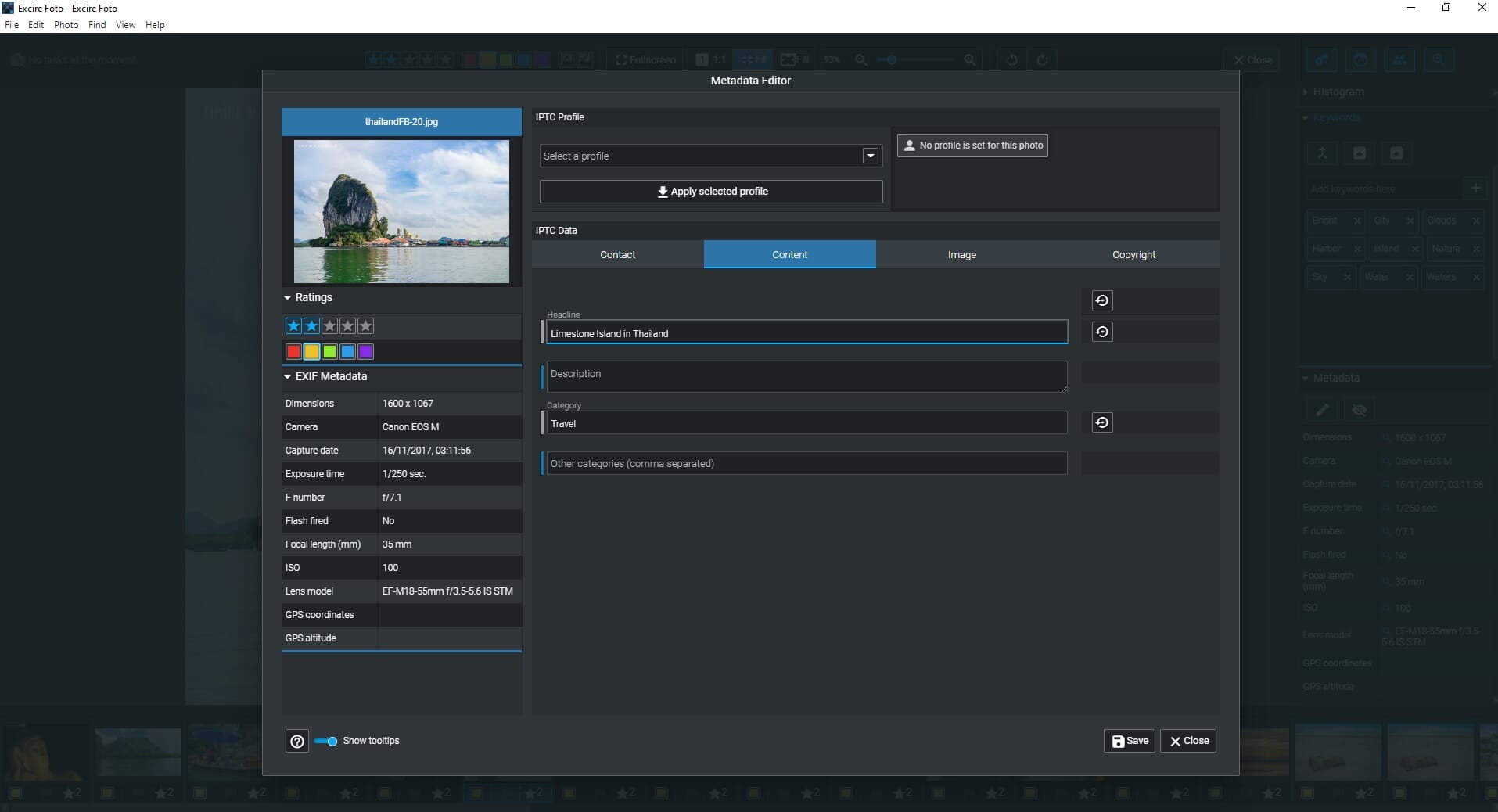 Ultimately, Excire Foto's ability to edit metadata and the AI-generated keyword functionality is fantastic. It allows you to easily categorize and manage your photo collections with a fine degree of control.
Photo Finding Tools
Excire Foto has a brilliant Find tab in the main menu. Here, you can search for similar photos, find people in photos, or use the dedicated pop-up search function. You can see this tool below.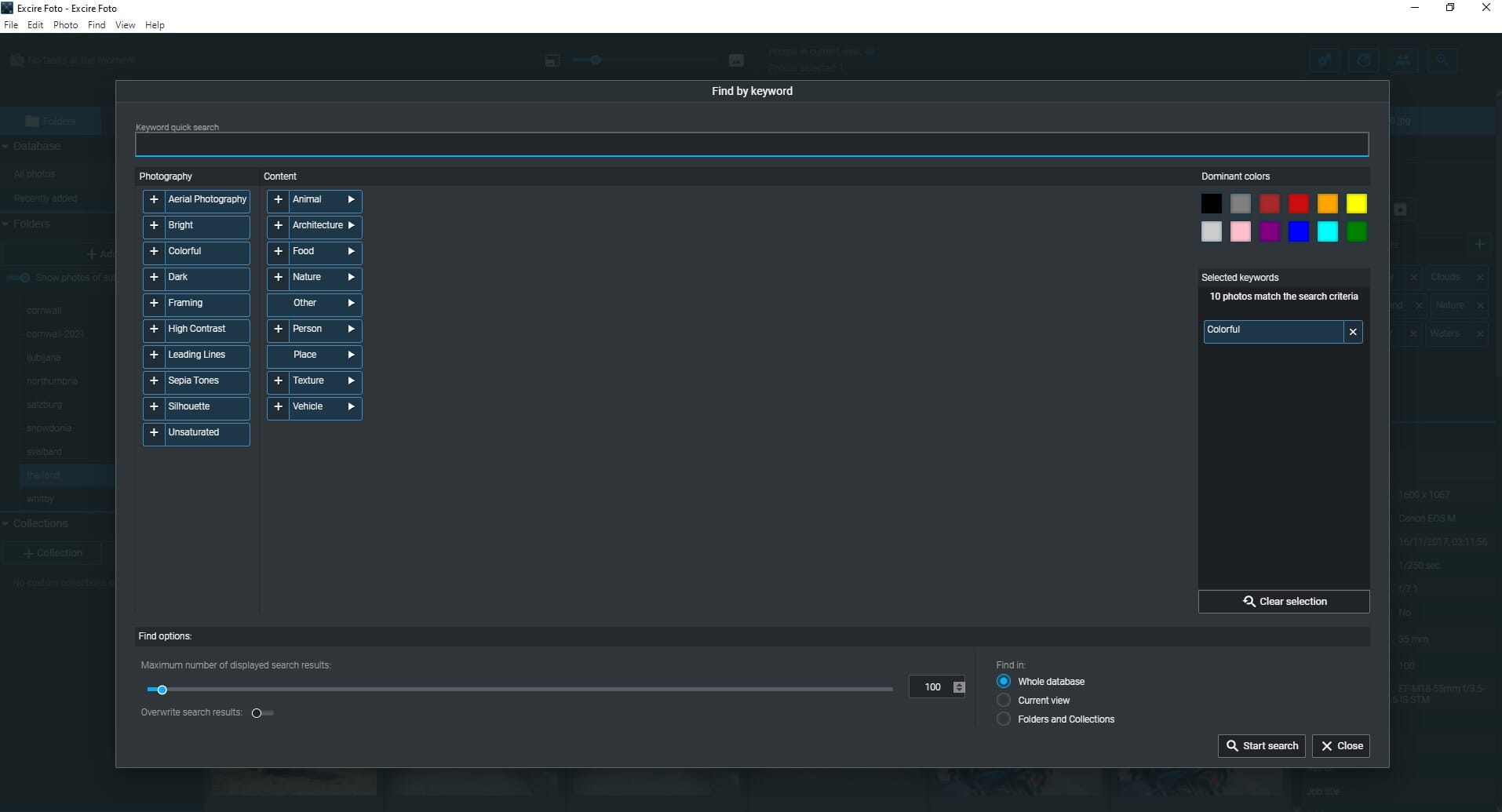 Find Keywords
At the top of the Keyword Find tool, there is a search bar where you can search for specific keywords. Below, Excire Foto displays all keywords that are currently assigned to photos in your collection. This is highly useful and means you can quickly narrow down your search. You can also select which folders to search through, and you can filter the maximum number of results displayed.
If you make photo collections that have specific themes or want to find photos of specific people or places, this tool will make the task easy!
Find Faces
Excire Foto also offers its Find Faces tool, which uses AI technology to detect people's faces by a variety of different traits and features. The technology is incredibly advanced and it does an excellent job of detecting different types of faces.
The image below shows the basic Find Faces search pop-up window. As you can see, you can search for faces of specific ages (e.g., babies, the elderly). Also, you can search for genders and even photos where the people are smiling. This is a highly useful tool if you specialize in portrait photos, or you have a large collection of family photos, for example. You could easily find photos of your grandma, for example, if you wanted to create a photo album for her.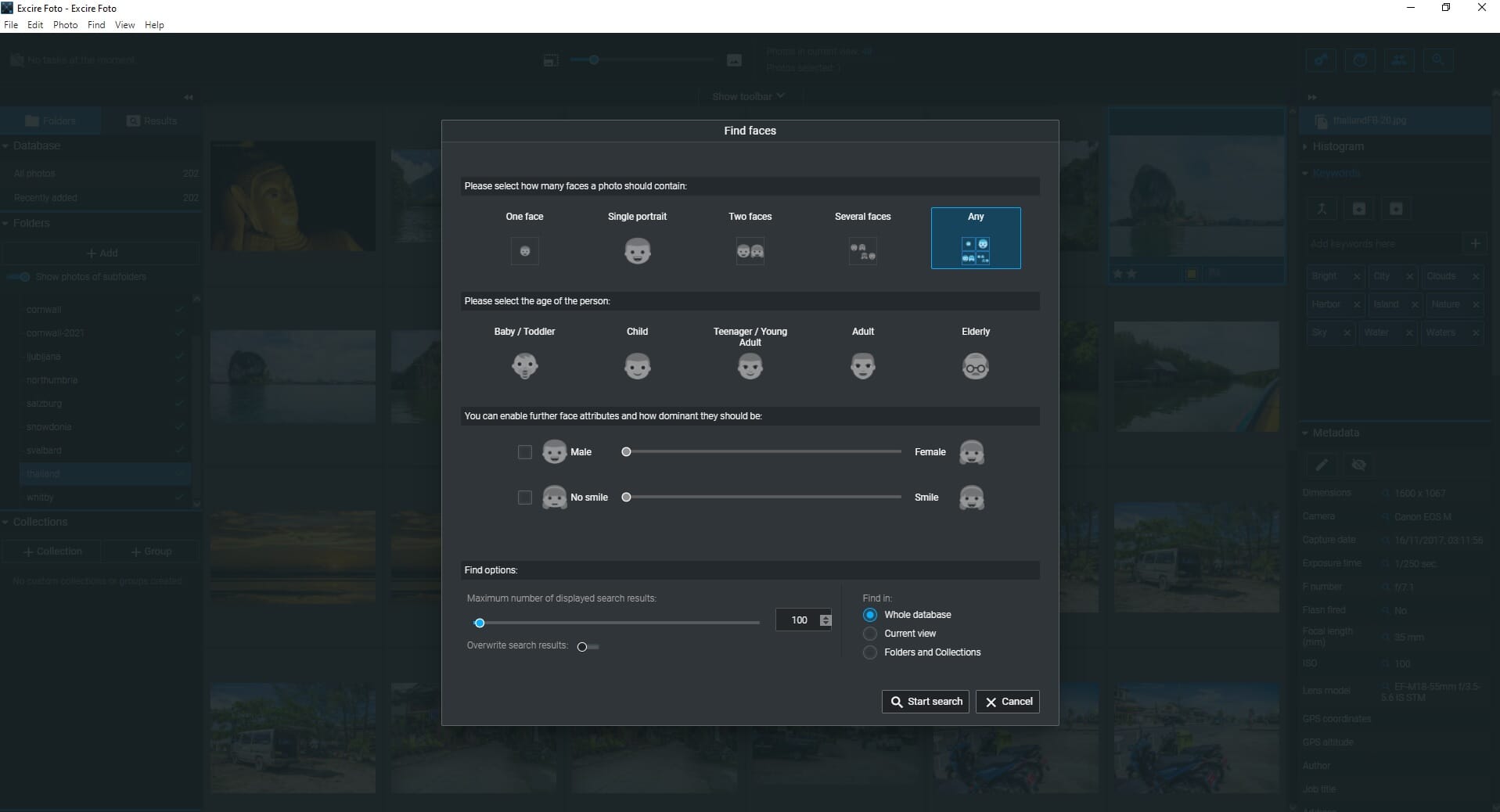 Find Similar Photos
Lastly, Excire Foto also has a Find Similar Photos tool. This also uses AI algorithms to search your photo collections for similar photos. It's unclear how the software selects similar photos, but the results are typically spot-on, and photos in a similar style or location are usually shown.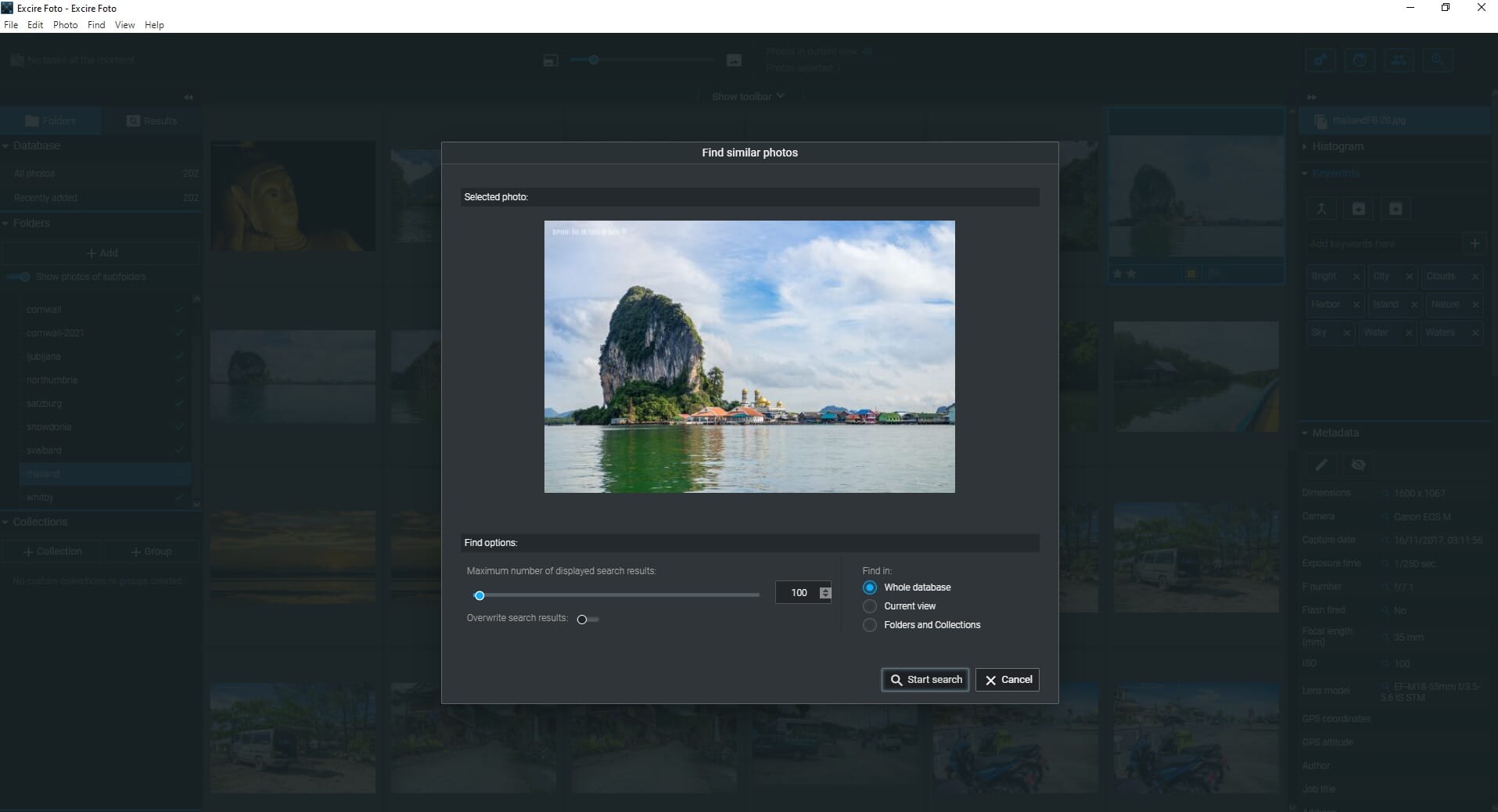 Collections
Oftentimes, you may find that you have similar styles or subjects of photos that don't necessarily belong in the same folder. This is where photo Collections are helpful.
Collections are a common feature you can find in most photo organizing software – they make it easy to create specific groups of images without disrupting your folder hierarchy.
In our Excire Foto review, we looked at the Collection functionality to see how it worked. Below the Folder tab, there is a Collection tab. Here, you can see your existing collections and create new Collections or groups.
To create a collection, simply click on the + Collection button and enter the Collection name. You can then drag photos from your folder hierarchy into the Collection. Alternatively, you can right-click on a photo and use the Add Photo to Collection option. You can see below that I created a simple collection of travel landscape photos from different locations.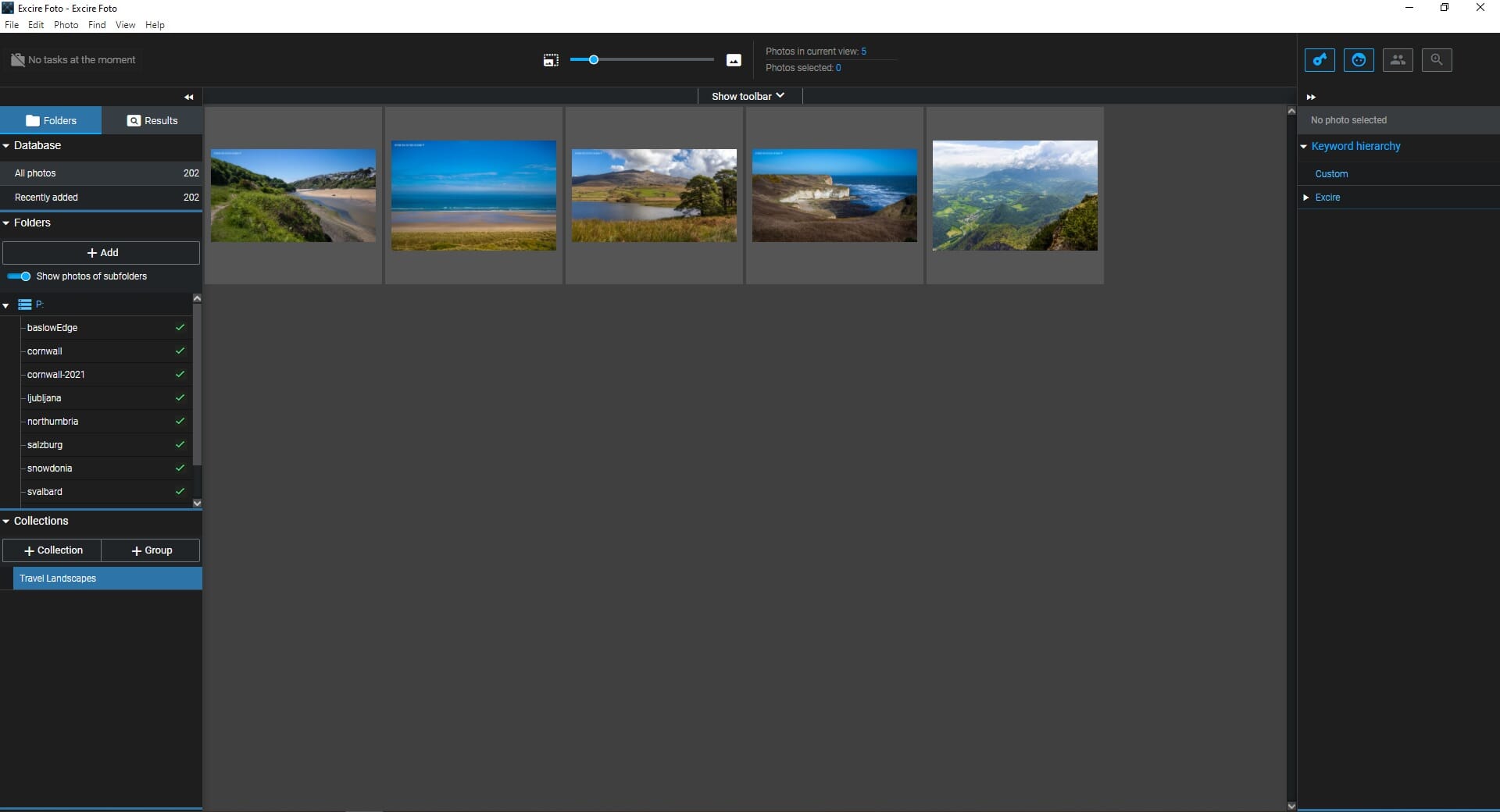 The Keyword and Find tools are also handy to use with the Collections feature. For example, you might search for photos using the "architecture" keyword. You could then select all the photos, right-click on one, and add them to an architecture Collection.

Pricing
When looking at the suitability of Excire Foto, we also need to consider the price. Those who do not want to commit to a monthly software subscription will like the one-off payment structure of Excire Foto. And for what you get and for the functionality of the software, the pricing is reasonable.
Currently, both the Windows and Mac versions cost $99. We feel this is reasonable, and compared to some other software options, it's a great deal.
For example, Adobe's Photography Plan subscription costs $9.99 per month or around $120 annually. You do get access to both Lightroom and Photoshop, but you must continue to pay that monthly subscription indefinitely.
In contrast, you can simply buy Excire Foto for a one-off payment and have lifetime ownership – not too shabby!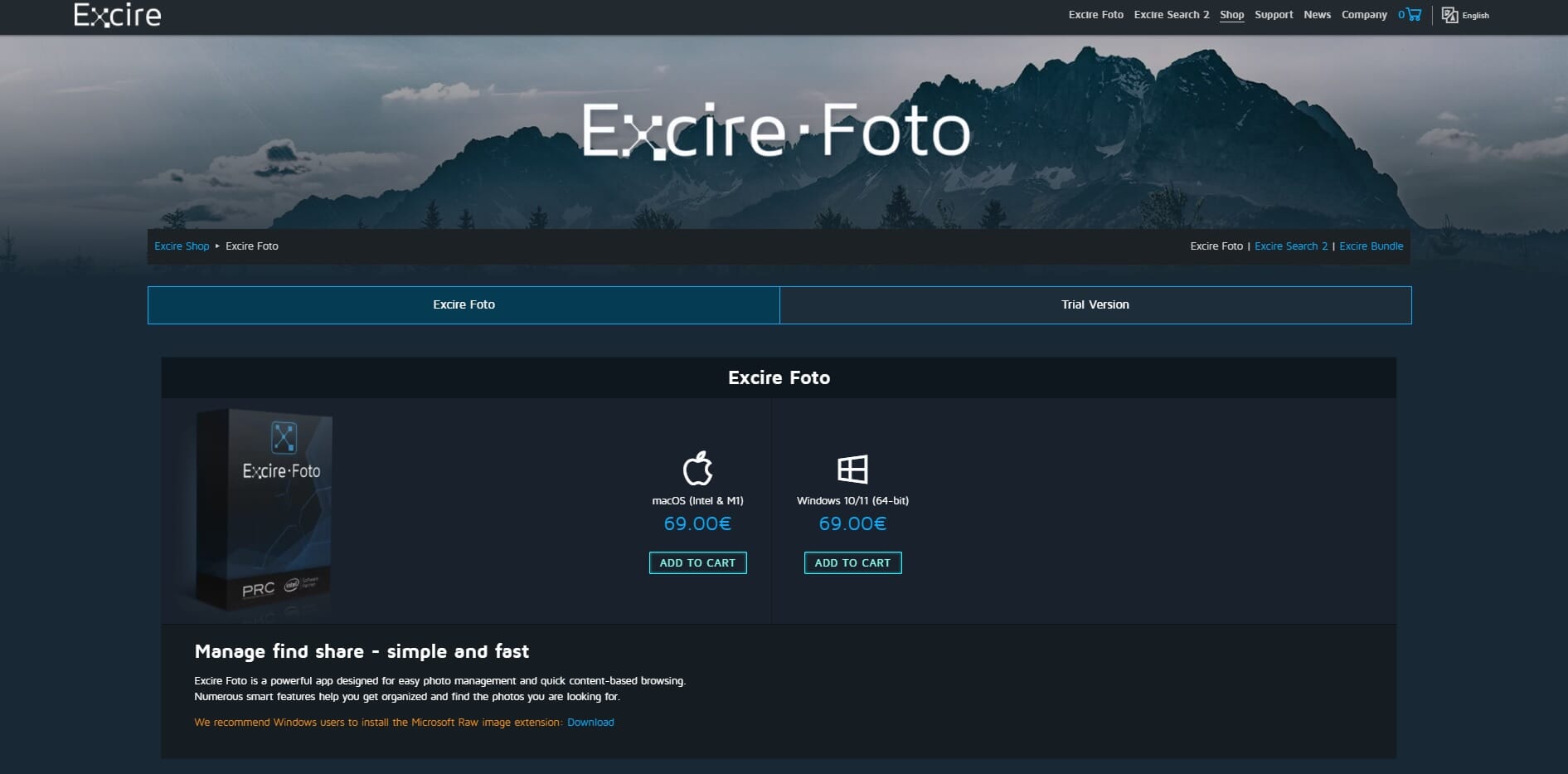 Here are a few other examples of photo organizing software costs so you can see where Excire Foto ranks:
As you can see, Excire Foto's one-off cost of $99 is not too different from other alternatives. We would also argue that it is far superior to most, thanks to the more modernized layout and impressive toolset.
More Excire Photo Alternatives
When looking at Excire Foto, it's important to consider all the alternatives. There are plenty of photo organizing programs, and some standout examples and competitors include:
Adobe Lightroom
ACDSee Photo Studio
Smart Pix Manager 12
Adobe Bridge CC
Magix Photo Manager
Adobe Lightroom is undoubtedly a great option. It's a powerful post-processing program that also has photo management features. It shares similarities with Excire Foto – for example, you can assign colors and star ratings to your photos – and Lightroom also shines for its post-processing tools. Using this software, you can fully edit RAW files and organize large catalogs of photos easily. The downside is that you must commit to a monthly subscription plan.
Smart Pix Manager 12 can be used to manage photos but also other media files like videos and audio files. Alternatively, ACDSee Photo Studio is a dedicated photo organizer like Excire Foto and also has extensive keyword and rating tools.
Compared to these other options, Excire Foto certainly stands out and holds its own as one of the best photo organizing programs available.
Is Excire Foto Right for You?
Performance

Usability

Folder Management

Photo Management

Price
Summary
Excire Foto is a fantastic standalone photo-organization program for Windows and Mac devices. It has many powerful features, including AI tools that make finding and organizing large photo Collections a simple task.
Pros
Excellent AI technology
Reasonable price
Fast performance
Amazing for organizing images
Excire Foto is certainly one of the best options available. Compared to other programs, Excire Foto simply has more to offer. Also, the inclusion of AI technology for search functionality is fantastic and makes the program even more usable.
Obviously, it is not without its drawbacks, including the lack of editing capabilities. If you want editing and managing in one package, a program like Adobe Lightroom remains the top choice. However, if you just want dedicated photo organizing software, Excire Foto is a brilliant option.
It's a particularly great choice if you have a huge photo collection spanning multiple years, or if you're a professional hoping to organize your catalog. The AI-assistance and searching tools make searching through immense Collections a simple task!