The latest iteration of ON1's editing software is ON1 Photo RAW 2022. This top-notch program includes a host of useful improvements and tools that are certainly worth the upgrade for ON1 Photo RAW 2021 users.
To show what you can expect from the software, we have created this ON1 Photo RAW 2022 review, which includes a breakdown of the new features.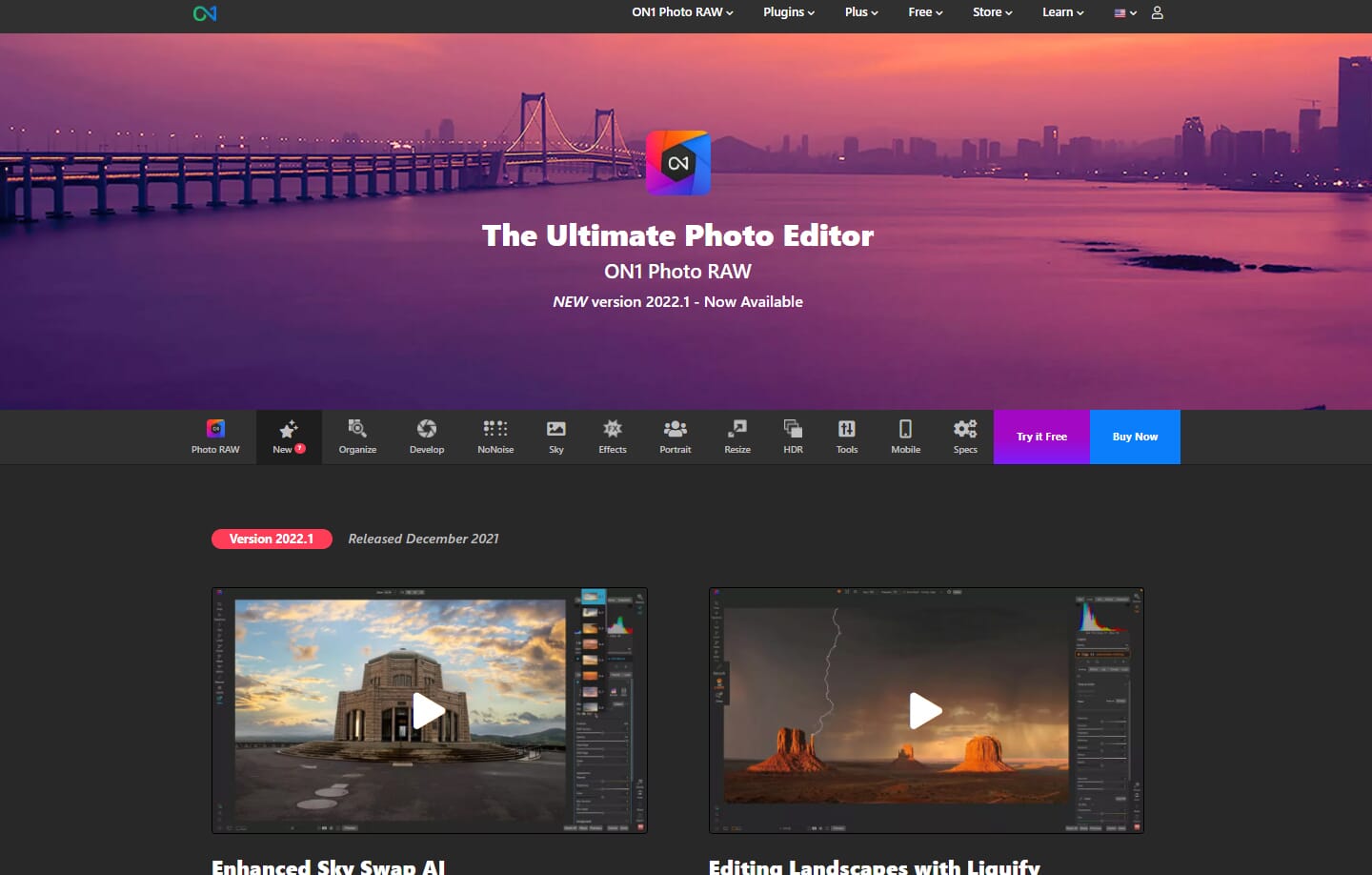 When you buy through links on our site, we may earn a commission at no cost to you. We evaluate products independently. Commissions do not affect our evaluations.
ON1 Photo RAW 2022: Overview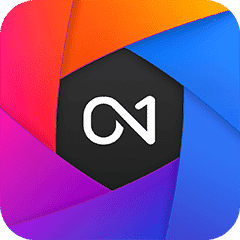 Great for advanced photo editing and file management
ON1 Photo RAW 2022 is a powerful program with both file management and photo editing tools. And the new features of Photo RAW 2022.1 improve its usefulness for file management and for creating detailed, professional edits.
Use Coupon Code PHOTOWORKOUT for 20% Off
Pros
Excellent file-management and organization tools
Snapshots feature helps with multistage editing
Great control over editing using local adjustments
Support for hundreds of cameras and lenses
Cons
Liquify tool does not always give perfect results
Requires a powerful computer to run smoothly
Upgrade price is quite expensive
ON1 Photo RAW 2022 is a high-end photo editing program meant for professional use. It has a detailed set of editing options so you can fully edit RAW photos, including local adjustment tools, artistic presets, and a range of AI-enhanced tools.
ON1 Photo RAW 2022 also acts as a top-notch photo management program. Its Browse module gives users full control over photo organization. You can create extensive folder hierarchies and catalog your images using ratings and keywords. All of this is searchable using the new Advanced Search tool.
Note that ON1 Photo RAW 2022 was released in September 2021, but the program was soon followed by an update, ON1 Photo RAW 2022.1. This ON1 Photo RAW review looks specifically at ON1 Photo RAW 2022.1, which is free for anyone who already owns Photo RAW 2022.
What's New in ON1 Photo RAW 2022.1?
ON1 Photo RAW 2022.1 does have a great variety of updates and improvements over ON1 Photo RAW 2022 (and, indeed, Photo RAW 2021). For the first part of this ON1 Photo RAW 2022 review, we will look at these new features. The list of additions/improvements includes:
Enhanced Sky Swap AI
The Liquify tool
Advanced Search
Snapshots
Smart Albums
Visualize Dust
Enhanced Sky Swap AI
I love the Sky Swap AI tool – it's so fun to use! Prior to such powerful AI tools, if you wanted to swap the sky in your photos, you would need to painstakingly create selection masks and manually insert a new image overlay in a program like Photoshop.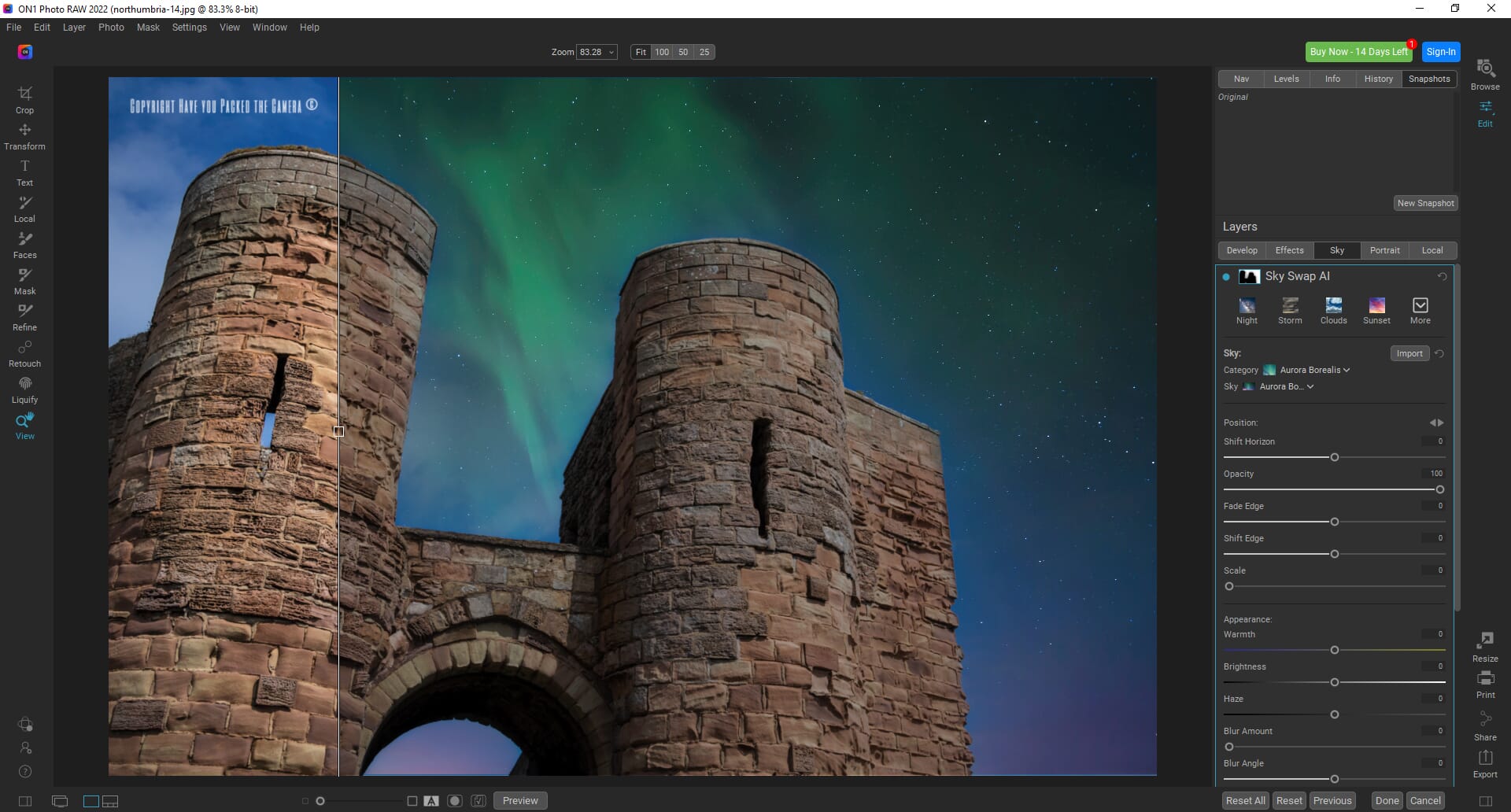 The Sky Swap AI tool does this for you. It automatically identifies the sky and selects the mask. You can then choose from a variety of preset sky overlays to swap in. For the most part, this is an impressive tool and works really well.
That said, if the sky is poorly defined against the foreground subject, the program may struggle to create a clear mask. Also, the fade between the foreground and sky can sometimes be too noticeable. Fortunately, you can fully adjust the mask and fine-tune how the sky blends in with the existing photo.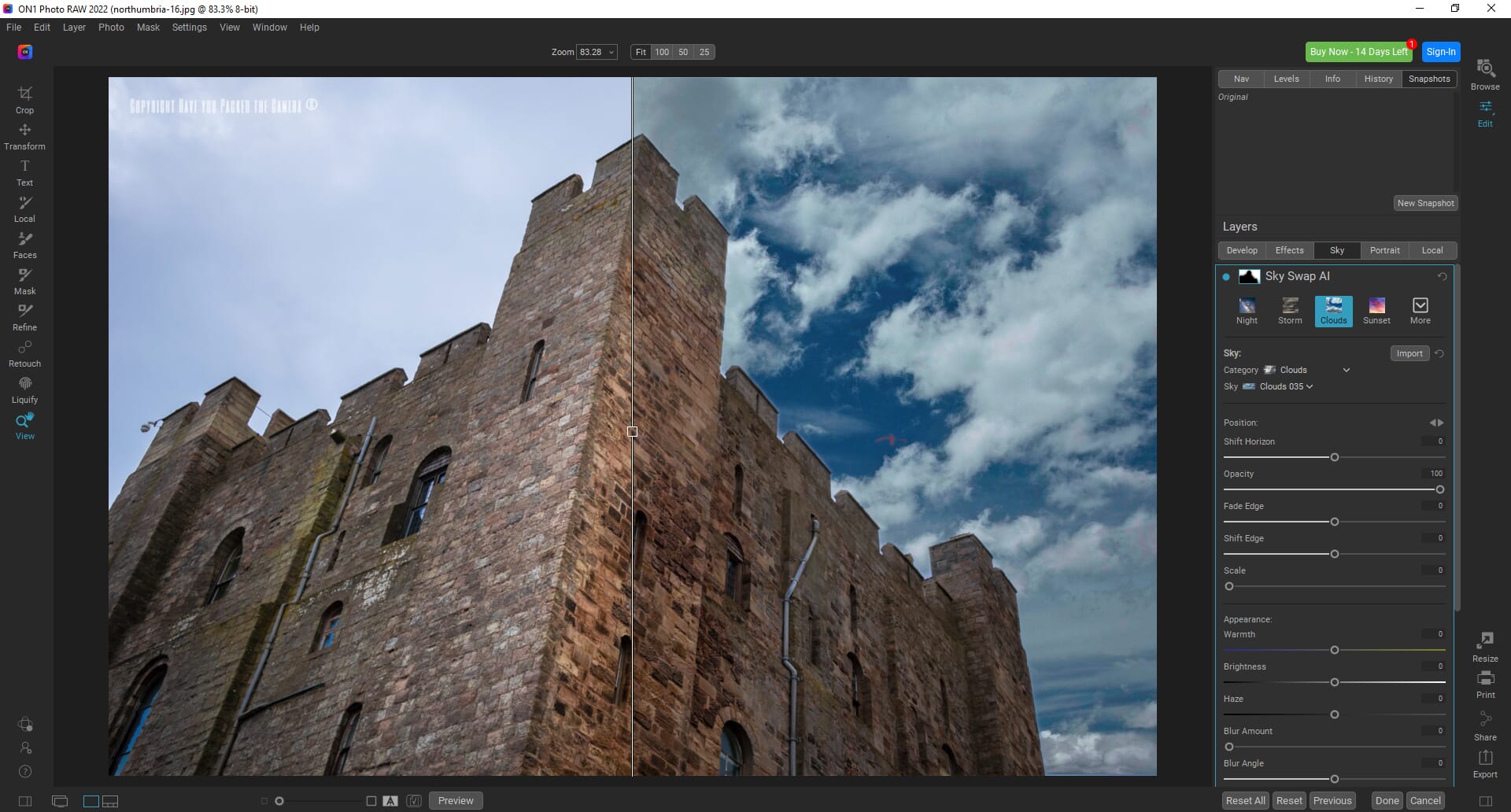 You can change multiple parameters including the horizon, the position of the sky, and the scale of the sky. We also really like that you can apply lighting to the foreground. This means you can make the sky blend in properly with the rest of the photo and look more natural.
The results are not always perfect. However, with a little tweaking, you can create some beautiful results.
Liquify
Liquify is a common tool offered by many photo editing programs (such as Photoshop). The latest update of ON1 Photo RAW 2022 adds its own version of the Liquify tool that can be used for both landscape and portrait photography.
The Liquify tool has three subtools: Push, Pinch, and Bloat. This gives you great control when repositioning and transforming objects in your photos.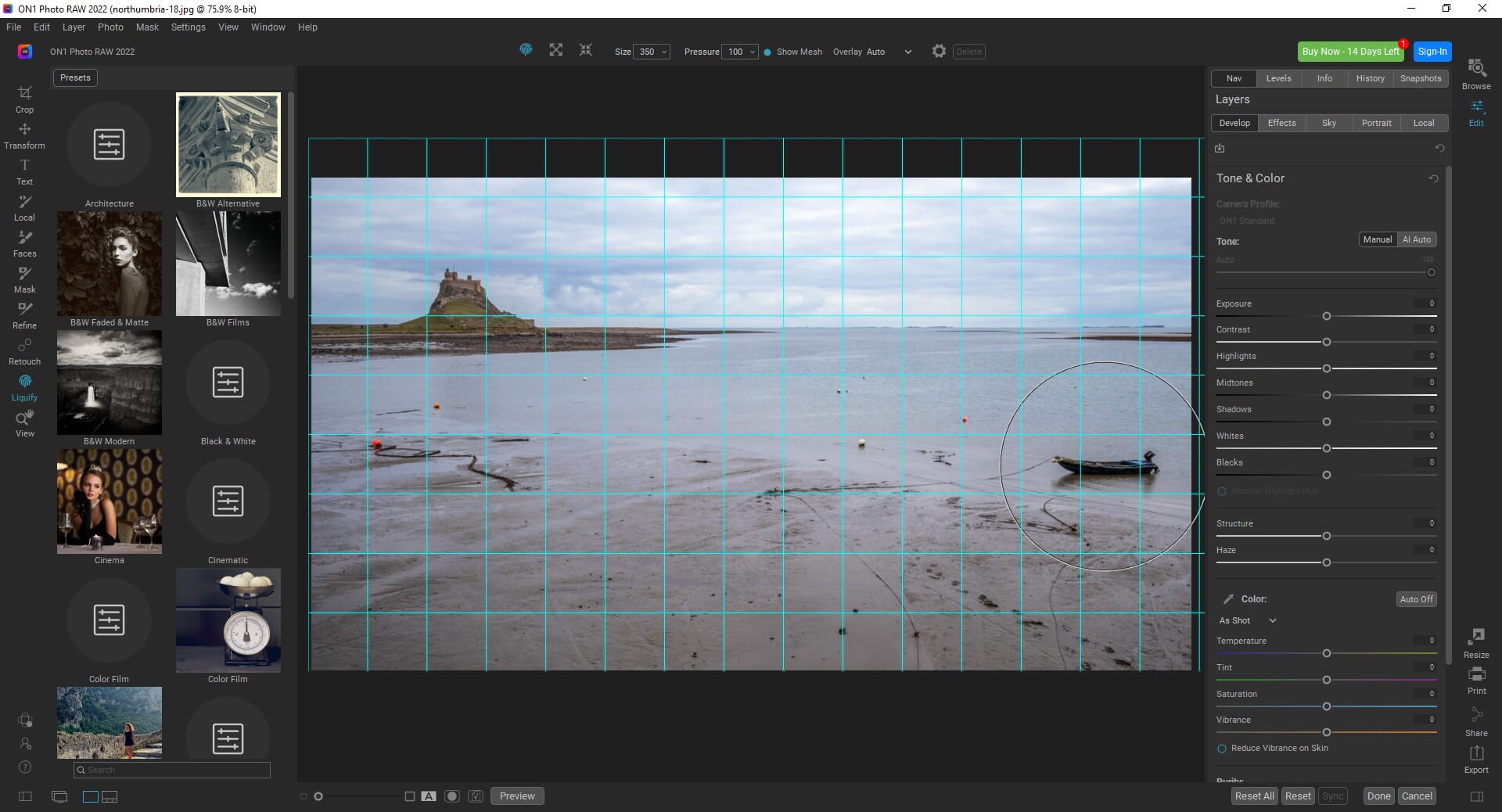 The Push tool allows you to move objects in images, similar to how you can smudge paint on a fresh piece of artwork. I found that it works best with solid colors and objects with limited surrounding detail. In the photo below, I used the Push tool to move the boat into a more central position. It looks okay, but the smudged sea is not perfect.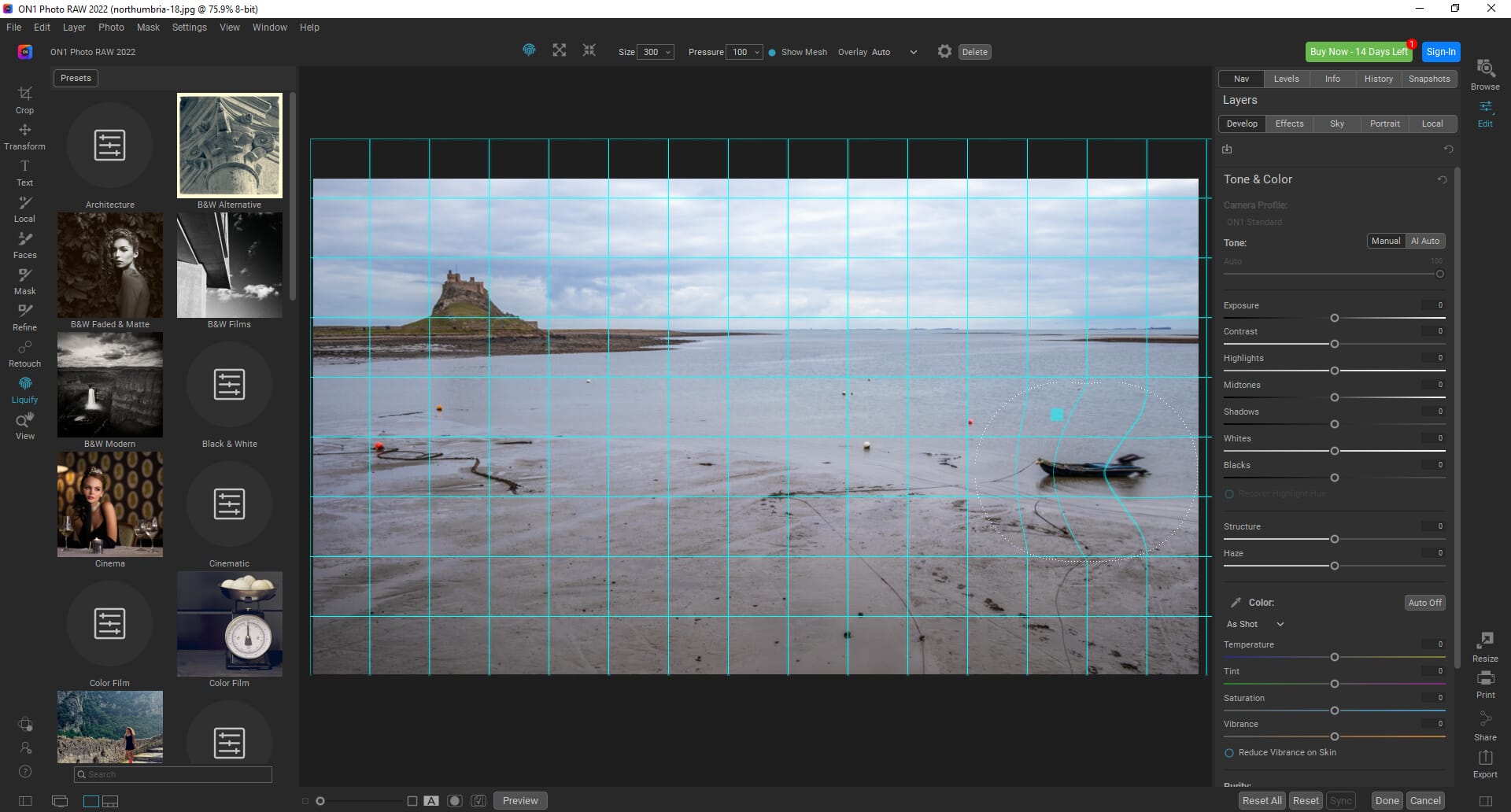 The Pinch tool allows you to shrink objects, while the Bloat tool allows you to expand them. All three tools have their uses, but as with any Liquify tool, the results are varied. In the right circumstances and with careful application, Liquify can work wonders.
Advanced Search
When in the Browse tab, you can now click on the magnifying glass icon on the left-hand side, which will open the Advanced Search box.
Advanced Search allows you to find specific photos quickly and effectively. If you have a huge photo collection, this is infinitely useful. Firstly, you can choose the source location for the search. For example, you can choose whether you search the current folder or a selection of folders.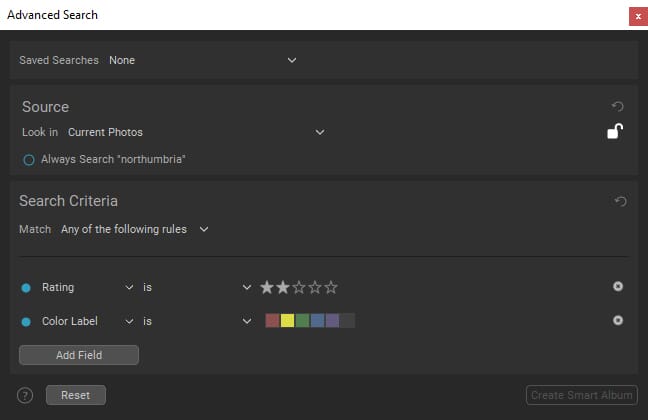 Next, you can specify the search criteria. For example, you can request that the program returns matches that only contain the rules you add. Lastly, you can add different search fields. The available search fields are many and include things like camera, album, color label, date, star rating, keywords, and file name.
I found the Advanced Search simple to use, and you can be as detailed or simplistic as you want with the searches. Also, you can save your search criteria. So instead of creating a new search each time, you can simply choose one of your saved searches to further speed up the process.
Snapshots
ON1 Photo RAW 2022 is fully non-destructive. That is, you can add and remove changes without adjusting the original image file. However, the Snapshots feature takes this one step further.
Think of Snapshots as your editing history, so that, if you don't like the progress you've made on a photo, you can go back to previous stages of the edit. However, you must take the Snapshots; it's not an automatic process.
The Snapshots tool is found in the top right-hand corner of the Edit tab. Click on it and you can see all Snapshots for the current image.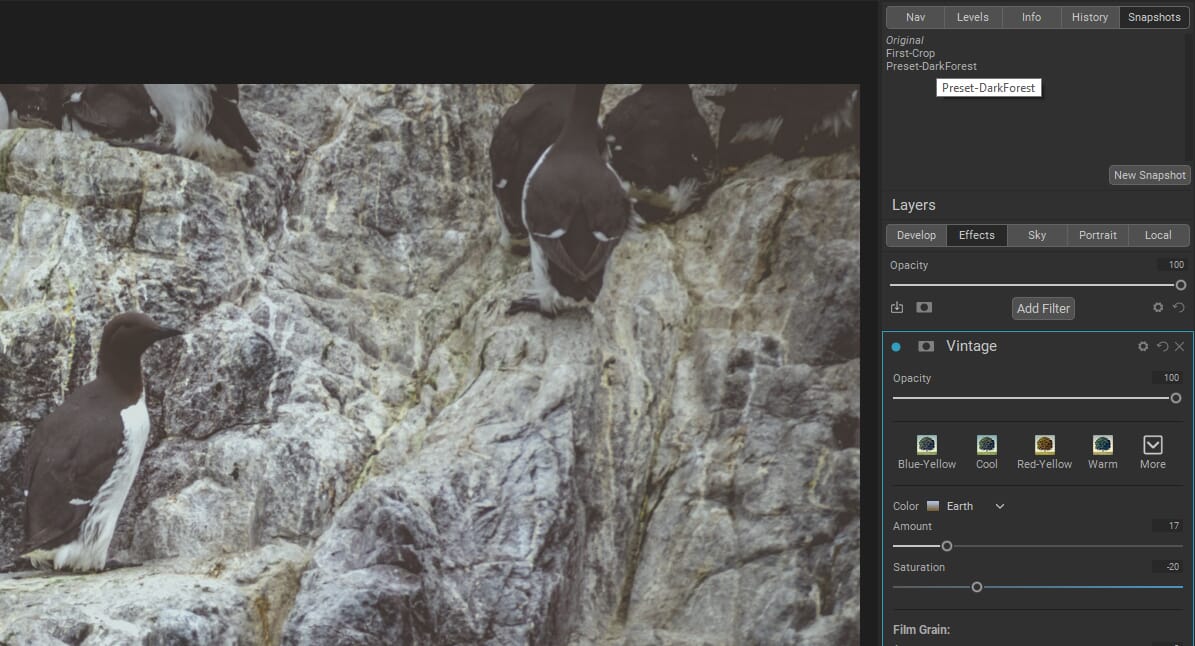 This is incredibly useful for multistage editing as you can create and name a Snapshot for each stage. It gives you far greater control over the editing process and can save you from needing to recreate specific editing steps.
Smart Albums
ON1 Photo RAW 2022.1 also introduced Smart Albums. These are essentially the same as Collections and Smart Collections in Adobe Lightroom Classic. They are virtual folders that do not affect the original hierarchy of your folder structure.
You can save the results of Advanced Searches as Smart Albums. This means you do not have to spend time using the Advanced Search tool each time you want to access specific photos. Simply create a Smart Album instead!
Smart Albums are also an excellent tool for bringing together multiple photos from different occasions with similar themes. For example, you could create a Smart Album for sunset photos. This could include all photos tagged with the keyword "sunset."
These virtual albums allow for more flexibility in your photo management without destroying your underlying folder hierarchy.
Visualize Dust
ON1 Photo RAW 2022 also adds an interesting feature that is meant to help spot areas of your photos that need retouching. Oftentimes, there are small imperfections or "dust" on photos that need to be removed.
The Visualize Dust tool allows you to spot these issues more easily. In all honesty, I had mixed results with this tool, and I was struggling to see the use. Perhaps I just wasn't testing it on the right photos.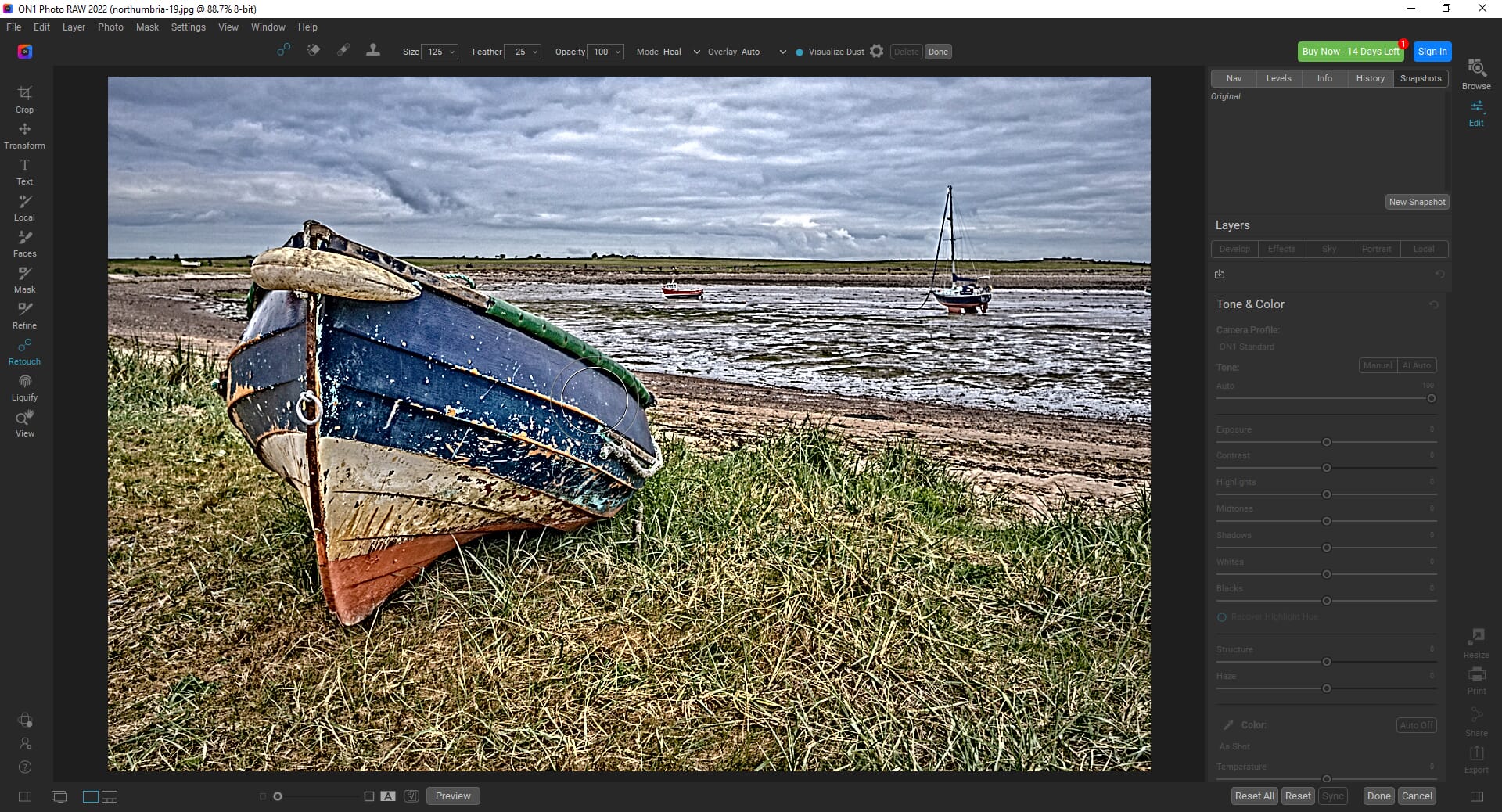 ON1 Photo RAW 2022: Performance, Pricing, and More
How does ON1 Photo RAW 2022 perform compared to its predecessors and competitors? In this section, we offer a complete breakdown of the program's features.
Performance
Past iterations of ON1 Photo RAW have required a powerful computer to run smoothly, and I'm afraid that Photo RAW 2022.1 doesn't have any performance improvements worth mentioning.
I tested the latest version of Photo RAW using a computer with an Intel Core i5 processor, 24 GB of RAM, and an NVIDIA GeForce 1050 GTX GPU with 2 GB of VRAM. These specs are essentially the recommended system specs (though the processor is a little slower).
I had no glaring issues using the software. However, it wasn't perfect. There was an occasional delay when loading full-screen image previews. And when using the Sky Swap AI tool, I did notice some delays when switching between the different sky types.
It's certainly a usable program. However, if you try to run Photo RAW 2021 on a computer with only the minimum system requirements, I suspect the program will lag significantly.
Ease of Use
Those who have experience working with photo editing software will find ON1 Photo RAW 2022 easy to use. It features standard locations and workflows that are present in most editing programs, plus the tools are generally easy to use with simple sliders and tooltip explanations.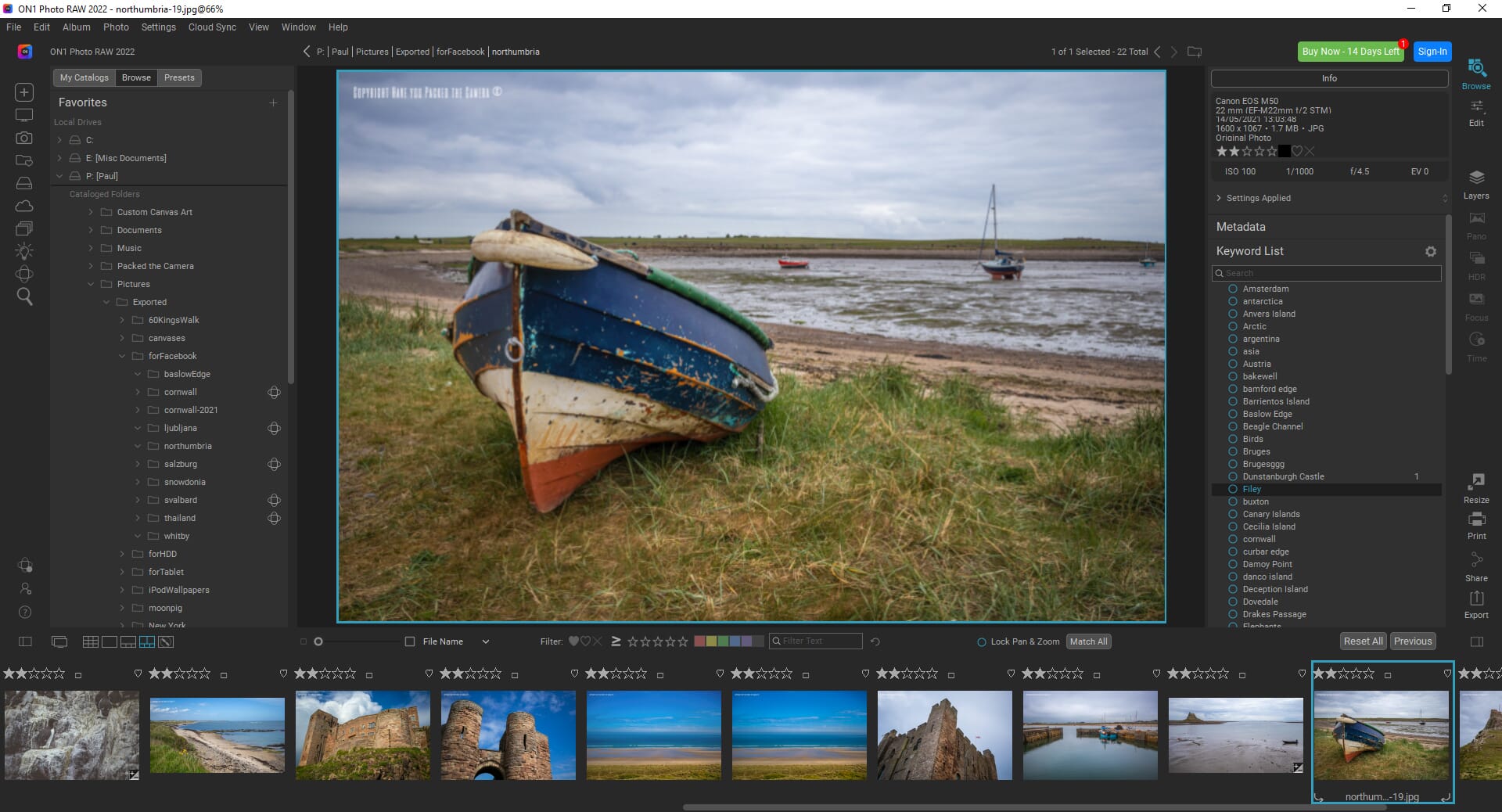 New users may find the software somewhat overwhelming – it features a lot of options – but there is a dedicated "Getting Started" section. This has three different tutorials, including "Edit a Photo," "Browse Folder," and "Create Catalog." This teaches you the basics of the software in a simple manner.
Photo Management
The photo management tools of ON1 Photo RAW 2022 are fantastic. These features are kept separate in the Browse tab. Here you can manage your photography catalogs and use the folder view to access files, create folders, and adjust your hierarchy.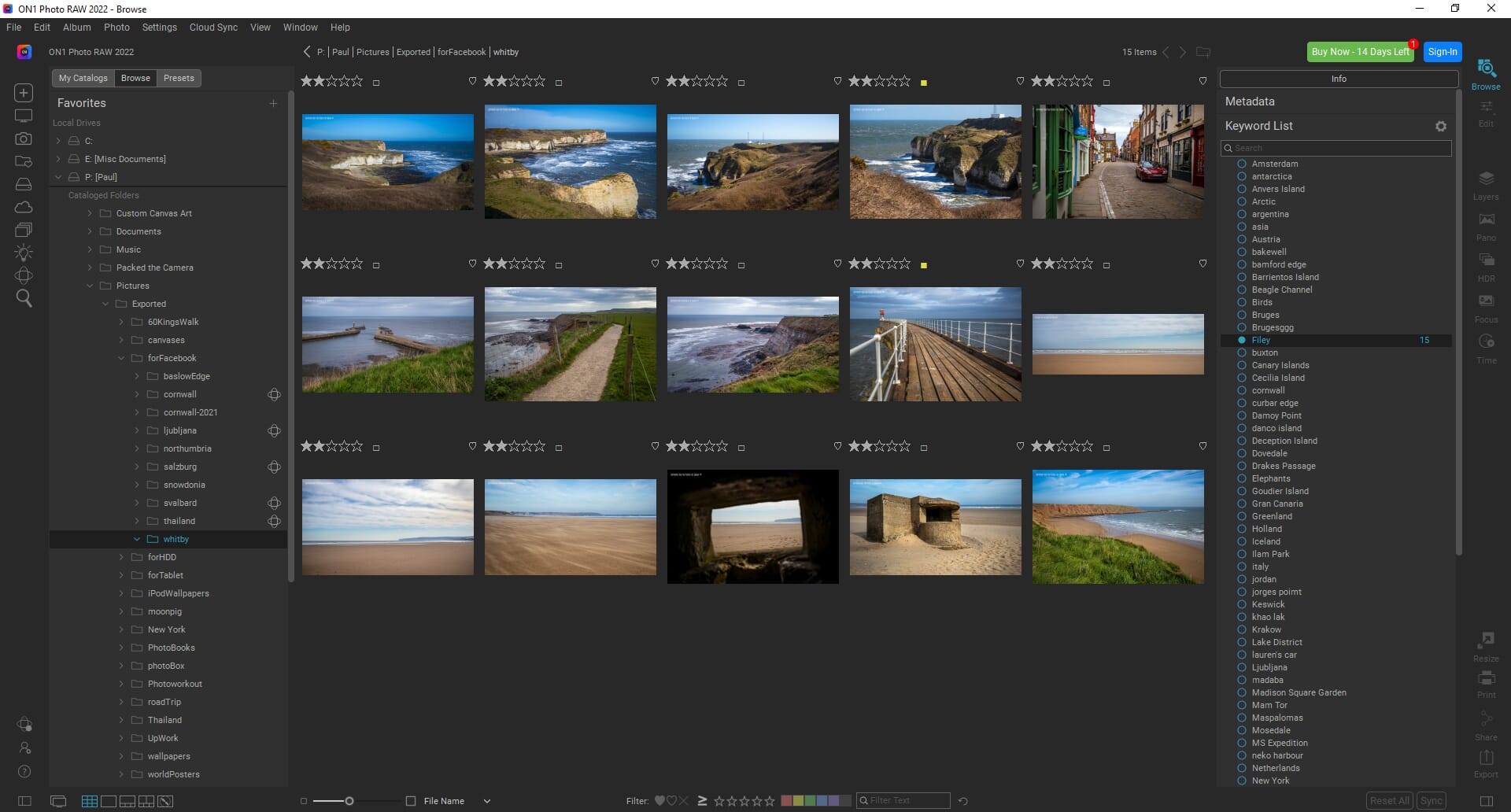 It's possible to import catalogs from other software like Lightroom, or you can simply access different folder locations on your device's HDD. When you select a folder or subfolder, all the images inside are displayed in the central panel. You can change the size of these thumbnails so more or fewer images are visible on the screen.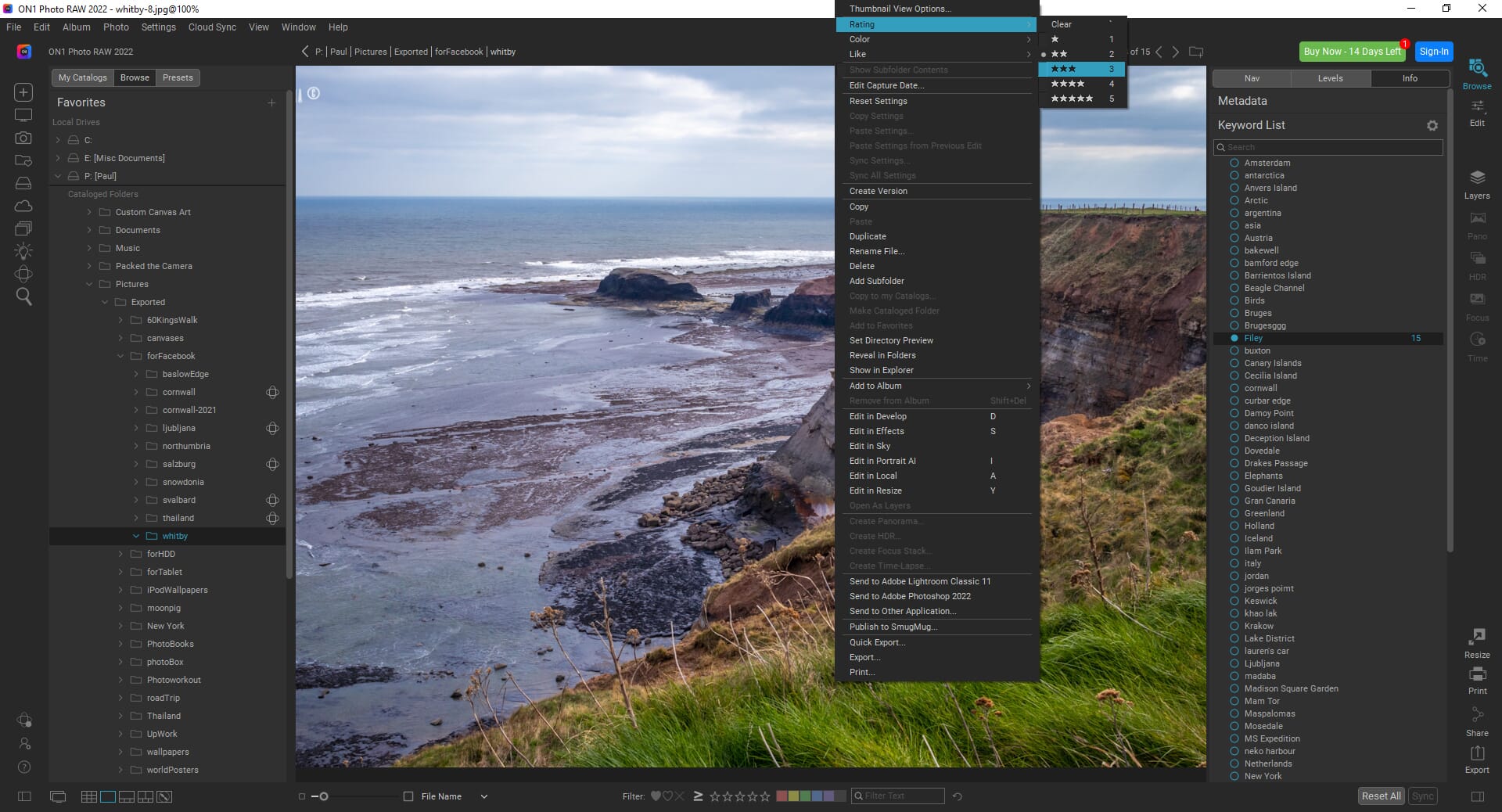 You can also apply a host of metadata and ratings to catalog your images. For example, you can give a photo a highlight color, a star rating, or even flag it as a favorite. If you have applied these ratings in other software, the data is automatically imported. I used Adobe Lightroom Classic to give my photos star ratings, and these star ratings are consistent and visible in ON1 Photo RAW 2022.
The metadata options are extensive, too. You can view and edit EXIF, IPTC, and Location data; you can also add keywords.
Editing
At the core of ON1 Photo RAW 2022 is a powerful set of editing tools. These include:
Crop
Transformation
Text
Local
Faces
Mask
Refine
Retouch
Liquify
Using these tools, you can easily resize, rotate, crop, and edit photos exactly as you want. The basic editing tools are located in the right-hand toolbar and are split into tabs: Develop, Effects, Sky, Portrait, and Local.
ON1 Photo RAW 2022 also has support for over 800 cameras and lenses. When you upload an image, the camera and lens model are automatically detected, and you can use the Lens Correction tool to quickly correct any distortion issues.
The local adjustment tools are also great for precise editing. You can create multiple local adjustments for each photo, which means you can edit precise areas without affecting the entire image. This can be combined with layers and masks to create complex, multilayered edits.
Presets
ON1 Photo RAW 2022 also has a dedicated Presets tab, and there is a huge range of presets available. These presets are great if you want to make quick edits without using individual tools, or if you want to create specific edit looks such as retro or black and white.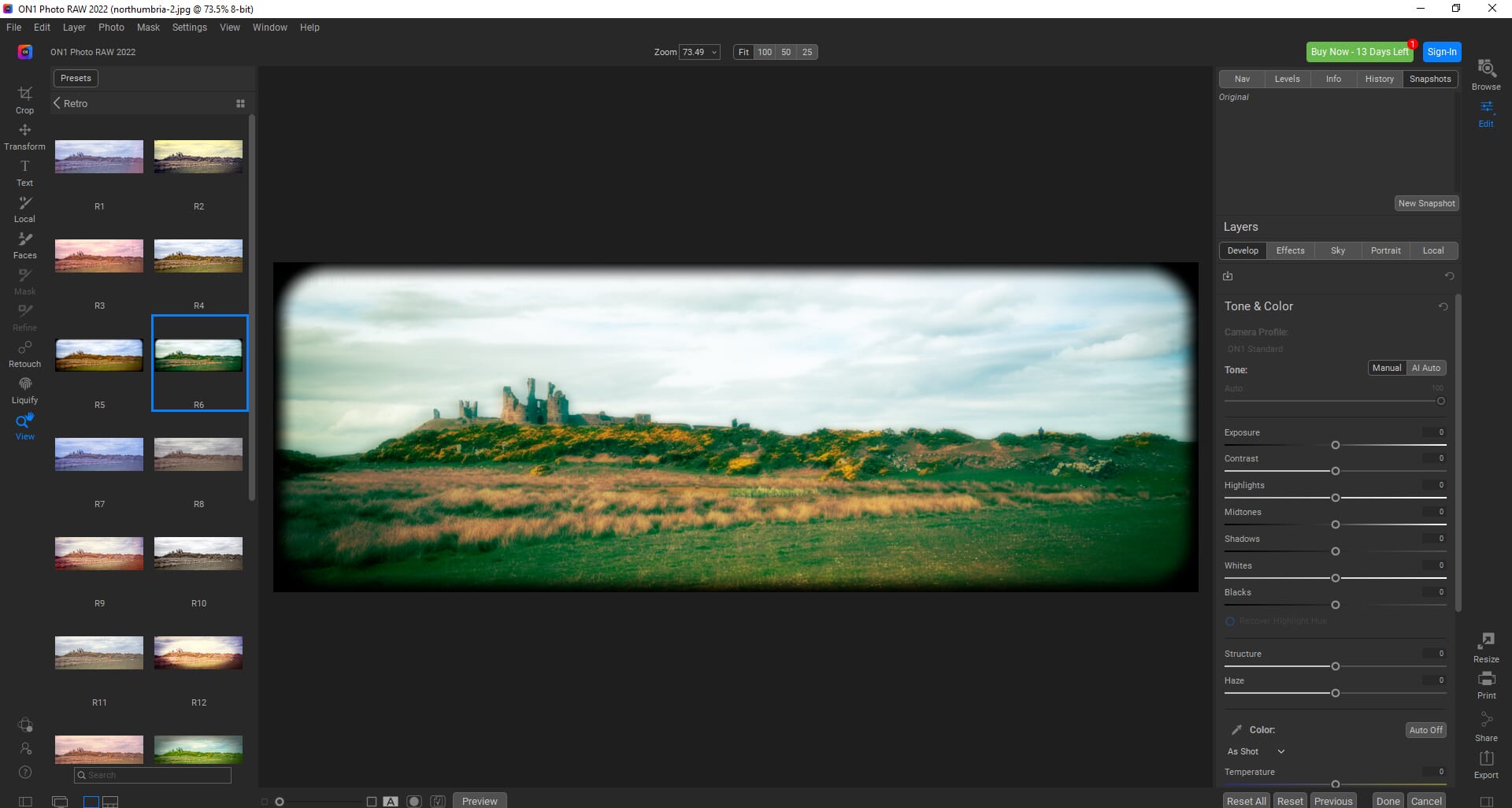 The presets are easy to apply; simply click on one of the preset thumbnails. Not all of the presets are practical, but they're great for creative editing!
Other Modules
ON1 Photo RAW 2022.1 also has a host of other features. These include:
ON1 Resize
Printing
Sharing
Exporting
The ON1 Resize module is also a standalone program and plugin. It allows you to easily resize and enlarge your images for printing (or for other purposes).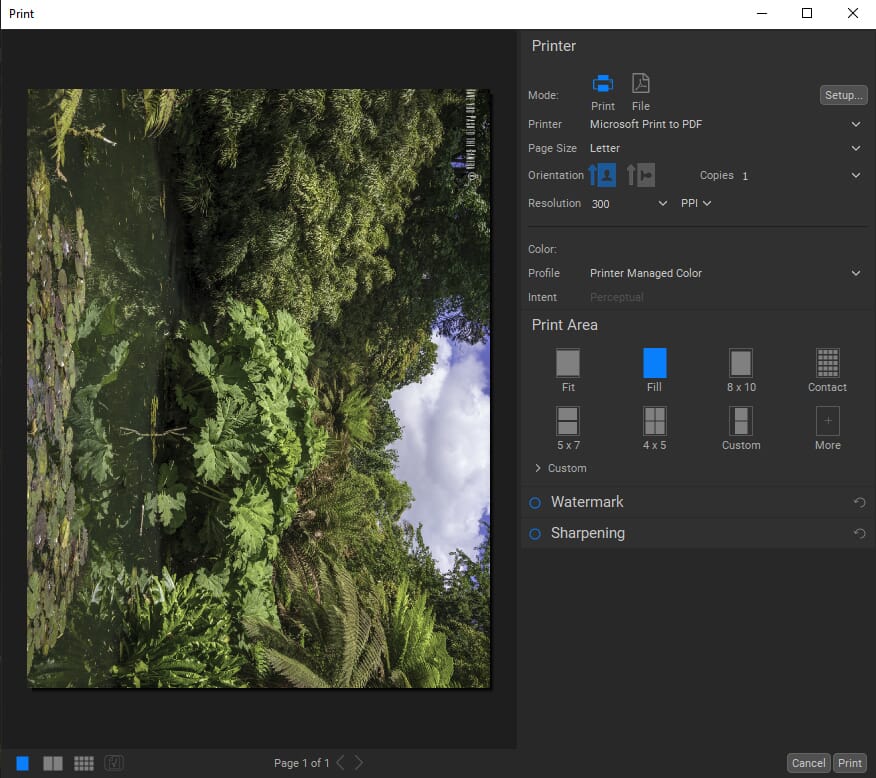 ON1 Photo RAW 2022 also has excellent tools for printing, sharing, and exporting photos. You can easily export in a range of file formats, including PSD, DNG, PNG, and JPEG. You can also configure your photos to print on a range of preset paper types and formats.
System Requirements
Historically, ON1 Photo RAW has had issues with performance. ON1 Photo RAW 2022 still has hefty system requirements:
Minimum System Requirements
Operating system: macOS 10.14 or later; Windows 10
Processor: Intel Core i5, Xeon, or Apple Silicon
RAM: 8 GB
HDD: 1.5 GB for installation
Graphics: OpenGL 3.3 compatible card with 512MB of VRAM
Recommended System Requirements
Operating system: macOS 12; Windows 11
Processor: Intel Core i5, Xeon, or Apple Silicon
RAM: 16 GB+
HDD: 1.5 GB for installation SSD
Graphics: OpenGL 4.2 compatible card with 2GB+ of VRAM
The minimum system requirements are low, but the performance won't be very smooth. The limited RAM and the weaker GPU will mean longer loading times for files and folders as well as slower loading times when applying effects.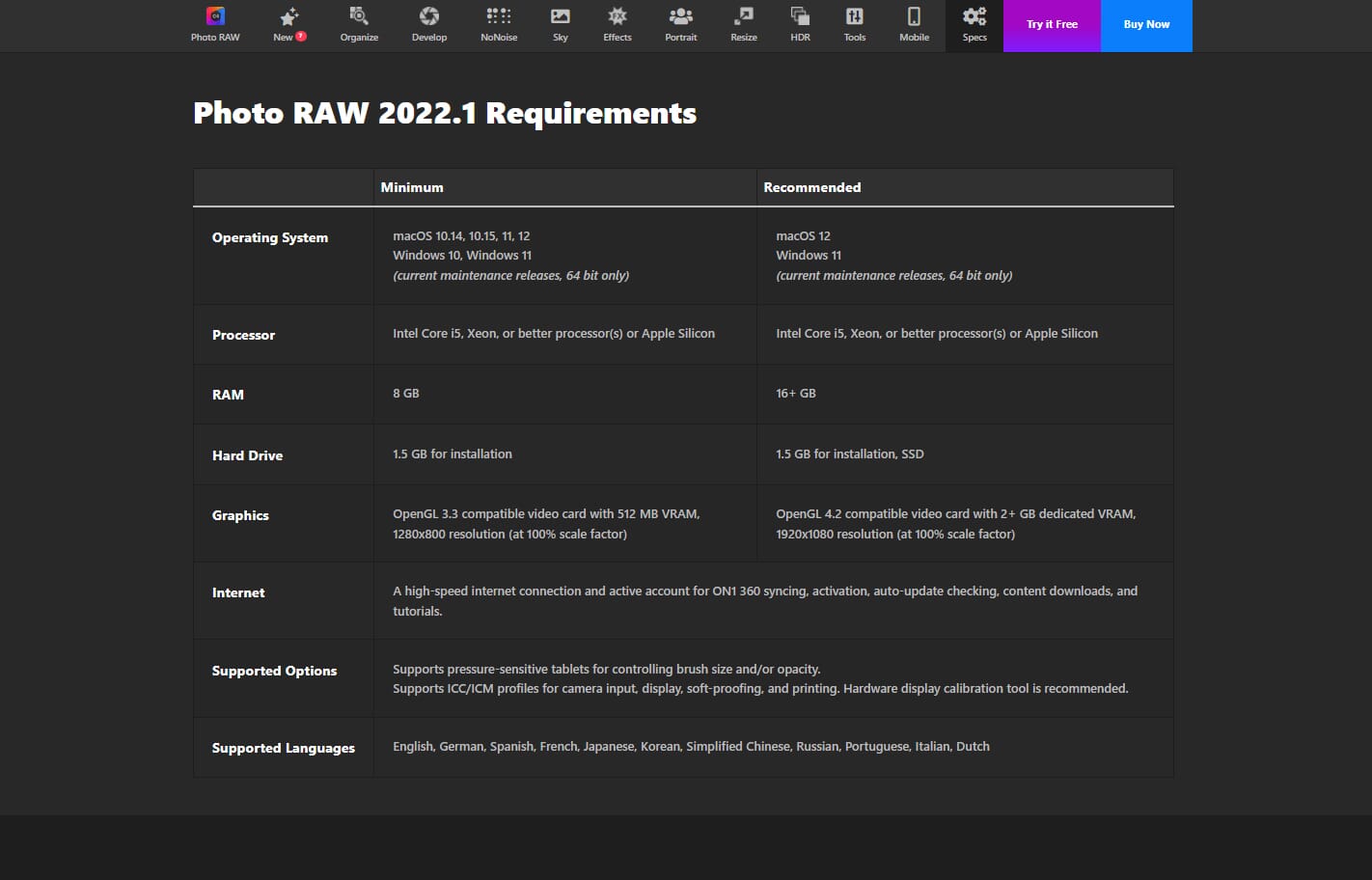 To comfortably handle ON1 Photo RAW 2022, you really need one of the best computers for photo editing or at least a great photo editing laptop. This makes the program less suitable for hobbyists with a basic laptop or desktop computer.
Pricing
Most ON1 products are reasonably priced, and you can choose between one-off license fees and subscriptions. I like this approach as it caters to all types of users, including those who don't want to commit to a full-priced software program. Here are the current prices for ON1 Photo RAW 2022:
Upgrade license: $99
Full license: $123 (Use Coupon Code PHOTOWORKOUT for 20% Off)
ON1 Everything: $111 per year
The upgrade license is for any previous version of ON1 Photo RAW, whether you have it installed on your computer or not. The upgrade cost does seem a little expensive; after all, it's only $24 cheaper than the full license.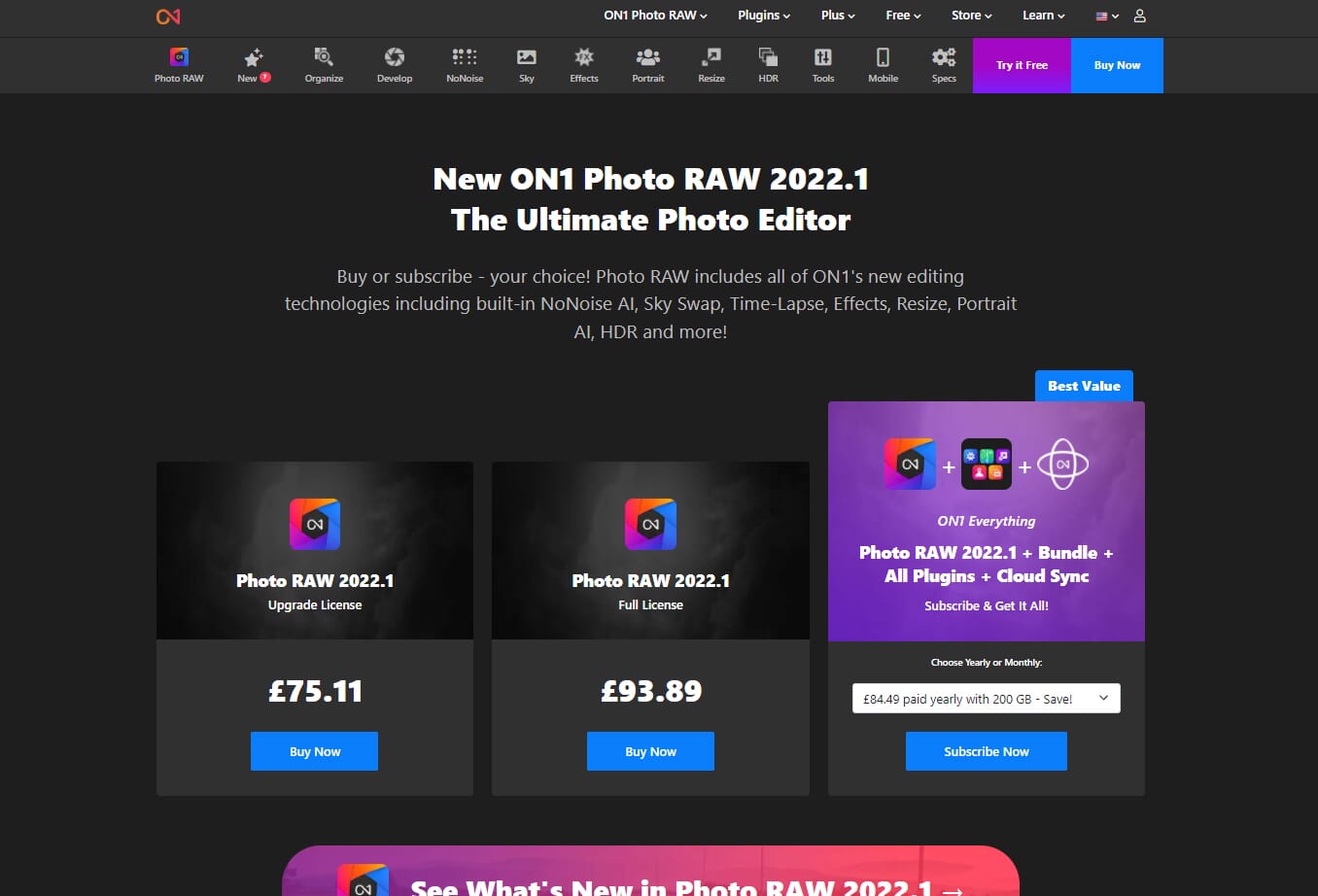 If you are a new Photo RAW user, you can buy a full software license for $123. Compared to many other photo editors, this is expensive. However, Photo RAW 2022 is one of the most advanced and complete photo editors on the market.
Additionally, ON1 has introduced a subscription model. If you pay for an annual subscription, the cost works out to around $9 per month. This is on par with other software packages, and you arguably get access to more programs and features. The ON1 Everything (subscription) plan includes access to ON1 Photo RAW 2022, cloud sync, 200 GB of storage, and all the ON1 plugins like ON1 Resize.
ON1 Photo RAW Is Great for Experienced Editors
ON1 Photo RAW 2022 Review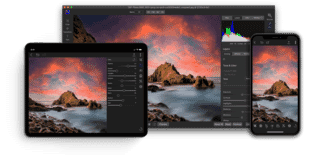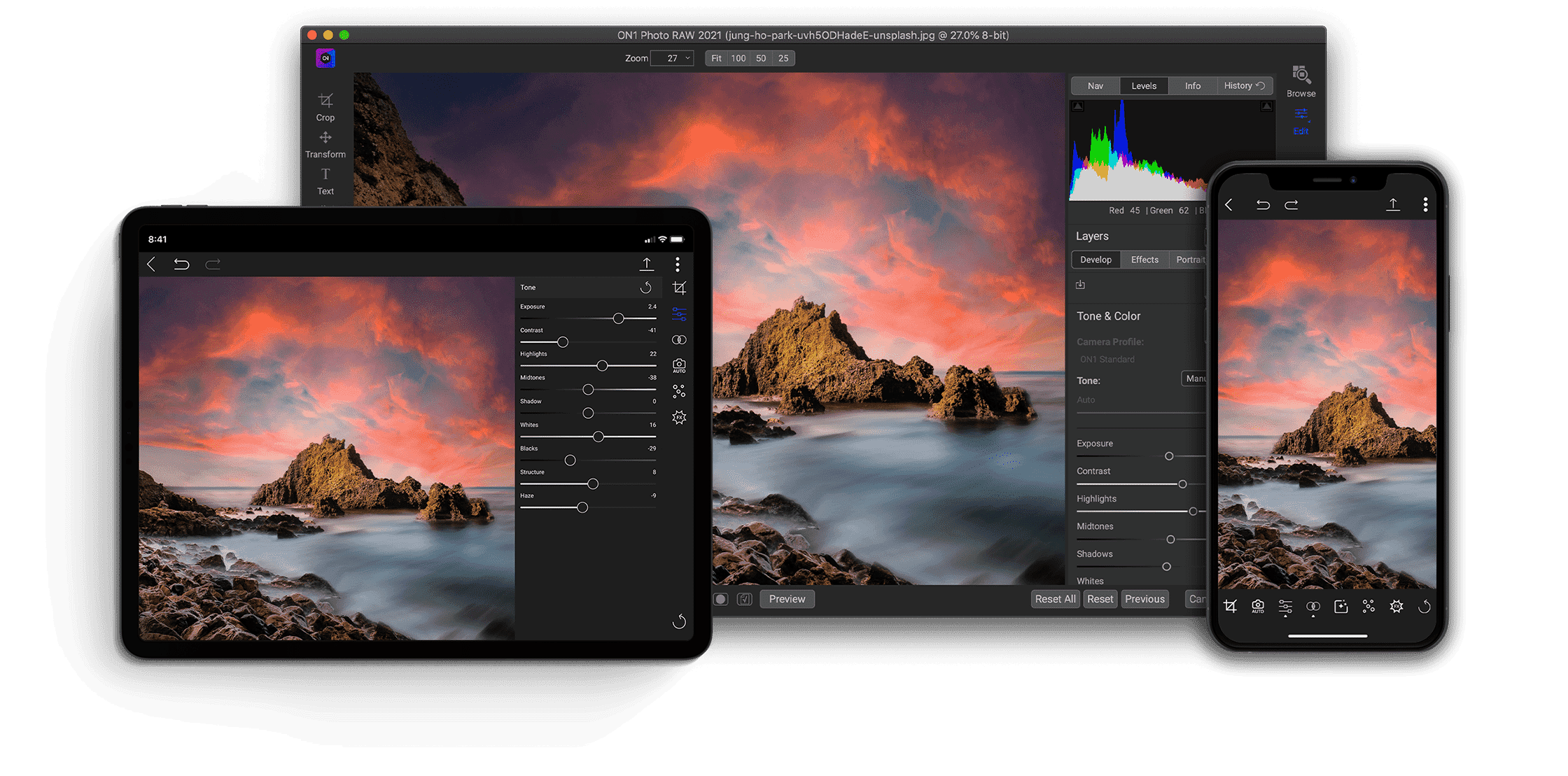 Name: ON1 Photo RAW 2022
Description: ON1 Photo RAW 2022 is a fantastic piece of software that offers advanced photo editing. It also enables photographers to manage, catalog, and organize image portfolios. Although the program does have slight performance issues, it is perfect for professional photographers and digital artists who need a high level of control and advanced editing features.
Offer price: 99.99
Currency: USD
Operating System: macOS, Windows
Application Category: Photo Editing
Author: ON1
Performance

Ease of Use

Photo Management

Photo Editing

Price
ON1 Photo RAW 2022 Review
ON1 Photo RAW 2022 is a powerful program with both file management and photo editing tools. And the new features of Photo RAW 2022.1 improve its usefulness for file management and for creating detailed, professional edits.
Pros
Impressive search function
Excellent file-management and organization tools
Great control over editing with local adjustments
Support for hundreds of cameras and lenses
Cons
Liquify tool does not always give perfect results
Software requires a powerful computer to run smoothly
Expensive upgrade price
ON1 Photo RAW 2022 certainly offers some major improvements over ON1 Photo RAW 2021, and the program is more powerful and comprehensive than ever.
Due to the system requirements and the relative complexity of ON1 Photo RAW 2022, the software is suitable for experienced users and professionals, who will benefit from the excellent file-management tools and advanced editing tools. Beginners, however, may struggle with program lag, and those who are unfamiliar with photo editing software may feel overwhelmed when first accessing Photo RAW 2022.
At the end of the day, it's a great program – but one that features a few serious drawbacks.