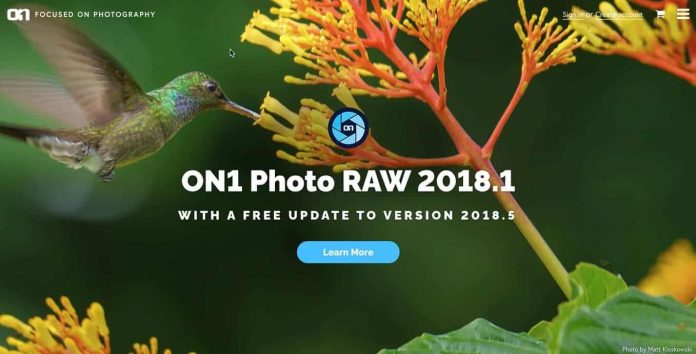 ON1 (the Lightroom Alternative)
However, no software is perfect, and the stand-alone ON1 Photo Raw photo editing software (for MAC & Windows) has been considering expanding their capabilities and adding features often found missing in the Adobe package (Lightroom & Photoshop).
In this review post, I'll be testing the newest ON1 Photo Raw version (2018.5) and provide you with detailed insights.
Update: On1 Photo RAW 2019 is Coming in November 2018
Try the Software along with me: Get the Free Trial of the New Photo RAW 2018.5
With the 2018 version, the ON1 team upgraded Photo Raw to a standalone application. Though still available in a plug-in form, the standalone update, as well as the addition of new features, make it obvious the ON1 team aims to provide a complete, all-in-one solution to photographers, potentially replacing Photoshop and Lightroom altogether.
In other words, the ON1 is supposed to be a workflow hub that takes care of everything from browsing and organizing photos, adding filters, batch editing, merging and stitching images together, to fine detail and color adjustments.
Does this sound too good to be true? Maybe. I've been impressed by Photo Raw so far, although I've also run into several issues, mainly regarding stability. We'll be examining this photo editing application in detail, so stick with us.
Pros
Abundance of features
Professional-level adjustments
Intuitive interface
Filters & Presets
Advanced Masking
Lifetime purchase, no subscriptions
All-in-one photography workflow
Helpful video tutorials and community
Cons
Stability issues crash some systems (will be improved in the next update)
Raw processing engine still needs tweaking
Switching between modules a bit slow
New features
Panoramic stitching
At times when a wide-angle lens isn't enough to capture the entire scene, you might want to create a panoramic image. This is done by stitching together several photographs to create an ultra-wide composition. You could do it manually in Photoshop or similar software, but with the 2018.1 version, the Photo Raw can do this for you automatically, supporting even vertical panoramas as well as taking care of potential differences in exposure between the photos.
Related Post: PicMonkey Online Photo Editor Review
HDR (High Dynamic Range)
One of the upgrades that came with Photo Raw 2018.1 is the addition of automatic HDR processing. As you can imagine, using both the raw format and exposure bracketing can provide a lot of tonal information to the final image. The HDR functionality in ON1 Photo Raw is easy to use and for the most part, produces impressive results. Simply select the images you'd like to merge in the Browse module, right-click and select "Create HDR…".
I like how the application allows the user to create the HDR image either using presets (Natural, Surreal, Glow, …) or by adjusting the settings manually. Either way, issues that are usually plaguing HDR software such as ghosting and proper image alignment are handled rather well in the ON1 software.
Related Post: Best HDR Software 2018 (Top 4 Picks for Mac, Windows & Free)
Versions
This is one of the most mentioned features of ON1 Photo Raw. Reading about its raw processing engine, you've heard the term "non-destructive", and maybe you've wondered what it means. Well, it's non-destructive in a sense that it allows you to use virtual 'versions' of the same file while you're editing it. This means the changes you apply are not permanent and are reversible. As long as you don't export a finished image, you can always go back and make changes or revert to defaults entirely.
The ON1 Photo Raw Modules
ON1 Photo Raw Standalone combines all the features that were previously plug-ins and combines them into an app with five different modules:
Browse
Develop
Effects
Layers
Resize
Deployed as ordered above, each of these modules is represented by a corresponding icon on the far-right, vertically-aligned bar. This system is intuitive and straightforward, which is always good. Next, we'll go over each module and examine what it offers.
Browse
The browse module allows you to browse, preview, catalog and add photos to albums. Adding photos or entire folders to albums/catalogs is easy as drag-and-drop. You can even apply one of the numerous available presents to your raw photos straight from the browse module.
To browse, you need to select a source location, which is done by selecting the corresponding icon on the top left of the module. This can be your desktop, pictures folder, or a cloud location. The bottom two icons open your catalogs and albums, respectively.
Once you have your photos loaded, you can rate and color-label each one, just like in Lightroom. You can then sort photos by date/name/color-label/rating.
Furthermore, there are several ways to view the Browse module:
Thumbnail, Detail, Filmstrip and Compare view (where you compare two photos side by side).
Browse module performance
I find it impressive how fast the browse module is. Just click the appropriate folder and voila, hundreds of both JPEG and RAW photos are immediately loaded in form of large thumbnails. Even when the source location is a relatively slow hard disk, the loading speed remains almost instantaneous.
I presume its responsiveness is due to these thumbnails being merely low-resolution previews, while the actual photo is loaded only once you double-click a certain thumbnail. So, it's a compromise that errs on the side of performance over quality, which in the scenario of browsing, makes a lot of sense.
Note that there's an option to switch to 'Accurate' loading instead of 'Fast'. Even then, everything remains surprisingly fast.
Sufficient to say, this works wonderfully, especially when compared to sluggishness we're used to seeing in Lightroom when dealing with a large number of heavy digital negative files.
💡 Tip: Hit the TAB key to hide (most of) the interface and get a clear view of the photo.
Develop
Tools
The browsing icons we've seen in the previous module are now replaced with a range of tools like those found in Adobe Camera Raw (ACR), with some omissions and a few interesting additions:
Crop Tool (C) allows you to crop your photo either based on a certain aspect ratio or in a free form. You also use the Level tool to adjust the angle of your photo, or you can use the Rotate icons to completely flip the photo in either direction. These sub-tools are all listed horizontally at the top, above the photo in question.
Adjustment Brush (K) will take you into the Local Adjustments mode (more on that below) where you can selectively add adjustments (exposure, sharpening, noise reduction, etc.) to certain parts of the photo, based on specified brush size, feather and other properties.
Adjustable Gradient (Shift + K) works the same way as the Adjustment Brush except changes are applied in form of an adjustable gradient instead of a brush. This is useful in imitating an optical graduated ND filter, for example, when you'd like to reduce overblown highlights in the sky.
Magic Eraser (Q) is basically an eraser brush that allows you to seamlessly erase an object from the image. Judging by the way it works, I would say it is like Photoshop's Content-Aware property. Its effectiveness varies depending on the complexity of the object in question and pixels surrounding it.
Retouch Brush (R) is a tool most often used to in portrait photography when you need to do localized skin retouching.
Clone Stamp (S) subtitled "Fix" is a tool that allows you to define a source point (Alt + Click) on an image, using a certain brush size, feather and opacity, and replicate (clone) that part of the image somewhere else. For example, if you want to hide a pimple, simply clone a piece of skin right next to it and paste it over the pimple.
Zoom Tool (Z) as the name suggests enables you to zoom into the photo in various degrees. I must say I like the simplicity of the zoom presets (25, 50, 100% and Fit).
Image info
Moving on to the right side, you'll see two groups of tabs. On the top, there is Nav; Used for zooming and navigating the photo, Levels; A histogram with RGB values and Info; Provides camera, lens and image information.
Adjustment Layers
Moving down below, Overall Settings is where the bulk of processing takes place. Whatever adjustments you make here, it will affect the entire image. The Local Adjustment tab essentially holds the same options as those found in Overall Settings, with the difference of them being applied manually on select parts of the image using a brush.
Each adjustment layer is presented in form of a card which hosts several related settings (sliders). For example, by default the Overall Settings tab shows three different cards (sets of options): Tone & Color, Details and Lens Correction.
You can add more adjustment layers by clicking the "Show More" button, which discloses a range of additional editing cards. For now, let's focus on the top three cards which are shown by default, and are arguably the most important part of any raw image processing workflow.
Tone & Color
This adjustment layer is something you'll find very familiar if you've worked with Photoshop's ACR before.
It holds the following tonal settings: Exposure, Contrast, Highlights, Midtones, Shadows, Whites, Blacks, Structure, and Haze.
For color, we have Temperature, Tint, Saturation, and Vibrance.
Finally, there's a "Purity" section which contains two sliders: Highlights and Shadows.
At the very bottom, sits a checkbox to "Reduce Vibrance on skin". The effect is subtle, as it should be, and generally accurate (not messing with non-skin vibrance).
These basic, but crucial settings are the most important part of my editing process. Having used Adobe's processing engine for years, it is interesting to see just how different ON1's algorithms are.
For example, the "Structure" setting is the equivalent of Photoshop's "Clarity", although it doesn't work quite as well for me – the results are, shall we say, less realistic and more surreal-looking.
For the sake of comparison, let's see how Adobe Photoshop's ACR and ON1 Photo Raw behave in action, side by side, using the exact same basic adjustments on the same photo.
In this example, we'll pull the Highlights to -100 and Shadows to +100 to see whether we'll get the same dynamic range:
Again, we've only adjusted Highlights and Shadows, all other settings were left at default.
The comparison shows Photo Raw's engine is significantly more aggressive (in respect to values used), and as a result highlights show some artifacts, while some of the details on the flower were lost.
Photoshop's version shows more natural and realistic tones, but in turn, the shadows remain somewhat underexposed when compared to those from ON1.
Details
The Details layer is essentially settings for sharpening and noise reduction. Speaking of former, there's a slider for the amount of sharpening you want to apply and an accompanying threshold. For the latter, ON1 offers Luminance, Detail, Color, and Detail (again?) sliders, as well as a checkbox to "Remove Hot Pixels".
If you don't have time to fiddle each slider every time you edit an image, there are three sharpening presets readily available:
Default, Low and High (amount of sharpening – also adds noise reduction)
You can also save your own preset with your own custom settings, which is a welcome addition. You won't find this in ACR, and it stands as a good example of how ON1 Photo Raw goes a step further in trying to improve the image processing experience for the photographer.
Lens Correction
The Lens Correction settings work as expected, allowing you to choose between automatic and manual correction. You can correct distortion, color fringing and fall-off.
Other Adjustments
This covers the top three adjustment layers within the Overall Settings tab. If you click "Show More" you'll find even more settings:
Black & White
Color Adjustment
Curves
Glow
Skin Retouching
Split Tone
Transform
Vignette
Clicking on any of the above settings will simply add the corresponding adjustment layer to the bottom of the tab.
Effects
We've already stated how ON1 tries to be everything and do everything in one single application. Having seen how it performs using manual adjustment inside the Develop module, how about we take a look at the one-click solutions offered by the Effects module?
Presets vs. Filters
Once inside this module, you'll see a Filters tab appear next to the Presets tab. First, we need to learn the difference between Presets and Filters.
Each Filter will produce a specific effect by adjusting a small group of related settings found within a single adjustment layer.
For example, by choosing Filters > Blur > Radial, you'll see a Blur adjustment layer appear with 'Radial' property selected. Inside, you can choose the amount and type of blur, filter opacity, etc.
There are many other filters, all held within a parent category, such as Sharpening, Cross process, Textures, Borders, Lens Flare, and so on.
Another small feature that I really appreciate is the ability to see changes in real time as you scroll through different types of the same filter. For example, look at this GIF I recorded while hovering over a list of sharpening filters:
Presets have more generally-labeled categories, such as those based on the type of photography you're doing (People, Landscape, Sports, Wedding) but also some others which are more descriptive (Hipster, Color Film, Black & White).
Perhaps more importantly, each Preset is a combination of multiple Filters. Once a Preset has been selected, you'll see multiple filters (adjustment layers) appear, where you can customize each one down to every property within a filter.
Some old-school professionals will be dismayed by seeing "filters" and "presets", thinking how these are unprofessional, Instagram-ish solutions for amateurs. Well, they might be right, beginners and amateurs will probably find the Effects module extremely helpful, and there's nothing wrong with that. In fact, I believe Effects can help professionals save time, as well.
Either way, I was very happy to see there's more to Effects than it meets the eye. The way you can completely customize each setting that makes a filter or customize each Filter that makes a Preset, is quite powerful.
Layers
Judging by the way modules are organized in ON1 Photo Raw, you might think they're designed for a progressive workflow, where you would use them one after another, consecutively, from Browse to Resize & Export. But they're not, and its mainly because of the Layers module.
The Layers in ON1 offer all the basic options you're familiar with if you're coming from Photoshop, and you know how these can be essential for advanced editing.
You can duplicate, delete and merge layers, or add a new 'Fill' layer, where you can choose the fill color and blending mode. You can't add an empty layer, per se. You can then move back to Develop or Filters for additional editing.
Note that the main toolbar on the left adds a few new tools to the bar once you're in the Layers module, namely Quick Mask, Line Mask and Red Eye tool.
Another interface change we're seeing in the Layers module is the addition of two new tabs: Files & Extras, standing in place of Presets & Filters. These allow you to add an external image as a new layer into your project.
However, the Files tab seems to be somewhat bugged as I am unable to navigate it outside of system's C: drive, while all my photos are located either on an external HDD or a secondary disk partition. As a workaround, I had to physically move a sample photo to the desktop so I could load it into the app.
💡 Tip: If it makes more sense to you, which it very well might, you can configure Photo Raw to start in Layers module by default, instead of the Browse module. Just click the cog icon at the bottom left to open up General Preferences where you'll see the option to switch.
Resize
Resize is the final module and a final step in the ON1 Photo Raw processing workflow. The toolbar has been reduced to but three options: Crop, Hand (move) and Zoom tool.
If you select the Crop tool, the top bar will be populated with a few basic cropping options, including cropping according to the aspect ratio (16:9, 3:2, 3:4, etc.), Rotate and Level.
You'll also notice a few cards on the right for adjusting image size properties. We can adjust the image size in pixels using the Pixel Dimensions tab, or physical dimensions in inches or centimeters, as well as image resolution using the Document Size tab.
There are few more tabs you might be interested in for adding final touches to your photo: Sharpening, Film Grain and Tiling, and Gallery Wrap.
Additionally, you're presented with a list of Presets to choose from, each for resizing the final photo according to its intended use. We have Web & Email, Video and a whole range of print-ready sizes for Canon's, Epson's and HP printers.
Related Post: Best Photo Software for Windows (Compare 5 Amazing Picks)
Upcoming features in Photo Raw 2018.5
ON1 Photo Raw is getting another major update, the Photo Raw 2018.5, coming in late June. The new version will be available for free for all existing Photo Raw 2018 owners.
Once again, the improvements ON1 is bringing to Photo Raw seem to be reflective of user feedback. In fact, some of the most glaring issues we've covered in this review appear to be specifically addressed by this update. Let's take a look at what's new version 2018.5:
New camera profiles
New LUT (Look-Up Tables) effects
In case of RAW + JPEG, automatically hide JPEG in library
Use Film Strip view in Develop & Effects, as fast as in Browse
New transform and grid tools
Nested Albums
Better performance with Brushing tools
Exporting is now done in the background
Improvements to performance and stability (faster switching between modules)
Conclusion
What I appreciate most about ON1 Photo Raw is undoubtedly the effort it takes to cover all needs a professional photographer might have – which is no easy task. And for the most part, it succeeds.
When it comes to performance, ON1 has come a long way. I found the Browse module's speed rather impressive, especially when it comes to loading large batches of files, even without using an SSD. On the other hand, switching between modules shows a bit lag, which, although slightly annoying, is not a huge problem. Again, note that ON1 is releasing a new upgrade to Photo Raw in late June, which seems to address performance issues, specifically switching between modules.
Engineering software this complex is bound to produce stability issues as well. I've witnessed numerous crashes on my Windows laptop. Suggestions from ON1 on how to fix it all fell short. It wasn't until I formatted my HDD and done a clean install of Windows that if finally started behaving. At the same time, it worked flawlessly on my desktop machine from the start. Luckily, ON1 is aware of these issues and the upcoming patch promises to address stability and crash issues.
Related Post: Luminar 2018 Review (What's New and How it Compares)
Filters and Presets in Photo Raw 2018 are nothing short of amazing. They are perfect as a means of quick & easy photo editing for beginner photographers. On the other hand, the flexibility they bring along, namely filter stacking, filter customization and blending options make them a powerful tool for professionals as well.
The Develop module offers the same basic Tone & Colour settings we're familiar with from Adobe Camera Raw. You can apply different sharpening levels via presets, or you can add sharpening and noise reduction manually, and it even goes as far as allowing you to apply settings specifically to either shadows or highlights.
The favorite part of my experience with ON1 Photo Raw editing workflow was the extensive options for selective enhancements by using a range of specialized masking brushes.
There really isn't much that Photo Raw 2018 can't do. If you're looking for do-it-all software that will be your JPEG/RAW image editing tool that's also your photo and album organizer, HDR & Panorama creator, and has a plethora of quick-fix, filter, and preset options – this is it.
It has its issues, it won't always be fast or stable, and may not even produce the best results as easily as you're used to in PS/LR. But, it's cheaper than either of those and offers a subscription-free lifetime license. At the very least, I suggest you give the trial version a try.
Get the New Photo RAW 2018.1: ON1 Photo RAW 2018.5 FREE Trial
USE COUPON CODE: PHOTOWORKOUT for 15% off (on the entire cart)
Useful ON1 Resources
ON1 Plus (ON1 Plus is where members get the VIP experience and early access to new versions)
ON1 PhotoRaw Latest Version Free Trial
ON1 Blog (Watch Videos and Read about the latest ON1 Photo RAW releases and tutorials)