Online graphic editors like Canva and Picsart are amazing tools. They allow you to create professional or fun images without the need to download editing software. Using these platforms, you can produce quality marketing material for your social media profiles, website, or online store.
But which is the best option? In this Canva vs Picsart review, we delve into what each platform has to offer, and see if there is a clear winner!
Canva vs Picsart Comparison: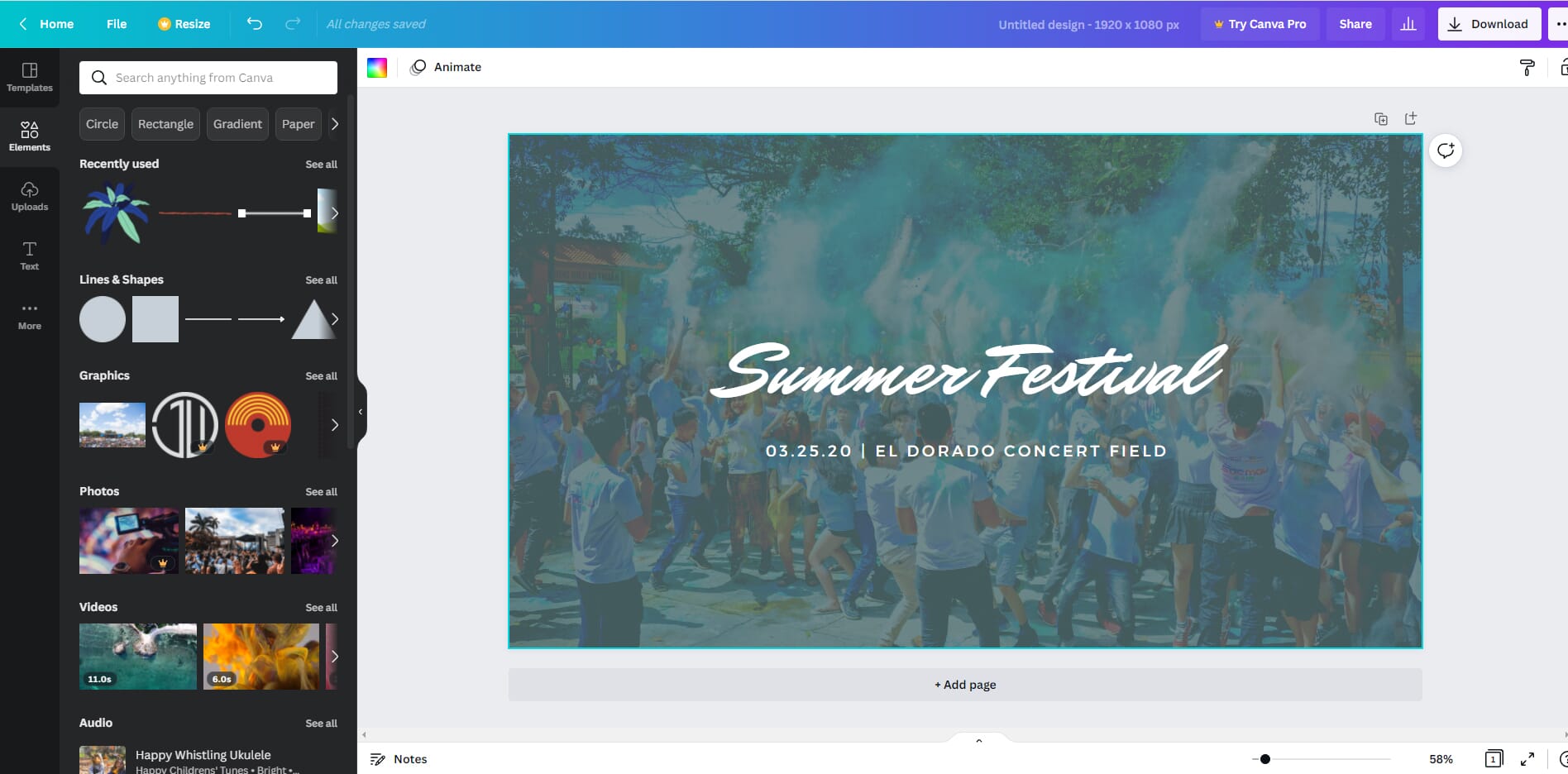 When you buy through links on our site, we may earn a commission at no cost to you. We evaluate products independently. Commissions do not affect our evaluations.
Canva: Overview
Our Pick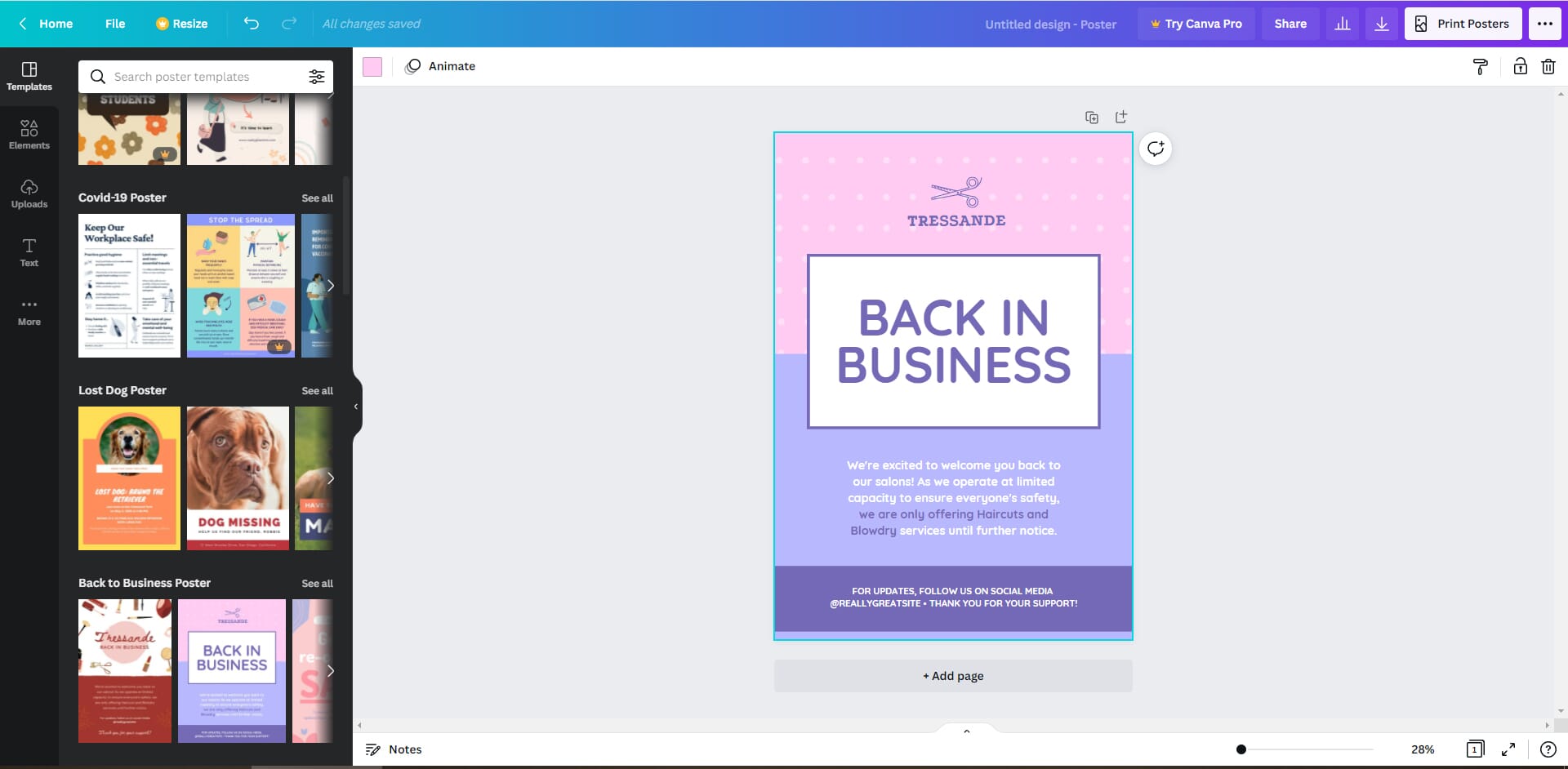 Great for design teams
Canva is a comprehensive tool that's great for team collaboration and professional graphic design.
Pros
Thousands of accessible templates to choose from
Affordable plan for small-business teams
The app has great touch controls
Excellent user dashboard for account and design management
The editor has an excellent set of tools
Cons
Does not have a premium plan for single users
The app can be a little sluggish
Canva is a versatile graphic design platform. It is often considered the benchmark for this type of design solution, and regardless of what you want to achieve, Canva can help! For example, you could use the free plan for personal use to make fun designs to share with friends. Alternatively, the Pro plan and tools are perfect for creating marketing materials for your business.
The Canva website is easy to use and has a comprehensive dashboard. We also like the vast array of templates. You can easily search for templates based on different filters.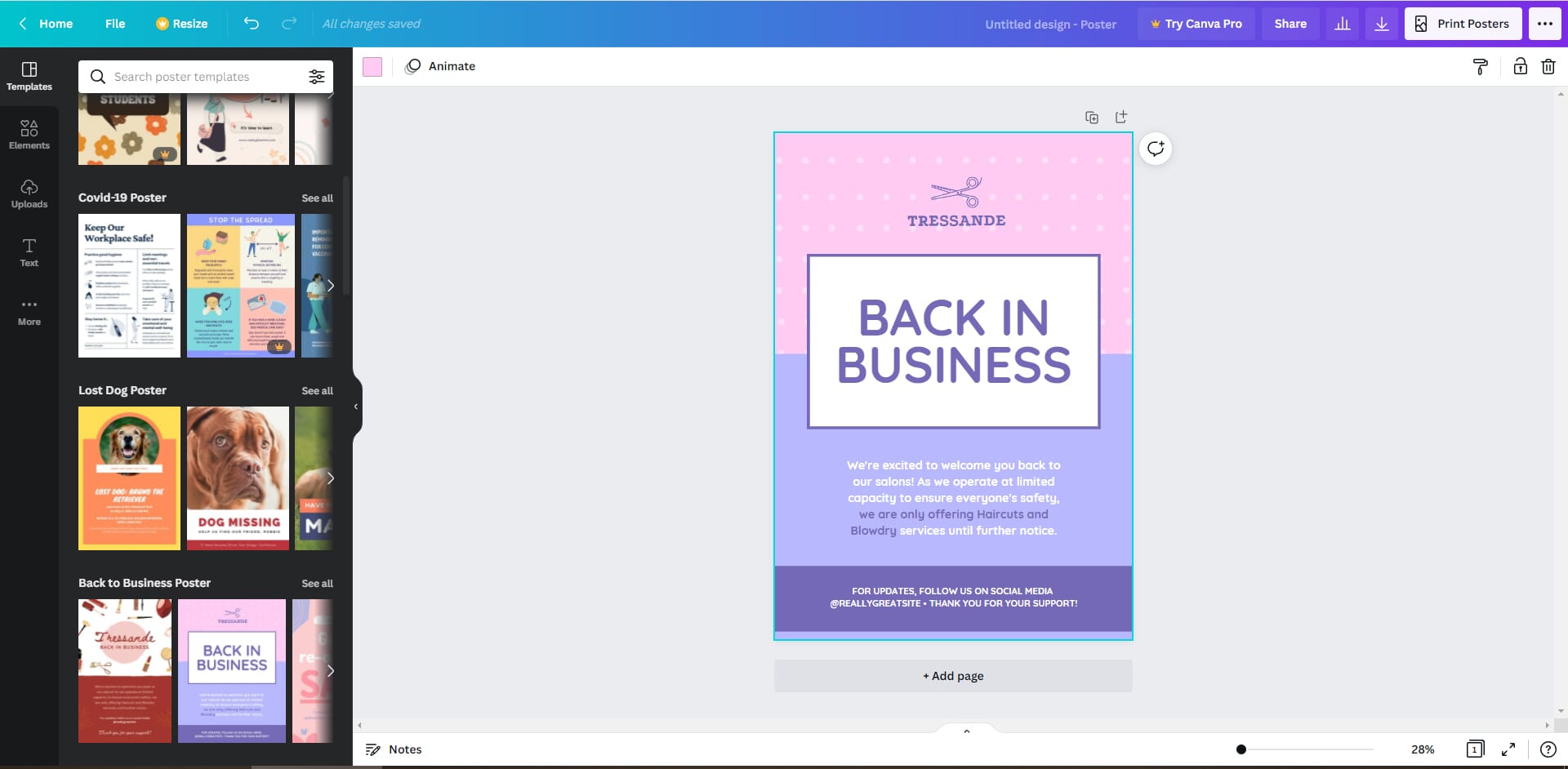 The editor itself is also excellent. It provides a user-friendly experience that anyone can handle. However, it doesn't sacrifice control, and you can easily create designs exactly the way you want them. We also like the simplicity and touch controls of the mobile app.
Canva is not perfect, however. We would like to see a more affordable premium plan for single users, for example. And the mobile app can be a little sluggish when loading the editor and templates.
Picsart: Overview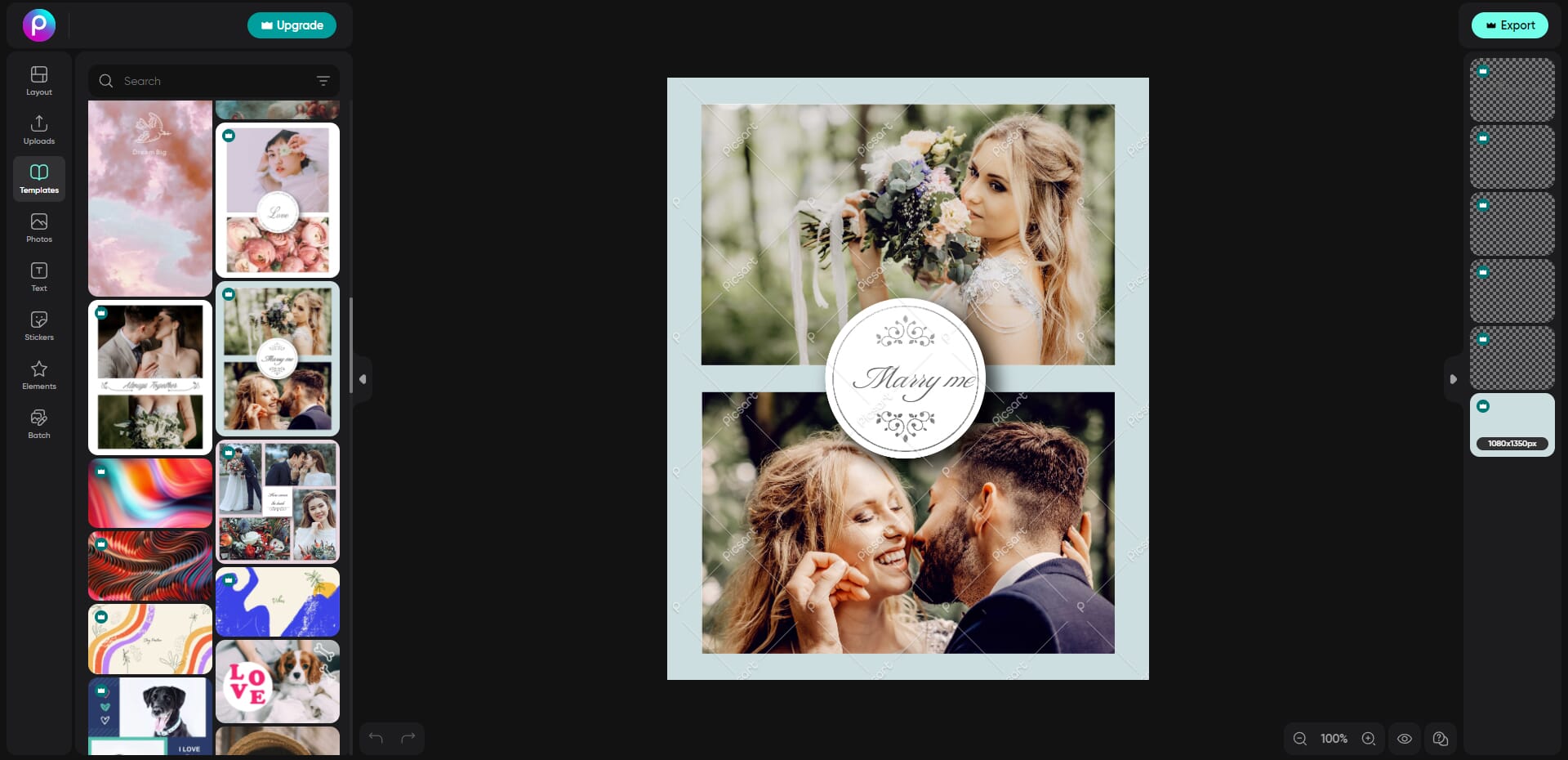 Great for solo businesses
Picsart has a great editor and a solid set of templates with affordable prices for solo-person businesses.
Pros
The Gold plan is an affordable option for solo business owners
The available templates are high quality
Allows for easy brand management
The editor has a minimalistic layout
Cons
Does not have the same variety of templates available
The team plan is more expensive than Canva's
The mobile app is terrible
Editing individual elements is slower
Picsart certainly has potential and is one of the best Canva alternatives. It benefits from a huge array of templates that are professionally made. The editor is also easy to use and gives you full control over the editing process.
Related Post: Picsart Review
We like that the Gold plan is highly affordable. If you are a solo business owner or simply need a single-access account, it offers better value for money than Canva's plans.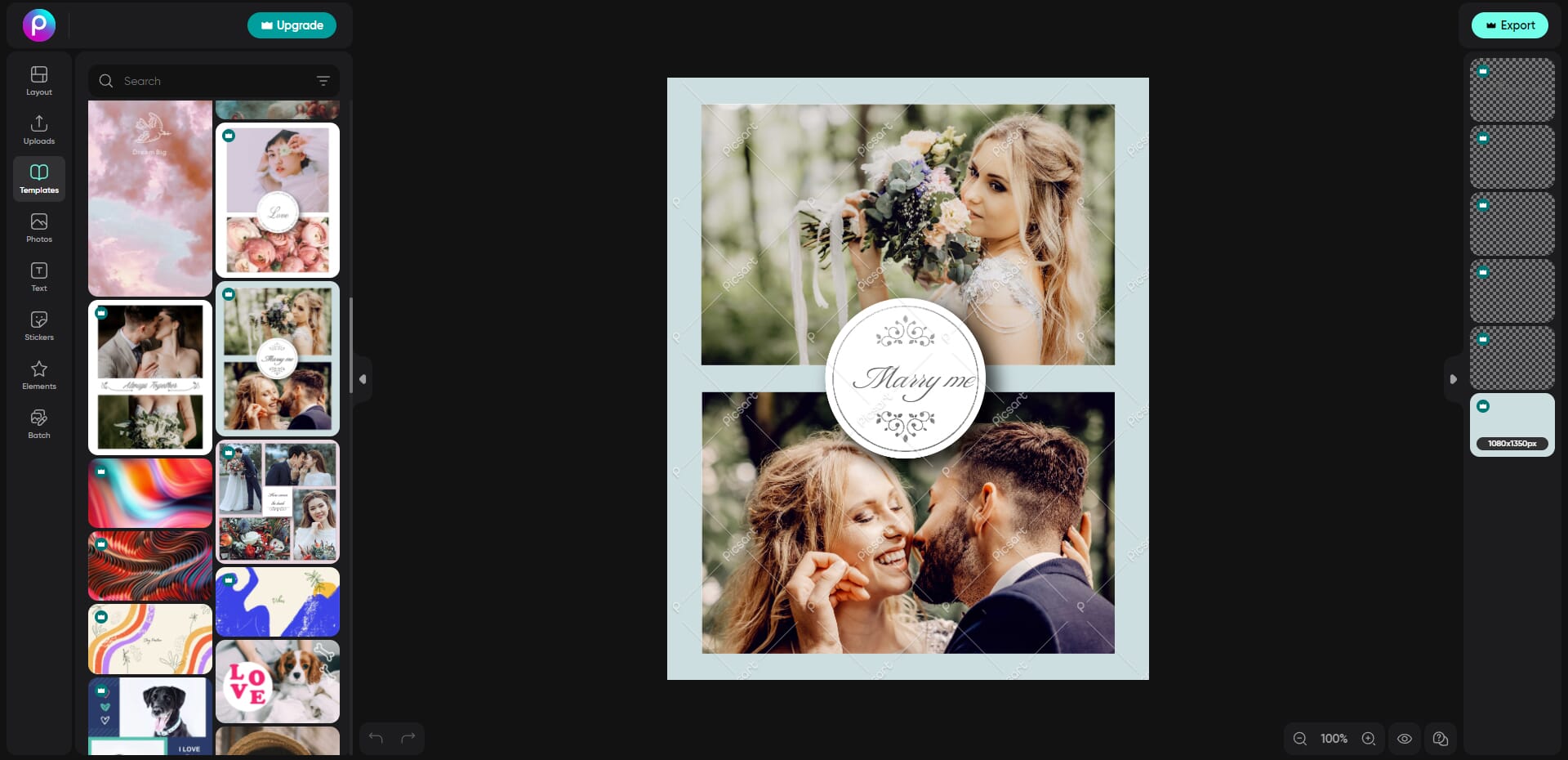 However, Picsart also has a number of drawbacks. The mobile app, for example, needs improvement. It is confusing and has too many ads. Also, some aspects of the web browser editor could be a little quicker. The multi-user price plans are also generally far more expensive than the Canva alternatives.
Canva vs Picsart: Feature Comparison
In this section, we compare specific features offered by the two graphics platforms:
Editor
The editor is the main part of these platforms. It's what you use to create your fantastic designs. Ideally, the editor should be easy to use. It should also give you excellent flexibility and control over your designs.
Canva
The Canva editor is fantastic. The only downside is that some of the toolbars can feel a little cluttered. Aside from this, it's easy to use and gives users full control over their designs.
On the left-hand side, there is the basic toolbar. This includes different elements you can add to your designs including templates, text, uploads, and videos. Clicking on each of these tools opens a separate tab. There you can select individual elements to add to your design. It's straightforward and anyone should be able to grasp the basics.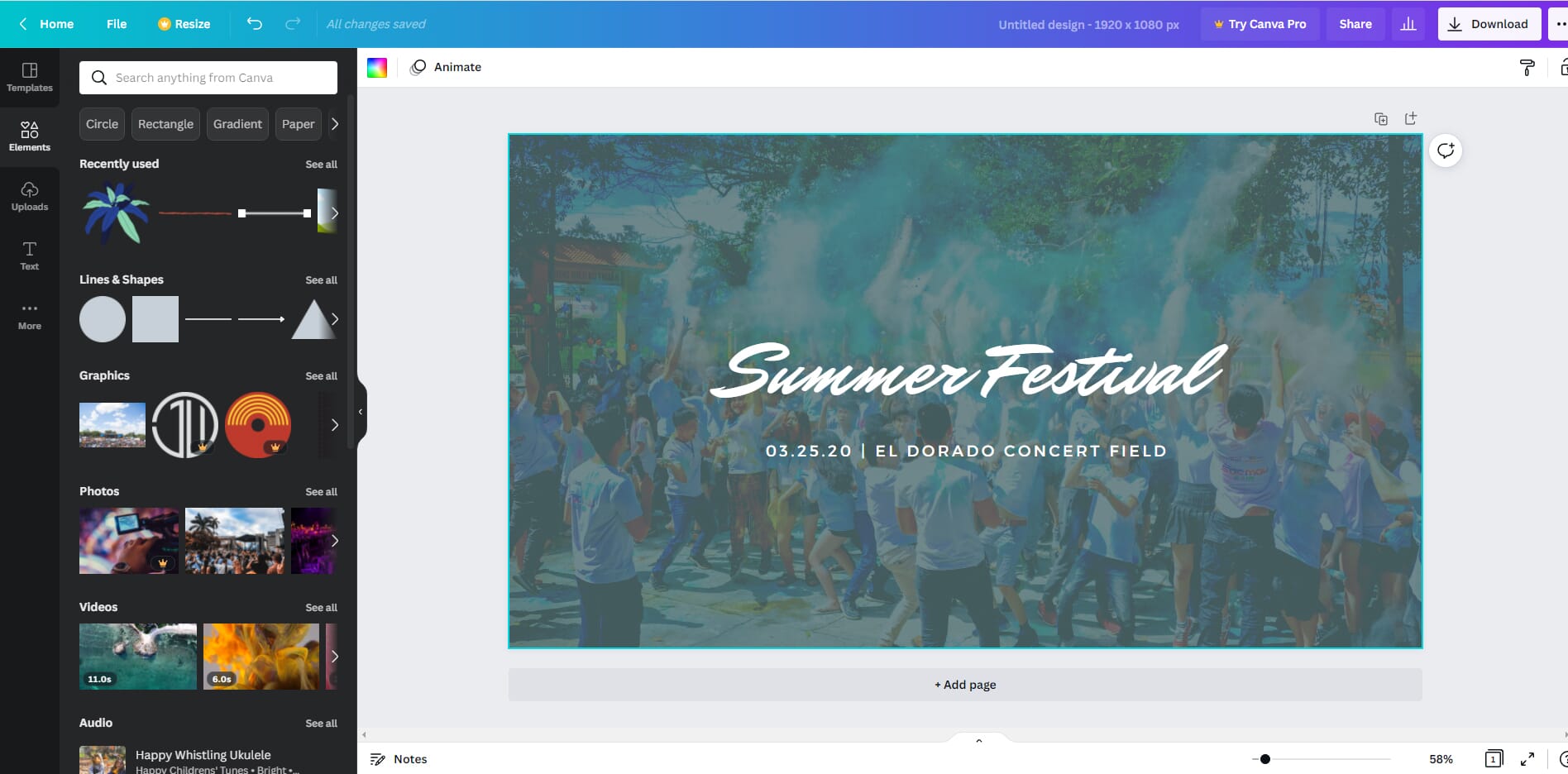 We also like the ease of use when editing elements in your designs. Simply click an element, and the editing options are shown in a toolbar. For example, if you select text, the toolbar shows font-style, text-size, color, and alignment options.
The top menu also provides some useful options. You can open the file menu, for example, which shows a range of options for saving files, downloading files, and showing version history.

Overall, the Canva editor provides a user-friendly experience. Even if you don't have graphic design knowledge, you should be able to use the tools to create something beautiful.
Picsart
The Picsart editor is great, but it has some slight usability issues.
We like the toolbar layout and minimalistic feel. Like the Canva editor, the Picsart editor has a main toolbar on the left-hand side. This has different elements you can add to your design such as photos, text, stickers, and templates.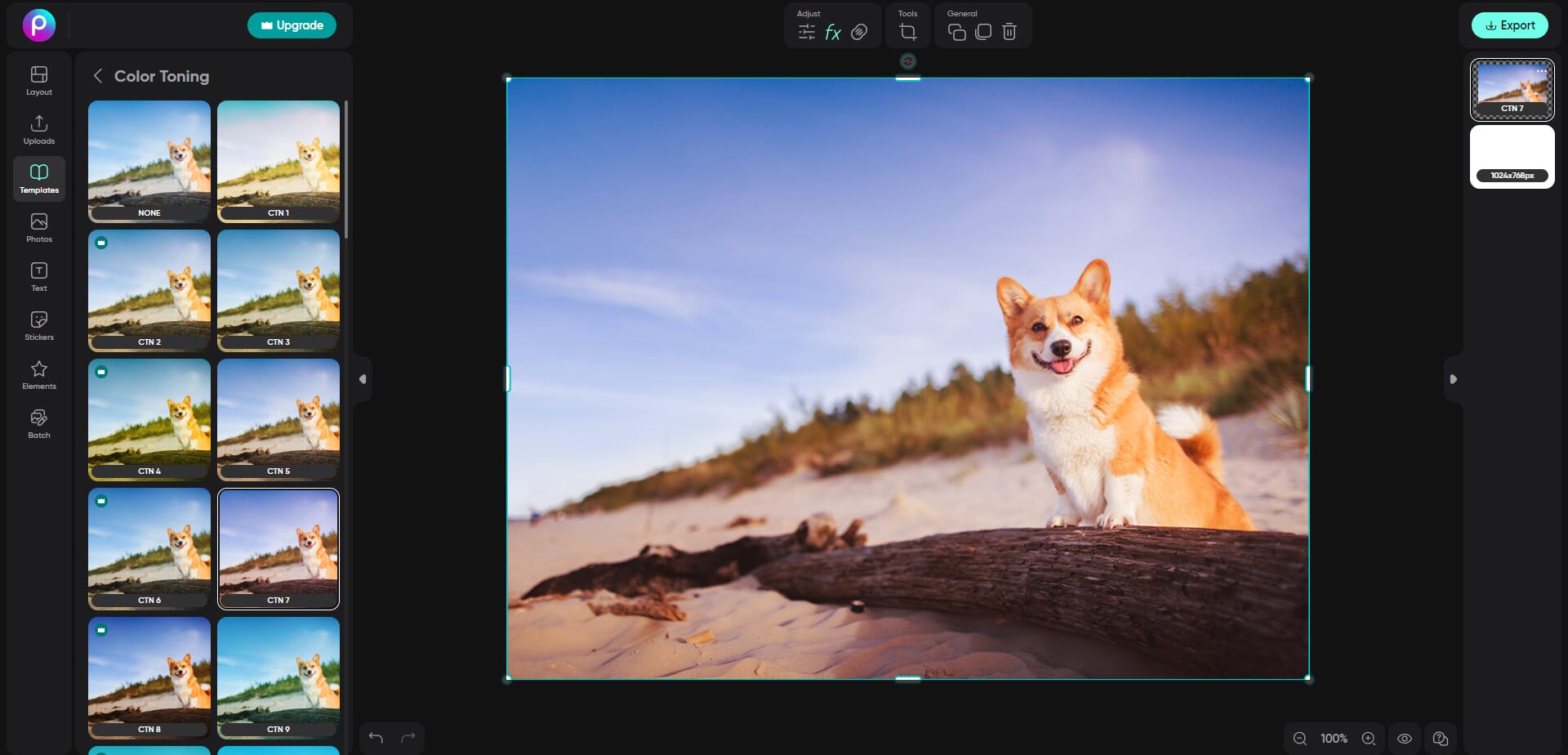 Clicking on any of these toolbars opens a second tab. Here you can select the individual elements. It's a simple process and makes for a user-friendly experience. You can quickly add text and images to your designs to create professional marketing pieces.
The downside is the individual element editing. With Canva, you click on an element, which immediately opens a toolbar above the design with all the relevant element editing options. This is simple and quick.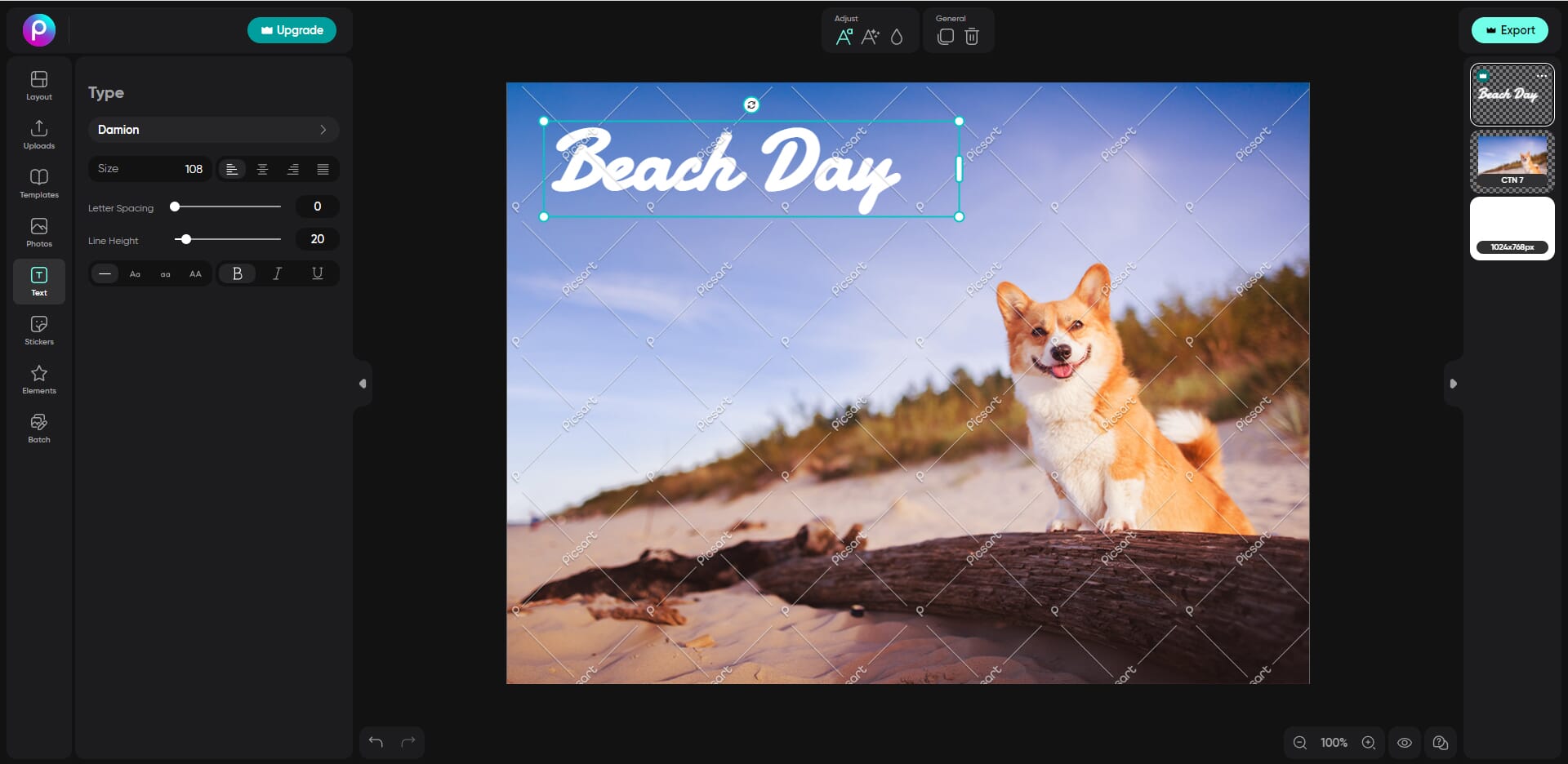 With Picsart, however, the process is convoluted. First, you must click an element. This opens a set of options above the design, not your actual tools. You then have to click on one of the options, which opens a toolbar on the left-hand side. In this toolbar, you can then change element parameters. It adds an extra level of difficulty to the process and makes editing elements a little slower.
User Dashboard
The user dashboard is important when using online platforms like these. You want easy access to your designs. And you should be able to easily manage your settings.
Canva
Canva has an excellent user dashboard. Your dashboard is accessed via the Home link. On the left-hand side, you have different dashboard options. These include your designs, folders, trash, teams, and tools. It's highly visible and easy to navigate.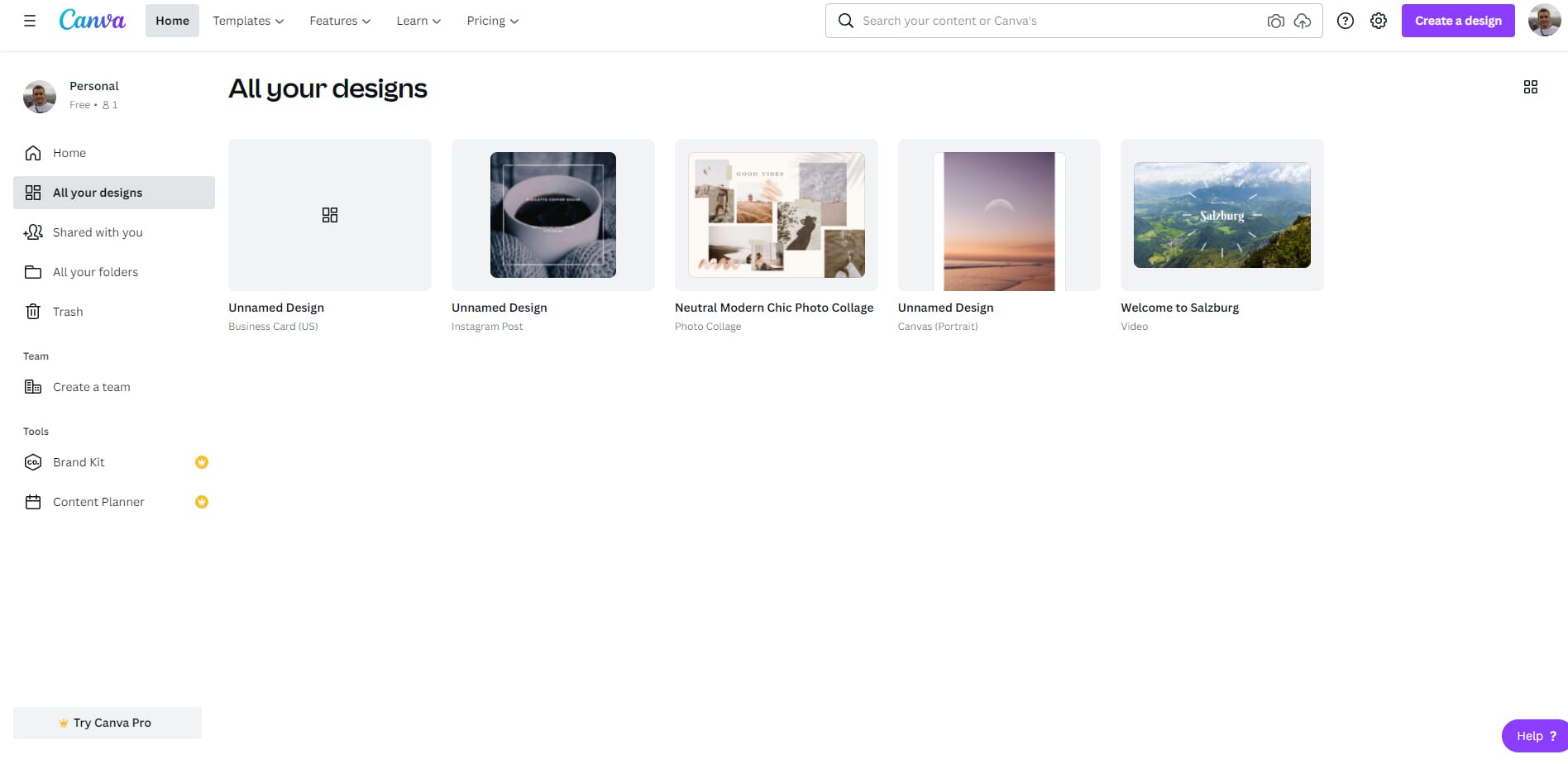 This allows for simple management of your designs. It also allows for quick and easy collaborations if you are part of a team. For example, it can show team designs and things like brand kits and content planners.
These two tools are also an excellent part of the user dashboard. Brand kits are perfect for business marketing. You can create brand kits that include logos, color schemes, and fonts. Each brand kit can then be incorporated into your designs via the editor with a single click. This means you can create consistent marketing materials to reinforce your brand image.
If you intend to use Canva to create graphics for social media, the content planner is also invaluable. The planner shows a monthly view with each date as an individual box, like a standard calendar. You can then schedule events for set dates. For example, you could schedule images to be created to coincide with social media posts. It also allows for direct Instagram scheduling.
Picsart
Compared to Canva, the Picsart user dashboard is underwhelming. The first issue is finding it. There is no clear dashboard section. On the Picsart homepage, you can see your collections. However, other than this, there doesn't appear to be any way to access your designs or manage your account. It's confusing and frustrating.
The Gold plan unlocks more dashboard features. However, it's still minimalistic and falls short compared to Canva.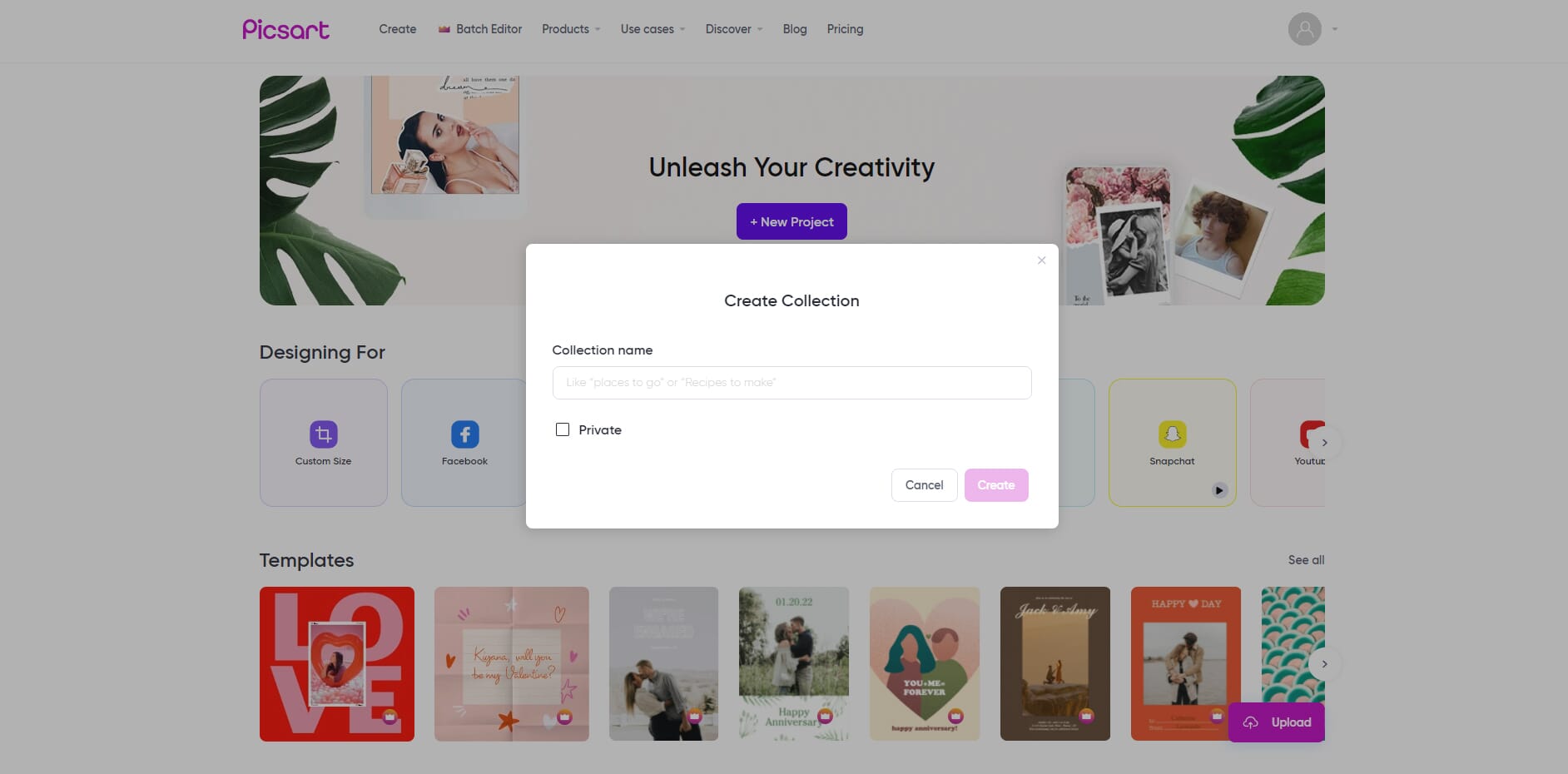 Additionally, it doesn't have the same depth of features. For example, there is no calendar feature for post-scheduling. It does have a branding tool, however.
Templates
Online design platforms like Canva and Picsart usually offer a large range of professional templates. These give you a starting point if you lack inspiration. Ideally, we like to see a large variety of templates. They should be well-made and functional.
Canva
Canva certainly has the edge for template variety. It has over 200,000 templates, and the number seems to be increasing. No matter the type of design you want, Canva provides.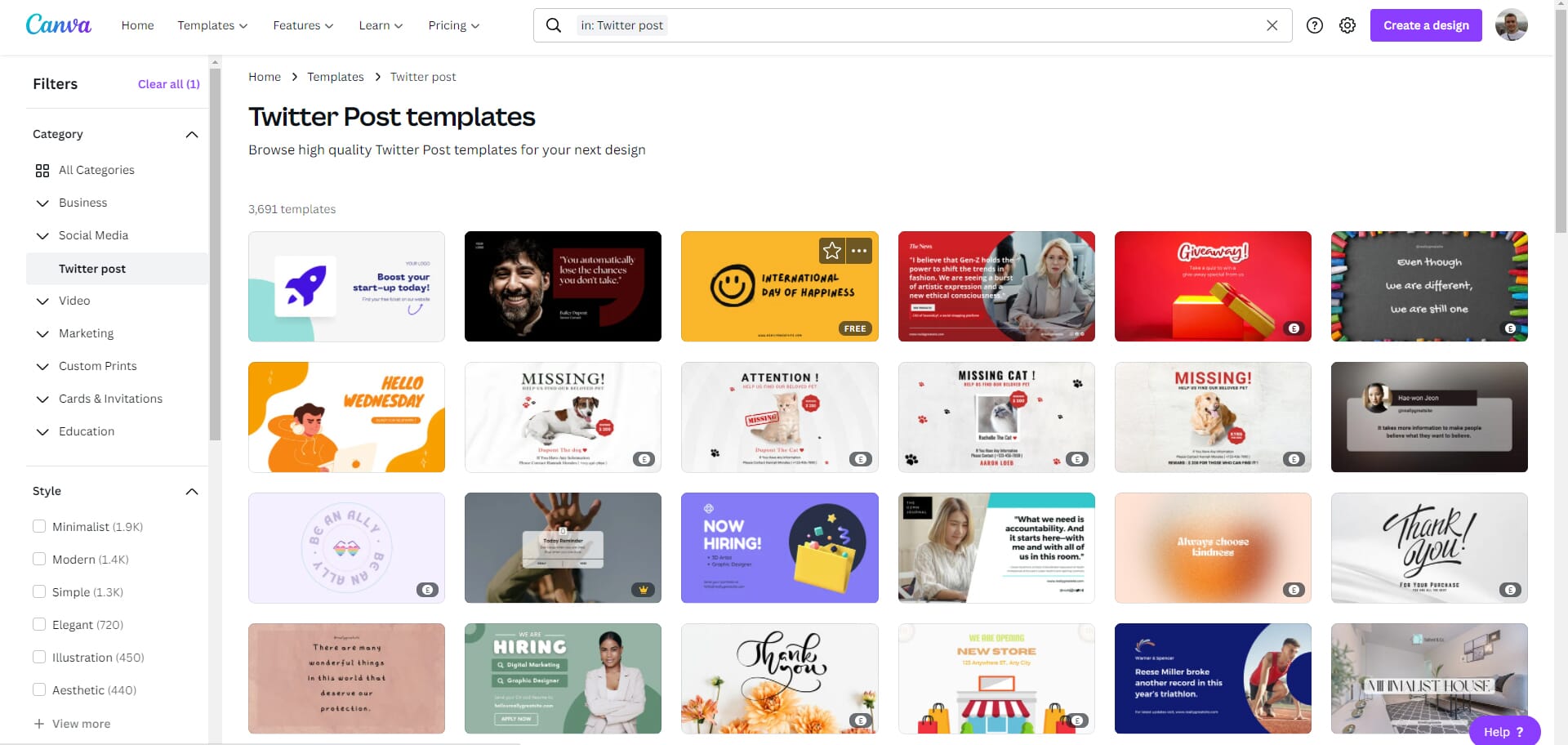 The template section is also incredibly easy to navigate. On the left-hand side, there is a Filter tab. Here you can choose from different categories like Business, Social Media, Video, and Marketing. You can also choose from different styles like Minimalist, Modern, and Illustration.
We also like that you can filter by specific colors. This allows you to easily match your business branding. Lastly, you can choose to filter between free and premium templates.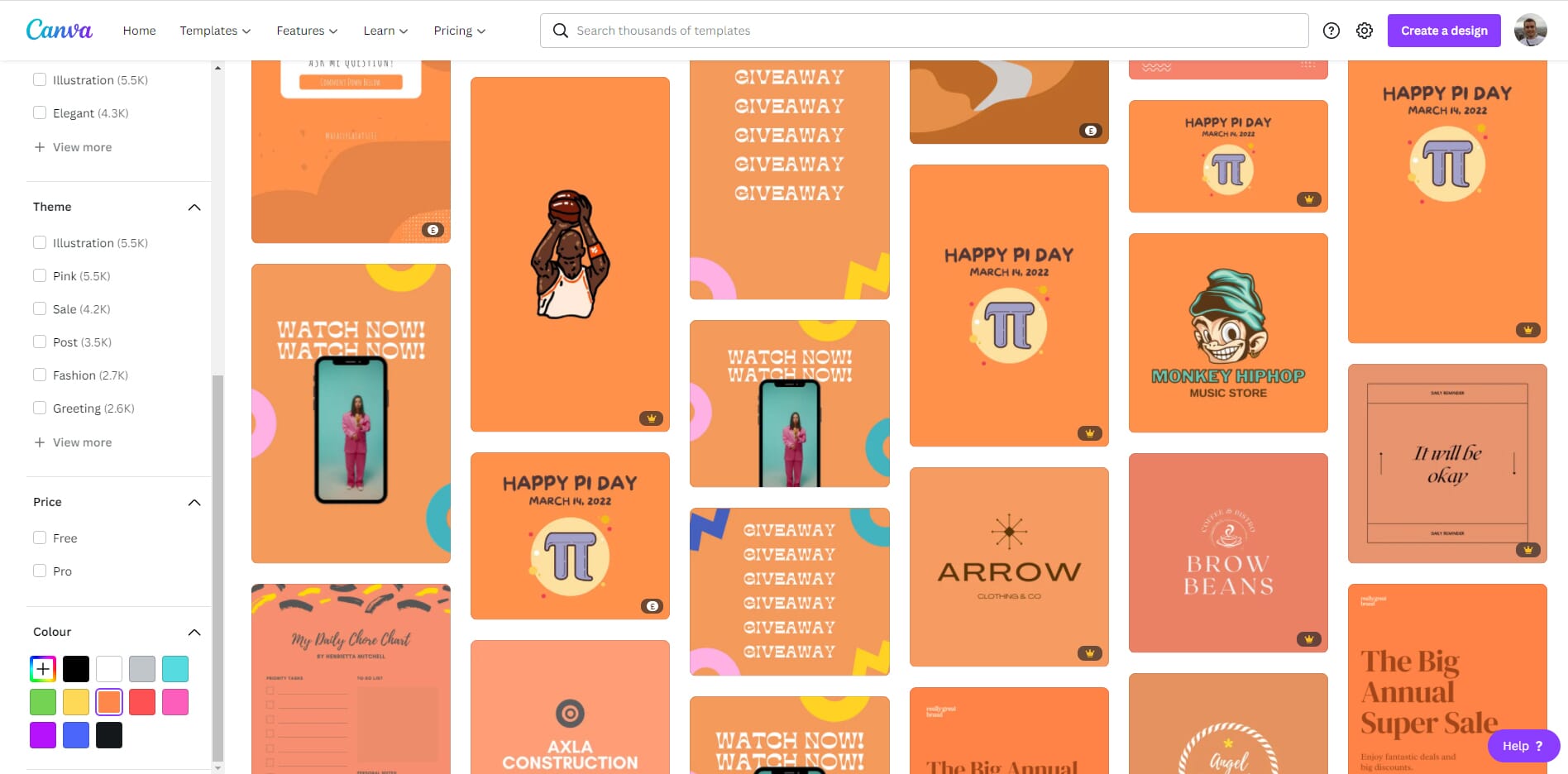 Canva also makes templates easy to use. Once you have chosen one, simply click on it and a pop-up window opens. Here you can see similar recommended templates. There is also the option to customize the template and add it to your favorites.
In terms of quality, the templates look great. The premium templates are slightly better, but free templates can always be upgraded in the editor. Essentially, Canva templates provide an excellent and accessible starting point for your designs.
Picsart
When looking at Canva vs Picsart templates, Picsart falls short. It doesn't offer the same number of templates compared to Canva. There is still an excellent selection, however!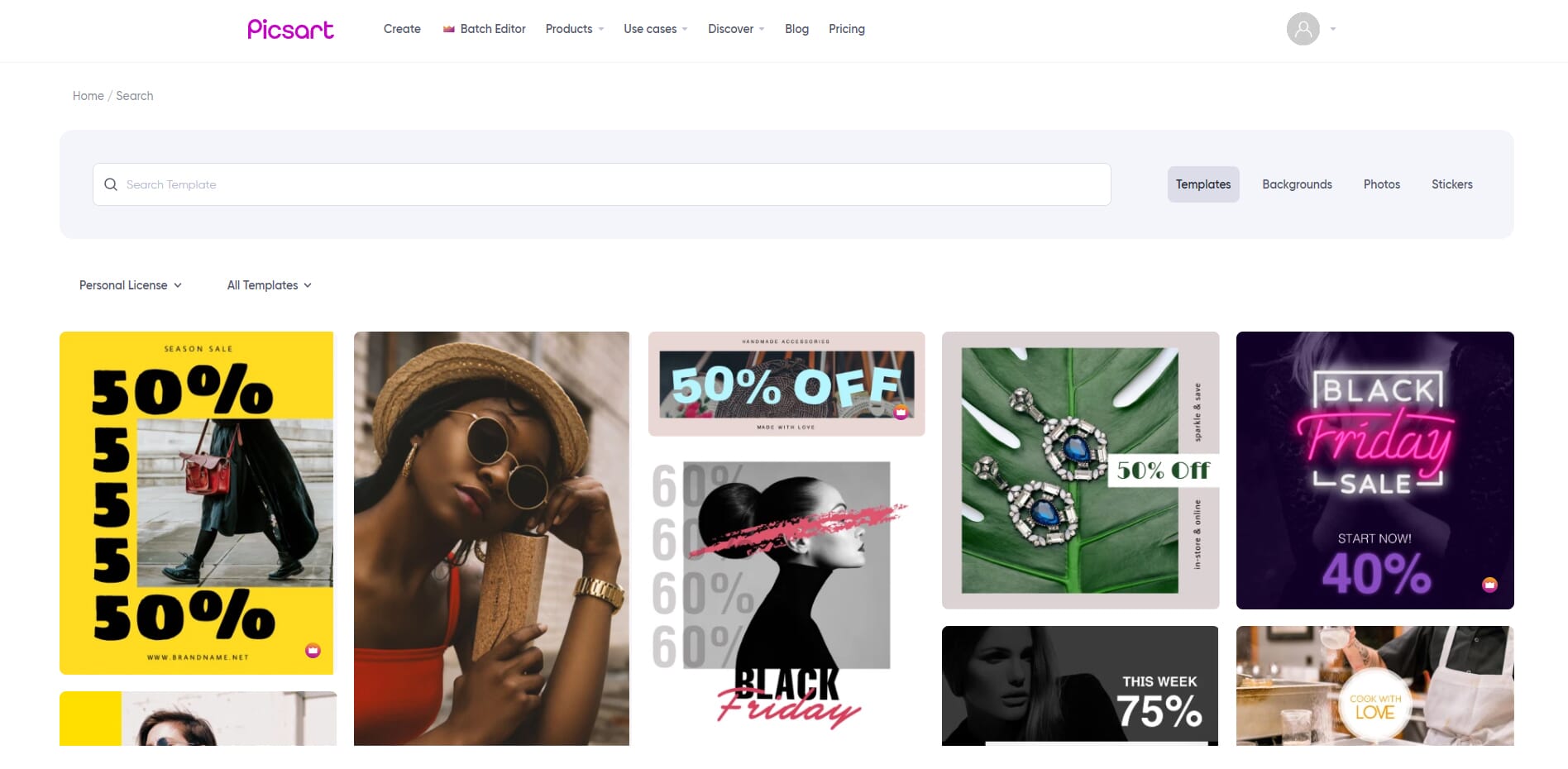 The accessibility of the templates is also not as good as Canva. The template page has a simple search bar at the top. Here you can search for templates, backgrounds, photos, or stickers. There are also two simple filter options. You can filter between personal and commercial license templates. Also, you can search for templates by category. Examples of categories include Facebook Post, Instagram Story, and YouTube Cover.
Once you have found a template, clicking it opens it directly in the Picsart editor. The quality of the templates is excellent. There are some basic templates that do seem a little amateurish, but for the most part, they look great.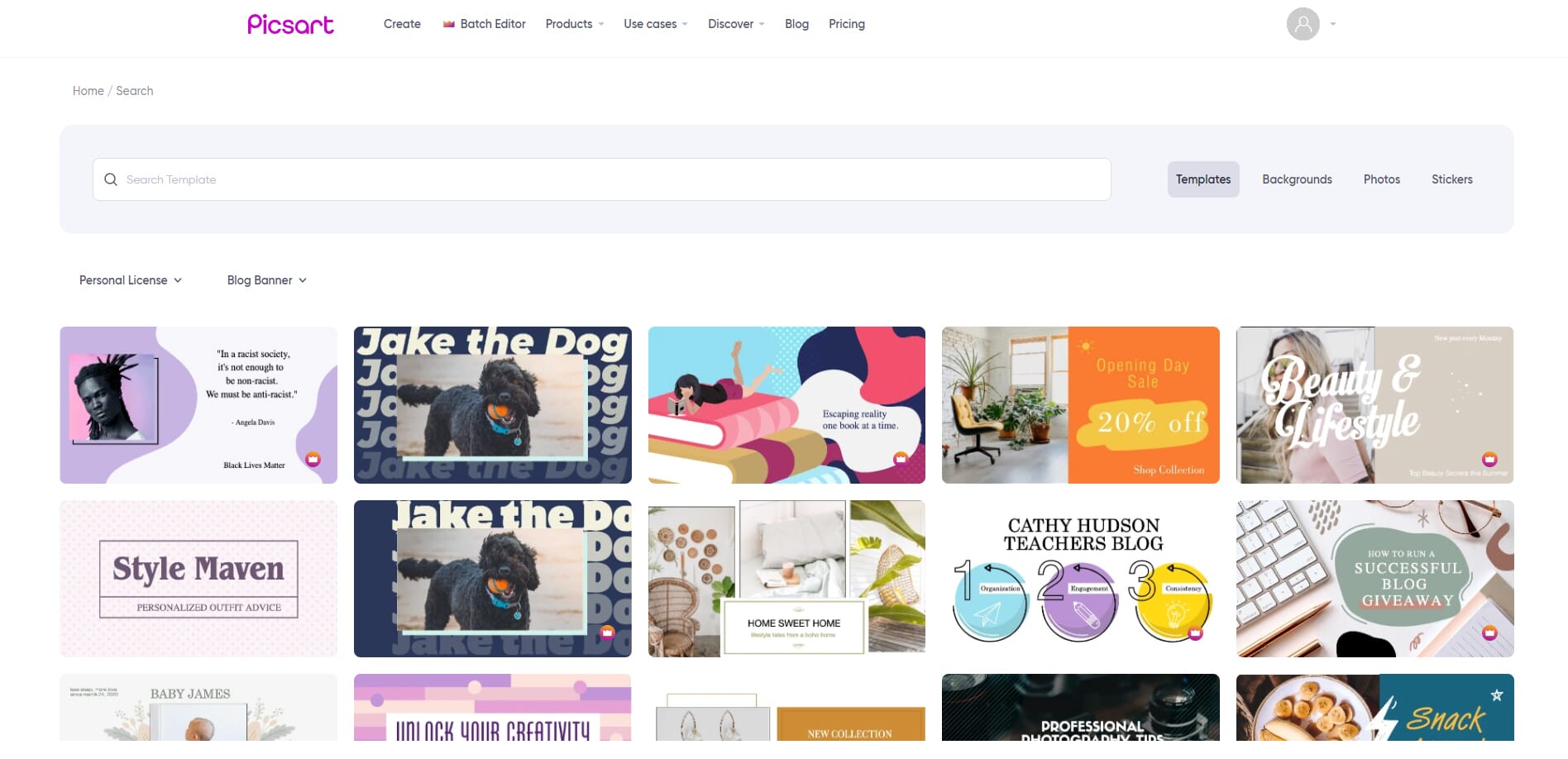 We would like to see a greater variety of templates for Picsart to compete with Canva. And the accessibility and filter features in the template library could be improved.
Mobile App
When looking at Canva vs Picsart, we tested the mobile apps. Both platforms have a mobile app that offers full functionality.
Canva
Canva has a mobile app available for Android and iOS devices. It is free to download and doesn't take up much space on your storage drive.
The main menu and loading screen of the mobile app is excellent. It has a simple layout that is easy to follow. At the top, there is a search bar. Beneath this, there is a list of categories and suggestions for different designs. At the bottom, there is a menu. You can quickly see your recent designs or search for inspiration.
The editor is also user-friendly. You first choose between a custom design or a preset template. The editor is then loaded and you are given a range of templates to choose from.
We like the usability of the mobile editor touch controls. For example, you can simply tap on an element to edit it. This presents a range of options at the bottom like colors, effects, and filters. It's all intuitive and straightforward.
The only downside we found was the responsiveness of the app. We noticed slow loading times for the templates and the editor itself. However, this could be due to our smartphone, not the app itself.
Picsart
Picsart also has a mobile app for Android and iOS devices. To use it, you must have an account. You can log in using Google or Facebook or create an account using your email address.
Please be careful when using Picsart! The app often loads ads for a 7-day free trial, and if you accept this free trial, an automatic billing system is then set up and you will be charged. We do not like this predatory tactic, and it can easily lead to accidental subscriptions. Simply close the ad or press "Skip" – you don't have to subscribe to use the app!
The actual app itself is not much better. The interface is confusing, and it's unclear how to create a new design or access the editor. You don't seem to be able to access templates, either.
Essentially, the app is entirely different from the online editor. It appears to be only for creative purposes – to make photos and collages to share on social media. The user experience is terrible, and it's frustrating to use. If you choose Picsart, we advise against installing the mobile app as it needs a complete overhaul.
Pricing
Both Canva and Picsart have free plans available. However, the free versions are limited, and they may not be suitable for business use. Below, we look at the different pricing plans and how they compare.
Canva
Canva has a flexible range of plans. This includes a simple free plan and a range of business plans for different team sizes. You can see current Canva pricing info below:
Free: $0
Pro: $15 per month (though it varies based on the number of users)
Enterprise: Price on request
The free plan is more extensive than the Picsart equivalent. The main benefit is that there are no watermarks on your designs. This means that you can use the Canva free plan for commercial use. The free plan also includes 5 GB of cloud storage, team collaboration, and access to 250,000+ templates.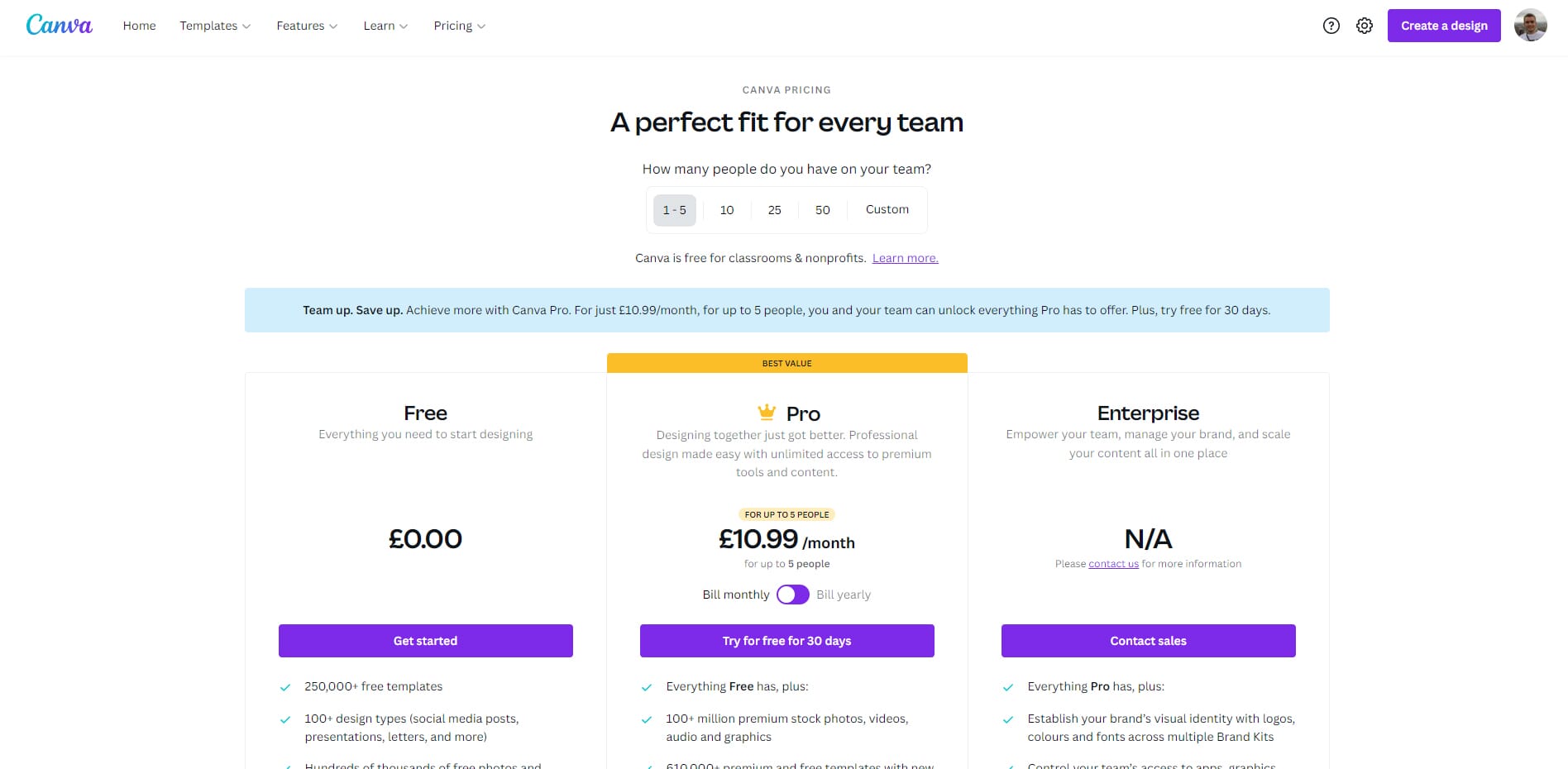 For multi-person use, the Canva Pro plan offers the best value. This has a minimum price of $15.00 per month, which allows up to five users. It's much cheaper than the alternative Picsart plan. You also get 100 GB of cloud storage and access to the library of templates.
The only downside with Canva is that there is no single-user plan. Picsart has a Gold plan that is $6.70 per month, but Canva does not have anything like this. As a result, a solo business owner would either have to use the free plan or pay for a higher-level subscription. The fact that the free plan doesn't include watermarks offsets this limitation somewhat.
Picsart
We like the simplicity of Picsart's pricing structure. There are three plans to choose from: Free, Gold, and Team. Current prices are listed below:
Free: $0
Gold: $6.70 per month
Team: $6.75 per month (though it varies based on the number of users)
The Free plan is a great starting point. With this, you gain access to the editor with some features disabled. You also gain access to the free catalog of templates and images. The downside is that your creations have watermarks. As a result, the Free plan isn't really suitable for commercial use.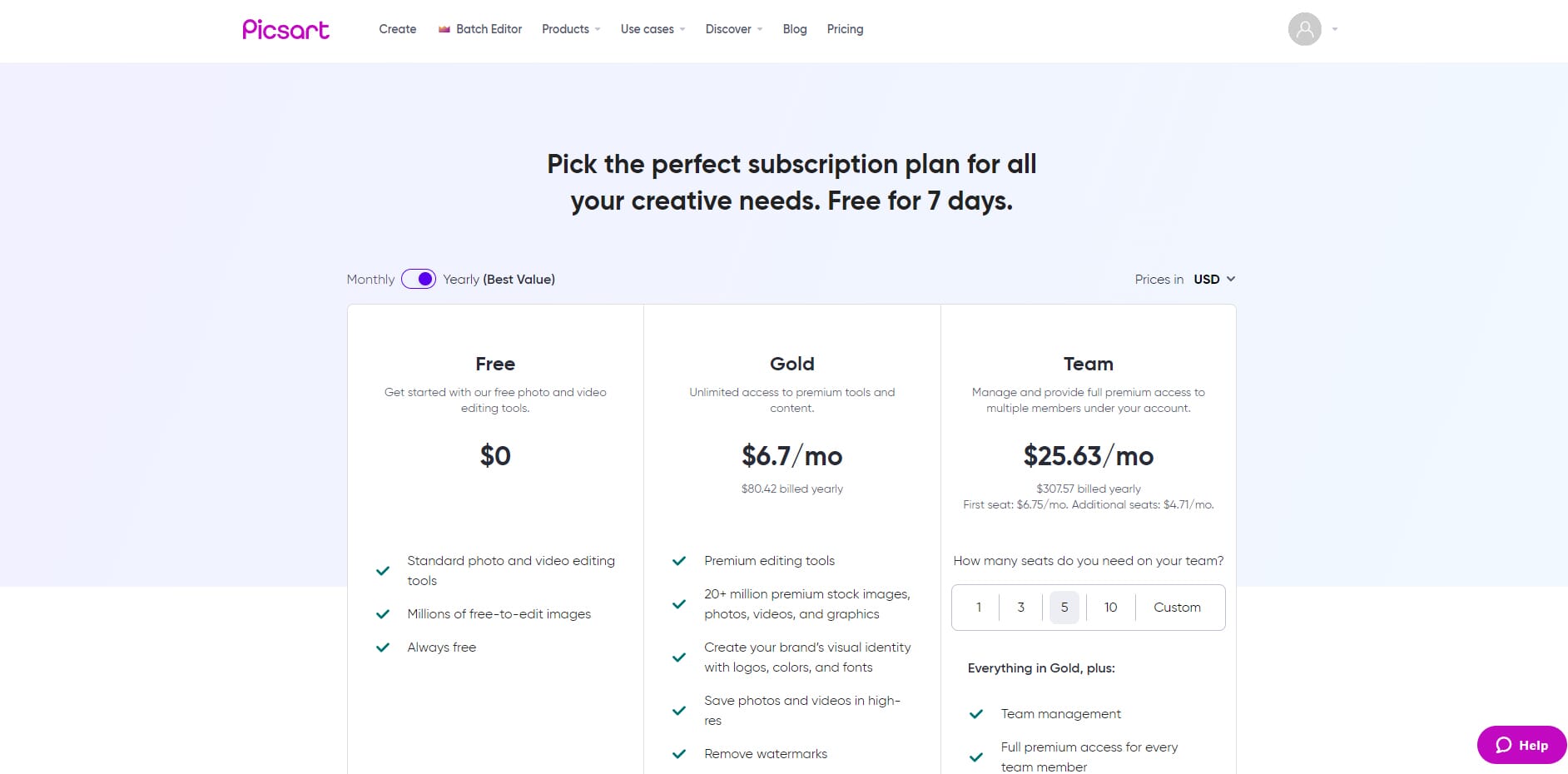 If you are a small business owner, the Gold plan is a great choice. At $6.70 per month, it is more affordable than Canva's premium plans, and it gives access to all the editor content. Also, you gain access to the full library of templates and stock images. This plan also removes watermarks from your designs.
Lastly, if you are part of an agency or design team, the Team plan is versatile. Prices start at $6.75 per month for one user. However, if you want to give access to five users, the monthly cost increases to $25.63. This is much more expensive than Canva Pro (for five users), which costs $15.00 per month.
Our Verdict
In the Canva vs Picsart battle, it is clear that Canva is the winner. Picsart is by no means a bad platform. Canva simply has more to offer. It also feels like a more polished and mature program.
The Canva editor is superior in terms of usability. You can easily create high-quality designs with minimal design knowledge. The Picsart editor is also great, but some of the usability choices make for a slower design process.
Second, Canva also offers a superior user dashboard. Even with the Free plan, you can easily manage your designs and organize your account. In contrast, the free version of Picsart has virtually no user dashboard.
Both platforms offer a great array of templates. We feel that you would never run out of quality templates using either Canva or Picsart. However, Canva certainly offers better filters for finding templates.
One of the main areas where Picsart falls short is with the mobile app. We simply couldn't understand it. Also, the use of predatory tactics and the barrage of ads really soured our experience. In contrast, the Canva app is genuinely useful and provides a simple design experience.
Lastly, the pricing is not too dissimilar. Both platforms offer free versions that are great for hobbyists. However, Picsart is more expensive for multi-user small businesses. Due to the other cons mentioned, we do not feel this inflated price is warranted.
FAQs
Is Canva good for photo editing?
Not really. Canva has basic photo editing tools, and you can add styles to photos. However, it can't compete with dedicated photo editors.
Does Canva or Picsart have watermarks?
Picsart applies watermarks to designs when using the Free plan. There are no watermarks on their Paid plans. Canva has no watermarks for any plan.
Can you use your own photos in Canva and Picsart?
Yes. You can upload your own photos and use them in your designs.