Looking for a Lightroom alternative to sort and save your favorite photographs? ACDSee Photo Studio Software may be capable of meeting your creative needs. Especially if you want to organize, develop, and export images with minimal effort.
But, our goal isn't just to find out whether ACDSee can stand up to its processing promises. Rather, we're seeking out whether it stacks up to competitors.
With big shoes to fill, can ACDSee Photo Studio Software deliver the results we've come to expect?
ACDSee Photo Studio Software Review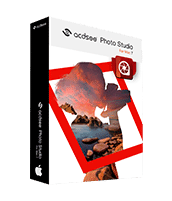 Name: ACDSee Photo Studio
Description: ACDSee is a photo editing and management tool that allows you to do advanced editing and organize your photos.
Offer price: 59.99
Currency: USD
Operating System: Windows, Mac
Application Category: Multimedia
Author: ACD Systems International Inc.
Mobile App

Price

User Interface

Organization

Editing capabilities
ACDSee Photo Studio Review
Despite a few hiccups, ACDSee is a solid image editor that's consolidates all of your media into one convenient spot. Editing features go beyond basic tools thanks to the inclusion of "smart" features. The user interface could use a little bit more automation, but the convenience of having images easily accessible in one place makes it easy to forgive the inconvenience.
When you buy through links on our site, we may earn a commission at no cost to you. We evaluate products independently. Commissions do not affect our evaluations.
About ACDSee Photo Studio

ACD Systems Inc was founded in 1993. Since then, they've focused on the emerging medium of digital photography. As they've grown, they've opened international offices in Canada, the US, and China.
They've worked on developing apps to bring for professional and amateur photographs alike.
ACDSee offers a few different products for customers to choose between:
Digital asset management
Standard editing capabilities
Mobile syncing
Print capabilities
Windows accessibility
All ACDSee Standard features
RAW editing toolset
Windows Or MAC Accessibility
All ACDSee Professional features
Layer editing akin to Photoshop
Advanced adjustment/manipulation tools
Windows accessibility
As I happen to be a Mac user, today I'll specifically focus on ACDSee Photo Studio Software for Mac 5.
Automated Ups and Downs
The image processing field is constantly shifting. Yet, ACDSee Photo Studio Software goes out of its way to automate the editing and organizing process for its users. In many ways, their technology alleviates the stress of organizing an archive.
Related: Best Lightroom Alternatives in 2023
But, there are a few areas that could use a bit of improvement.
Easy Navigation
Easy navigation. ACDSee Photo Studio software automatically sources images living on your computer. The navigation was easy to maneuver, using a hierarchy based on the existing Mac Finder.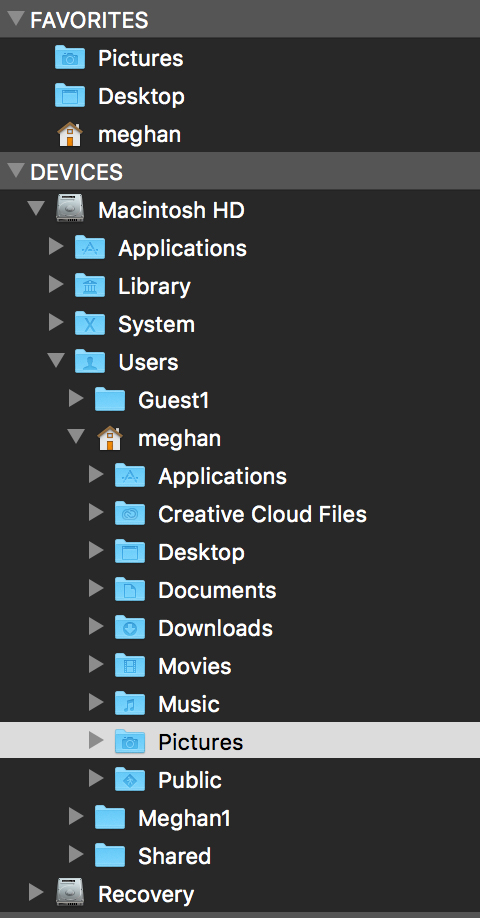 Smart Recognition Features
Features like geotagging, facial recognition, and detection are super useful. With them, you can keep track of the people and places you photograph most. Filters allow you to sort through images by attributes.
This is one of the features I love most about ACDSee Photo Studio Software.

Manual Saves
Every time you make adjustments ACDSee Photo Studio Software prompts you to save or save as. This is annoying in comparison to Lightroom, which allows you to make live edits and export later on.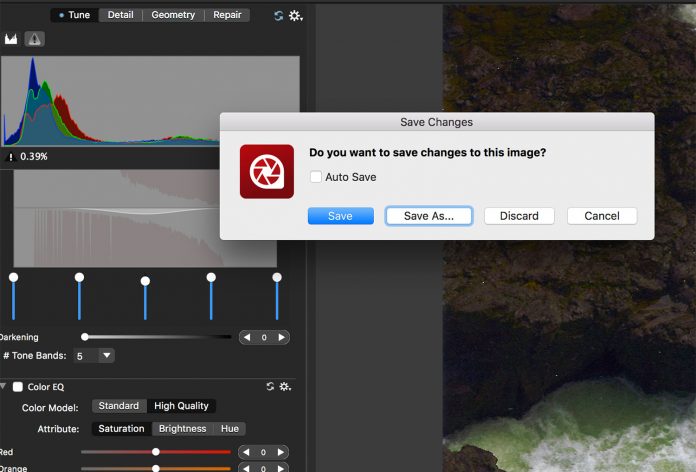 ACDSee Photo Studio Software Gives You Flexible Editing
Like most editing software, ACDSee makes updates and improvements to remain competitive. In fact, they've recently incorporated about a dozen new features into the software.
Naming all the software's editing capabilities could take up this entire article. But here are a few attributes that caught our eye.
RAW File Support ✔
ACDSee Photo Studio supports RAW files from 500 different camera models. That makes it possible to edit regardless of what you're packing in your camera bag.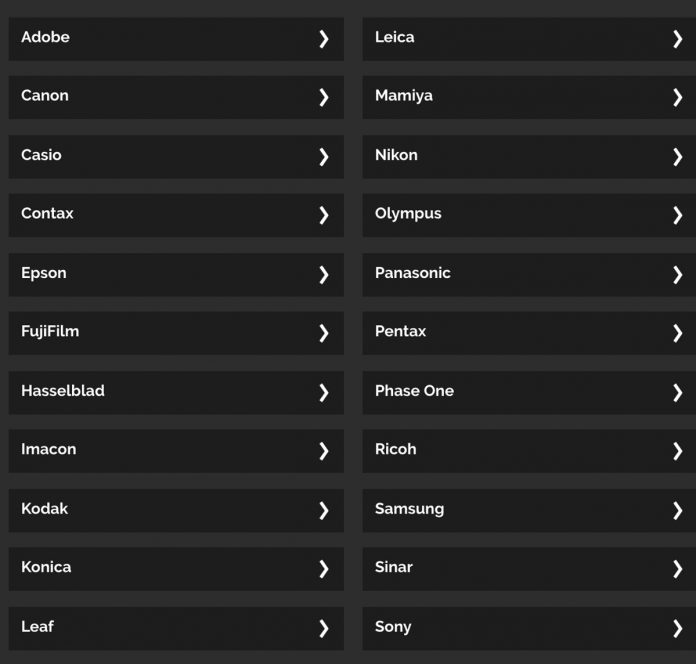 Keyboard Shortcuts & Smart Features ✔
ACDSee Photo Studio Software gives you customizable keyboard shortcuts for a smooth editing experience.
In fact, there are several "smart" features, including:
Detailed individual color adjustment sliders

Light EQ Technology

that allows fine tonal adjustments
File Storage
Inside the program, you'll find 'Databases' akin to Lightroom catalogs. Jump between databases easily to keep images organized and accessible.
Related Post: The Best Photo Organizing Software for Mac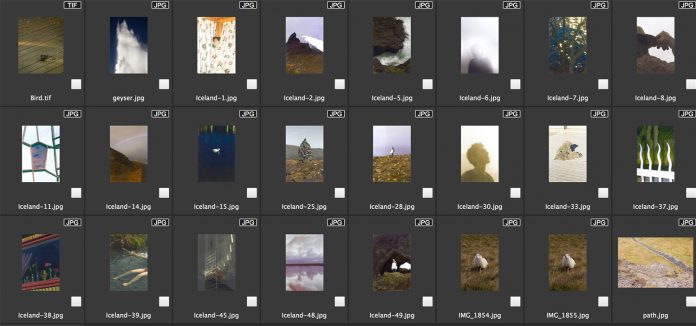 Going Mobile with ACDSee Photo Studio Software
More so than ever, photographers value accessibility. In many ways, technology makes the average photographer's job easier. However, coordinating images between cameras, computers, and phones is a chore.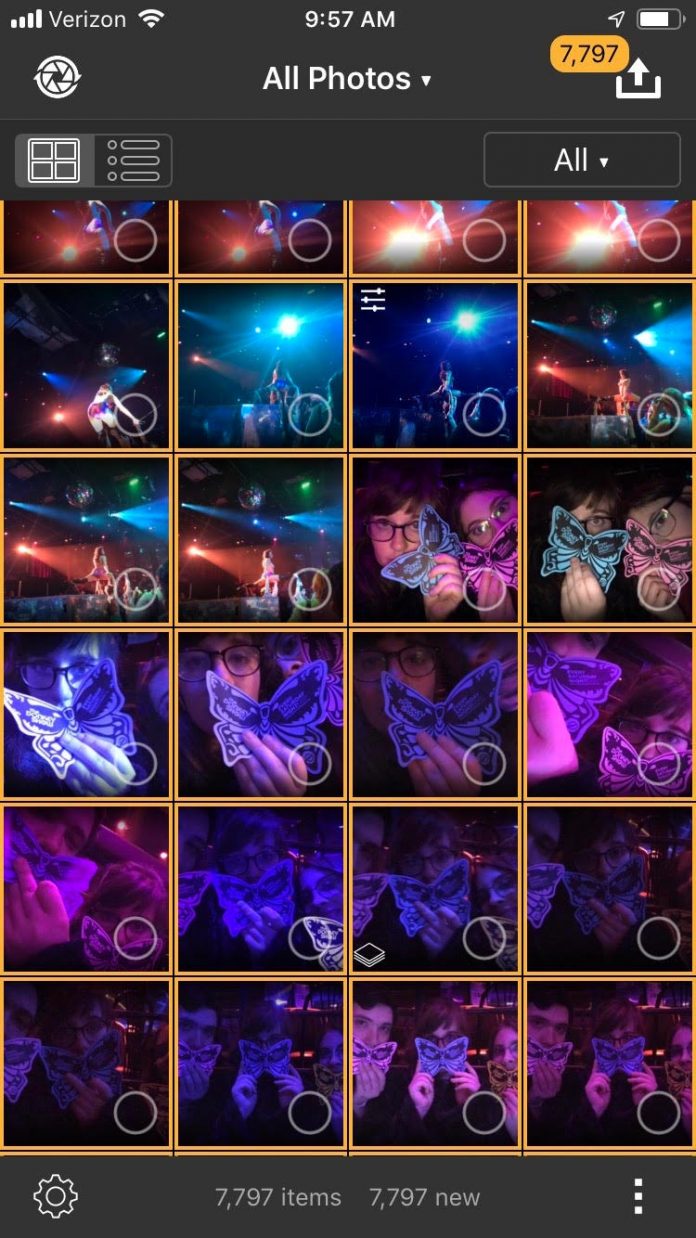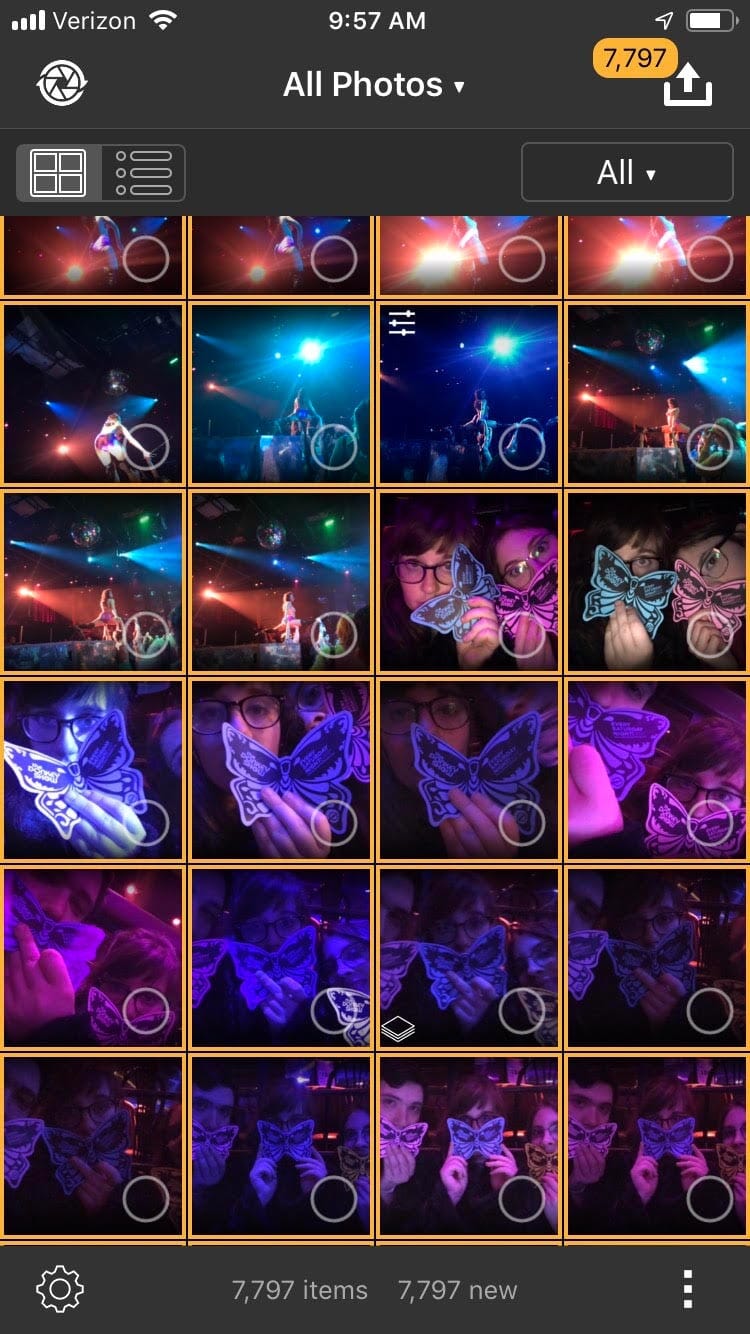 ACDSee came up with a solution to make the process as seamless as possible. The ACDSee Mobile Sync app, integrates your mobile content into an existing database.
It's available for Android and Apple products. Meaning most smart devices can transfer images in an instant. The app even keeps track of which images you've already transferred to an ACDSee database
ACDSee Photo Studio Software Guides You Every Step of the Way
For new photographers, the prospect of working with new software is intimidating. Luckily, ACDSee Photo Studio Software caters to beginners and seasoned photo veterans.
For any and all questions, ACDSee hosts a comprehensive community space open to all users. Forums, a chat widget, and interactive workshops provide platforms for questions and conversation.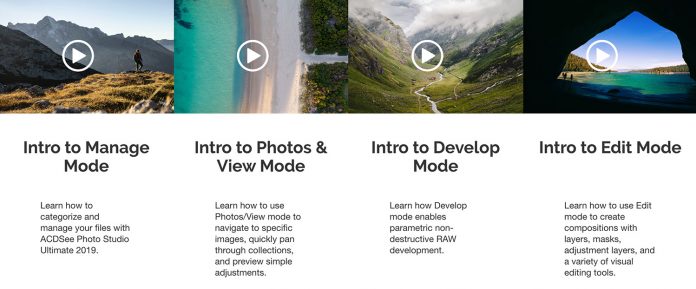 And they don't stop there.
ACDSee realizes getting comfortable and exploring software isn't something that happens overnight. Thus, they provide resources to show customers how much their product accomplishes.
There are video tutorials with instructions on how to access and use tools. Luckily, customers no longer have to miss out on features they don't understand. Now, learning how to achieve a certain look is as simple as logging onto Youtube and pressing play.
Comparing and Contrasting
So, it goes without saying that ACDSee has some awesome assets to offer photographers. But the question most readers will ask is whether it stacks up to competitors like Lightroom or Luminar.
RELATED POST: Luminar vs. Lightroom – Which One Is Better?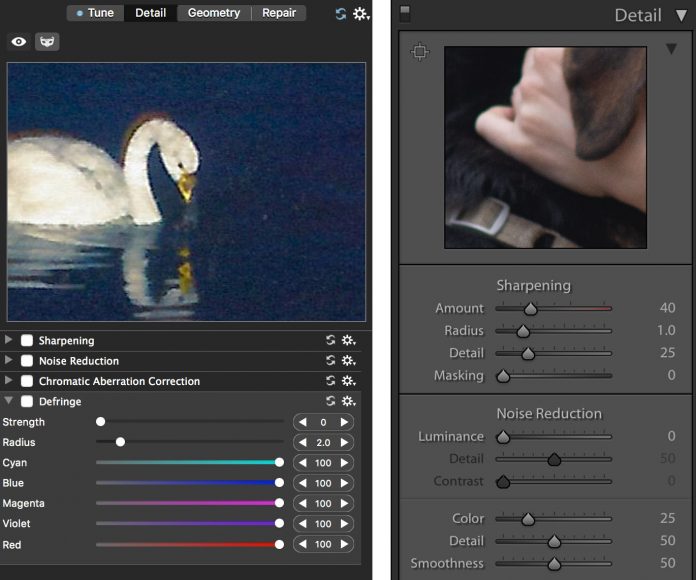 ACDSee Photo Studio Software has identical or equal base features to its competition.
But for those used to working with rival products, the design may seem a little less intuitive at a glance. Nevertheless, there's not a whole lot this series of sliders can't do.
Cost of ACDSee Photo Studio Software
Now, one of the most compelling selling points for ACDSee is the price point. Luminar offers a flat one-time price. Whereas Adobe only offers a recurring subscription.
Notably, ACDSee offers both.
At the time of this publication, Luminar 3 prices range from $70 to $218 for a lifetime license. Contrastingly, ACDSee Standard costs between $60 to $150.
The difference in subscription prices is even more dramatic. To demonstrate, let's look at the ACDSee Home plan. You get the top four products for up to 5 users at $89 annually.
Now, let's compare that to Adobe's bare-bones plan. The one which includes access to Lightroom and Photoshop costs $119 per year.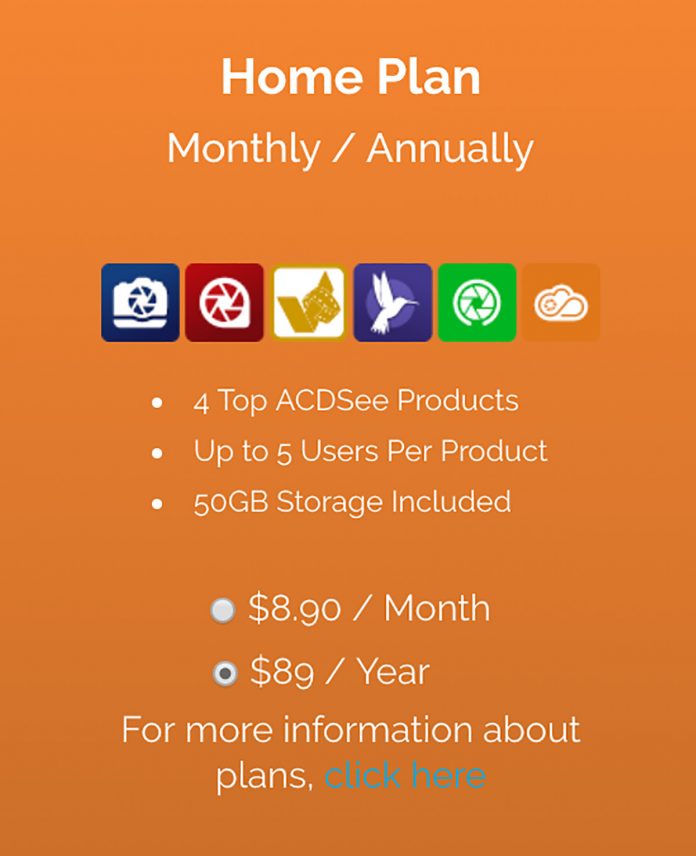 Surprisingly, ACDSee primarily seems to cater to Windows users. While they do have software for Mac users, the capabilities and edit options are limited.
This may not be an issue for some artists, but when the competition is as tight, the setback could be a dealbreaker.
RELATED POST: The Best Software to Organize Your Photos on a Windows PC
So, Did We Love ACDSee Photo Studio Software?
This might be your first encounter with an ACDSee product. Yet, as I've learned after a few days of playing around with the free trial, it's easy to fall in love with.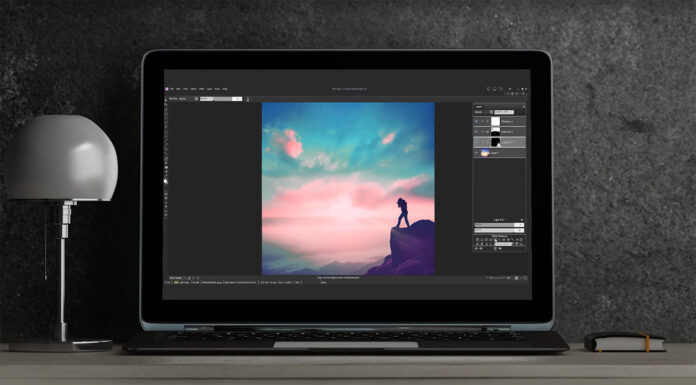 ACDSee has a commitment to simplifying photo organization and editing. Their tagging and developing tools make archives easy to sift through and optimize.
Add ons like the Mobile Sync app and tutorial library make learning painless. Also, smart features bring out the best aspects of your imagery.
Best of all, the price of ACDSee Photo Studio Software beats out the competition. Whether you prefer a subscription or would rather stick to a single transaction is up to you.
But you don't have to take my word for it. All ACDSee products offer a 3- day free trial period. Sign up to see whether this ACDSee can take your workflow to the next level!