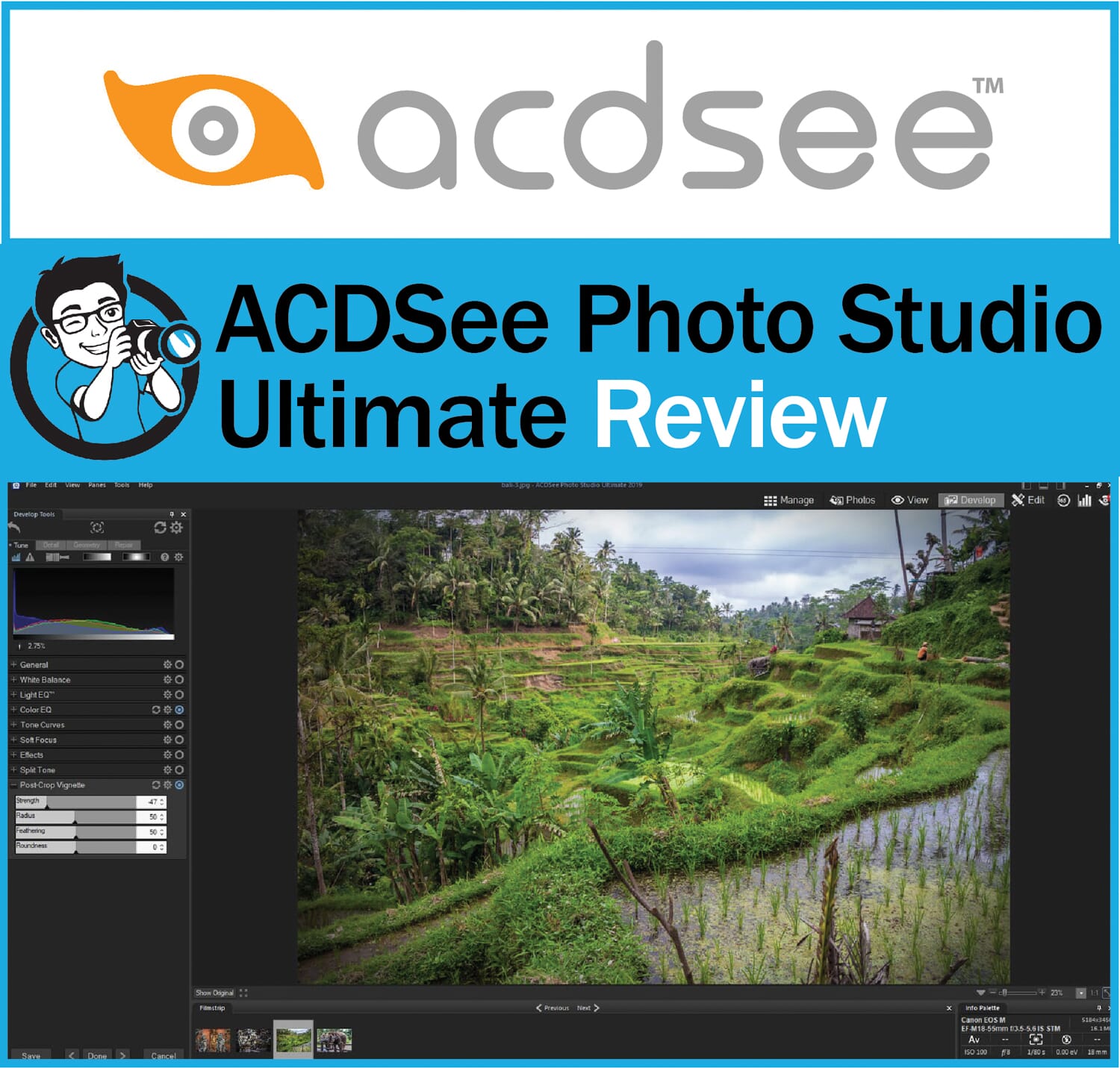 ACDSee Photo Studio has been around for decades and over the years has evolved greatly. To keep up with the ever improving software, we delivering an ACDSee Photo Studio Ultimate 2019 Review review.
Earlier we had reviewed the Standard ACDSee Photo Studio Software on a Mac.
The ACDSee Ultimate 2019 release is currently the latest release and, as you'll see, has a lot to offer for both the professional photographer and hobbyist.
Digging Into Our ACDSee Photo Studio Ultimate 2019 Review
ACDSee was originally a 16-bit program for Windows 3.1 devices. Since then it has evolved drastically into a complete photo management solution. ACDSee Photo Studio Ultimate 2019 is the latest iteration of the software and the most advanced version yet.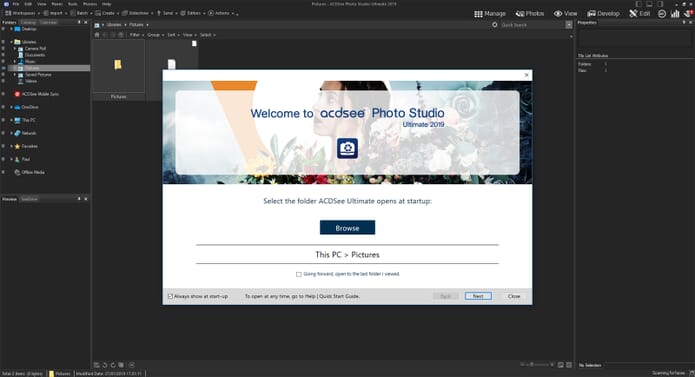 This program can be used for full RAW editing and comprehensive photo management. The 2019 version features new tools such as facial recognition and face detection.
Furthermore, this latest version has upgraded many of its tools such as black and white editing and the develop settings pane. So, let's get to the details!
Price, Availability, and Where To Get It
The first part of our ACDSee Photo Studio Ultimate 2019 review is in regards to pricing and usability. ACDSee has an easy to use website and you can find both the trial version and purchasing page for the program quickly.
The following is some info about prices and system requirements:
Price, packages & free trial
There is one main version of ACDSee Photo Studio Ultimate – it requires 64-bit support on your computer.
The current price is listed below:
ACDSee Ultimate 2019 – $79.95
30-day money-back guarantee if you are not satisfied with the product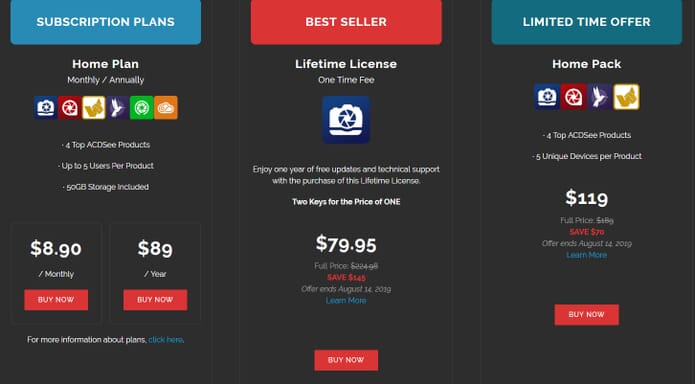 Related Post: On1 Review
For this ACDSee Photo Studio Ultimate 2019 review, we used the demo version. The demo version gives full access to the features of ACDSee and lasts for 14 days.
If you want to see what this program is like then we advise using the demo version first!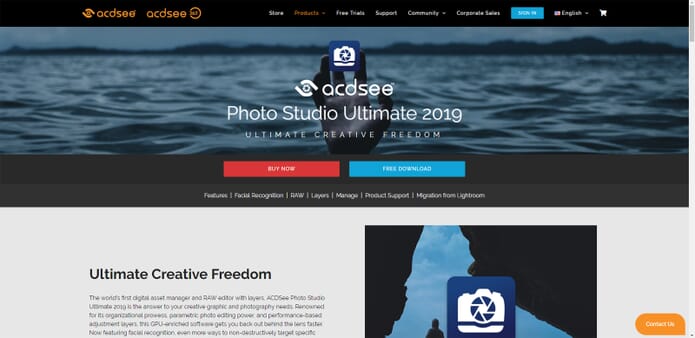 Minimum system requirements
The minimum system requirements are not very stringent. A basic modern computer should be more than adequate.
We tested the demo version on a PC with 8GB of DDR3 RAM and a high powered graphics card – it worked fine. We didn't notice any delay or lag.
Below are the minimum system requirements:
Windows
Graphics: DirectX 10 compatible card with 512MB of RAM
Processor: Intel i3 or later with 64-bit support
Operating System: Windows 7 or later
RAM: 2GB (6GB recommended)
HDD: 2GB free storage
We would agree that 6GB of RAM is advisable – anything less than this and your computer may struggle with some of the RAW processing.
RELATED POST: Yoga A940 vs Surface Studio — A Battle for the Best AIO
Now onto the main review…
We've split our ACDSee Photo Studio Ultimate 2019 review into two sections – photo management and photo editing. We feel these are two completely different aspects of the software and must be reviewed separately.
ACDSee Photo Studio Ultimate 2019 Review – Photo Management
Okay, let's look at the photo management aspect of this software…
At first glance, the manage tab may look a little overwhelming. There is a lot going on.
That being said, once you get used to the layout, you can easily manage your work. The management aspect is extremely detailed. You're given fantastic control – for example, you can add detailed Metadata to each photo.
We also really liked the photos tab – this offers a more simplistic view of your image catalog.
If you didn't need editing, you could use ACDSee solely for asset management.
In fact, we played with the photo management software and found it had a lot to offer. This part of the software is split into two main tabs – "manage" and "photos":
Manage tab
The "manage" tab is the main pane for photo organization. From here you can do practically everything. The layout is simple (if not maybe a little cluttered). It's broken down into the following sections:
Left panel: Folder trees
Middle panel: Thumbnail Previews
Right panel: Metadata
You may think the manage tab looks cluttered and we have to agree. There is a lot going on.
But once you understand where everything is, it's easy to work with.
Folder hierarchy is managed in the left panel. You can move photos, create new folders, and rename them, for example.
In the screenshot below you can see the basic "manage" layout: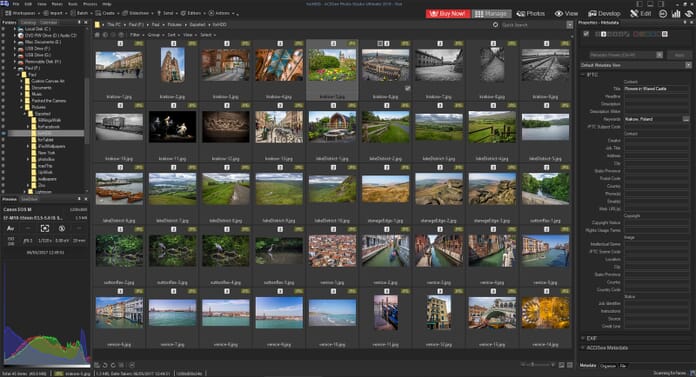 We also like the detailed metadata section on the right-hand side.
There's practically every field you can think of such as creator, address, copyright notice, and keywords.

Image categorization
To find photos easier, you can use an array of categorization items. For example, you can give your photos color rankings, and also a number or star rating.
In the middle panel, you can then use the filters at the top to narrow down what photos are displayed. In the above screenshot, you can see that we are displaying 2-star photos that have no color.

To give photos labels, you can simply right-click on the pic (or group of photos) and select one of the options.
In the below screenshot, you can see that we are going to assign the photo a blue color tag.
When right-clicking a photo you are given a myriad of other options such as renaming the file and assigning it to a collection.
Managing your photos could not be easier. We feel ACDSee really excels at this. The level of control and detail you have over photo management is excellent.
RELATED POST: The Best Software to Organize your Photos on a Windows PC
Photos tab
The second management tool is the "photos" tab. This is a simple management tool that allows you to easily sort through your photos by date.
The photos tab is split into two sections:
Timeline panel
Preview panel
The timeline shows a monthly breakdown of photos in the current folder you have selected.
The view changes depending on how far you delve into the folder structure.
Each month is shown as a separate block, together with the date, and how many photos are present for that date.
If you scroll using the mouse wheel, the view will change from months into days, etc. In the screenshot below you can see the main "photos" layout: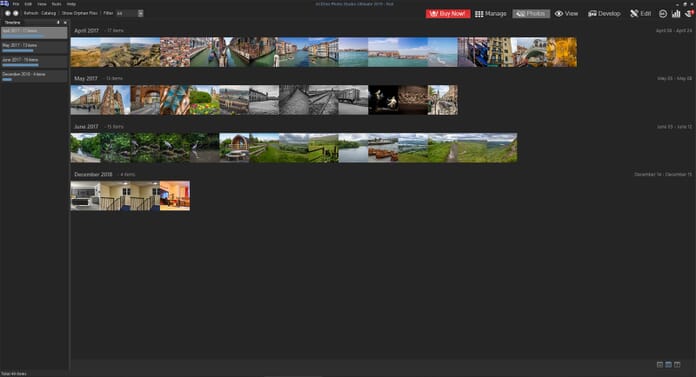 If you have a range of different photos taken over a period of time, you can use this tool to easily locate them. For example, if you're a wedding photographer, you'll have many different events that you work at.
Locating and organizing the different photos could be a nightmare – by using the "photos" tab of ACDSee you can quickly isolate specific events.
This effectively speeds up the process and improves your workflow.
Finally, if you hover over a photo, you see additional information about it. As you can see in the below image, it shows the filename, location, size, dimensions, and original creation date and time: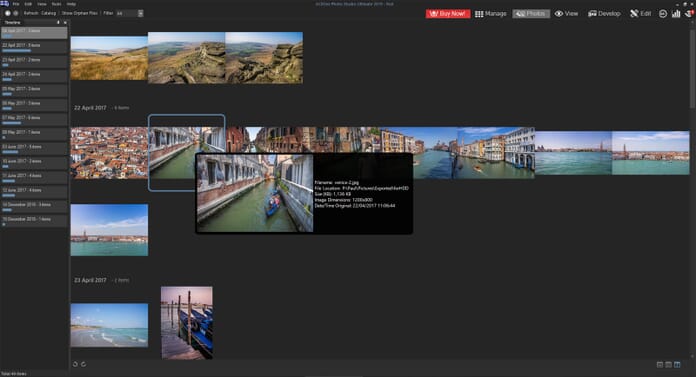 ACDSee Photo Studio Ultimate 2019 Review – Photo Editing
For the second part of our ACDSee Photo Studio Ultimate 2019 review, we looked at the RAW photo editing capabilities.
This software is fully capable of editing RAW photos and other file formats.
In terms of performance, the program handled detailed editing well. We easily applied a myriad of changes without any lag or performance issues.
As with the management section, the photo editing is split into two main tabs – "develop" and, "Edit":
Develop tab
The develop tab is the basic editing panel. This is where you'll alter the main parameters of the photo such as clarity, contrast, and saturation.
The develop tab is really simple – it has two sections; the preview pane and the development tools. We liked this simplistic layout and found editing using this tab a breeze.
In the develop tools tab you can find different categories of editing features:
General
White Balance
Light EQ
Color EQ
Tone Curves
Soft Focus
Effects
Split Tone
Post-Crop Vignette
The general tab is where you will do most of the editing – as you can see in the screenshot below, you can edit contrast, saturation, clarity, and exposure here.
The other tabs provide a myriad of basic editing tools to improve the general quality of your photos.
Related Post: Luminar Review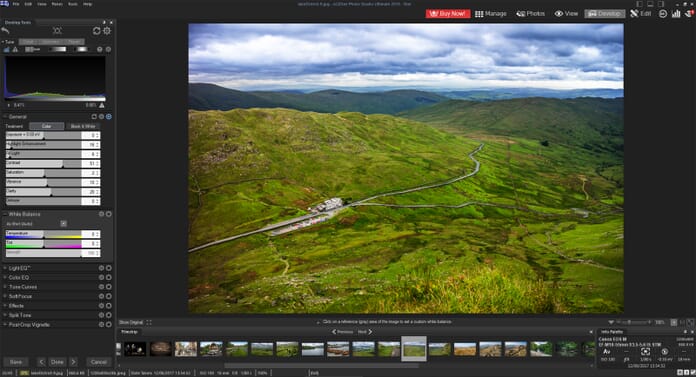 The process of using the develop tab is quite straightforward.
Everything can be altered using sliders and the preview pane updates in real-time as you drag the sliders left or right.
The performance was fine, even when working with large RAW files.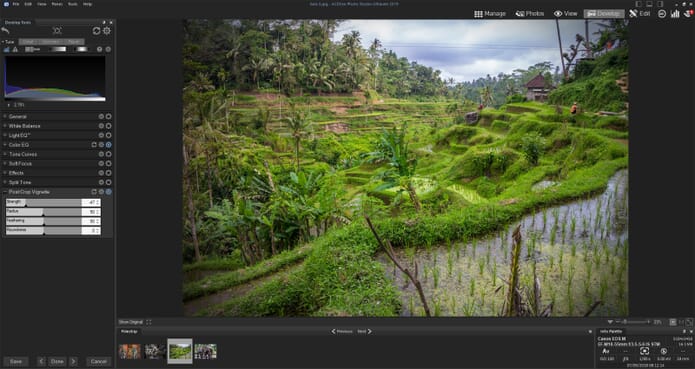 Info Palette
In the bottom right-hand corner, there's a small box entitled "info palette". We found this useful as it shows information about the camera and lens used to take the photo.
It displays exposure, aperture, ISO and exposure levels.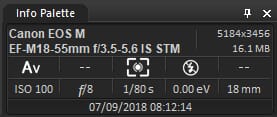 Edit tab
The edit tab, as far as we can see, provides a multitude of effects you can apply to your photo.
When looking at our ACDSee Photo Studio Ultimate Review 2019, we feel that ACDSee wants you to follow a set process.
First, use the develop tab to alter the basic quality and look of your photo. You can then use the edit tab to go one step further and apply detailed edits or turn your photo into a specific artistic style for example.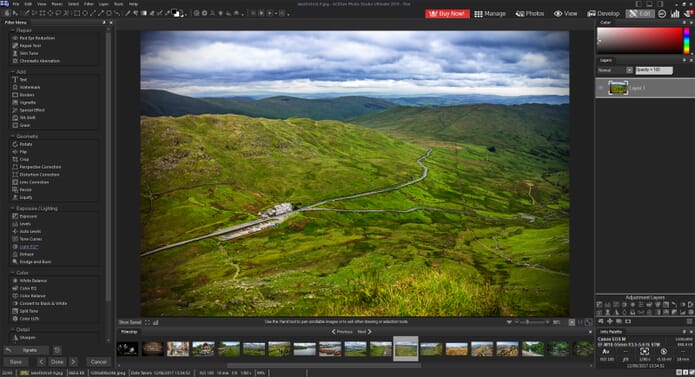 This tab is a little more complex than the develop tab but still straightforward.
We like how the different tools are split into categories such as repair, geometry, and color. The following are the main categories of editing tools:
Repair
Add
Geometry
Exposure
Color
Detail
In the screenshot below you can see the basic layout of the "edit" tab: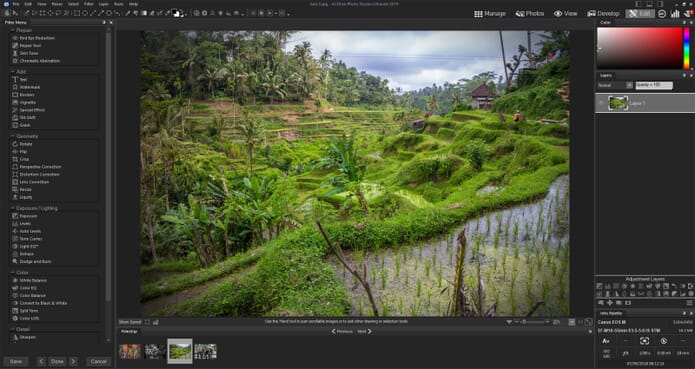 Within the edit tab, there are two other main features which we've gone into greater detail below – effects and adjustment layers.
Effects
During our ACDSee Photo Studio Ultimate 2019 Review, we looked at the different preset effects you can apply.
ACDSee Photo Studio has 60 different effects you can add to your photos. The following is a selection of some of the styles available:
Blinds
Blue Steel
Rain
Slant
Water
Sunspot
Pixel Explosion
Lomo
Some of these "effects" are quite useful. "Sepia" and "Old" for example give your photo a cool retro style.
Others, however, we felt, are too over-the-top…
Effects such as "Ripple" and "Weave" distort your photo too much. For the most part, the "effects" you can apply are generally for fun – we don't think they have much professional use.
RELATED POST: Aurora HDR 2019 Review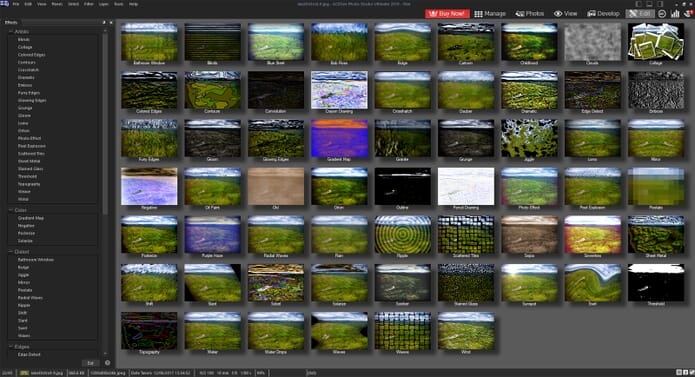 Adjustment Layers

Finally, we have adjustment layers.
When using ACDSee Photo Studio, edits are applied on layers leaving the original photo underneath intact. We feel this is a really useful feature that can help with the editing process.
RELATED POST: How to Edit Photos: The Ultimate Guide to Stunning Photo Editing
There's a myriad of different adjustment layer types you can add such as clarity, exposure, and color tones. Once you've added a layer, you can use one of the top tools to apply the layer as you see fit.
In this screenshot we used a gradient to apply clarity only to the top half of the photo: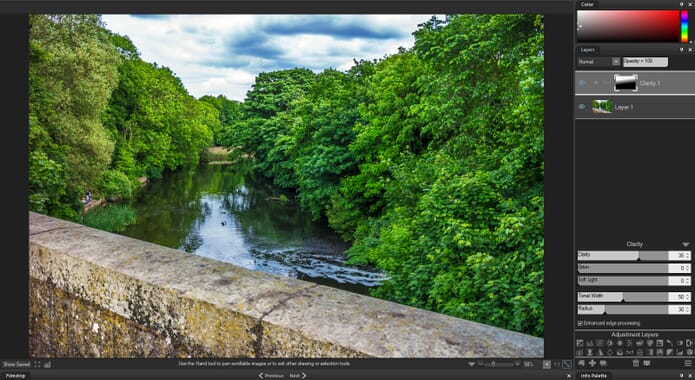 Exporting
When creating our ACDSee Photo Studio Ultimate 2019 review we exported a variety of end photos.
The exporting feature is advanced and provides excellent control.
You can rename the file using different templates. Moreover, you can change the file format and resolution.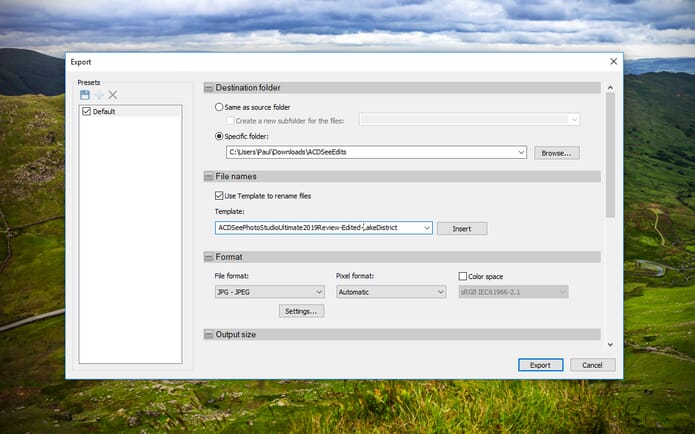 RELATED POST: 10 Top Lightroom Alternatives To Try In 2019
Closing thoughts & examples
So what did we think after completing our ACDSee Photo Studio Ultimate 2019 review?
Here are some examples of before and after photos that we edited using this program:


There's no denying this software has a lot to offer. Both hobbyists and professional photographers can benefit from using this program.
Photo Studio Ultimate 2019 Review Summary
Review Summary
It is clear that ACDSee Photo Studio Ultimate 2019 has a lot to offer. Our review is split into two sections – the photo management features, and the photo editing tools. The photo management tools are outstanding. You can easily manage large volumes of photos and find the work you require. In addition, you can tag your photos and rate them – this gives you flexibility and great customization. The photos tool is also fantastic and organizes your pics by date. Whilst the management tools are excellent, photo editing is fantastic too. ACDSee gives you great control over your image – you can easily edit the main parameters such as contrast, saturation, and clarity. Furthermore, you can apply adjustment layers and apply preset filters too.
Layout and usability

Performance

Photo Management

Photo Editing

Price