Have you ever used HDR merging for your captured images?
Although this technique is often used by professional photographers, many are still unaware of how to compile bracketed photos.
Bracketing is the process of taking the same photo more than once with different settings to capture different exposures. A photographer uses this method when various elements of the photograph require different settings for exposure.
In order to employ this method, you could take three images each with the settings – shutter speed, aperture, and ISO – adjusted correctly for the image. Yet, if you are a DSLR owner, there is a way to set up the bracketing in camera.
In your DSLR, you will use the process of Automatic Exposure Bracketing. It works by taking three photos all at once with the result of each image having different exposures. Each camera's functions are different, so you may need to research how to access this on your personal DSLR.
Once you have the three images, you can now merge the images in post-production. This process requires you to place together with the bracketed images with HDR or High Dynamic Range. HDR blends the extremes of lights and darks to create a well-composed image.
When you buy through links on our site, we may earn a commission at no cost to you. We evaluate products independently. Commissions do not affect our evaluations.
Aurora HDR vs. Lightroom Classic CC for HDR
You can create this effect in several editing programs. In this article, we will discuss the concept of merging bracketing images in two programs – Aurora HDR 2019 and Lightroom Classic CC. By utilizing the HDR method, we will compare and contrast the process and decide which program is more efficient for this editing technique.
Merging Bracketed Photographs in Aurora
Using the Aurora HDR Merge can be done in 4 simple steps.
Step 1: Download Aurora HDR to your desktop and upload images to Library
Access the 2-week Trial of Aurora
Once you have downloaded the program, launch it and choose the "Open" button in the top left-hand corner to add your images to the library. I chose three images for my HDR photo.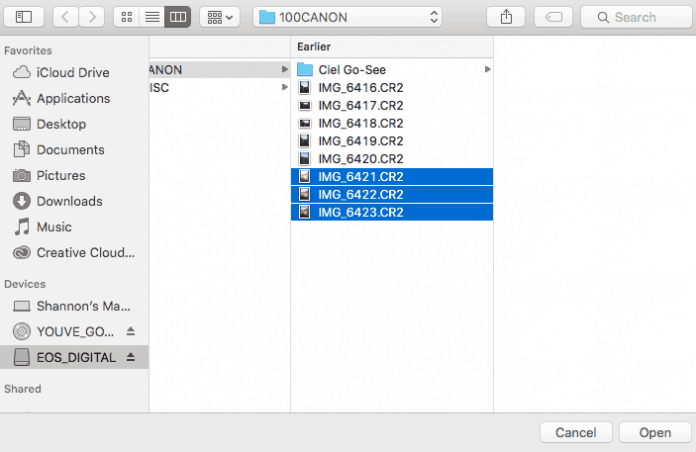 Step 2: Create an HDR from the images you have chosen
Your HDR will be created from the bracketed images you have selected. Here you can choose to check the boxes for alignment, ghost reduction, and chromatic aberration if necessary. Once you are satisfied, click "Create HDR."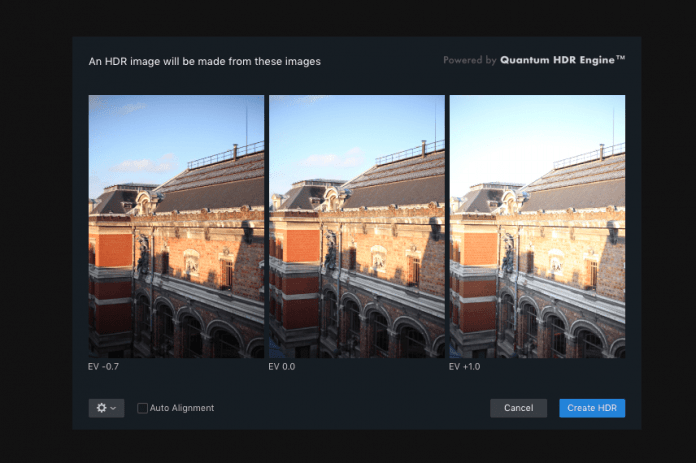 Step 3: View Your HDR Photo and make any additional adjustments
Aurora will merge your images and bring your final photograph into the library. From here, you can make any additional edits to color, contrast, exposure, etc.
Step 4: Export Your Image to Your Computer to Save and Share
Export your final image as a JPEG – you can adjust the size, format, and quality before saving.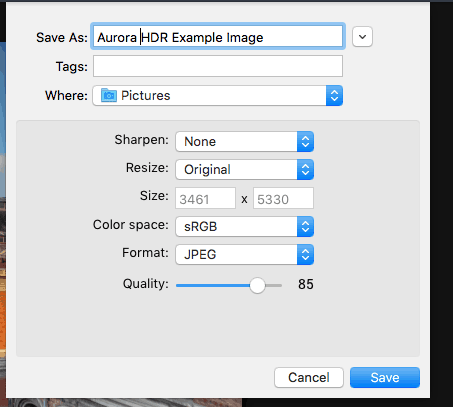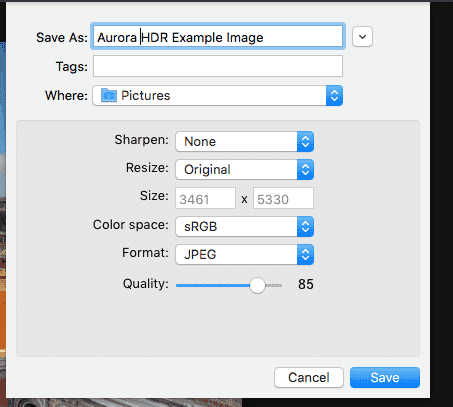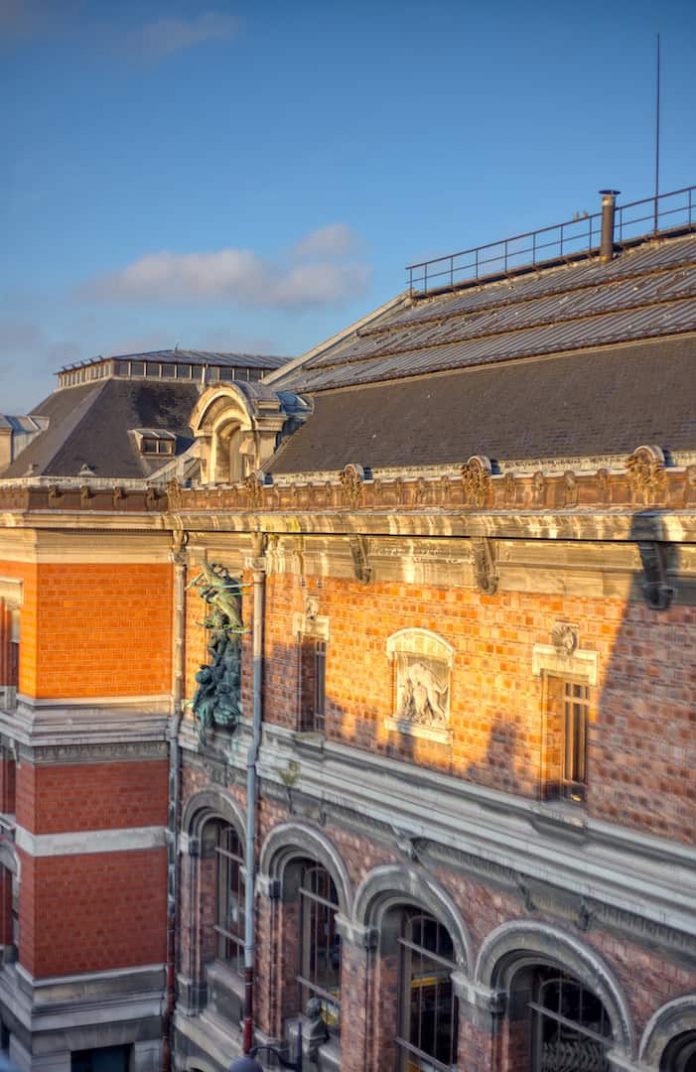 Merging Bracketed Photographs in Lightroom
The process of merging bracketed photographs in Lightroom can be done in 5 simple steps.
Don't Have Lightroom? Download the Free Trial Here
Step 1: Import Your Images into Your Lightroom Library
Open Lightroom > File > Import > Select Your Images > Import to Library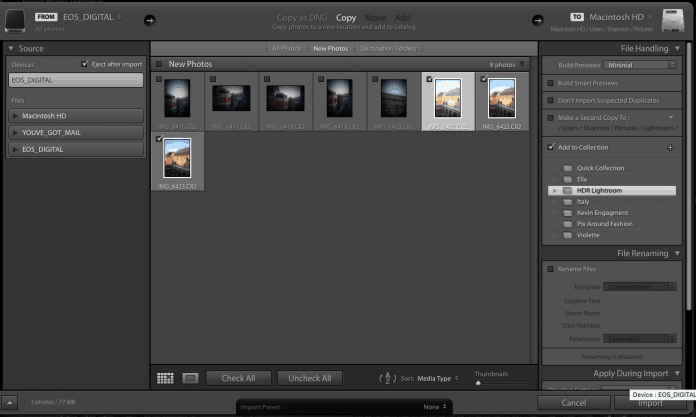 Step 2: Select the Images that You Want to Merge
Select Images > Photo > Photo Merge > HDR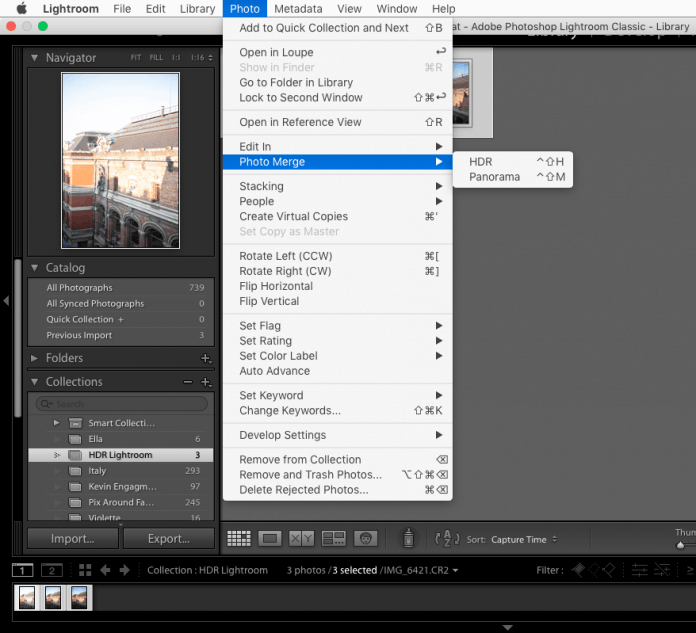 Step 3: HDR Preview and Merge Your Images
The dialog box will appear to show you a preview of the HDR image. Here you can choose to Auto Align, Auto Settings and add low, medium or high amounts of deghost.
💡 Deghost should be applied if there are moving parts in your image such as a flying bird.
Click merge to create the final HDR image.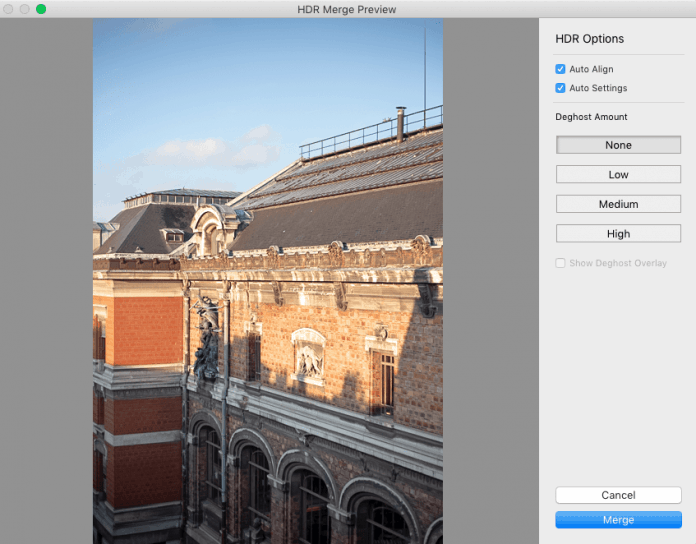 Step 4: Lightroom Creates Your Final HDR Photo
Once you click merge, Lightroom will run the task to create your final HDR photo. You will see the file name is marked with "HDR."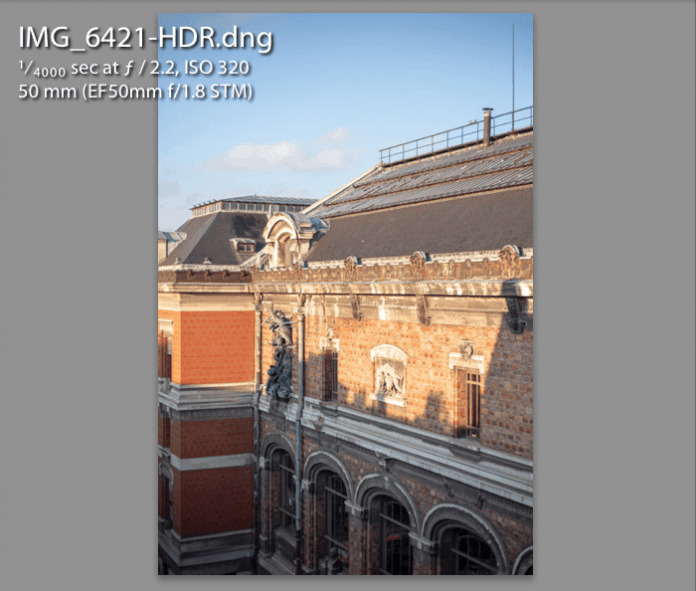 Step 5: Export the Image to Your Desktop to Save and Share
File > Export > Rename Image > Export to Hard drive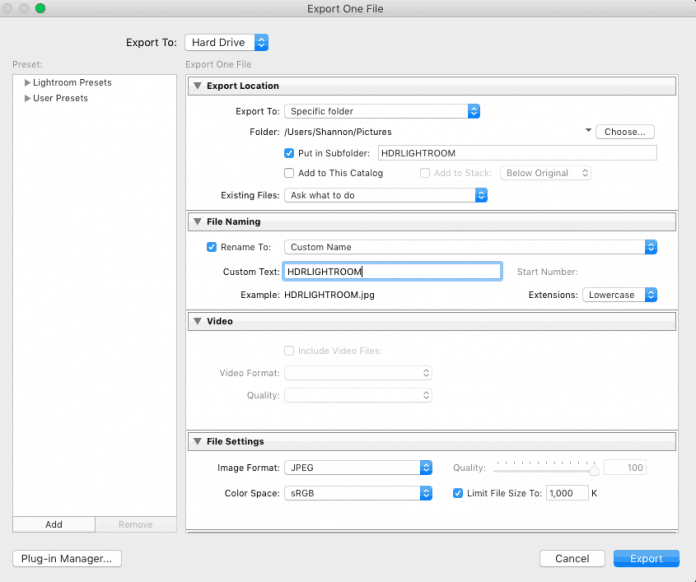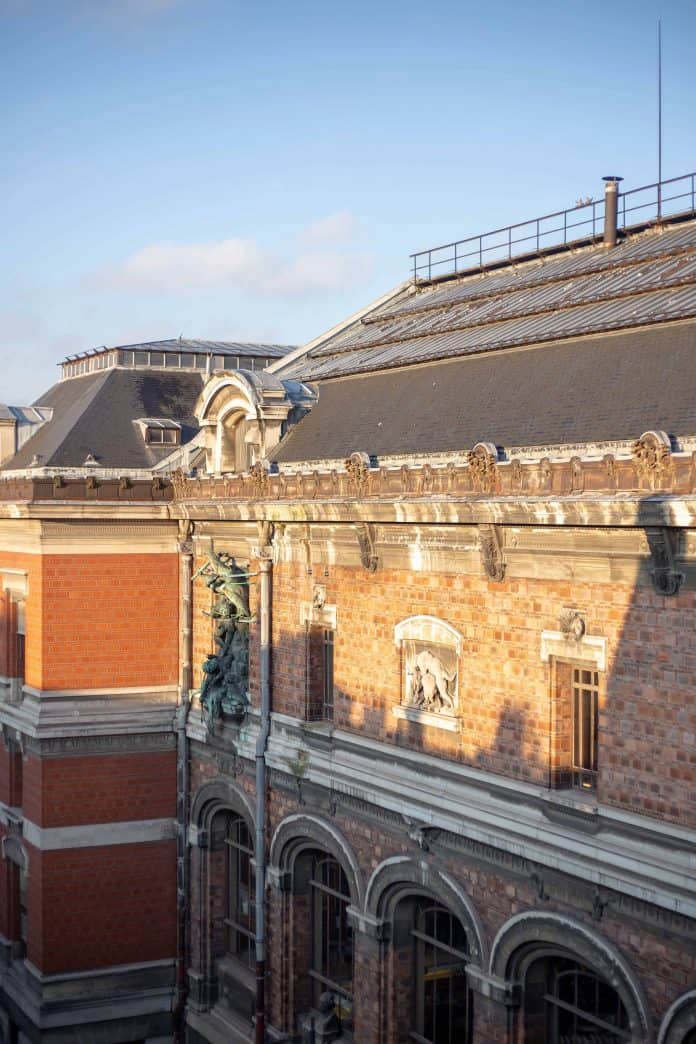 Thoughts on Aurora HDR vs. Lightroom
After trying and testing both programs, there are a few note-worthy points on creating HDR images in Aurora versus Lightroom.
Both programs are incredibly simple to use when it comes to creating an HDR image.
Yet, Aurora's import process to then create your HDR image was more streamlined as it was the first task to complete once you open your images from your computer.
With Lightroom, you had to do a bit more navigating to run this function.
Both Aurora and Lightroom allow you to easily choose your images and with a click of a button, run the task to create your final HDR image.
The HDR image created in Aurora was more vibrant and had strong contrast, while the Lightroom image gave an appearance of more natural tones.
The Aurora final image is on the top and the Lightroom final image below: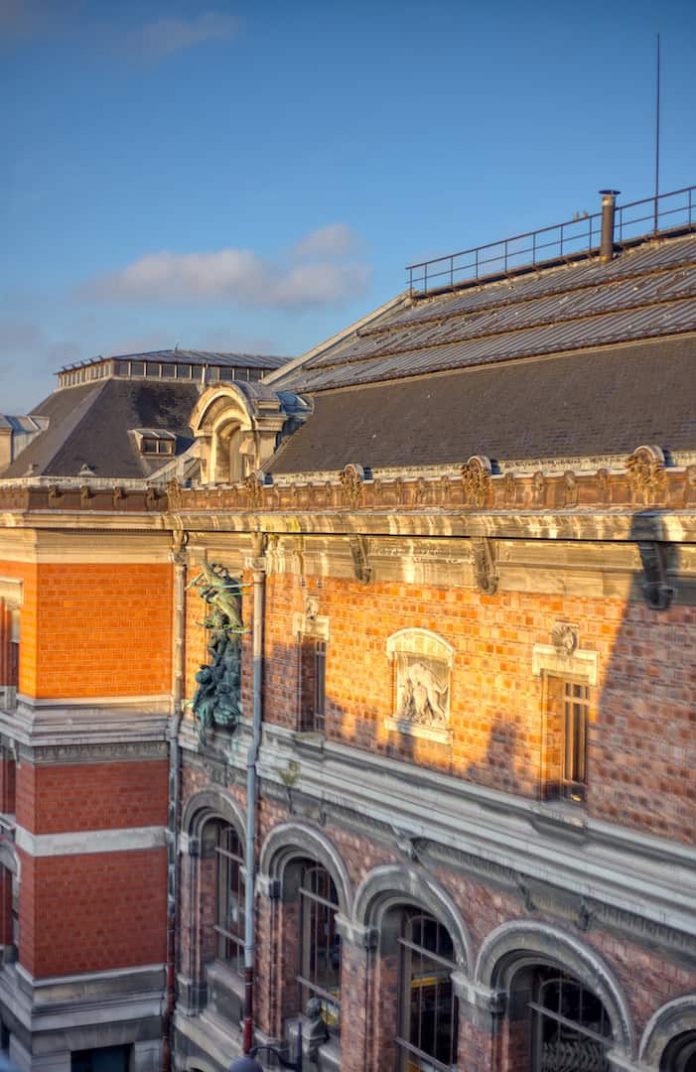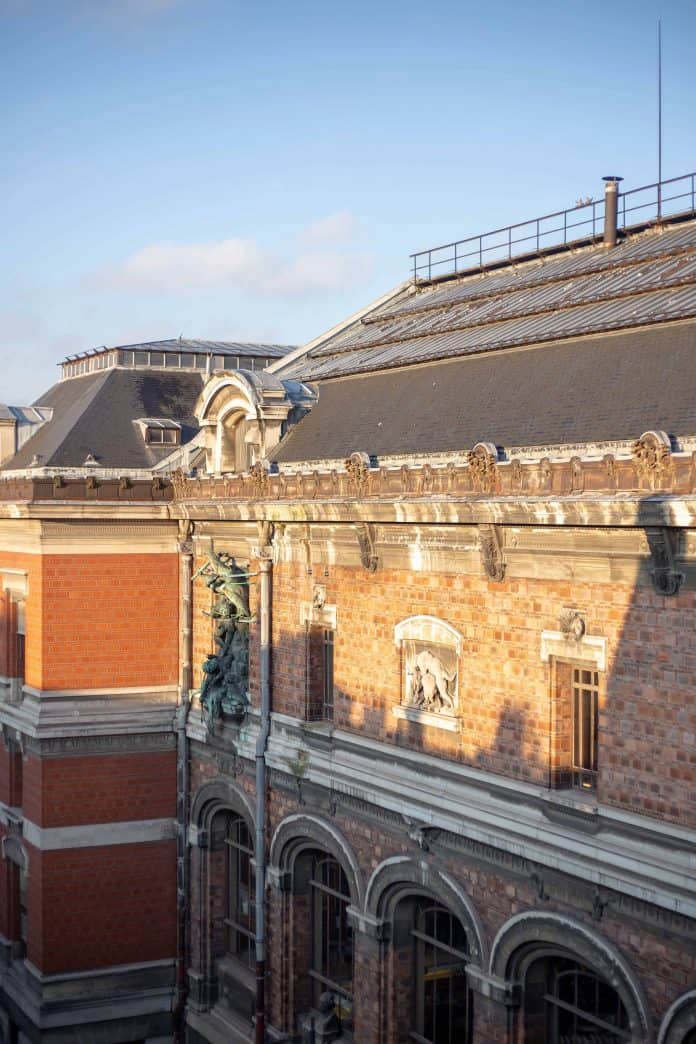 In my opinion, I preferred the look of the Lightroom HDR image as it would then allow me to add my own color edits without having to compensate for the edits already made during the merging.
With this, I would recommend either software to create merged bracketed HDR images.
👉 If you are a photographer that likes contrast, vibrant colors and a punchy effect to your images – then consider using Aurora HDR.
👉 If you prefer a more natural effect that allows you to overlay your own stylistic elements, then utilize the process of HDR in Lightroom.
Do you often create bracketed HDR images from your photographs?
Have you ever used Aurora HDR 2019 or Lightroom for your post-production process?
Let us know your thoughts and experiences in our comments below.