It is now possible to create beautiful graphics for web or print without needing powerful graphic design software. Graphic design platforms like Canva and Adobe Express (formerly Spark) have web-based editors and huge template libraries. You can use these to create social media posts, presentations, videos, and more. In this article, learn about Canva vs Adobe Spark and see how these two platforms compare.
When you buy through links on our site, we may earn a commission at no cost to you. We evaluate products independently. Commissions do not affect our evaluations.
Adobe Spark: Overview
Adobe Express (formerly named Spark) is a web-based graphic design platform. It brings many of the features from popular Adobe programs like Lightroom and Photoshop and develops them for easy use in a simple interface. Spark is a drag and drop platform for making quick and effective designs. It aims to keep things simple for a fast production time and easy learning process.
You can use Adobe Spark to create anything from Facebook cover photos and Instagram stories to videos and presentations. It also has a branding section and you can create teams and share work with multiple users. There is also a mobile version available which is split into three different apps for Android and iOS.
Pros
Has a good branding section
The interface is easy to use and minimalistic
Each element of your design can be fully edited
Has a large library of professional templates
Allows for the easy sharing of projects
Cons
The video editor only has basic features
Some may find the free version limited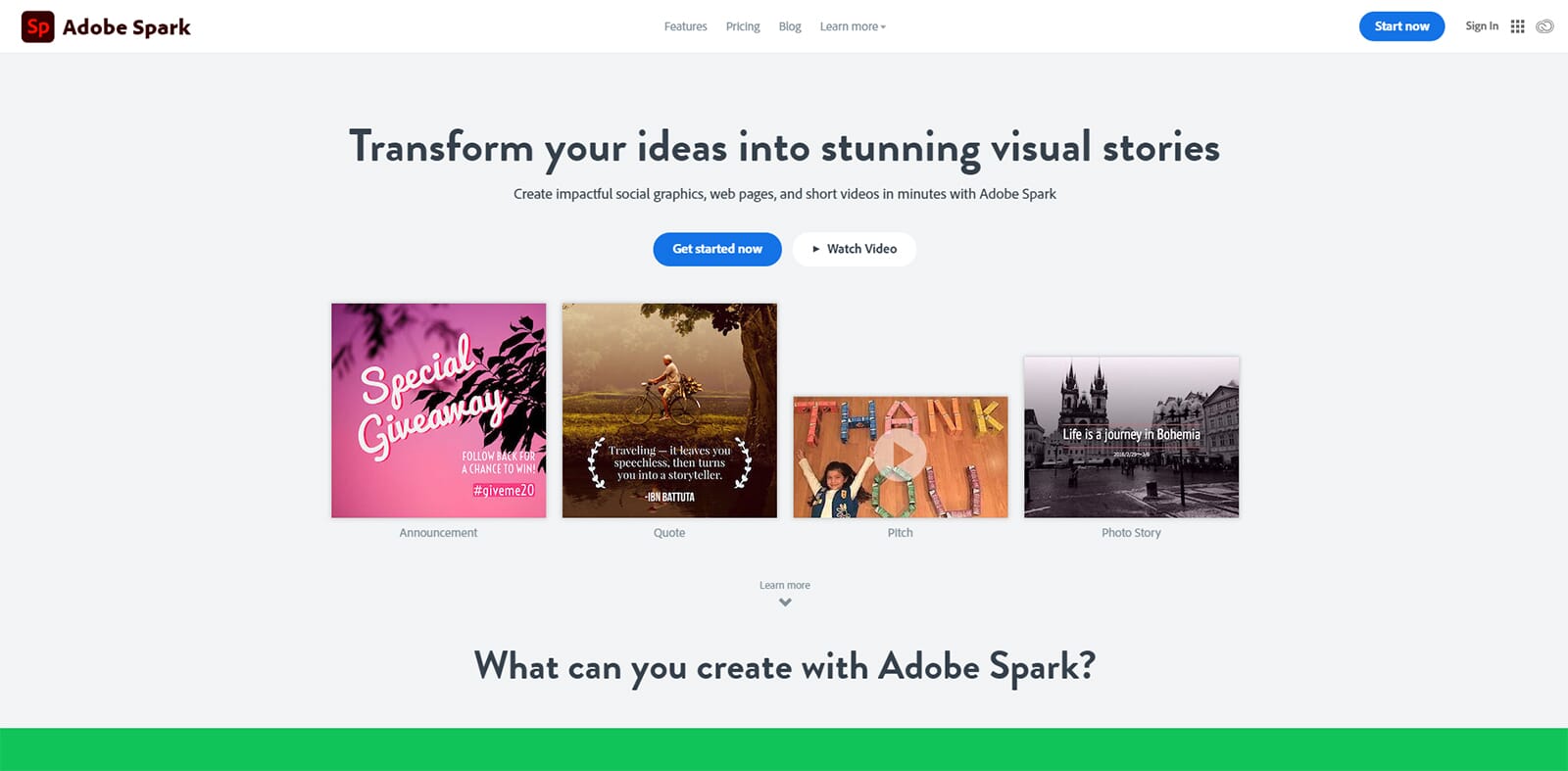 Canva: Overview
Canva is a versatile platform that you can also use to create a huge array of graphics and multimedia. This includes animated social media posts, business logos, posters, flyers, YouTube thumbnails, and more. It inspires creativity and is supported by a large library of templates and tutorials.
Like Adobe Spark, it also has a branding section, and you can create teams where multiple users can work together on joint projects. There is also a single mobile app for both Android and iOS devices.
Pros
Great utility for finding templates
Has a simple editor layout
Large selection of modern templates
Great basic monthly price plan
Has a good brand kit section
Cons
Image animations need fleshing-out
The enterprise subscription may not be as good value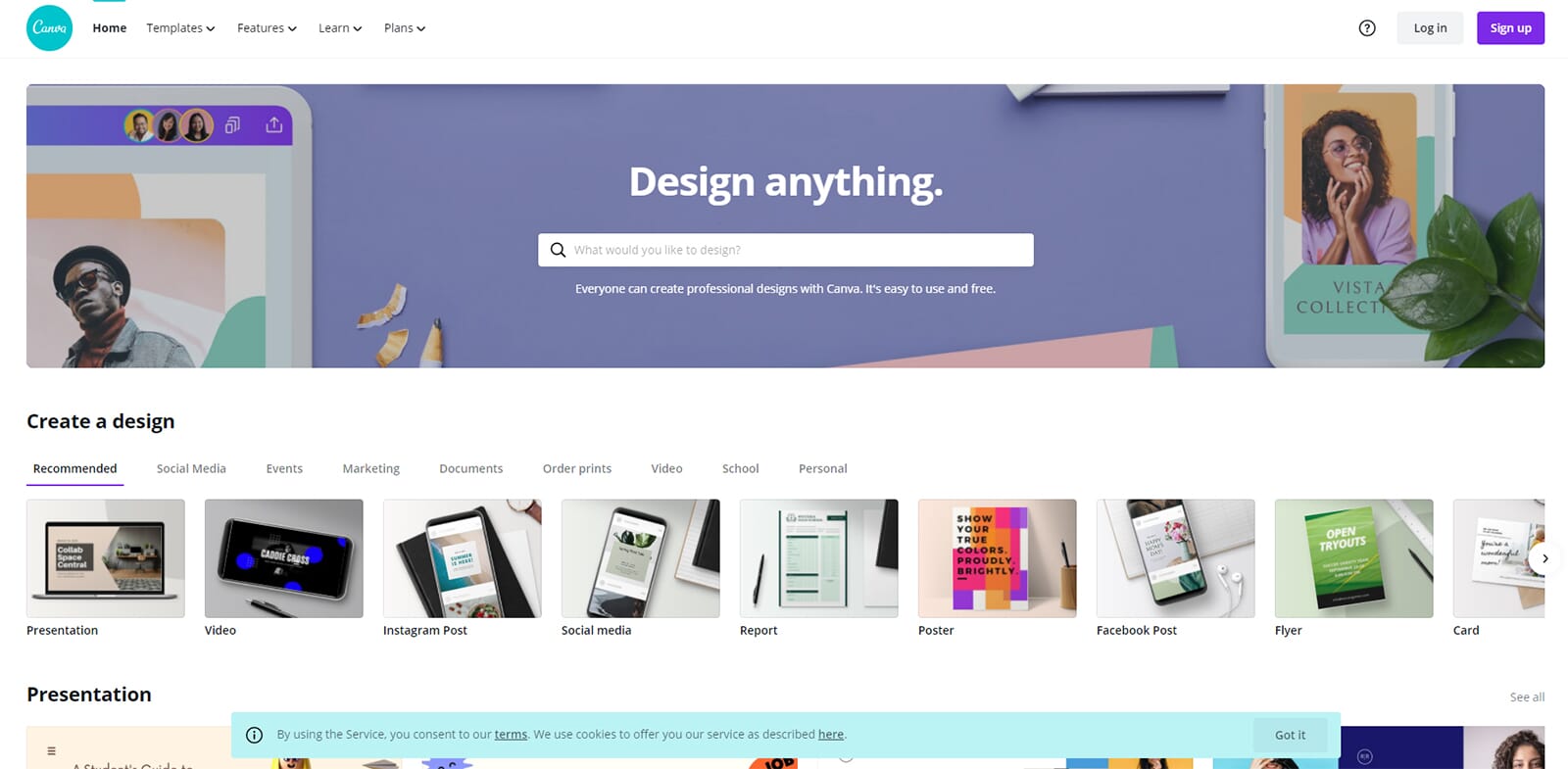 Related Post: The Best Canva Alternatives
Canva vs Adobe Spark – Feature Comparisons
To make this Canva vs Adobe Spark review clear, I have looked at different features and compared them individually. This should help show which platform has the better features for your particular needs.
Pricing
Both Adobe Spark and Canva have free subscriptions. These both give full access to the editor and features. However, both are limited in their content libraries and what you have access to. The free version of Canva has the edge, however. This is because it provides access to more templates, and you can still collaborate and share your work with others.
For the basic paid subscription, both have a monthly plan that is approximately $10.00/month. Again, I have to give this to Canva, however. Purely because the Pro Canva plan at $10.99/month gives access for up to 5 people – the Adobe Spark Individual plan at $10.10/month is for one user only.

After that, however, Adobe Spark has the better "enterprise" option. For $20.20/month, you can have multiple users and full access to the features and libraries. Alternatively, Canva's Enterprise plan is $24.00/month per person which is a noticeable difference.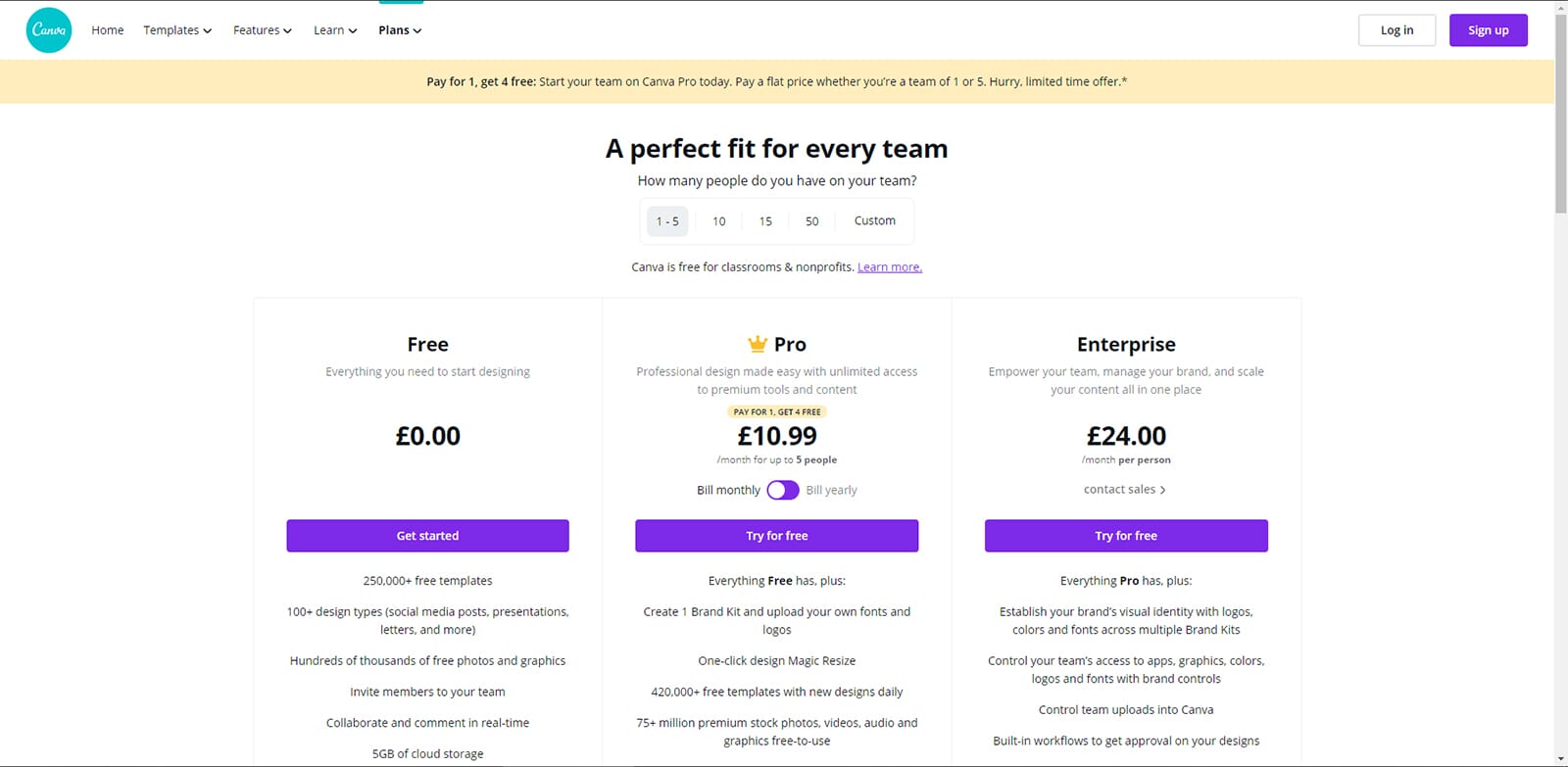 I also like that you get full access to Adobe Spark if you purchase an Adobe Creative Cloud subscription. This is great value and something that Canva simply can't offer. For example, if you pay $9.99/month for the "Photography" plan which gives you access to Lightroom and Photoshop, you also have free access to the pro version of Adobe Spark!
Usability
For basic usability, both platforms excel. Once you log in to your account, on either platform you are presented with a main screen and toolbar where you can manage your designs, etc. I would say that Canva has the edge here, purely because it has more options, but it also has a content planner.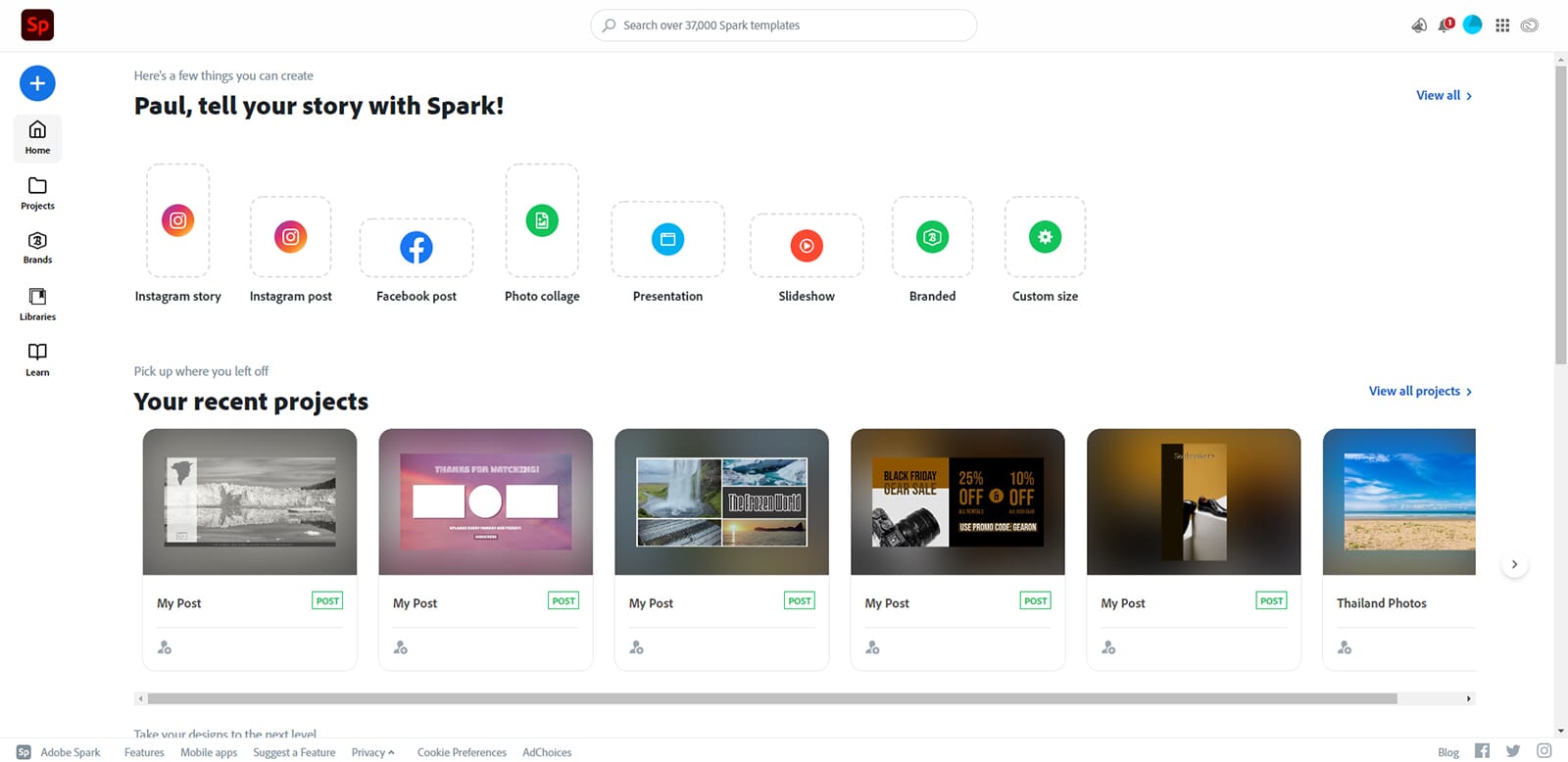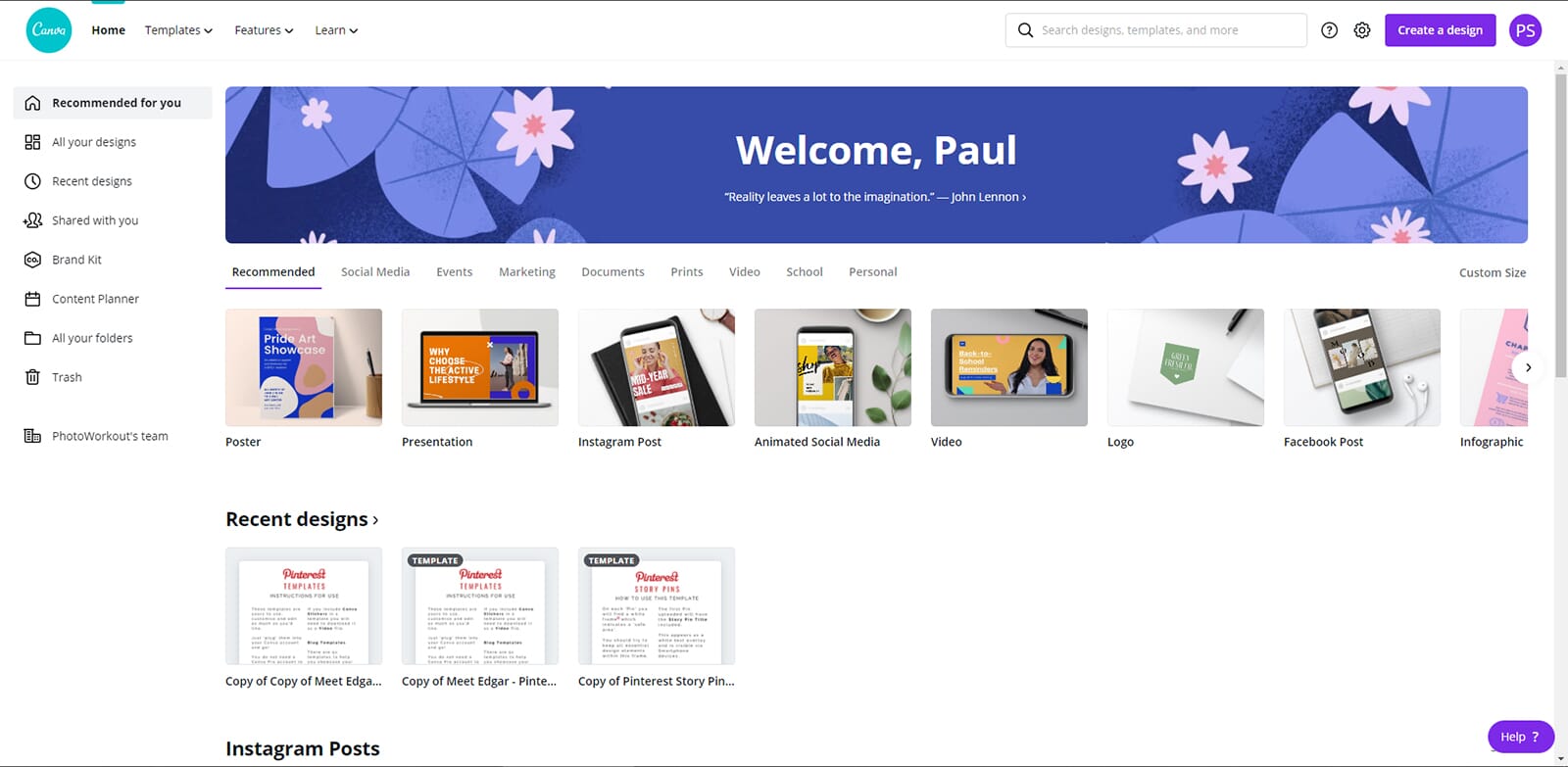 This is something Adobe Spark does not have. I find the content planner useful, particularly if you schedule multiple articles or web content in a week and need to create multimedia resources for them. You can view the calendar and add new designs onto specific days as a reminder.
Aside from this, the usability and navigation of Canva vs Adobe Spark are quite similar. Both allow you to easily manage your designs, collaborate with others, and work on your business branding.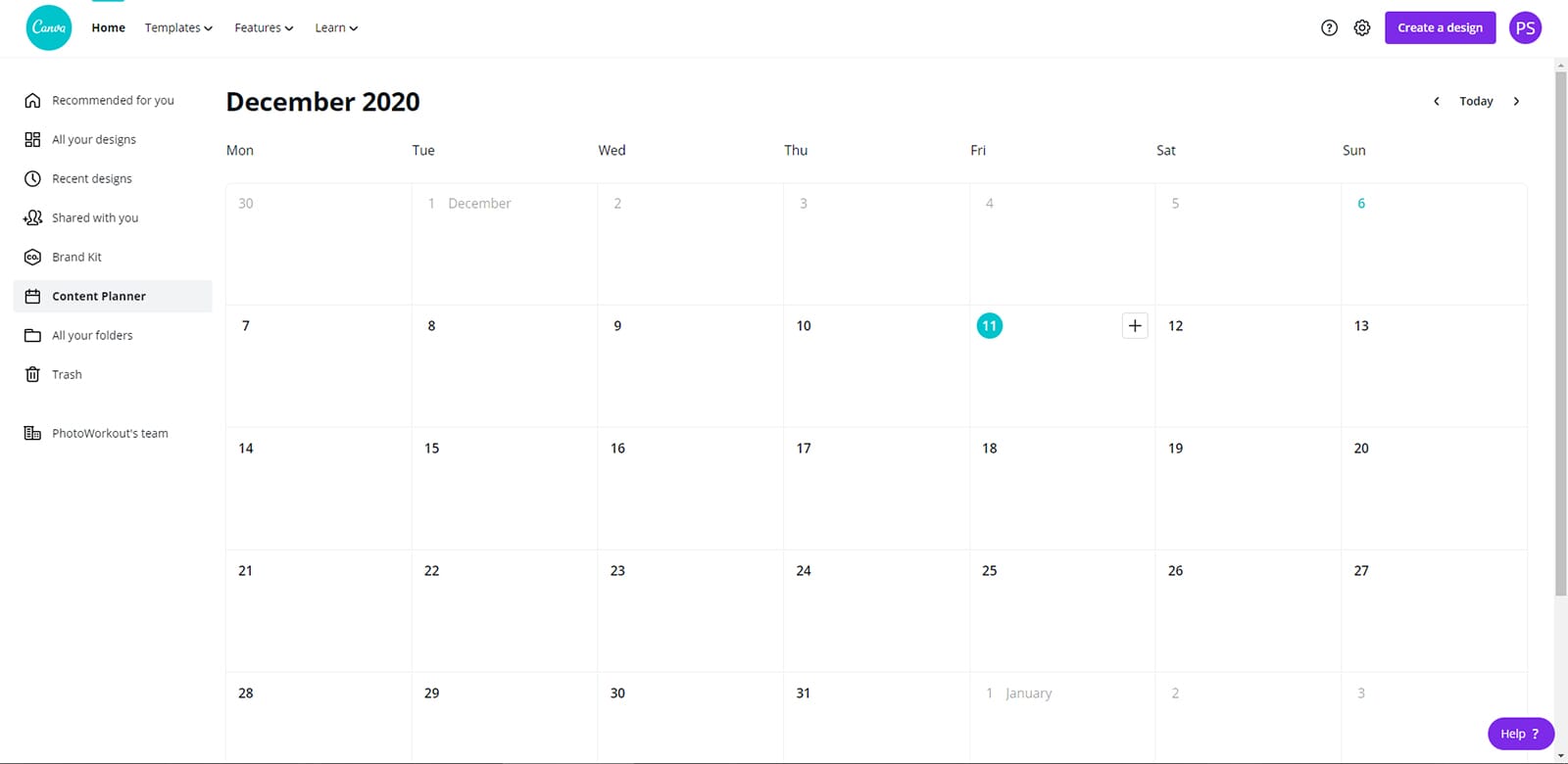 Interface
When looking at Canva vs Adobe Spark, I considered the interface. Not the editor or tools – but how the platforms look. Firstly, both platforms look fantastic. They utilize a modern and clean interface and both have quick loading times.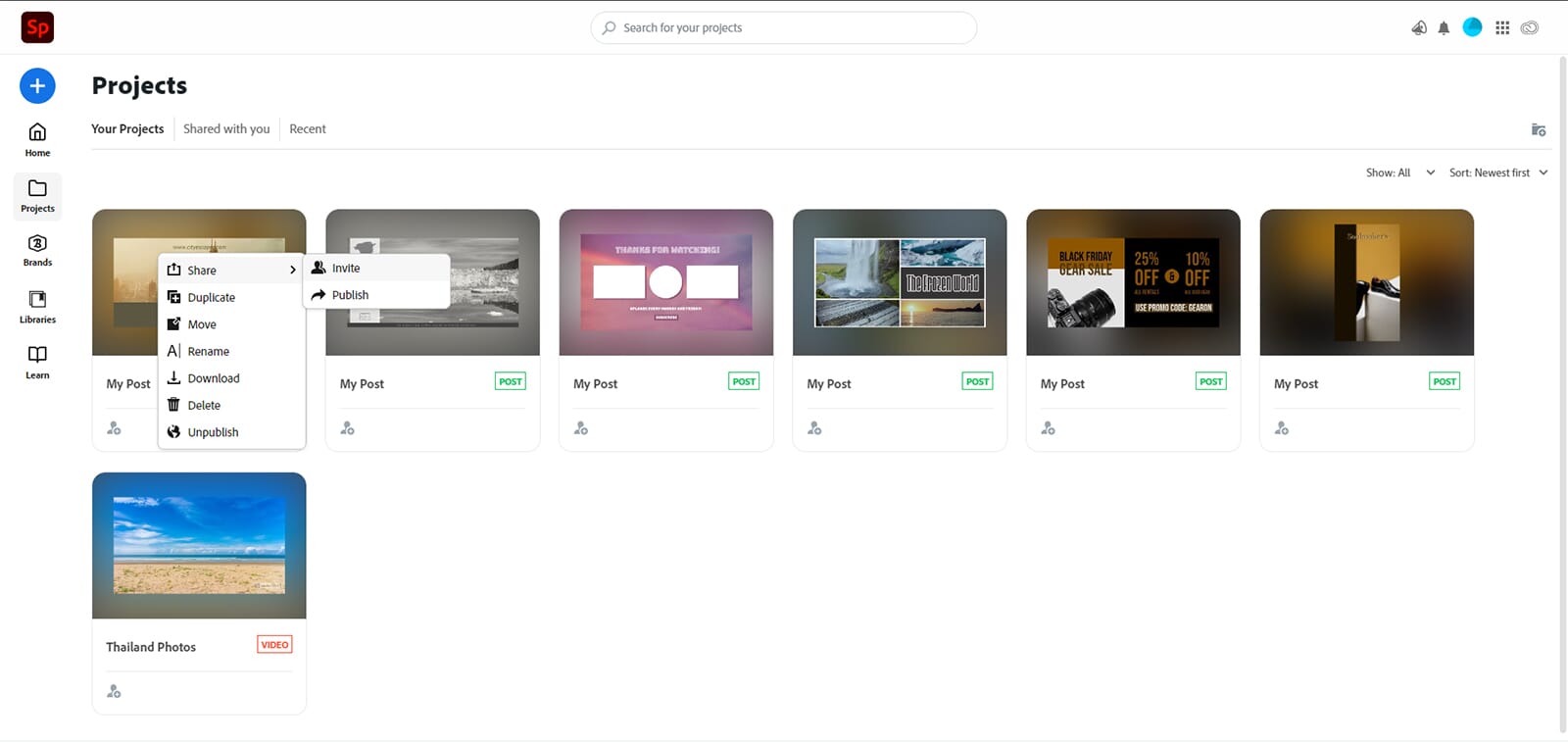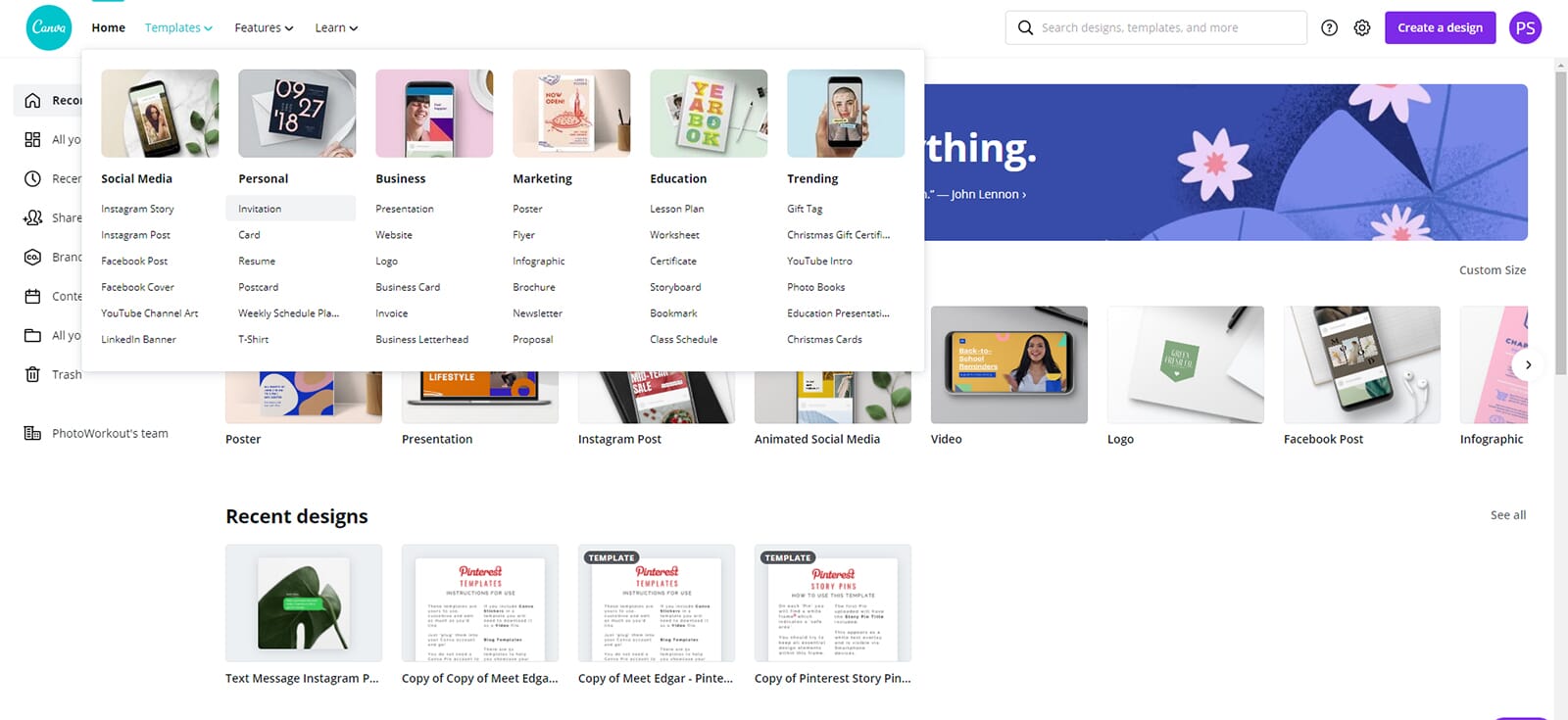 The menus have smooth animations, and everything is clearly aligned. However, my personal preference is for the interface offered by Adobe Spark. The difference is minor, but I feel Spark's interface is a little more evenly spaced and less cluttered. It's also incredibly minimalistic and you are never distracted from the images and content.
Templates
The templates and preset designs that these platforms offer are important. Not everyone can create stunning artwork and designs from scratch. As a result, a large template library with high-quality designs is useful.
Both Canva and Adobe Spark have a vast collection of templates. Adobe Spark has over 37,000 templates, whilst Canva has over 25,000. Canva may have less, but still, I am certain you can find a template for virtually any situation on this platform.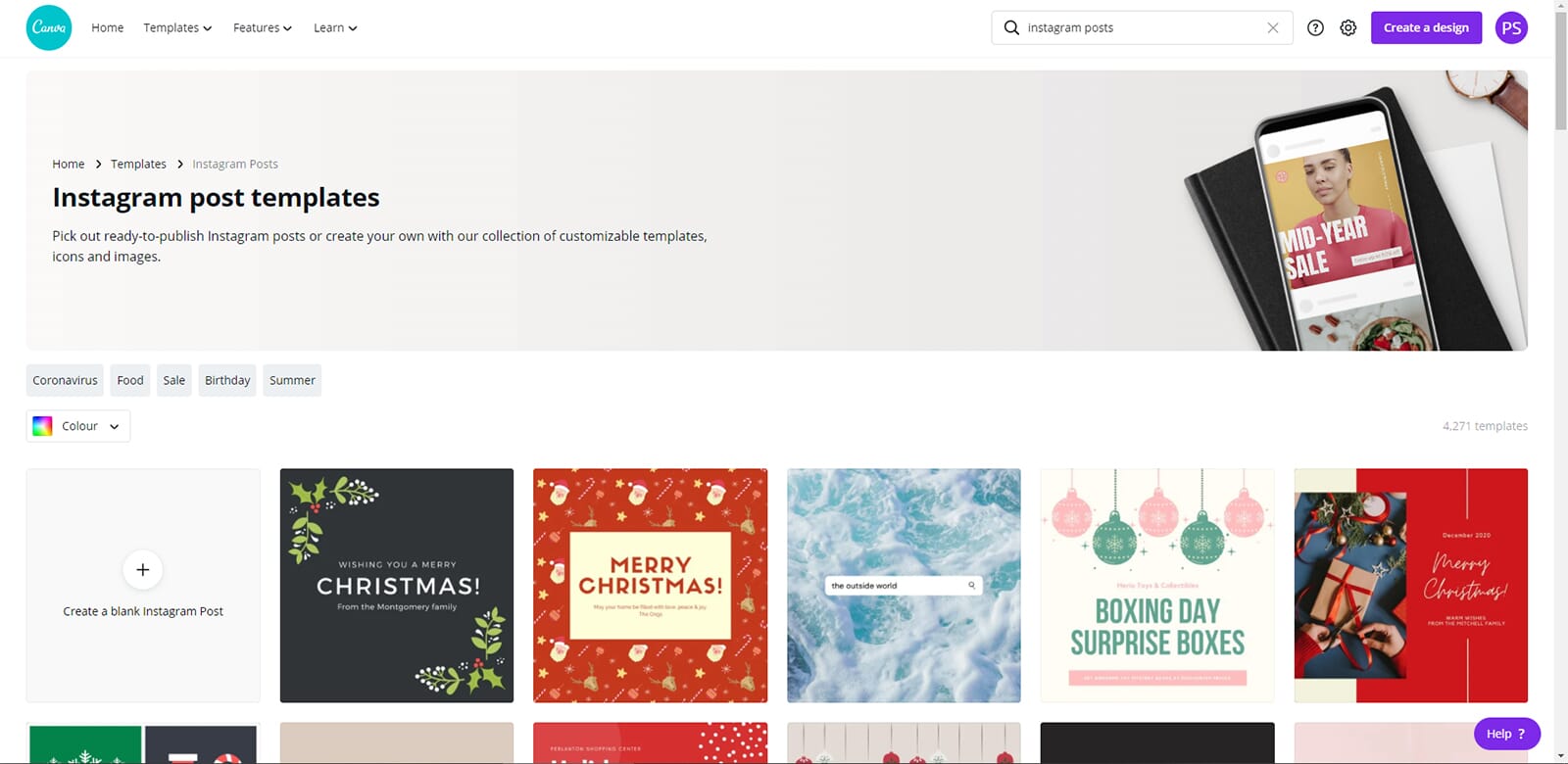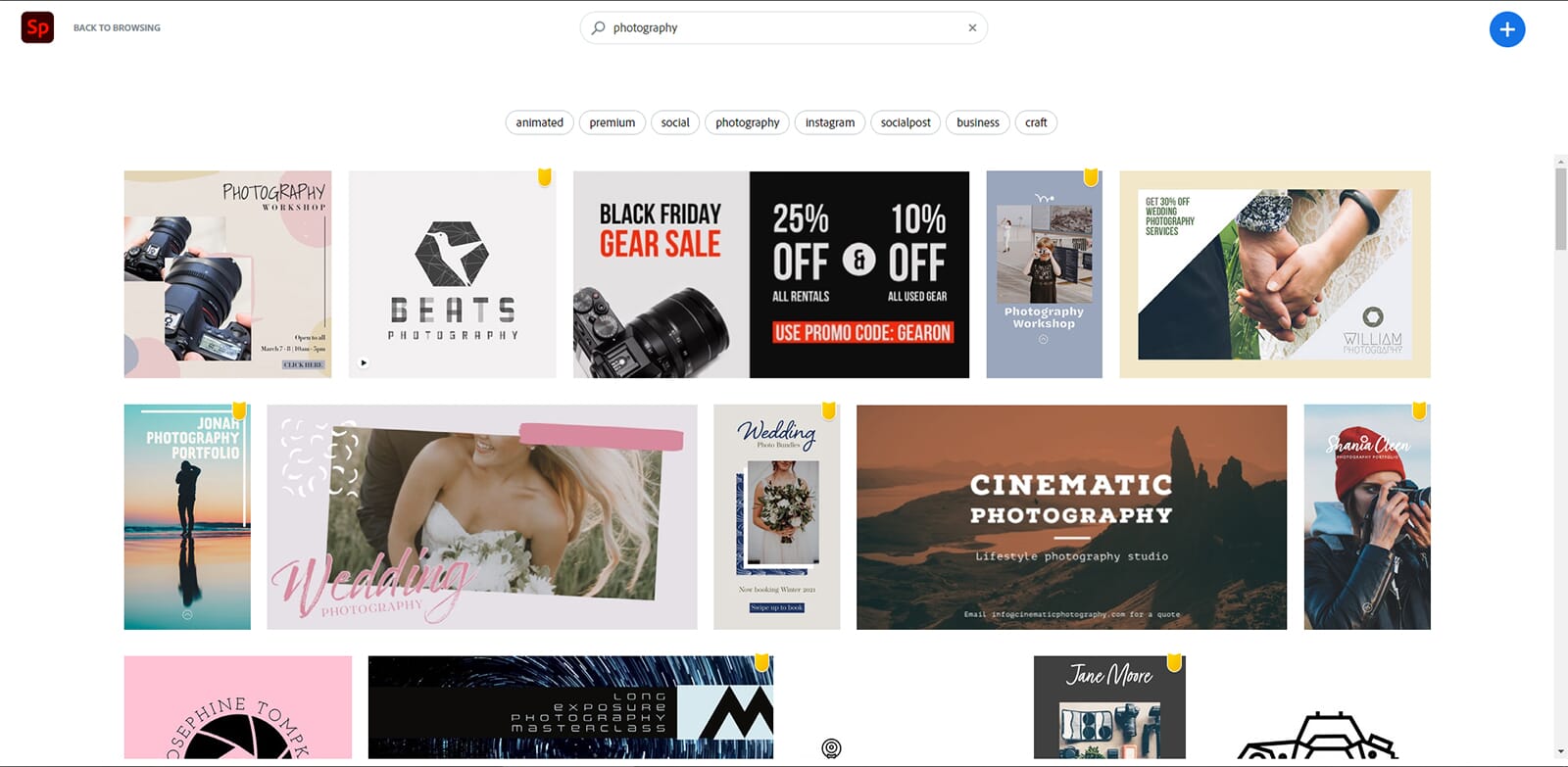 In terms of template accessibility, both platforms feature a template search page – the layout is virtually identical. You can search for specific templates on both platforms, and the templates are broken into categories. However, Canva has the edge in terms of sharing and finding similar templates. Once you click on a template, a pop-up appears. This shows a host of useful items like a share feature, relating keywords, and a whole "more like this" section. Adobe Spark does not have any of these features.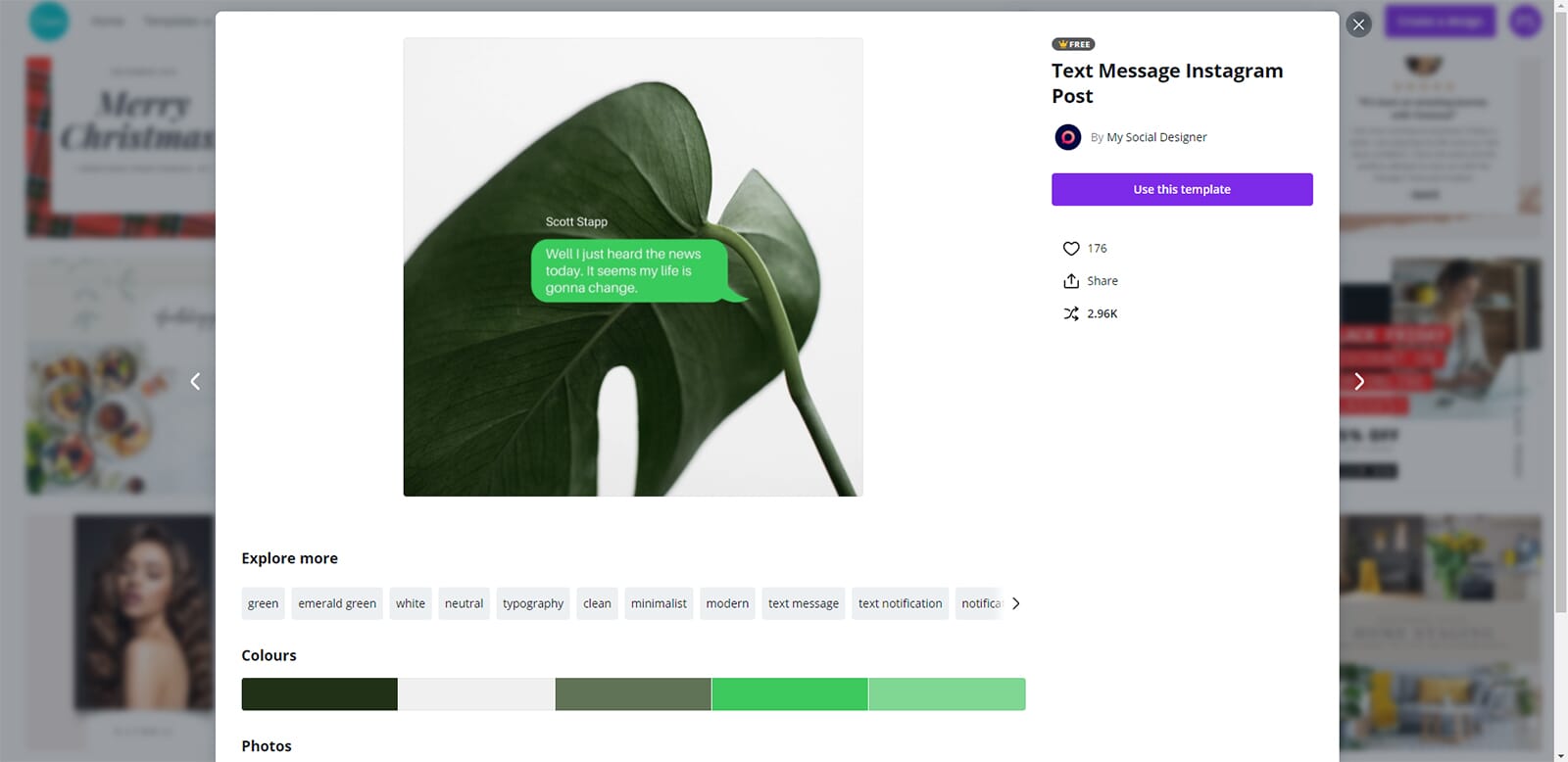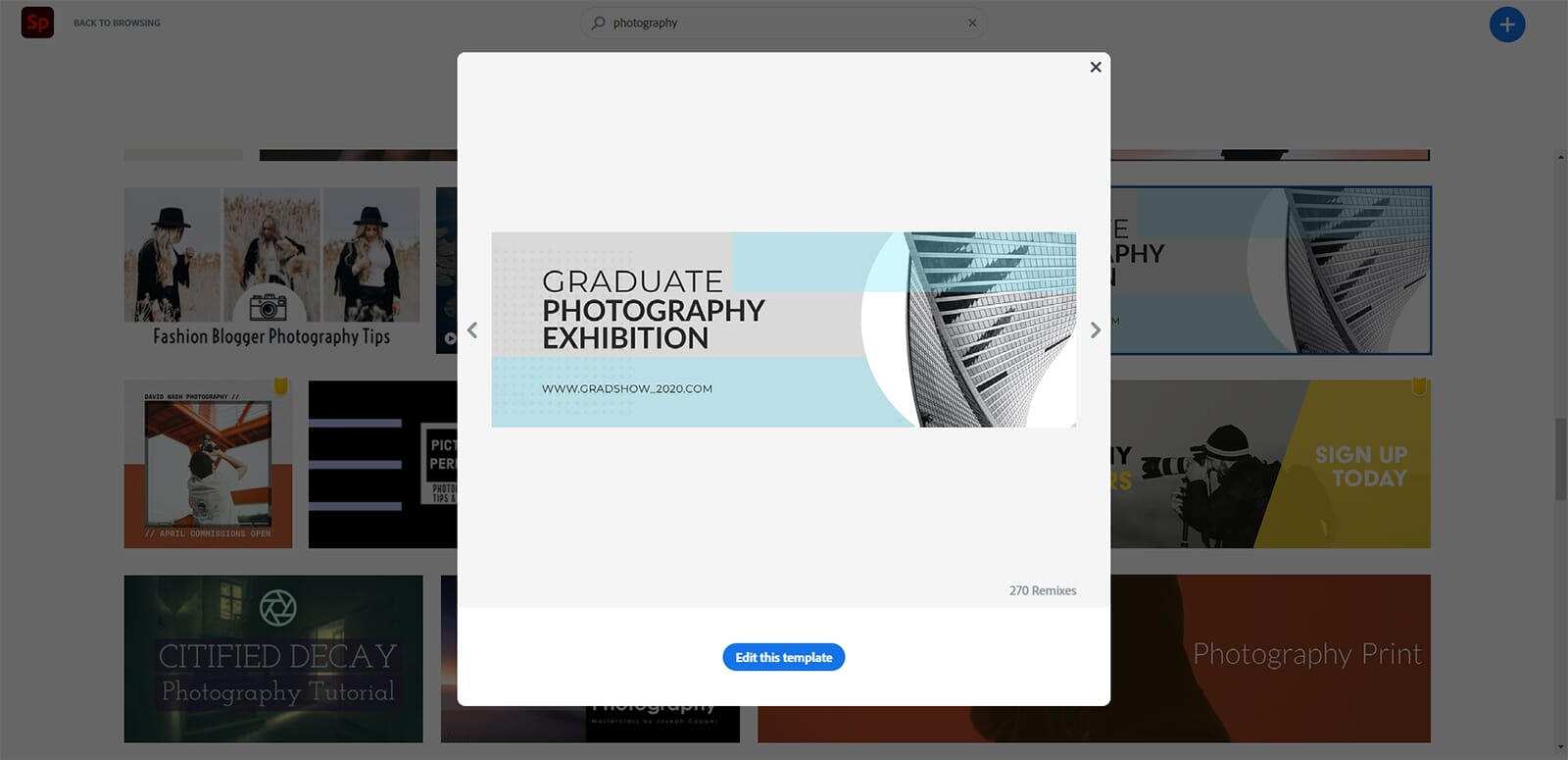 Branding
When looking at Canva vs Adobe Spark branding is a key feature, especially if you're looking to utilize the platforms for business purposes. Both platforms have a specific branding tool. This allows you to create a brand theme that you can apply to your designs.
Adobe Spark does have a better brand editor. It offers more choice and options. For example, you can create brand templates directly from this screen. Also, you can alter the positioning of logos, and create multiple color pallets that you can quickly apply to new designs.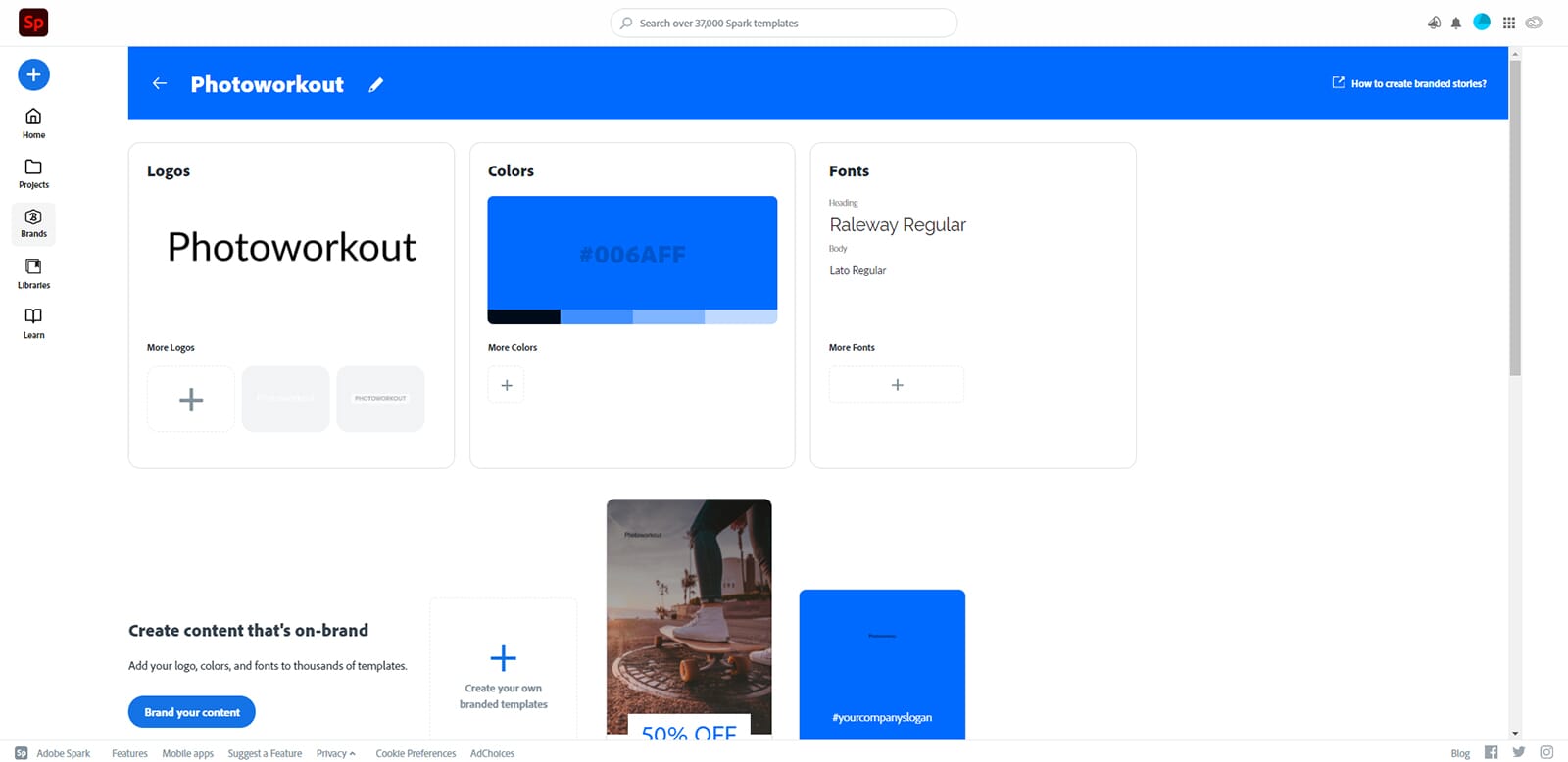 Canva's brand editor is still great, but I think it just has fewer options. You can still easily upload logos, set font schemes, and create color pallets, too.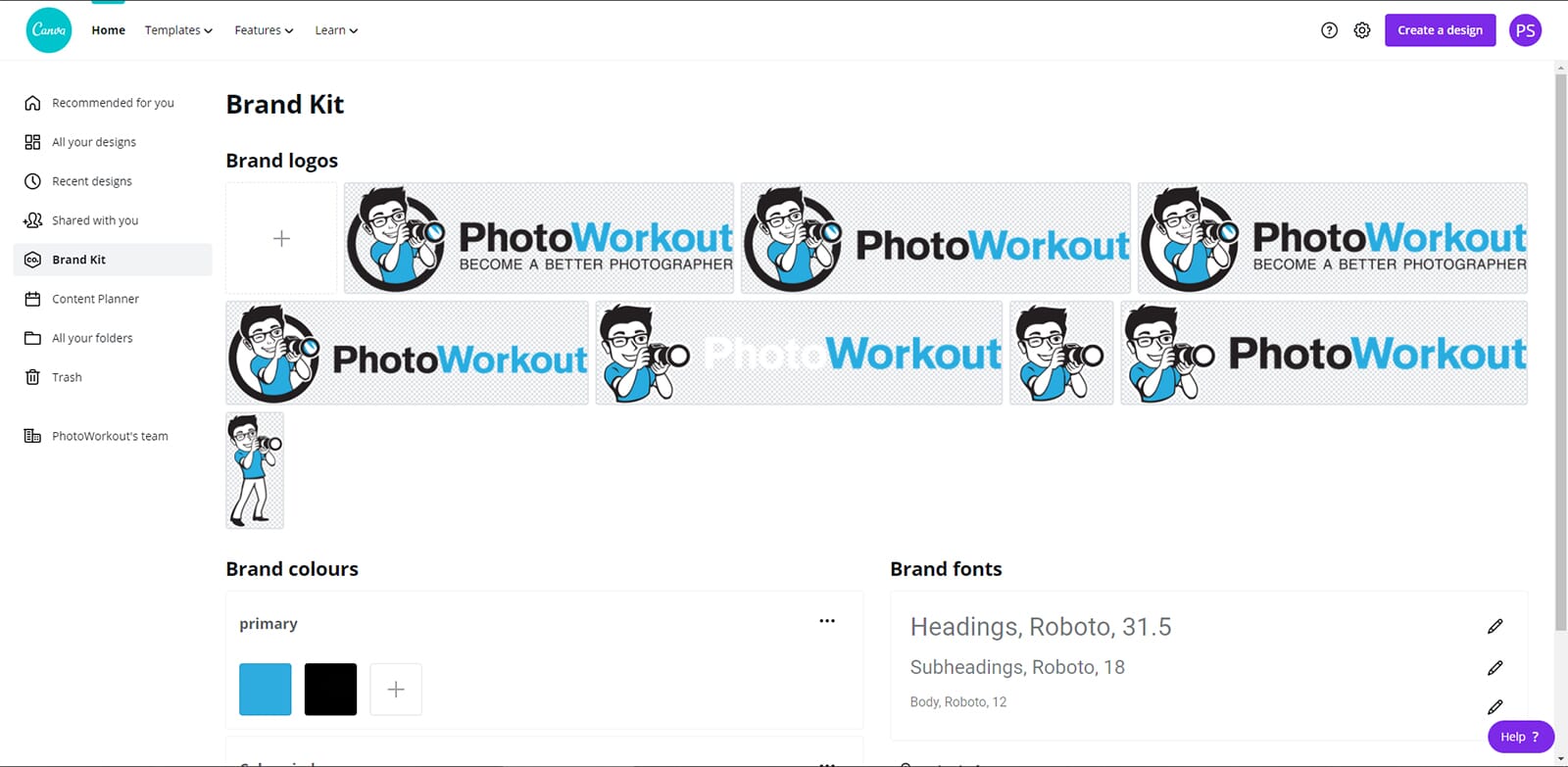 Graphic Design Editor
Both Adobe Spark and Canva have a dedicated graphic design editor. When comparing these two programs, I spent time testing the editors to see how they worked, and how easy the different features were to use.
For the basic layout, both editors feature a similar layout. This includes the main toolbar on one side, a preview pane in the center showing the design, and a secondary toolbar along the top for the platform navigation. There literally isn't much difference in terms of basic editor layout. Below I have gone into more detail about specific elements of the editor: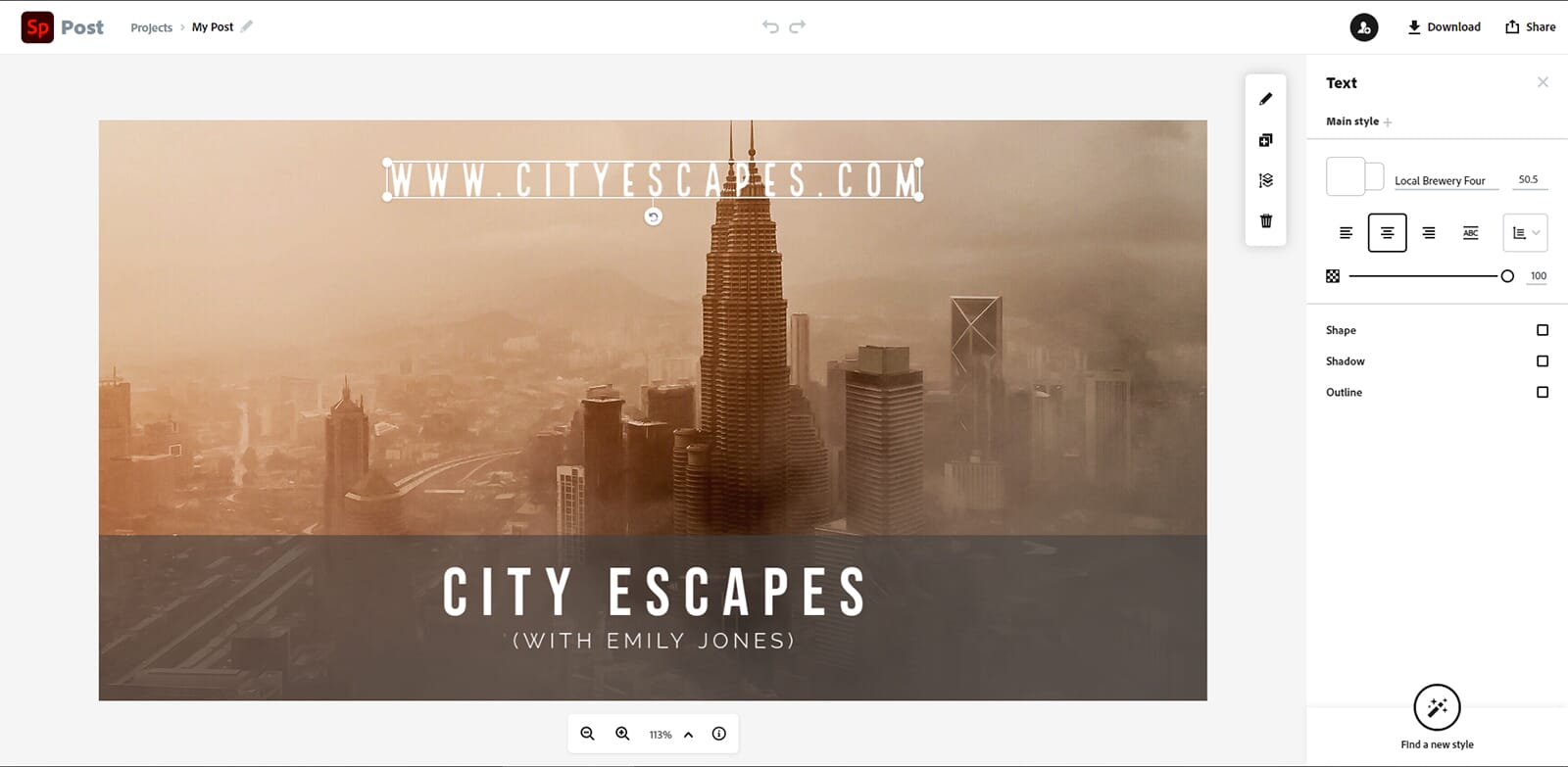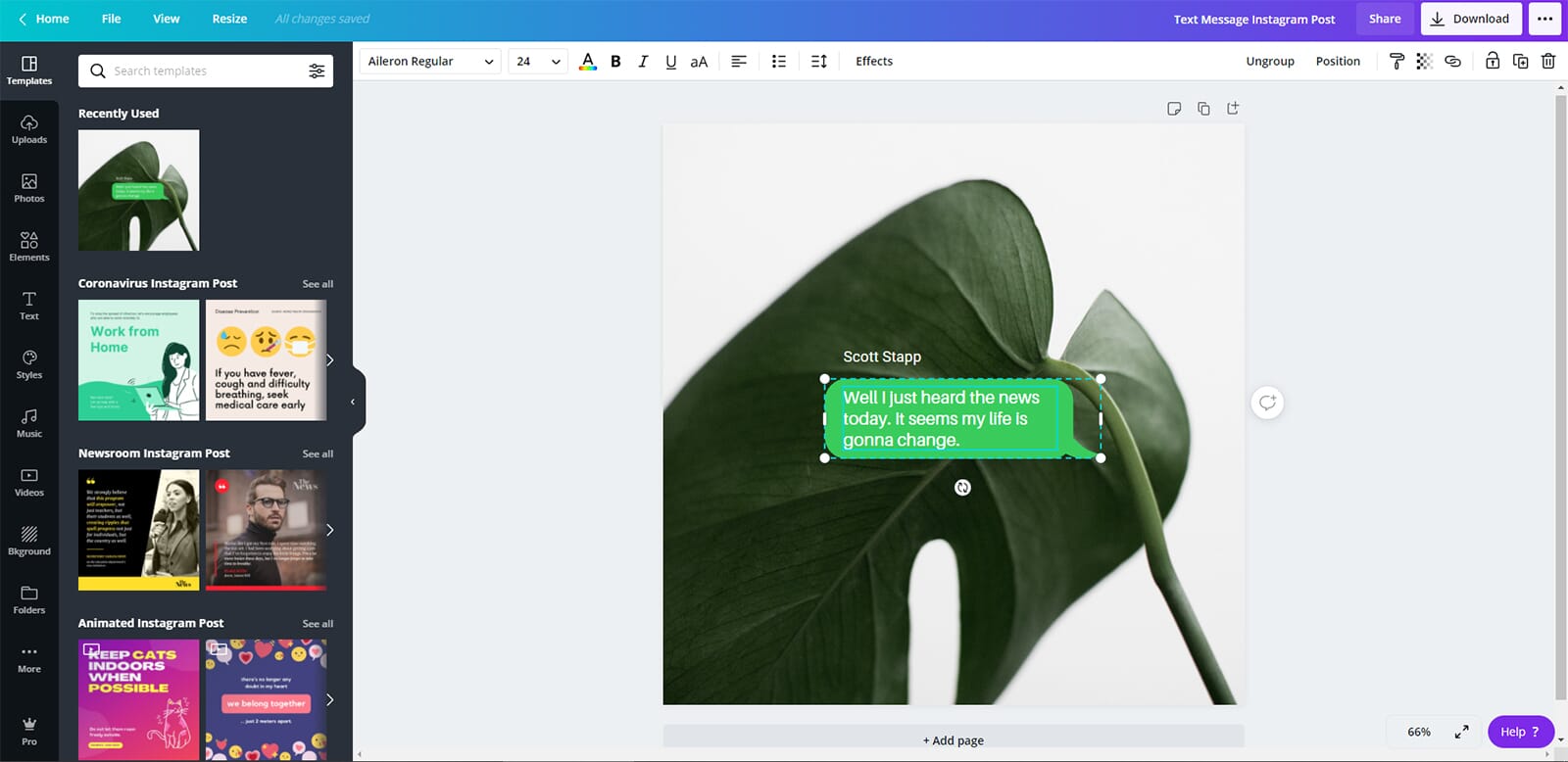 Individual Element Editing
An important aspect of any editor is changing individual elements – like text, images, and icons. I prefer Adobe Spark's individual element editing. When you click on an element, a new toolbar on the right-hand side opens. This contains a clear set of parameters for the object you can edit. It is clear, easy to understand, and highly visual.
In contrast, when you click on an element in Canva, a toolbar opens above the preview pane. I find this much smaller and harder to see, and it can look a little cluttered.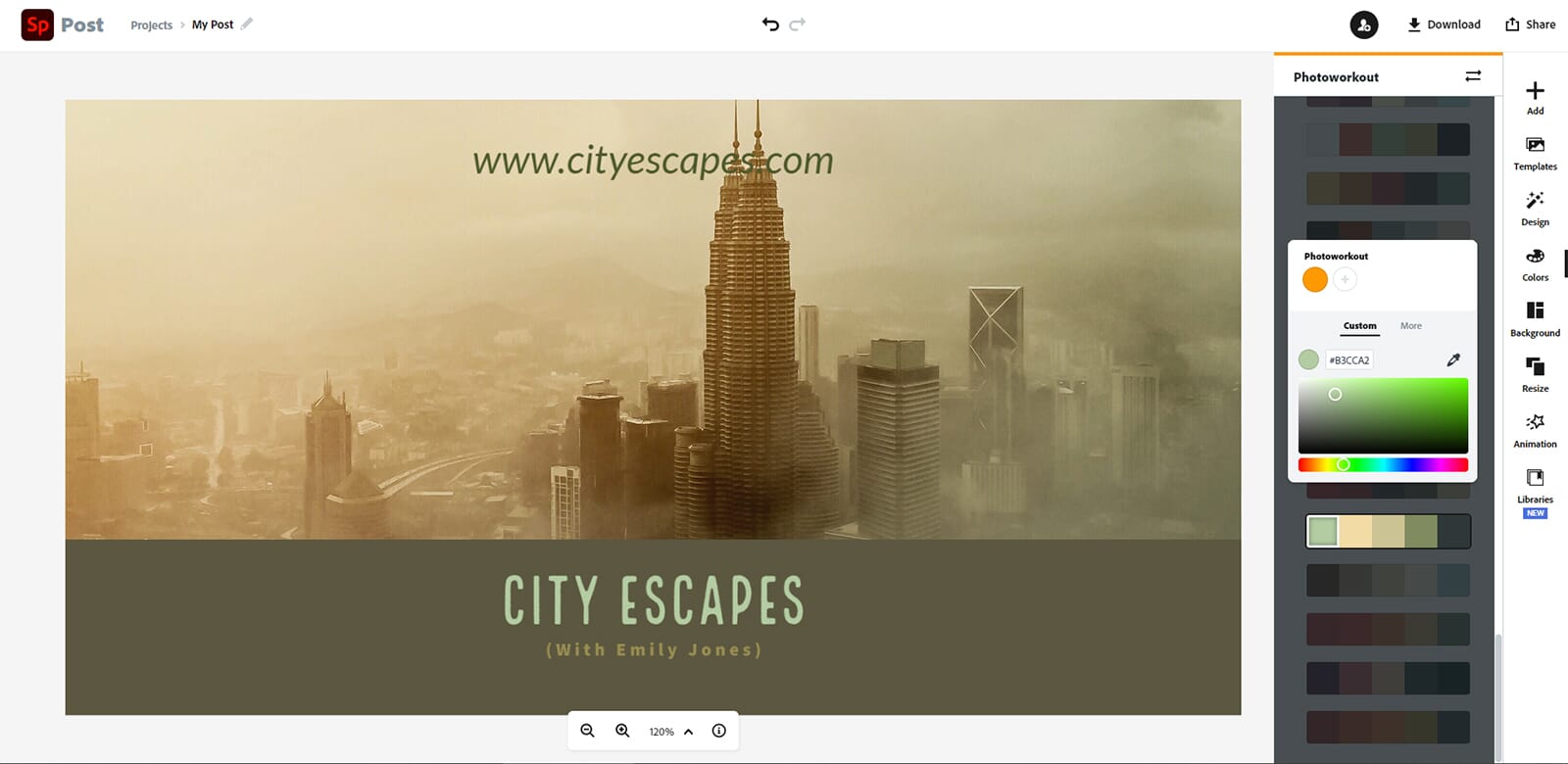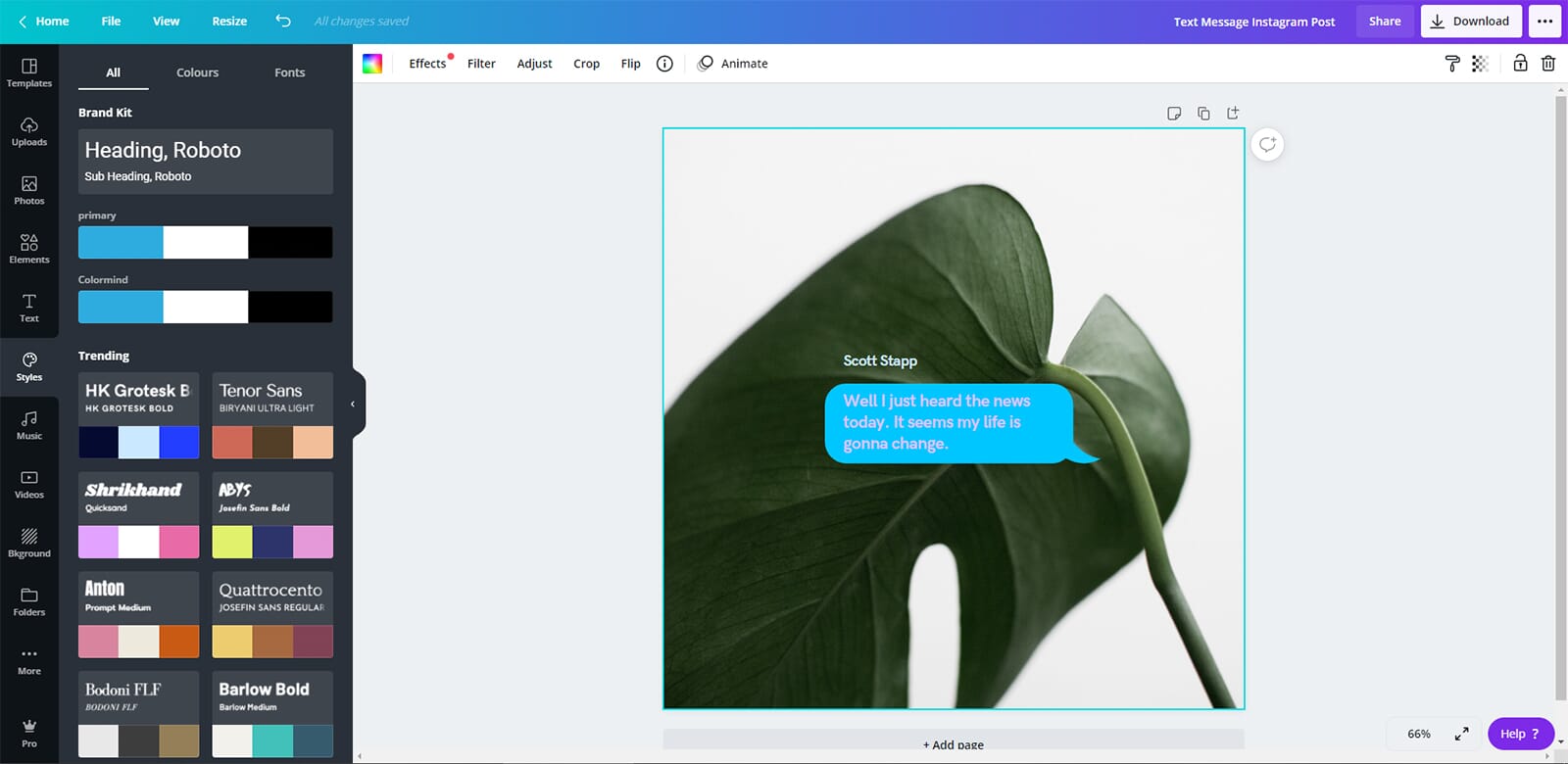 Fonts
Most designs you create will contain fonts. Both Adobe Spark and Canva provide a large range of fonts to choose from, and also offer preset text styles and designs.
I feel Canva has the edge here in terms of presets and creativity. It has a huge library of preset font styles that you can apply in one click. You can also easily change the size, color, and typeface of a font, and apply effects too.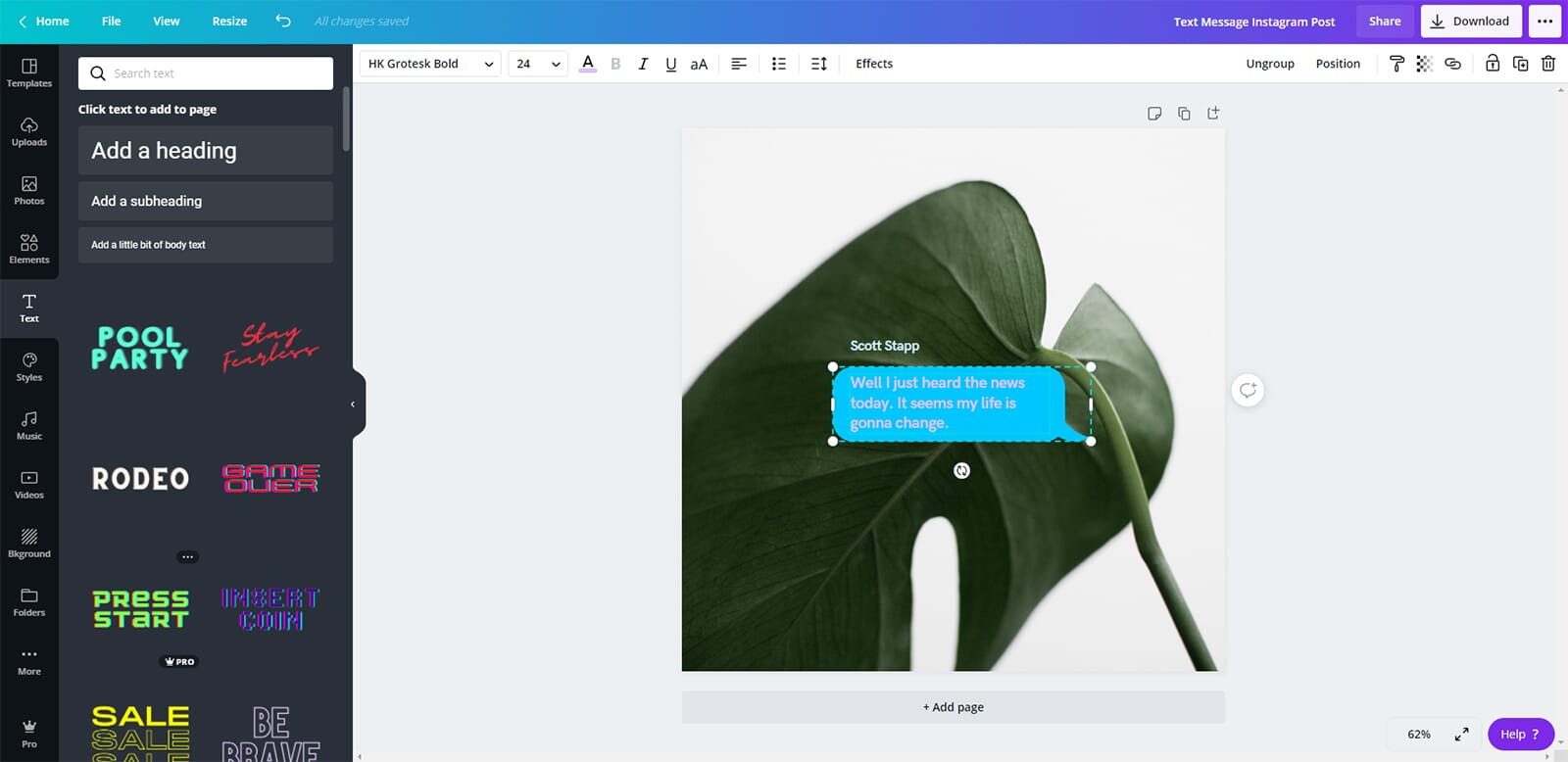 Adobe Spark has a much smaller range of preset fonts to choose from. However, it also has a detailed text editor, and you can easily add effects like text outlines, or even encase the text in a shape.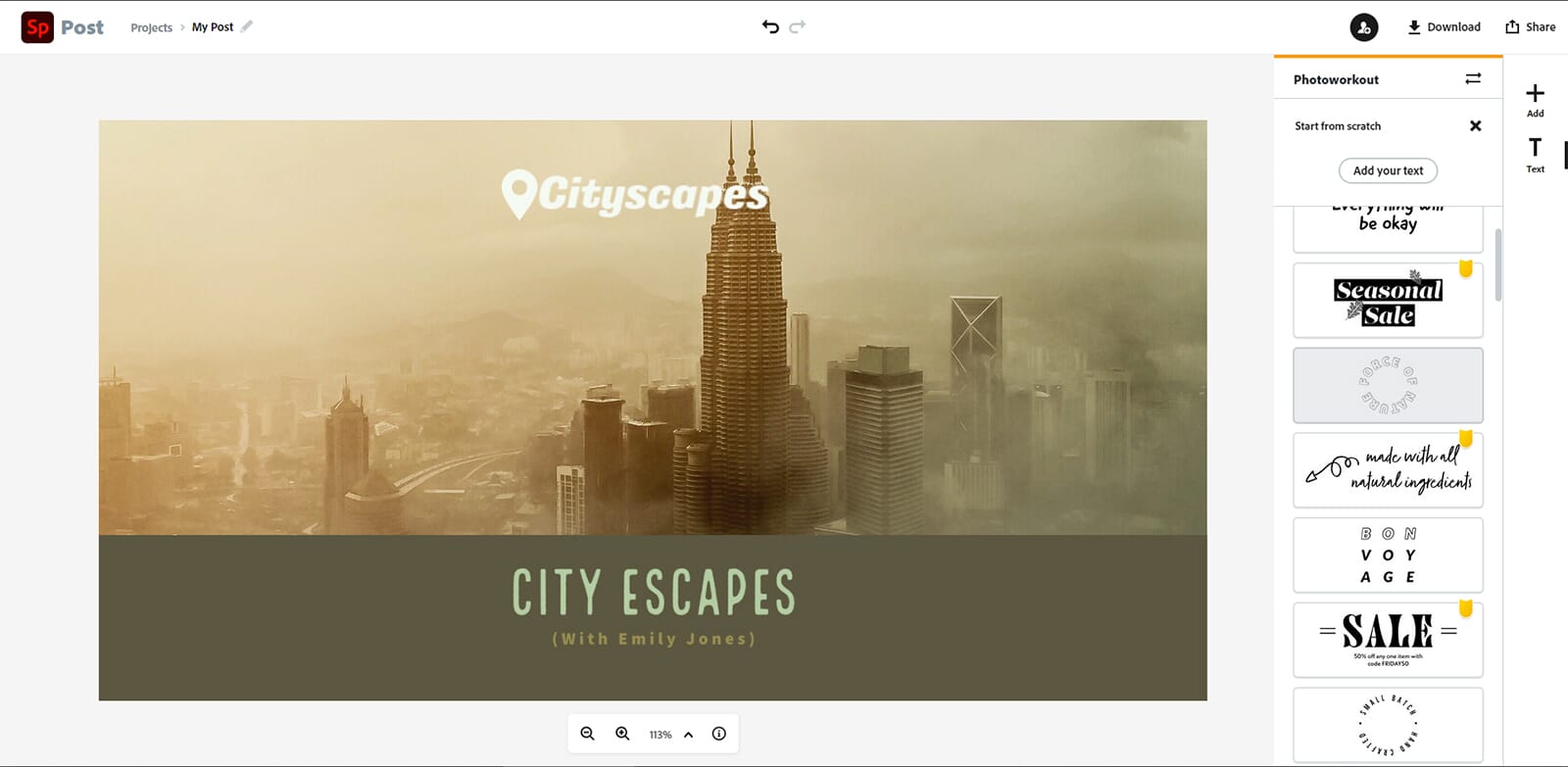 Images
Both Spark and Canva allow you to edit images. This includes applying filters and making basic enhancements. Canva again has the edge here. It offers a decent range of preset filters, but it also has a large range of effects like glitch, duotone, and pixelate. Adobe Spark simply doesn't have this range of presets and filters.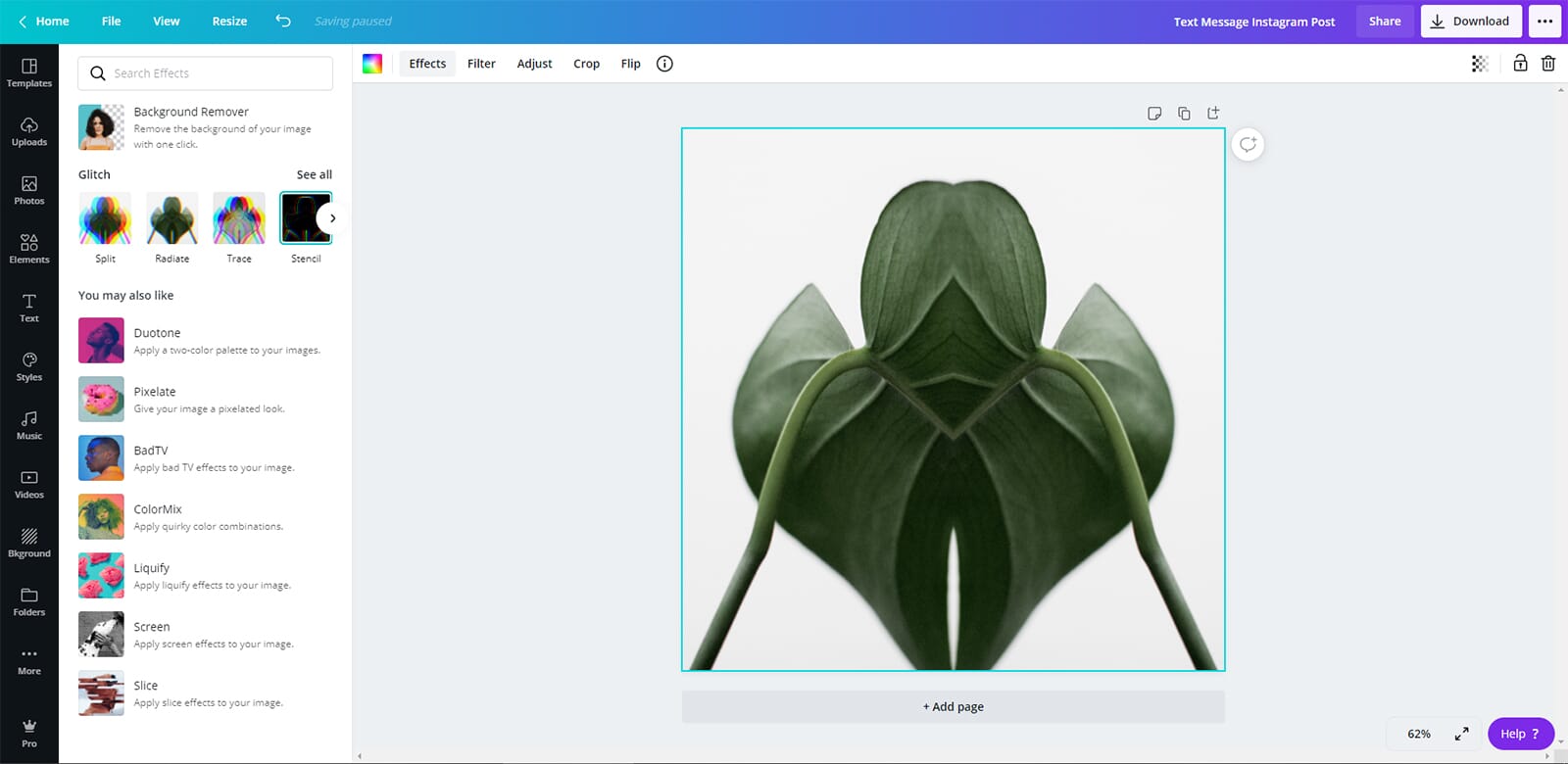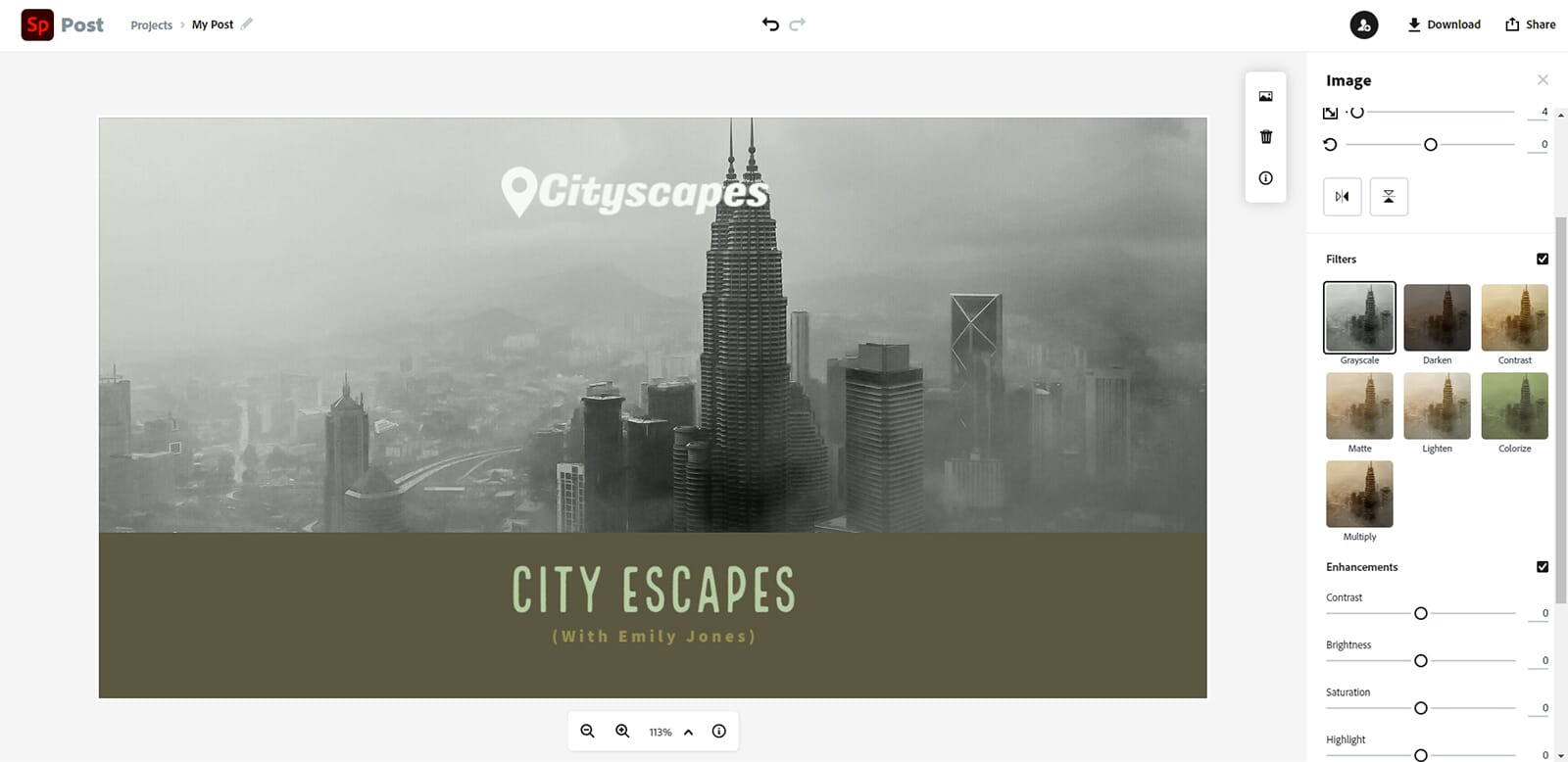 Using Adobe Spark you can edit your images and make enhancements, but Canva offers much greater creativity.
Other Editor Features
Other than the above, both editors have a great set of features. Both allow you to apply animations, for example, and both have templates for different layouts and specific design styles like YouTube thumbnails and social media stories.
Canva vs Adobe Spark: Our Verdict
So which is the better platform in the Canva vs Adobe Spark battle? There are contrasting thoughts here, particularly concerning usability and creativity.
Adobe Spark is the more usable platform and it certainly has a better interface. I prefer the Adobe Spark editor, and how you can edit individual elements. Also, the main layout and management section of Adobe Spark looks better and is easier to navigate.
However, Canva undeniably has much greater creative potential. Adobe Spark has a large template library, but Canva has a far superior set of presets, filters, and individual items you can incorporate into your designs. Examples include the large selection of effects and filters you can apply to images, and the huge array of icons and graphics available.
If you are concerned with creativity and want inspiration, Canva is the better choice. However, if you want pure usability, and only want to create basic graphics, Adobe Spark is the more suitable option.
I hope you have found this Canva vs Adobe Spark review beneficial! These platforms are highly useful and they will change the way that many businesses create their digital media.