This is a review of the latest version of Capture One Pro. Phase One's popular RAW processor and image editor has a new release – version 12. In this Capture One Pro review, we look at its new features.
Capture One Pro 12 is a photo editing, RAW image processing and organizing tool developed by Phase One. It does almost everything that you would come to expect from an advanced photo editing application plus the cataloging and organizing bit all built into one.
In that respect, it is much like Adobe's Lightroom, the other extremely popular application and the current undisputed champion of the photo editing world.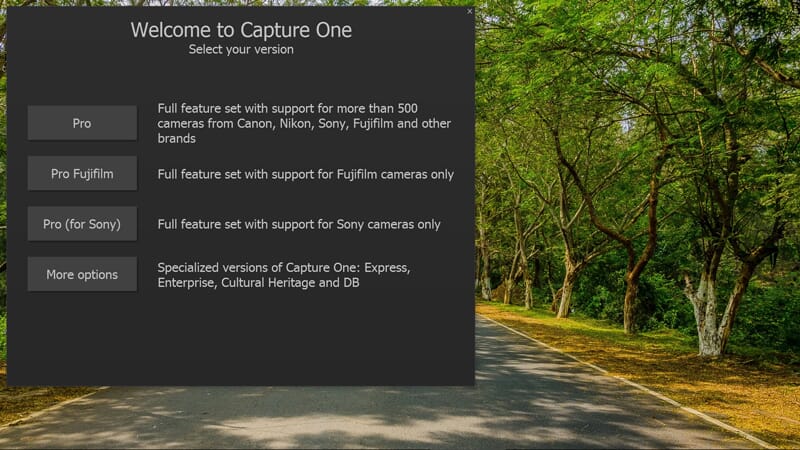 That said, every application has its own advantages and disadvantages. And so does Capture One Pro. In this Capture One Pro review, we shall take a look at some of its features and functionalities.
In this process, we shall try to understand more about the application and its pluses and minuses. By the end of it all, we will come to a definite conclusion about how the application fares when compared to Lightroom.
When you buy through links on our site, we may earn a commission at no cost to you. We evaluate products independently. Commissions do not affect our evaluations.
New Features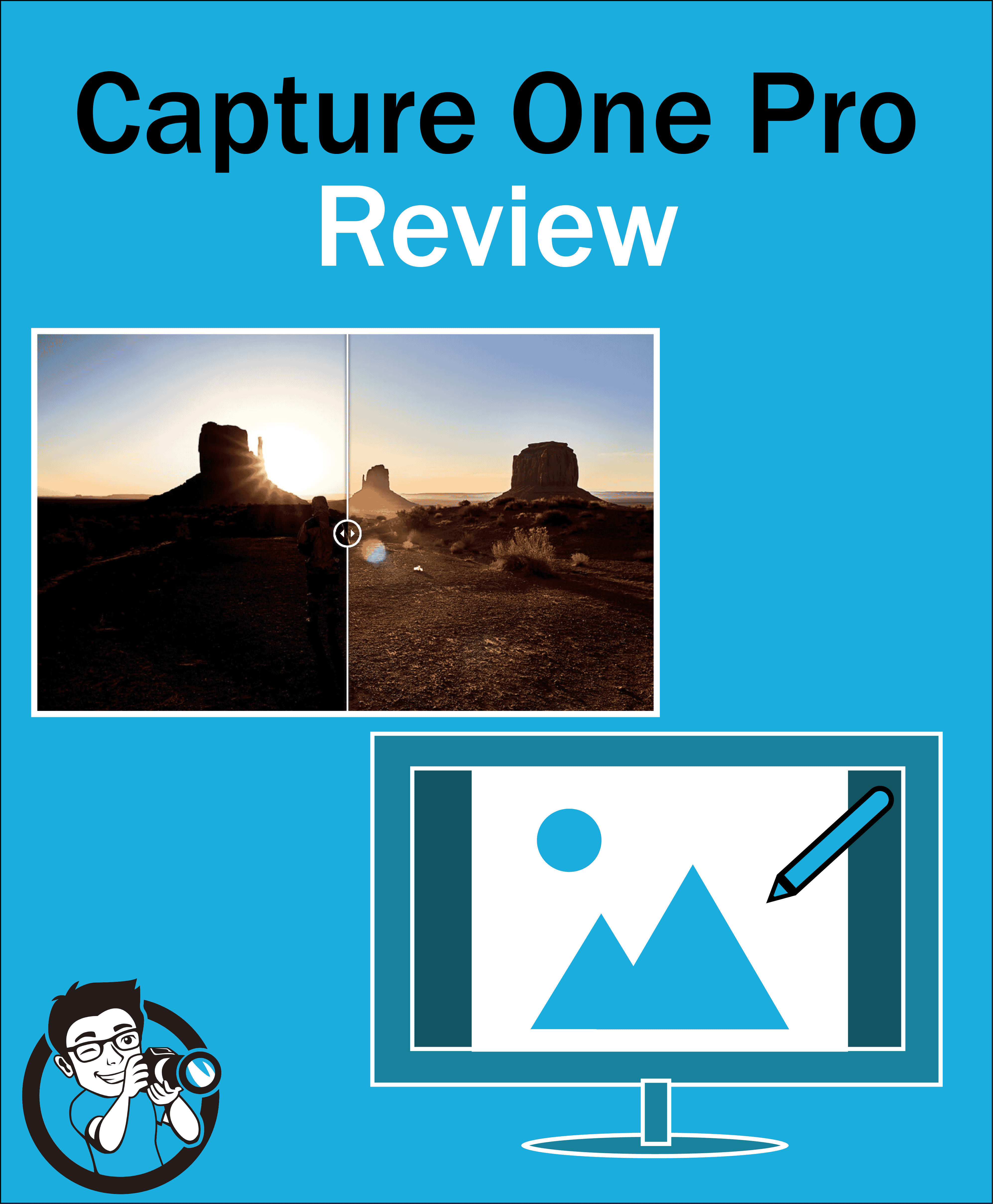 First thing's first, the new Capture One Pro comes with some updated features and some new ones too.
So, what's new? The answer is quite a few things.
You now have enhanced support for third-party plugins. Something that brings Capture One up to speed with Lightroom. Though I must add that it is still some years from having as much functionality and compatibility as Lightroom.
The interface of Capture One Pro has definitely improved since the previous version. This includes a new tool tab with new icons. These icons now more closely resemble the functions that they serve.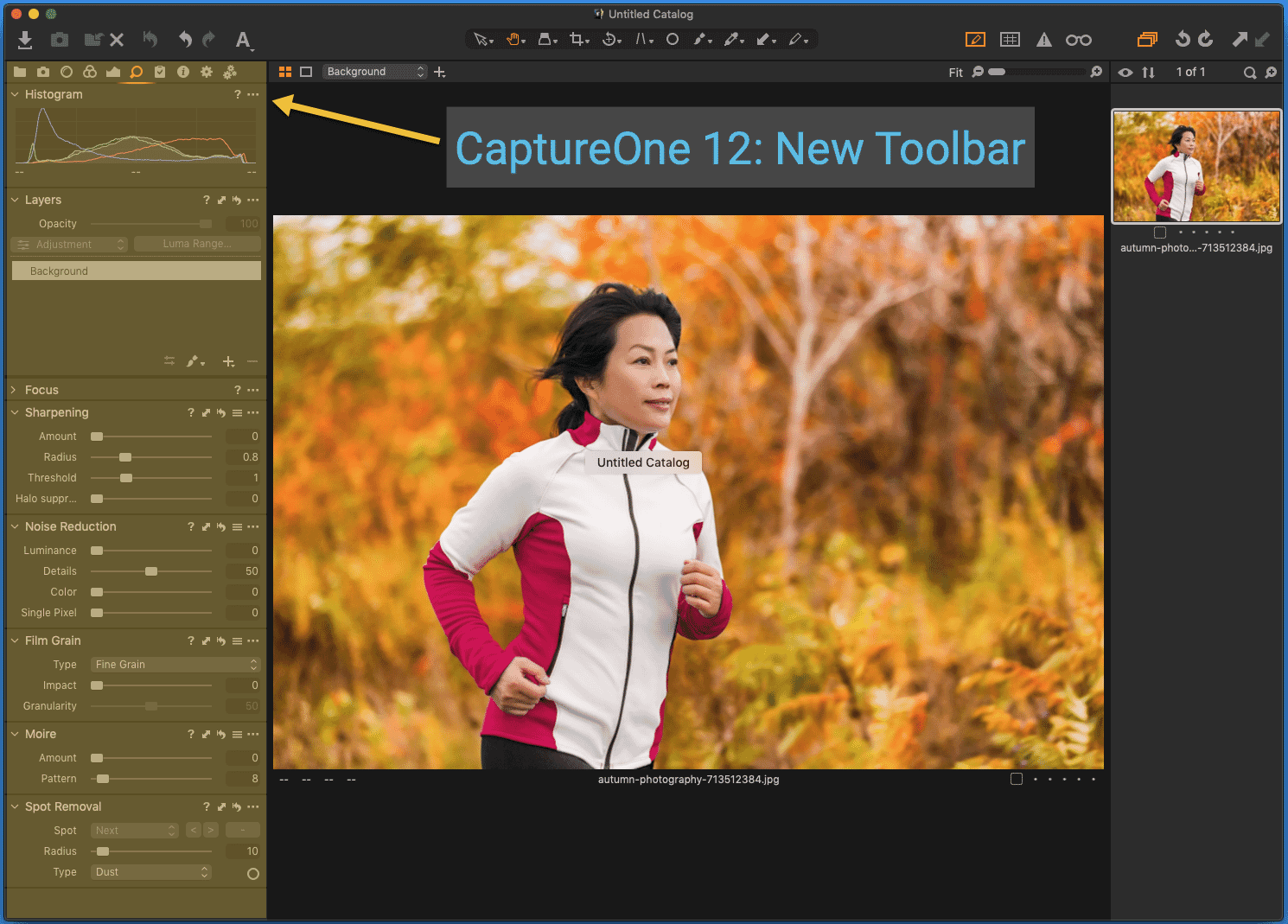 The masking tool feature has been upgraded by adding new features to the tool.
You can now use round masks and elliptical masks. There are also more options in variable feathering in Capture One Pro 12.
Capture One 12 Tutorials | Advanced Masking
Watch this tutorial to learn different techniques to create high-quality masks. Learn about, Flow Control for Dodging and Burning, Refine Mask, Fill Mask, Feather Mask, and Auto-Mask.
The gradient tool is very useful for adjusting exposure, contrast, brightness, saturation and a bunch of other details, particularly when editing landscape shots.
This tool has now been upgraded to give you options to choose the degree of feathering, the angle of the mask, as well the position.
First Launch After Installation
Let's take a look at Capture One Pro 12 for someone who is using it for the first time.
When you launch Capture One Pro 12 (after download and installation) it gives you an option to choose which workflow would be best suited for your nature of work.
You will be given two options – Sessions and Catalogs.
They both have their own advantage when it comes to editing and organizing. Though subjectively speaking, old school photographers who are familiar with the folder structure of their computer would prefer Sessions for their photo organizing tasks. And for backing up purposes too.
Choose Your Path
It sounds like an old Jedi motto, but that's precisely what Capture One wants you to do. Ultimately, the path you choose is based on how you are going to use Capture One Pro for image organization. There are two ways of doing that in Capture One Pro 12. The two paths are Sessions and Catalogs. It is imperative to know which option does what before you choose.
Session
If you use Capture One Pro as your secondary photo editing application, then Sessions is the way to go. Sessions allow you to import your RAW images one project at a time.
Sessions treat each import as a new project. Whist Capture One Pro is a very useful photo organizing software, many users may not want to use Capture One Pro for their file management. They may already have a system in place.
Every time you start a new Session, Capture One will create a new folder with the exact same name as the session name.
Basically, you have to enter a name for the Session and Capture one will do the rest.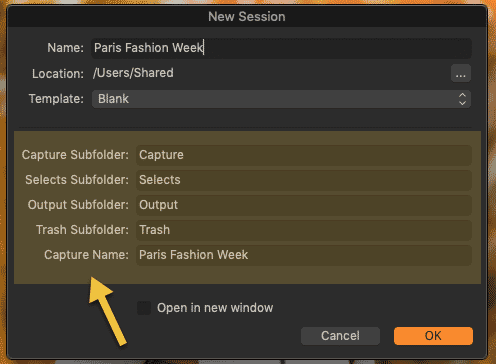 This first folder is the Parent folder.
Underneath that Parent folder, Capture One will create an additional four folders. These folders are the Capture Folder, Selects Folder, Output Folder and the Trash Folder.
Oh, and you will also notice that Capture One has opened a new database file under the parent folder. Each session has its own database file, and that is why the system is faster than what you typically experience with Lightroom database. After about 6 months of using Lightroom and provided you have about tens of thousands of images cataloged, Lightroom will get sluggish.
1. Capture Folder
Let me give you a bit more info about these folders.
The Capture folder is the one where your raw files will go. So, every time you make a tethered capture or import any raw files they will go to the Capture folder.
2. Selects Folder
Selects Folder is a sort of work in progress. This is the folder where all your selects will be located.
3. Output Folder
Next comes the Output folder. By now you must have got a hang of how these folders have been named.
The Output folder is the one where all your finished work will reside.
4. Trash Folder
Finally, the Trash folder is where all the junk will reside. This includes images that you have rejected. Bear in mind that this is all just naming. It is not a recycle bin. The images are still very much in your hard drive and can be used on-demand.
Advantage of the Session System
The major advantage of this system is that you know exactly where your original, in-process and final output files are.
Many a time we tend to get lost in our filing systems. This offers a much simpler process. You can simply copy and paste the directory structure (the five folders and their contents) to your external hard drive or cloud storage to make a backup copy.
Catalog System
Catalogs allow you to organize your images in a meaningful way.
You could create a Catalog based on the year of the shoot. Alternatively, you could create catalogs based on each of your assignments.
Basically, it works the way you want it to work. Catalogs don't put a limit to how many images you can work with. Sessions, on the other hand, do.
If you are migrating from Lightroom, you would find the Catalog approach very similar to what you have been doing all along.
For an average Lightroom user, the Lightroom Catalog is a database structure of the path where their images are stored. But beyond that, Lightroom Catalogs have a much wider application.
Lightroom and Capture One catalogs are very similar. They both use a database design that stores the paths leading to all your images. Regardless of where they might be, a local or an external hard drive.
The problem, which some may be aware of, is that if the database gets corrupted and you can lose all your information. Information such as edits which you may have done, the location of the files along with other details will be lost. Your RAW files will not get lost, neither will any JPEGs that you might have created.
Actual Editing Process
Let's dive into the editing process and check out some features of the application.
The actual editing process of Capture One is somewhat similar to what you would find on Adobe's Photoshop. Both systems are using a layer-based editing system.
Lens Correction
Normally, when I edit images in Lightroom, the first thing that I look for is to do a quick correction of chromatic aberration and lens profile correction. Followed by a crop of the image if my composition is off.
In Capture One Pro, the Lens correction tool is located on the left panel.
Capture One Pro Navigation
With any software review, usability is key. This is why in our Capture One Pro review, we are testing out the navigation.
First things first, Capture One allows you to customize your toolbar. You can add and remove icons or change their location just by clicking and dragging the icons on the dashboard.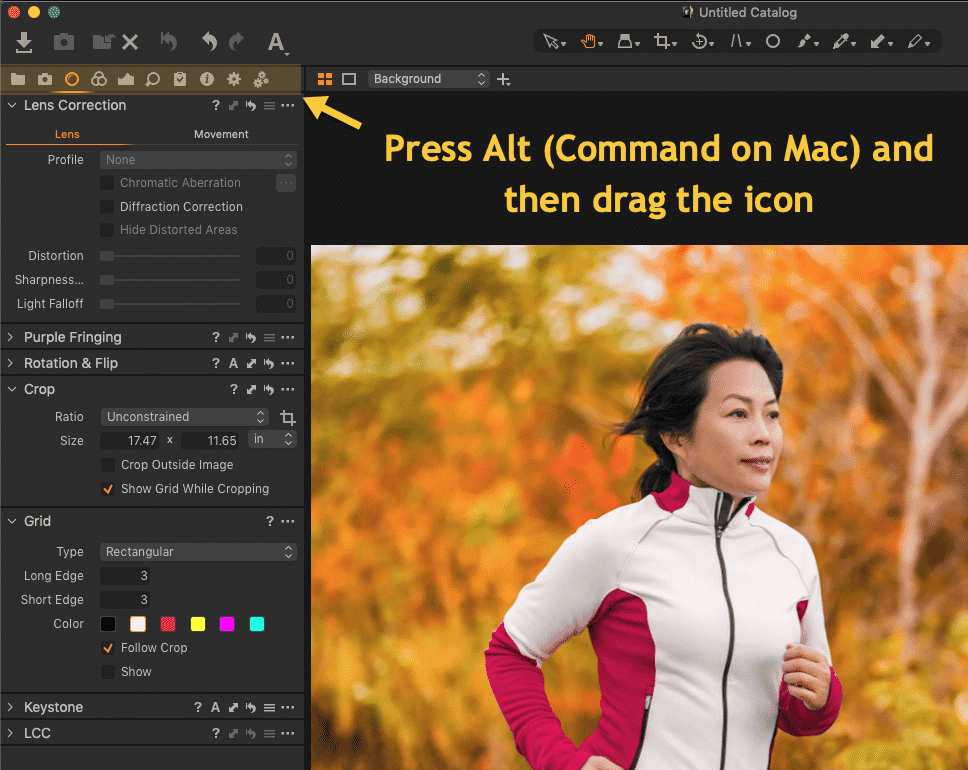 You can find an array of icons on the top left corner of the dashboard. This is where your technical tools are located. Exposure, contrast, white balance and so on.
There is another panel right at the top center where you can find much of the other tools you will need when editing your images. These include the Pointer tool, the Hand tool, the Crop tool, the Straighten tool among others.

Note that there are keyboard shortcuts for almost everything in Capture One Pro. Plus, you can change the keyboard shortcuts as you feel.
You can assign keyboard shortcuts to tools and processes and change existing shortcuts.
Straighten Tool
The Straighten tool is located in the middle of the center panel. It is a semi-circle with a + sign in the middle.
Click that and you can draw a line to correct the horizon. This is very similar to the way you would use the straighten tool in Lightroom.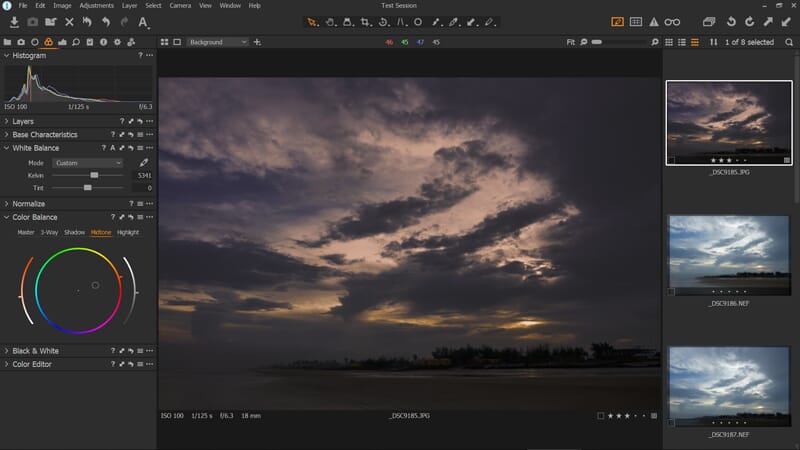 Crop Tool
You can activate the crop tool by pressing C on your Windows/Mac keyboard.
Then drag the crop boundaries until you are happy with your composition.
Exposure Tool
Clicking on the Exposure tool opens up the major editing panel.
Capture One Pro has a similar layer-based editing option as Adobe Photoshop, and this is where you will find it.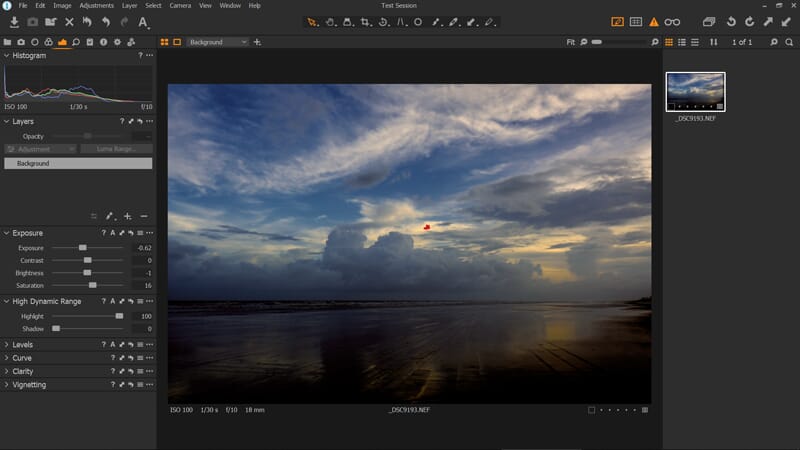 Here you have the Histogram tool, which gives you a clear indication as to what the exposure is like.
You also get the Exposure, Contrast, Brightness, Saturation tools as you do in Lightroom.
You will also find a High Dynamic Range tool. This makes it easy to adjust the highlights and shadows exposures to make a more compelling HDR image.
This is where you would also find the Levels and Curves adjustment options.
Related Post: Best HDR Software Compared
Curve Tool
The Curve Tool can be found under the exposure tab. This offers a more fun way of editing your images.
Not only that, but it is also an easier method because you can pick your highlights, mid-tones and shadows and adjust the exposure without having to do too many adjustments with Exposure Sliders.
Black and White
As a big fan of black and white photos, this function is super important to me. Lightroom offers simple and effective ways to develop black and white images.
Similarly, Capture One Pro does, too! Their Black and White development mode can be found at the very bottom of the color tab.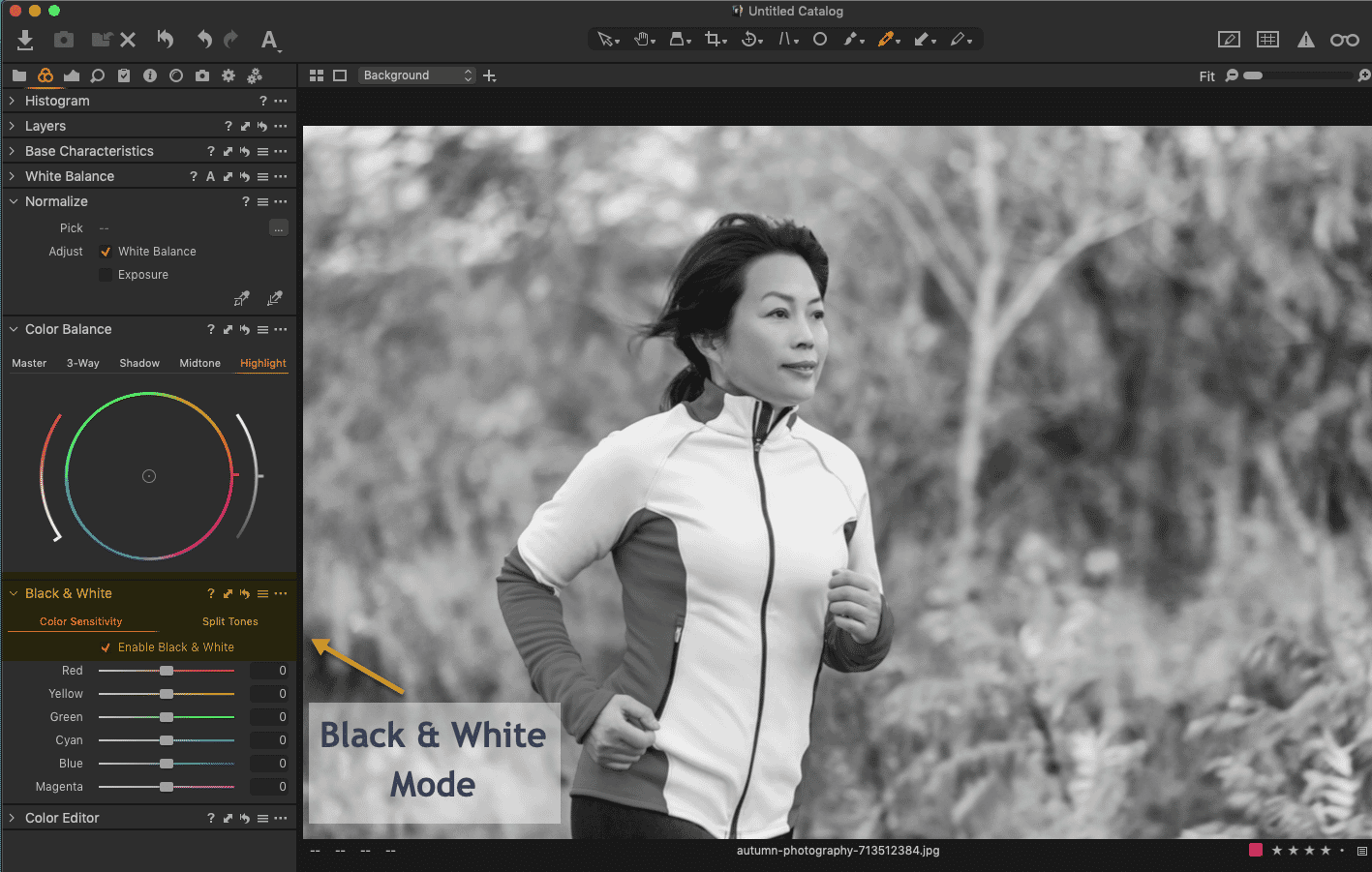 To start processing your image in black and white you have to first check "Enable Black & White".
Once you do that you can then pull the individual colors in the image to your preference.
Related Post: Black & White Photography Tips
Linear and Radial Gradient Tools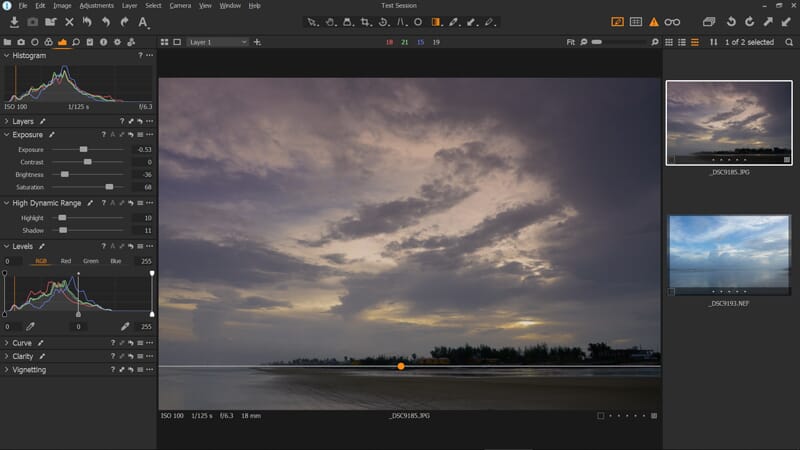 Capture One Pro has Linear and Radial Gradient tools. Whilst these were available in previous versions, their performance left something to be desired.
In Capture One Pro 12, they've been given an upgrade. This brings the tools on par with that of Lightroom.
Final Thoughts
I definitely liked the Sessions concept in Capture One Pro 12. However, it's not something that is new to version 12. Between Lightroom and Capture One Pro the latter is definitely the better in terms of file organization. I personally find the default catalog system of Lightroom quite cumbersome to use.
Backing up the Session folders is a whole lot easier and if you name them methodically it is easier to locate images from an old shoot in a matter of seconds.
Camera Support
As a photo editing platform Capture One Pro 12 is definitely a very powerful tool that will give Lightroom a run for its money.
There was a time when Capture One did not support some cameras which threatened their core business. But now things are getting back to normal with more than 500 cameras being supported and more to follow.
However, the greatest drawback of using Capture One Pro is that you don't have anything near the same number of plugins that you normally have on Lightroom.
Lightroom is quite old and well-established. That is why there are already thousands of plugins that enhance the functionality of the stock application. Capture One Pro is nowhere near as well-established and therefore is at a development disadvantage.
That said, with Capture One Pro 12, the developer kit of the application is going to be more "accessible". This will ensure that more and more developers are able to produce plugins for the application and therefore enhance its usability.
Dependency on Photoshop
Both Lightroom and Capture One Pro would need additional help for any advanced edits. In other words, Photoshop is not going anywhere.
So in that regard, they are pretty much on the same boat.
Price
Pricing-wise Capture One is nearly double the subscription price of Lightroom.
At that price, you could get the full photographer's suite from Adobe on a monthly basis including Photoshop.
Does Capture One Pro Make Sense if You Already Own a Copy of Lightroom?
Does Capture One Pro make sense if you already own a copy of Lightroom?
Not really.
It's pricier and is nowhere near as well-established.
Plus, it is a completely new application and a new interface that you will have to learn from scratch. This means additional learning time.
That said, if you are looking for your first photo editing application, and a file organizer, too, then this is something you can most definitely consider. Especially, given the fact that it comes with a 30-day trial for the full version of the application.
You can always try it out and then decide whether to take the plunge.