Photographers shoot in RAW to ensure the camera produces files that are completely free of compression and problematic JPEG artifacts. This does come with a caveat: The RAW files aren't perfectly optimized for editing and need to be corrected by hand. DxO PureRAW 2 aims to fix this problem; it uses advanced AI technology to optimize RAW files automatically. 
But how much does DxO PureRAW 2 actually improve files? Is there a real difference? Our DxO PureRAW review aims to answer just that!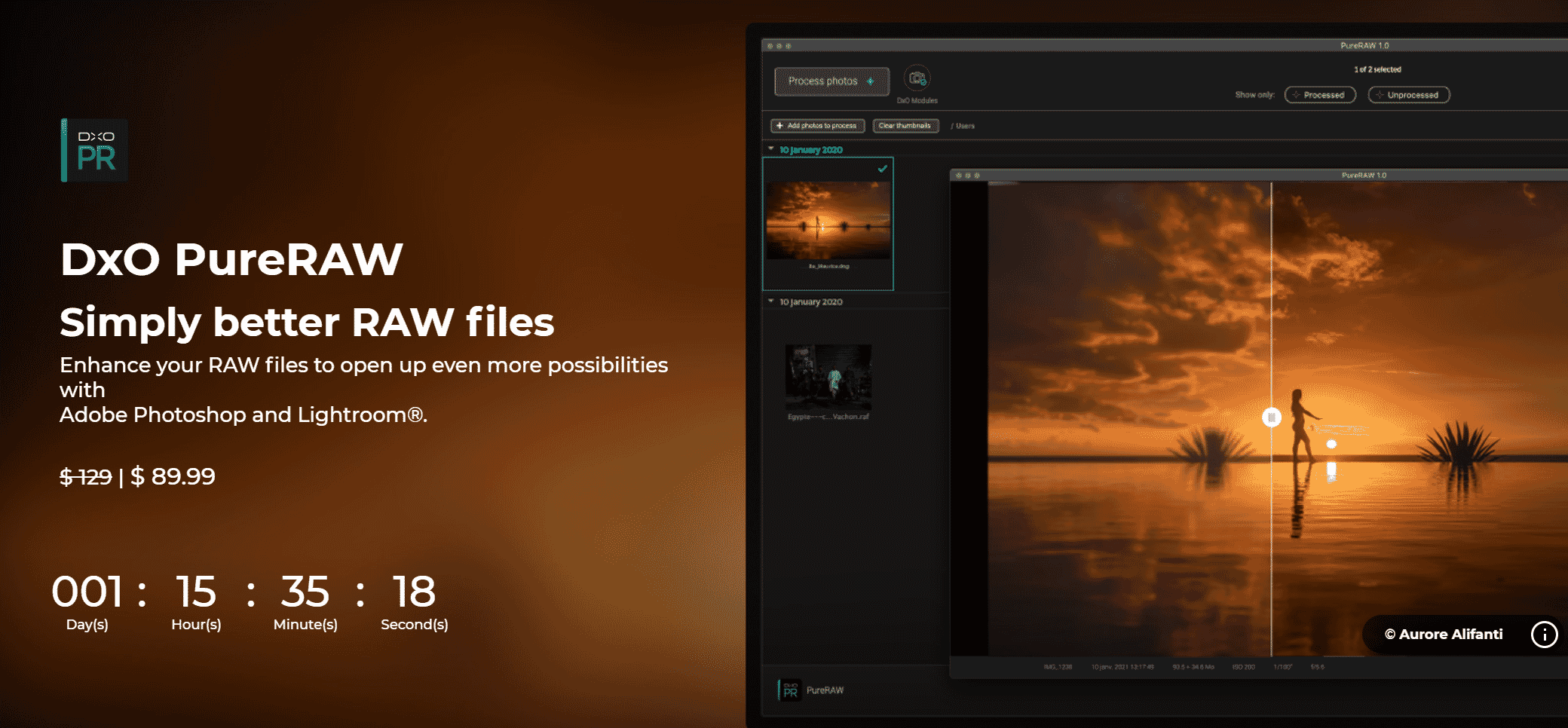 When you buy through links on our site, we may earn a commission at no cost to you. We evaluate products independently. Commissions do not affect our evaluations.
DxO PureRAW 2: Overview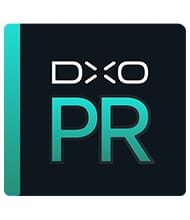 The ultimate RAW file optimizer
DxO PureRAW 2 makes all of the corrections to your RAW file for you so all you have left to do is editing!
Pros
Uses advanced AI technology to perfectly adjust your RAW files for editing
Very simple and easy to understand
Perfect integration with Adobe
Only a one-time payment for a standalone program
Cons
Some may consider the price to be high
Large files process slowly
No manual adjustments of optimization features (such as sharpening)
DxO PureRAW 2 is a standalone program built with the goal of ensuring your RAW files are ready for the editing room.
RAW files capture completely original material without making essential corrections. PureRAW makes all necessary adjustments for you automatically, from optical distortion correction to vignetting removal.
The program is standalone but effortlessly integrates with other post-processing programs. It'll export your optimized RAW files right into the editing room!
What's New in DxO Pure RAW 2?
Since we first wrote this review, DxO released a second version of the program. The biggest update revolves around Fujifilm RAW file compatibility.
Lucky for me, I had a Fuji camera available when revisiting DxO Pure RAW, so I was able to test out this update. After transferring my RAW-format Fuji files, a new prompt appeared asking if I'd like to download the new compatibility module. I agreed, it downloaded within seconds, and we were ready to rock and roll!

I selected all of the images in the transfer and set them to be processed via DeepPRIME, which is the program's most intensive process and is designed to heavily optimize images.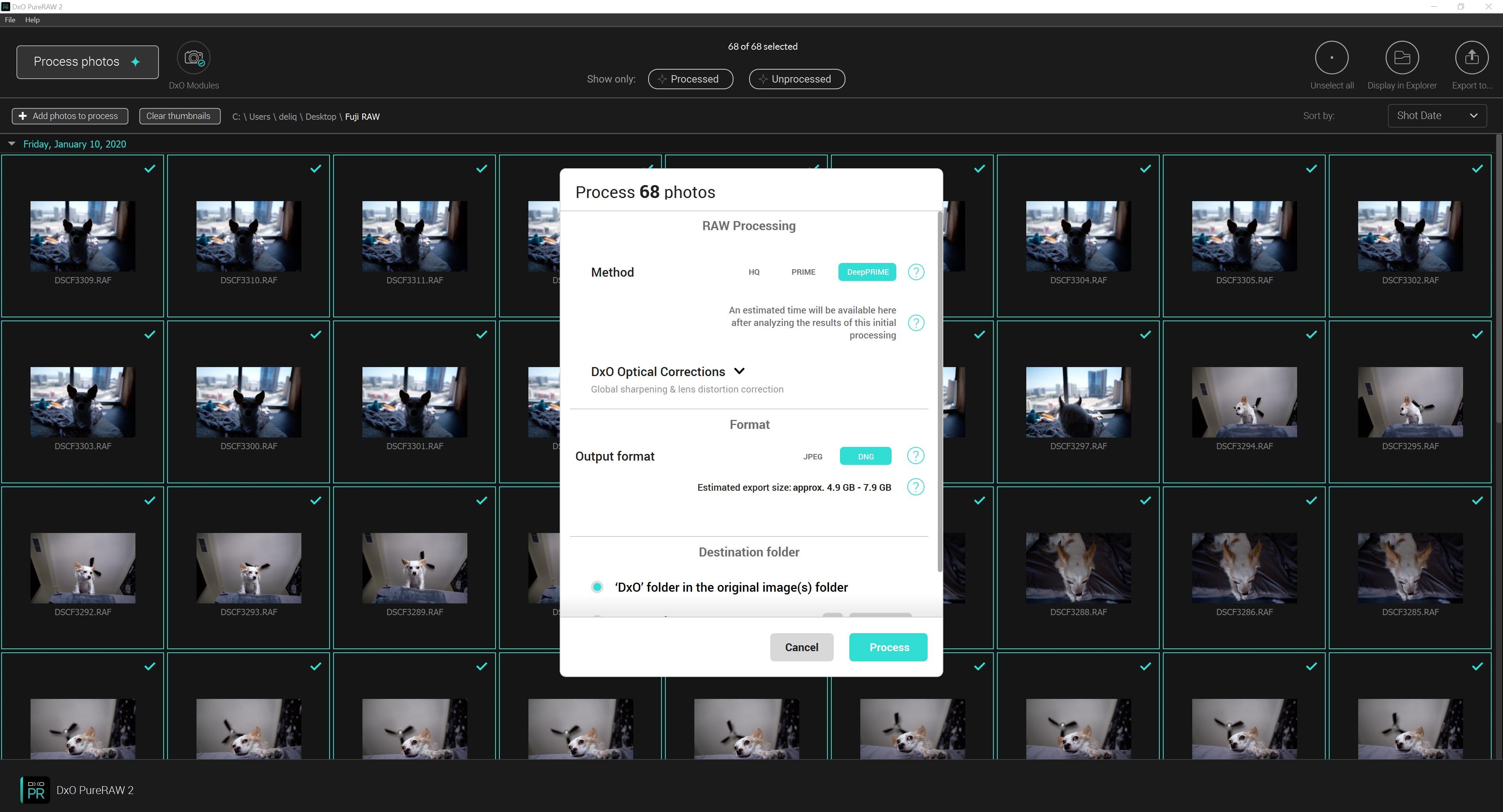 Once selected, I got a render-time estimate at the bottom of the screen. I found that the images were actually processed faster than the program's estimate, which was quite impressive.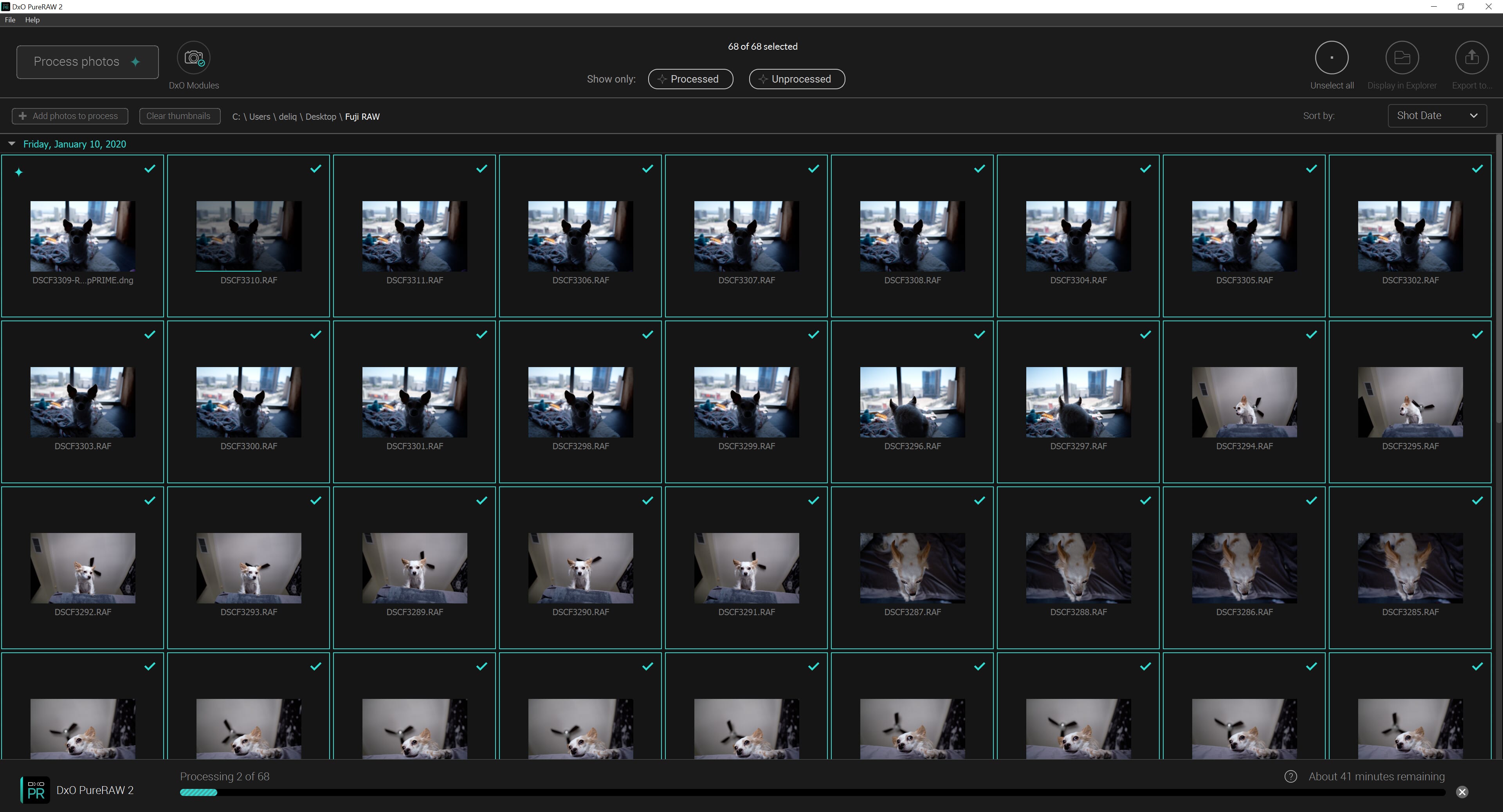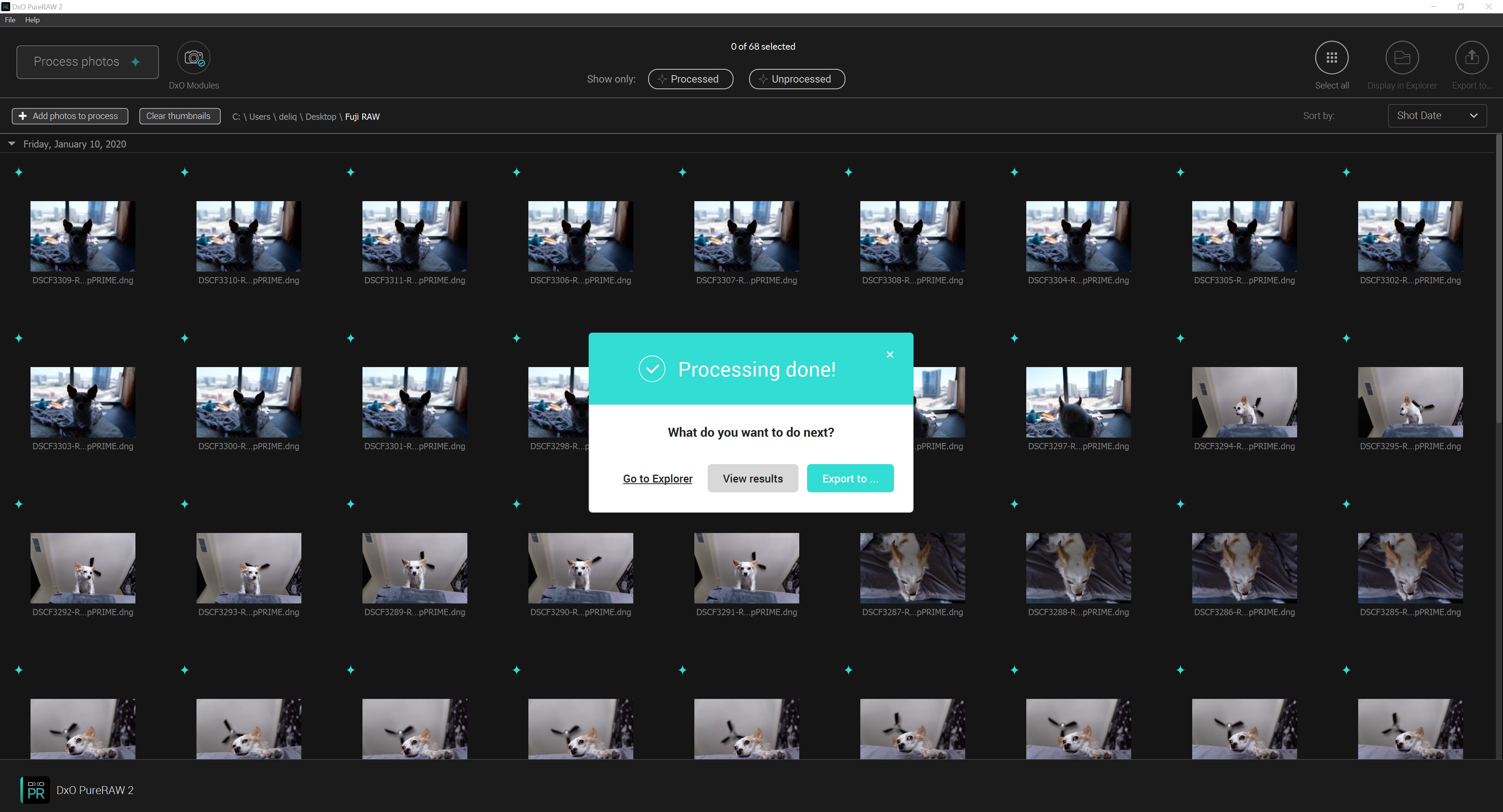 Next came the time to review the results. Looking at the results below, you can see a clear difference between the original and the processed files. There are significant improvements to the texture, optical calibration, and more: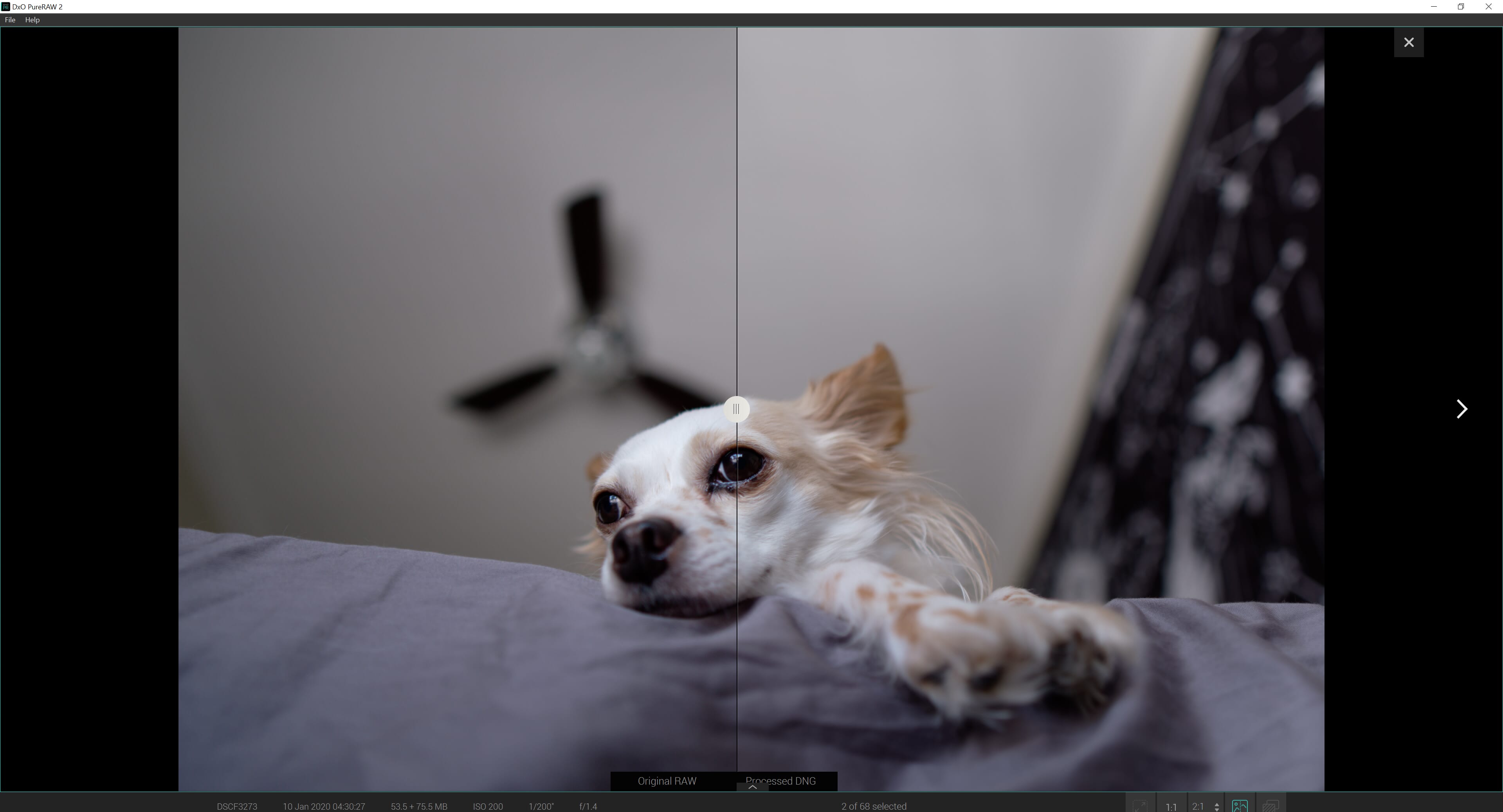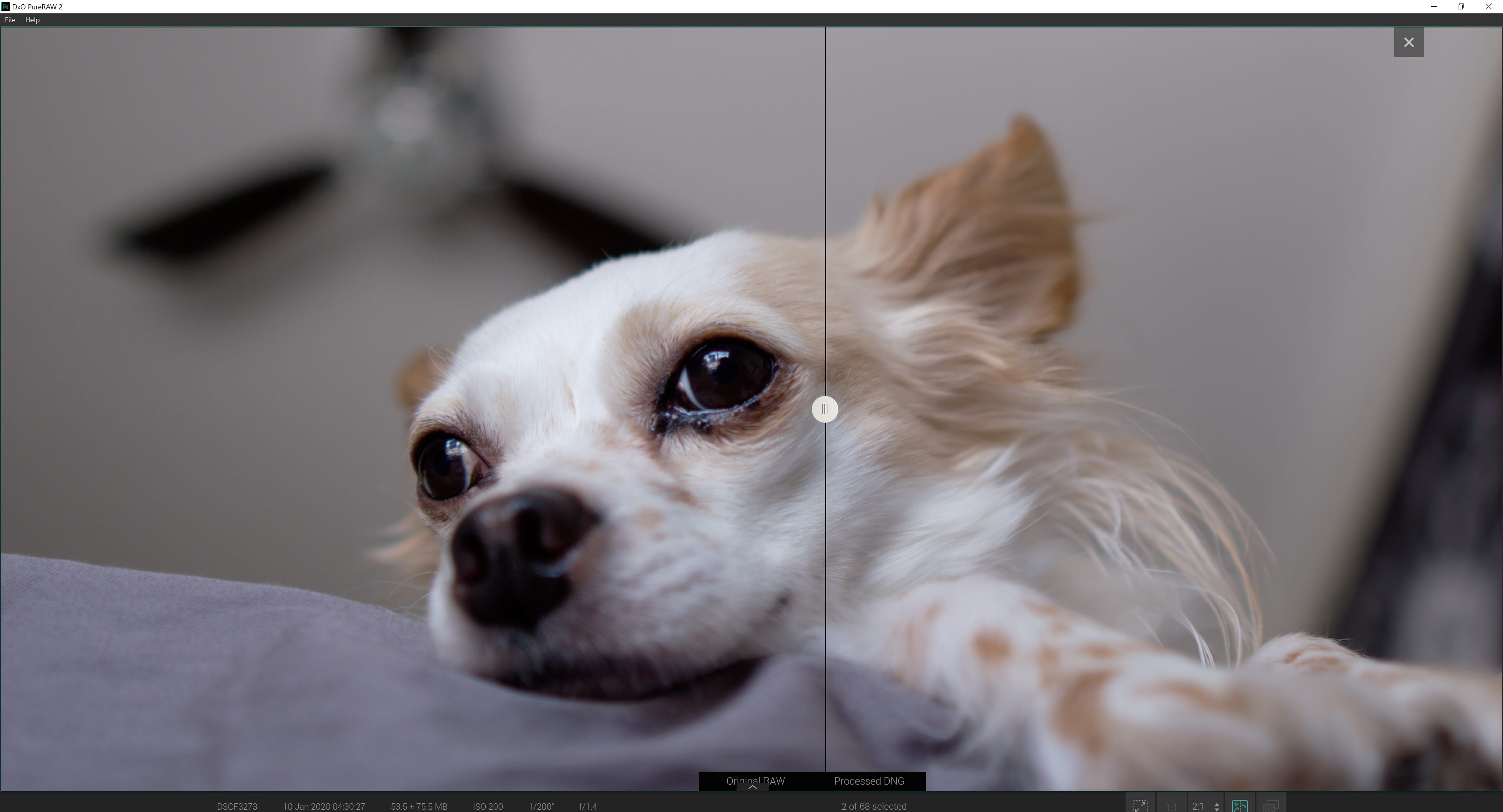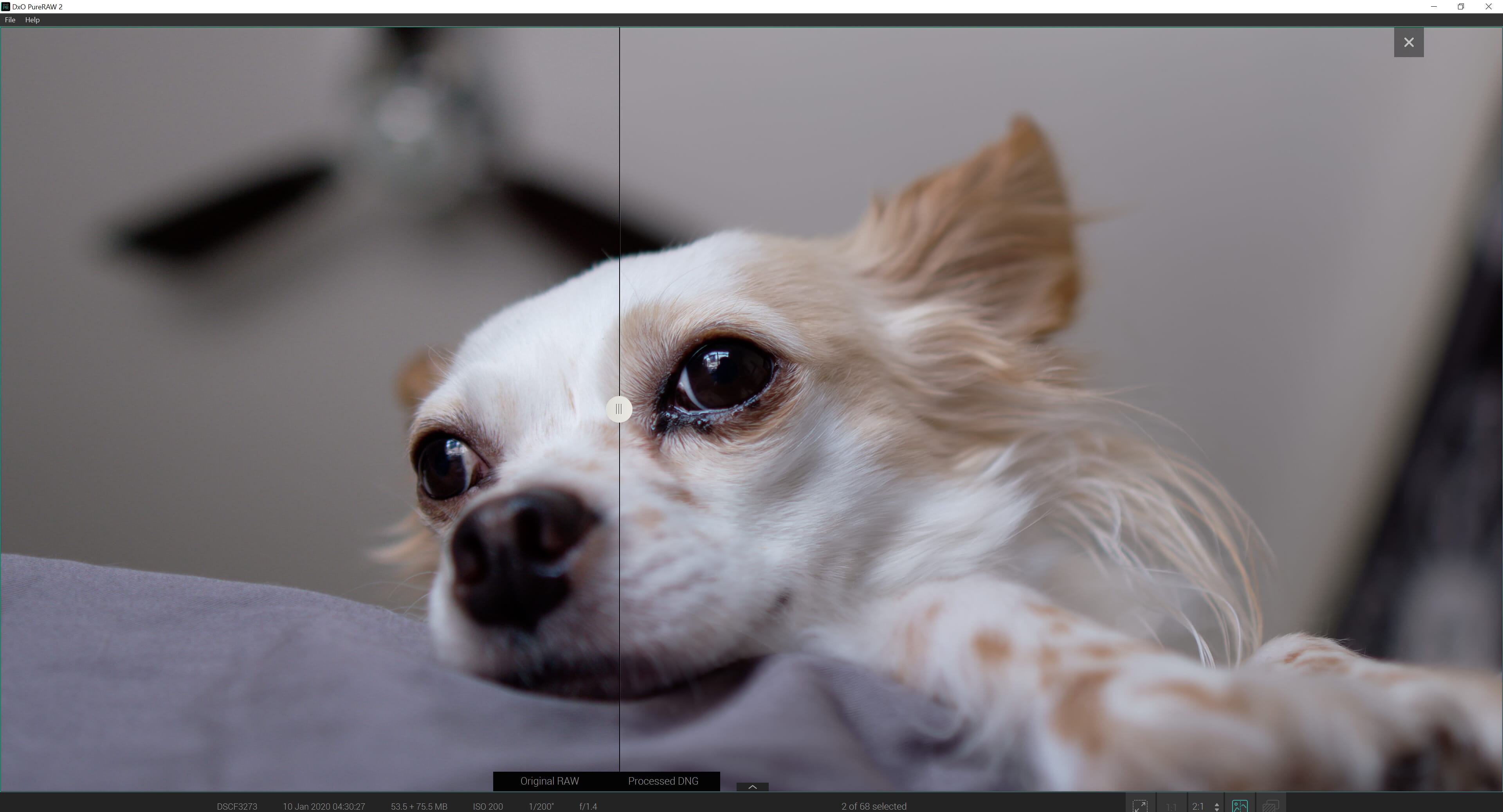 And when it comes to actually editing your images in Lightroom, there's a clear difference between a PureRAW-to-Lightroom image versus a standard Lightroom edit. This image was processed only using Lightroom: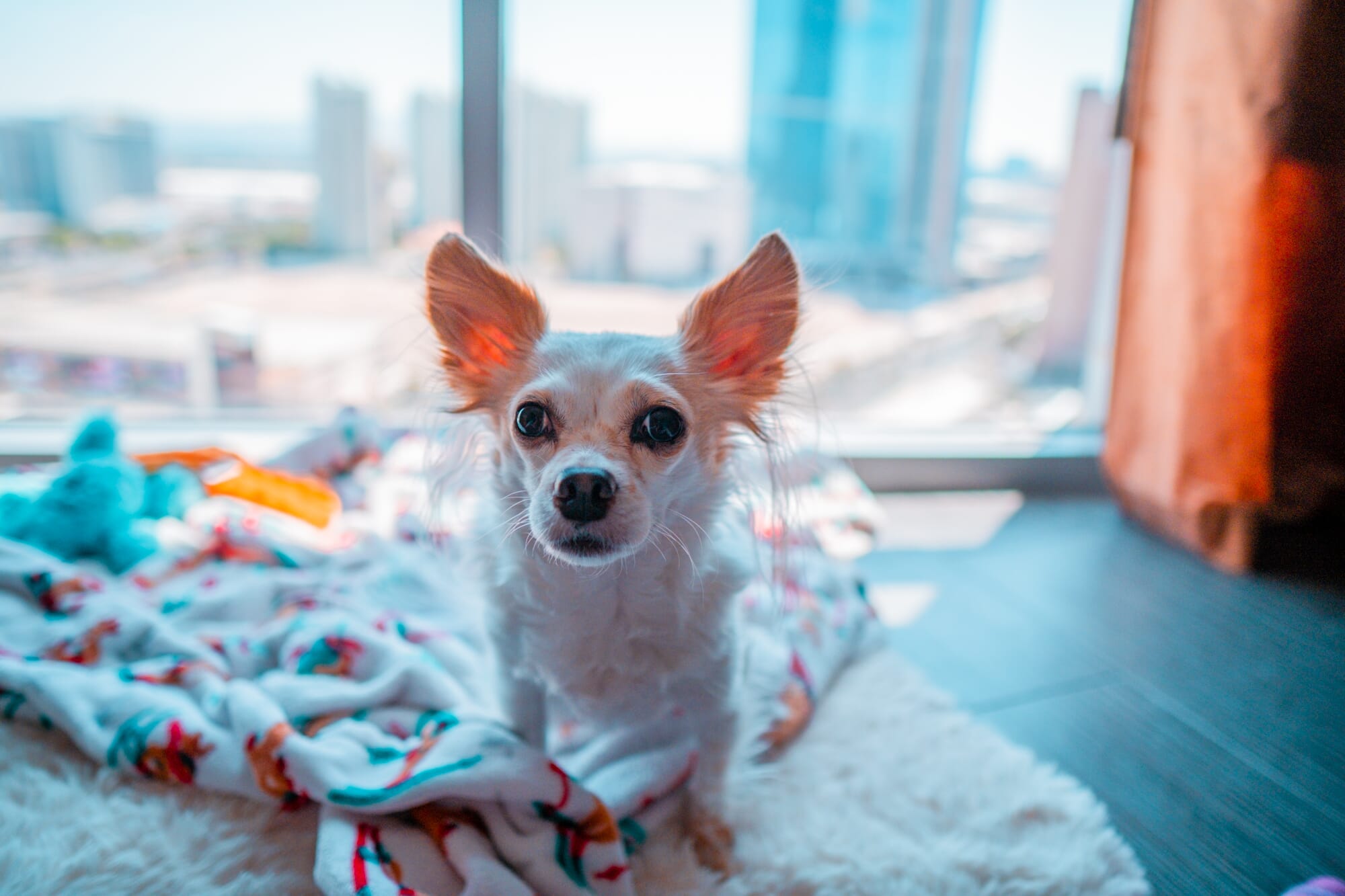 Whereas this image used all the same edits but first took a trip through PureRAW 2: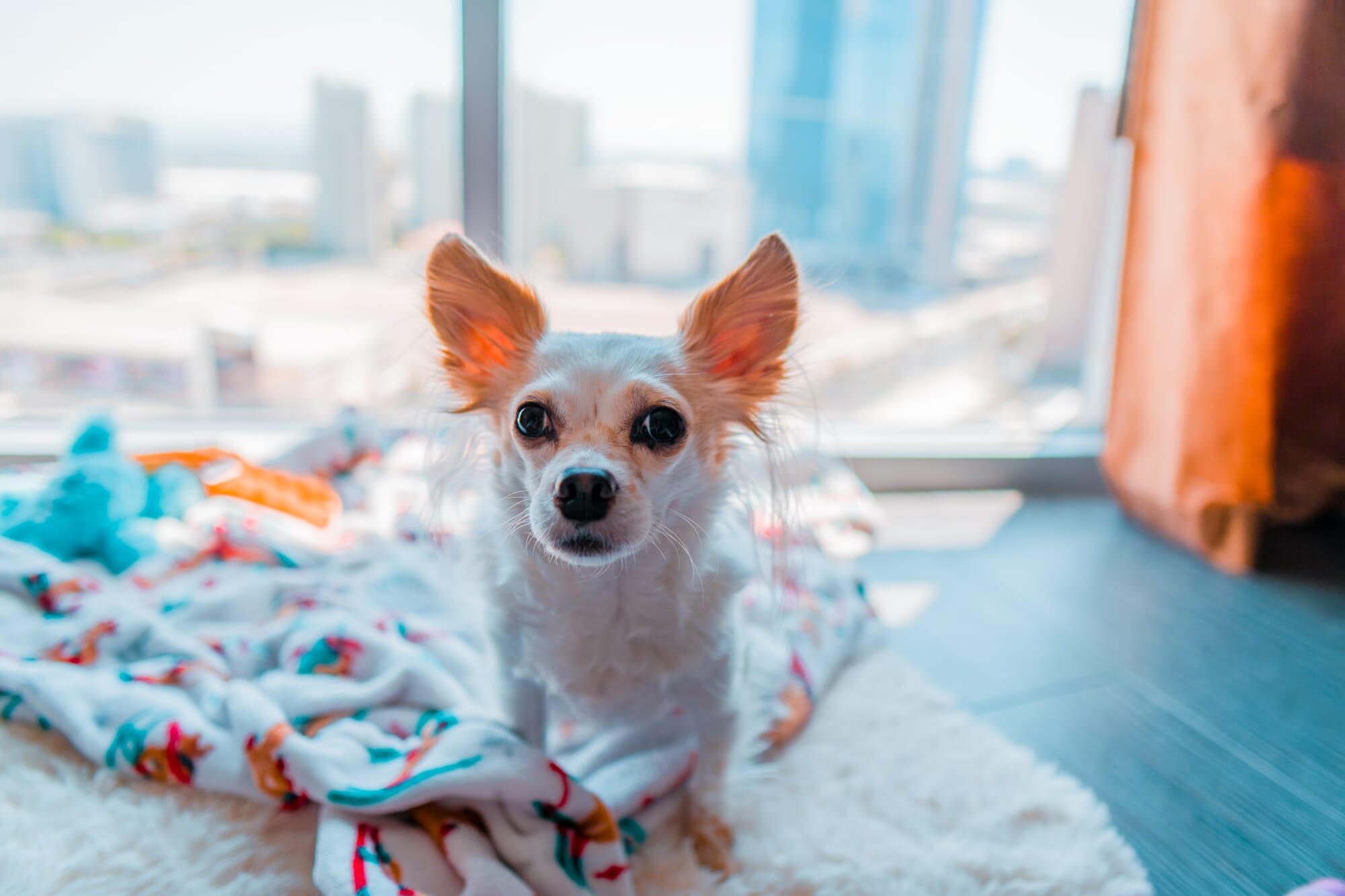 Other improvements include new integrations that offer a smoother workflow and a full update to DxO's DeepPRIME that helps speed up the entire photo-processing system. I did notice a significant speed improvement as I had all 68 of my Fuji RAW files processed with DeepPRIME and it didn't take long at all! I hadn't even finished my cup of coffee by the time the system had finished workings its magic. 
All in all, it's a great update to an already powerful program for the professional photographer. 
Now that we've explored PureRAW 2 updates, let's take an in-depth look at the entire PureRAW program, starting with:
Website, Support, and Initial Impressions
Both the program's website landing page and the actual software boast a very professional build. There's a clean and sleek aesthetic and an incredibly uncluttered interface. It's clear that PureRAW is intended to be a nice, straightforward program.
The landing page for DxO PureRAW offers easy access to dozens of tutorials and reliable customer support. This means you're able to use the software with ease and you can rely on tutorials and on-hand technicians to guide you as needed.
There's a helpful forum, too, where users share expert advice based on their own experiences with the program.
Ease of Use
There is zero complexity and full transparency when using this program, and I sincerely appreciate that fact! With such a slew of overly advanced programs out there, finding one that just does a single job and does it well is a breath of fresh air.
Upon first installing and launching DxO PureRAW, you are shown a simple tutorial screen. It covers all the basics, including how DxO PureRAW easily integrates into your current workflow.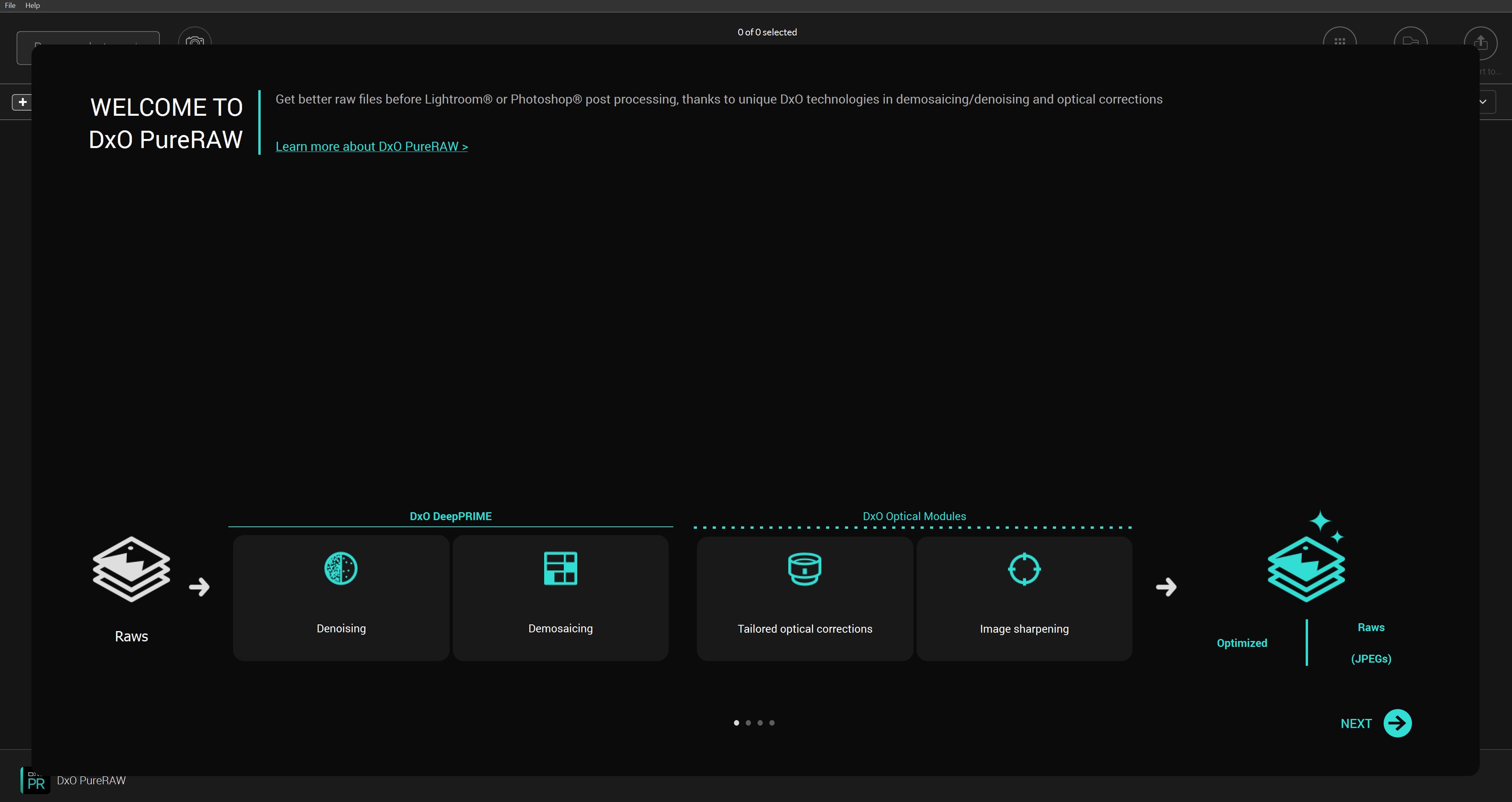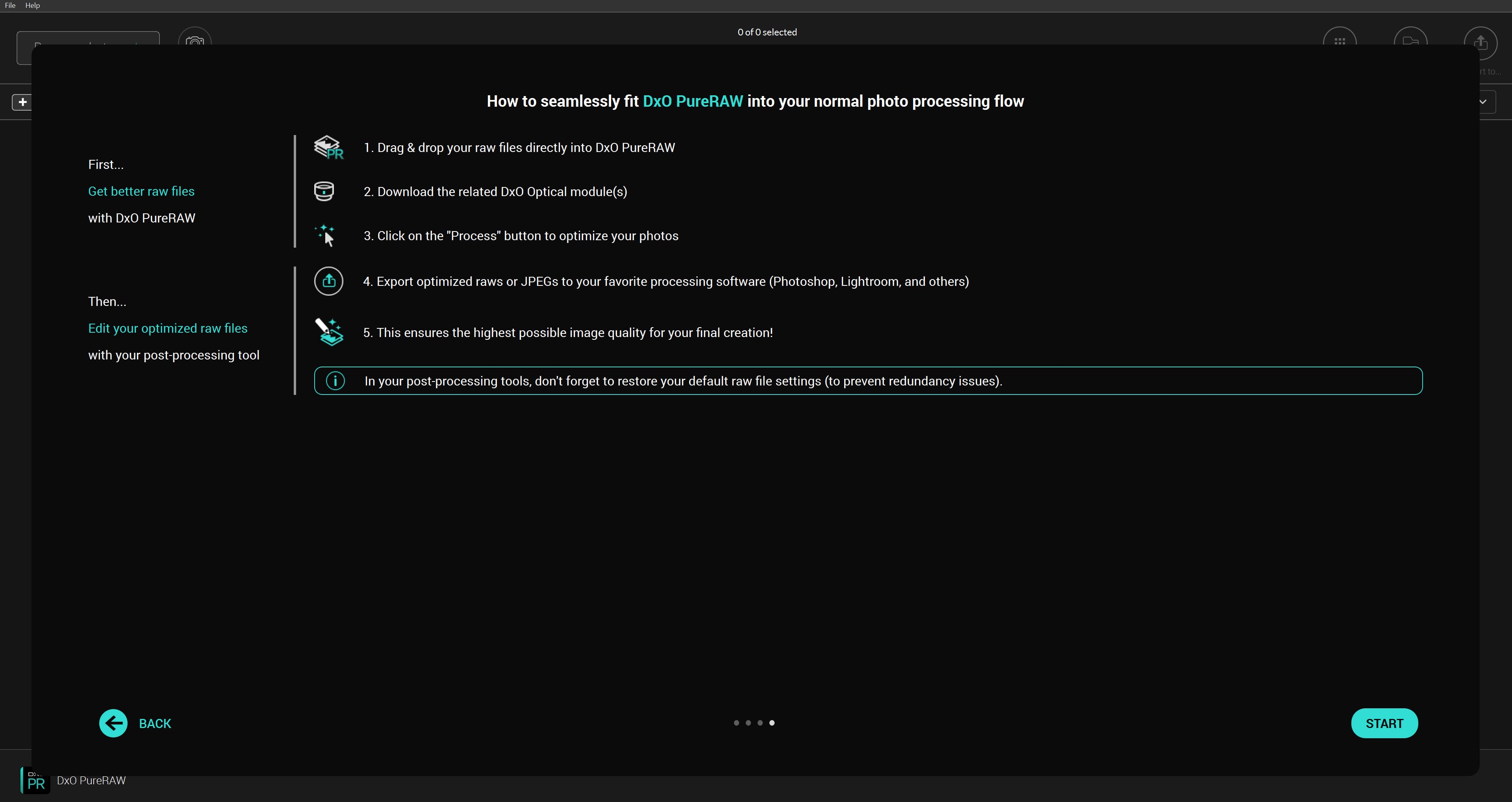 The screen then turns into a very simple interface. You can drag and drop your files or select them manually.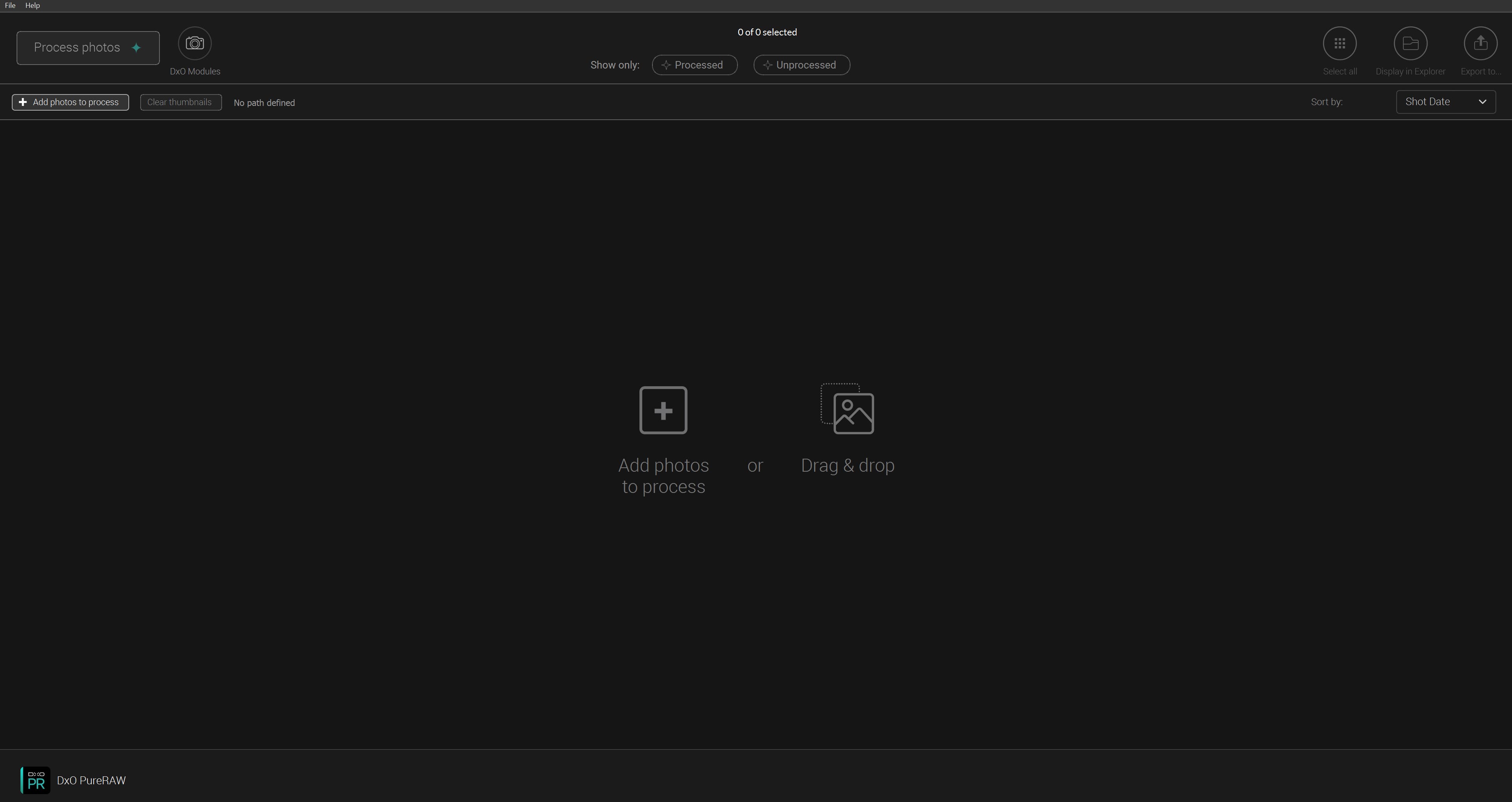 I loaded up the following two RAW files from my Sony A7R IV camera (each photo used a different lens):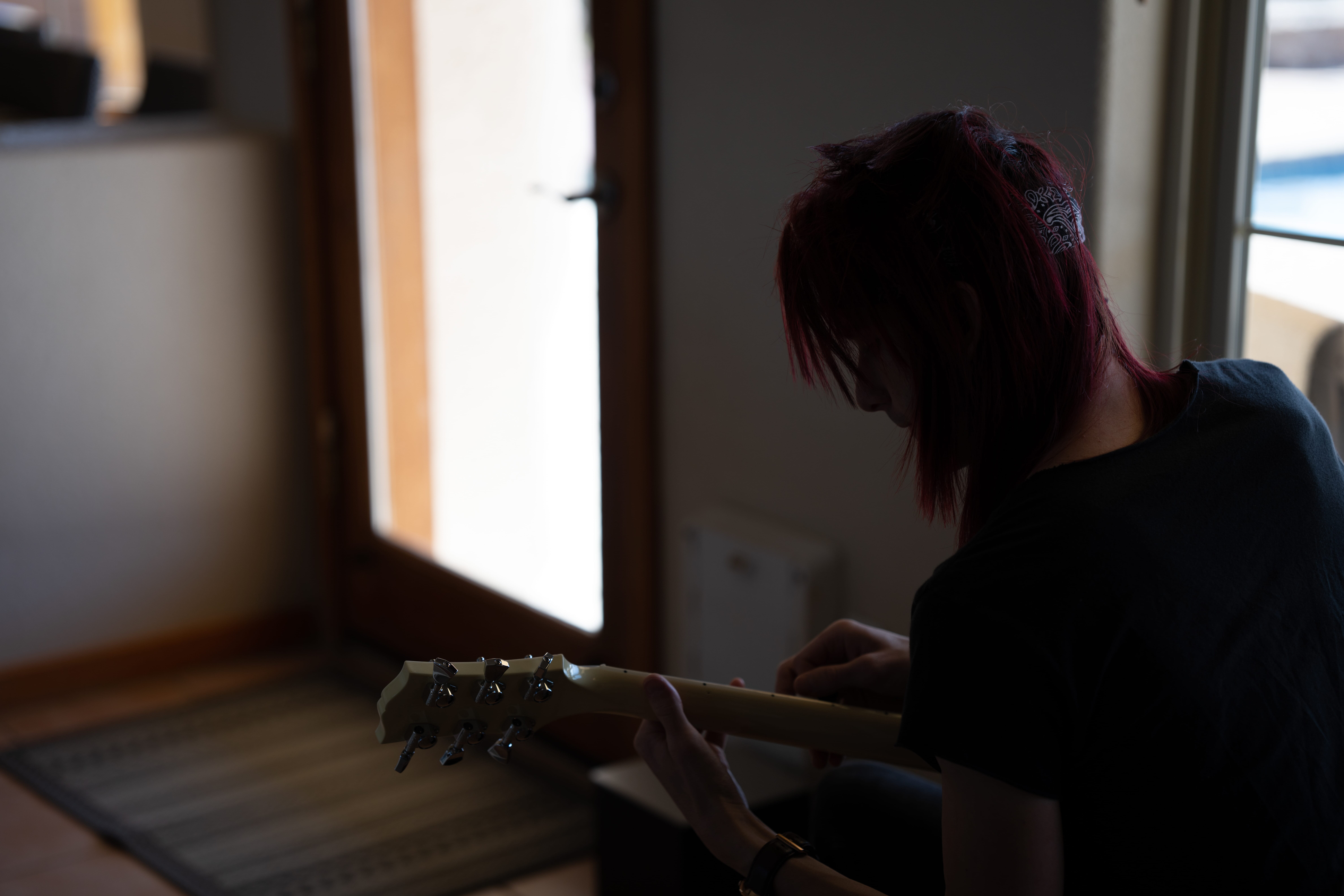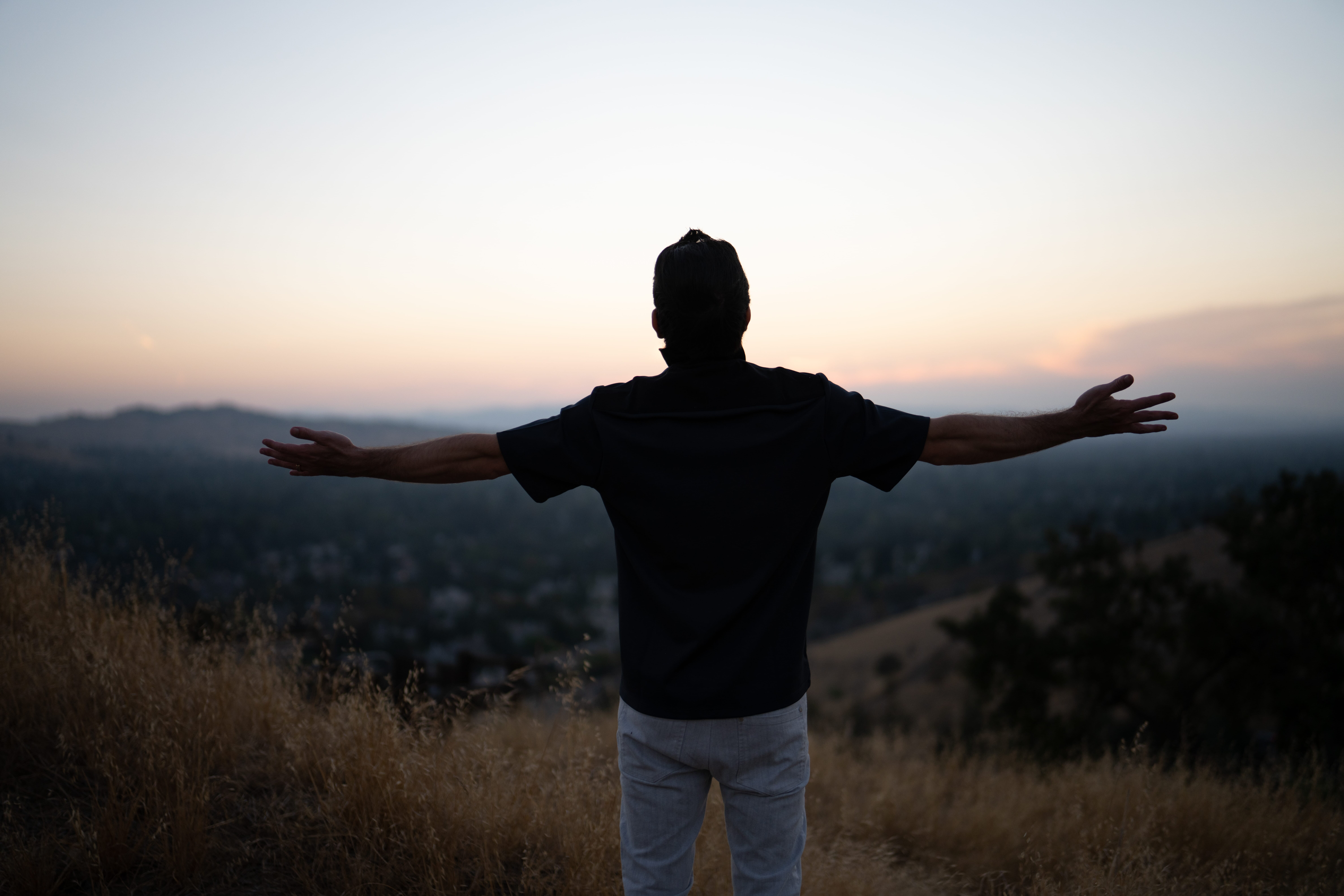 DxO PureRAW asked me if I wanted to download the optic modules for my two lenses, I agreed, and the modules downloaded very quickly. Once the modules were installed, all I had to do was select my two images and hit Process.
A new window appeared that asked for my settings requests, and each option featured an in-depth explanation. This is very helpful for beginner photographers and editors.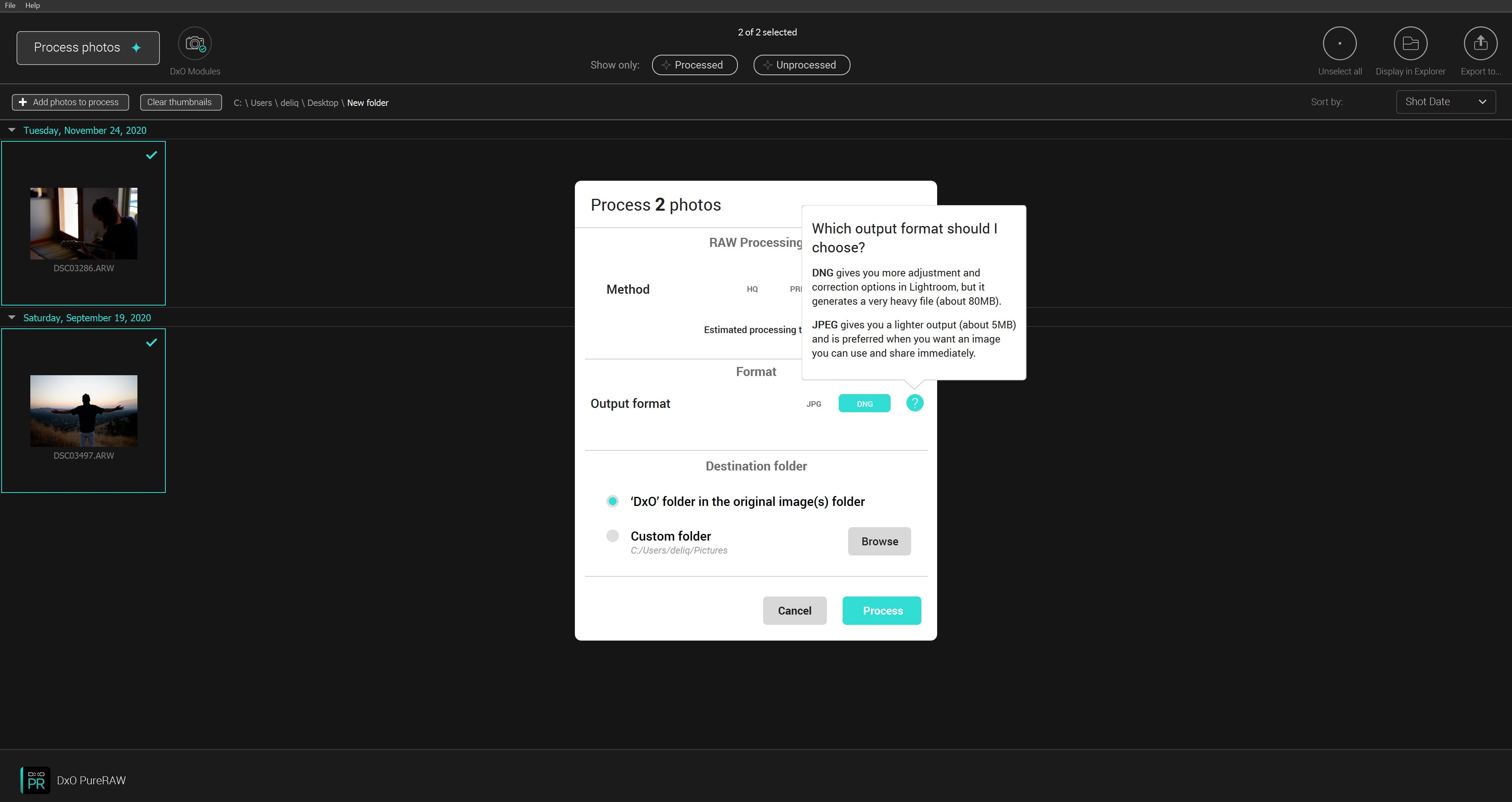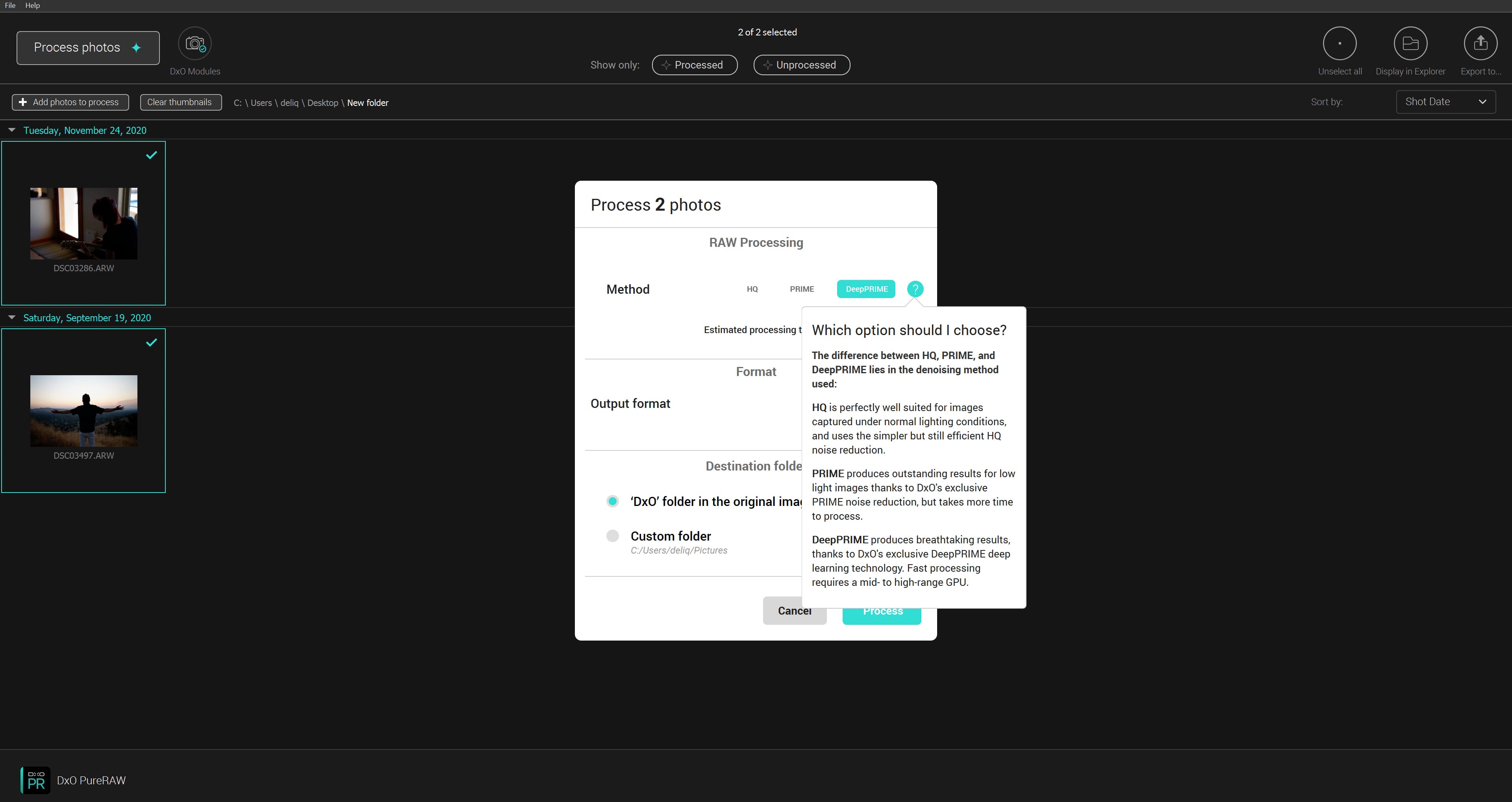 Once the image processing is completed, you have the option to view the finished files. Alternatively, you can directly export the images to your software of choice.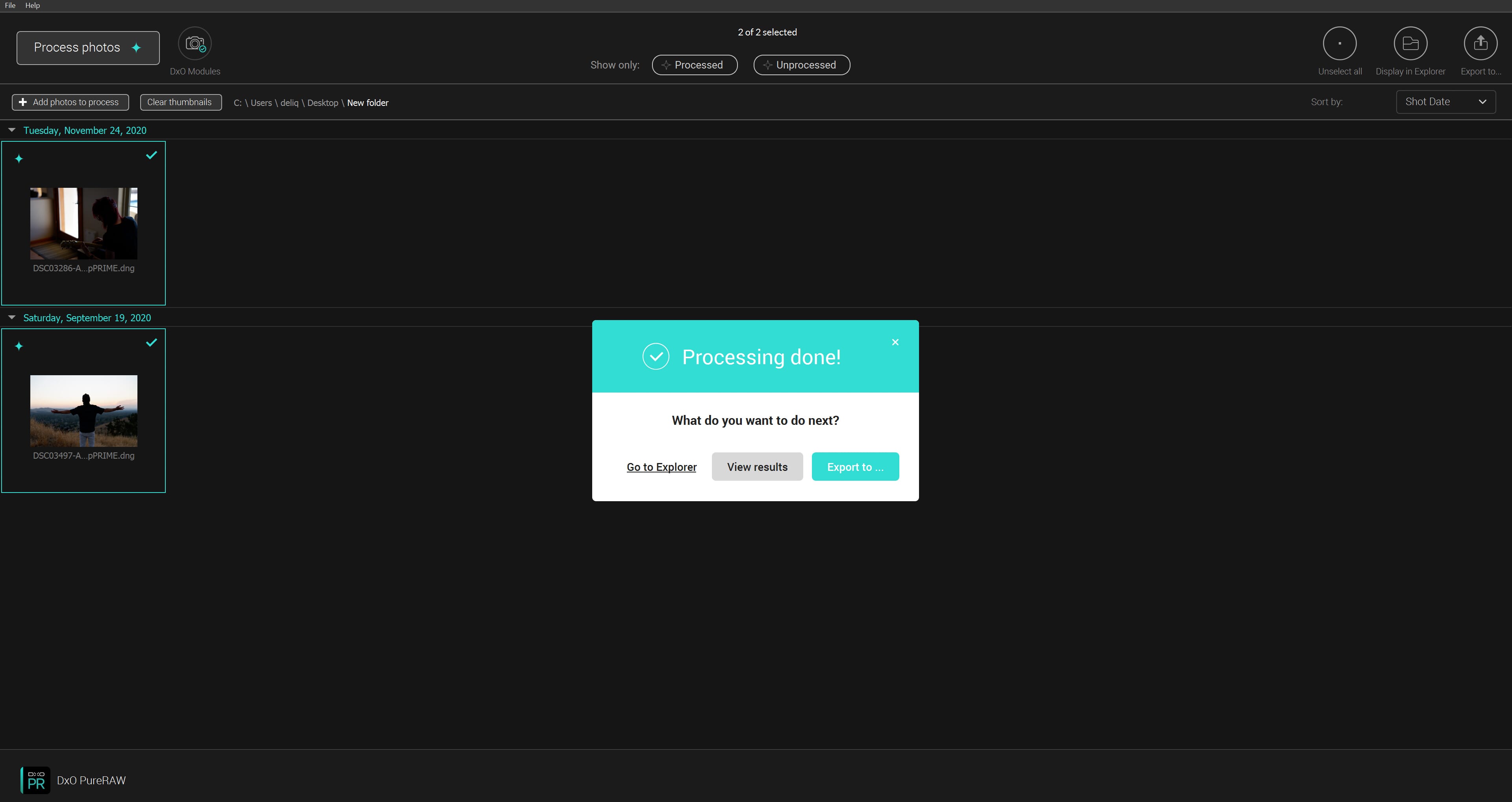 When I told the program to export my images to Adobe Lightroom, Lightroom quickly opened and the files were right where I wanted them to be.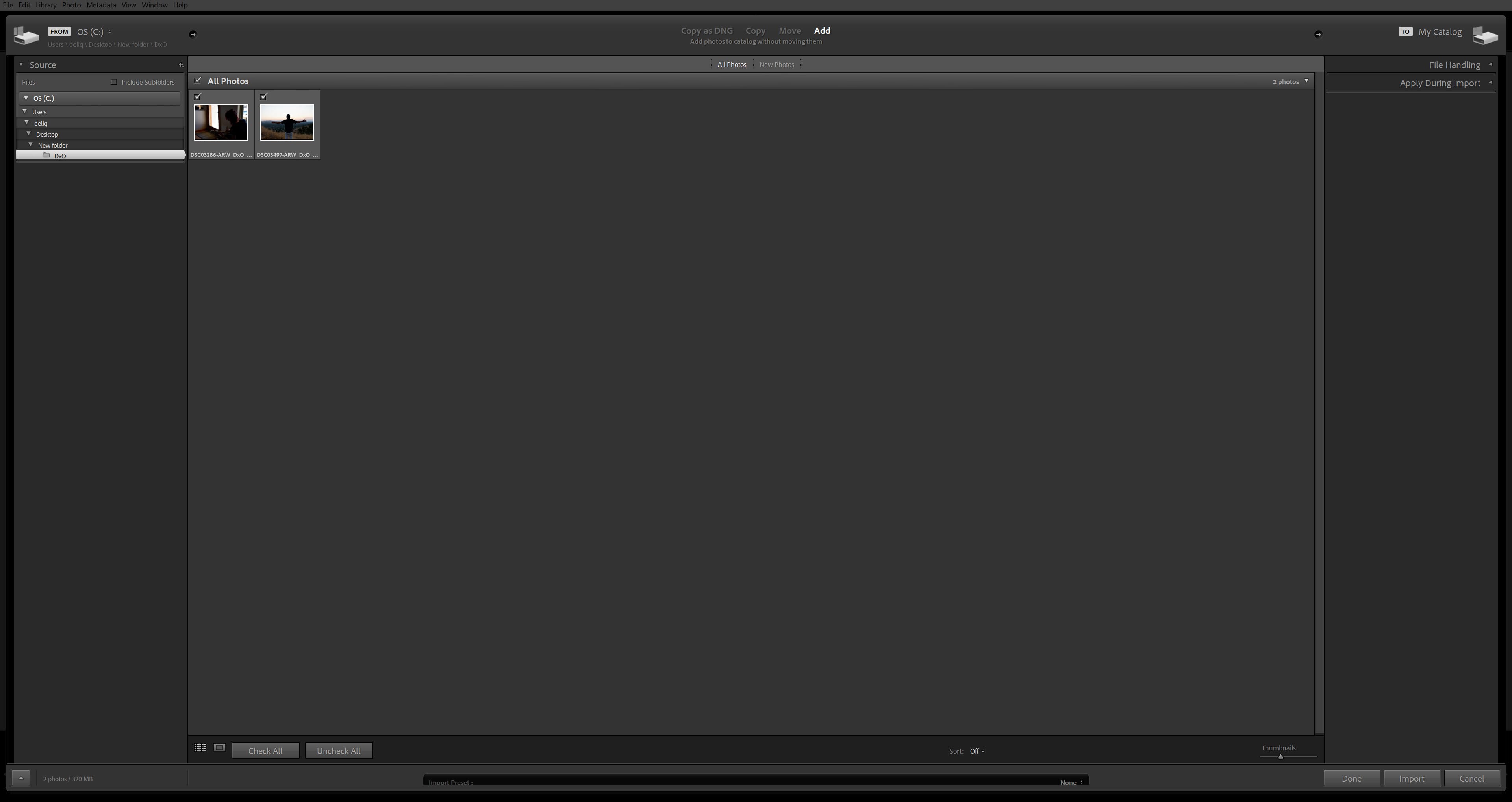 Is There a Difference?
The million-dollar question: Does DxO PureRAW 2 really make a difference to your RAW files? 
The quick answer is, "Yes, it does." 
The longer answer is, "Yes, it does – to an extent." 
The reality is that much of the optimization is very subtle. Most of the edits are only visible when pixel-peeping, so you won't see a huge difference in your processed photos. The program is intended to make files cleaner and easier to work with. Unlike software such as Luminar AI, PureRAW isn't designed to do all of the edits for you.
Related Post: Luminar AI Review
To understand how PureRAW affects files, let's look at comparisons of my test images:
The First Test Image
My first photograph had very subtle adjustments. I had to dig in to figure out what changed.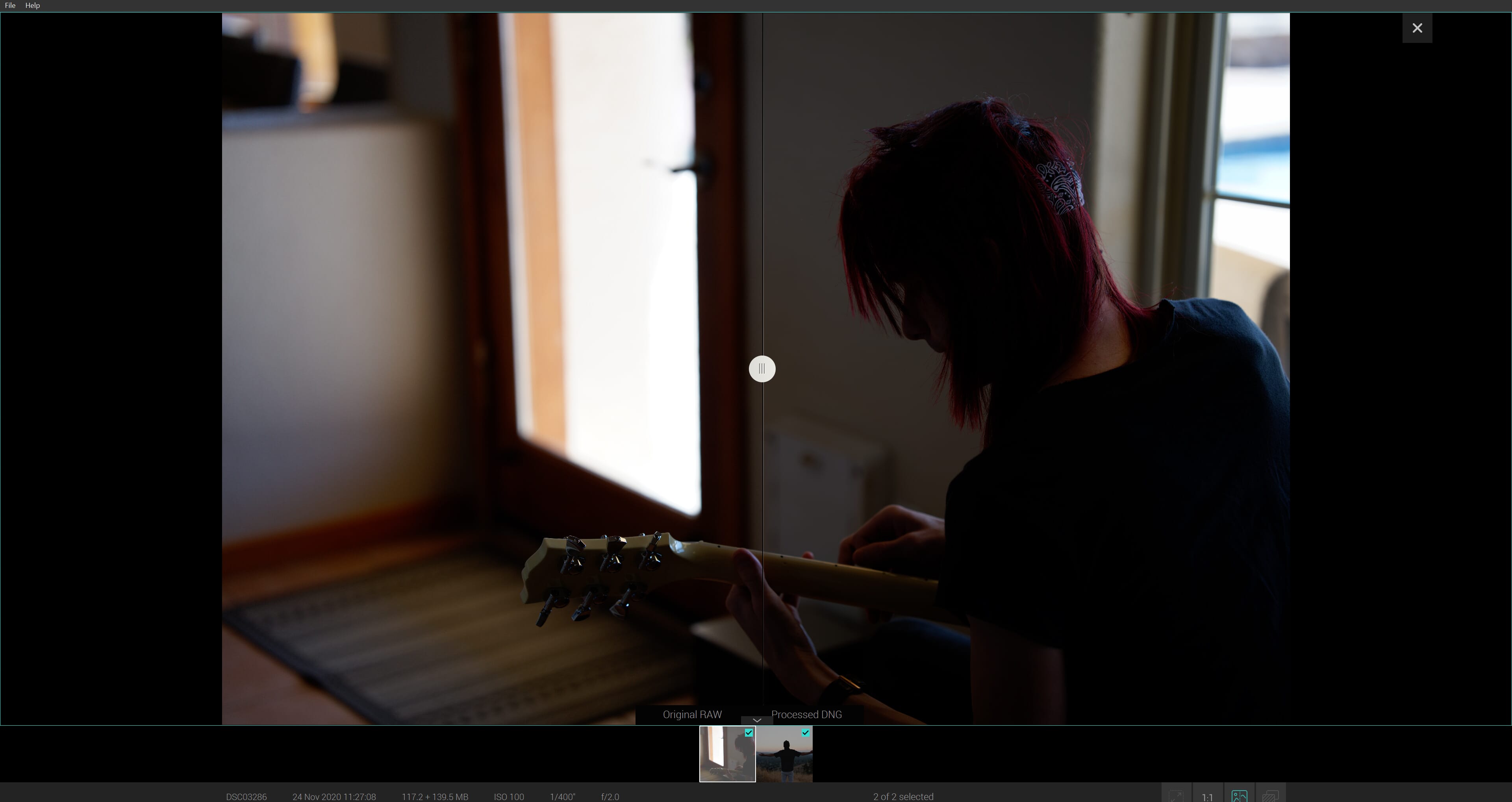 First, I noticed increased sharpening on the hair. A big benefit of PureRAW's AI technology is that it only applies certain adjustments to in-focus areas. A lot of other software tends to apply adjustments, like sharpening, throughout the image regardless of focus.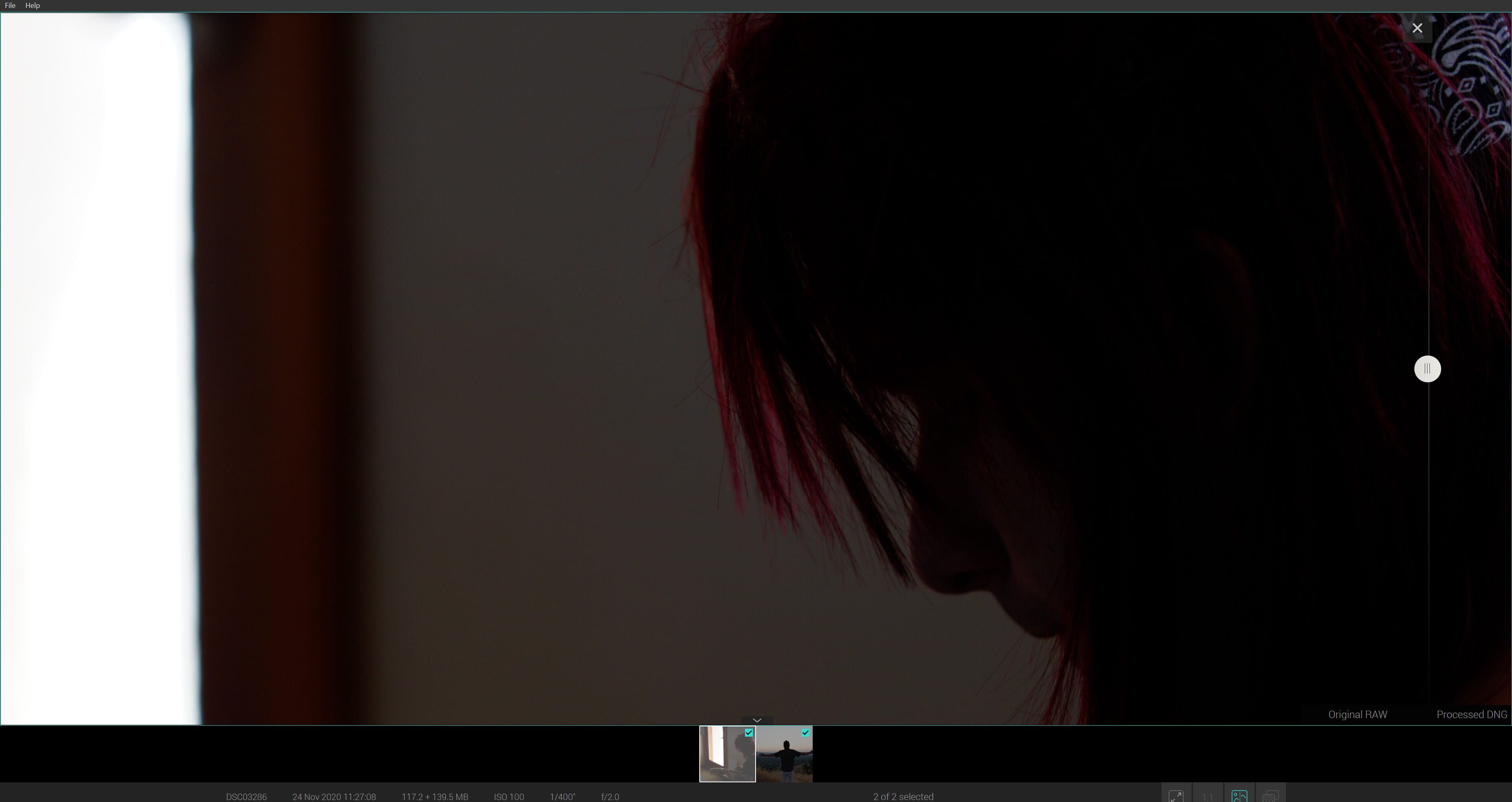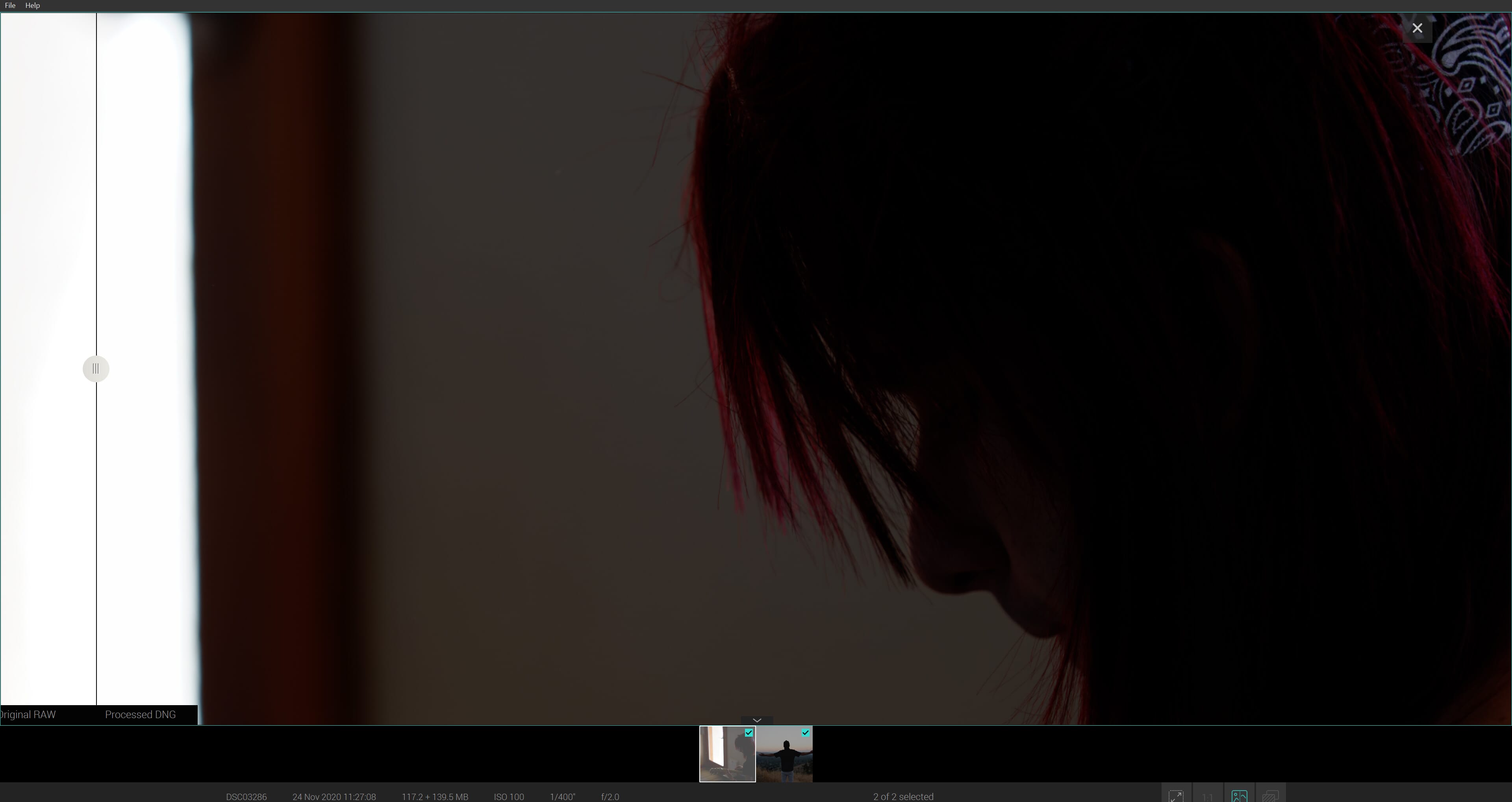 When reading user reviews of the program, I did find multiple complaints of image oversharpening. Unfortunately, because the software is AI-based, there is no way to fix this issue. You're essentially stuck with whatever decisions the program makes.
Next, I found the real difference: noise removal. Look at the off-white part of the guitar headstock: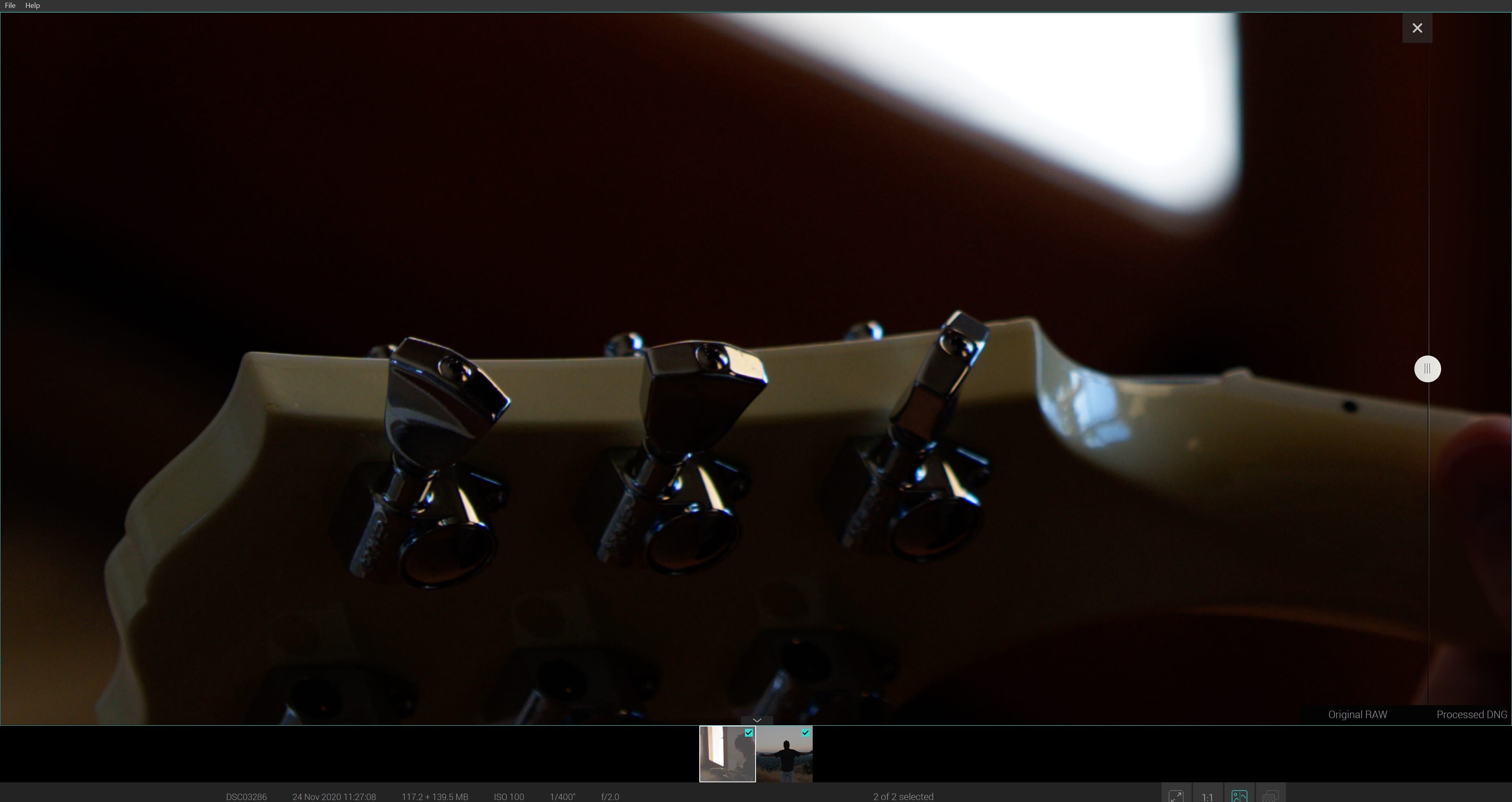 For the ultimate test, I loaded up both the PureRAW-optimized file and the original RAW file into Lightroom. I applied some edits to the PureRAW version of the file, and then I copied the exact settings and pasted them on the original RAW file. The difference is very subtle, and I'm not sure that the average viewer would even notice. If you zoom in significantly, you can see a smoother rendition of colors in the PureRAW version thanks to its noise processing.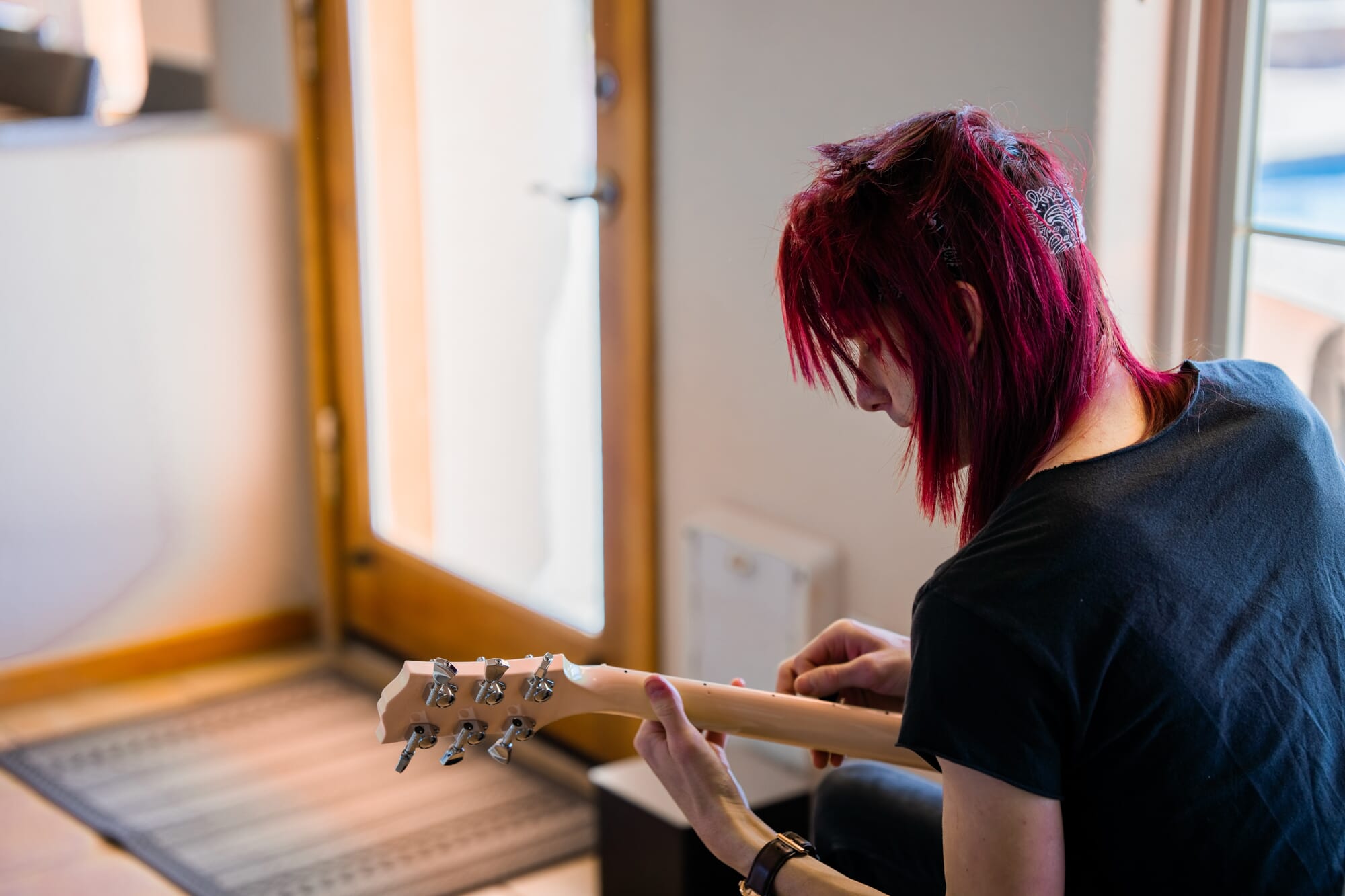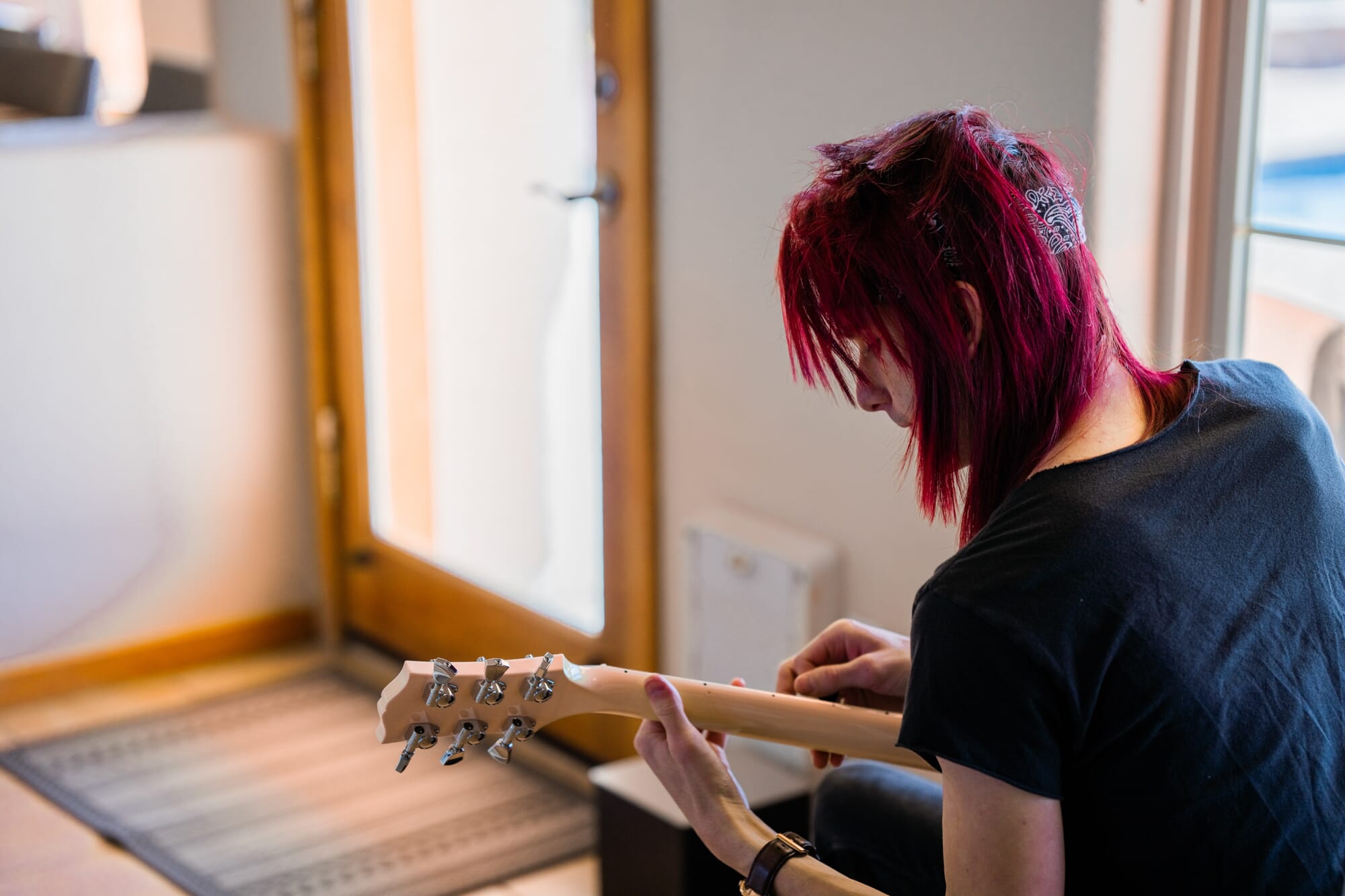 The Second Test Image
The second image that I processed featured a bigger difference. On top of the optics corrections, there are noise, color, vignetting, and even exposure alterations.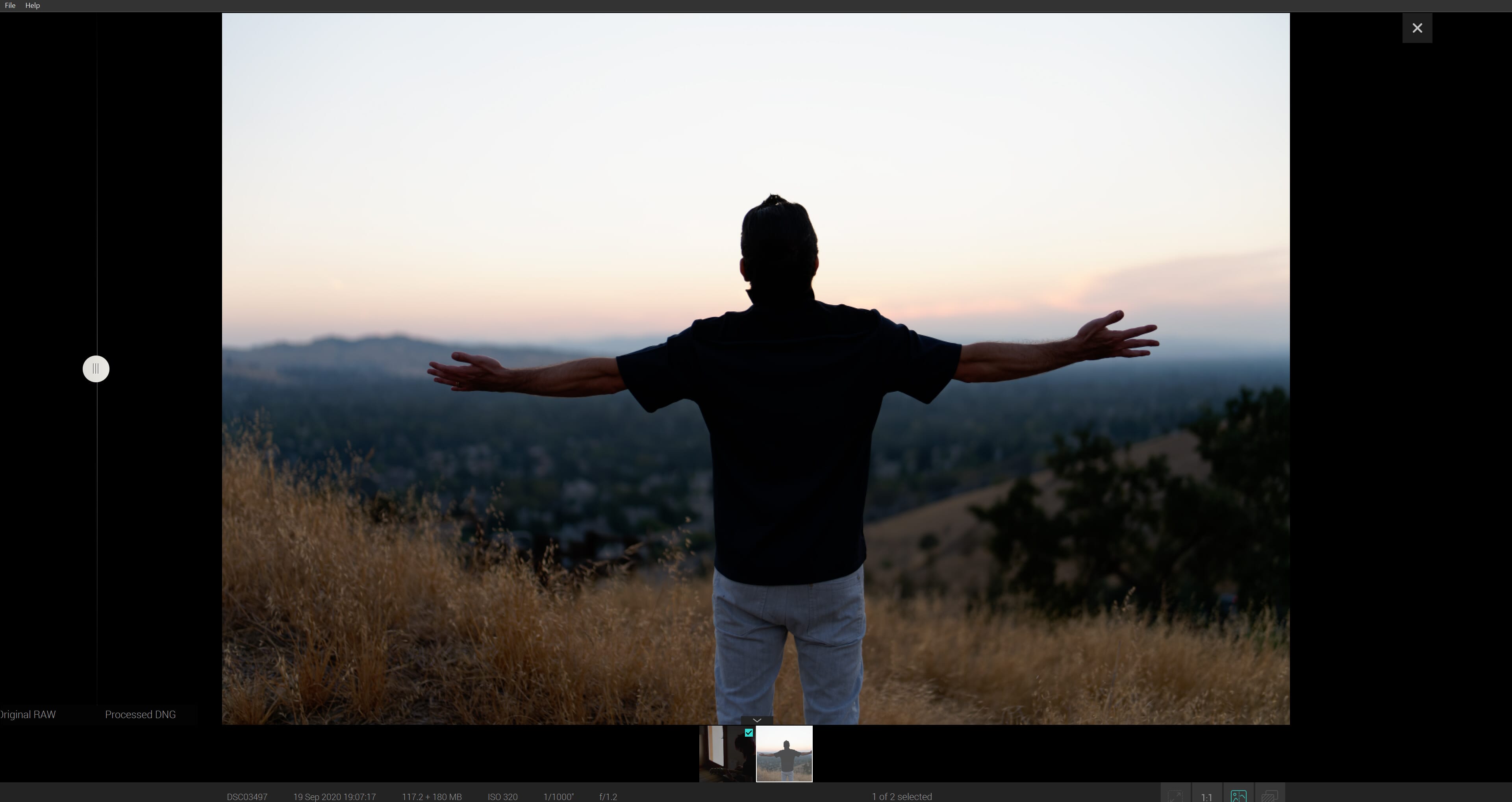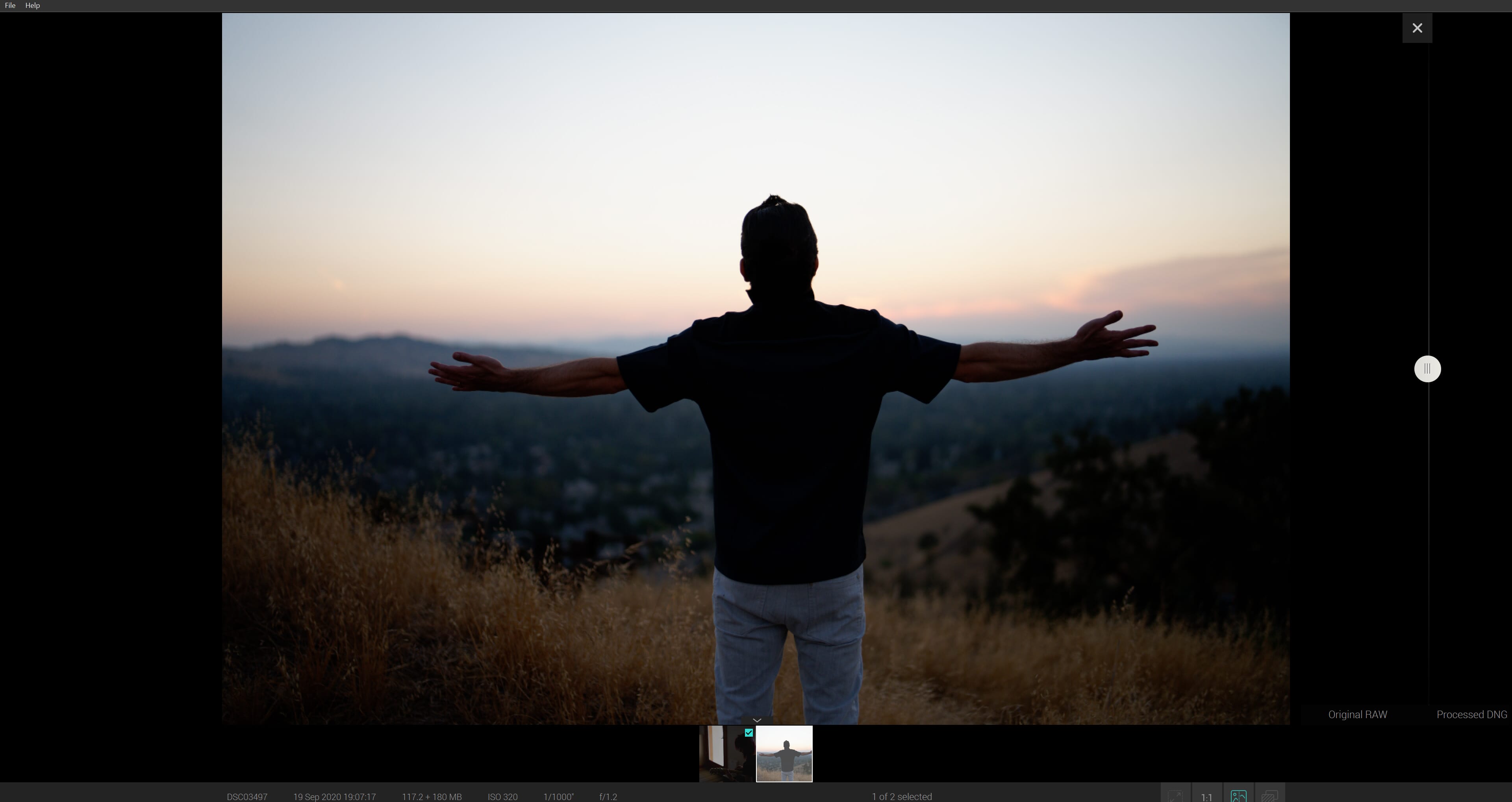 When I loaded both files into Lightroom and synchronized the settings, the difference was outstanding. Granted, I deliberately pushed the color grading to an extreme just to see what would happen, but I was impressed: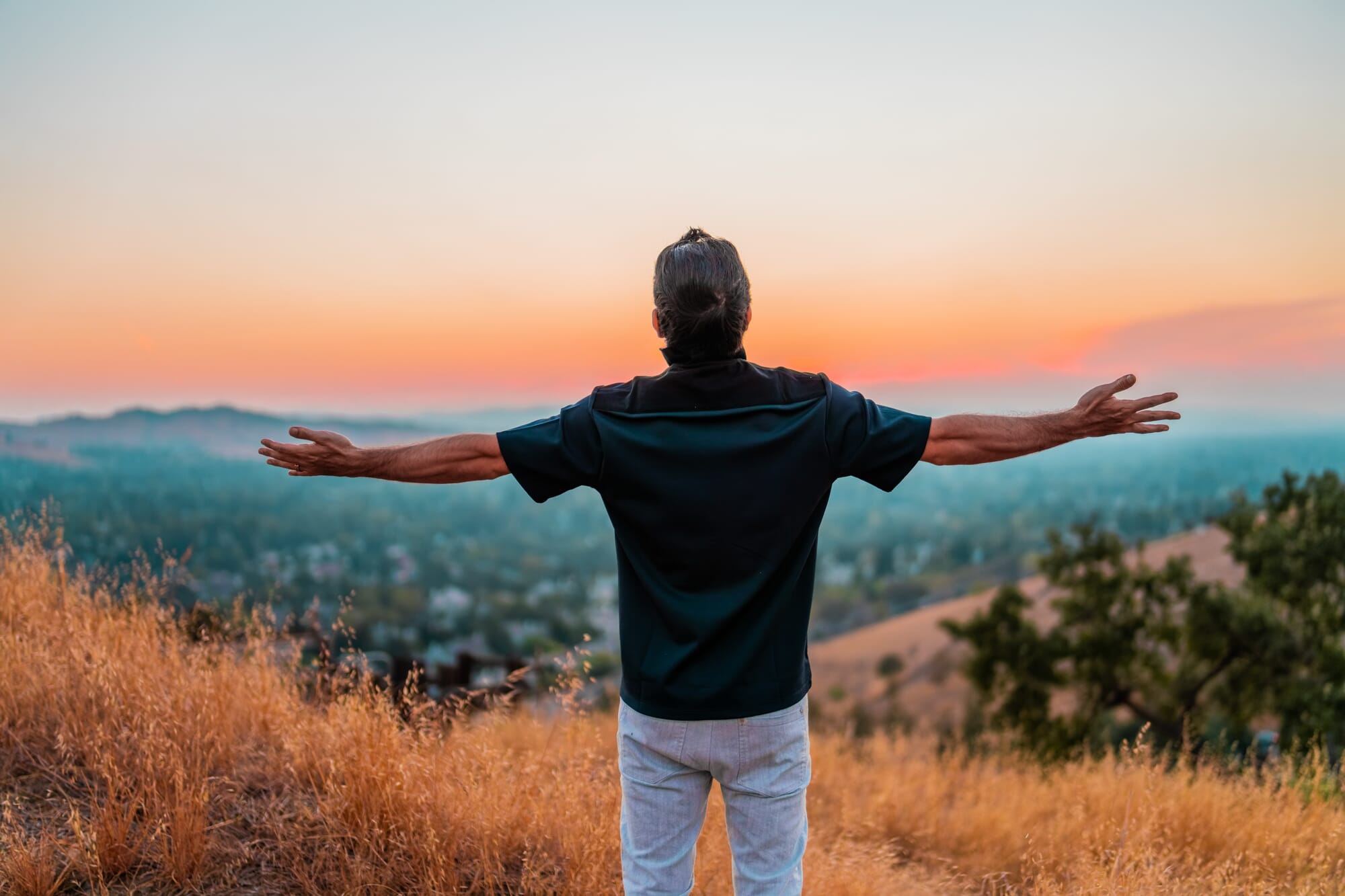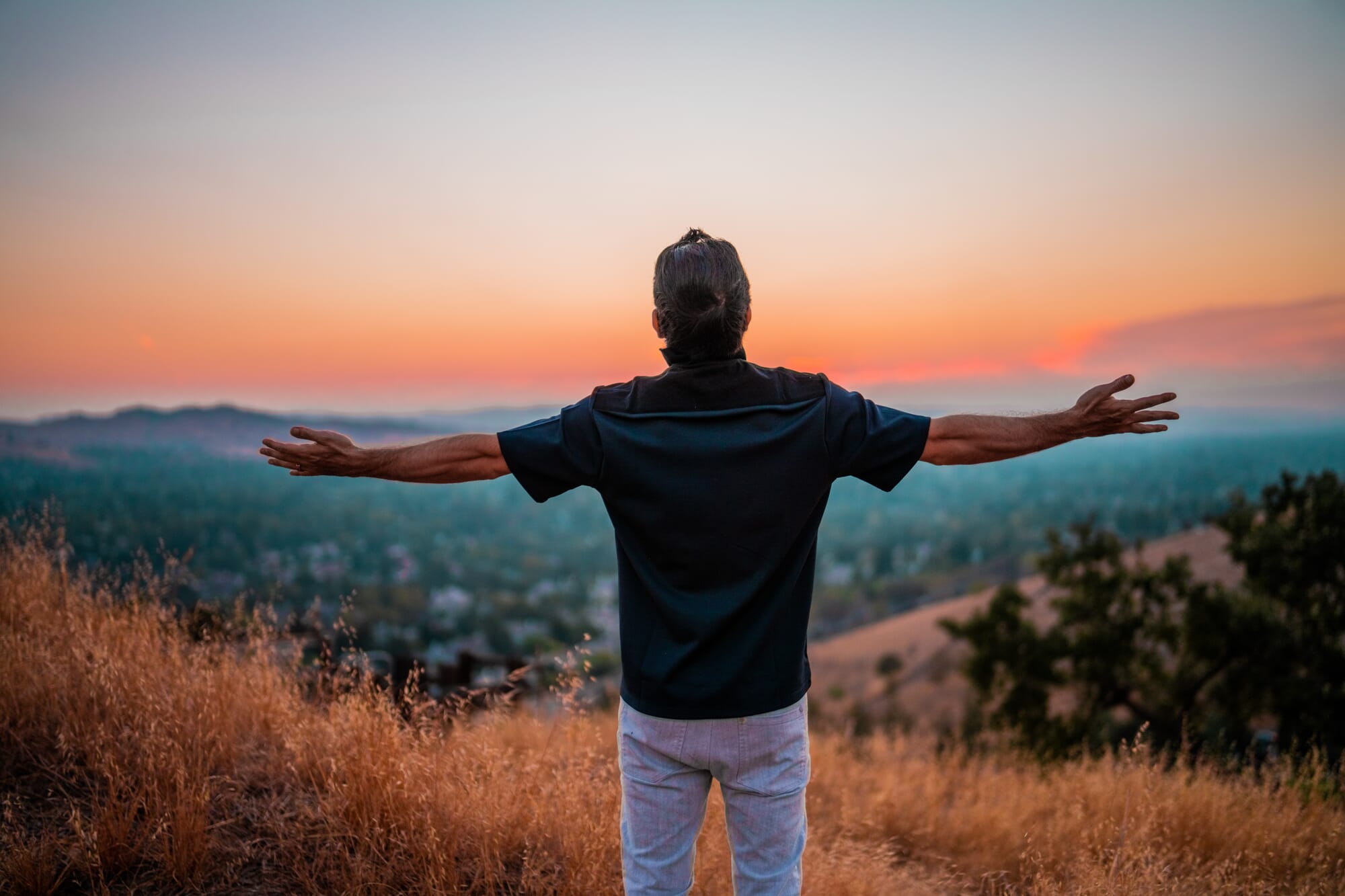 It is worth noting, though, that you can probably get the same results on your own – it'll just take longer since you have to spend time making manual adjustments.
System Capabilities and Workflow Integration
I tested DxO PureRAW on my workhorse desktop computer, which packs 64 GB of RAM, a 1 TB SSD, a tremendously powerful new NVIDIA graphics card, and an Intel Core i7-8700k CPU @ 3.70 GHz. It's a very powerful system built for running editing programs.
Now, my Sony A7R IV RAW files are massive (about 117 MB). So you do need to bear that in mind.
The two RAW images took approximately six minutes each to process. Now, if I were only processing three or four images, I wouldn't pay this much attention. I understand that a program takes time to work effectively.
However, I typically process anywhere from 20 to 100 images depending on the type of job.
If each image takes approximately 6 minutes to render, 20 images easily add up to 120 minutes. Yikes! Now, if you're using a camera that produces smaller RAW files, you may not have this issue. I examined user reviews that discussed PureRAW editing with RAW files that were 20 MB. These files were processed by DxO PureRAW very quickly, and if my files had been processed in seconds, I'd see this very differently!
A Test on Your Everyday Laptop
Testing the system out on my laptop was a different story! My laptop has more consumer or prosumer specs: 16 GB RAM, a lower-grade NVIDIA graphics card, a 513 GB SSD, and an Intel Core i7-7660U CPU @ 2.50 GHz. My laptop runs Photoshop CC, Lightroom CC, and Lightroom Classic just fine.
The rendering of the RAW files through DxO PureRAW on my laptop took a terribly long time. I gave up waiting around the six-minute mark and went to get a coffee. After a while, PureRAW finally completed its processing.
Overall Thoughts about the Performance
With this in mind, I personally wouldn't add DxO PureRAW to my workflow. If you know how to make adjustments in Adobe Camera Raw and/or Lightroom, you can automate the process and get your editing done significantly faster (in my experience). With a bit of effort, you'll save a lot of time.
But if time wasn't a factor, I might feel differently. DxO PureRAW certainly makes optimizing RAW files a breeze. I do wish there were more control over certain processing features, though.
Pricing
DxO PureRAW is a one-time purchase, not a subscription service. That definitely makes it more appealing!
Depending on sales, the price floats around the $130 mark, which isn't a massive investment compared to other editing programs. That being said, the program only carries out one function!
DxO PureRAW 2: Verdict
DxO PureRAW 2 Review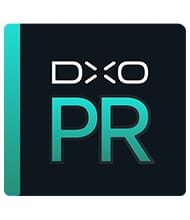 Name: DxO PureRAW 2
Description: DxO PureRAW 2 is a standalone program that uses advanced AI technology to bring out the best in your RAW files.
Offer price: 129
Currency: USD
Operating System: Windows, Mac
Application Category: Editing Software
Author: Anabel DFlux
Ease of Use

Overall Performance

Integration

Speed and Efficiency

Manual Adjustment of Features
DxO PureRAW 2 Summary
DxO PureRAW 2 is a standalone program that ensures your RAW files are perfectly prepared for the editing room. From optical distortion correction to removing vignetting, PureRAW automatically applies key adjustments to images.
Pros
Uses advanced AI technology to perfectly adjust your RAW files for editing
Very simple and understandable program
Perfect integration with Adobe products
Only a one-time payment for a standalone program
Great customer service
Cons
Some may consider the price on the high side
Large files process slowly
No manual adjustments of optimization features (such as sharpening)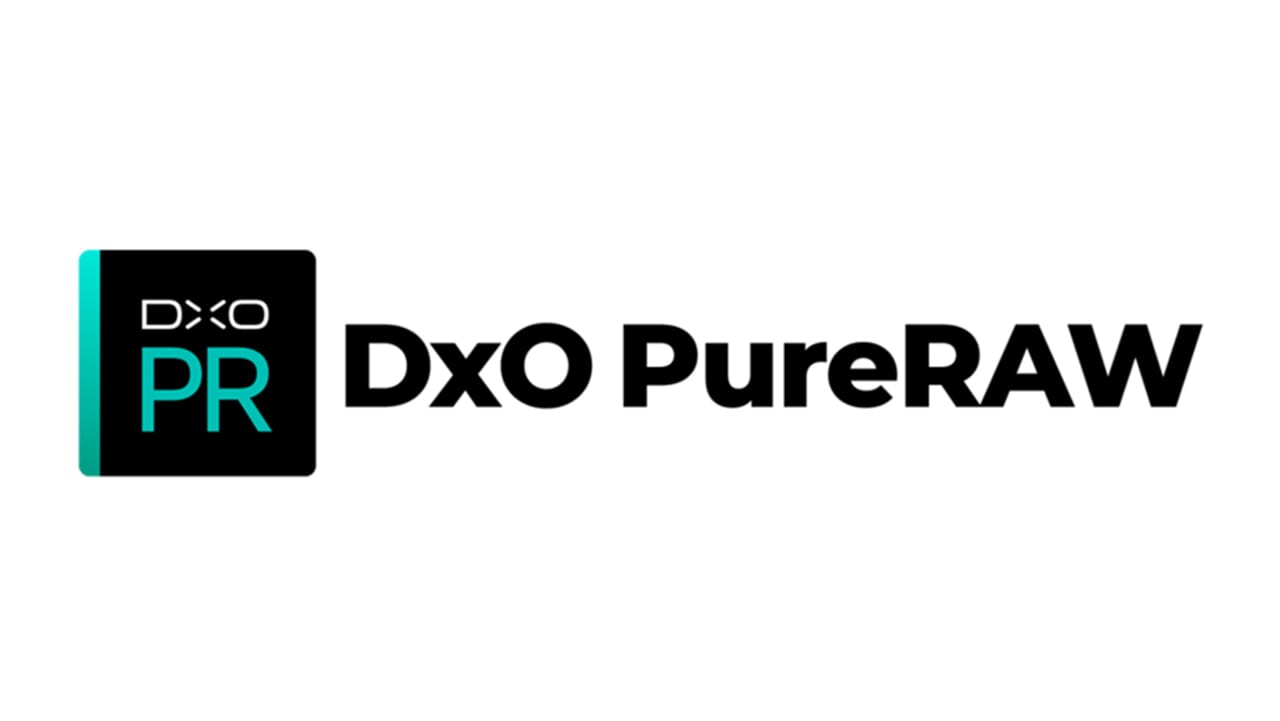 The alternative to DxO PureRAW is pretty obvious: Adobe's software comes with built-in RAW editors and offers complete manual control over your adjustments.
As to whether or not PureRAW is worth your investment: It's really all about your editing knowledge and how much you want to do by hand. 
If you're someone who understands photo editing on a deeper level, you might find that the RAW editor you're currently using is more than enough.
However, if you're someone who is learning, someone who doesn't want to handle optimization by hand, or someone who just needs a great starting file to edit, then DxO PureRAW is definitely worth considering.
FAQ
What are the minimum system requirements to run DxO PureRAW?
For graphics cards, DxO PureRAW works best with the NVIDIA GeForce 8 Series, ATI Radeon HD2000 Series, Intel HD Graphics 2000 Series, and the Apple silicon. The minimum RAM required is 4 GB, but 8 GB or higher is recommended. You should have a minimum of 4 GB of free space available on your computer. Windows users should have Windows 10 and Apple users should have Mojave, Catalina, or Big Sur. 
Do you have to use Adobe software with DxO PureRAW? 
No, you can use any editing software.
On how many computers can I install DxO PureRAW 2 with one license?
You can install the program on up to three computers with one license.