With so many editing programs thrown in front of photographers at once, it can be daunting to step away from the industry-standard options such as Adobe Photoshop and Lightroom.
Exposure X6, a brand-new release, aims to tear you away from the familiar and introduce a new way of maximizing your editing.
Having never used Exposure products before, this review comes from the eyes of a new patron – utilizing Exposure X6 in a real-life photoshoot workflow process, testing its capabilities to a very usable extent.
So, how does it fare? Let's find out in this Exposure X6 review!

When you buy through links on our site, we may earn a commission at no cost to you. We evaluate products independently. Commissions do not affect our evaluations.
Exposure X6 Overview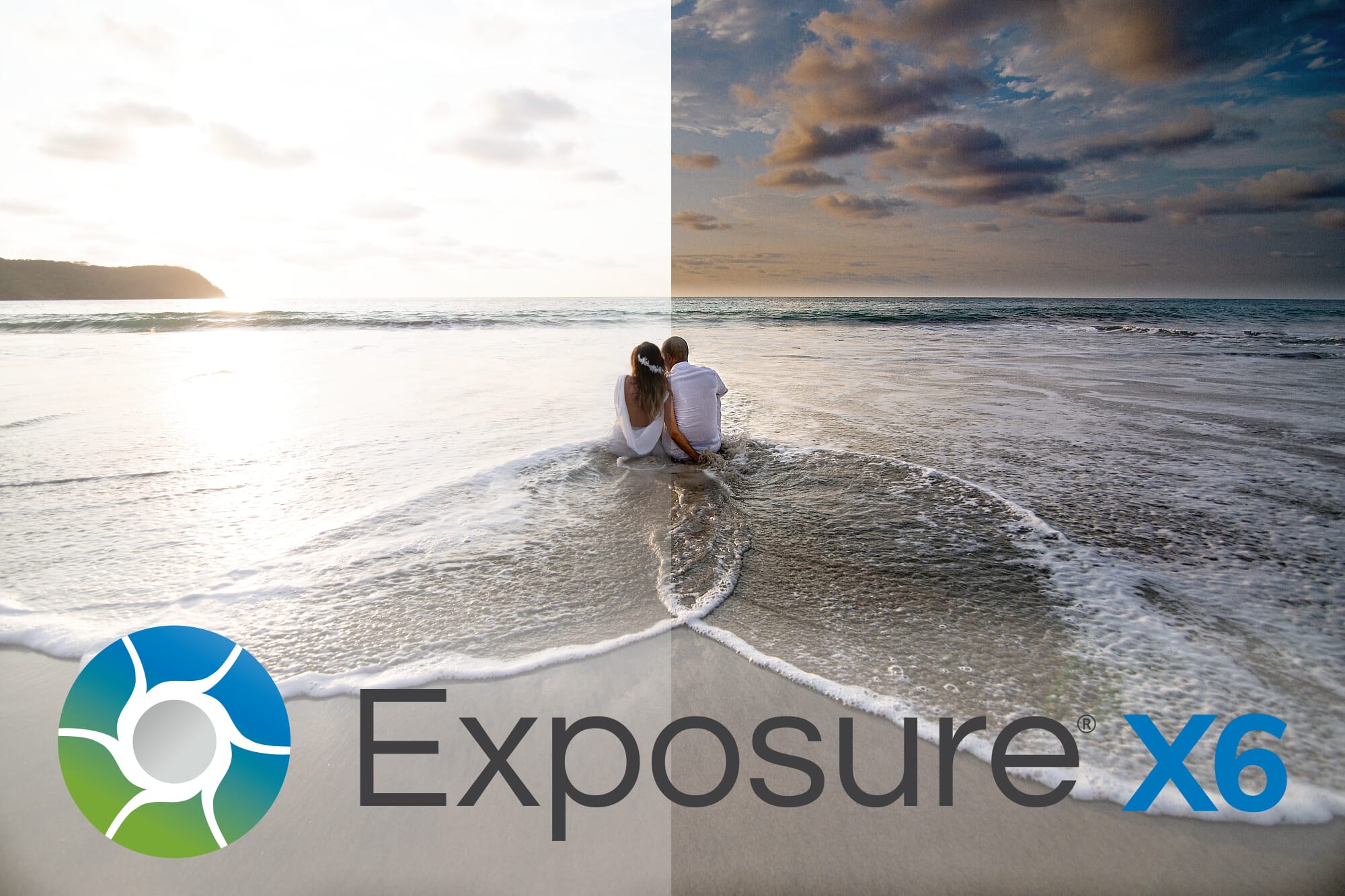 A feature-packed editing software for photographers
Exposure X6 is a powerful and intuitive photograph editing software, competing with the likes of Adobe software. With a new way of thinking in regard to editing tools, the creators of Exposure use science to render accurate edits.
Pros
Over 500 presets built into the program
Quite competitively priced
Very advanced color grading tools and panels
Great ease of use and customizable interface
Cons
Can have some performance issues on certain computers
No image layer support
Exposure X6 is a stand-alone image editor that aims to manage and improve your photography workflow. Developed for photographers, artists, and graphic designers, Exposure X6 has a slew of creative editing effects for almost any purpose. Once called Alien Skin, the Exposure line of products have quickly begun rising in the ranks of editing software, both as plugins for Adobe's line of products and as a standalone series of programs.
What makes this program different from others is that the company actually uses mathematics and scientific research in generating its creative tools, which help many of the editing effects to be quite accurate. Akin to its original name, it was almost alien-like in its accuracy.
Exposure X6 Versus X5: What's New?
For users of the previous version, you're probably wondering what could have possibly been added or improved upon to push you into spending an afternoon upgrading your program…
Lucky for you, the improvements are actually substantial enough to validate an afternoon off to download and re-customize your new software.
To begin on the nerdy side of things, Exposure X6 modified how the program itself processes in order to increase process speed. It starts to bounce rendering processes around to the CPU and available graphics cards to help speed up the flow.
On an aesthetic level, those familiar with the Exposure line of software will notice an improvement in the user interface, abandoning the dated look for something more modern and sleek.
Leading into the actual features themselves, there are many additions and improvements here. For starters, lovers of color will be thrilled with the brand-new advanced color editor. You can source and replace colors, have far more control than before, and multitask all in one step.
The addition of several automatic adjustments can also be very helpful, especially for new photographers. The new Auto Tone sets the values of the blacks, whites, shadows, and highlights on a much more intelligent level and is especially adept at recovering lost information in the darkest and lightest parts of your photograph. Other new features include Auto White Balance (which is based on the camera's metadata), Auto Exposure, Auto Haze Level, and Auto Dynamic Contrast.
The final significant improvement comes in the form of noise reduction. While noise is the crux of every low-light photographer, finding software that effectively removes it isn't always easy. Exposure X6 shows the most promising noise reduction, based upon its scientific way of creating editing tools. The program removes noise based on camera sensor characteristics, ISO, and estimated electronic noise rather than a one-size-fits-all approach.
Layout and Initial Impressions

My initial impression was very much "wow". Everything is conveniently laid out in front of you, albeit initially overwhelming. After a few minutes of digging around, it becomes quite easy to find everything you need.
The design itself is spiffy and pleasing, quick to load and open. The darker colors are quite complementary, helping your images really pop out.
Photo Editing Functionality
Now onto the part we've all been waiting for, what's photo editing in Exposure X6 like? Well, I am happy to report that it's everything you could've wanted and so much more. I decided to choose a backlit image of a standard poodle I photographed, as the difficult lighting would make a good test.
Going through the panels, the Basics panel is almost exactly like Lightroom but with the addition of some helpful features that make editing even easier to control. On its face, you have the usual suspects such as Shadows and Highlights, but then you see a few more, such as Dyn Contrast and Haze Level. This further allows a smooth application of tonal adjustments, something that was very clear to see in our backlit sample image.

My favorite editing part, however, is playing with color. Color grading is a huge part of my workflow, and Exposure X6 impressed me to the core. With a color panel that is far more advanced than that of Lightroom, there was so much more that I was capable of doing. The additional sliders for Shadows, Midtones, and Highlights were especially helpful. Offering greater control of the color effect in those tonal regions.

One of the new features in this version, the advanced color grading panel allows you to actually convert one color to another color using the color channels, something that most definitely impressed me! This makes color adjustments so easy. It certainly beats having to mask and do selections in Adobe software.

For those (like myself) who are still attached to split toning, you still have this option readily available under the Tone Curve.

I jumped ahead and played with the overlays, bokeh, and presets, which you will find details on in the section below.
Related Post: Zoner Photo Studio X Review
After I made all of my edits, I wanted to explore further features that were available to me. This included the ability to lower the intensity of my adjustments (a nice feature similar to layers opacity), view Before/Afters, and even turn panels off while leaving the rest nicely intact.


When it came time to use the Brush tool and Spot Tool, I found that what was once a fast program began to bog down. The effect did eventually render, but I had plenty of time to go make myself coffee by the time the program figured itself out. More on this frustration later.
By the end of the adjustments, it was time to test out batch processing and exporting. This, however, was lightning fast; really emphasizing the new way that the program processes big actions. Copying my settings and applying them to a batch was easy, and the exporting window came with all of the usual options in it – with a couple of nicely done advanced features as well (such as far more customization with image titles and file types).


I could even tell the program what window to open after the export was done – useful! All in all, Exposure X6 really takes the gold in many aspects of the editing flow.


Exposure X6 and Its Many Presets and Overlays
To me, the program really shines with its presets and overlays!

The overlays are just tremendous – allowing incredible rendering of sun flares (as you can see above), bokeh, vignetting, and more. It becomes easy to create artificial effects that look more natural than many other programs can offer. Each overlay is also fully adjustable, from size and color to intensity and opacity.

With over 500 presets already built into Exposure X6, there are countless things you can do with this software. If you find yourself lacking an idea of what direction your editing can go, the presets create a great foundation to edit off of. Sometimes we take a photograph that we adore on the camera, but our enthusiasm wanes when we see it on the computer screen. You can browse the exquisite preset library to see what brings life back into your photograph.

In addition, each preset is fully customizable, ensuring that it fits the image you place it on. But speaking of customizable, you can also 'audition' the presets to see how they look on your photograph!

When looking through the preset panel, there is a slew of options to choose from. However, what really stands out in Exposure X6 are the film presets. There is a big emphasis on film and analog, with a tremendous assortment to choose from (organized by film type, camera, and more).

As a bonus, presets even exist in the editing panels to your right-hand side. You can use the dropdown menu in the Color Panel to adjust your color presets, further imploring you to explore color grading to its fullest capacity.

Image Sorting and Organization
Image sorting and organization is nearly word-for-word akin to Adobe Lightroom and Adobe Bridge, allowing you to organize images by the same usual suspects: a star rating, color labels, metadata, file name, lens, camera, editing time, and so much more.

Nearly my entire workflow has to do with star ratings, so I found it very easy to organize my folder. To add a star or label to an image, just hover over the image and click the necessary component. To view images you've categorized, you use the thin panel at the bottom of the screen to make your selection.

Customization and Ease of Use
One of my favorite parts of Exposure is how customizable the workplace is! The entire interface can be modified to suit your needs through several nifty options. I would argue it is even more customizable than Adobe Photoshop, allowing you to really modify each panel to suit your methodology. This in turn increases workflow efficiency, and that's something we are striving for as photographers.

A nifty feature that gives me Lightroom nostalgia is the ability to close panels as well, with them opening upon a mouse hover. This is a nice approach for minimalists that like a clutter-free interface.

As for ease of use, I'd consider this program quite easy. It's very intuitive in its panel displays and layouts, making it a breeze to get into the editing flow. This being said, being so adept to Adobe, it did take me a good few moments to figure out how to start editing an image; simply because I was looking for the Develop panel, only to realize that all I had to do was double click an image I wanted to edit and get to work. A big 'duh' moment, but it really wasn't terribly clear. Other than this minor hiccup, everything was easy breezy.
Software Performance
As a photographer where time is of the essence, software performance is what it all boils down to. As such, Exposure X6 was tested out on two computers; my custom-built desktop PC workhorse and my laptop. Both are Windows.
To me, the program needs to work well on both as the desktop is the home worker and the laptop is the portable editor. Although one naturally compromises on some performance and speed with a laptop, it still needs to be a workable solution.
As a disclaimer, the opinion I am about to disclose is not coming from a software pro, I actually know very little about the computers I use. However, I do have performance comparison through my everyday programs: Adobe Photoshop and Adobe Lightroom (both the 2021 versions).
The recommended specs for Exposure X6 for Windows include a 64-bit or newer Windows 10 (which I have), a minimum Intel Core processor of 2, an 8GB RAM minimum with a 16GB recommended, and a compatible GPU with 2GB RAM.
Both of my computers either meet the minimum or exceed the requirements.
Desktop

Laptop

So, how did Exposure X6 do?
Sporadically (unfortunately). Some features ran fast and others were as slow as snails on rendering.
For my desktop, many of the key features worked very quickly. Quick and reliable rendering on all of the editing panels, presets, overlays, and various color grading tools. Lightning-fast batch processing, and equally fast exporting. If this was all I used, then the program would be perfect.
However, when you try to use the brush tool… suddenly the desktop huffs and the rendering comes to a very slow stop. It proceeds to an even slower stop when you try to view the brush mask. It seems that this tool wasn't too friendly, which leads me to believe that other features I haven't even explored yet may begin suffering from the same lagging issue, or the lagging issue may become more prominent over time.

Adobe's equivalent editing software works so fast on my desktop that it feels like the program runs faster than your mind can even process the next step.
As for my laptop, it huffed, it puffed, and it cried. The program did not work very well on the laptop, in comparison to Adobe Photoshop, Adobe Lightroom Classic, and Adobe Lightroom CC that run blazingly fast with little to no lag. Out of curiosity, I had Exposure X6 and Adobe Lightroom open at the same time by the end of it, and Lightroom still performed decently even with the memory backed up by two heavy programs. Exposure… no dice.
In regard to being integrated into the Adobe software, it worked better than the standalone but still tested my patience.
As to how the software will work on your computer: I highly recommend doing the trial first.
Help and Support
Typically, a fairly overlooked category, help & support are pretty important for software purchases (especially on products in the triple digits of cost). With Exposure X6, I was very pleasantly surprised.
The Help window in the program itself opens up a webpage with a slew of tutorials, all opening into beautiful blog posts with detailed explanations and helpful videos.
Support offers several methods of getting in touch with the team behind Exposure X6, making solving issues fairly easy and less stressful than comparable software support teams. You can be assured that they will get back to you in a timely manner!
Exposure X6 Alternatives
There are quite a few alternatives to Exposure X6 on the market today. With the steep competition for effective editing software, the users almost always win as a result of this.
The first set of competitors that come to mind are the Adobe software Lightroom and Photoshop. This is funny to mention, considering Exposure X6 has compatibility with host software such as Adobe's programs – so is it really a competitor? On the stand-alone side, yes it is. On the integration side, no, it is not. Which one is true for you depends on whether you are looking for a stand-alone program that exists in its own ecosystem or not.
Unlike Exposure, Adobe is no longer a one-purchase option and requires a subscription.
Other competitors include Skylum's Luminar and ON1 RAW, two programs rising in the notoriety of editing software. Both of which are also stand-alone one-time-purchase programs like Exposure X6.
Luminar AI by Skylum is quite different from Exposure X6, even if its display appears similar. Although the editing panels are close to the same (let's be honest; all these editing panels mimic Lightroom to some extent at least), the core of the program differentiates itself from the rest by being very heavily AI-driven. Much of Luminar is based on artificial intelligence and generating edits without your assistance, and that takes much of the editing game away from you. This benefits some, stifles others, dependent upon who you are and what your need is.
ON1 RAW has both advantages and disadvantages. The software originally focused on special effects and plugins, but ON1 quickly grew to be a full-fledged photography suite, offering cataloging, editing, and effects in one. It edits more in filter modules using AI, similar to Luminar but with far more control and user adjustment. It's right up there with Exposure X6 in terms of usability, but can be considered a bit too much for some photographers, while others love the fact that everything they could possibly need is located in one convenient program.
Conclusion: Who Should Get Exposure X6?
Who is Exposure X6 created for? In all honesty, everyone! From the professionals to the hobbyists and newbies, this program really does have a lot to offer. It's as if someone took the best parts of Lightroom and Photoshop and added all the missing bits.
Many of the features can be replicated in Adobe software, but it requires additional downloading or the purchase or premade overlays and presets. Exposure X6 has over 500 already innately in the program, offering endless possibilities.
In conclusion, if your computer can handle the program, this is well worth the purchase. Especially for a one-time fee and it becomes a program you own, being significantly more cost-effective in the long run than subscription programs.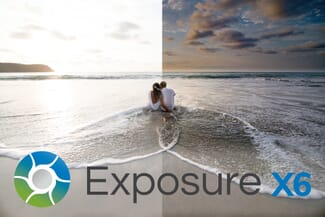 Name: Exposure X6
Description: Exposure X6 is a powerful and intuitive photograph editing software, competing with the likes of Adobe software. With a new way of thinking in regard to editing tools, the creators of Exposure use science to render accurate edits. If your computer can handle the program in its fullest capacity, this software is an excellent replacement or addition to your current workflow editor!
Offer price: 119
Currency: USD
Operating System: Mac, Windows
Application Category: Multimedia
Author: Exposure Software
Layout and Ease of Use

Workflow and Window Customization

Editing Capabilities and Features

Rendering and Processing

Presets and AI Editing Tools
Summary
Exposure X6 is a powerful and intuitive photograph editing software, competing with the likes of Adobe software. With a new way of thinking regarding AI editing tools, the creators of Exposure use science to render accurate edits. If your computer can handle the program in its fullest capacity, this software is an excellent replacement or addition to your current workflow editor! 
Pros
All in one image categorizer and photo editing software
Over 500 presets included plus the ability to make many more
Extremely advanced color grading tools, including color replacement
Very competitively priced
Perpetual license included in the price
A very customizable and user friendly interface
Increased rendering ability in comparison to older models
Ability to create virtual copies for multiple looks
Preset audition feature, allowing you to test presets before applying
Pretty good lens and perspective corrections
Cons
No image layer support
Can run slow on some computers
Exposure X6 FAQ
Can I try before I buy? 
Yes! I suggest it. Exposure X6 has a free 30 day trial. No credit card either, just enter your email address.
If you have Exposure X6 on different computers, can you sync the edits?
Yes, Exposure X6 comes with this functionality through Single User Syncing, Collaborative Syncing, and via cloud-based services such as Google Drive and Dropbox.
What do I do if I have presets in the older version?
Exposure X6 has an automatic preset updater tool to ensure that your custom presets in older program versions work in the newest one.