Today, we're going to take a look at LumaFusion vs Premiere Rush, two well-known mobile video editing apps. Both allow you to edit your footage on the go – but which should you choose?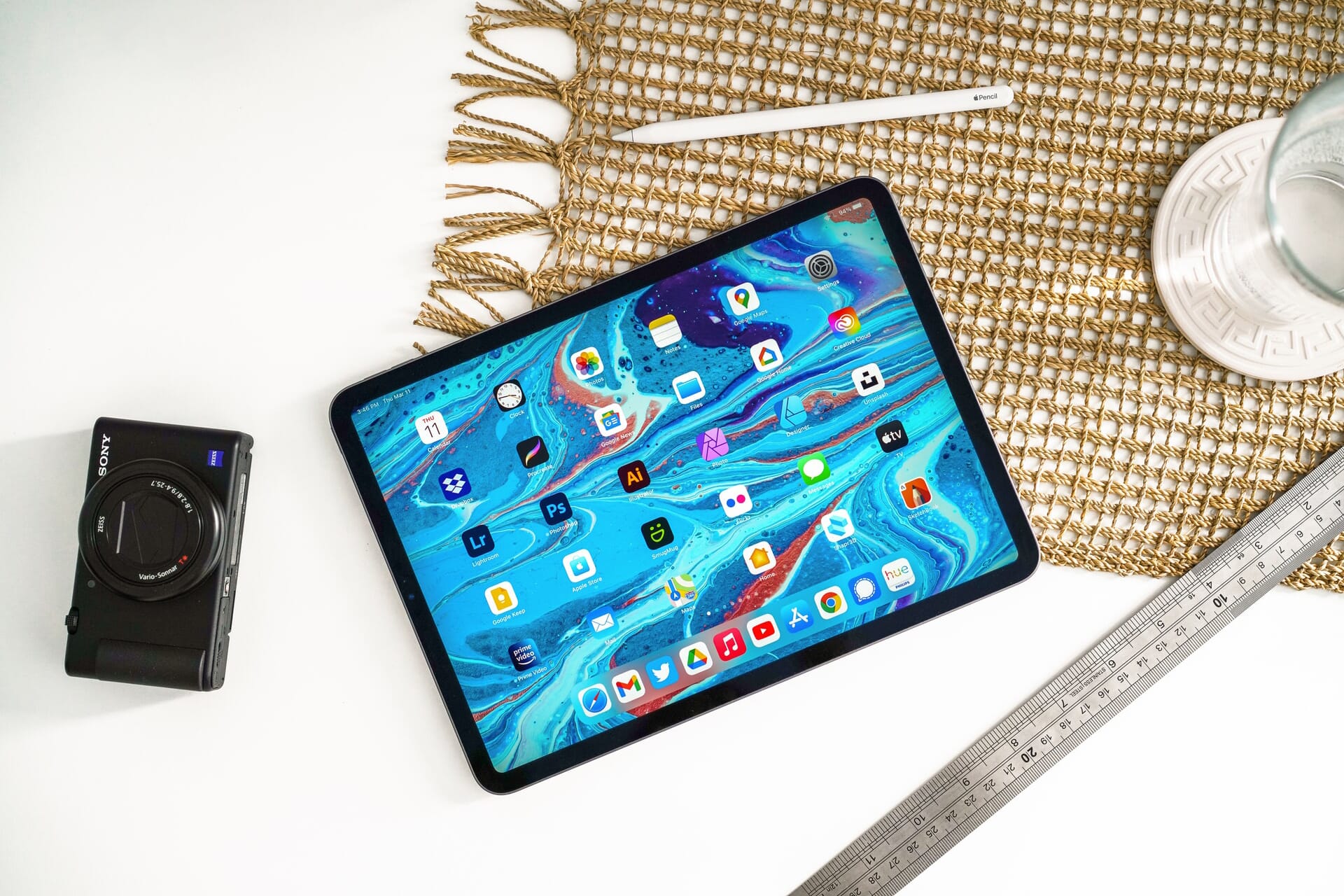 We're going to try and answer that question by taking a closer look at these two options. We'll explore their benefits, drawbacks, and other features, so by the time you've finished reading, you'll know which one to buy.
Let's get started.
When you buy through links on our site, we may earn a commission at no cost to you. We evaluate products independently. Commissions do not affect our evaluations.
LumaFusion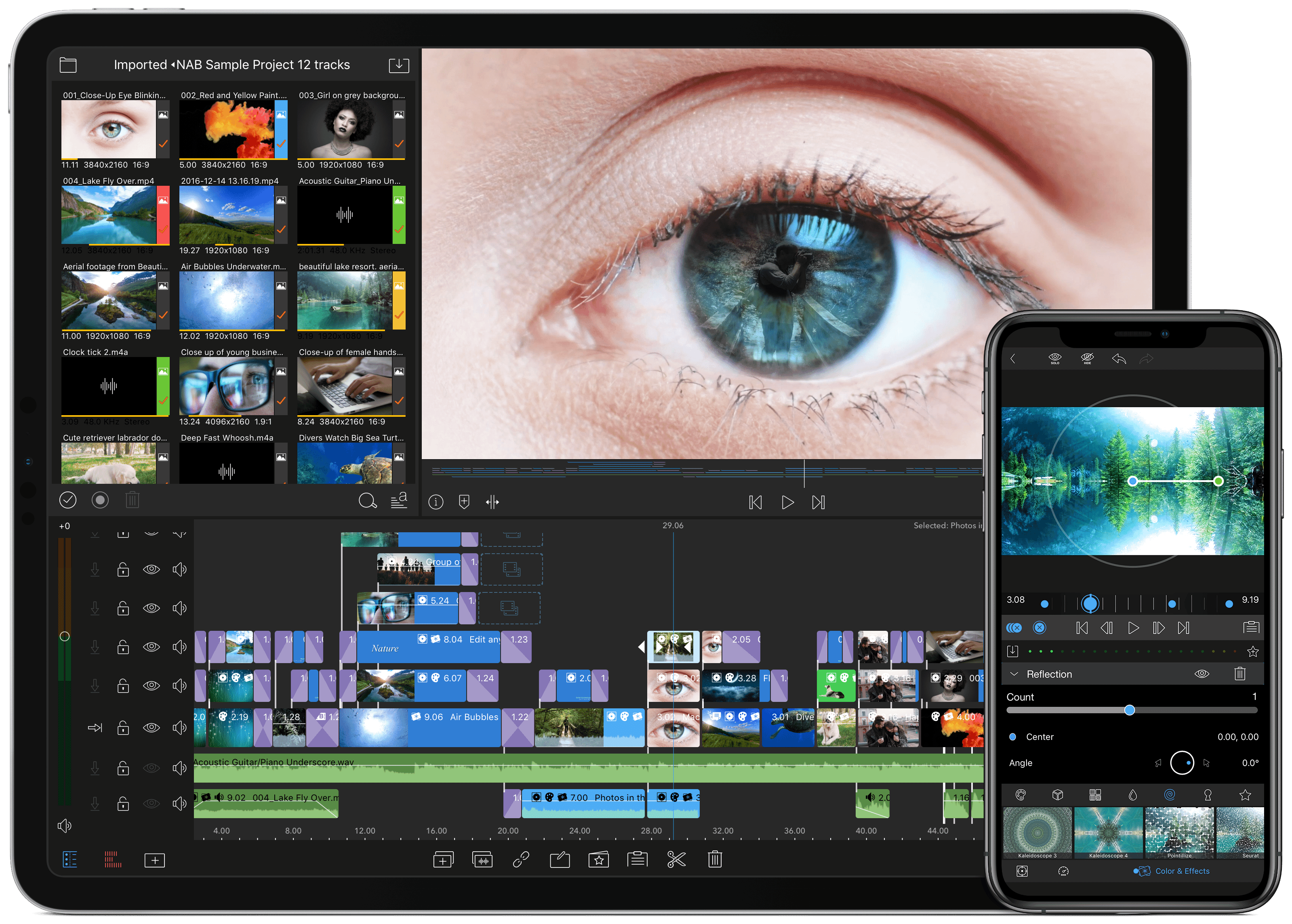 LumaFusion was designed by a team of professional video editors specifically for mobile devices like the iPad. It costs a mere $29.99; for that price, you get what is arguably the most comprehensive video editing app for iOS devices.
The newest version comes with lots of updates to make the video editing experience even better, too. There are too many features to list here, so here's a taster:
Six video/audio tracks to use with photos, videos, audio, graphics, and titles
Six extra tracks to use for music, sound effects, and narration
Lots of transitions
Magnetic timeline
Lots of audio features including audio filters and EQ, keyframe audio levels and panning, and Auto-ducking
Many visual effects, like layering multiple styles and pixel effects, color correction, luma key, and chroma key
Color grading with LUTs
Support for 120 fps and 240 fps slo-mo and time-lapse video
2:1 aspect ratio projects for editing 360-degree videos
Image stabilizer
Swipe gesture support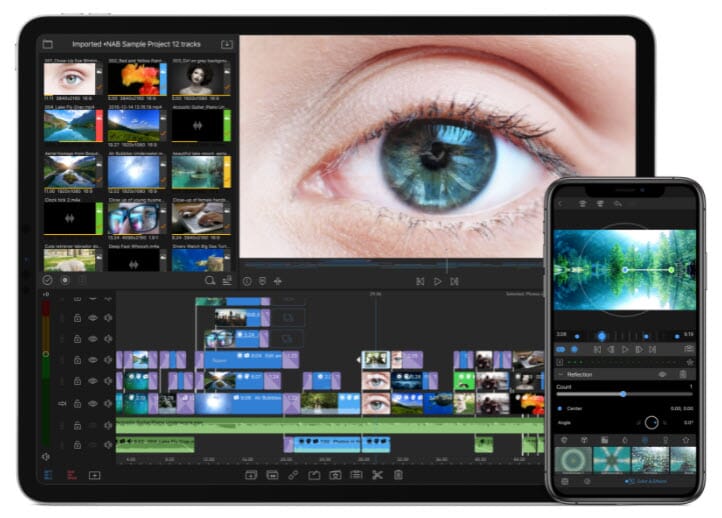 Best for serious editors
LumaFusion is a comprehensive video editing program that offers plenty of advanced features (and for a great price, too!).
Pros
Full of sophisticated tools
Low price
Versatile interface
Cons
Only for iOS users
LumaFusion: Key Features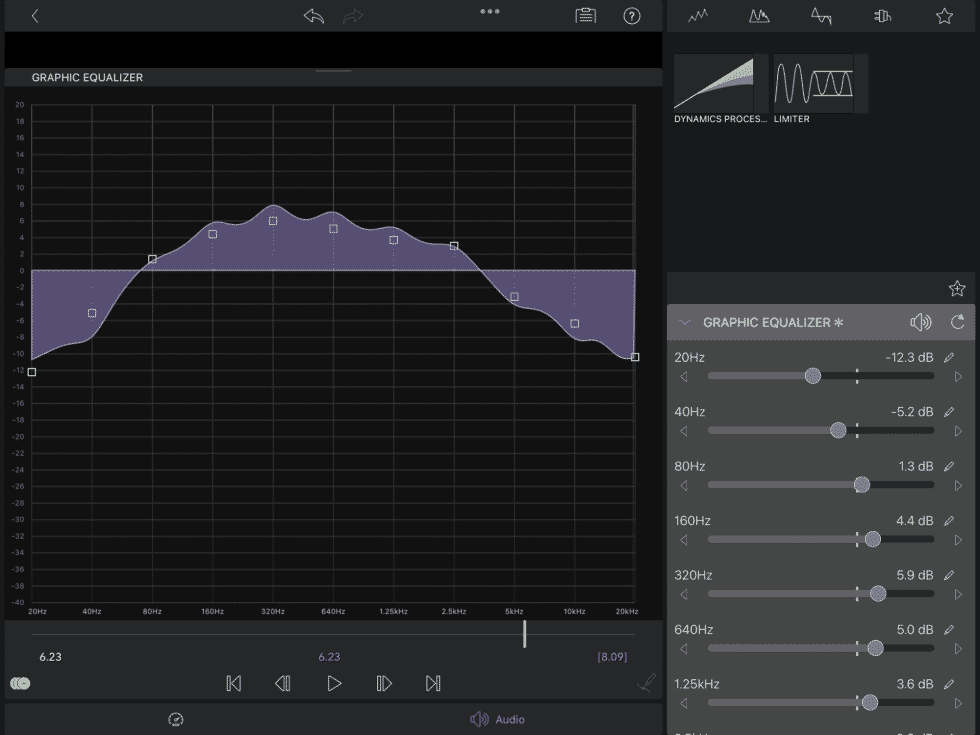 Let's take a closer look at where LumaFusion excels and where it falls short.
Sophisticated Tools in an Easy-to-Use Interface
LumaFusion is crammed with lots of advanced features for professional video editors, but these are tucked away unless you need them. This gives LumaFusion a clean, user-friendly interface, which is necessary for small-screened iPad or iPhone editing.
You can also customize the default layout to show the panels you find most useful. If you want to move something, simply drag it across the screen, and if you want to change something, just tap it. Quickly resize elements with the same two-finger movement you would use resize an item in other apps.
Those who've used other professional video editing software will quickly find themselves at home with LumaFusion's layout.
Easy to Learn
If you've never used any video editing software before, you may find LumaFusion quite overwhelming. Happily, there are lots of beginner tutorial videos on how to get the best out of LumaFusion. The website itself also has a comprehensive and easy-to-understand reference guide.
All new apps take some getting used to. Some are easier to adjust to than others, and the good news is that, while there's plenty to keep more advanced video editors happy, LumaFusion is fairly beginner-friendly.
Very Fast and Reliable
You would expect video editing on an iPad to be extremely slow, but LumaFusion is surprisingly speedy. It doesn't take ages for the timeline to load, and scrubbing is very fast, too. It doesn't appear to suffer from the freezing or crashing problems other iPad editors have (although as a caveat, perhaps that has much to do with Apple's A14 Bionic processor in newer iPads).
Rendering and exporting video is swift, and it's also possible to upload your video directly to YouTube and Vimeo.
A Variety of Ways to View and Edit
Another great feature of LumaFusion is that it works in both portrait and landscape mode. This gives you the option to choose which way you want to edit.
You can also connect your iPad to an external monitor to edit and preview your videos with an HDMI cable (which requires an adapter) or through AirPlay.
Effects and Color Corrections Made Simple
When you want to add your effects, color corrections, and titles, you head to the Clip Editor. Inside the Clip Editor are four different individual editors, and each is represented by an icon.
The Frame and Fit Editor is where you crop, zoom, and create keyframe animations. The Speed Editor lets you adjust the speed of the clip or even reverse it. The Audio Editor is where you can apply audio effects and adjustments, and the Color and Effects Editor is where you do color corrections and apply LUTs. These four distinct editing modules make it easy to create and keep track of changes.
Also Read: Comparing the Best Video Color Grading Software
One-Off Payment
Lots of people hate subscription models, so the good news is that LumaFusion costs a one-off $29.99. There are in-app purchases you can buy, such as StoryBlocks, but they are optional.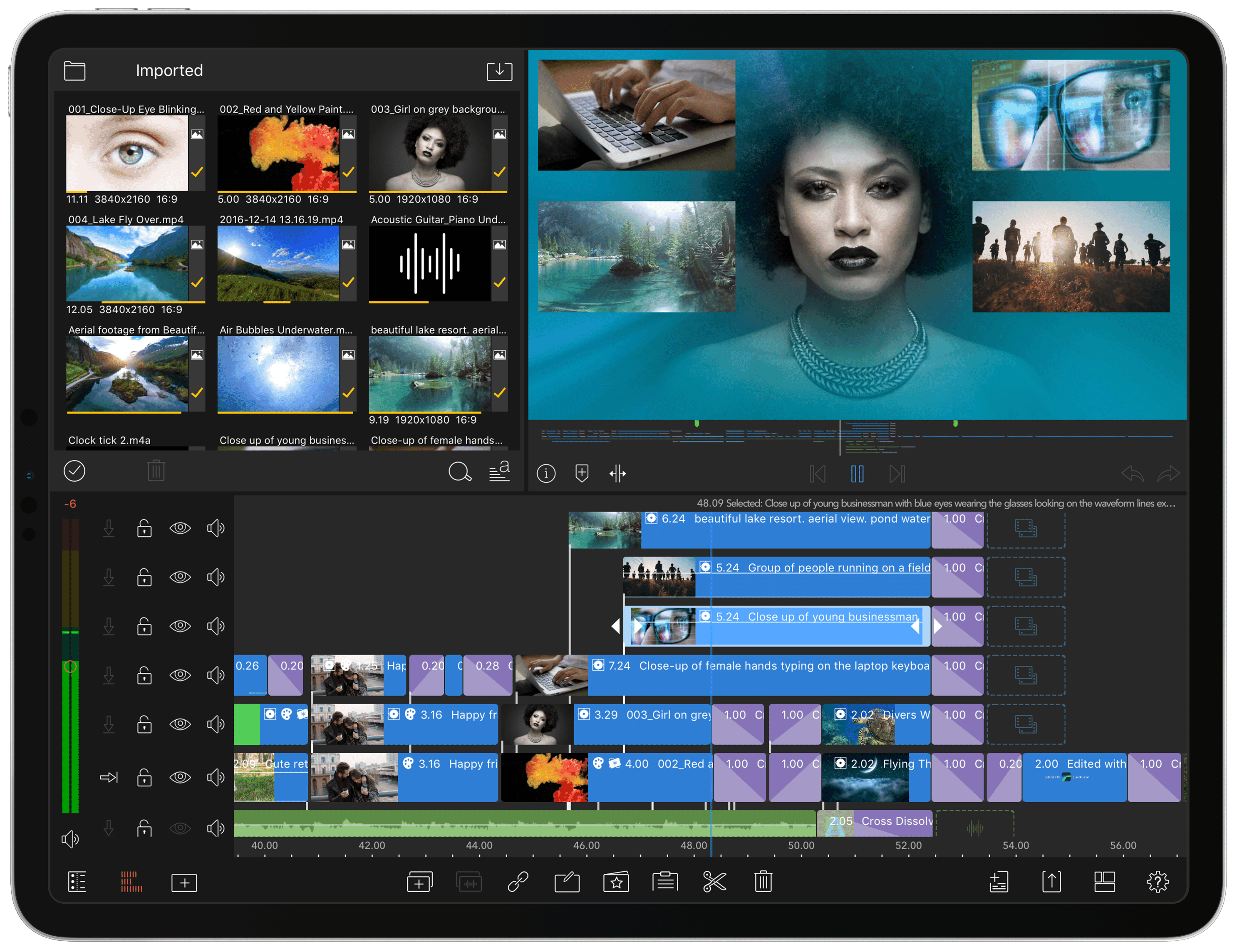 You Have to Pay to Export to Final Cut Pro
There are a lot of dedicated users of the desktop video editing app Final Cut Pro X, and many would like to export their projects from LumaFusion as FCPXML.zip files to Final Cut Pro. This is useful for doing a rough cut of your footage with LumaFusion on your iPad or iPhone, before transferring the file to your Mac for further fine-tuning with Final Cut Pro.
However, you have to pay $20 as an in-app purchase to be able to export FCPXML files, as the capability is not included in LumaFusion's standard set of features. You'll also have to add back photos, titles, and music, as well as many effects that aren't supported on Final Cut Pro, so you need to decide if it's worth it for you.
Only Available on iOS
Unfortunately, LumaFusion is only available for iPad and iPhone. Hopefully, the makers, LumaTouch, will provide Android and Windows compatibility soon.
Doesn't Support as Many File Formats as Adobe Rush
You can import any files in LumaFusion that are compatible with the iOS platform. This includes:
QuickTime Movies
MP4
M4V
MJPEG
Supported audio formats include:
Supported images include:
While that's probably enough formats for most users, those who use Apple ProRes, AVI, DNxHD, and M2T will be disappointed.
Adobe Premiere Rush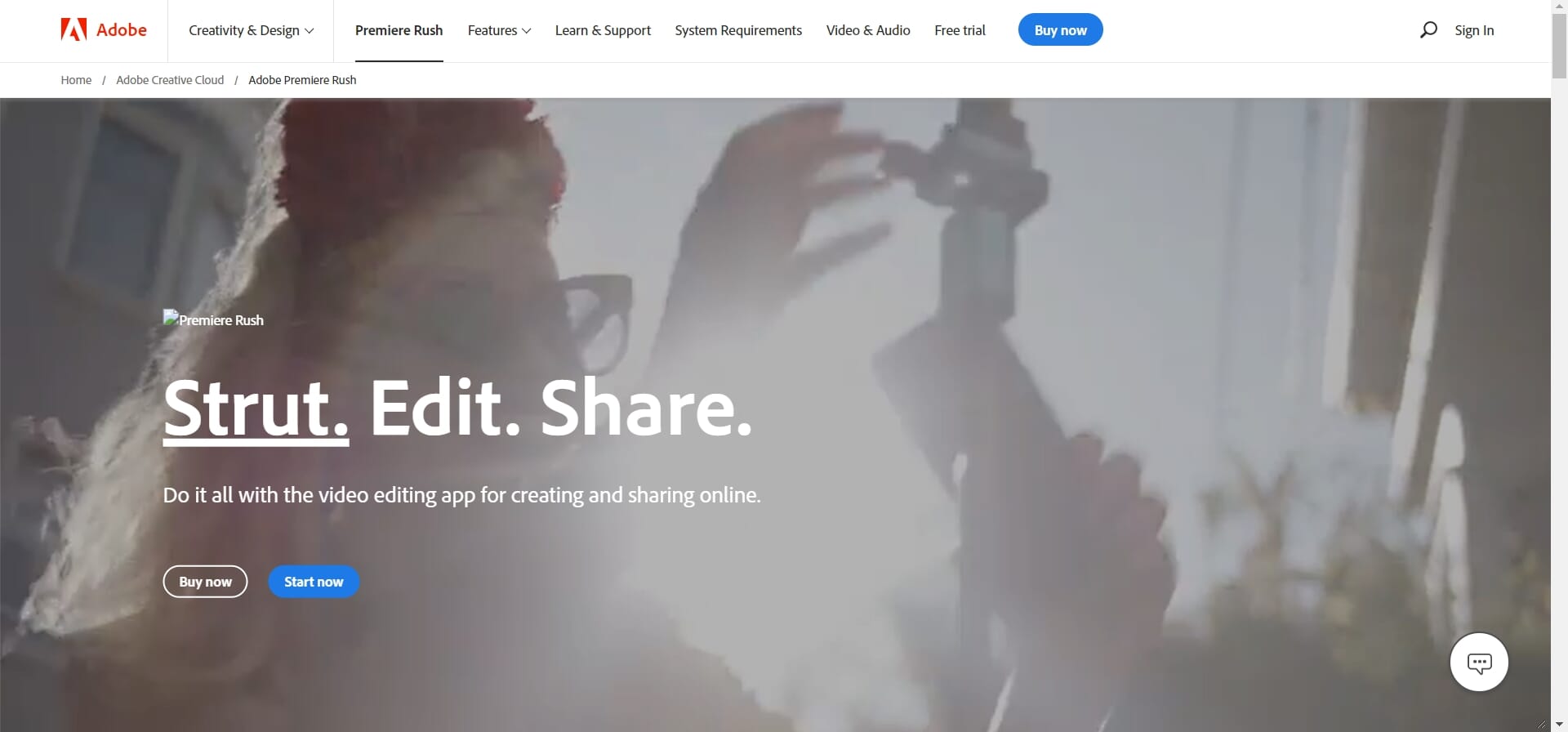 Premiere Rush is Adobe's mobile-focused video editing app, which is also available on desktop computers. Adobe created Rush mainly for social media posters and vloggers, as professional video editors already have access to Premiere Pro.
Rush is aptly named, as the big idea behind the app is to streamline the shooting/editing/sharing workflow so you can get your videos up in the shortest time. If you already have Adobe's Creative Cloud subscription, you get free access to Rush; otherwise, it's $9.99 per month.
As with LumaFusion, Rush has a big range of features and tools:
4-track editing for video and 3 more tracks for audio
Built-in camera app
Color editing that includes 35 color effect filters inspired by Instagram
Basic title editing
Drag and drop feature
Audio balancing
Record voiceovers and use audio effects
Video resizing, including landscape, portrait, and square formats for different social media channels
Automatically synced to the cloud
Editing tools like Clip, Duplicate, Slip-Trim, Split Clip, and Split-Screen
Synchronizes with other Adobe apps
Different aspect ratios – 16:9 horizontal or vertical, 4:5 vertical, and square
Transition effects: 16 dissolves, wipes, slides, and pushes
Titles, transition graphics, and overlays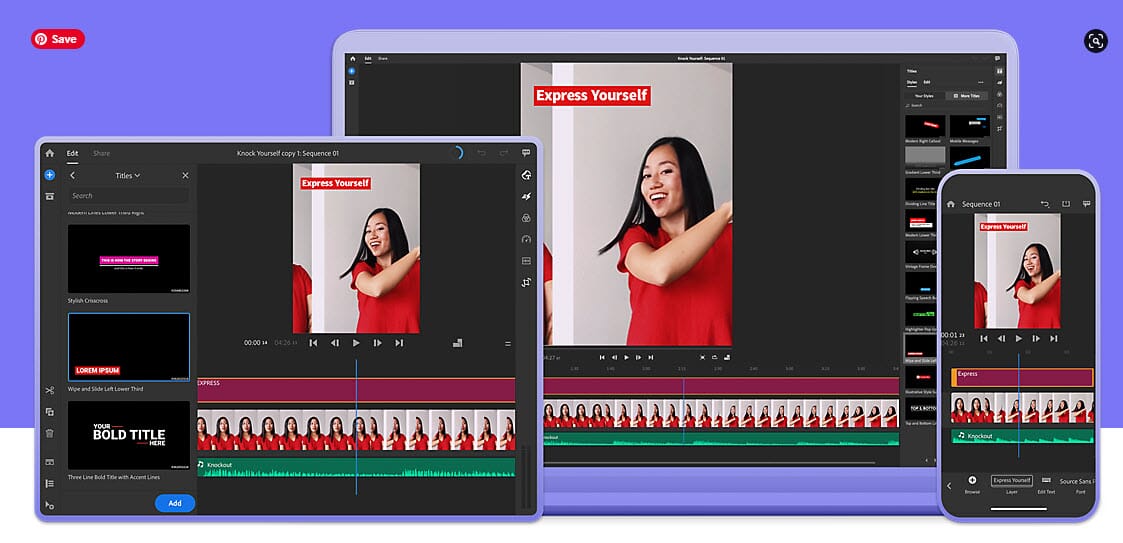 Best for beginners
Adobe Premiere Rush is perfect for beginner video editors, thanks to a simple interface, intuitive handling, and wide compatibility.
Pros
Easy interface
Available for iOS, Android, Mac, and Windows users
Integration with Adobe Premiere Pro
Cons
Monthly subscription is expensive
Adobe Premiere Rush: Key Features


Versions for a Variety of Devices
Unlike LumaFusion, Rush is available for iOS, Android, macOS, and Windows 10.
Very Easy to Use
Rush has a simple and clear interface and is perfect for beginner video editors. There are on-screen prompts to help you find your way around, as well as stock footage to use. The drag-and-drop interface keeps things easy, although you can't do much to customize the interface.
Those who have never used a video editor before should find Rush very quick to learn and will soon build their confidence.
Built-In Camera Interface
If you want to shoot footage with your iPad or iPhone (Apple's newest iPad tablets do have impressive camera capabilities) and then quickly edit it, you'll like the camera interface on Rush. It's impressive, with a choice between automatic and manually controlled shooting.
For example, you can have automatic or manual lighting and focus to give you that extra creative control. You can choose the resolution and frame rate, too.
Integration with Other Adobe Apps
Premiere Pro includes an option to open your Rush project on its home page. Even better, Rush projects open in Premier Pro as if they were built in it, with all your tracks, edits, effects, and clips as you created them in Rush.
You can add videos from local and cloud storage with Rush. These include Adobe Creative Cloud and Apple's iCloud Drive.
You can also use the Share mode to send your video project out, with presets for YouTube, Facebook, Instagram, TikTok, or Adobe Behance. And you can set custom parameters for frame rate, resolution, and audio. However, you can't choose a file format or codec like you can with a lot of other consumer video-editing apps.
Good Performance
Rush is usually delay-free in use, although it can be slow when loading project content from the cloud. It deals with applying something fairly demanding like time remapping very well, too.
Supports a Wide Variety of File Formats
While you can't choose a file format or codec for exporting with Rush, it supports a huge variety of video formats, including:
Apple ProRes
DNxHD
GIF
M2T
MOV
MXF
MTS
M2TS.
Audio support includes:
Supported image formats include:
Rush also supports these native camera formats:
ARRI AMIRA
Canon XF
Panasonic AVC
P2
Sony cameras.
Time Remapping
If you want to adjust video speed in different parts of your footage, the handy Speed tool lets you select a stretch of video to speed up or slow down. Maintain Audio Pitch is useful here, and another cool feature is Ramp, which applies the speed changes gradually.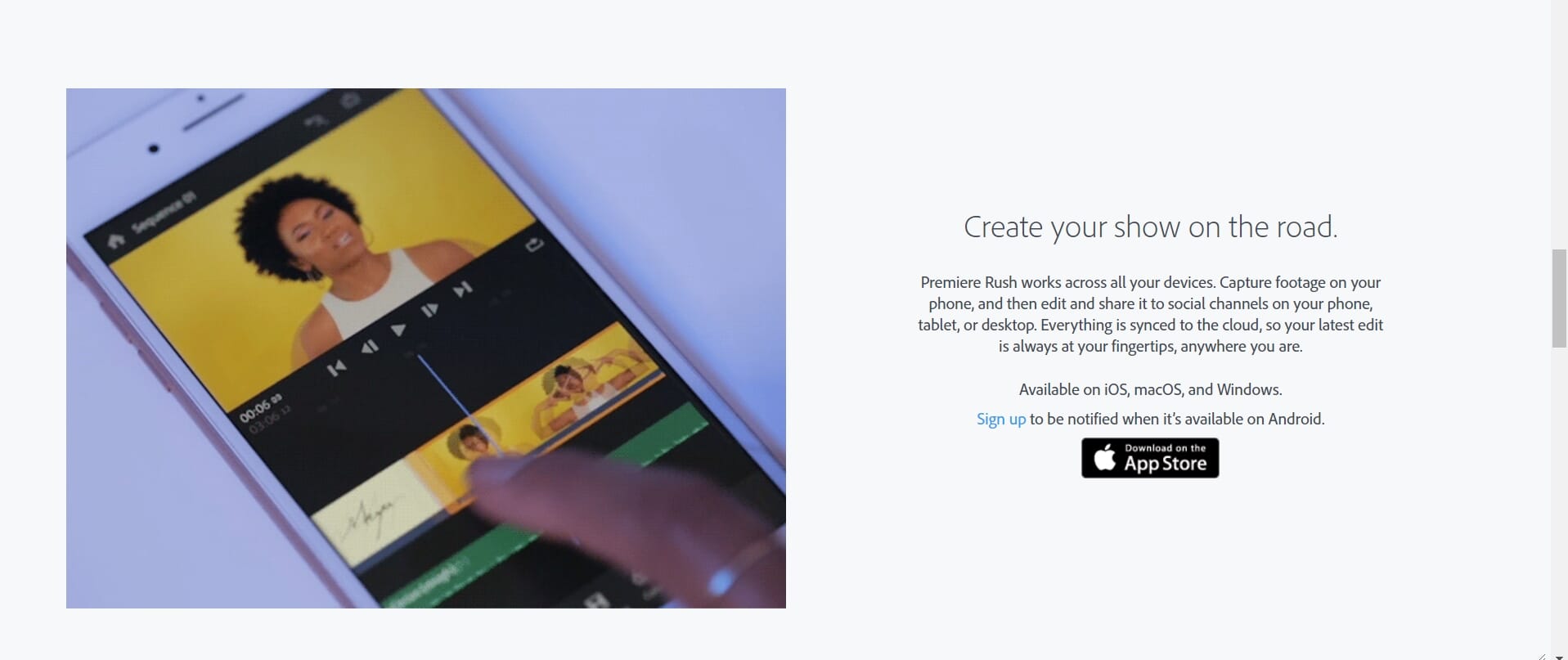 Audio Limitations
Rush is quite weak when it comes to audio options. There isn't any auto-ducking, and there's no audio scrubbing, so you can't hear any sound as you move around your timeline. Rush also lacks the ability to drag down the audio level in the timeline's waveform, something you can do in many video editing apps.
Lacks Advanced Editing Features
Adobe Rush is disappointing if you are looking for advanced editing tools. 3D and VR support are unavailable, plus some of the essential features like Chroma Key and Multicam are also missing. Currently, the only way to composite a video with Rush is to open the project file in Adobe Premiere Pro and do it there.
Subscription-Only Model
As with all things Adobe, Rush is only available on a $9.99 monthly subscription plan. That's fairly expensive for what is really a rather basic video editing app. If you already have an Adobe Creative Cloud subscription, then you can make use of Rush for free, but I would be hard-pressed to justify buying it as a standalone subscription.
LumaFusion vs Premiere Rush: Which One Is Best?
Both LumaFusion and Premiere Rush have a role to play, but for very different people.
LumaFusion is geared towards video editing professionals and those who need to edit while on the move, like video journalists and news reporters. The huge range of advanced features makes it very useful for this type of work, but most casual video editors will never find a need to use them.
LumaFusion is very good value for money, though, so if you are on a budget or don't want to pay a recurring subscription, you'll get a powerful piece of video editing software for a low, one-off payment.
Adobe Premiere Rush, on the other hand, is useful for beginners who want to try out video editing. It's also great for social media creators and vloggers who want to film, edit, and upload their content with minimum hassle.
It does hold a place for some video professionals, though. While Rush lacks the amazing editing features of LumaFusion, it can be used to film and quickly edit footage before uploading to Adobe Premiere Pro on your desktop for advanced editing.
Adobe Rush is expensive as a standalone app, though, so it only offers good value for money if you already get it free with your existing Adobe Creative Cloud subscription.
Ultimately, there is no real winner in the battle of LumaFusion vs Premiere Rush. It all comes down to what you require from your iPad video editing software!