In recent years, the lines between photographer and videographer have blurred. Any person that has recently sought out a new camera will attest to this fact. Very few new cameras lack video capabilities, regardless of whether it's a high-end DSLR or an average point and shoot. Most folks are willing to at least experiment with both still and moving images. However, those new to the world of videography are quickly met with the challenge of figuring out how to go about handling their raw footage.
Some opt into using Adobe Premiere. Others go for Final Cut Pro. But, unfortunately, the most popular options out there are catered specifically toward professionals. For those taking the reigns for the first time, the nuanced software can be confusing and, in some cases, discouraging. What's more, subscription fees or down payments can prove to be a pricey investment for those that are still experimenting with the medium.
Luckily, for Mac users, Digiarty Software Inc. has come up with a solution that costs absolutely nothing. macXvideo (Free Trial) is an intuitive new program made with beginners in mind – today, we'll be taking a look at the ins and outs of the macXvideo software.
Related Post: Best Drone Footage Video Editors
When you buy through links on our site, we may earn a commission at no cost to you. We evaluate products independently. Commissions do not affect our evaluations.
Editing Software Essentials
macXvideo is designed to make processing footage as easy as possible – the official site describes the software's interface as "lightweight". Cutting, cropping, splitting, and rotating video files is made simple thanks to the program's explanatory icons and direct instructions. The developers opted to trim the fat that comes with many more advanced digital editors, effectively creating a program that drastically cuts down overall workflow times.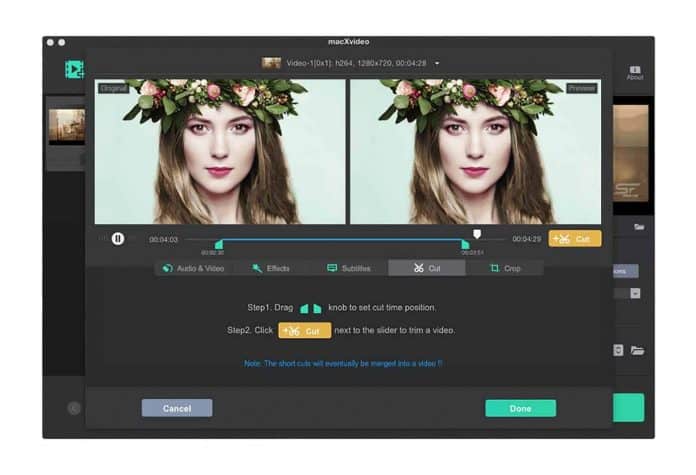 If you don't want to use every moment of your raw video file, that's fine. macXvideo includes tools that make it possible to merge together separate clips as well as divide individual files. From there, it's possible to trim and slice out all but the most outstanding parts of your footage to get the smoothest playback possible.
Furthermore, the program makes it easy to crop in and focus on specific segments of a file. Whether you're trying to showcase an action or want to adjust the ratio of your file, it's easily accessible and can help in bringing out the best parts a video has to offer.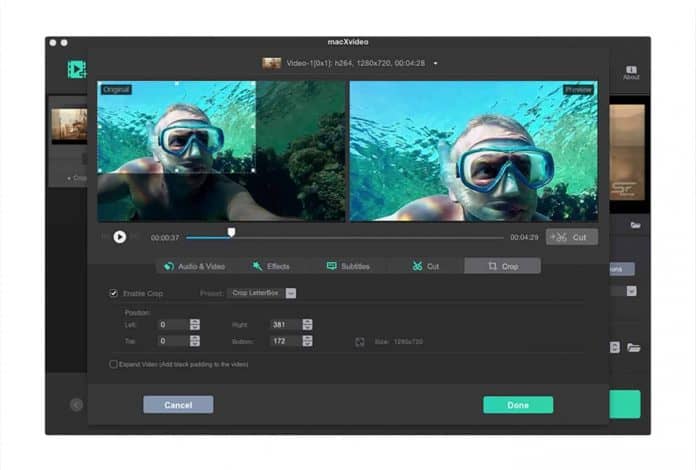 More or less, the folks at MacX Video have identified and provided the tools that every burgeoning videographer should have. Though video veterans may find the program's selection of tools to be a bit sparse, it's got all of the necessities for making a sleek final product.
Make Adjustments in Seconds
MacXVideo takes special care to bring the most essential tools front and center. However, there are a few personal touches that are just as easy to apply to individual clips or entire compilations.
Those familiar with Instagram will likely take to the software's sizable selection of filters. Though there aren't quite as many options to choose between as the picture sharing platform has to offer, macXvideo retains many of the same fundamental adjustment sliders. Any filter added over a clip can have its opacity, contrast, and color tweaked in a matter of seconds.
Text and Subtitles
MacX Video also allows users to overlay text onto video files as well as add subtitles. These tools transform ordinary, unpolished clips straight out of the camera and make them presentable and ready to be shared.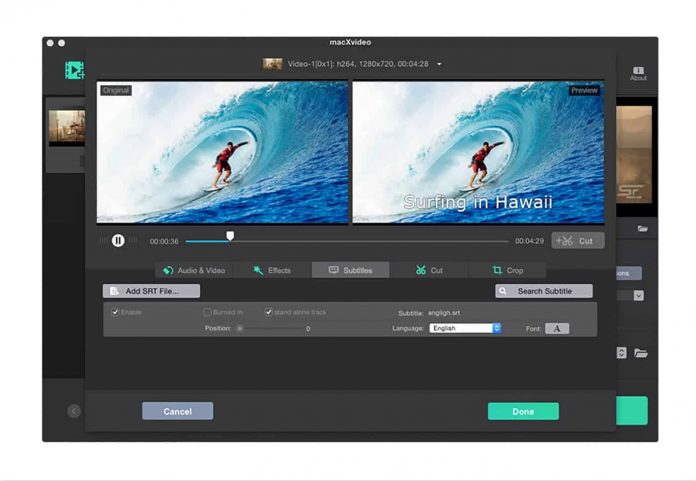 Outward appearances aren't the only thing this software has to offer. It's also possible to adjust technical options, such as frame rates, resolution, and more. In addition, it's easy to change file names and add identifying tags to any video's internal metadata.
Pain-Free Imports and Exports
The best part of macXvideo? The software makes the matter of converting footage to various sizes and formats intuitive and quick. When you bring in 4K and HD videos, this program allows users to transfigure footage into more accessible formats, all while retaining high fidelity. In fact, the system's advanced compression engine can reduce your high definition video clips to 1/10th of their original size while still maintaining great overall image quality.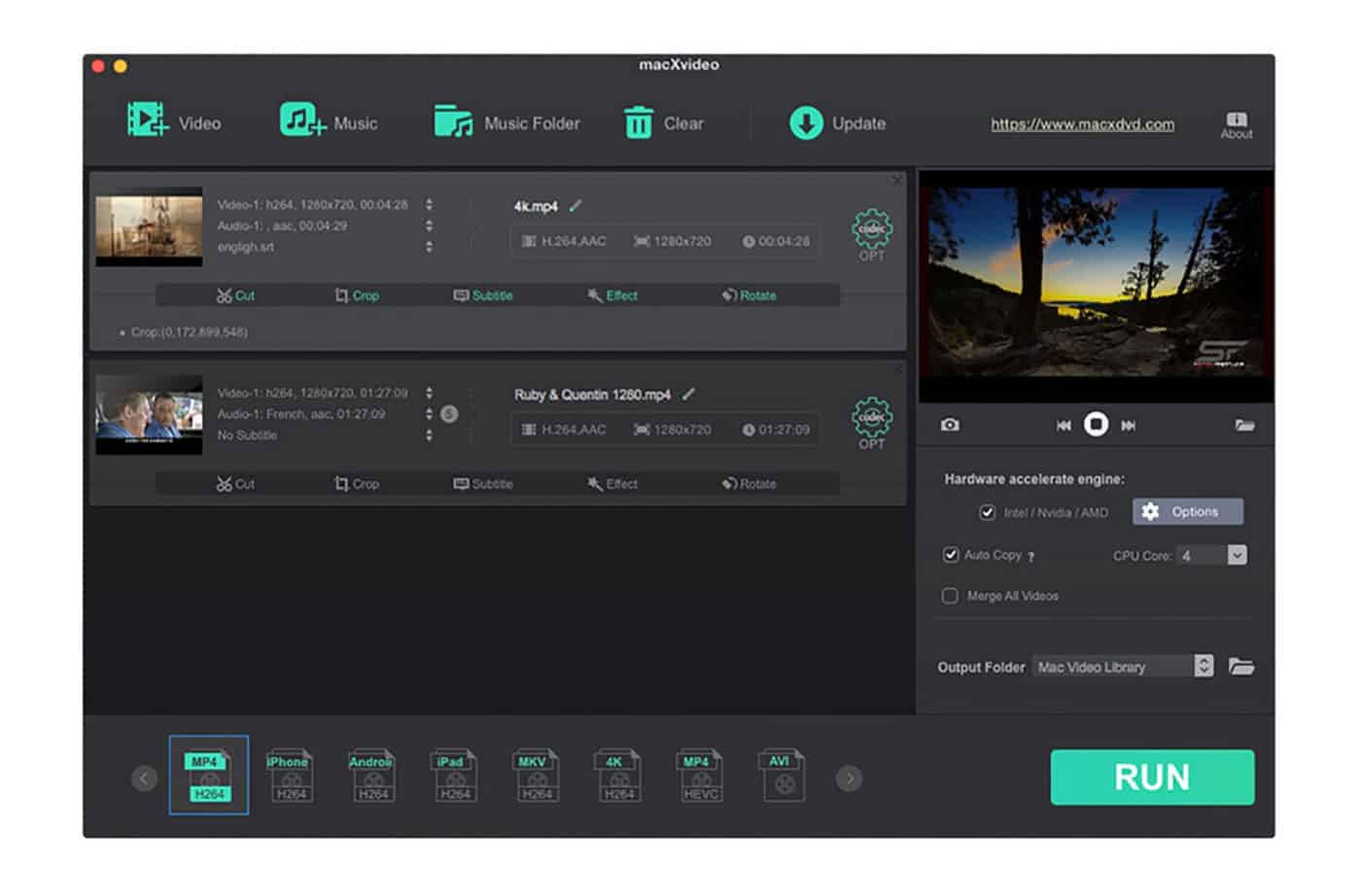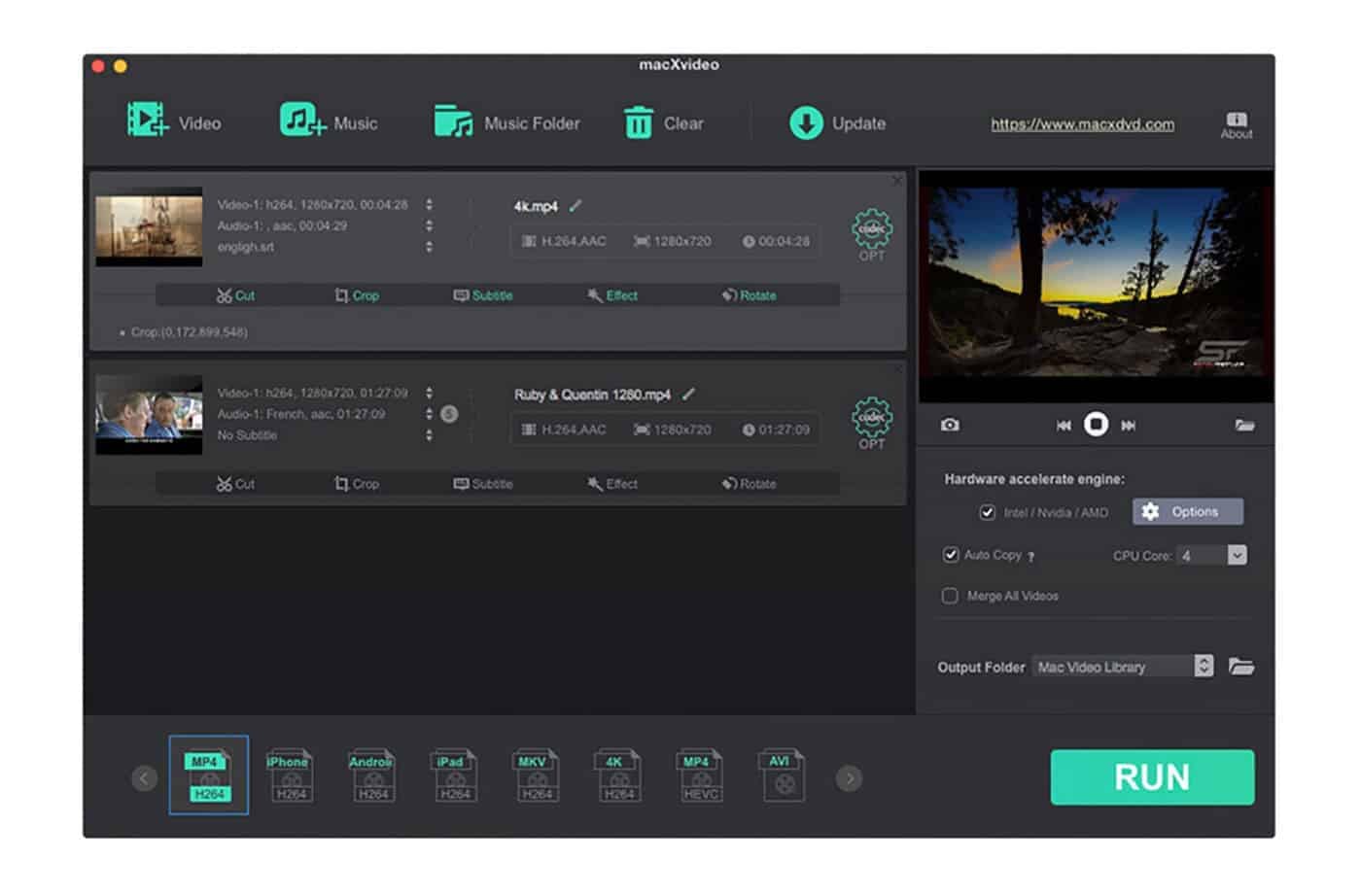 MacX video accepts footage from practically any source, whether that be a smartphone, a drone, a camcorder, or a DSLR. It boasts an impressive codec library, making it an excellent catch-all hub for working with video and converting it to fit your purposes. A complete listing of the tech specs and supported formats is available on the official MacXVideo site
To further simplify things, the software can convert finished projects into web-ready formats. That means that when you put the finishing touches on a video, you can send it directly to Facebook, Youtube, and beyond. Aside from working with video files, the software is also capable of taking on isolated audio files. From there, they can be converted into versatile MP3 files.
An Editing Software for All
MacX Video isn't Digiarty Software's first stab at building free-access products. In the past, they've also released DVD rippers as well as Youtube converters. However, it's quite possible that MacXVideo is the company's most comprehensive free software to date. It may be a bit bare bones for seasoned professionals. Nevertheless, it proves to be a one-stop shop for extracting files, making edits, and spitting out an easily accessible video.
But it doesn't stop there. For those attracted to the intuitive UI and simplicity of the system, but seeking out something with a bit more of a punch, there's MacX Video Converter Pro. Although the full version costs $45.95, it has an even greater ability to read and handle device-specific formats. What's more, it works about 5x faster than competitors thanks to level-3 Hardware Acceleration.
Since the editor itself is absolutely free, there's no excuse not to give this program a shot. Learning the ins and outs of working with video can be a difficult undertaking for just about any photographer. But choosing and operating the software to learn those ins and outs shouldn't have to be a chore. For any beginner, macXvideo proves to be an excellent jumping off point.
Macx Video Converter Review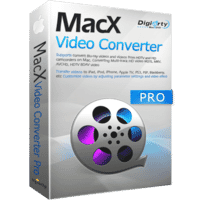 Name: Macx Video Converter
Description: MacX Video is a free, simple video editing software that allows basic changes and exports of videos.
Offer price: 59.95
Currency: USD
Operating System: Windows, Mac
Application Category: Multimedia
Author: Digiarty Software, Inc.
Macx Video Converter Review Summary
MacX video is lightweight, but efficient. Easy to understand and speedy to use, it can drastically cut down post-processing times for videographers of all levels. The base program is among best free-access video editing softwares out there, and the harder-hitting Pro version is priced just under $50!