PaintShop Pro 2020 is the latest version of the popular graphics software from Corel. This is one of the most long-standing editing programs and has been around for many years. In this PaintShop Pro 2020 review, we look at what the current version has to offer.
PaintShop Pro 2020 offers both post-processing for RAW images, but also raster graphics creation too. Therefore, it could be considered similar to a combination of both Lightroom and Photoshop. In this review we look at both aspects of the software, and how you could benefit from using it.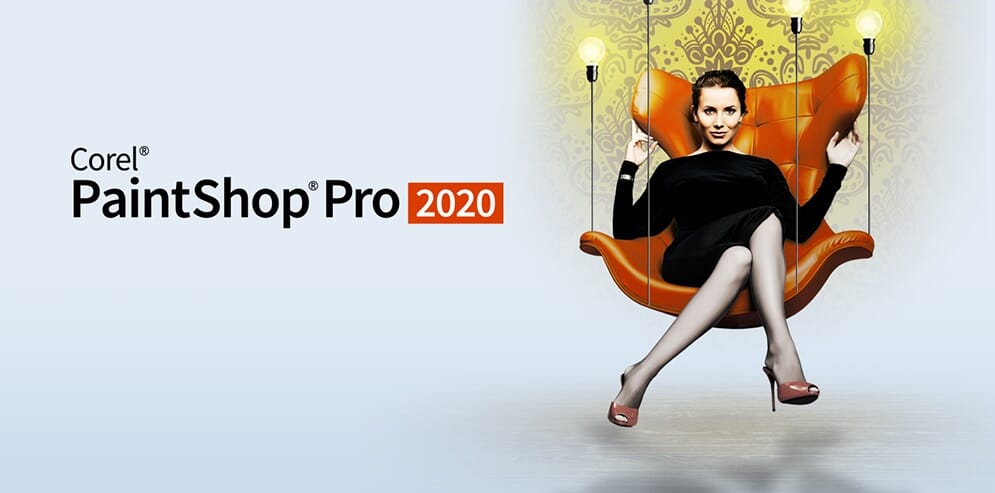 What additional features and improvements are added?
It is always prudent to look at the new features and improvements of software. We must understand why we should invest in the new program, and not simply stick with the old version. PaintShop Pro 2020 has the following new features:
SmartClone tool
Photography Workspace
Refine Brush
These might seem like a limited list of improvements, but the photography workspace alone makes a huge difference. As you will see in our PaintShop Pro 2020 review, the photography workspace is a great option for those wanting to process RAW images.
In addition to the above, PaintShop Pro 2020 also has various legacy improvements, more creative content, and improved performance in comparison to PaintShop Pro 2019.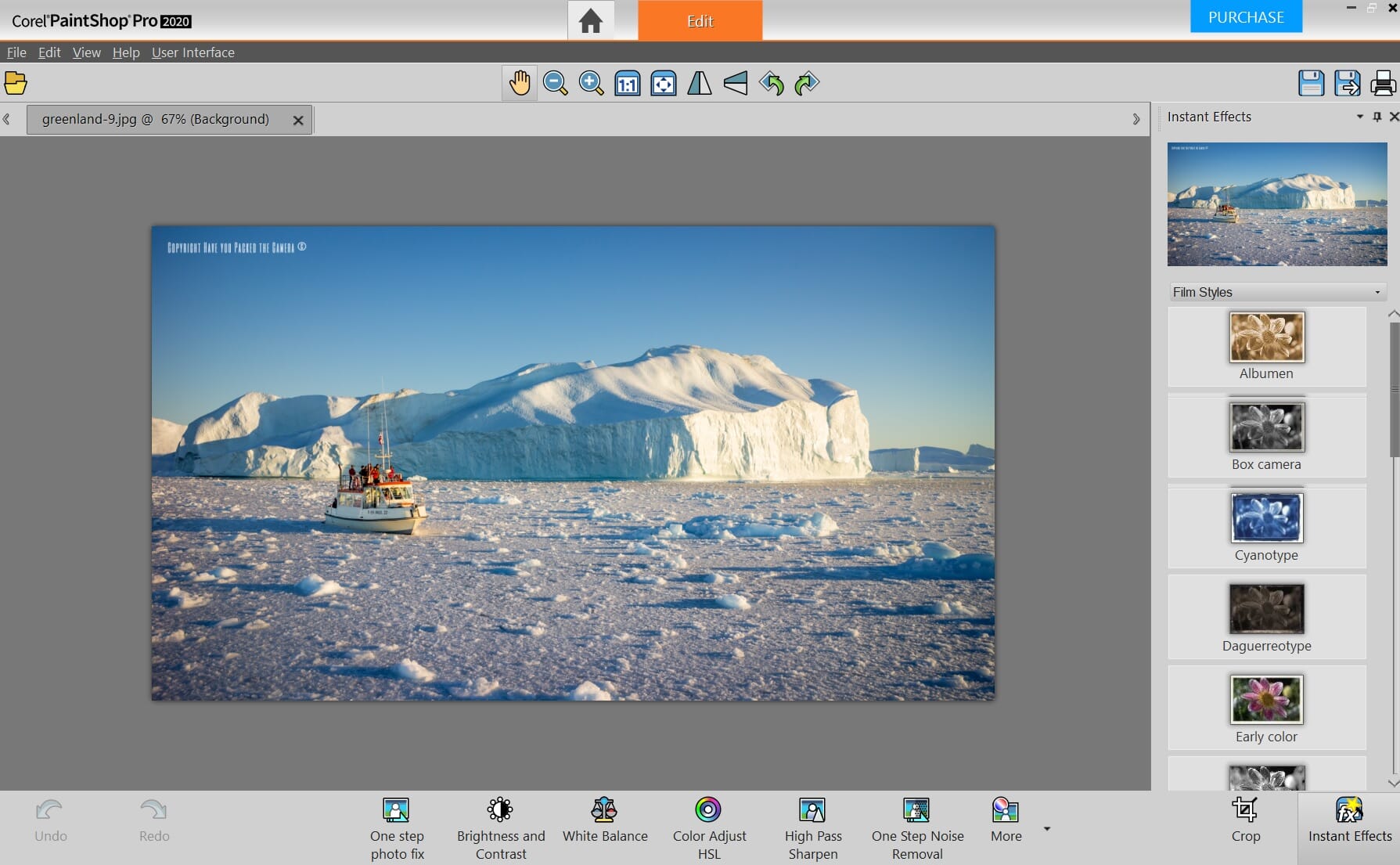 Price, availability, and system requirements
For the first part of this PaintShop Pro 2020 review, let's look at the price and system requirements. You can purchase PaintShop Pro 2020 directly from the website:
Price
There is a 30-day free trial of PaintShop Pro 2020 – you must register an account with Corel, however, before the free trial activates. Furthermore, the trial lasts for 30 days regardless of usage – so that's 30 real days, not 30 days of actual usage.
Download the PaintShop Pro Trial Version
You can purchase either the full standalone product, or an upgrade from previous versions of PaintShop pro:
Full version: $62.99
Upgrade from previous version: $48.99
We feel the software is priced reasonably – compared to other editing software it is relatively inexpensive. Furthermore, you are essentially receiving a full post-processing program, and a raster graphics program for the price of one software program.
System requirements
PaintShop Pro 2020 is a Window-only program – it is not available for MAC or Linux devices. We have listed the minimum and recommended system requirements below:
Minimum
O/S: Windows 7 with latest service pack
Processor: Intel Core i-series
Memory: 4GB of RAM
Storage: 1.5GB of HDD space
Screen resolution: 1366×768 16-bit color display
Recommended
O/S: Windows 10 with latest service pack
Processor: Intel IvyBridge or AMD Ryzen
Memory: 8GB of RAM
Storage: 3GB of HDD space
Screen resolution: 1920×1080 16-bit color display
We feel these system requirements are quite low – most computers or laptops now have 4GB of RAM as standard and a decent processor. As a result, you should not have any issue using this program or running it on a basic computer.
PaintShop Pro 2020 Review
Now that we have looked at the system requirements, we can delve into the main part of this PaintShop Pro 2020 review.
To create this review, we actually used a Microsoft Surfacebook laptop – this should demonstrate its performance capabilities and show that it does not need a powerful computer to run. Furthermore, we have broken this review down into different sections – performance, layout, photo editing, raster graphics, and file management – enjoy!
Performance
As mentioned above, the system requirements are quite basic. In comparison to ON1 Photo RAW 2020, for example, PaintShop Pro 2020 requires minimal processing power. But how did this translate to actual usage and performance?
Quite well! The Surfacebook laptop we used, handled the software well. Admittedly there was some delay and lag when changing layouts and applying intense effects to the images, but the overall experience was fine.
The main point, is that we were able to use PaintShop Pro 2020 using a considerably basic device. As a result, we feel that performance is not an issue – you should be able to run this program effectively on a standard computer or laptop.
Layout
In our PaintShop Pro 2020 review, we looked at the different layouts of the program and its usability. This is an important factor – layouts can make the difference between a program that is amazing, or frustrating and difficult to use.
PaintShop Pro 2020 has three different layout – Photography, Essentials, and Complete. These have three different uses. We found this split layout effective – if you just want to process RAW images, you can use the photography layout, for example. Whereas if you want to create raster graphics, the essentials layout is a better choice.
Photography layout
First we have the photography layout – this is specifically for post processing and editing RW photos. It has a simple layout as seen in the image below.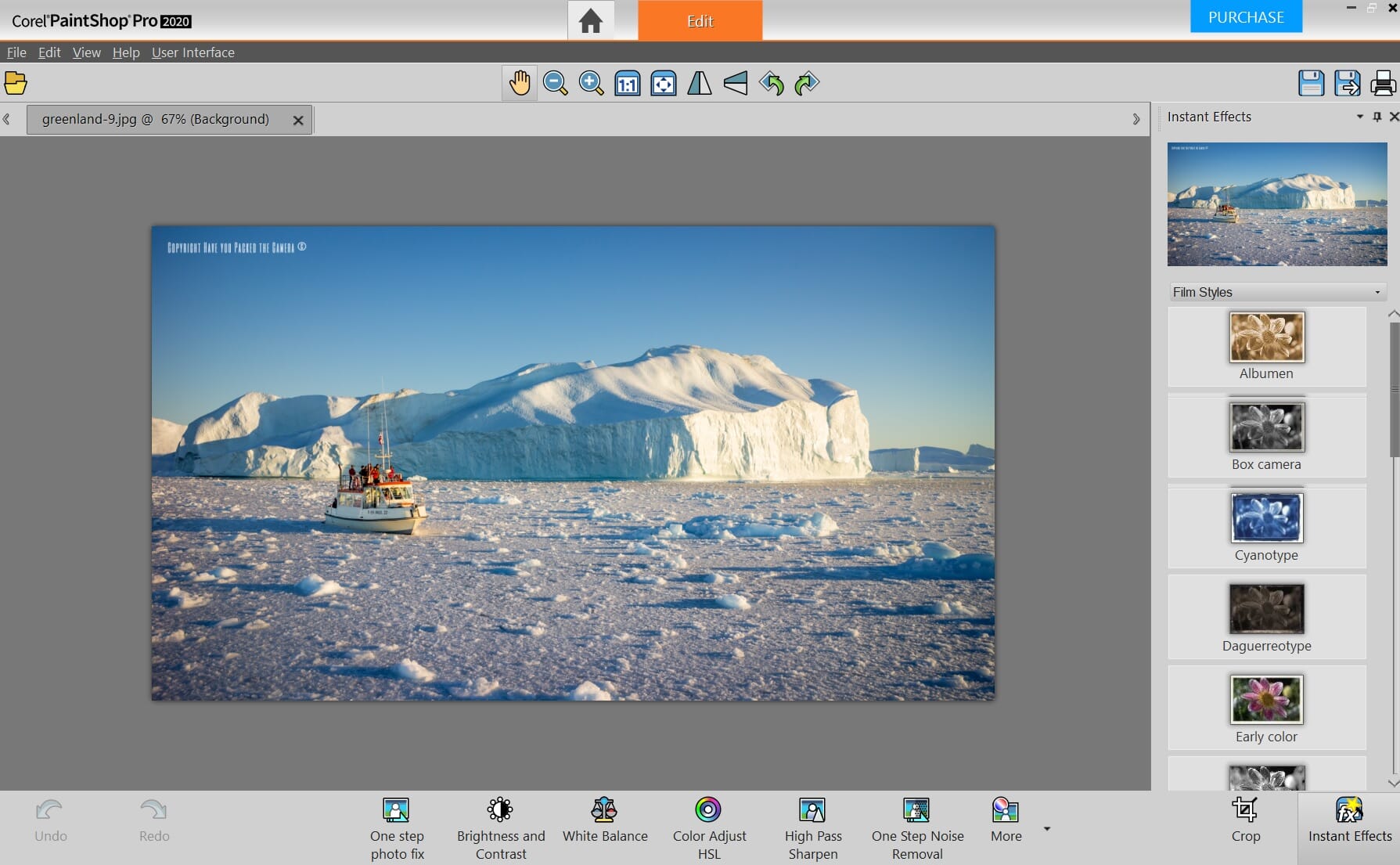 Essentials layout
Secondly, there is the essentials layout – this is akin to the main layout of Photoshop. This layout is used mainly for creating raster graphics: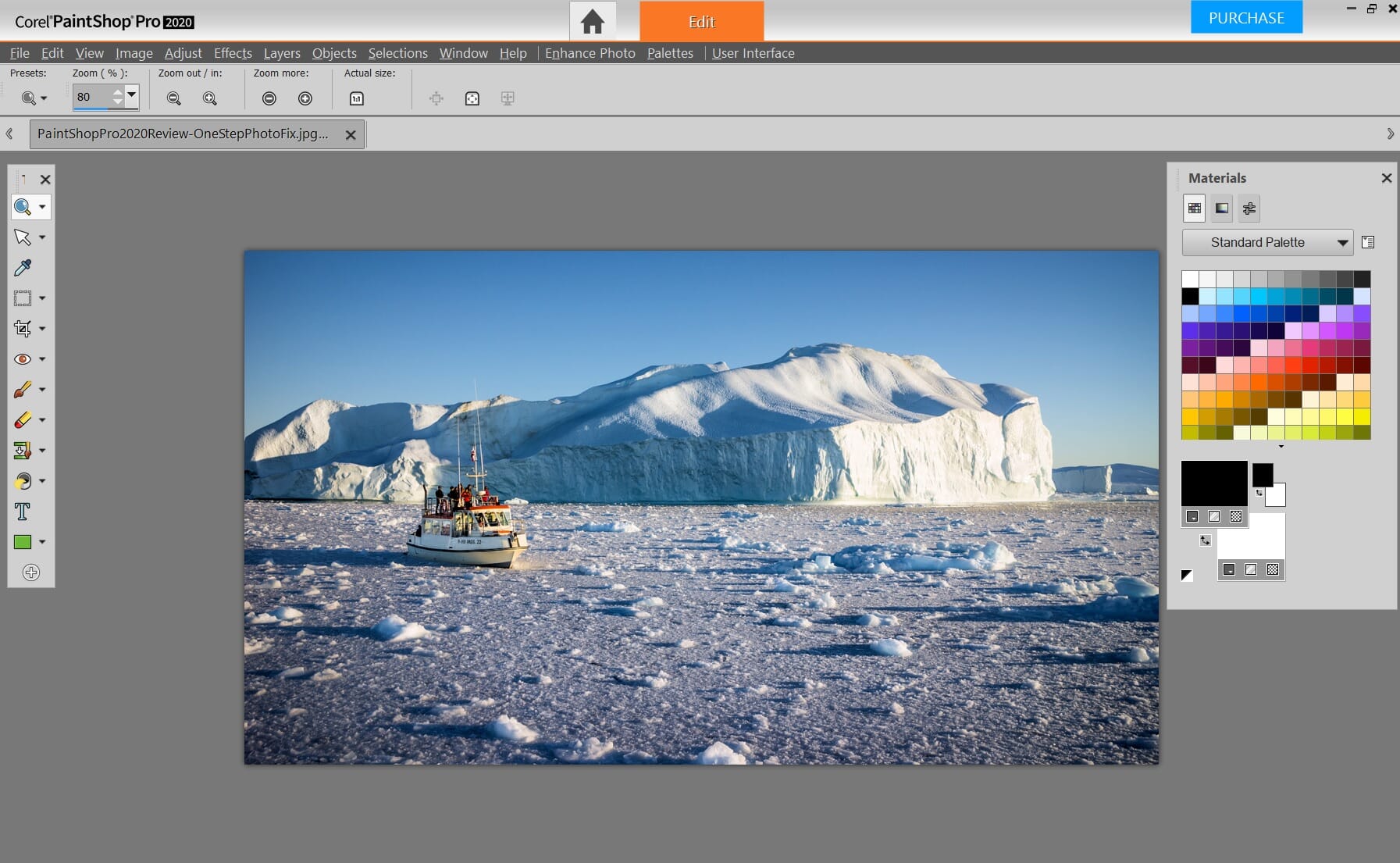 Complete layout
Finally, there is the complete layout. This has a combination of both layouts, but also has file management features too. The complete layout can be used for either process, but we feel it is better suited for file management and organization: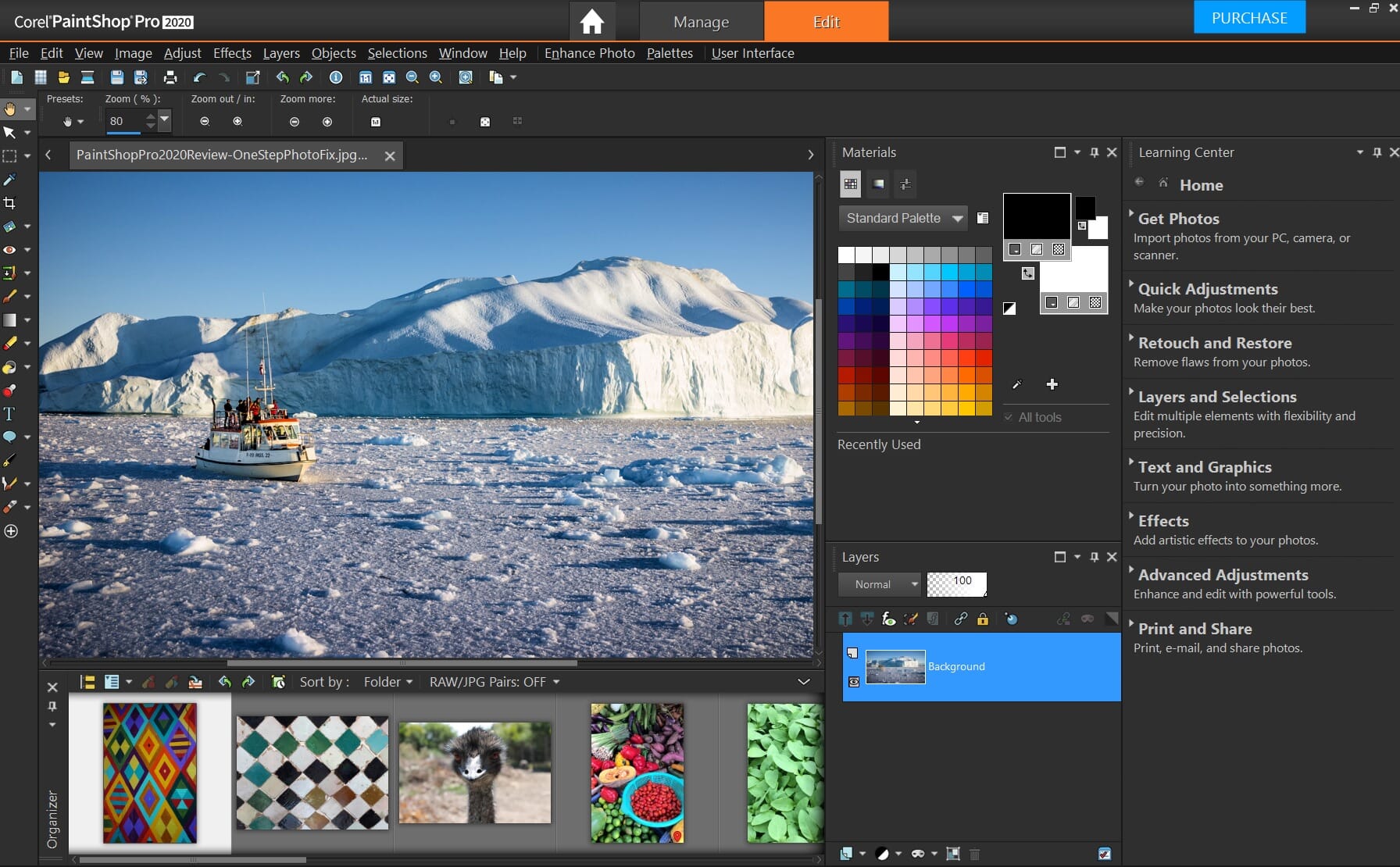 Photo editing tools
The main part of this PaintShop Pro 2020 review is to look at the photo editing tools. Using this software, you can fully edit RAW images – there is an array of tools allowing you to manipulate both RAW and JPEG images to a high degree.
Tools available include:
Brightness/Contrast
White Balance
Color Adjust HSL
High Pass Sharpen
One Step Noise Removal
One Step Photo Fix
Transformations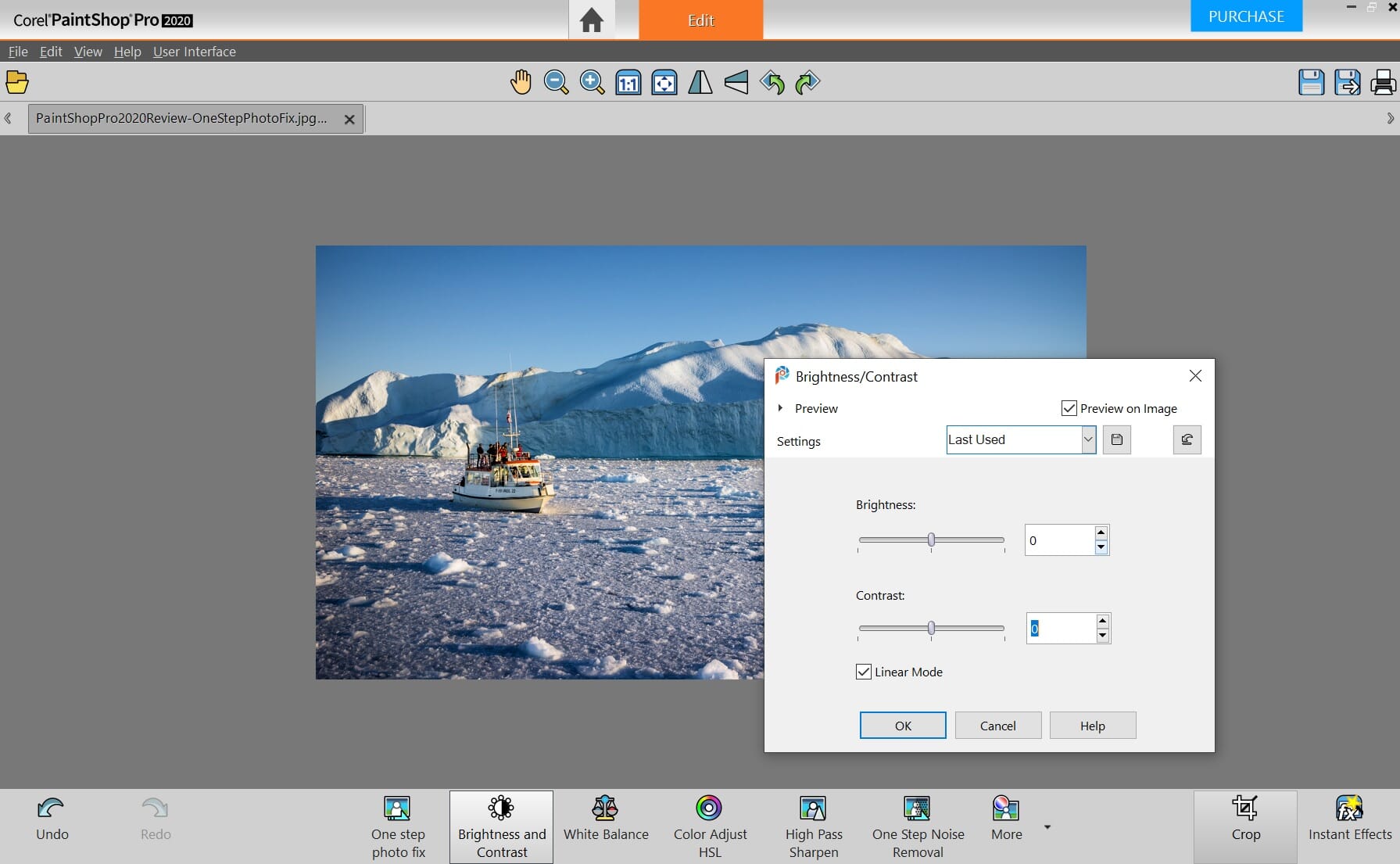 The general tools are brilliant – there is a simple toolbar containing all of the post-processing options. In addition, there is a handful of other tools as seen in the screenshot below: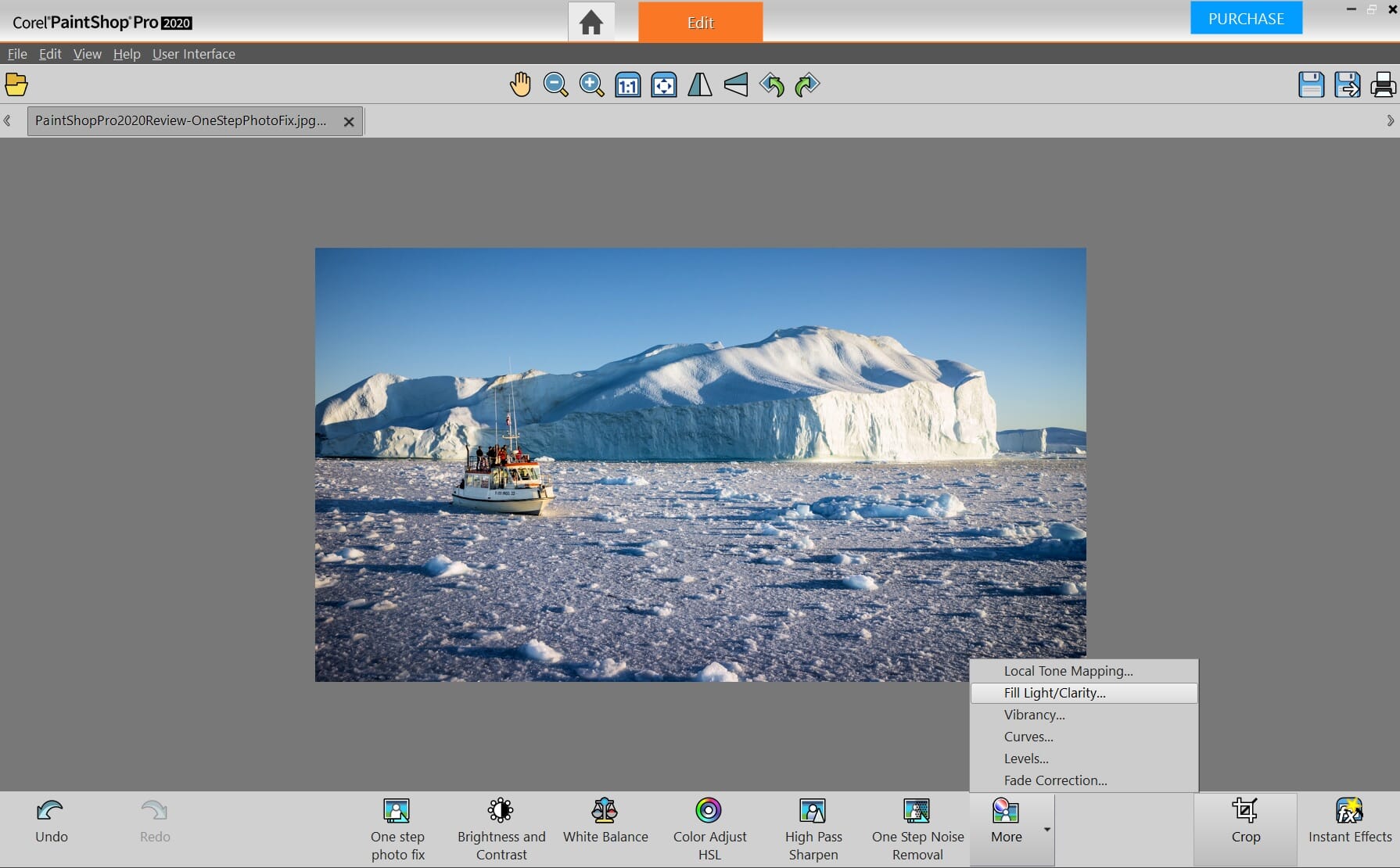 We particularly like the one step photo fix tool. This is an intelligent tool that automatically enhances and improves your images. The quality is fantastic – the below image was edited using the tool – it looks sharp, clear, and has excellent colors:
Furthering the quick editing process, there is a myriad of presets available too. These are called instant effects. These are found in a separate toolbar on the right-hand side of the photography workspace.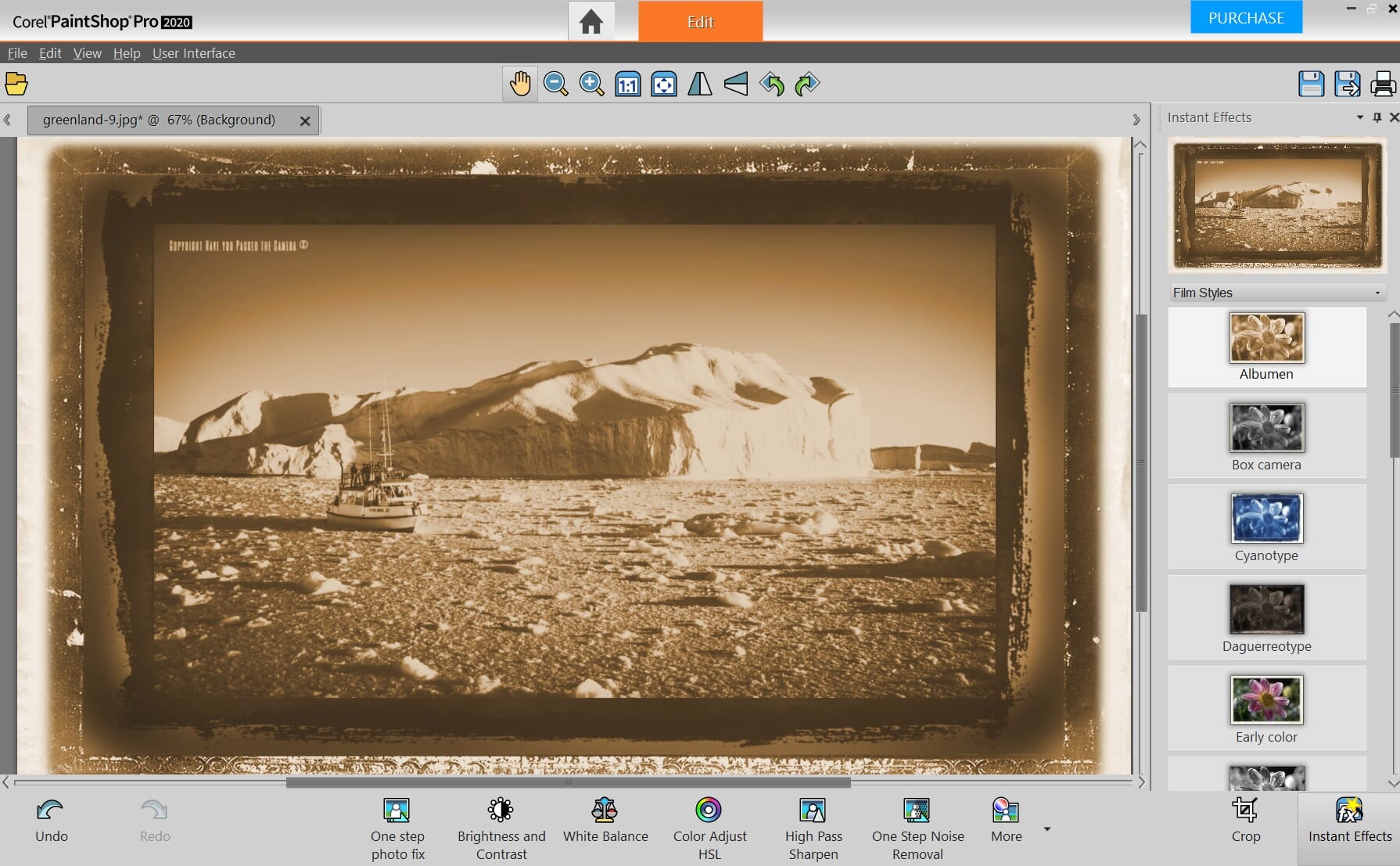 They are split into different categories like film effects and landscape. We tested some of the effects – they are generally high quality. Some are a little "over-the-top" but they provide excellent variety to the creative process: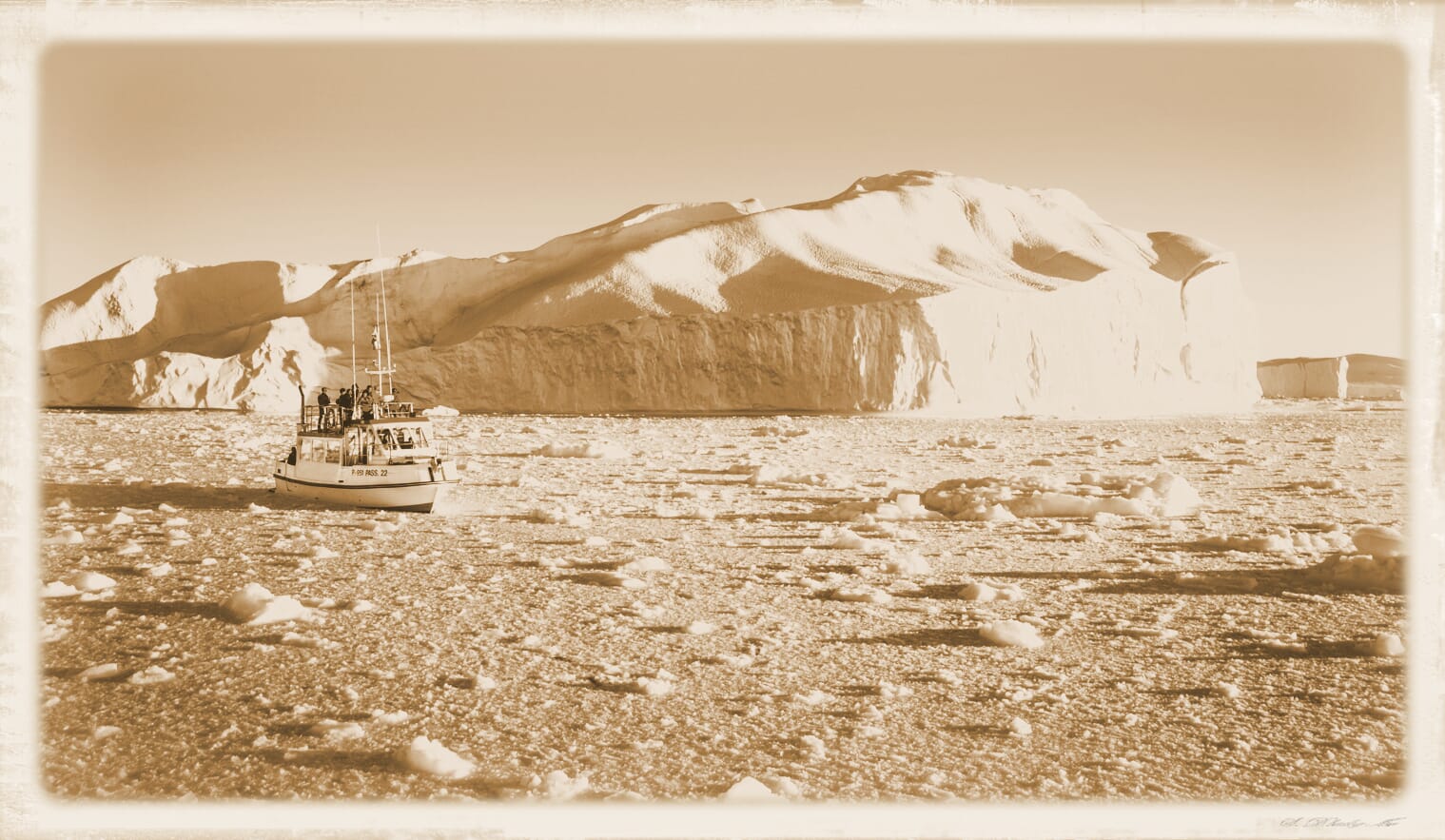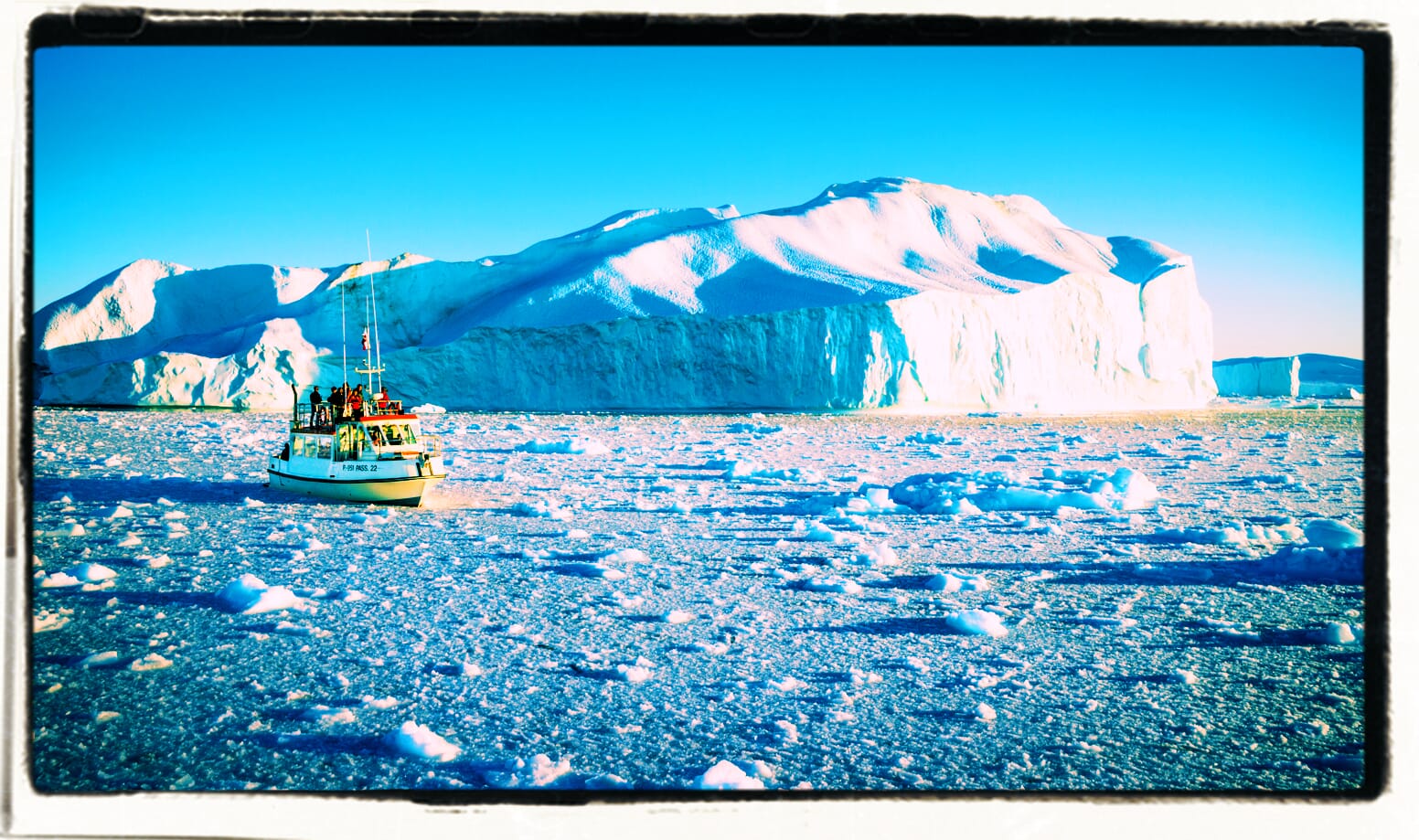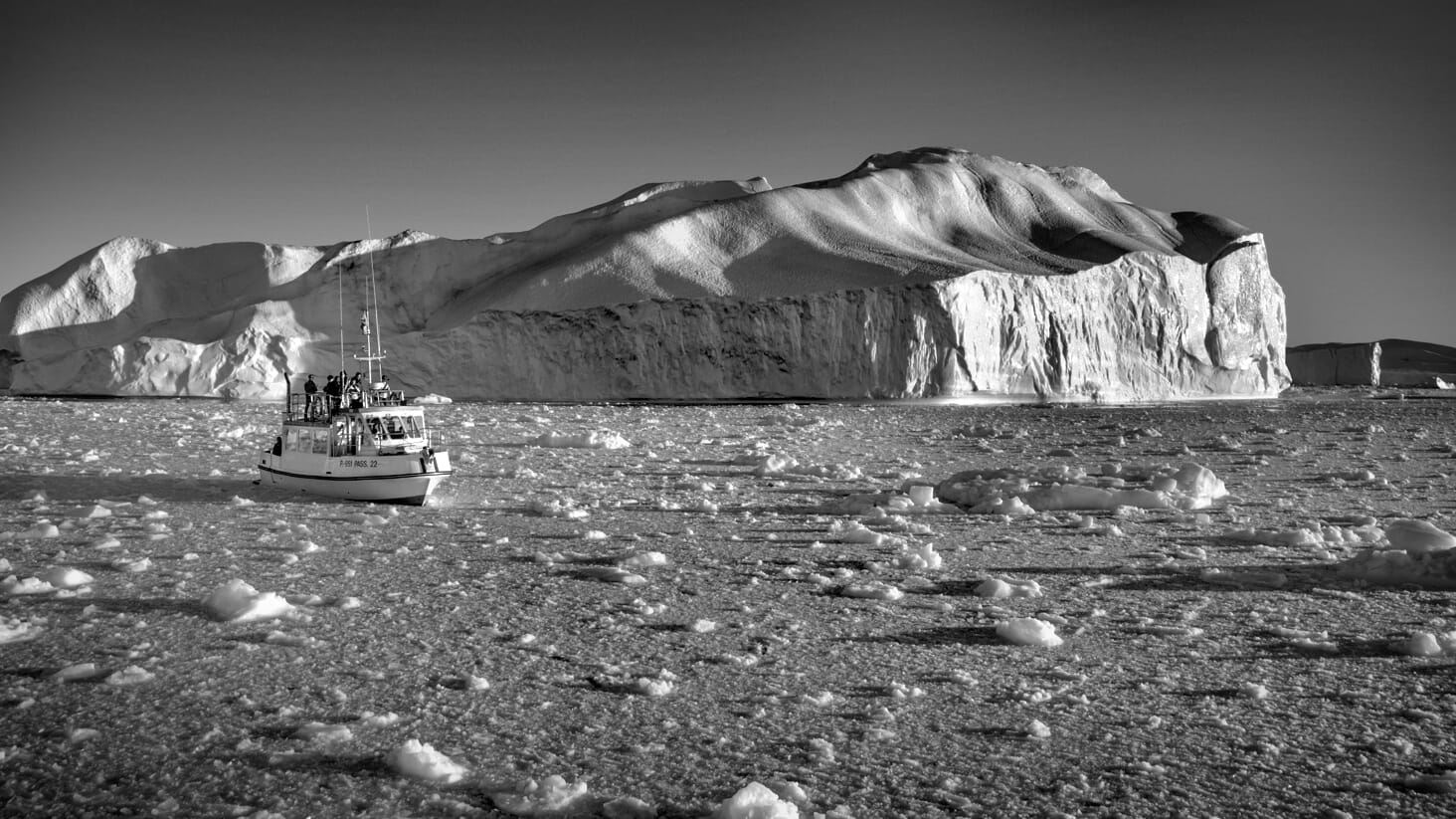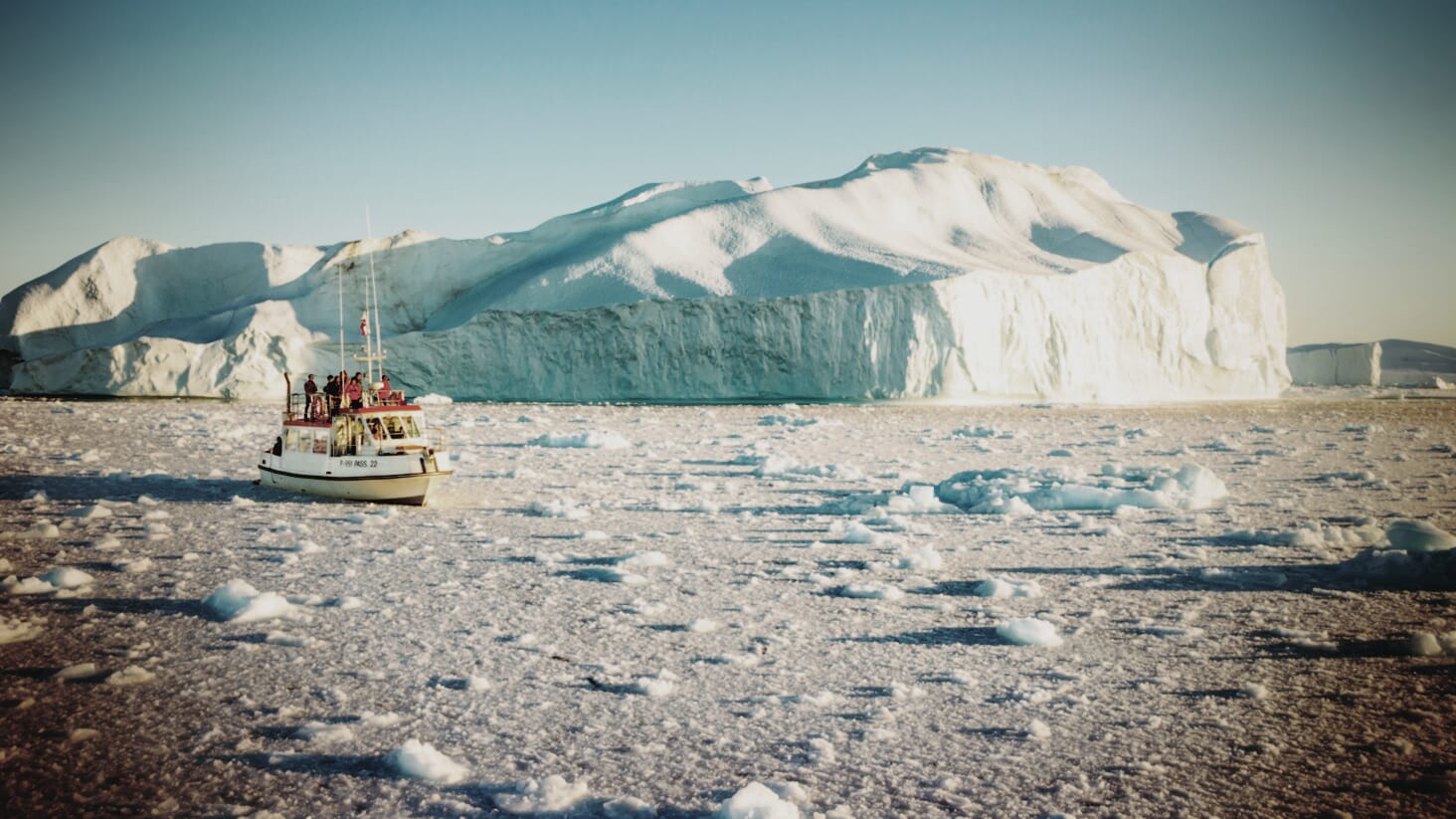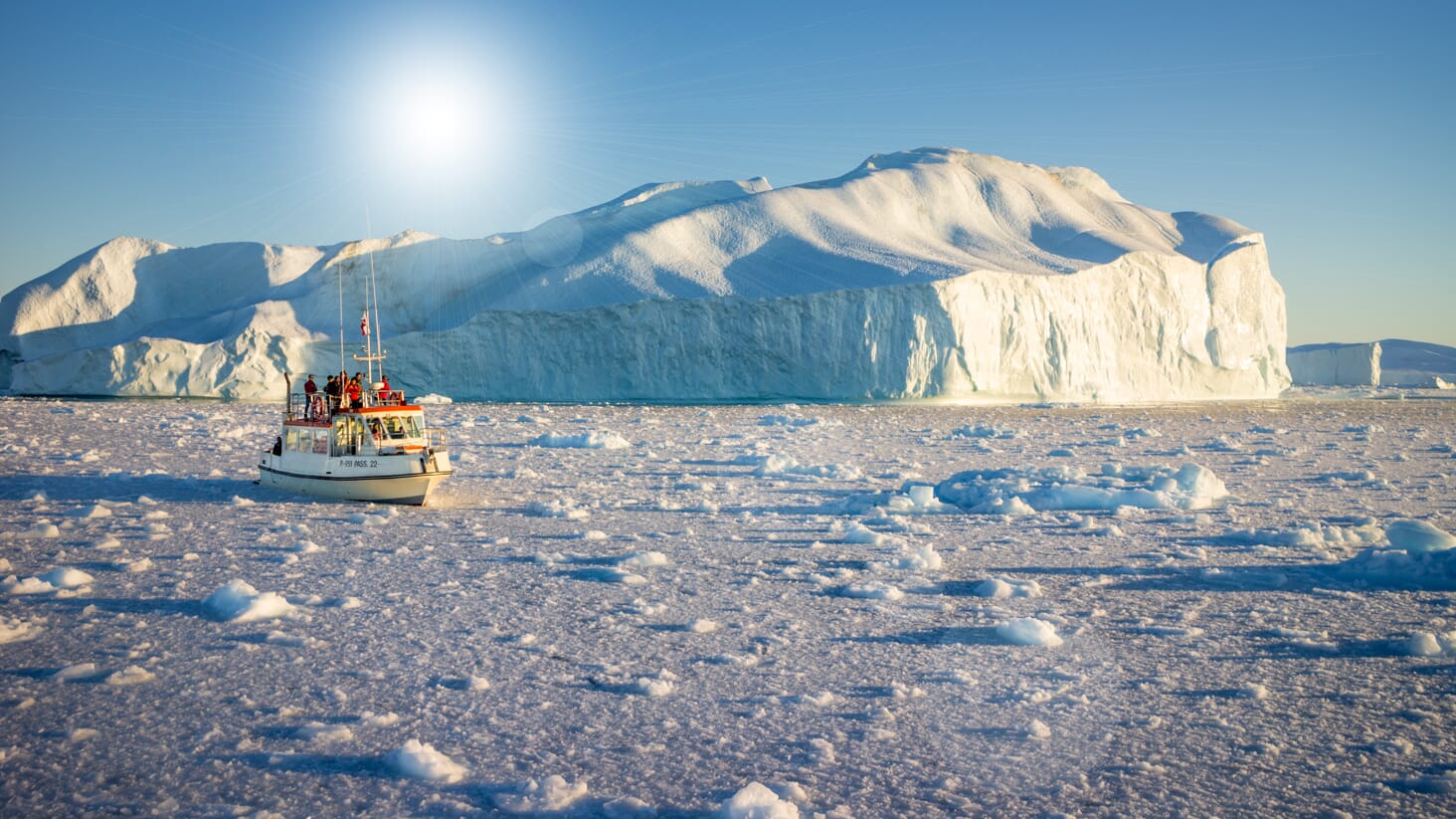 In addition, there is a range of transformation tools in which you can quickly crop, rotate, and level your images. This tool has pre-defined ratios and options to make the cropping process smooth: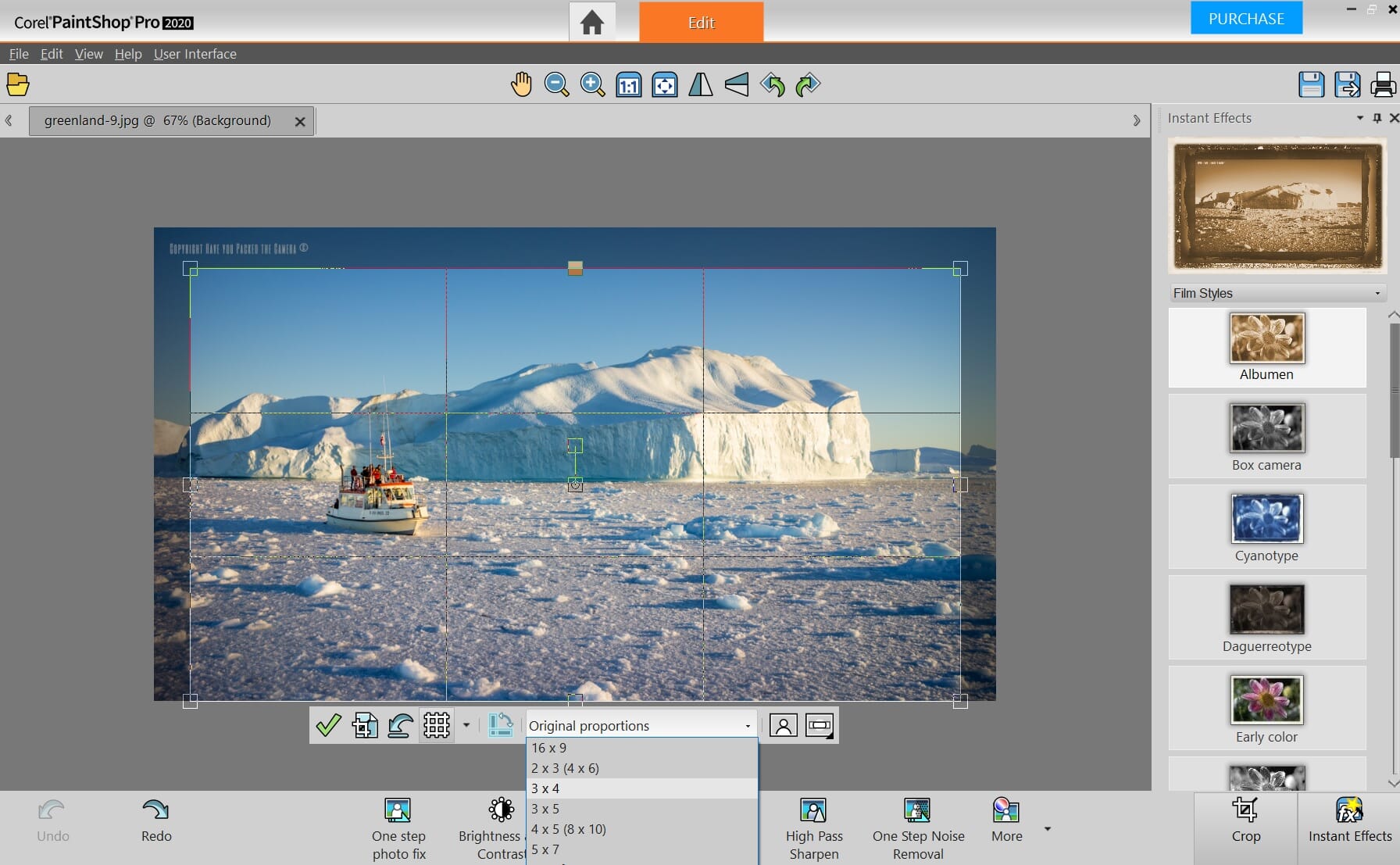 If you want to create HDR composites, or process multiple files at once, there is an automatic HDR merging tool, and batch processing tools. These are fantastic for editing large volumes of photos. You can quickly process bracketed shots to create HDR images. Furthermore, you can apply the same edit to multiple photos with ease.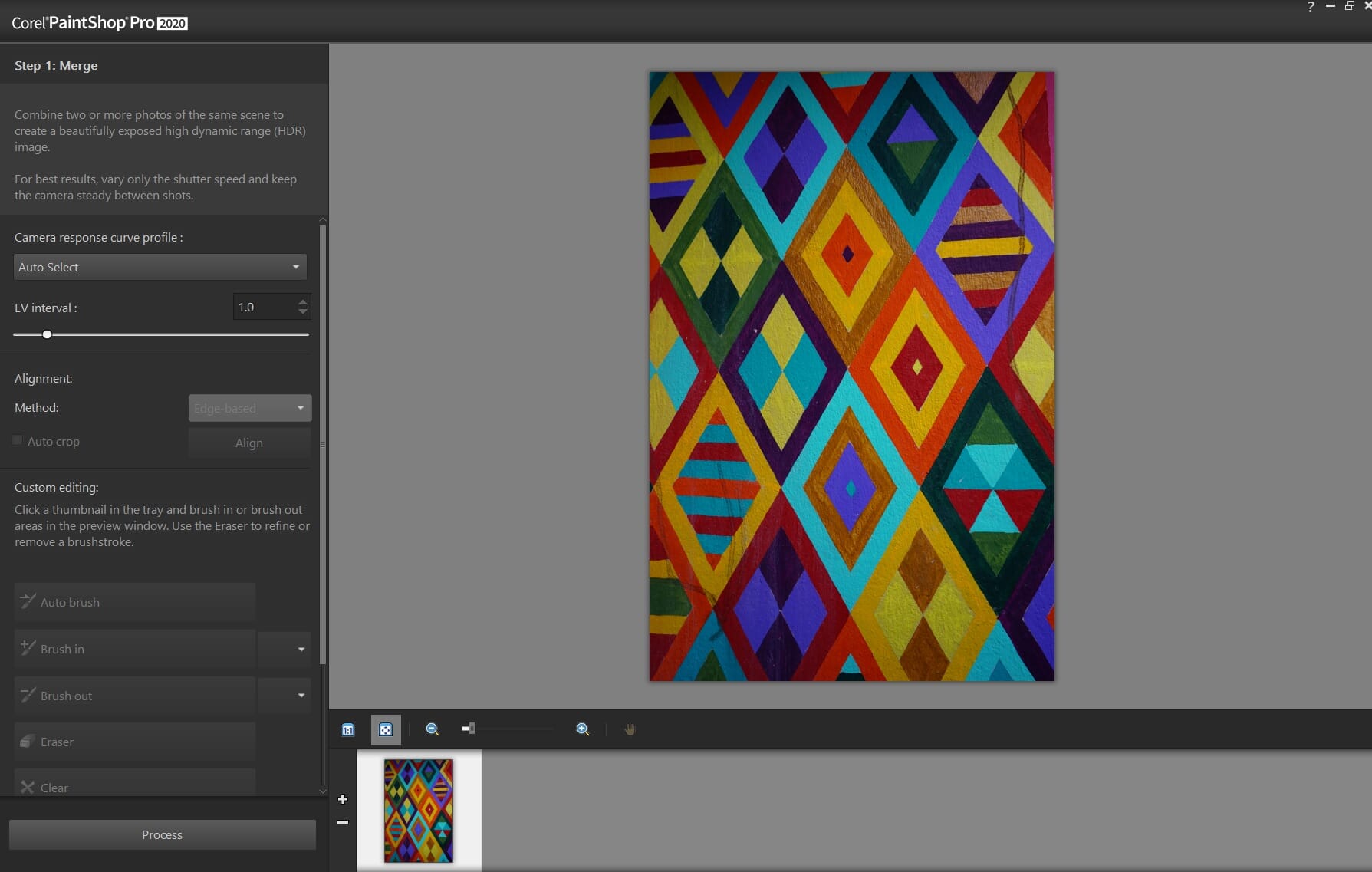 We rate the post-processing tools of PaintShop Pro 2020 highly. It may not have the detail of Lightroom, but it is a comprehensive program nonetheless.
Raster graphics tools
Whilst we concentrate on photo editing in this PaintShop Pro 2020 review, we also considered the raster graphics features. PaintShop Pro 2020 has an extensive set of graphics manipulation and creation tools. It is compared to Photoshop and has a similar array of tools and filters.
The essentials workspace is easy to use and allows you to quickly create graphics or add items to existing photos. Available tools include:
Text
Fill
Clone
Eraser
Brush
Red eye removal
Crop
You basically have a full set of raster graphics tools for transforming, editing, and creating artwork. Furthermore, the tools are easy to use if you have a basic understanding of how these programs work.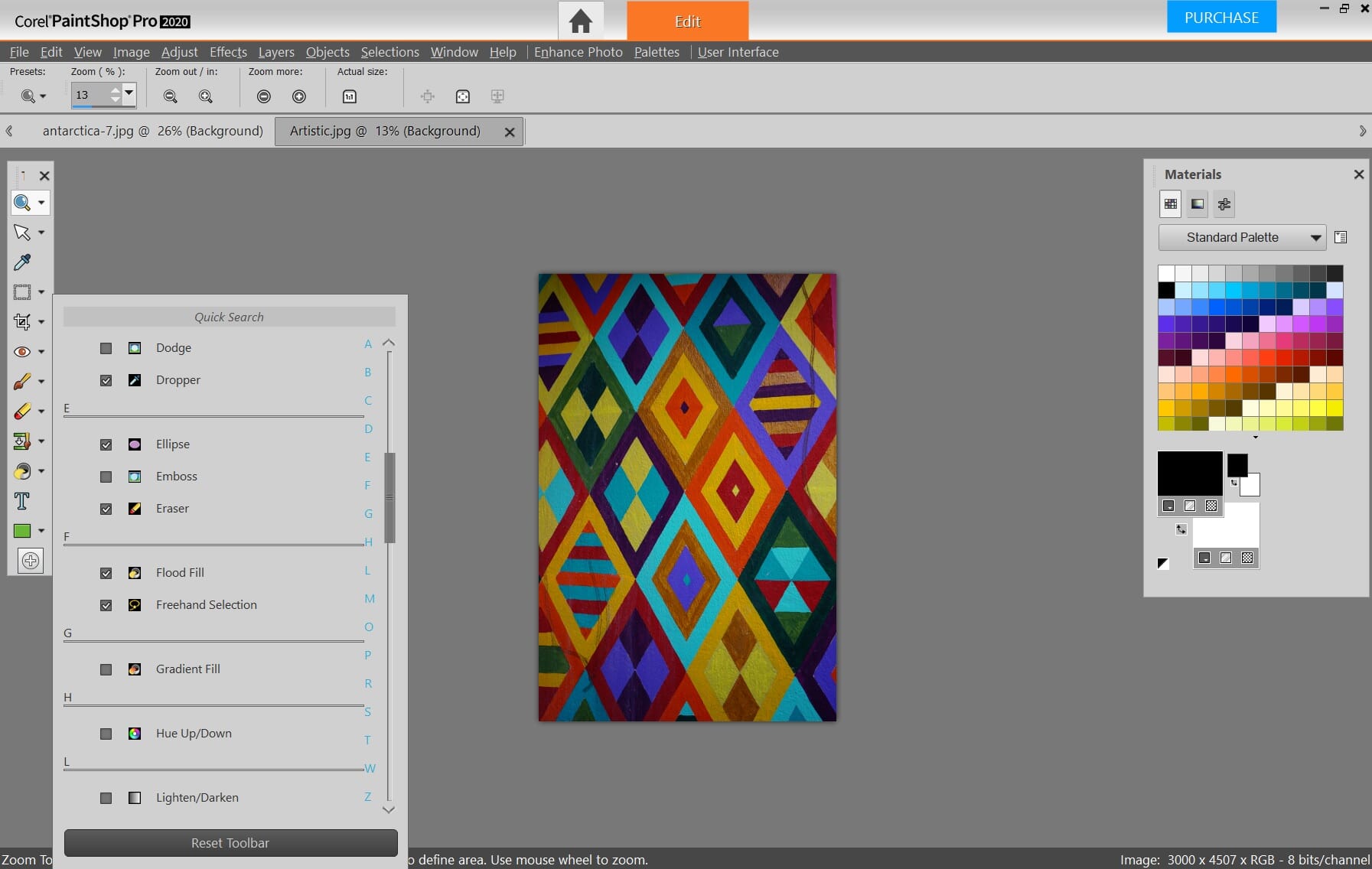 In addition to the basic tools, you can use a great range of filters and effects – much like Photoshop. These are found in the top toolbar under the "effects" menu. The effects range from art effects like charcoal brushstrokes to interesting transformations like the selective focus tool.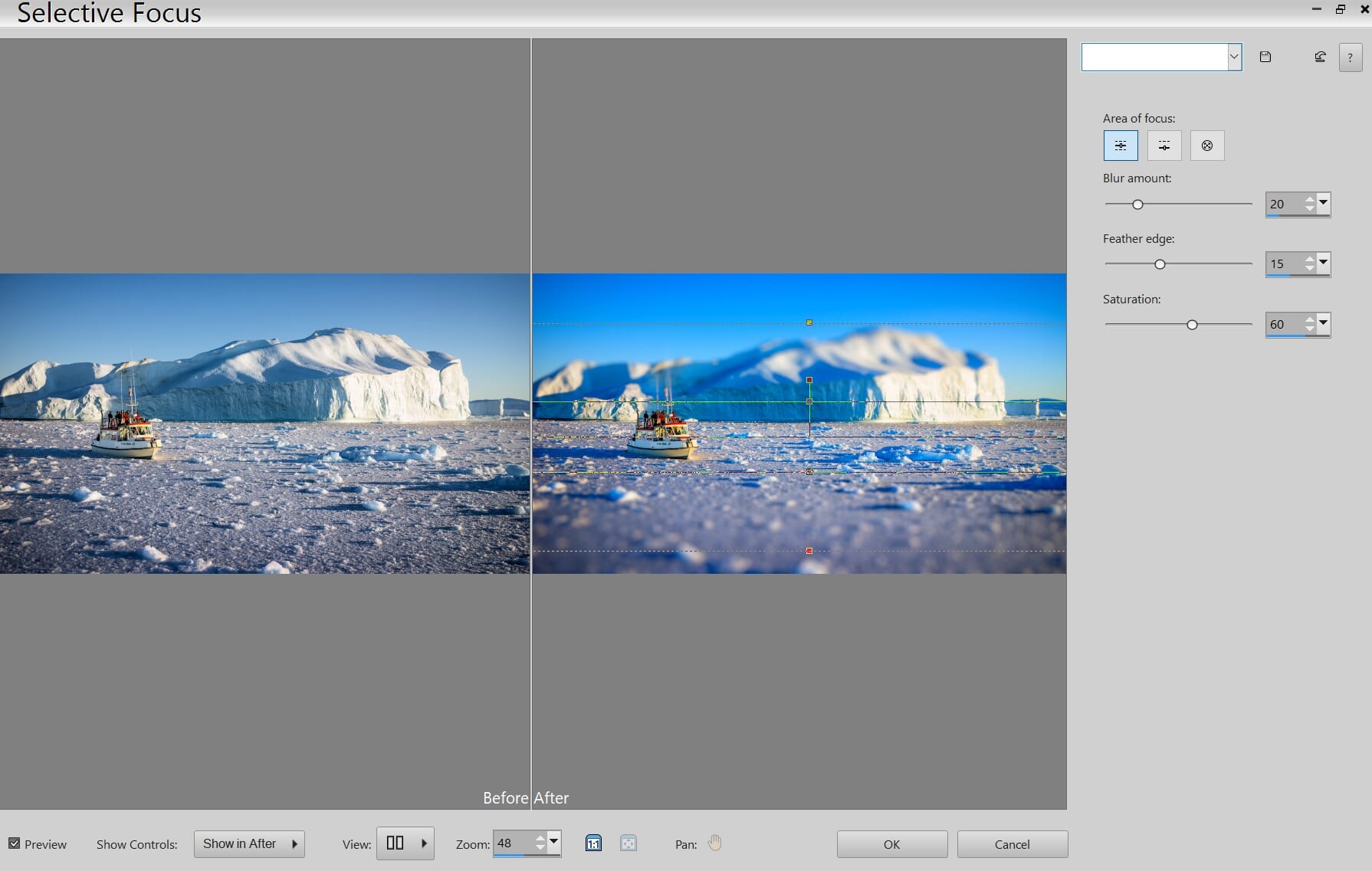 This, in particular, is an interesting function. It provides a selective focus around a certain area, similar to the effect you can create using aperture and depth of field in photography. You can see an example of this filter below: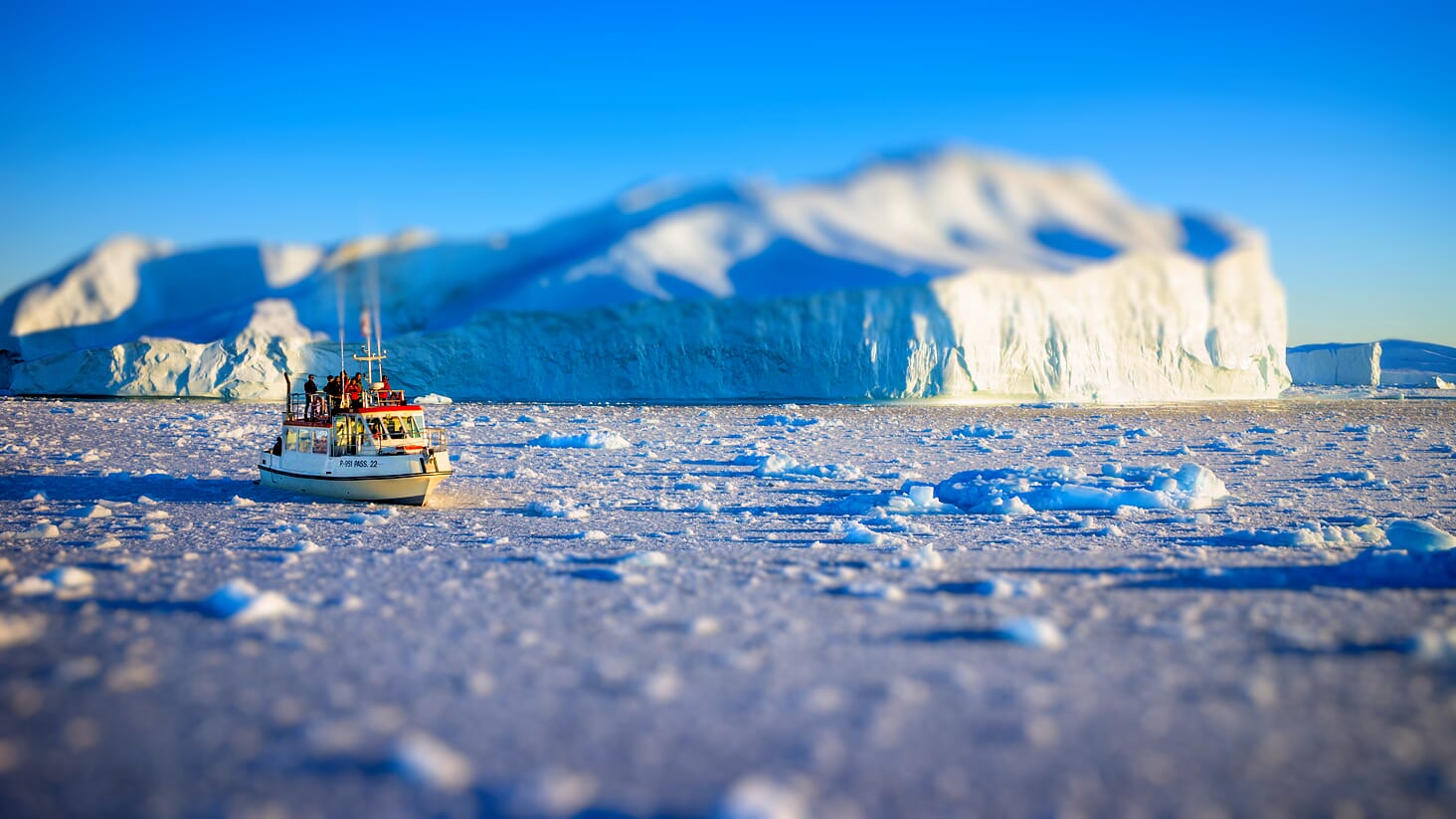 The raster graphics tools also allow for full layer management. You can create new layers and edit each one separately. This provides much greater control over the editing process. Layers can be named and grouped into folders too.
Generally, the raster graphics tools are fantastic. This is definitely one of the best parts of our PaintShop Pro 2020 review – if you want a program for creating artwork and digital media, this is a great choice.
File management tools
PaintShop Pro 2020 has limited photo management tools – this is one area that it falls short in comparison to other editing software like Lightroom.
To manage your files, you must use the "complete" layout. In this layout, you are given a full folder and file management system. Moreover, you can easily create new folders, rearrange files, and organize your images.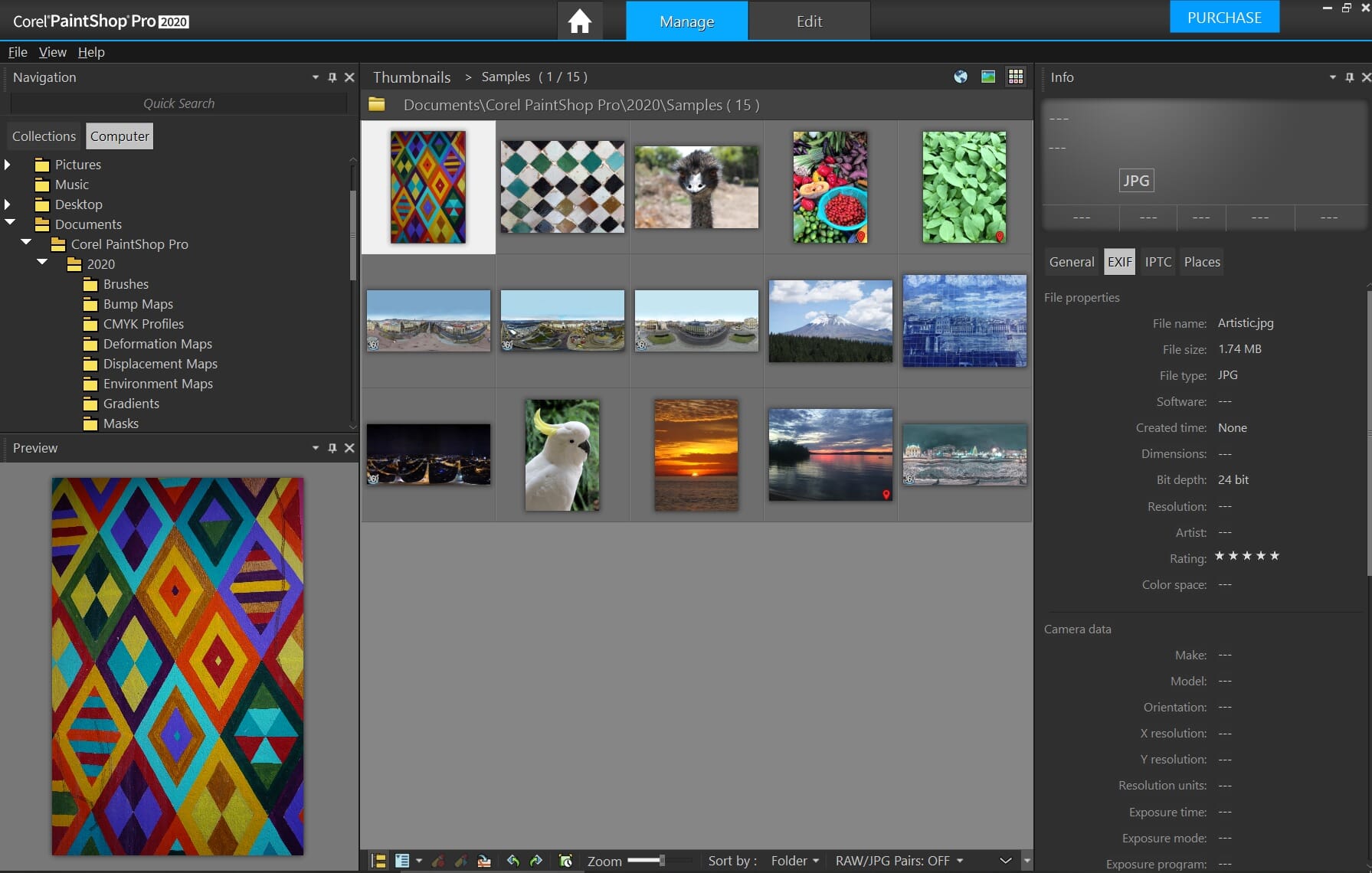 In addition to this, you can assign a star rating to each image from 1 to 5 – this helps somewhat with searching and organization. Moreover, you can edit the META data of the files and change information like author and add titles and captions to your images.
It is possible to manage your photos and files using PaintShop Pro 2020. We feel, however, that this is a feature that is not as well developed. The file management feels a little difficult to use, and there isn't the array of features present in other software.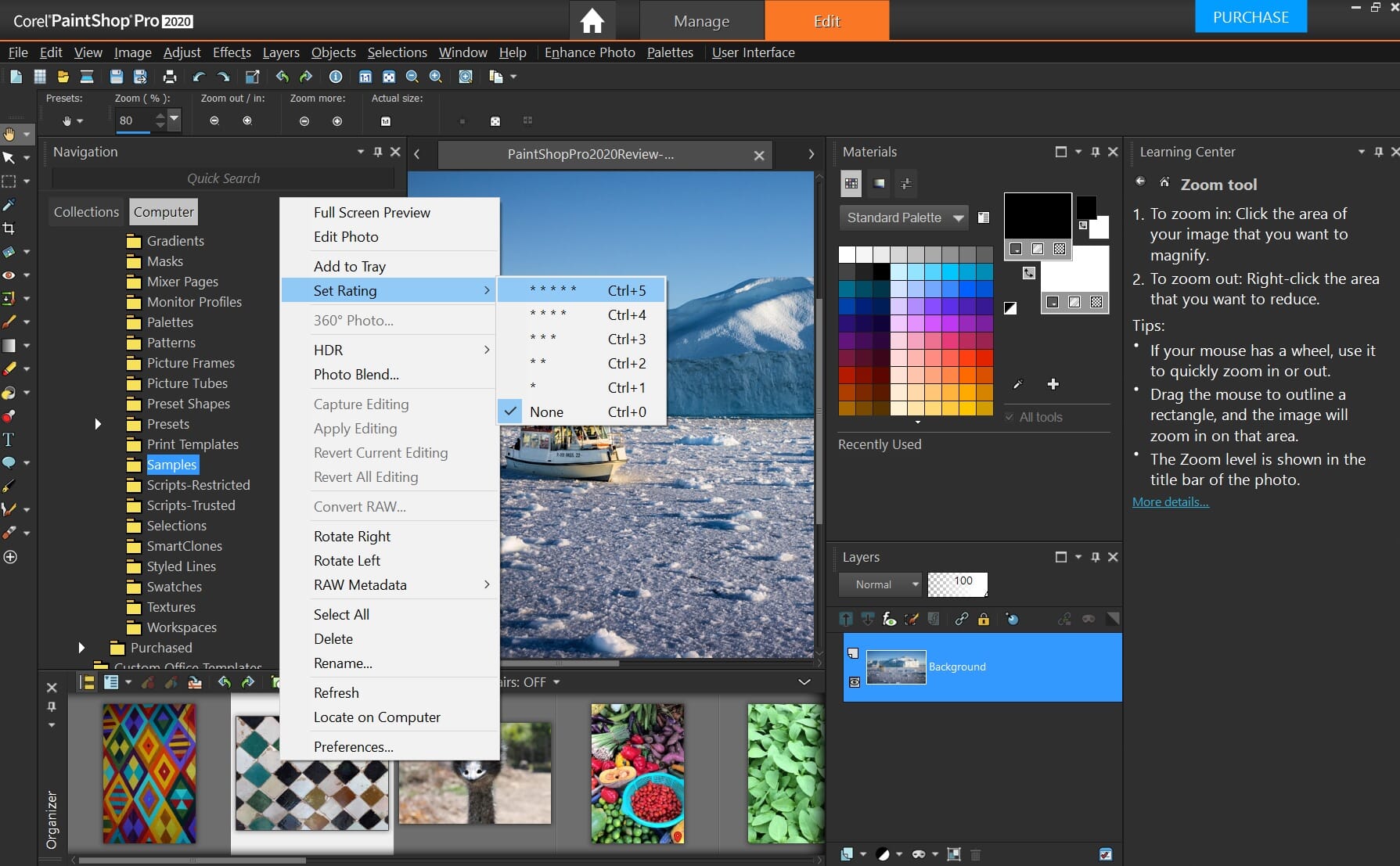 Concerning file management, we like the print layout feature. This allows you to customize an image for print. As you can see in the screenshot below, you can arrange the image on a blank template and alter its margins, etc.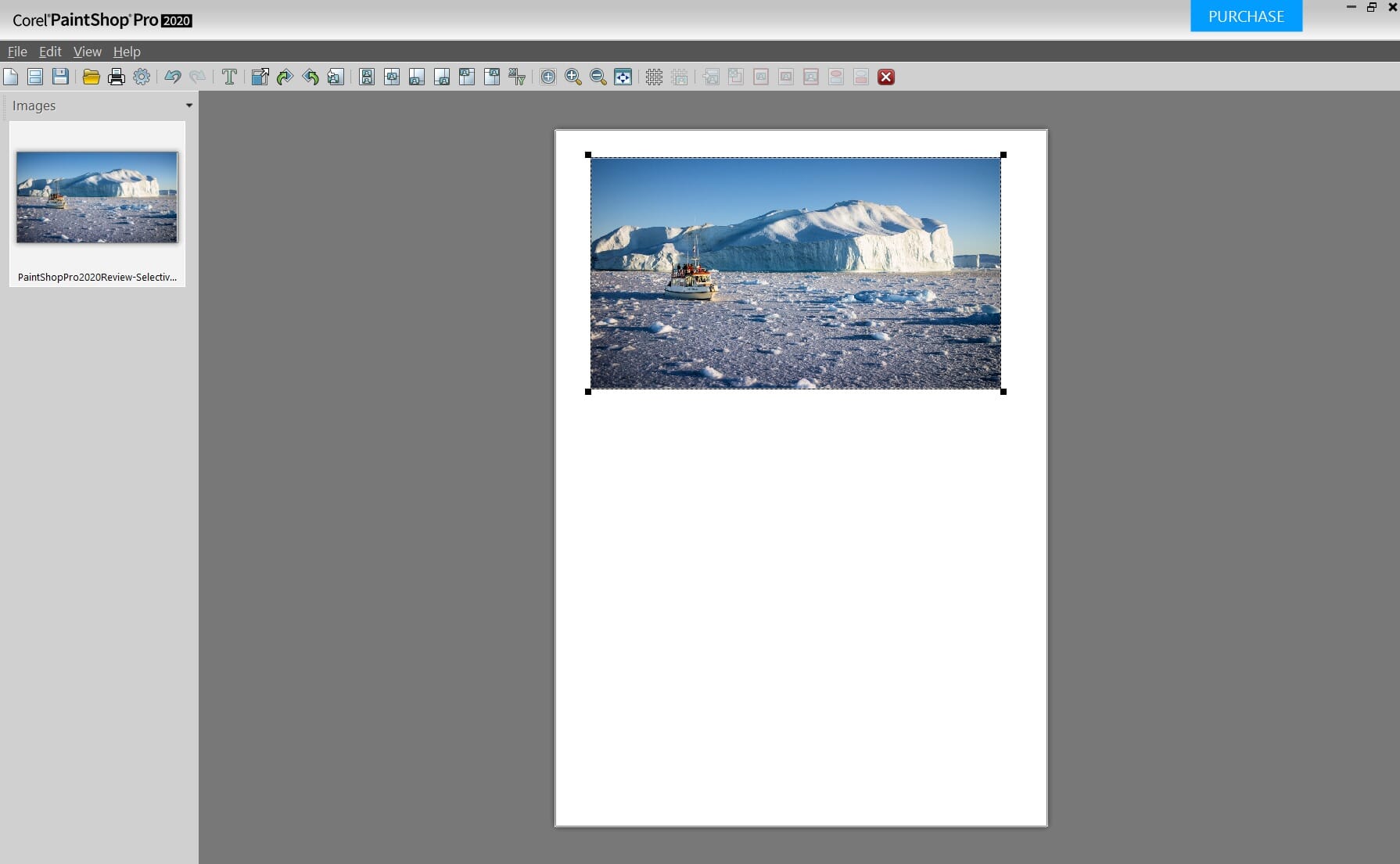 This makes it incredibly easy to print photos on standard paper sizes but also prepare the images to print on other media or export.
Should you use PaintShop Pro 2020?
We hope you have found this PaintShop Pro 2020 review useful. The latest iteration of this software is certainly an improvement on previous versions.
One of the best additions is the photography workspace – in previous versions, it was not obvious or easy to simply edit photos. As a result, the photography workspace helps streamline that process – you can edit RAW images without the complex array of raster graphics tools interfering.
PaintShop Pro 2020 is right up there with other programs like Photoshop and ON1 Photo RAW. Whilst it may not offer the same level of detail as these programs, it performs well. Furthermore, it is relatively easy to use and reliable. Finally, it is inexpensive – a great choice for photography hobbyists, or for those who just need a program to do some basic editing.
Try PaintShop Pro for Free Now
Pros
Clear workspace layouts
Low system requirements
Fantastic automated editing tool
Brilliant raster graphics tools
Cons
Interface looks a little dated
Complete layout is cluttered
PaintShop Pro 2020 Review
Price

Performance

Layout

Usability

Features
Paul loves traveling and photography. He is also a Lightroom and Photoshop expert and likes to test new photo software, apps, and gear. Paul frequently shares his travel photography tips on his travel blog and writes for known photography publications.