When you buy through links on our site, we may earn a commission at no cost to you. We evaluate products independently. Commissions do not affect our evaluations.
Looking into a Rising Photographic Processing Contender
With the exception of strict traditionalists, powerful photo editing software is a must-have for the modern day image maker. Most photographers are familiar with the biggest names out there – iterations of Lightroom, Capture One, Luminar, and (until recently) Aperture are popular choices. However, many users are totally unaware of editing options outside of the big names. Today, we're going to delve into one of the most powerful, progressive alternatives out there – Picktorial 3.0.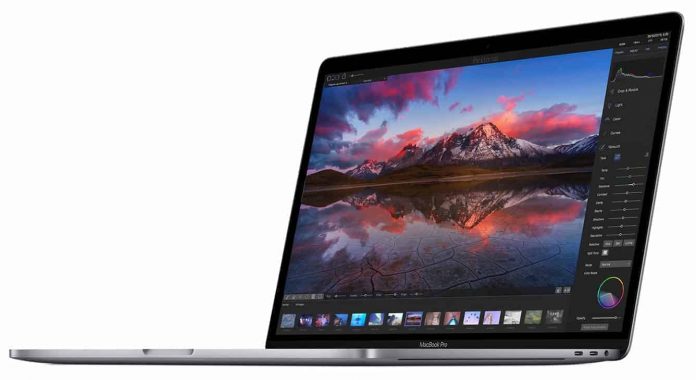 Comparable to Lightroom and Luminar, the Israel-based startup is committed to providing professional processing tools photographers need to get ahead. Picktorial strives to include many of the same features highlighted by more established programs. Here's what the creators have to say concerning their creation:
"We are bridging the gap between current mass market photo editors and cutting edge technologies to provide photography enthusiasts and professionals with the tools to take their work to the next level without having to spend time and money on products that require a steep learning curve"
Debunking Misconceptions
Some potential users may be turned off by the fact that Picktorial is only compatible with Mac products (for Windows users, check out our review of the 5 best photo editing software for Windows).
Macintosh users will be pleased to learn that the program can serve as an extension to the OS-X Photos app automatically installed onto every iPhone, iPad, and Macbook on the market. For fledgling photographers with an existing photo library looking to utilize more advanced edits, this is great news.
What's more, Picktorial offers a glimmer of hope for Aperture aficionados that have been holding out since the last software update in 2014. The program allows for native Aperture browsing, eliminating the need for any sort of complicated conversions.
That being said, Picktorial is much more than a simple extension – for those who have never touched Apple Photos or Aperture, the program works just fine as a standalone application.
Related Post: Luminar Reviewed (the New Photo Editor for Mac and Windows)
Support for 500+ Camera Models
Don't be put off by the fact that this piece of software is produced by a startup, either. The small team behind it all manages to support over 500 different types of cameras. Able to process RAW files of all shapes and sizes, it effortlessly converts images to standard file formats. More importantly, Picktorial's ability to navigate RAW imagery suddenly makes non-destructive editing a possibility.
What to Expect
Refined User Interface
In many ways, the UI behind Picktorial is reminiscent to what you might see using Lightroom Classic or Luminar. However, there is one major aspect that sets it apart. Users will quickly pick up on the fact that Picktorial a utilizes single space workflow.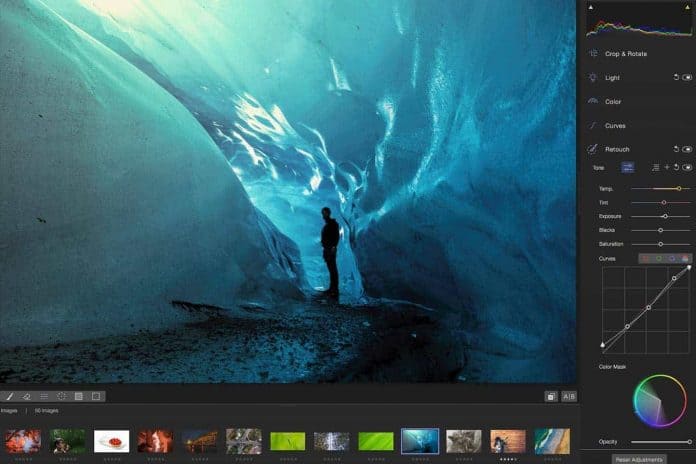 This development means that switching between a library module and an editing workspace is a thing of the past. Instead, everything a photographer needs to process their images is easily accessible in one spot, complete with a live image preview. While this may seem like a minor detail, it makes for a more efficient editing experience overall.
Related Post: Best HDR Software
Familiar Features (with a few tweaks)
Those familiar with the latest image processors will recognize many of the tools that come standard on other programs. Like Lightroom and Luminar, there's a familiar adjustable histogram tucked in the upper righthand corner. Directly underneath are a variety of adjustment sliders capable of making global alterations to exposure, tonality, color, and sharpening.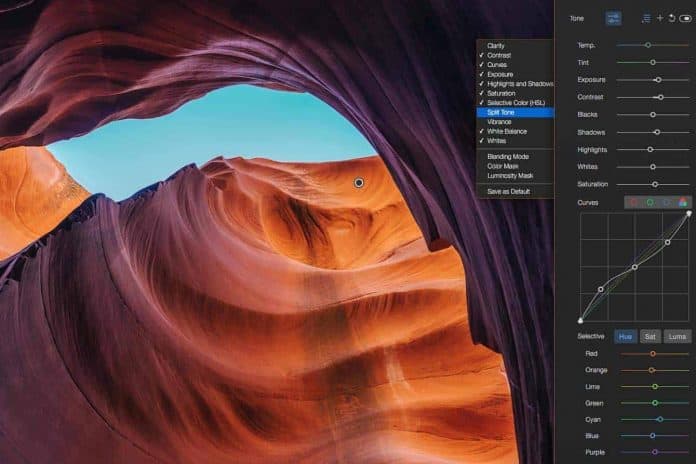 However, Picktorial's editing capabilities span far beyond simple adjustment sliders. In particular, the program shines when it comes to making local adjustments. Most of these features can be found universally in other similar products. Chances are, you've played with a gradient or patching tool in the past. However, Picktorial often goes above and beyond to take these tools a step further.
As an example, users can hone in on the coloration of their shots. Nearly every program offers basic color corrections – however, Picktorial also includes split toning options as well as specific hue, saturation, and luminosity adjustments. Furthermore, precise and easy-to-apply color masks make it possible to totally change the look and feel of a photograph.
Related Post: Best Desktops for Photo Editing
New Possibilities
One thing that's not often seen in cataloging programs is the ability to mask and make select edits – in this regard, Picktorial breaks the mold. Though the program lacks the layers one might find in a program such as Adobe Photoshop, the advanced brush tools are on par with similar graphic rendering software.

Picktorial succeeds where its rivals fail in that it has created specialized tools to take on specific jobs. In the example above, a specific skin smoothing brush was utilized to get the desired effect. Using state of the art frequency separation techniques, it's possible for artists to closely control the amount of detail being preserved while retouching. When compared to the Lightroom-equivalent Spot Removal tool, Picktorial's Patch tools blow the competition out of the water.
To further aid the retouching process, the software comes equipped with an edge-aware brush that makes selecting elements simple. As the following image illustrates, it's possible to remove major elements from photographs while retaining a quality, natural look.

Working up to 30 times faster than similar programs and equipped with an adjustable workspace, photographers can meet most of their needs within Picktorial without having to switch over to secondary software.
Irresistible Presets
Last but not least, Picktorial's team have gone to the trouble of creating stunning presets to really bring photographs to life. Picktorial even includes a sidebar menu that lists dozens of options and generates a preview thumbnail illustrating how each profile will impact the composition.
For a number of reasons, presets can play a huge role in lightening a photographer's burden. With large batch photoshoots, they're a quick way to apply some necessary base adjustments and create a cohesive feel between shots. Having several on hand can be handy for experimentation, allowing users to try out several different looks without spending precious time on slider adjustments.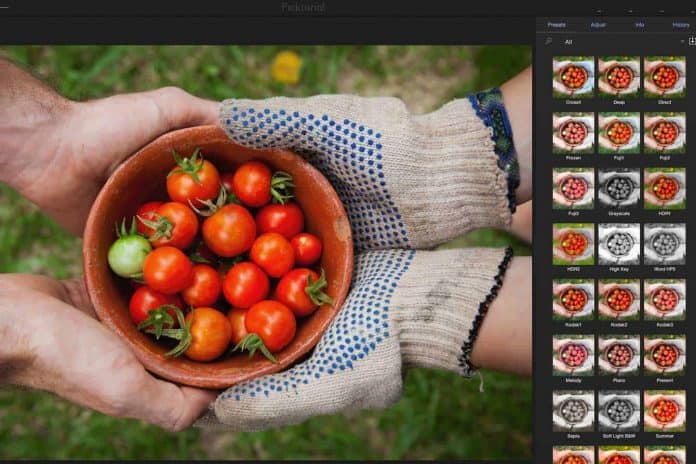 With each update, Picktorial users should be on the lookout for new presets. Recently, the X-Pack was released to cater specifically to the Fujifilm x-Trans sensor. Profiles in this series were designed to simulate the rich, grainy look of film photos. Available for just $15, practically anyone looking to bring character and liveliness to their shots can do so with the click of a button.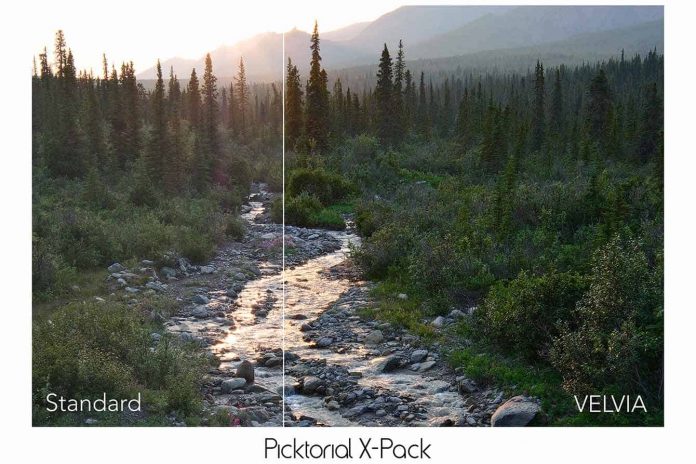 Related Post: Best Software to Edit Drone Videos
Our Conclusion
It's always tempting to stick to the familiar. However, Picktorial is worth going out of a limb for. It packs just as powerful a punch as its competitors, and in some areas, it manages to beat out industry standards. As if the high performance wasn't enough to tip the scales, Picktorial also happens to be one of the most affordable options available.
Available at an introductory price of $49.99, free updates are included with purchase. Hands down, this makes Picktorial an easy choice for the frugal photographer.
It's true that the program has a few weak points to overcome. But in the grand scheme of things, the kinks are forgivable. If you're considering making the switch, check out the company's free 14-Day trial (next to the Buy Now Button) to get a feel for just what this software has to offer.