PicMonkey Review
This is a review of PicMonkey – an online photo editor and collage maker.
Although a licensed version of the Adobe Photographer's Suite costs less than a hundred bucks a month (Creative Cloud), not everyone is in a position to afford one. People do look for the most suitable budget option. There is nothing wrong with that.
After all, Photoshop and Lightroom are way too powerful and have way too many features than what an amateur photographer or a casual photographer might be making full use of in their lifetime. That way a lighter (and cheaper) alternative to Photoshop (as well as Lightroom) is always welcome. Enter online photo editors like PicMonkey.
No Need to Install Software
There is no dearth of online photo editors. Many of them are quite handy in terms of basic editing capabilities. They are useful in a lot of ways, but the most important aspect is that they don't burden your computer by consuming resources. Nothing is installed on your system. That means you can work with even the most frugal computer configuration. That said, you will need a fast internet connection otherwise editing speed will be slow.
Main Features
This PicMonkey review is all about finding the suitability of the online photo editor to make every day (and some advanced) photo editing tasks. PicMonkey is a standard online photo editor with some added features like collage creation and logo creation.
It also has a photo organizing feature. Though the later functionality has only limited applicability and is truly just a superficial add-on rather than something serious. But let's first take a look at the main photo editing features of the application.
No RAW Support
My initial point of shock was that I could not upload a RAW image shot with my DSLR. I went for my external hard drive, imported a RAW file (I had edited that some time back and converted it into a JPEG). Just imported the RAW file and not the .xmp file that stores all the Lightroom changes. But alas, PicMonkey won't open the RAW file. It says, "We can't open this kind of file." Too bad.
Okay, so I next located the JPEG file of the same image, yes, I am one of those photographers who shoot RAW + JPEG. It consumes more memory, but it also helps me to share some images on the fly (mostly snaps) and edit the ones that I feel require a bit of 'polishing up' before they see the light of day. Anyways, so, I uploaded the JPEG image and it opened up without any issues.
You will need to enable flash on your browser. If it is deactivated for some reason an alert will show up stating that you need to enable it. Once you enable it the interface from image uploading will pop up.
Related Post: Best Slideshow Software
Image Setting
There are three options to choose from when editing – Jack, Bubbles King Kong. These are basically file-size limitations that allow you to choose the correct file size for the type of work that you have in mind.
"Jack" is the smallest. It has a maximum file size of 3 megapixels. The actual image dimensions are 2,000 x 1,500. Good enough for 8 x 10-inch prints. They suggest that the file handling speed is the best when using this setting. Understandably so because of the lower file size.
"Bubbles" is the next option. This option is perfect for mid-size files. The file size limitation is 7 megapixels. The actual file size is 3200 x 2200. That should be excellent for printing 8 x 10-inch prints.
The final option is "King Kong". As you can guess by the name, the allowable file size is the largest for this particular image setting. The file size recommended (auto resized) is 16 megapixels. This is the largest file size available on PicMonkey. The average image size is 4000 x 4000 pixel. Needless to say, editing will be extremely slow with this option. But on the flip side, you will be able to edit in large size with higher resolution and detail, perfect for larger prints.
Adjusting Exposure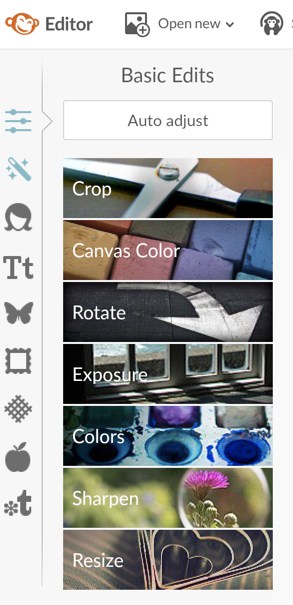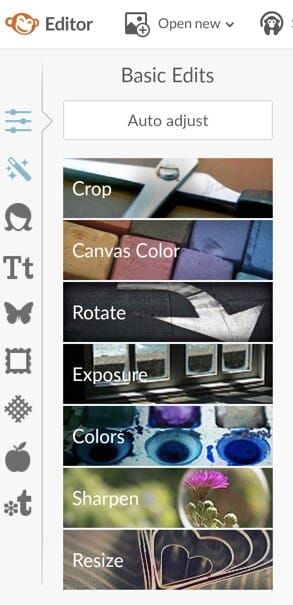 Now, let's take a look at some of the basic editing tools. Simple things like brightness, highlights, shadows, and contrast require easy adjustment options and PicMonkey has all these features under the 'Exposure' tab on the left panel under 'Basic Edits'. You can make the adjustments and 'Apply' them before moving on to the next adjustment.
Colors
'Colors' allow you to accomplish a white balance adjustment as well as tinker with the Saturation and Temperature. You can select the Neutral Picker tool to choose something neutral in the scene for a quick white balance adjustment. This works the same way as the EyeDropper tool in Photoshop. I selected one of the white patches on the old lady's dress and it pretty much did the job. Adjustments might be required depending on the image that you have in hand and the effect that you wish to render.
I also tinkered with the Saturation and the Temperature sliders. Saturation, as you can imagine will tinker with the color tones in the image. The further right you slide it the punchier it will look. So, make sure you don't overdo it. I, on the other hand, wanted to desaturate the image so that all the colors in the image are completely gone. In other words, I wanted to turn the image into black and white. So, I slid the 'Saturation' layer all the way to the left.
The thing that I missed dearly was the ability to adjust saturation of the individual color tones in the image. This is the way I normally do it in Lightroom. This helps me to adjust them and create a better and more contrasty image. That option is missing here. But to be fair with PicMonkey, none of the other online photo editors that I tested seem to be having this functionality.
Layers Palette
The name Layers Palette sounds interesting. It invokes the feeling of using something like the more powerful Photoshop feature. But this particular feature is not the same thing that you would be familiar with if you have used Photoshop. This feature is more like using different layers for Texts, Overlays, Frames and those sort of things. Then there are the more bizarre and the more funky stuff too which you would probably never use.
Related Post: Classic vs. CC – Which Lightroom is Right for You?
Touch-up Tool
Did you know PicMonkey also has a very powerful retouching tool integrated? Conveniently named as 'Touch Up' this tool is actually quite useful without the complexity that is normally associated with such tools. This is the sort of tool that you would need for editing portraits. Photoshop and Lightroom are both very powerful portrait editing tools and for this particular reason. PicMonkey isn't too far behind either.
Touch Up panel has an array of tools starting from simple 'Blemish Fix' right down to 'Weight Loss'. Blemish Fix is a nice tool for retouching skin imperfections. So is the Wrinkle Removable tool. With the Blemish Fix tool moles, pot marks and spot marks can be removed quite cleanly. Just like every other editing and retouching tool, you will have to be careful how much you use this and the rest of the tools. It is very easy to overcook things and end up getting a look that is anything but realistic.
Hub – Edit, Save, Edit, Repeat
PicMonkey has this interesting storage option for your images. It is known as the Hub. Let's learn about it in further detail.
One thing that you should definitely try on PicMonkey is the Save Button. Saving does not flatten the layers of the image. That means you can reopen the image and edit it resuming from where you started. This also gives you the additional advantage of storing your under-process images in the cloud and accessing them from anywhere you want to. No more having to mail your images to yourself.
All you need to do in order to save your images to Hub is to click on the Save button at the top, enter a name for your image (you can leave it at the default name as suggested) and click 'Save'. A message will pop-up stating 'Feeding Hub' and after a brief few seconds of wait, the image will be uploaded to Hub.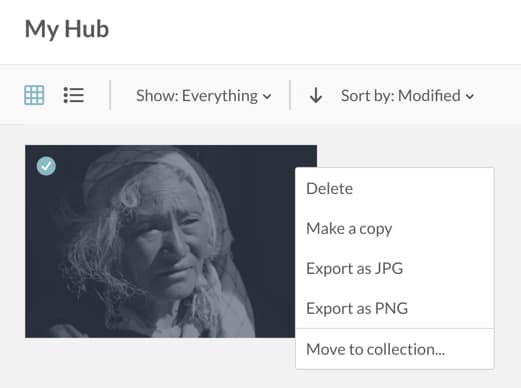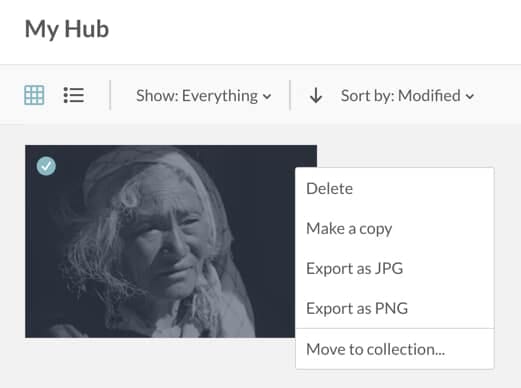 The next time you wish to come back to your unfinished work, simply click on My Hub, find your image, open it and resume editing. It is the simplest of steps that we could think of. Plus, you could save your image at the office and resume editing it in the cab or at the railway station or on the train or your home. Basically, you leave it when you want to and pick it up right where you left it whenever you want to.
Notwithstanding, once you save the changes there is no way to go back to the original image (unedited). That means any changes in color, temperature, sharpness, etc. that you do will not be reversible. If you don't save a copy of the original unedited image on your hard drive, then that's it. But if you add any layers such as when you use your images for a collage etc. and when you add overlays, those additional layers will not get flattened.
Related Post: On1 Photo Raw Review
Bulk Uploading to the Hub
At this point, you might be wondering, "what if I could upload a large number of images to the hub?" Yes, you can. That is quite easy to do actually. To do this:
Go to the PicMonkey home.
Click on your username in the right corner.
A drop-down menu will slide down.
Select 'My Hub' from that.
In 'My Hub', you would find the option 'Upload' at the top right corner.
Hit the Upload button and you can then select the images you wish to upload to My Hub.
Collections
Just like Lightroom collections, PicMonkey offers an option to make collections in My Hub. Collections allow you to group images together on several parameters. However, you can do only little functionality with collections.
Saving to your Computer
Saving to your computer is probably the option that you would try more often. That is if you are looking to do a quick edit of your images before sharing them with the world. This option is just as easy to do. To save to your computer, all you need to do is click on the 'Export' button at the top of the toolbar. You will be given three file size options to choose from.
'Roger', is the smallest resolution and the file size is also the smallest. 'Pierce' is the medium one and finally 'Sean' which has the highest resolution. Go for Sean, because that gives you the best resolution. Additionally, you can choose to directly send the file to OneDrive or your Dropbox account if you wish to.
Collage
PicMonkey also has a nice little Collage creator application integrated. A fairly large number of options are available for creating your favorite collages. You could change the images around, choose from your computer or your Hub size, change the layout of the collage and edit the look and feel of the theme as well as the individual images.
Ready-made templates are available for creating Facebook covers, cards, square prints, Pinterest images, etc. You could change the default size of the collage. Simply click on the 'Lock' icon at the bottom and then you can enter whatever values you want.
When you are ready you can send the collage to the editor. Sending the collage to the editor flattens it. You can now add additional layers of texts and embellishments to the collage including a variety of overlays.
The first thing that struck my mind when I saw the Overlays option was it could be a great way to handle my daughter's school projects. PicMonkey surely has more than the average photo editing options.
PicMonkey Mobile App
PicMonkey also has a mobile app for both Android and iOS systems. A premium account allows you to access your hub via the mobile app as well as via a browser. You can upload images from your mobile and make them available for editing at home on your PC.
Someone at your home office with access to your hub can also edit the images you upload in real-time. That way you can allow access to your work on the fly to your back-office editor (if any). The best thing is you have unlimited storage on your Hub when you sign up for a pro membership.
With the basic membership, you only have enough storage for about 50 images. Of course with the pro membership, you also get the added advantage of additional tools which the basic membership feature lacks.
Related Post: Review of the Animoto Online Video Editor
Overall Comment on the Interface and the Application
This PickMonkey review will be incomplete without a summary of my thoughts after testing the application over the last couple of days.
There is more to PicMonkey than meets the eye. There are many salient features. It is impossible to list all of them. To start off, the interface of PicMonkey is decent. Though I like the interface of another online photo editor – Befunky.com better. Befunky gives the impression of a traditional photo editor than an online photo editor. Definitely, the interface is more polished and upmarket compared to the application in this discussion. But what I like more is that the layout of the tools is more professional as well.
Does that mean that I like Befunky more than PicMonkey? Not quite. I think PicMonkey is a powerful tool in its own rights. It allows you to edit your JPEG images and render the effect you need in no time. That said, it has its own pluses and minuses when compared to Photoshop (and Lightroom) and other online photo editors.
The absence of RAW conversion is something that I don't like. I shoot in RAW 99% of the time. Sometimes I shoot in RAW + JPEG. Not being able to edit my RAW images makes me dependent on traditional desktop editing applications.
Picmonkey vs. Fotor
That brings to attention a competitive service: Fotor is an online photo editing application that has this feature. It is equally powerful and has similar features to what PicMonkey has. If you absolutely need a RAW editing option then Fotor would be a better option.
Plus, Fotor also has a desktop application that is free to download and gives you all the features that you would get in the online version of the software.
The biggest advantage of PicMonkey (and I would say the same about some of the other online photo editors that I have tested like Befunky and Fotor), is that they have a shorter learning curve compared to desktop photo editing applications in general and Photoshop in particular.
Related Post: Fotor Review
Picmonkey: Simpler than Photoshop!
Most beginner photographers face the 'hurdle' of negotiating the myriad options and terms and confusing 'processes' that Photoshop tends to throw at you. In the end, they look for something that is a lot 'simpler' than what Photoshop has to offer. Most choose Lightroom for the very same reason.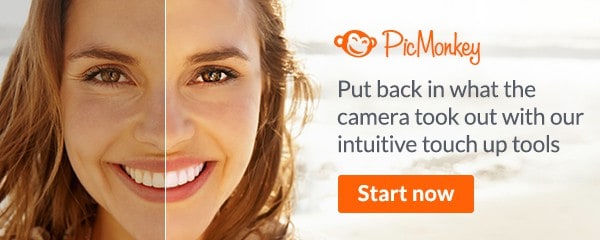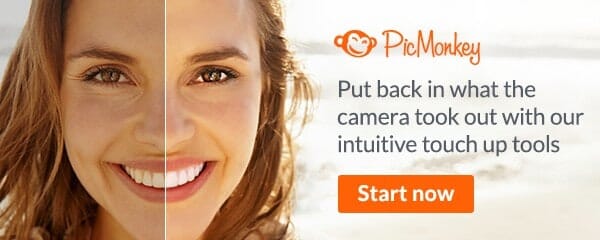 Online photo editors like PicMonkey mostly deal with JPEG images. That way for JPEG shooters and specifically those who are amateurs and are looking for a cheaper option prefer these to Photoshop (and Lightroom).
Related: Canva Pro Review
But why stop at that? With the template option and the Layers Palette, you have a much wider scope to give your creative freedom to explore new horizons.
That, said a lot of photographers do prefer the complexity (and the power that come with it) of Photoshop. It is still the 'Gold Standard' when it comes to photo editing and retouching in the industry.
But, online photo editors are here to stay as they have their own dedicated (and growing) user base.
In that sense, going forward, online photo editors like PicMonkey and Canva are the way to edit your photos.
PicMonkey Online Photo Editor Review
Ease of Use

Features

Interface

Price
PicMonkey Photo Editor Review Summary
PicMonkey Review in a Nutshell: Especially for beginners and photography enthusiasts the online photo editor PicMonkey is the way to edit your photos.