A Telephoto Zoom Lens Review
Let us take a look at the Nikon AF Nikkor 80-200mm f/2.8D ED lens.
One of the reasons why a lot of the older D lenses are selling less recently is because new crop DX format cameras (e.g. D5200, D3200) do not have a built-in autofocusing motor.
That invariably means you cannot auto-focus with these older but quite useful D lenses.
However, whether or not your camera is compatible with this and other lenses like this, they remain a formidable tool. For owners of the D7000, the D7100, and the newest D500, these lenses work without issues.
Nikon AF FX NIKKOR 80-200mm f/2.8D ED Zoom Lens with Auto Focus for Nikon DSLR...
Superb 2.5x telephoto zoom for sports, portraits, and nature photography
Fast and constant f2.8 maximum aperture through the entire focal range. Diaphragm blades: 9. Minimum Focus Distance - 4.9...
ED glass elements for high-resolution and high-contrast image even at maximum aperture
Rotating zoom ring for precise zoom operation;Compatible Format(s): FX,DX,FX in DX Crop Mode,35mm Film
Nikon Super Integrated Coating ensures exceptional performance.Compatible Format(s):FX,DX,FX in DX Crop Mode,35mm Film
Target Users
The Nikkor 80-200mm f/2.8D ED has remained virtually unchanged over the years and has continued to have a dedicated fan following.
This is due to its fantastic optics and rugged build quality.
The Nikkor 80-200mm f/2.8D ED is for photographers looking for a medium telephoto zoom lens. It is an all-purpose lens, covering the essential focal length to shoot portraits and then going all the way up to 200mm.
At that focal length, the lens is suitable for some degree of birding and wildlife photography as well. Of course, you can also shoot a bit of nature photography as well with it.
Compatibility
The 80-200mm f/2.8D is designed for the full-frame Nikon DSLRs. Cameras that have a built-in auto-focusing motor. This lens will not auto-focus on smaller entry level crop cameras.
So, if you have the D3100, or the D5100 and those sort of cameras which do not have a built in auto-focusing motor, this lens is not for you. You should opt for the 70-200 f/2.8 G.
Construction
The 80-200mm f/2.8D is built like a tank. Though its successor the 70-200mm f/2.8 is also built well, nothing beats the all metal construction of this lens. It can go to hell and come back without a scratch on and deliver sharp images all the way.
I have used this lens on assignments around the world. It's been dropped, splashed with salt water, left in hot vehicles for hours on end, caked in sand, and no matter what I do with it, it continues to make extraordinary pictures every time out. – Reviewer on NikonUsa.com (Professional Photographer, Toronto)
The lens construction consists of a total of 16 elements arranged in 11 groups. Inside there are three Extra-low Dispersion (ED) elements that take care of chromatic aberrations. Chromatic aberrations denote the purple fringing that happens in some lenses, especially when shooting wide open.
Related Post: Review of the Tokina 11–16 mm f/2.8
The lens also has Super Integrated Coating (SIC) which ensures that it can handle internal reflections, ghosting, and flares rather well.
The nine-blade aperture diaphragm design ensures a soft rounded bokeh for your well-framed shots.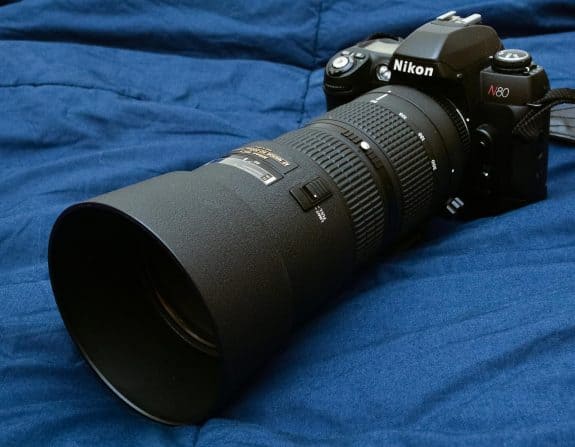 Auto-Focusing
The 80-200mm f/2.8D does auto-focus, but only on cameras with a built-in auto-focusing motor.
Auto-focusing works via the mechanical couplings at the lens mount. Your full-frame FX cameras will certainly be compatible. So, will the D500, the D7200 as well as the older D7000. The last three despite being crop DX sensor powered cameras have a built-in AF motor.
One more feature of the lens is the focus delimiter switch. The focus delimiter stops the lens from hunting for focus, especially, when the subject is at a known distance. You can simply set the appropriate focusing distance using the focusing delimiter button, and the lens will have a shorter time frame to lock focus.
Even with the long focal length, the 80-200mm f/2.8D has a small minimum focusing distance of only 4.9'. This means you can capture images of subjects that are relatively closer to you.
If you are not a pro, or even if you are a pro but don't really need the VR [Virbration Reduction], this is the best lens for you at this range. – Semi-Professional User Review on Nikonusa.com.
Aperture Control Ring
Nikkor D lenses come with a unique aperture control ring. This control is absent on the G lenses. This ring allows the photographer to select the desired aperture just by turning the ring. On G lenses aperture is set using the command dials or the exposure compensation buttons as required.
The advantage of the aperture control ring is that you have one more precise mechanical control over the basic functions of the lens. Once you get the hang of things, you will see that things are relatively faster with mechanical controls.
Another advantage of the lens is the presence of a focus distance indicator. You can precisely focus at a distance you want your lens to focus at. There is, however, no depth of field indicator.
Related Post: Prime vs. Zoom: Which one Should I choose?
Image Stabilization
The only real damper with this lens is the lack of image stabilization. Nikon calls this feature Vibration Reduction, and it is non-existent on this lens. You would need to shoot either at a shutter speed, faster than the inverse of the focal length you are shooting in or use a tripod. A tripod collar is integrated with the lens which should assist in easy mounting on a tripod base plate.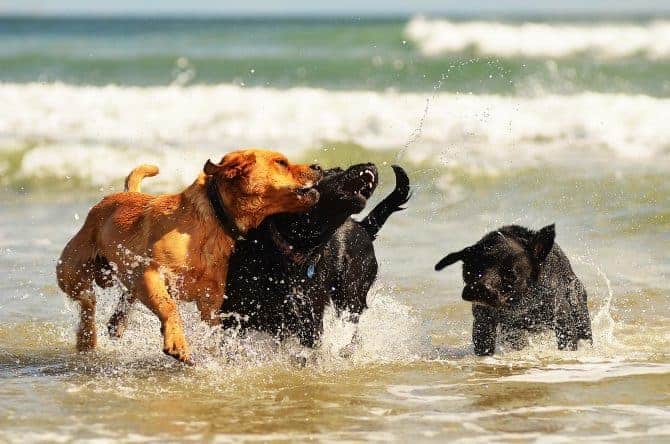 Tele-Converter
The lens isn't compatible with any of Nikon's latest teleconverters. You can, however, use it with the third party optics – Kenko 1.4x and the 2.0x teleconverters.
Conclusion
The Nikkor 80-200mm f/2.8D has its share of advantages and disadvantages. It lacks image stabilization and a built-in auto-focusing motor. But it more than makes up for it with its fantastic optics and rugged build quality. The fast maximum aperture of f/2.8 across its focal range ensures that you can shoot wide open all throughout.
You have an advantage when shooting low light photography. The biggest bargaining chip, however, is that it is cheaper than some of the alternatives that Nikon has to offer. The 70-200mm f/2.8 G ED VR II is a good $1000 pricier than this. This lens does everything that the former does.
---
As an Amazon Associate we earn from qualifying purchases. Certain content that appears on PhotoWorkout.com comes from Amazon. This content is provided 'as is' and is subject to change or removal at any time.