If you are a Nikon camera owner, you have a broad range of lenses to choose from. There is a powerful lineup of official Nikon lenses, but third-party manufacturers such as Tamron also offer outstanding glass.
In this guide, we hand-pick seven of the best Tamron lenses for Nikon — for various genres of photography and different camera types.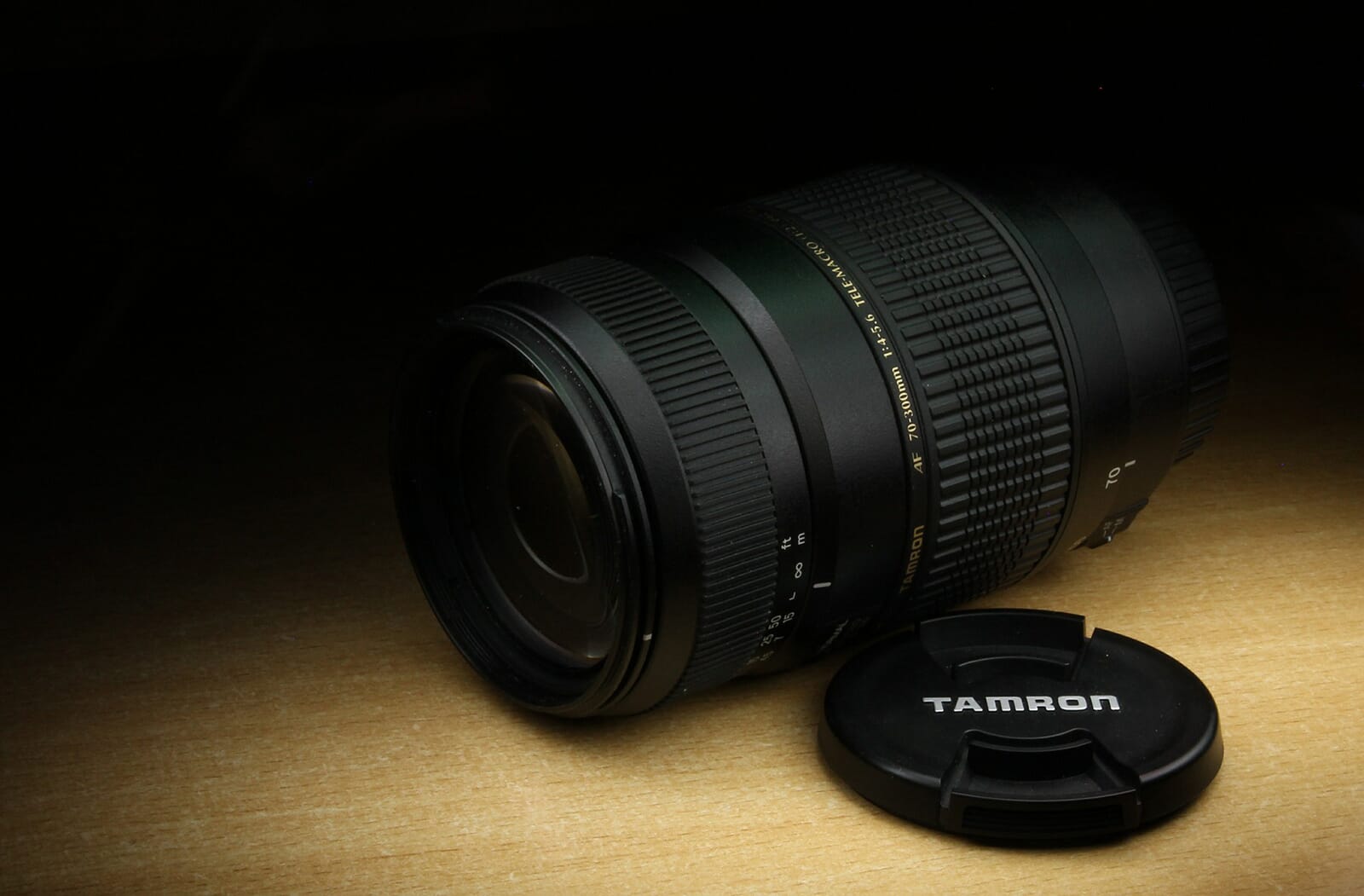 Best Tamron Lenses for Nikon:
When you buy through links on our site, we may earn a commission at no cost to you. We evaluate products independently. Commissions do not affect our evaluations.
1. Tamron SP 70-200mm f/2.8 Di VC G2
Our Pick
Great for high-quality telephoto shots
The Tamron SP 70-200mm f/2.8 Di VC G2 offers consistent quality at telephoto focal lengths.
Pros
Excellent optical performance
Fast and accurate autofocus
Built-in vibration compensation for handheld use
Our first choice is the Tamron SP 70-200mm f/2.8 Di VC G2, one of the best telephotos on the market. Not only that, it's incredibly affordable compared to other wide-aperture 70-200mm options.
At 70-200mm, this lens is the perfect companion for most standard kit lenses, which often feature a focal length in the 24-70mm arena. It also offers a versatile zoom range, and at 200mm, you can capture great detail, tight landscapes, and even the occasional wildlife photo.
Compared to previous iterations of this lens, the A025 model features improved optical performance, improved Vibration Compensation, and a superior autofocus motor. You can expect excellent quality and top-notch autofocus and handholding.
We also like the constant maximum aperture of f/2.8. As a result, you can expect beautiful background bokeh effects; for instance, at 200mm and f/2.8, you could capture your subject in great detail while still creating a professional background with bokeh.
Ultimately, this is quite possibly the best Tamron lens for high-quality telephoto shots.
2. Tamron SP 35mm f/1.4 Di VC USD
Also Great
Great for street photography
The Tamron SP 35mm f/1.4 Di USD offers exceptional image quality and beautiful bokeh effects.
Pros
Great maximum aperture of f/1.4
Superior construction for outdoor use
Fast and accurate AF motor
Cons
Has no built-in image stabilization
Tamron doesn't feature a wide range of prime lenses for Nikon, but one of its best options is the Tamron SP 35mm f/1.4 Di USD Lens for Nikon F — a high-quality prime lens that is great for landscapes, street photography, and portraits, too.
It packs superior lens construction and a host of different elements for pin-sharp images. For example, it has BBAR-G2 and fluorine coatings; both of which vastly reduce distortion while making the lens suitable for outdoor use.
Also, thanks to a maximum aperture of f/1.4, this lens is brilliant in low-light situations. You can even create fantastic bokeh effects for professional portrait shots. Although this lens doesn't have image stabilization, it still proves easy to use and does offer fast, reliable, and accurate autofocus.
3. Tamron 100-400mm f/4.5-6.3 VC USD
Great for wildlife photography
The Tamron 100-400mm f/4-6.3 VC USD is a great lens for beginners who want to learn telephoto photography.
Pros
Super-telephoto capabilities at 400mm
VC for easy handholding
Consistent quality regardless of focal distance
Telephoto lenses can be expensive, but the Tamron 100-400mm f/4.5-6.3 VC USD is a relatively affordable multi-zoom telephoto lens that also offers top-notch quality and utility.
We like the versatile maximum aperture range of f/4.5-6.3, which makes for decent background separation, and you can even create bokeh effects in your backgrounds. The image quality is also consistent and sharp regardless of the focal length.
The Tamron 100-400mm f/4.5-6.3 VC USD also features 4-stop Vibration Compensation, which should help when using the lens handheld. The lens elements also have eBAND coatings to reduce annoying optical issues like lens flare and ghosting.
As you would expect, this lens is a little large and bulky, although it is one of the lightest super-telephoto lenses currently available. Unlike some telephoto lenses, however, it does not have an attached tripod mount.
4. Tamron SP 24-70mm f/2.8 Di VC USD G2
Great as a kit lens
This Tamron zoom lens is a great standard kit lens and can be used in a variety of situations.
Pros
Excellent constant max aperture of f/2.8
Various lens coatings to reduce distortions
Smooth zoom transitions
Cons
AF may be inaccurate sometimes
Every photographer needs a standard "kit lens", a versatile lens you can use in various situations. These lenses are great when you're after no-fuss photography and don't want to carry multiple prime lenses in your bag.
One of the best Tamron kit lenses for Nikon is the Tamron SP 24-70mm f/2.8 Di VC USD G2; it's a high-quality lens with an ultra-useful 24-70mm focal range, one that covers many types of photography. At 24mm, you have wide-angle capabilities for landscapes, and at 70mm, you have a lens suitable for portraits. You can use it in numerous situations without worrying about quickly changing lenses or carrying heavy gear.
The Tamron SP 24-70mm f/2.8 Di VC USD G2 offers exceptional quality. It provides sharp images throughout the focal range, plus it includes an eBAND coating to reduce distortions and flare. It also has Vibration Compensation and a high-performance MPU AF motor.
If you want a multi-use kit lens and don't want to spend a fortune on an official Nikon model, this Tamron alternative is a great option.
5. Tamron SP 15-30mm f/2.8 Di VC USD G2
Great for wide-angle shots
The Tamron SP 15-30mm f/2.8 Di VC USD G2 is a top choice for landscape and street photography.
Pros
Built-in Vibration Compensation
Moisture-resistant construction
Consistently sharp image quality
Cons
Not the lightest lens (2.42 lb/1097 g)
Out of all the best Tamron lenses, one of the top options is the Tamron SP 15-30mm f/2.8 Di VC USD G2, a versatile zoom lens that is great for ultra-wide and wide-angle photography.
At 15mm, you can capture a beautiful wide-angle perspective in your landscape shots, while at 30mm, you can capture great detail for street photography and environmental portraits. The Tamron 15-30mm is a multipurpose lens that would make a great addition to any travel kit.
The SP designation guarantees superior build quality and lens construction; for example, you get triple lens coatings that help protect the elements and reduce distortions. Also, the external glass has a moisture-resistant construction that makes it perfect for outdoor use. Essentially, this Super Performance lens will provide consistent sharp images with brilliant colors and contrast.
It also offers Vibration Compensation for improved handholding, as well as a decent AF motor that performs well in low-contrast situations.
6. Tamron SP 150-600mm f/5-6.3 Di VC USD G2
Great for detailed wildlife photos
The Tamron SP 150-600mm f/5.6-6.3 Di VC G2 is the best choice for detailed wildlife shots, thanks to its 600mm maximum focal length and VC image stabilization.
Pros
Has an attachable tripod mount
Superior lens construction
Protective lens coating
Cons
Not great for handholding due to its weight
Tamron is known for its high-quality super-telephoto lenses, which offer excellent sharpness at an affordable price, including the Tamron SP 150-600mm f/5-6.3 Di VC G2.
This is one of the best affordable super-telephoto lenses, but it certainly doesn't compromise on quality. And it's versatile, too; at 150mm, you can shoot tight landscapes, while at 600mm, you can capture stunningly detailed wildlife shots.
For consistent quality and sharpness, the lens construction includes an XLD element and an LD element. The external lens glass also has a special fluorine coating which is water and oil repellent.
The Tamron SP 150-600mm f/5-6.3 D VC G2 offers a stylish body and the zoom transition is smooth – you can easily move through the different focal distances with minimum effort. And the lens packs Vibration Compensation for up to 4.5 stops of shake correction.
7. Tamron 18-400mm f/3.5-6.3 DI-II VC HLD
Great for beginners
The Tamron 18-400mm f/3.5-6.3 Di-II VC HLD is a beginner-friendly lens that allows new photographers to try multiple compositions and photography techniques.
Pros
Versatile 18-400mm focal length
Durable and stylish design
1:2.9 magnification for decent macro shots
Cons
Not as sharp as other Tamron lenses
Oftentimes, people who are new to the world of digital cameras can be overwhelmed by the sheer choice and variety of lenses. This is why multi-zoom lenses, such as the Tamron 18-400mm f/3.5-6.3 DI-II VC HLD, are excellent choices.
This lens would be great as a beginner Nikon lens for those who want to learn various types of photography. With a focal range of 18-400mm, this multipurpose lens covers everything from wide-angle landscapes photos to detailed super-telephoto shots. It is also reasonably priced.
The compromise, however, is that this lens is not as sharp as prime lenses, or even some of the other Tamron lenses. It is a great starting point, though, and highly convenient to use. Instead of continually changing lenses for different compositions, you can simply work through the focal length range with this single lens.
The lens does have plenty of quality elements inside to improve optical quality. Also, it has an excellent construction (including a moisture-resistant exterior). The HLD autofocus is also quiet and accurate.
Tamron Lens Compatibility Explained for Nikon Cameras
It is important to understand that Tamron currently doesn't make any specific Nikon Z lenses. All of the lenses listed above are primarily made for traditional Nikon DSLRs – either FX or DX.
However, all of these lenses can be used with Nikon Z cameras (like the Nikon Z7 II). You simply need to buy the FTZ lens adapter. You can find a full list of lenses that are compatible with the adapter on Tamron's official website.
Which Tamron Lens for Nikon Cameras Is Right for You?
Tamron is one of the best third-party manufacturers of lenses for Nikon cameras. They offer a great range of models. But which lens would make a great addition to your camera setup?
This depends largely on what you intend to use the lens for! For example, if you want a high-quality telephoto lens for detailed wildlife photography, the Tamron 100-400mm f/4.5-6.3 VC USD or Tamron SP 150-600mm f/5-6.3 Di VC G2 are the best options.
Alternatively, if you want a versatile lens that can be used in multiple situations, the high-quality Tamron SP24-70mm f/2.8 Di VC USD G2, or the multipurpose Tamron 18-400mm f/3.5-6.3 DI-II VC HLD are excellent choices.
Lastly, if you want a lens for wide-angle landscapes or street photography, the Tamron SP 35mm f/1.4 Di USD Lens for Nikon F or Tamron SP 15-30mm f/2.8 Di VC USD G2 are the best models currently available.
---
Disclosure/Disclaimer: As an Amazon Associate, we earn from qualifying purchases. Certain content was provided "as is" from Amazon and is subject to change or removal at any time.