A macro lens can breathe new life into ordinary subjects and offer viewers a window into an unappreciated world. It's also the perfect product to capture beautiful close-ups of food, jewelry, flowers, and insects.
But for great results, you need a high-performing lens that features excellent optics and powerful magnification capabilities. Read along as we share the best macro lenses for Nikon, including both native and third-party options, so you can ensure all of your close-up shots come out looking pristine.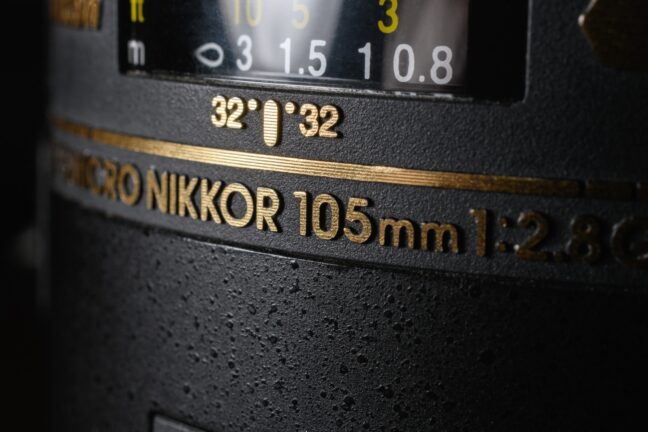 10 Best Macro Lenses for Nikon:
When you buy through links on our site, we may earn a commission at no cost to you. We evaluate products independently. Commissions do not affect our evaluations.
1. Nikon AF-S VR Micro-Nikkor 105mm f/2.8G IF-ED
Our Pick
The best macro lens for enthusiasts and professionals
The 105mm f/2.8G is a macro classic thanks to its stellar optics and impressive build.
Pros
Solid and well made
Includes image stabilization
Offers true 1:1 magnification
Cons
Image stabilization system is less effective at close distances
The AF-S VR Micro-Nikkor 105mm f/2.8G IF-ED is Nikon's best macro lens to date; if you can afford it, just buy it.
The 105mm f/2.8 feels solid in the hands. It's quite well made, and the internal construction of the lens includes a total of 14 elements arranged in 12 groups. There are 9 rounded aperture diaphragm blades that produce nice bokeh.
Autofocusing is powered by Nikon's (very quiet) Silent Wave Motor (SWM). The lens also comes with a manual-focusing override option so you can grab hold of the focus ring and make manual adjustments, even in AF mode. This lens focuses internally, which means there is no barrel length change when racking focus in and out.
The Nikon 105mm f/2.8 is a true macro lens, capable of producing a 1:1 or life-size reproduction of anything you put in front of it (assuming you get close enough). And speaking of getting close: The 105mm focal length allows you to focus from a sufficient working distance, so you won't scare your small subjects, nor will you block the light with your own body.
The 105mm macro does include Vibration Reduction technology, which permits you to use a shutter speed up to three stops slower compared to other non-VR lenses in a given shooting situation. (It's still a good idea to use a tripod you're working at high magnifications, though.)
2. Nikon AF-S DX Micro NIKKOR 40mm f/2.8G
Budget Option
A great entry-level macro lens
The 40mm f/2.8 is perfect for beginners, thanks to its low price, compact build, and excellent image quality.
Pros
Inexpensive
Versatile
Lightweight and compact
Cons
Bokeh isn't top-notch
The AF-S DX Micro NIKKOR 40mm f/2.8G is a very inexpensive macro lens designed specifically for Nikon's APS-C cameras. Note that, on an APS-C camera, the effective focal length is 60mm, just a shade longer than what you would get with a 35mm prime lens. Thus, this lens also works great as a prime lens for everyday photos.
The lens is very sharp and will allow you to capture breathtaking flower shots and creepy-crawly portraits, as well as anything else that you may fancy shooting. It isn't completely weather sealed, but you do get a rubber gasket on the lens mount to keep out the elements.
Nikon's Silent Wave Motor (SWM) technology focuses quickly and effectively, especially at close distances, so you should have no problem photographing insects, small critters, and more.
Note that the Nikon AF-S DX 40mm f/2.8G is a true macro lens and therefore features 1x magnification when focused up close.
3. Nikon AF-S Micro NIKKOR 60mm f/2.8G ED
Also Great
A nice short macro lens
The 60mm f/2.8G is competitively priced, and the lens's internal-focusing mechanism makes it easier to get close to insects and small critters.
Pros
Fast focusing
Impressively sharp
Good bokeh
Cons
No image stabilization
The Nikon AF-S Micro NIKKOR 60mm f/2.8G ED is another popular macro lens offered by Nikon, and the slight telephoto focal length ensures that you can focus close from a comfortable working distance.
The lens is designed for full-frame Nikon cameras. However, the lens is compatible with all of Nikon's DX-format cameras, as well! The construction of the lens includes a total of 12 elements arranged in 9 groups, including two aspherical elements as well as one extra-low dispersion element (which suppresses aberrations for sharper colors and better contrast).
The lens comes with nine rounded blades to ensure beautiful bokeh quality. You can produce nice background (and foreground) blur for artistic – and even soft-focus – images.
Autofocusing is handled by Nikon's Silent Wave Motor technology, which guarantees quiet autofocusing and excellent handling. The lens also includes a full-time manual-focusing override. This comes in handy when you need to focus on very small subjects at ultra-close distances.
An internal focusing mechanism ensures that the lens's barrel length does not change when the lens focuses, so you can get close without scaring small critters and insects. The thing that is missing from the lens? Image stabilization. You will have to shoot at relatively fast shutter speeds to ensure that your handheld shots are free of blur.
4. Nikon NIKKOR Z MC 50mm f/2.8
Best for Nikon mirrorless users
The Z MC 50mm f/2.8 is optically outstanding, and it's the perfect purchase for Nikon mirrorless users looking to delve into the macro world.
Pros
Good bang for your buck
Small in size and easy to carry
Ultra-sharp
Cons
Focuses more slowly
You rarely see macro lenses in the 50mm range, yet the Nikon NIKKOR Z MC 50mm f/2.8 is actually quite effective.
You see, 50mm is a standard focal length that is closest to the human eye. The reason this focal length is so beloved has to do with the lack of distortion – because when a lens matches what we see, it's much easier to compose photos. The standard focal length makes it simpler to capture macro images, and it's also great for street, portrait, and event photography.
Therefore, a big benefit of this lens is that it can double as an everyday unit you can take everywhere! It's also one of the smallest macro offerings, and the compact design makes a massive difference when you're out shooting all day.
As is customary for a lot of native Nikon lenses, the Z MC 50mm f/2.8 is very sharp, is coated to protect against dust and splashes, and has several nifty features on the lens barrel (you can limit the focus and toggle it back and forth). Given the sub-$1K price, this lens offers great value for money!
5. Tokina atx-i 100mm f/2.8 FF MACRO
The best third-party macro lens for Nikon
Reasonably priced and capable of producing great images, this lens is a great third-party option.
Pros
Excellent image quality
Precise manual focusing
Compact size
Cons
Won't autofocus on some Nikon cameras
Next up on our list is the Tokina atx-i 100mm f/2.8 FF MACRO, a great third-party macro lens for Nikon. This lens is made for Nikon F-mount cameras, but autofocusing won't be available on some of Nikon's entry-level DSLRs, so buy with caution. (You also can't focus on Nikon mirrorless cameras when using the FTZ adapter.)
This Tokina lens is relatively small, so finding space for it in your gear bag won't be hard. However, the inner barrel extends when you focus close, so when you're working at high magnifications, the lens basically doubles in size.
Manual focusing on the Tokina 100mm macro is very good, and the focus ring offers extremely precise adjustments. The image quality is fabulous, so you'll come away with tack-sharp photos of all your favorite macro subjects.
The Tokina 100mm macro is a great little lens that won't break the bank. And if you like shooting with manual focus, then the lack of AF on certain Nikon models shouldn't be a deal-breaker, either.
6. SIGMA 18-300mm f/3.5-6.3 DC MACRO OS HSM | Contemporary
A do-it-all lens for APS-C users
The SIGMA 18-300mm offers good macro performance in a versatile package and is great for beginners.
Pros
Decent optical performance for a zoom lens
Good value for money
Image stabilization
Good build quality
Cons
Only works on Nikon APS-C cameras
Doesn't offer true macro magnifications
The addition of a zoom lens like the SIGMA 18-300mm f/3.5-6.3 DC MACRO OS HSM | Contemporary to this list may seem like a strange choice, but there are several good reasons to include it.
A multipurpose macro zoom is an ideal choice for beginners and those on a budget who can't afford to buy several lenses for different purposes. The 18-300mm focal range allows you to shoot beautiful wide-angle landscapes and even capture wildlife close-ups, and you can also use the lens to photograph people, events, and travel scenes.
The macro capabilities of this lens won't suit professionals or advanced macro photographers but are great for beginners testing the waters. Images are one-third of life-size (1:3) at the closest focal length, so you won't get true macro shots – but you can certainly capture plenty of detailed flower and insect images.
This lens comes with the advantage of image stabilization, which makes up somewhat for the rather slow f/3.5-6.3 maximum aperture. Build quality is good, and despite the massive zoom range, the SIGMA 18-300mm is fairly compact. It also features a zoom lock, so gravity won't start extending the lens barrel as you move around.
While the SIGMA 18-300mm isn't a pro-level option, it gives good macro images and a huge focal-length range at a decent price point. This makes it worth buying for those new to photography; that way, you can try out macro, wide-angle, and telephoto approaches to see what you like best. Just bear in mind that the lens will only work on Nikon's APS-C cameras!
7. SIGMA 105mm f/2.8 EX DG OS HSM MACRO
One of the best third-party macro lenses
This SIGMA lens is a solidly built, versatile 1:1 macro model that doubles as an excellent short telephoto.
Pros
Optical stabilization
Good bokeh
Super sharp
Cons
AF can be slow to focus in low-light conditions
Another great third-party macro lens for Nikon is the SIGMA 105mm f/2.8 EX DG OS HSM MACRO. It's also a great short telephoto lens for portraits and other types of photography, too.
The SIGMA 105mm f/2.8 is capable of shooting true macro photos, and the image quality is excellent. The f/2.8 maximum aperture is relatively fast, and it's certainly good enough for some creamy background blur.
Autofocusing is powered by SIGMA's HSM (Hyper Sonic Motor) technology. While focusing is fast and accurate in good light, the AF does struggle a bit in low-light conditions. On the other hand, the lens features SIGMA's image-stabilization technology, which lets you handhold in low light or when longer shutter speeds become necessary.
This is a well-built lens with numerous metal elements. However, SIGMA's lenses tend to be heavier than their counterparts, and this particular lens lives up to that expectation, weighing 25.6 oz (726 g), so it's not ideal for walkaround photography.
8. Irix 150mm f/2.8 Macro 1:1
A premium manual-focus lens for Nikon F-mount
Irix isn't the most popular manufacturer on the market, but this lens is competitively priced, it's weather sealed, and it offers great optics.
Pros
Weather sealed
Excellent image quality
Smooth bokeh
Cons
Manual-focus only
The Irix 150mm f/2.8 Macro 1:1 is an impressive – and well-priced – macro lens. It's capable of producing 1:1 magnifications and has a minimum focusing distance of 1.1 in (2.7 cm). It features a robust design, and it comes with a focus-locking mechanism.
Image quality is excellent with virtually no chromatic aberration or flare. The Irix 150mm is manual-focus only, but that probably isn't going to be a big issue for most macro photographers. The focusing ring is built to allow for a high degree of accuracy, which is important when using the lens at high magnifications.
Thanks to the long focal length, you can capture detailed photos of insects, and you don't need to worry about them flying off as soon as you start to focus. Additionally, due to the Irix 150mm's weather sealing, you can shoot in (reasonably) bad weather without concern – so if you're the type of macro photographer who enjoys heading out when the rain starts to fall, it's a great choice.
9. Laowa 100mm f/2.8 2x Ultra Macro APO
Great for extreme magnifications
If you're looking to dive into super macro photography, then this lens's 2x magnification mode will blow you away.
Pros
2X maximum magnification factor
Focus ring enables precise adjustments
Very good image quality
Cons
Manual-focus only
Our list of the best macro lenses for Nikon shooters wouldn't be complete without the Laowa 100mm f/2.8 2x Ultra Macro APO, which surpasses regular macro lenses to deliver an amazing 2:1 magnification ratio.
That much magnification enables you to capture the tiniest of subjects, and overall sharpness is excellent even when shooting at the widest aperture. Although sharpness drops off around f/22, the lens is capable of rendering fine details even when stopped down.
This Laowa 100mm f/2.8 model is made for Nikon's mirrorless cameras, but there is a version available for Nikon F-mount cameras, too. Note that the Z-mount version of this lens has no electronics at all; you must use the aperture ring to set the aperture, and you can only focus manually. Fortunately, the focus ring is built for tiny, precise adjustments.
Focusing at 2x magnifications is always going to be a challenge, of course. If you have a macro focusing rail to use with the Laowa 100mm, it'll make your job much easier.
Bottom line: If you want to get started with super macro photography, this lens is the perfect pick!
10. Nikon AF-S DX Micro NIKKOR 85mm f/3.5G ED VR
A great option for APS-C cameras
The Nikon 85mm f/3.5G is very sharp, though it only works on Nikon APS-C cameras.
Pros
Nice focal length
Small and compact
Built-in image stabilization
Cons
Some barrel distortion
The Nikon AF-S DX Micro NIKKOR 85mm f/3.5G ED VR isn't designed to work on full-frame cameras, but Nikon users with APS-C models will certainly enjoy its many excellent features.
The Nikon 85mm f/3.5G has built-in image stabilization, which helps tremendously with indoor macro photography; you can drop the shutter speed and know that the stabilization technology will keep the shot free of motion blur.
This lens is one of the more compact offerings from Nikon and features a pretty solid focal length for macro photography. Although there is a bit of distortion present in certain cases, it performs well optically. And the distortion is a reasonable sacrifice given how affordable the lens is compared to Nikon's other macro offerings!
Overall, the lens is very sharp and produces beautifully detailed shots. Plus, at f/3.5, you can achieve a shallow depth of field effect with beautiful background blur, which is perfect for more artistic photos.
Capture Gorgeous Close-Ups with Your Macro Lens
You should now be familiar with the best macro lenses for Nikon cameras, but which model should you pick?
We love the Nikon AF-S VR Micro-Nikkor 105mm f/2.8G IF-ED, which combines great optics, a solid build, and a perfect focal length into a single package. But if you need a budget macro lens, you can't go wrong with the Nikon AF-S DX Micro NIKKOR 40mm f/2.8G; it offers beautiful image quality for a rock-bottom price!
Best Macro Lens for Nikon FAQ
What is the best overall Nikon macro lens?
The Nikon AF-S VR Micro-Nikkor 105mm f/2.8G IF-ED is our favorite overall option thanks to its image quality, build, handling, and price point.
What is the best focal length for macro lenses?
Anything longer than 60mm is great for macro photography. It'll give you enough space to work when capturing that true macro perspective.
What is a true macro perspective?
A true macro perspective refers to the life-size (1:1) reproduction of the subject on the image sensor.
What is the best third-party macro lens for Nikon cameras?
The Tokina atx-i 100mm f/2.8 FF MACRO is one of the best third-party macro lenses on the market. It's almost as good as the Nikon AF-S VR Micro-Nikkor 105mm f/2.8G IF-ED, which is our top macro pick!
---
Disclosure/Disclaimer: As an Amazon Associate, we earn from qualifying purchases. Certain content was provided "as is" from Amazon and is subject to change or removal at any time.