Nikon is one of the leading manufacturers of DSLR cameras and lenses. This behemoth of a company is on par with Canon. They deliver exceptional quality and a range of cameras that hobbyists and professionals can use to great effect.
If you are interested in landscape photography, we have sourced the best Nikon landscape lenses on the market.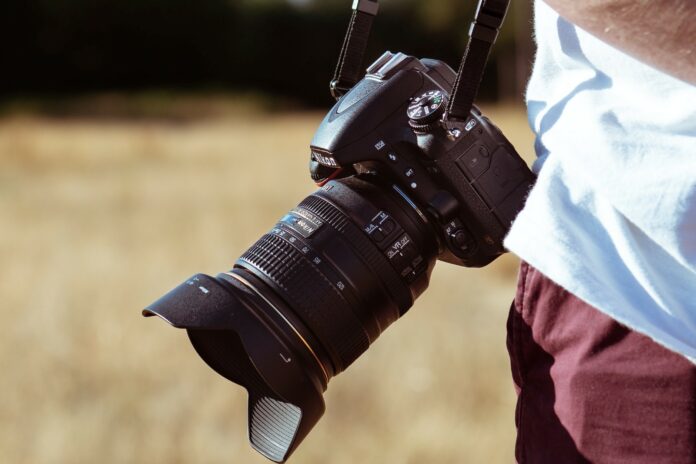 Overview: Best Nikon Lenses for Landscape Photography
Best Nikon Landscapes Lenses for Nikon Full-Frame (FX) Cameras
Full-frame lenses are generally much more expensive than DX lenses but they do offer superior quality (in most cases) and are much more versatile in terms of mount compatibility.
1. Nikon 20mm f/1.8 Prime
We certainly can't complain about the quality of the Nikon AF-S FX NIKKOR 20mm f/1.8G. The sharpness of photos even in low light is magnificent. If you want a high-quality ultra-wide-angle lens then the 20mm Prime is definitely a top contender.
The 20mm fixed range allows you to create some interesting shots that allow you to pack so much detail into your photos.
Based on our experience, the 20mm prime creates some of the sharpest compositions. This is sure to make some stunning landscape images.
As with any landscape lens, durability is a must. This lens is robust, and you should never really experience any problems with parts failure.
2. Nikon 16-35mm f/4 Zoom
The Nikon AF-S FX NIKKOR 16-35mm f/4G ED VR is actually one of the first of its kind to offer vibration reduction technology with ultra-wide-angle technology. When using the lens you can barely hear any noise or disturbance at all – it really is a joy to use.
The lens has been sealed and can withstand tough weather conditions. This makes it perfect for any outdoor adventures you may wish to embark on.
Finally, the autofocus of the lens is marvelous – the speeds are brilliant, and the focus is accurate too. If you are shooting particular subjects in your landscape shots, you should be able to track them easily and still get sharp photos.
3. Nikon 24-70mm f/2.8 Zoom ED
Despite being quite an old lens, the Nikon AF-S FX NIKKOR 24-70mm f/2.8 ED remains hugely popular among Nikon photographers. For many, this lens is their main workhorse. It can fill a variety of different roles and is superb for landscape photography.
We found the range of 24-70mm fantastic. At 24mm, you can take brilliant sweeping wide-angle landscape shots. But at 70mm you can hone in on landscape details further. Generally, the optics and build of the lens are fantastic – it is well made and built to last. Not only that, the contrast and quality of the photos this lens produces are amazing.
Related Post: My Antarctica Trip (See Sample Images & Tips)
4. Nikon 24-120mm f/4 Zoom
If you want more versatility in your photography, the Nikon AF-S FX NIKKOR 24-120mm f/4 G ED VR is a top choice.
This lens really performs well, especially with landscape photos. Because of its zoom range, you can capture various different landscape styles. The autofocus and accuracy are excellent, and the manual focus ring is also easy to use. The lens does have a little distortion, but this can be fixed afterward using post-processing software.
Also bear in mind that this lens will not be as sharp as prime lenses at the same focal distance. However, if versatility is more important, and you don't want to continually use multiple lenses, the 24-120mm is a good choice.
Related Post: Using Long Lenses for Landscape Photos
5. Nikon AF-S FX 24mm f/1.8 G Prime
Nikon has an amazing range of prime lenses that are suitable for landscape photography. One such device is the fantastic Nikon AF-S FX NIKKOR 24mm f/1.8G ED. This prime lens offers the best of both worlds – it has fantastic image quality at a 24mm focal length but is also lightweight and compact. In addition to this, the aperture of f/1.8 offers great versatility for depth of field.
Regarding build quality, the AF-S FX 24mm offers a combination of high-quality lens elements, combined with lightweight materials. The lens elements are coated in nanocrystals to provide greater image quality. The lens also has Nikon's Silent Wave Motor technology which ensures quiet and quick focusing. If you want a prime lens for every landscape shot, the 24mm is a top choice.
6. Nikon 70-200mm f/2.8G VR II
The Nikon 70-200mm f/2.8G ED VR II AF-S is one of the most versatile landscape lenses available. The focal range of 70-200mm provides ultimate variance for landscape photographers. You can focus on individual details at 200mm, or retract to 70mm and shoot wide sweeping landscape shots.
In addition to this, the quality of the images produced is exceptional – photos are sharp, have great contrast, and feature brilliant clarity.
The design of this lens is superb – it is lightweight, durable, and reliable. This is thanks to the magnesium alloy lens barrel and the selection of premium elements used inside. This is the perfect lens for people who want ultimate variability in the focal lengths they shoot at when capturing landscapes.
Best Nikon Landscapes Lenses for Nikon DX Cameras
If you have a crop-frame camera, you can use full-frame lenses, as well as dedicated DX lenses. In this section, we look at six of the best DX-specific lenses.
1. Nikon AF-S DX Nikkor 10-24mm f/3.5-4.5
The Nikon AF-S DX NIKKOR 10-24mm f/3.5-4.5 G is a specialist lens primarily useful for landscape shots.
For many, the 10-24mm is the perfect secondary lens to purchase after your standard kit lens. Most people either purchase a wide-angle lens or a macro/portrait lens – we advise the landscape every time! You'll typically find superior sharpness and quality in these lenses over their longer focal length range counterparts.
The lens has a great lens construction including ED elements that should help reduce distortions. You can guarantee that your wide-angle landscape shots will look fantastic. It is also not too heavy or bulky and should be easy to carry as a travel lens.
2. Nikon AF-S DX Nikkor 18-140mm f/3.5-5.6
If you are looking for a general-purpose range that can offer the opportunity to shoot landscape photos as well as other photos – the Nikon AF-S DX NIKKOR 18-140mm f/3.5-5.6 G is a great lens.
Related Post: Best Mid-Range Zoom Lenses for Your DX DSLR
You can benefit from the superb wide-angle 18mm framing – this creates some amazing panoramic shots. Alternatively, if you want something with a tighter crop or a different perspective, simply use the zoom up to a maximum of 140mm.
For the price tag, this lens offers great value for money. It offers excellent sharpness and high-quality color reproduction. Plus, the actual build quality is spot on – the materials used are robust and much more durable than some of the plastic-based lenses.
3. Nikon AF-S DX Nikkor 16-80mm f/2.8-4
Some people may not realize that the Nikon AF-S DX NIKKOR 16-80mm f/2.8-4 ED VR can actually be used as a landscape lens since it has a relatively small aperture range from f/2.8 to 4.
A typical landscape aperture, for example, may be f/9.0 or higher, which might leave you wondering why this lens would even work. The truth is, this lens is perfectly capable of taking amazing landscape shots.
Yes, the photos may not be as sharp at the outer edges, but the quality is certainly there. As with the other Nikon DX lenses, the 16-80mm is extremely well built and features the usual SWM technology and vibration reduction.
4. Nikon AF-S DX Nikkor 8-15mm Fisheye
The Nikon AF-S FISHEYE NIKKOR 8-15mm f/3.5-4.5 E could be classed as a specialist lens – it certainly isn't something you would use in every situation. Why? The AF-S 8-15mm offers two different wide-angle photo settings – 8mm circular, or 15mm fisheye.
The 8mm circular provides 180-degree viewing angles and allows you to create beautiful circular landscape photos. Alternatively, at 15mm, you can create epic fisheye landscape shots that almost look like panoramas.
The image quality is superb – even at the edge of photos, the clarity is sharp. Furthermore, the AF-S 8-15mm has a brilliant autofocus system that is virtually silent. With the addition of a lens hood as standard, this product is a great choice for specialist landscape photography to bring variety and creativity to your work.
5. Nikon AF-S DX Nikkor 14-24mm f/2.8G ED
The Nikon AF-S NIKKOR 14-24mm f/2.8G ED is one of the best quality AF-S landscape lenses available. If you want ultra-sharp landscape photos, even at wide angles and large apertures, this lens is a must-have.
The photo quality is outstanding. In terms of build quality, the 14-24mm looks and feels robust – it is heavy, but this is expected from such a lens.
Finally, this device excels in low-light landscape photography and has a brilliant autofocus system. The 14-24mm lens utilizes Nikon's SWM technology which makes focusing on a subject a fast, silent process. This is a popular choice for professionals and outdoor photographers. It is expensive, but if you plan to sell your work, or undertake photography as a career, the cost is certainly warranted.
6. Nikon AF-P Nikkor 10-20mm f/4.5-5.6G
With a focal length of 10-20mm, the Nikon AF-P DX NIKKOR 10-20mm f/4.5-5.6 G VR offers great scope for wide-angle landscape photography. Using this lens, you can capture immense detail and almost create panoramic shots.
This 10-20mm lens is extremely lightweight. It is not a heavy-duty prime lens, rather it is a compact and convenient travel lens. If you create landscape photography on your travels, this could be the perfect companion.
Despite the lightweight design of this lens, the quality remains exceptional. Images are sharp, with vibrant colors. Lens distortion and ghosting are minimal, even at the 10mm focal length. In addition to this, the lens can also cope with low-light situations which are helped by the included vibration reduction technology.
Best Nikon Landscape Lenses for Z Cameras
The Nikon Z range of cameras is becoming incredibly popular and follows the trend of manufacturers creating high-spec mirrorless cameras as opposed to traditional full-frame DSLRs. The following are some of the best landscape lenses for Z cameras:
1. Nikon NIKKOR Z 20mm f/1.8 S
The NIKON NIKKOR Z 20mm f/1.8 S is possibly the best Z lens purely for landscape and wide-angle shots. As an S-series lens, it boasts superior quality and features, and the images you can capture will look fantastic. You can expect no softening, and ultimate sharpness corner-to-corner.

It also features a weather-sealed exterior casing which makes it robust, regardless of the weather conditions. The lens glass also features nano-coatings which will help reduce distortions like ghosting and flare. Your landscape shots will look perfect!
The rounded 9-blade aperture and maximum aperture of f/1.8 also means this lens has great performance for low-light landscape shots. For example, if you want to use it for sweeping nigh time shots of a cityscape. Admittedly, it is a little expensive, but if you want to take professional-grade landscape shots with your Z camera, this is the best option available.
2. Nikon NIKKOR Z 35mm f/1.8 S
Another excellent S-series Z lens is the NIKON NIKKOR Z 35mm f/1.8 S. This compact lens looks fantastic and is incredibly durable due to its weather-sealed exterior. You can comfortably use this landscape lens outdoors, even if the weather is unfavorable.
For landscape photography, you can benefit from the 35mm focal distance and complex lens construction. It contains aspherical and ED elements that will ensure maximum contrast in your landscape shots, and great colors. You can also expect corner-to-corner sharpness and no softening even at the edges of your shots.
At 13.1 oz/370 g, this lens is also quite lightweight and should be comfortable to carry on those long outdoor adventures. We also like the programmable control ring. You could set this for exposure compensation, or aperture, for example, to react quickly to changing light conditions.
3. Nikon NIKKOR Z 24-50mm f/4-6.3
Admittedly, many of the Nikon Z lenses are expensive. This is why the NIKON NIKKOR Z 24-50mm f/4-6.3 makes a great budget option. It is much cheaper than most other Z lenses but still offers great quality and usability. With a versatile focal distance of 24-50mm, it is also suitable for landscape photography.
Although this is a zoom lens, it is still compact and weighs only 6.9 oz/195 g. As a result, it could be the perfect travel lens for hiking trips, for example. At 24mm, you can expect beautiful and sharp wide-angle shots with great clarity. It also maintains its sharpness throughout the zoom levels, although you may experience a little softening at the edges.

Whilst not as professional as the S-series Z lenses, the Z 24-50mm is still an excellent choice, especially as a budget travel lens.
The Magic of Owning a Nikon Landscape Lens
We hope you have found this guide to the best Nikon landscape lenses useful. Landscape photograph really is magical. Imagine heading out to Yosemite National Park. You take out your camera and use your Nikon AF-S FX NIKKOR 16-35mm f/4G ED VR, the sun is setting and you capture the perfect golden mountainous shot in glorious wide-angle.
The possibilities are endless with a high-quality landscape lens from Nikon – what are you waiting for? Why not add one of these specialist lenses to your photography arsenal today?
Nikon Landscape Lens FAQs
---
As an Amazon Associate we earn from qualifying purchases. Certain content that appears on PhotoWorkout.com comes from Amazon. This content is provided 'as is' and is subject to change or removal at any time.