Best Nikon Lenses for Videography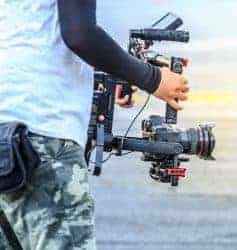 There are some basic parameters which govern the requirements of a lens for video work. A lens that works great for still shooting may not be as great a performer when it comes to shooting videos. The reverse, however, is mostly true. A cine lens ideally also produce good still images.
But beyond just the optical aspects (quality of imagery), a lens meant for video work must have the specific features that govern the parameters of a fine cine lens.
It is understood that traditional DSLR lenses are not the same thing as cine lenses. Cine lenses have features that are tailor-made for the purpose of shooting high-quality video work. They will have longer, smoother and more precise focus throws which allow for precise focusing. Standard DSLR lenses, the ones which are designed for shooting stills will have jittery focusing performance, and shorter focus throws which make life difficult to precisely focus by hand.
Related Post: Best DSLRs for Video Shooting (7 Amazing Picks for 2018)
Additionally, a majority of the DSLR lenses tend to suffer from the problem of focus breathing. Focus breathing is when the lens' tiny elements move back and forth when focusing. This changes the focal length (and the field of view) which is apparent when shooting videos.
Another thing proper cine lenses have is a higher number of aperture blades. The higher number of blades ensure that the quality of the bokeh is very smooth. The most you would get with traditional lenses is 9.
Traditional still lenses are nowhere near the same quality as cine lenses. It is like comparing apples to oranges. They are two entirely different things. We shall try to figure out some lenses which could work to produce good video work.
Albeit within the limitations that come from being DSLR lenses. I will restrict myself to Nikon lenses in this review. At a later date, I will try to bring forth a similar discussion for Canon as well as for third-party lenses.
The Best Lenses by Nikon (for Videography)