How do you select the best 50mm lens for Nikon cameras? For one thing, a good prime lens has to be sharp. However, sharpness is not the only yardstick to judge a lens by!
Overall image quality, ease of handling, build quality, and price are some of the other key factors to consider when choosing the best 50mm lens.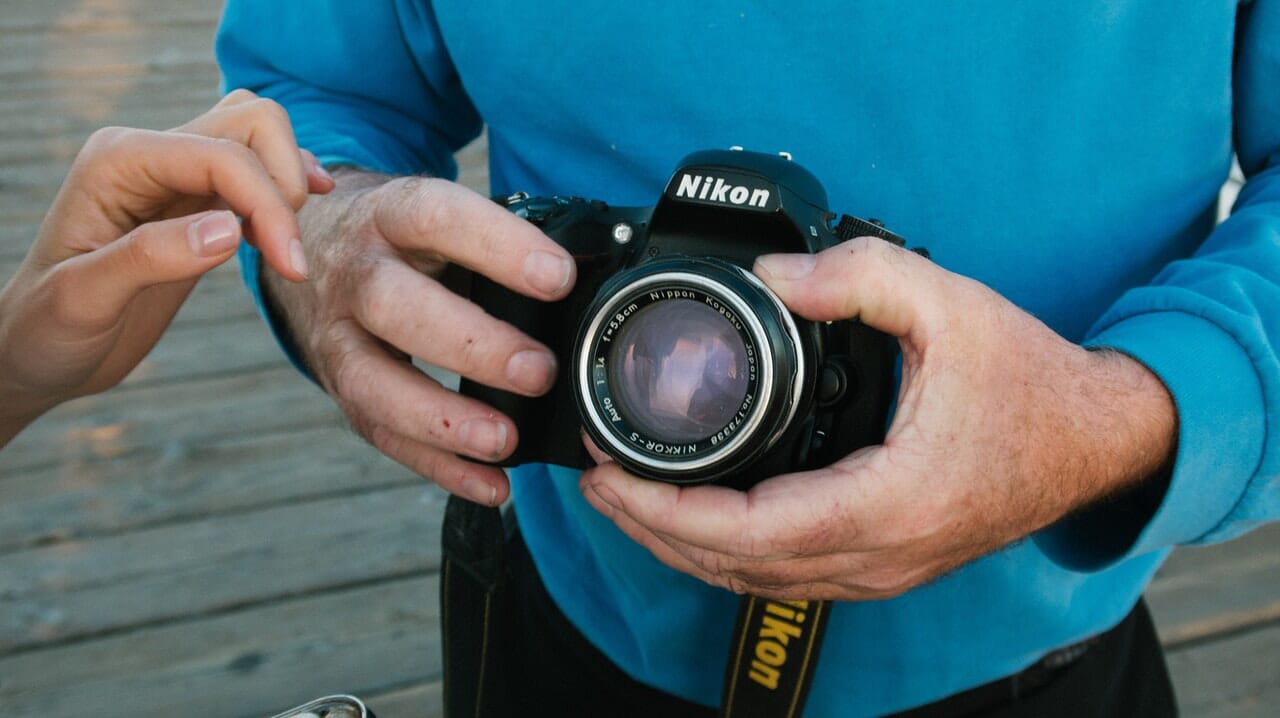 In this article, we look at Nikkor lenses as well as third-party 50mm primes, to save you the time spent chasing down the ideal Nikon 50mm lens.
If you are a Canon User, check out the Best 50mm Lenses for Canon.
Some of the Best 50mm Lenses for Nikon:
When you buy through links on our site, we may earn a commission at no cost to you. We evaluate products independently. Commissions do not affect our evaluations.
1. Nikon 50mm f/1.8G AF-S
OUR PICK
A great choice for Nikon full-frame DSLRs
This lens offers great image quality and handling at a reasonable price
Pros
Good build quality
Excellent optical performance
Sharp in center even at widest aperture
Silent wave focusing motor
Cons
Some barrel distortion
The Nikon 50mm f/1.8G AF-S is an update to Nikon's revered 50mm f/1.8G, and it has some big boots to fill, considering that the older D version is thought to be one of Nikon's sharpest lenses.
One welcome addition to the new design 50mm f/1.4G AF-S lens is Nikon's silent wave focusing motor. This means it will autofocus on entry-level Nikon bodies like the D3100 and D5100. It will also work with older Nikons like the D40 or D60 that lack a built-in focusing motor.
Although this lens is lightweight, it's very well built. The lens mount is metal, and it has a rubber gasket to help keep dust and moisture out of the camera. Nikon, however, makes no claims about weather-sealing in the rest of the lens.
The 50mm f/1.8G doesn't extend during focusing, which means it's great for using with graduated or polarizing filters because it doesn't rotate. Autofocus is fast, and you can make manual adjustments easily if you wish.
As far as image quality goes, this lens is very good. Even when shooting at f/1.8, the sharpness in the center of the frame is excellent. Peak sharpness can be found between f/5.6 and f/8, but sharpness at all other apertures is good too. Chromatic aberrations and flare are handled very well, but there is a touch more barrel distortion than there should be. However, the distortion is easily remedied in image editing software.
While it's not the cheapest 50mm lens out there, it's very reasonably priced considering the build and optical quality. This is an ideal 50mm lens for a beginner, as it can be paired happily with an entry-level or older Nikon DSLR body as well as newer ones. You will find this lens is super-versatile, and it works especially well as a portrait and food photography lens.
I think it certainly lives up to the reputation of its predecessor, and it's my top choice for the best 50mm lens for Nikon cameras.
2. Nikon AF-S 50mm f/1.4G Bundle
A good choice for professional photographers
This lens offers outstanding image quality and sharpness throughout, and is great for shooting in low light situations
Pros
Outstanding image quality
Great for low-light shooting
Great build quality
Good bokeh
Cons
Autofocus isn't as fast as some other 50mm lenses
If you want an extra stop of light, the Nikon AF-S NIKKOR 50mm f/1.4G may be your ideal choice over the f/1.8 discussed above.
Even at f/1.4, this lens is capable of producing images that are extremely sharp in the center. That sharpness is still very good towards the corners of the image as well. There are no real problems with chromatic aberration or flare, and the nine-bladed diaphragm ensures that the bokeh is smooth.
While the autofocus isn't as fast as it could be, once it gets there it's extremely accurate. This makes shooting at wide apertures a little easier. The lens is compatible with both FX and DX Nikons (although on DX sensors the lens has a focal equivalent of 75mm). The Silent Wave AF works even on the cheapest Nikon models like the D40, D40x, and D60.
Build quality is good, with a metal lens mount and a gasket at the mount to keep dust and moisture at bay. It's well-made but isn't a large or heavy lens, which is a bonus if you're carrying it around all day.
This lens really excels in low-light situations, and that's what you need if you are a natural light shooter, especially if you prefer to hand-hold the camera.
It's more expensive than our top pick but is still reasonably priced. The 50mm f/1.4G is an outstanding portrait lens if you can live with the slow focusing speed. It will easily earn its keep as part of a wedding or event photographer's kit bag. Food photographers and street photographers will also find this lens is a great choice.
3. Nikon Z 50mm f/1.8 S
A good pick for Nikon's Z-series mirrorless cameras
This lens is a good choice for those photographers looking for sharpness and excellent image quality, but who also want good value for money
Pros
Weather-sealed
Excellent image quality
Fast and reliable autofocus
Good bokeh
Cons
Manual focusing can be fiddly
The Nikon Z 50mm f/1.8 S is the most inexpensive Z-series lens so far, although it isn't as cheap as some other 50mm primes. However, what sets it apart from the competition is its performance.
The Nikkor Z 50mm is sturdily built, and weather-sealed against dust and moisture. This makes it a good choice for outdoor portraits, weddings, or street photography. While the lens doesn't have built-in vibration reduction, it works well with the Nikon Z-series IBIS to stabilize the lens. This allows you to get sharp images at much slower shutter speeds.
This lens is super-sharp, even at the widest aperture, and f/1.8 combined with the IBIS makes this a superb lens for shooting in low-light situations. The autofocus is fast and accurate, too, which makes this lens invaluable for use at weddings and events where you need to lock on focus quickly.
Manual focusing is less than ideal, though. The focus-by-wire motor means that manual focus becomes an electronic process, and small, precise adjustments can become difficult.
Fast movements of the focus ring, even without a lot of rotation, means that focus jumps from one end of the scale to the other. Nikon's Z lenses also don't save the focus position when the camera is turned off and the focus reverts back to infinity when it's turned on again.
There is very little barrel distortion with the Nikkor Z 50mm, and the special lens coatings control ghosting and flare very well. The nine-bladed diaphragm ensures a nice bokeh, although real bokeh aficionados may prefer the Sigma Art 50mm f/1.4 discussed below.
4. Sigma 50mm f/1.4 DG HSM Art Lens
A great option for Nikon DSLRs
This lens is known for excellent sharpness and image quality. While it's not cheap, it offers good value for money
Pros
Excellent image quality and sharpness
All metal barrel
Far cheaper than the Zeiss Milvus 50mm
Good value for money
Cons
Very heavy
Lens mount not weather-sealed
Sigma makes one of the best third-party lenses in the world. Its Art series lenses are renowned for their image quality, sharpness, and minimal distortion.
The Sigma 50mm f/1.4 DG HSM Art lens is rated as the sharpest by DxOMark among all 50mm lenses made for the Nikon F mount. It opens up to a wide f/1.4 maximum aperture and down to f/16.
The all-metal barrel and metal lens mount mean it can take a beating but this design also adds on the weight, meaning this is not a light lens. It weighs in at 28.7 oz/815 g, which can throw off the balance of a smaller camera body. The lack of weather-sealing at the lens mount is disappointing, especially given the price point of this lens. However, it's not a deal-breaker unless you spend a lot of time shooting in adverse weather conditions.
It has one molded glass aspherical element and three special low dispersion elements. The lens also has a super multi-layer coating, and the design of the lens represents a floating architecture.
This is an auto-focusing lens. Sigma used their ring-type Hyper Sonic Motor-powered auto-focusing system for this lens. You get full manual focusing override. The front element of the lens does not protrude when focusing.
The shooting performance offered by this lens is second to none. You get stunning, creamy bokeh, and optimal sharpness. It's no doubt this is a firm favorite if you can get past the bulky weight of the lens.
The Sigma Art 50mm f/1.4 offers great value for money and will be a good investment for years to come.
5. Zeiss Milvus 50mm f/1.4
Best for professionals
The Zeiss Milvus 50mm is probably one of the best 50mm lenses you can get, and ticks all the right boxes for serious photographers
Pros
Outstanding image quality
Great in low light
Well-built
Precise manual focusing
The Zeiss Milvus 50mm f/1.4 is a manual focusing lens designed for the Nikon F mount camera systems. It is a product of the new Distagon optical lens design that Zeiss adopted. This replaces the older Standard Planar design discontinued in 2015.
This lens offers fantastic optical quality and the robust design that Zeiss lenses are renowned for. The widest aperture of the lens is f/1.4, which makes it a great choice for low-light shooting, and it can stop all the way down to f/16.
The Zeiss Milvus 50mm f/1.4 has a floating lens construction which ensures that the lens has excellent performance no matter where you're focusing.
There are four anomalous partial dispersion elements, plus one aspherical element. These ensure suppression of chromatic aberrations and better sharpness and contrast even when shooting wide open.
The lens also has a Zeiss T* Anti-Reflective Coating. This ensures better contrast and color reproduction when shooting in bright conditions.
The Zeiss Milvus 50mm is probably the Rolls-Royce of 50mm lenses, and unfortunately, it comes with a price tag to match! Given the price, and that there's no AF, its likely appeal is for professional photographers instead of those just starting out. However, if you can afford the Zeiss Milvus 50mm, then it will give you a lifetime of outstanding image quality and sharpness.
The Best 50mm Lenses for Nikon Cameras: Conclusion
There we have it – the five best 50mm lenses for Nikon cameras currently out there. Our top pick is the mighty little Nikon 50mm f/1.8G AF-S for all-around great performance and price.
The lens you ultimately choose will come down to the type of photography you do, the price, and personal preference. Hopefully, you have found a 'nifty fifty' lens to suit you in our list!
---
Disclosure/Disclaimer: As an Amazon Associate, we earn from qualifying purchases. Certain content was provided "as is" from Amazon and is subject to change or removal at any time.