Are you looking for a spectacular fisheye lens for your iPhone?
Look no further.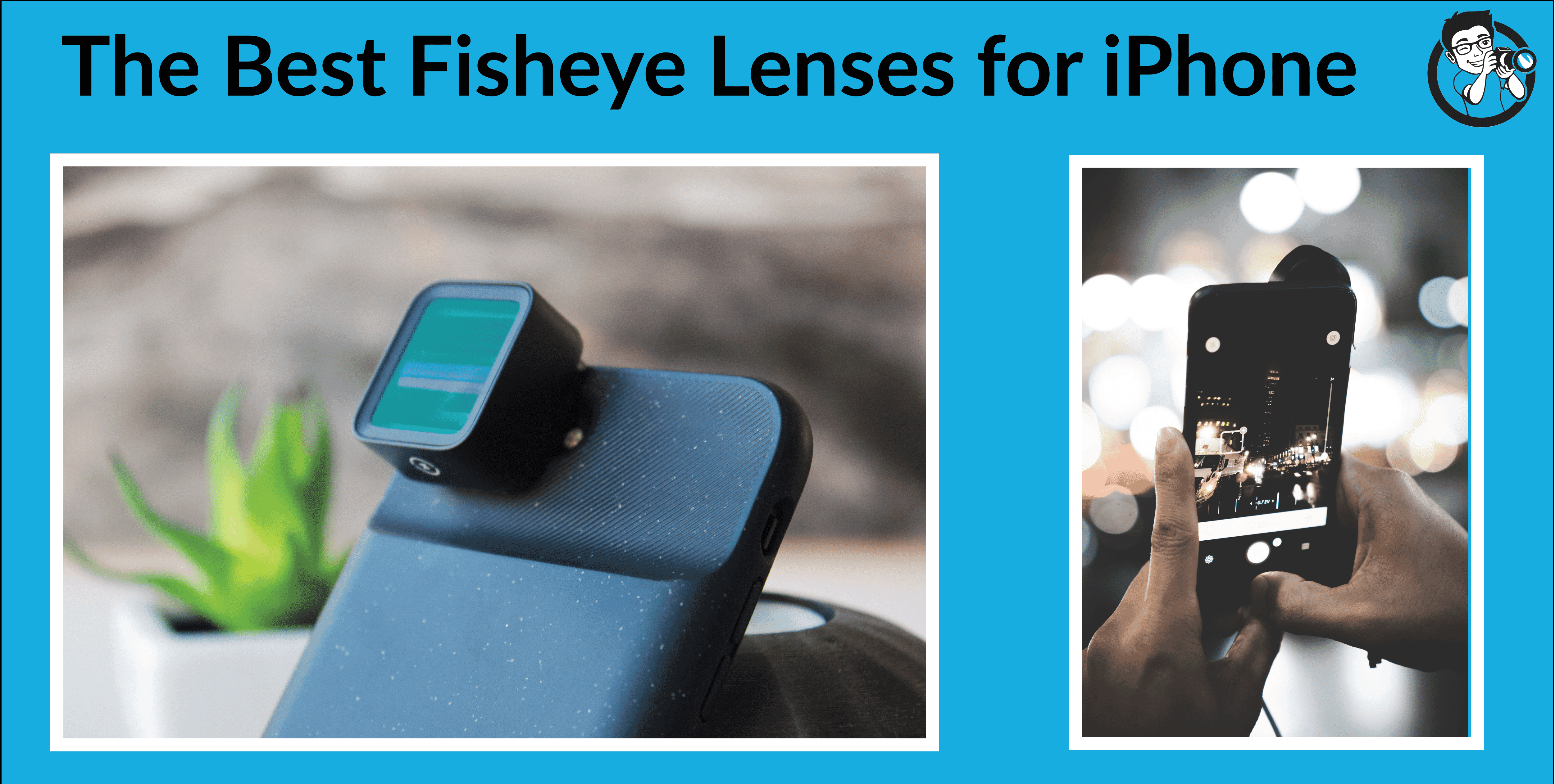 Because this article tells you everything you need to know about iPhone fisheye lenses. First, I explain how to choose the perfect fisheye lens for your needs.
Then I give you the top five best fisheye lenses that you can currently buy.
So if you're looking to purchase a fantastic fisheye lens for iPhone…
…then keep reading.
When you buy through links on our site, we may earn a commission at no cost to you. We evaluate products independently. Commissions do not affect our evaluations.
The Best Fisheye Lens for iPhone: Choosing the Perfect Lens
When it comes to actually picking an iPhone fisheye lens, you have to keep a few factors in mind, starting with:
Image Quality
No fisheye lens is worth your money if it can't perform well.
So you must make sure you choose a fisheye lens that will do a great job in the field.
Now, fisheye lenses generally aren't produced for stellar optical quality. Fisheye photography is more about artistry: Taking a standard scene and making it into something unusual and stunning.
That said, the best fisheye lenses should at least be sharp at the center of the frame. The corners are much more negotiable, and it's hard to find a fisheye lens for iPhone offering sharp corners.
The best fisheye lenses also have minimal optical errors. A lot of distortion is expected; after all, fisheye lenses are made to give you an interesting distortion effect. But chromatic aberration is an unwanted optical issue, one that is a pain to remove during post-processing. Therefore, I recommend you avoid chromatic aberration as much as possible.
(Chromatic aberration simply refers to color fringing, which tends to occur along high-contrast edges.)
So make sure you choose a fisheye lens that performs well optically, one that's sharp in the center with minimal fringing.
And you'll be well on your way to capturing some incredible photos.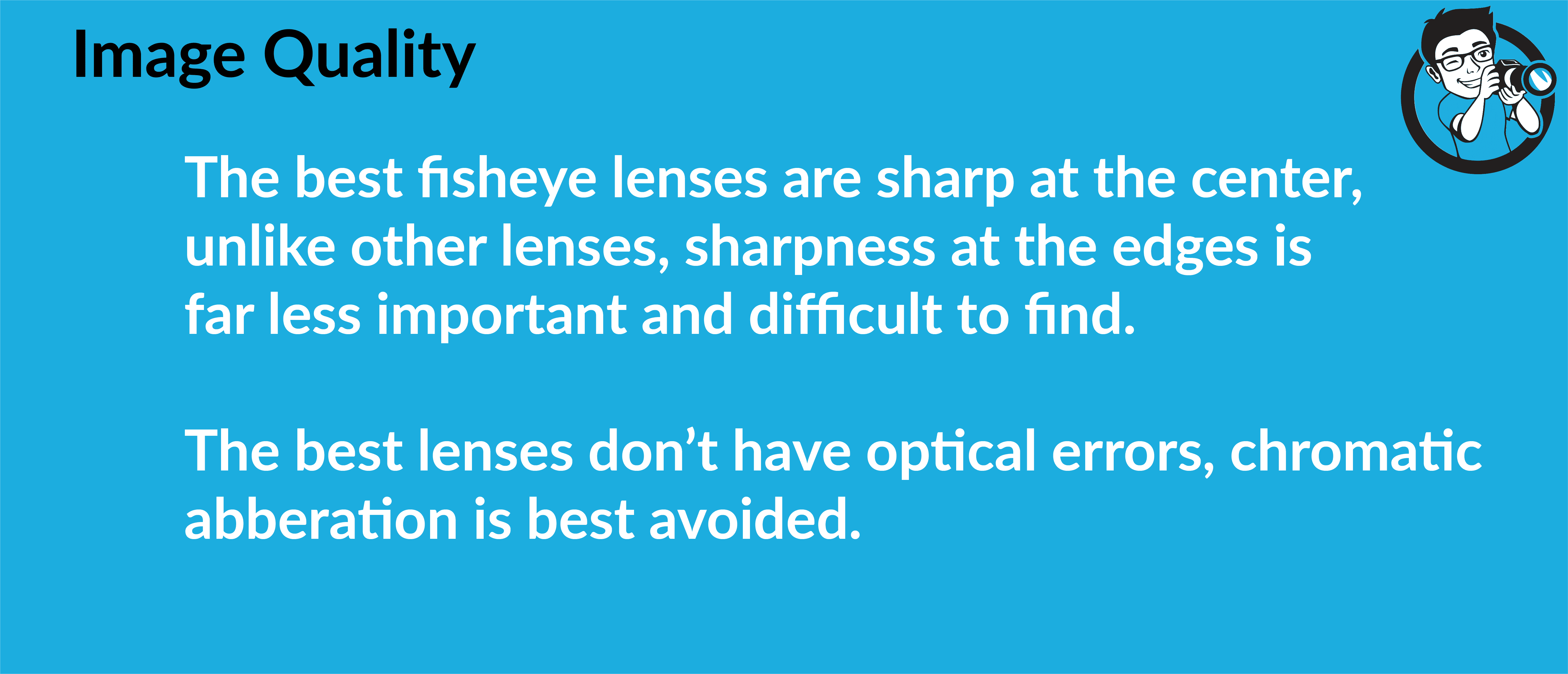 Related Post: The Ultimate Guide to Sharp Smartphone Photography
Build Quality
It's not enough to grab a fisheye lens with good image quality.
Because the build quality matters, too.
When you're looking for a fisheye lens, ask yourself:
Does this lens seem very cheap? Is it made out of aerospace-grade metal (which is the standard for high-quality smartphone optics)? Or is it made out of normal metal or plastic?
I wouldn't go for any option that avoids aerospace-grade metal. Plenty of companies offer spectacular build-quality for their products, and I don't recommend you pass up on such an opportunity.
Plus, the cheaper the build quality, the more likely the lens is to break down the line. And you don't want to keep replacing your iPhone fisheye lenses.
So stick to fisheye lenses that are decently well-built (at the very least). That way, you'll end up with kit that you can use for years to come.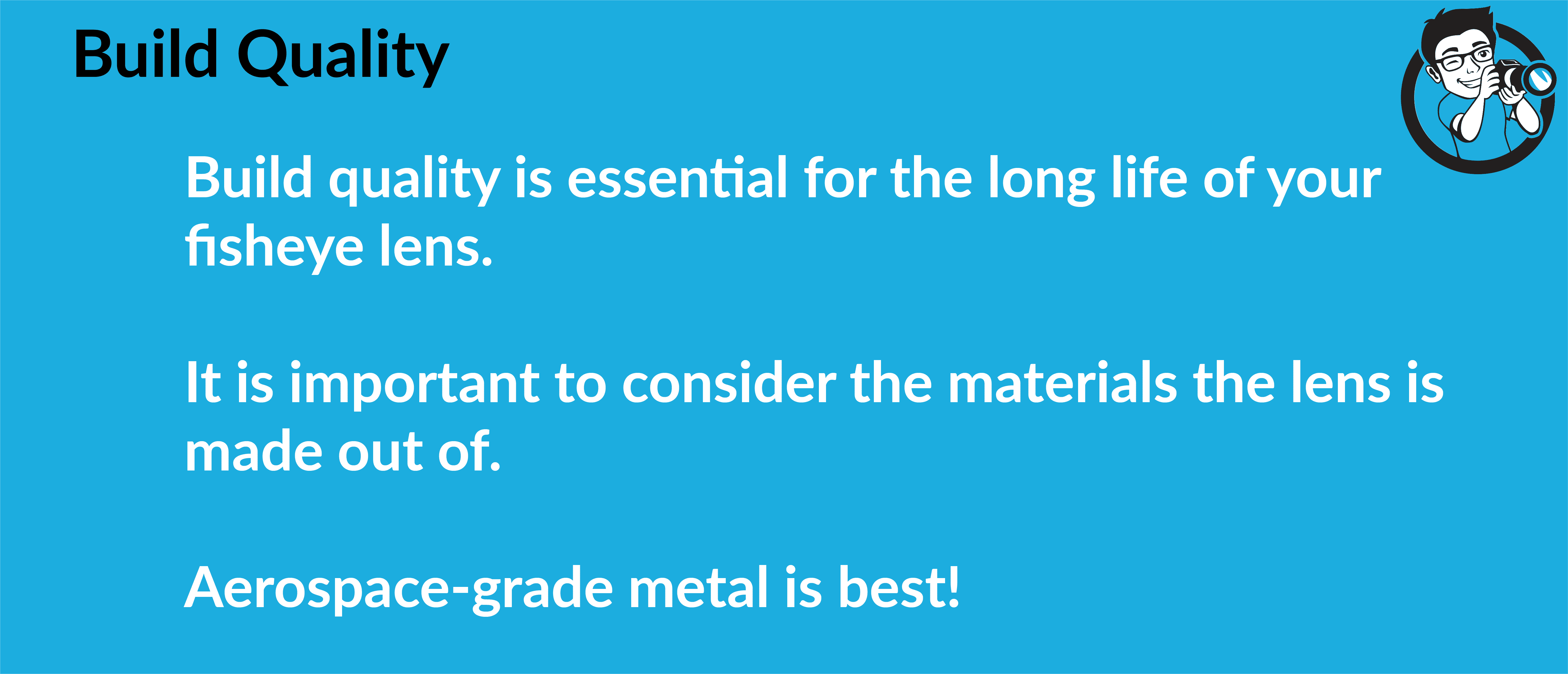 Field of View
When it comes to iPhone fisheye lenses, you're rarely given a focal length by the manufacturer.
Instead, you're quoted a field of view–which tells you how much of the scene the lens will record.
Now, most fisheye lenses range from 170 degrees to 235 degrees. This is extremely wide relative to basic wide-angle lenses, and will, therefore, capture a huge portion of the frame.
But the higher the degree count, the wider the photo. And the wider the photo, the vaster and sweeping the scene appears.
On the other hand, wider fisheye lenses distort more of the photo than narrower fisheye lenses. So if you choose to go with an ultra-wide fisheye, you should be prepared for a more powerful effect.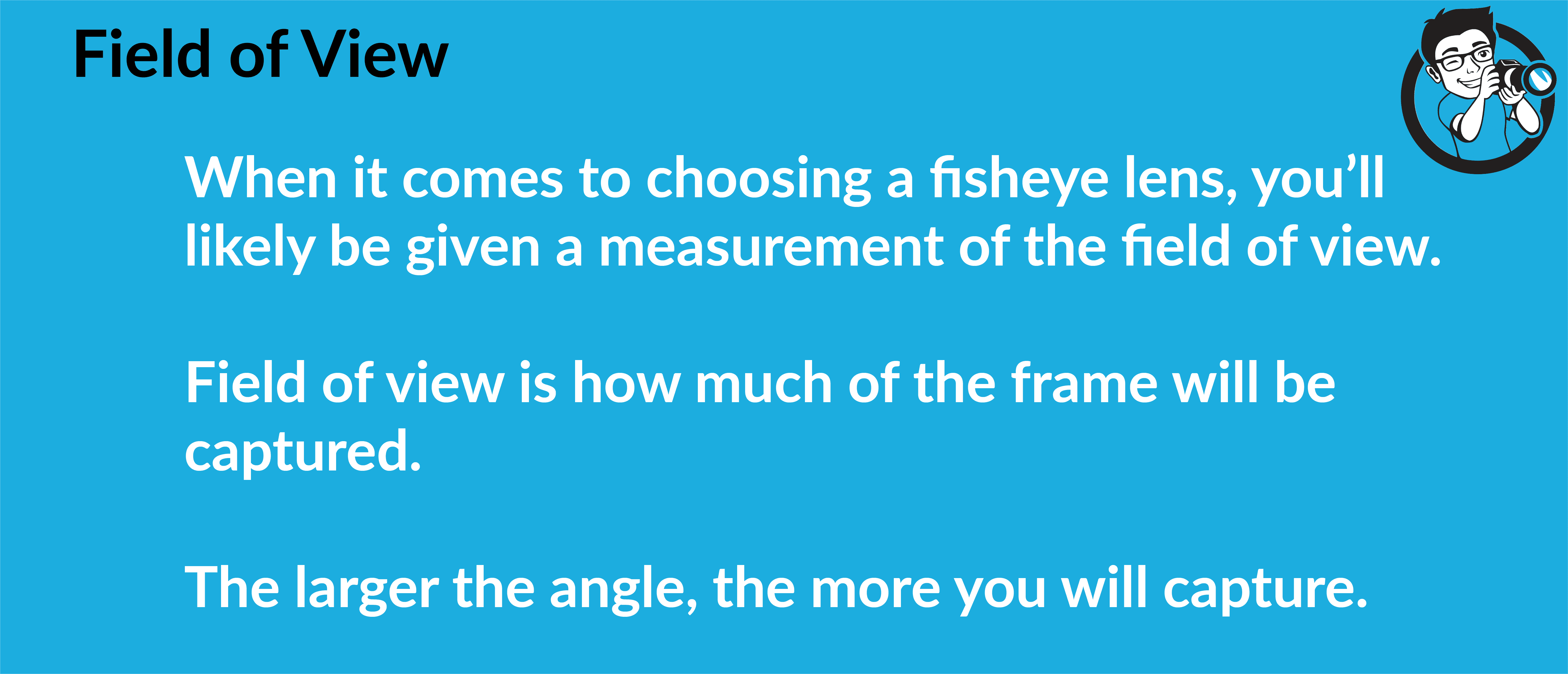 Related Post: Light and Exposure in Smartphone Photography
Ergonomics
Fisheye lenses for iPhones are small, so you generally don't have to worry much about weight.
However, you should be aware of the ways by which different fisheye lenses attach to your iPhone. Some lenses require a separate case; other lenses clip straight onto the phone body. The latter type is more convenient (and cheaper), but it can also result in more problems.
For one, it's much harder to align a clip-on lens. And if you mess up the alignment, even slightly, you can end up with unwanted artifacts in your photos.
Clip-on lenses are also easier to lose because you're often clipping them on and taking them straight off. So if you do get a clip-on lens, I recommend getting a small bag that you keep in a backpack or a purse.
And as soon as you're done taking fisheye photos, you should put your fisheye lens into the bag straight away.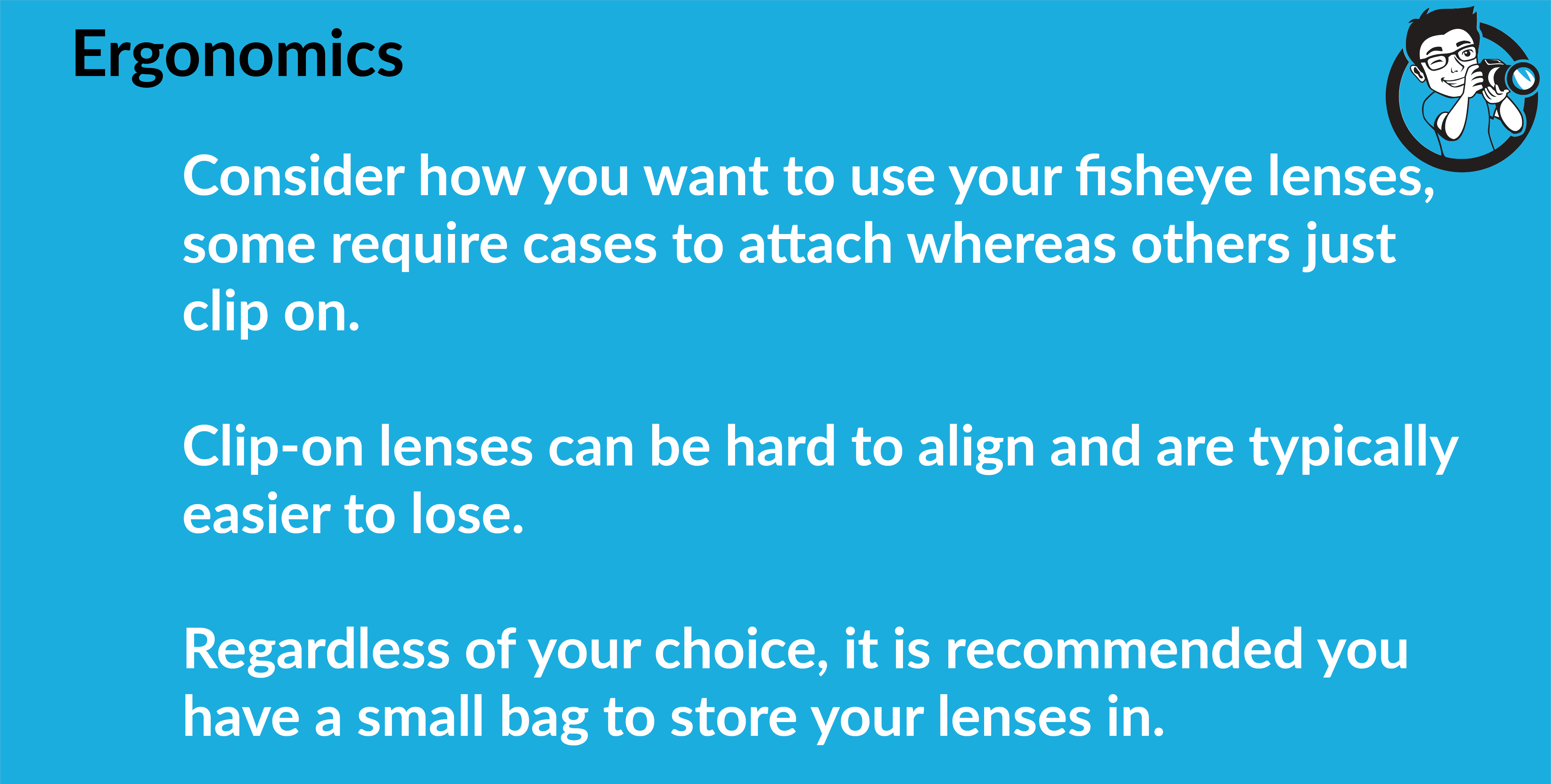 Related Post: How to Quickly Open Your Smartphone Camera
Smartphone Compatibility
When it comes to finding the perfect iPhone fisheye lens, it's important to be aware of the compatibility between your lens and various smartphones.
Some fisheye lenses only work on one or two iPhone models. This isn't a problem if you plan to use the same model for years to come. But it's frustrating to buy a new lens every time you upgrade your iPhone. And what if you switch away from Apple to, say, the Google Pixel series? What then?
Fortunately, many manufacturers produce fisheye lenses that clip on to pretty much any smartphone. That way, you can rest easy knowing that you won't have to purchase a new lens every time you get a new smartphone. You'll always be able to use your fisheye lens with your iPhone.
So if you'd prefer not to go lens shopping, I recommend getting a fisheye lens that's compatible with multiple iPhones (at the very least!).


Price
You can't choose a fisheye lens for your iPhone without considering the price.
Now, add-on lenses are rarely as expensive as DSLR lenses. But there is some variation between the highest quality fisheye lenses and the cheaper options.
The higher the price, the less likely the lens will have optical problems or build quality issues. That said, there are plenty of excellent cheap lenses, especially if you're willing to compromise slightly on image quality.
So you should make a careful choice that takes these factors into account.
Related Post: Smartphone Photography Composition
The Best Fisheye Lens for iPhone: Our 5 Top Picks
Now that I've discussed the key factors to consider when purchasing a fisheye lens…
…it's time to get down to the recommendations.
All of these fisheye lenses were chosen to meet a combination of pricing, image quality, and build quality needs.
And you'll find a good fisheye lens here, no matter your budget.
Sound good?
Let's dive right in.
If you're looking for a fantastic iPhone fisheye lens, look no further than the Moment Superfish, which offers a stellar combination of image quality, build quality, and price.
First, note that the Moment Superfish is a relatively long fisheye (as far as fisheye lenses go). At just 170 degrees (a 15mm focal length equivalent), your angle of view captures less than every other lens on this list, though this isn't necessarily bad. A smaller field of view ensures less distortion, plus it makes it easier to isolate your subject.
That said, you can still use the Moment Superfish lens for gorgeous wide-fisheye shots, the type that'll impress pretty much anybody. You'll be able to capture that signature fisheye look–which is bound to spice up your iPhone photography portfolio.
Now let's talk about optical quality:
While some iPhone fisheye lenses produce blurry corners or, even worse, a circular field of view, the Moment Superfish lens isn't like that. Moment promises "edge to edge clarity," and I'm happy to say that they deliver: center sharpness is great, and even the edges and corners look good.
Of course, every fisheye lens becomes more distorted around the edges, and the Superfish lens is no exception. So if you're looking for perfect optics, go for a wide-angle lens; if you're looking for amazing fisheye optics, go with the Moment Superfish.
In terms of handling and build quality:
The Moment Superfish lens isn't the lightest of the bunch, but it feels extremely solid. The lens barrel is made out of aerospace-grade metal, while the glass itself is cinema-quality. Moment knows how to manufacture high-quality smartphone lenses, and it shows in the Superfish.
While the Moment Superfish is undoubtedly the best fisheye lens for iPhone photographers, it does have a couple of drawbacks worth mentioning.
First, the Superfish lens doesn't come cheap. Compared to the other lenses on this list, the Superfish price tag may be difficult to swallow. But it's the difference between an amazing lens and a good lens; people who need amazing will appreciate the higher-quality glass of the Superfish.
Second, the Superfish lens, while compatible with most smartphones, requires a Moment smartphone case. This adds another cost to the already sizable Superfish price tag. Not to mention that the case works only on a phone-by-phone basis. In other words, every time you upgrade your iPhone, or if you switch to another brand, you'll need to get another Moment Superfish case.
All in all, the Moment Superfish is a fantastic fisheye lens–with a few drawbacks. Only you can decide whether it's the right option for your needs.
The FEGEGO camera lens kit for iPhone is hardly flashy, but it offers an ultra-wide fisheye for cheap, one that beginner photographers will appreciate.
At 230 degrees, the fisheye lens is one of the wider options on this list. With such a wide focal length, you can capture sweeping shots of the surrounding scene, be it landscapes, interiors, or even fun fisheye-style portraits.
Now, one of the common complaints regarding fisheye lenses is that the picture itself is curved, creating black edges around the shot. And for the FEGEGO fisheye, this is noticeable. You won't be able to take a fisheye photo without showing some black corners. But you can always crop the images to lose the black parts–or you can embrace the look, and create some artistic photos that use the circular style to your advantage.
Optically, the FEGEGO doesn't stun, but images are certainly serviceable. Photos are blurry around the edges, but relatively sharp in the center. And you'll have a lot of fun playing with the fisheye perspective!
As for build quality, the fisheye lens itself is very light, and it comes with a case for storage purposes. A bracket is used to mount the fisheye lens on your iPhone, and so you'll need to keep this handy. Fortunately, the bracket is quite solid.
The FEGEGO fisheye is compatible with most iPhones, including the iPhone X, XR, 8, 7 Plus, and 7. But you'll want to check with FEGEGO before purchasing if your iPhone isn't on this list, because you don't want to end up with an incompatible set of lenses.
Of course, I haven't yet talked about the most desirable aspect of the FEGEGO fisheye: The price! The FEGEGO costs about one-fifth of the Moment Superfish, but it still manages to deliver decent quality.
Note that the FEGEGO fisheye comes with two other bonus lenses: a super wide-angle lens for undistorted landscapes, and a macro lens for beautiful close-ups. If either of these types of photography appeal to you, then the FEGEGO lens kit is even more of a bargain.
A 205-degree fisheye is right in the middle of the pack: Not ultra-wide, maybe, but not long, either. And when it comes to fisheye lenses, I don't recommend concerning yourself too much with the field of view, because you're going to end up with a spectacular fisheye look, regardless!
What makes the MACTREM fisheye lens special?
First, while the MACTREM fisheye isn't as optically impressive as the Moment Superfish (reviewed above), it's no slouch, either. While you do still get some blurred edges and black corners, the image center is strong, and you can crop to remove any unwanted effects at the edges. The MACTREM will get you that fisheye look you've been hoping for, which is perfect for some creative and fun photoshoots.
Second, the MACTREM fisheye is well built. Unlike some of its plastic competitors, this lens is manufactured from aluminum, which extends its lifespan without creating an unwieldy, frustratingly-heavy lens.
And another great thing about the MACTREM fisheye lens is its accessories: The kit includes a carrying kit for easy storage, as well as a tripod for longer exposures. The tripod is also useful for situations where you want to capture creative fisheye videos.
Plus, the MACTREM fisheye is compatible with a slew of smartphones via its clip-on mount, including the iPhone X, iPhone XR, and iPhone XS. While you should check to make sure the MACTREM fisheye can mount on your iPhone, chances are that it will–and that you can continue to use the MACTREM fisheye, even once you upgrade phones.
Also important is the price. And in this area, I'm happy to say that the MACTREM fisheye offers a real bargain. No, it's not quite as cheap as the FEGEGO fisheye lens kit, but it also offers more (a tripod, for one!). And, like the FEGEGO, the MACTREM fisheye comes with a few other bonuses in the form of a telephoto lens, a wide-angle lens, and a macro lens. With these lenses in your pocket, no photo will be out of your reach–and you'll have a ton of fun doing iPhone photography, guaranteed!
4.

No products found.
If you're looking for another budget fisheye lens option, look no further than the No products found., which includes (among other things!) a 235-degree fisheye lens.
First things first:
At 235 degrees, you're looking at an ultra-wide fisheye, one that will get you impressively wide photos. You could take the fisheye with you into museums for gorgeous interior photos, or you could use it for stunning sunset images–the options are endless.
Like many of the fisheye lenses compared above, the RAGU does show some black corners and softness along the edges. But that's par for the course with fisheye lenses like these, and you can do a bit of processing (cropping, vignetting) to create an improved, even artistic photo. Or you can just leave the corners as is, to highlight the fisheye effect. Fortunately, the center of the RAGU fisheye lens performs well, offering nice clarity and sharpness.
One of the great things about the RAGU fisheye lens is its compatibility: You can use it with quite a few iPhones (including the iPhone X and the iPhone 11), as well as many Samsung phones. It mounts to your phone via a clip-on system; while you do have to remember the keep the clip with you, it's nice to be able to mount the lens without much hassle.
In terms of accessories, the RAGU fisheye lens kit will undoubtedly impress. The fisheye lens comes with its own cover, as well as a nice carrying case for storing all the RAGU lenses. You also get a tripod for long-exposure shots, and you can also use it for video or even self-portraits. And speaking of self-portraits: The RAGU kit also comes with a Bluetooth shutter remote, which interfaces with your iPhone camera so that you can snap pictures from a distance. You can easily mount the RAGU fisheye lens on your iPhone, your iPhone on the tripod, and then take a family portrait–using the Bluetooth remote.
Nice, right?
And I didn't mention the other lenses that come alongside the RAGU fisheye: A wide-angle lens for sweeping landscape shots, a 25x macro lens for shots of stunning details, and a 12x telephoto lens for headshots and tighter street photos.
All for an amazingly affordable price.
In other words, if the RAGU fisheye lens at all appeals to you, it's worth a look. You get a lot of kit for a very small price tag.
The LEKNES lens kit (with the fisheye lens) is one of the cheapest options on the market. But don't let that fool you; this little kit packs a lot of punch.
With a 198-degree field of view, the LEKNES fisheye lens allows you to capture beautifully wide images with that incredible fisheye perspective. You'll have lots of fun capturing all sorts of fisheye photos, from portraits to landscapes to street photos and more. You can even use a fisheye lens to capture some interesting selfies!
Optically, the LEKNES fisheye lens performs decently well. Yes, it has black corners and a bit of blur around the edges. But the center is acceptably sharp, and the edges won't be a problem for most folks; you should be able to capture some nice fisheye shots without much bother. If you're looking for the highest-quality fisheye optics out there, go for the Moment Superfish. But if you want a fun fisheye lens to play around with, the LENKES 3 in 1 kit is a great way to go.
In terms of build quality and handling, the LEKNES does well. The fisheye lens (as well as the other lens in the 3 in 1 kit) is nice and compact. Plus, all the LEKNES lenses are made from industrial-grade aluminum for increased ruggedness and longevity.
Regarding compatibility:
The LEKNES fisheye mounts easily to your iPhone via a nice little clip. It's compatible with most iPhones; it's also compatible with many Android phones. If you're uncertain whether this product will work with your phone, I recommend asking the manufacturer before you buy.
Finally, I recommend you check out the LEKNES lens kit price. You receive three good-quality smartphone lenses, all for a few dollars. What's not to like?
The Best Fisheye Lens for iPhone: Next Steps
You should now know all about the best fisheye lenses for your iPhone. And you should be close to choosing the perfect fisheye lens for your needs (if you haven't already!).
While some lenses on this list are optically stronger than others, they all have something to offer. And you'll be able to get beautiful photos with any of them.
So pick a fisheye lens, get out, and start taking pictures. You have countless fun photoshoots ahead of you!
Related Post: Comparing the Best Smartphone Cameras
What is an iPhone fisheye lens?
An iPhone fisheye lens is basically a wide-angle lens with distorted edges and corners. The fisheye effect involves intense distortion around the outside of the frame, though the center of the frame should be nearly free of distortion. While the fisheye lenses on this list are primarily distinguished by their field of view, the focal length equivalent is vast, often in the 5-15mm range. While iPhones don't include built-in fisheye lenses, lens manufacturers have built fisheye lenses that mount on iPhones. This sometimes works via a special case; alternatively, you may be able to clip on the lens with a simple clip.
What is the best fisheye lens for iPhones?
The best fisheye lens for iPhones is the Moment Superfish lens. It's a relatively short fisheye lens, featuring a field of view of just 170 degrees. But the optics are stellar, offering sharpness in the center and even toward the edges. Plus, the Moment Superfish is the only fisheye on this list that doesn't have a circular frame (i.e., black corners and edges). Therefore, the Moment Superfish is a great option for photographers seeking the best possible image quality.
What is the best budget fisheye lens for iPhones?
The best budget fisheye lens for iPhones is the FEGEGO camera lens kit. The price is fantastic, especially because you get decent optical quality, good compatibility, and two extra lenses to sweeten the deal. While the Moment Superfish is the overall best fisheye lens, the FEGEGO fisheye is a great budget option.
Can I capture beautiful fisheye photos with an iPhone?
Of course, you can capture beautiful fisheye photos with an iPhone! No, they won't look quite as sharp or high quality is fisheye photos shot with a DSLR and a Nikon or Canon fisheye lens. But they can still look good, and you can have a lot of fun capturing fisheye photos with your iPhone.
Can I use an Android fisheye lens on an iPhone?
It depends. Some Android fisheye lenses work on iPhones, especially if they're using a highly compatible clip-on mount. But other lenses won't work on multiple phones, so I recommend you check with the manufacturer if you're uncertain.
---
As an Amazon Associate, we earn from qualifying purchases. Certain content was provided "as is" from Amazon daily and is subject to change or removal at any time.