What is the best iPhone macro lens you can get today? And what's the best iPhone macro lens for your needs?
These are common questions, and for good reason: Choosing an external macro lens for your iPhone can be tough. There is a whole slew of options, but many external lenses are of low quality.
That's why we're writing this article. We're going to tell you which iPhone macro lenses actually perform well. And, ultimately, we're going to help you find the perfect lens for your iPhone.
So are you ready to discover the best macro lens for your iPhone?
Let's dive right in.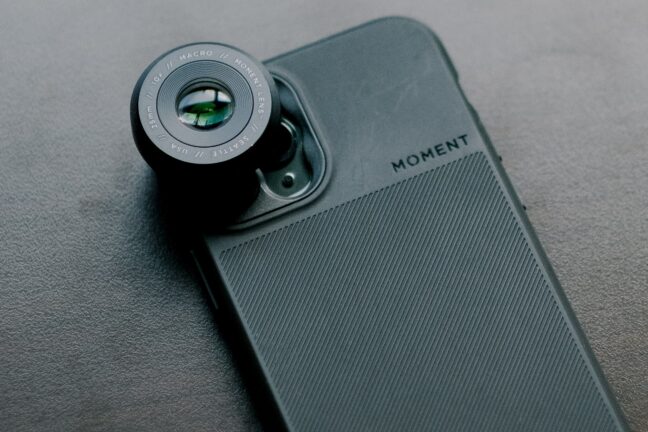 Best Lens for iPHone Macro Photography:
When you buy through links on our site, we may earn a commission at no cost to you. We evaluate products independently. Commissions do not affect our evaluations.
1. Apexel Professional Macro Photography Lens
Our Pick
The best macro lens for iPhone users
The Apexel Macro lens offers stellar image quality, plus an unusually large working distance for insect photography – and it's surprisingly cheap, too!
Pros
Beautiful detail
Increased working distance
Reasonably priced
Cons
Corner sharpness isn't perfect
The Apexel Professional Macro Photography lens is the absolute best macro lens for iPhones in 2021, and it's pretty cheap, too. So if you want a high-performing lens that won't break the bank, go ahead and buy it.
What makes the Apexel Macro lens so special?
Most smartphone macro lenses come with a significant problem: If you want to capture gorgeous details, you have to get close. Really, really close. I'm talking mere centimeters away from your subject, and as you can imagine, this doesn't work so well when photographing skittish insects.
Fortunately, the Apexel Macro lens is designed with this problem in mind. So while you still get stunning macro magnifications, you can shoot from double the distance – sure, you'll need to be close to your subject, but an extra inch of working distance makes a huge difference.
Plus, the Apexel Macro is impressively sharp, especially at the center of the frame. You can get stunning photos of flowers, jewelry, and insects, and you won't have to worry about pesky vignetting or significant fringing ruining your shots.
I'm also a fan of the build quality – the lens is metal – and I love its compact size (it's great for macro photography on the go!). The Apexel Macro lens is compatible with most smartphones (here's a long list of compatible models), thanks to a simple mount that you can clip on and off in seconds.
Everything considered, the Apexel Professional Macro lens is a gem among plenty of low-quality iPhone macro lenses. So if it's within your budget and it fits your smartphone, I recommend you grab it while you still can.
2. AiKEGlobal iPhone 4-in-1 Kit (With a Macro Lens)
Best Budget Pick
Best for beginners on a budget
The AikeGlobal 4-in-1 kit is cheap, and image quality is surprisingly strong. If you're after a low-priced macro lens, you can't go wrong with AiKEGlobal.
Pros
20X magnification for plenty of detail
Low price
Decent image quality
Cons
Corner sharpness could be better
The AiKEGlobal 4-in-1 kit includes a macro lens, a super wide-angle lens, a fisheye lens, and a 14x telephoto lens, all for an ultra-low price.
In other words, you get a lot of bang for your buck.
But how does the AiKEGlobal macro lens perform?
Despite its low price, the macro lens does well. It'll get you images with a sharp center — though edges and corners suffer from softness. In fact, the softness effect is strong enough that it could be used as part of an artistic style.
The AiKEGlobal macro lens features 20x magnification; this is better for smaller subjects and will let you capture lots of tiny details.
This is a versatile clip-on lens, which means that you can mount it on practically any phone you own, including both Apple and Android. Of course, this also means you must keep track of the lens set when not in use.
All in all, the AiKEGlobal 4 in 1 lens kit is a steal. I'd recommend it for anyone on a budget, or anyone looking for their first iPhone macro lens.
3. Moment's Macro Lens for iPhone
Also Great
Best for serious photographers
Moment's Macro lens is built to last, its optics are excellent, and it works with plenty of smartphones. What more could you want?
Pros
Beautiful image quality
Top-notch build
10X magnification
Cons
Small working distance
Price
Moment's macro lens is one of the more expensive options out there. And unlike most of the other manufacturers on this list, Moment only gives you a single lens to use, so for a price tag of around $100 USD, it'd better be good.
Spoiler alert:
It is.
First, let's talk about build quality: The Moment macro lens is made from aerospace-grade aluminum, and you can feel it. It's no light, plasticky accessory. Instead, it feels hefty (or as hefty as a tiny lens can get).
Moment promises that its lenses use cinema-quality glass. While I can't confirm that this is true, I can confirm something even better: Image quality is spectacular. The Moment macro lens takes beautifully-magnified, 10x photos: photos that are tack sharp in the center, with no distortion or chromatic aberration to be seen. At the edges of the frame, softness does start to set in, but it doesn't look bad, just artistic.
My main gripe with this lens is that you must be less than an inch from your subject to grab a detailed shot, which just isn't ideal. You might find yourself jostling your subject as you shoot. You might also find yourself struggling to keep your subject well-lit as your shadow gets in the way.
Note that while the Moment macro lens works with a number of different smartphone models, you won't be able to use it without the Moment case, which must be purchased separately.
Bottom line, Moment offers a high-quality macro lens for the most serious iPhone macro photographers out there. If you're willing to pay the price, then it's a great option.
4. Xenvo Pro Lens Kit for iPhone
Best for middle-magnification macro shots
The Xenvo Pro Lens kit offers a sharp, 15x macro lens and robust build quality. If you need a well-built lens on a budget, it's a great choice.
Pros
Low price
15X magnification for nice detail
Relatively good build
Cons
Small working distance
The Xenvo Pro Lens kit for iPhone offers a 15x macro lens (along with a wide-angle lens for landscape-style photos).
When it comes to iPhone macro lenses, the 15x focal length is fairly middle-of-the-road; it's not the 10x magnification of the Moment macro, nor is it the 20x of the AiKEGlobal macro lens. You should be able to pick up a fair amount of detail as you take photos of plants, flowers, and more.
One major drawback to this lens is the working distance. If you want to take a macro photo, you'll be forced to put the lens just 1/2 inch in front of your subject. It's not the end of the world, but you'll often find your body blocking out the light, so some shots may take some careful maneuvering to pull off.
Build quality is surprisingly good for such a budget set of lenses. The lens barrels are metal and nicely crafted, and the glass looks top-notch.
Are the images as impressive as the Moment macro lens? No. But the Xenvo Pro macro lens delivers decently sharp centers, even if the edges are somewhat blurry and suffer from color fringing.
Like other mid-range and budget iPhone lenses, the Xenvo is a clip-on lens. It comes with a simple clip that fits on the top of your iPhone. I'd recommend you check that your iPhone is compatible with the Xenvo lenses before you buy because some customers report difficulties with mounting this lens on a dual-camera iPhone.
One nice bonus feature: Xenvo includes a lanyard in the package. When you're not using your Xenvo macro lens, you can clip it onto the lanyard for easy access.
5. Leknes 3-in-1 Lens Kit (With a Macro Lens)
Best for insect macro photography on a budget
The Leknes macro lens features a large working distance, plus a convenient clip-on mechanism. For insect photography beginners, the Leknes 3-in-1 kit is a great choice.
Pros
Less than $15 USD
Good working distance
Decent image quality
The Leknes 3-in-1 lens kit is the cheapest option on this list. For under $15 USD, you get a package with three lenses, making each lens just $5 USD.
Because of the price, I wouldn't expect too much from these lenses; they're made to be cheap, and so you're not going to find amazing build quality, image quality, and high-tech features.
That said, the Leknes macro lens isn't a poor performer by any means. While the corners aren't crystal clear, the center of the frame is sharp — potentially as sharp as some of the other (much more expensive) lenses on this list.
And build quality isn't bad, either. The Leknes macro lens isn't made from top-of-the-line material, but it feels solid enough that you won't have to worry about it breaking.
To use the lens kit, simply clip it onto your iPhone over the camera. And every Leknes lens is compatible with various iPhone models and even Android phones, so you won't have to purchase another macro lens when you change phones.
One area where the Leknes macro lens really shines is in terms of working distance. At worst, you'll be working over one inch away from your subject, and this can extend to over three inches, which is significantly better than both Moment and Xenvo options.
At its core, the Leknes lens kit is a bargain. And at that price, it's tough to go wrong. So for anyone who just wants to dip their toes in the macro waters, pick up a Leknes 3-in-1 lens kit.
The Best iPhone Macro Lens: Factors to Consider
When it comes to choosing an external macro lens for your iPhone, there are a few things you should keep in mind: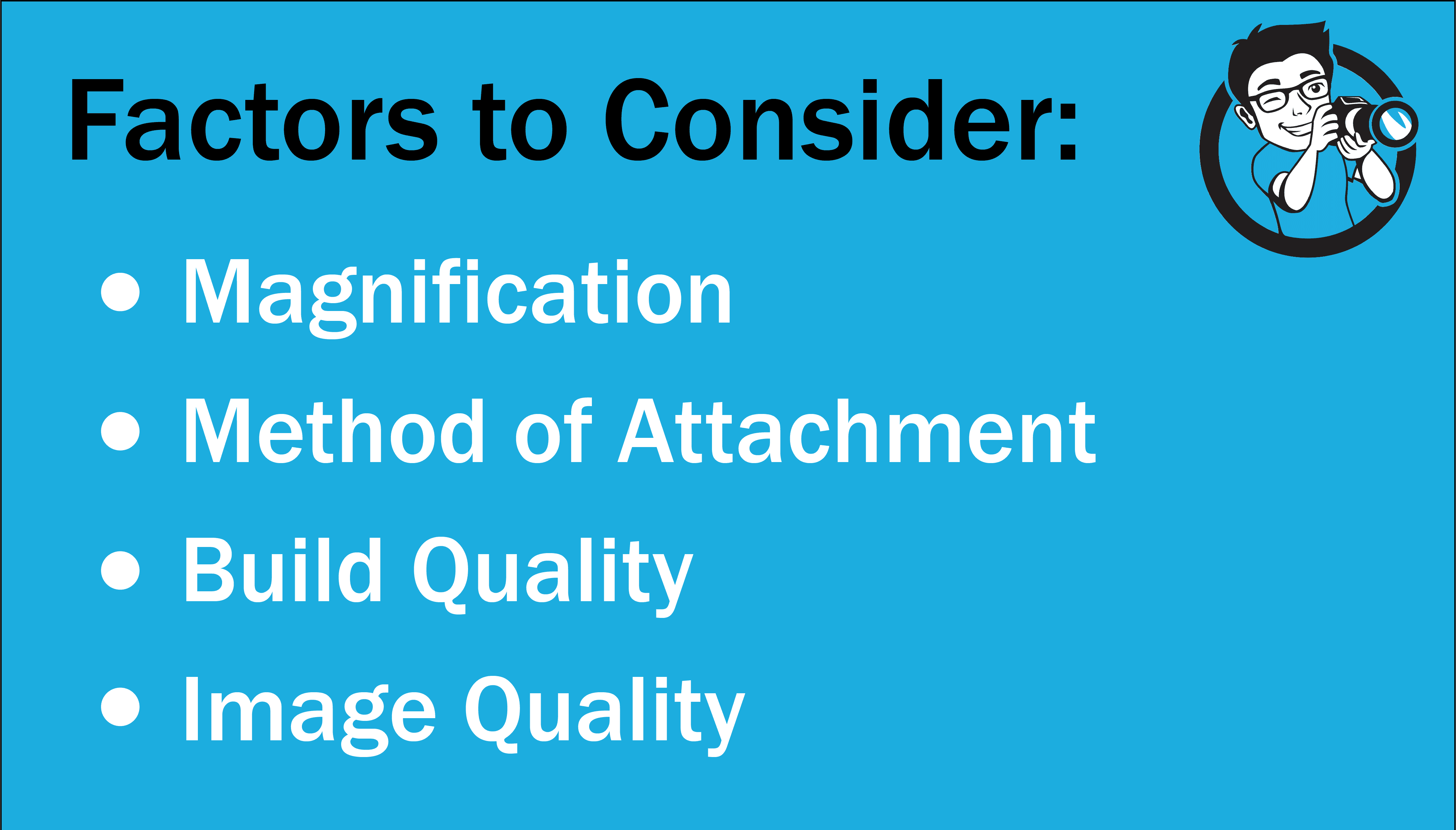 Magnification
First and foremost, you want to make sure your external macro lens has the right magnification.
iPhone macro lenses display their magnification in terms of 5x, 10x, 20x, etc. The larger the number, the greater the magnification.
If you're looking to capture ultra-close-up shots (e.g., of leaf veins), then you want the most magnification you can get. So aim for something in the 20x range.
But you should be careful: Macro lenses have something called working distance, which refers to the distance from the front of your lens to the subject you're photographing. At high magnifications, your working distance will be tiny. And with tiny working distances comes other concerns: Possibilities of knocking your subject with your smartphone, or even casting your shadow on the subject. That's why more working distance is something that you should always look for in a macro lens.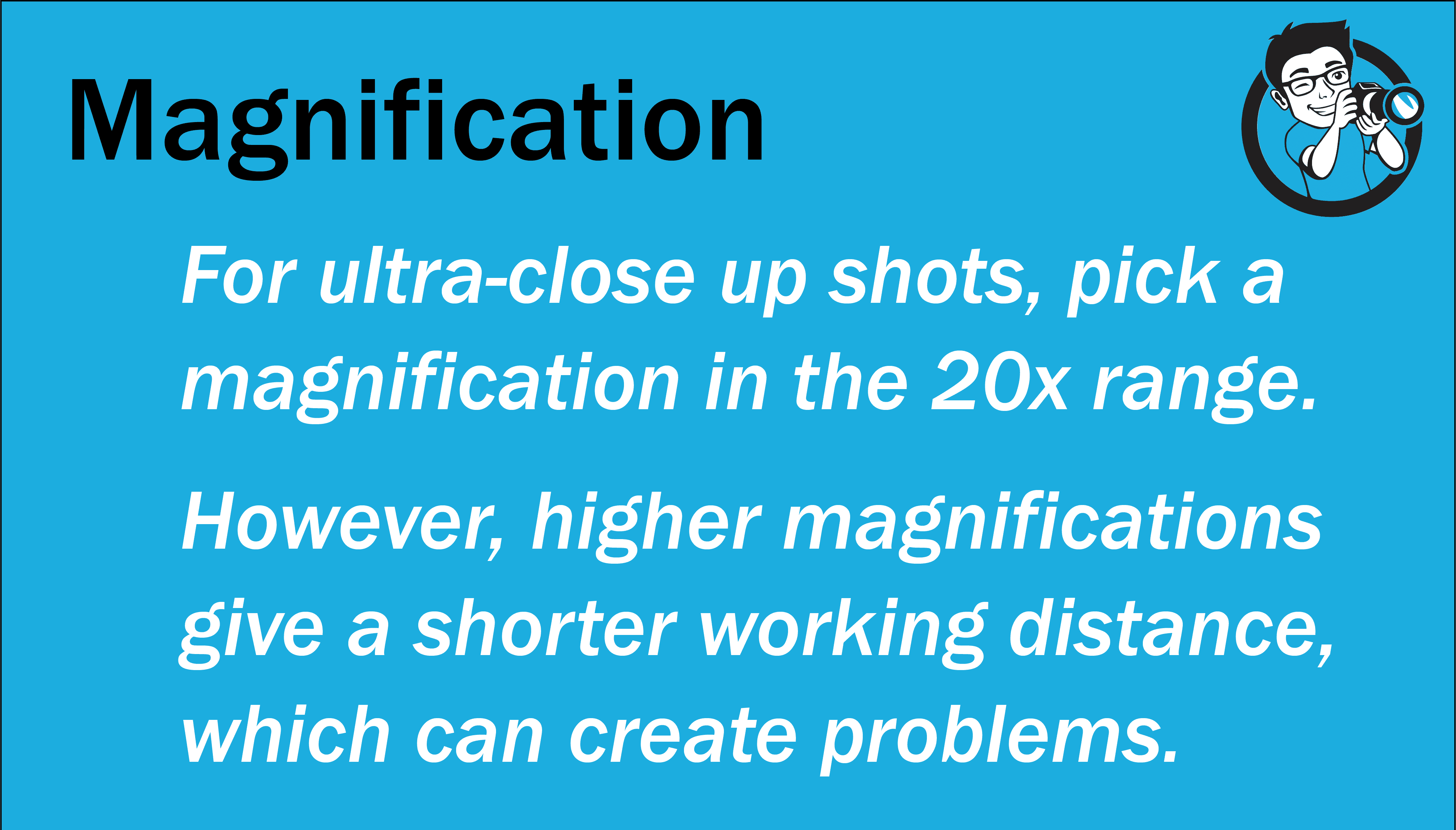 Method of Attachment
Different external macro lenses attach in different ways.
Some lenses just clip onto your iPhone. This is pretty convenient, because you can clip them on as the occasion demands, then store them away in your pocket for later. Clip-on lenses also tend to work on multiple iPhone models (and even Android models), so you don't have to purchase a new lens every time you upgrade your phone.
Clip-on lenses have some drawbacks, however. For one, they're easier to lose, since you're always putting them on and taking them off the phone. They're also easier to damage. Plus, the alignment between your iPhone and lens can be a bit off, resulting in reduced image quality.
On the other hand, some lenses attach via a special iPhone case. This attachment method tends to be sturdier and results in better image quality. But the cases cost extra, and it can be frustrating to use a case for photography, especially if you prefer a different case (or no case at all).
Here's the bottom line:
Before you purchase an iPhone macro lens, ask yourself whether you want the convenience of a clip-on lens, or if you'd prefer the increased stability of a case.
Then go from there.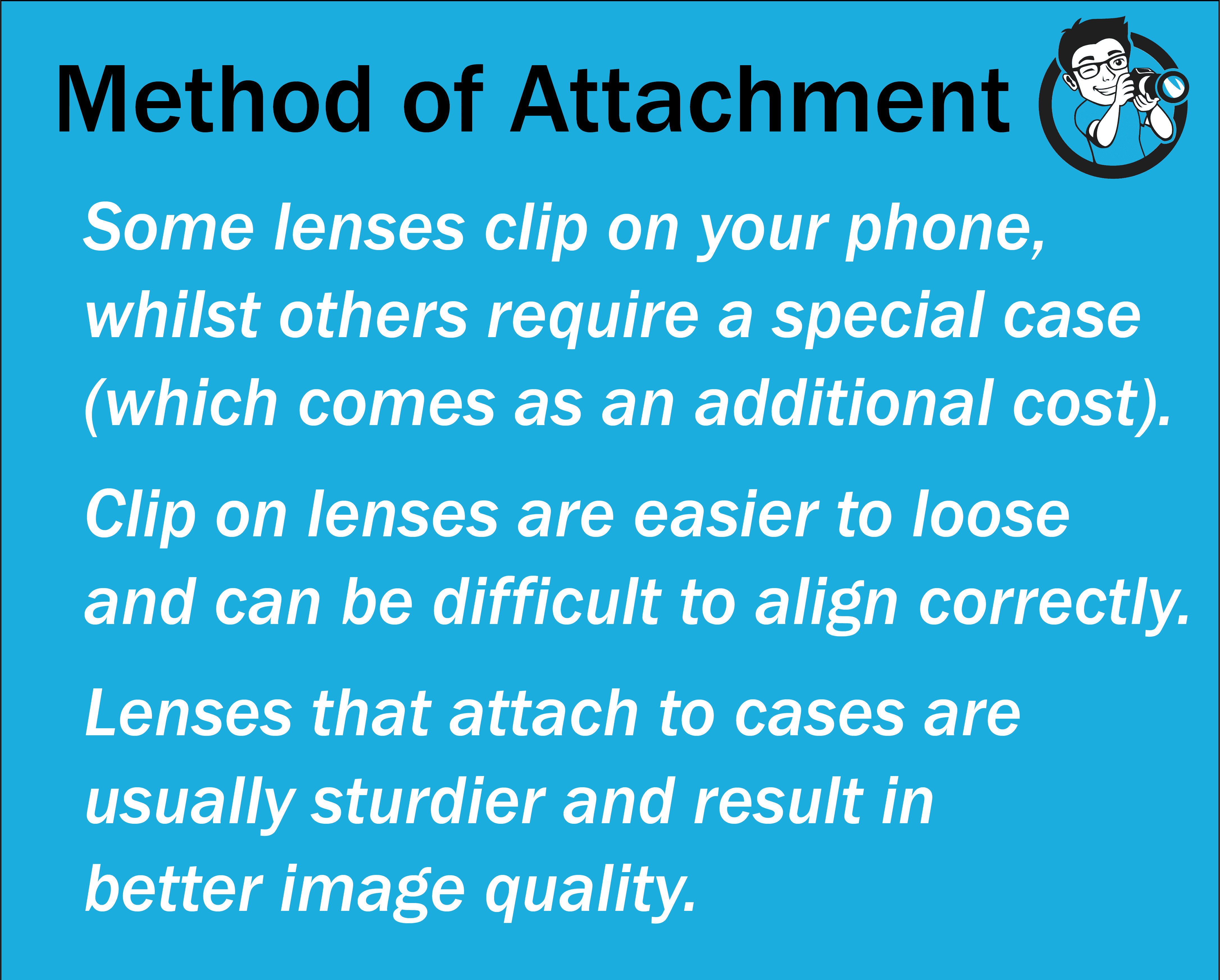 Build Quality
As I mentioned above, there are a lot of external macro lenses out there.
And plenty of them are just plain bad.
One of the ways in which manufacturers keep the price down is by skimping on build quality. This results in lenses that are plasticky — and are liable to break within months.
So keep an eye out for bad build quality. My suggestion is to go for metal lenses rather than plastic. Of course, metal costs more, so you should consider whether you're willing to pay for a better build.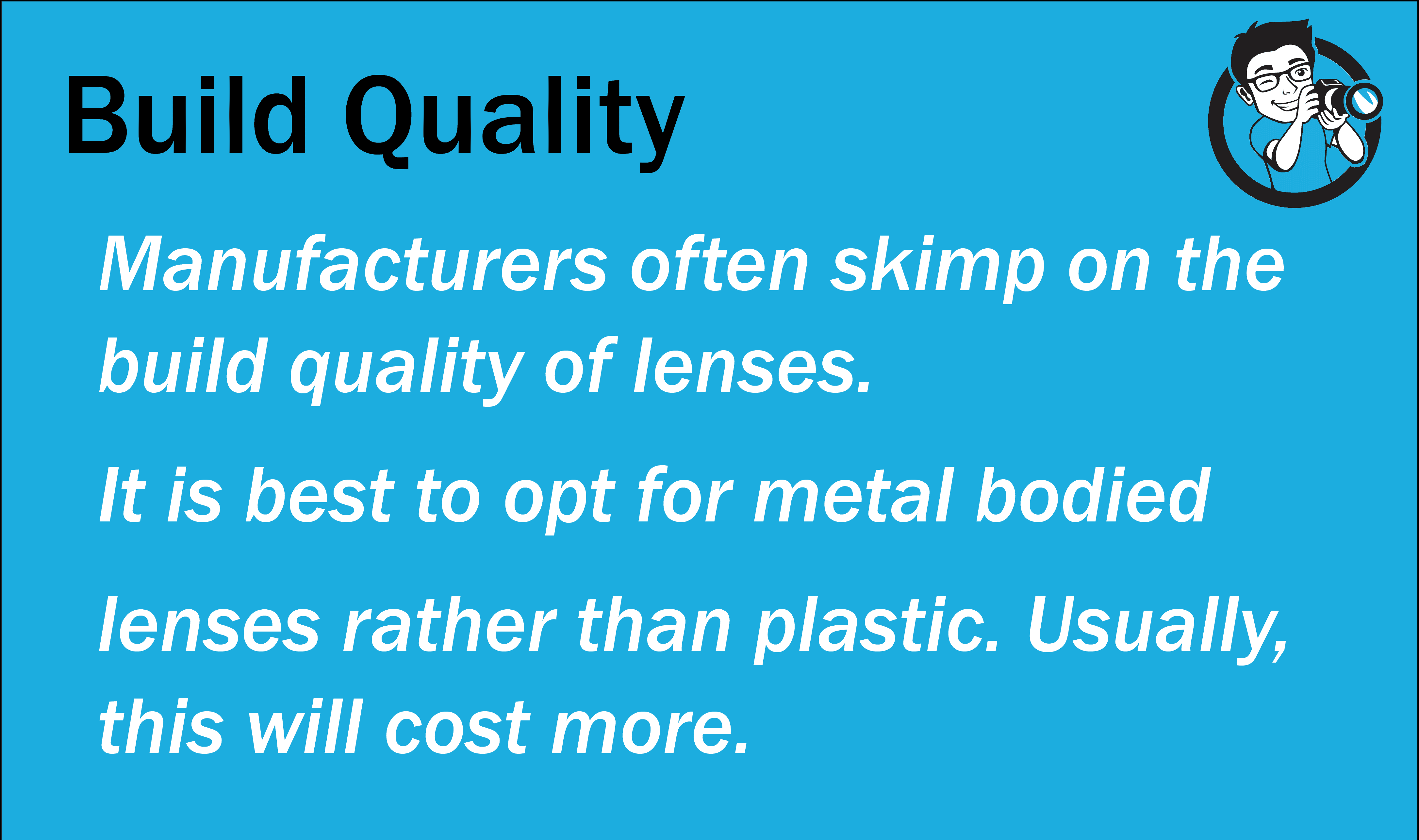 Image Quality
The most important aspect of any macro lens for your iPhone is its image quality.
Because here's the thing:
If a lens can't take good images, then there's no point in paying for it.
Now, good image quality consists of a few features:
Sharpness, both in the center and in the corners of the frame
Minimal vignetting (i.e., no darkness around the edges of photos)
Minimal chromatic aberration (also known as color fringing)
For a macro lens, sharpness is especially important. Macro shooters want to capture tiny details — but you won't be able to do that if your macro lens is soft.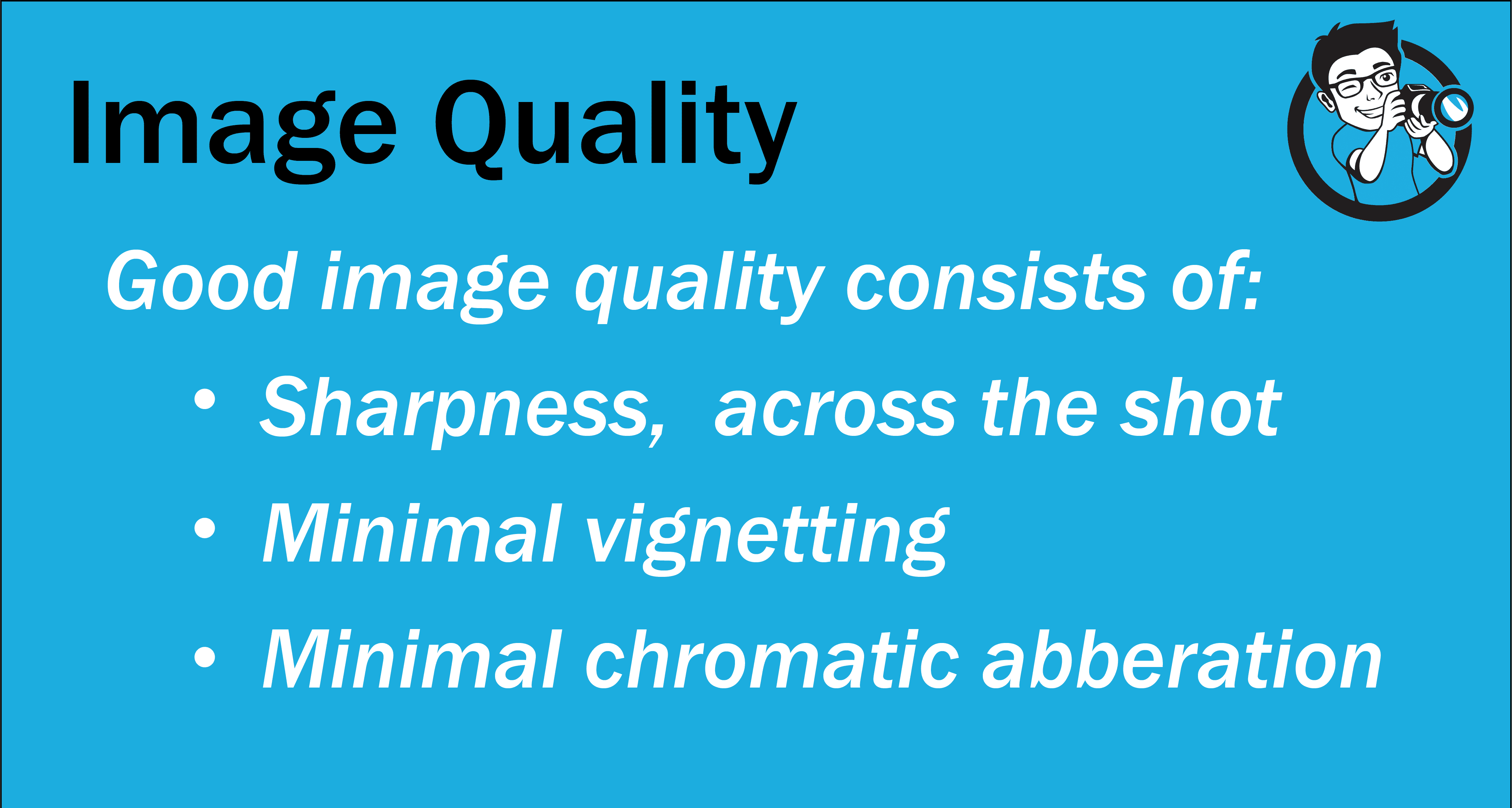 Price
When it comes to iPhone macro lenses, there's a lot of variation in price.
The best macro lenses cost around $100 USD (or a bit more). The budget macro lenses go down to $30 USD or even $20 USD.
Fortunately, there are some excellent budget macro lenses for iPhones. So if you don't want to pay for a top-of-the-line macro lens, don't worry; I've included several budget options on this list.
The Best iPhone Macro Lens: Conclusion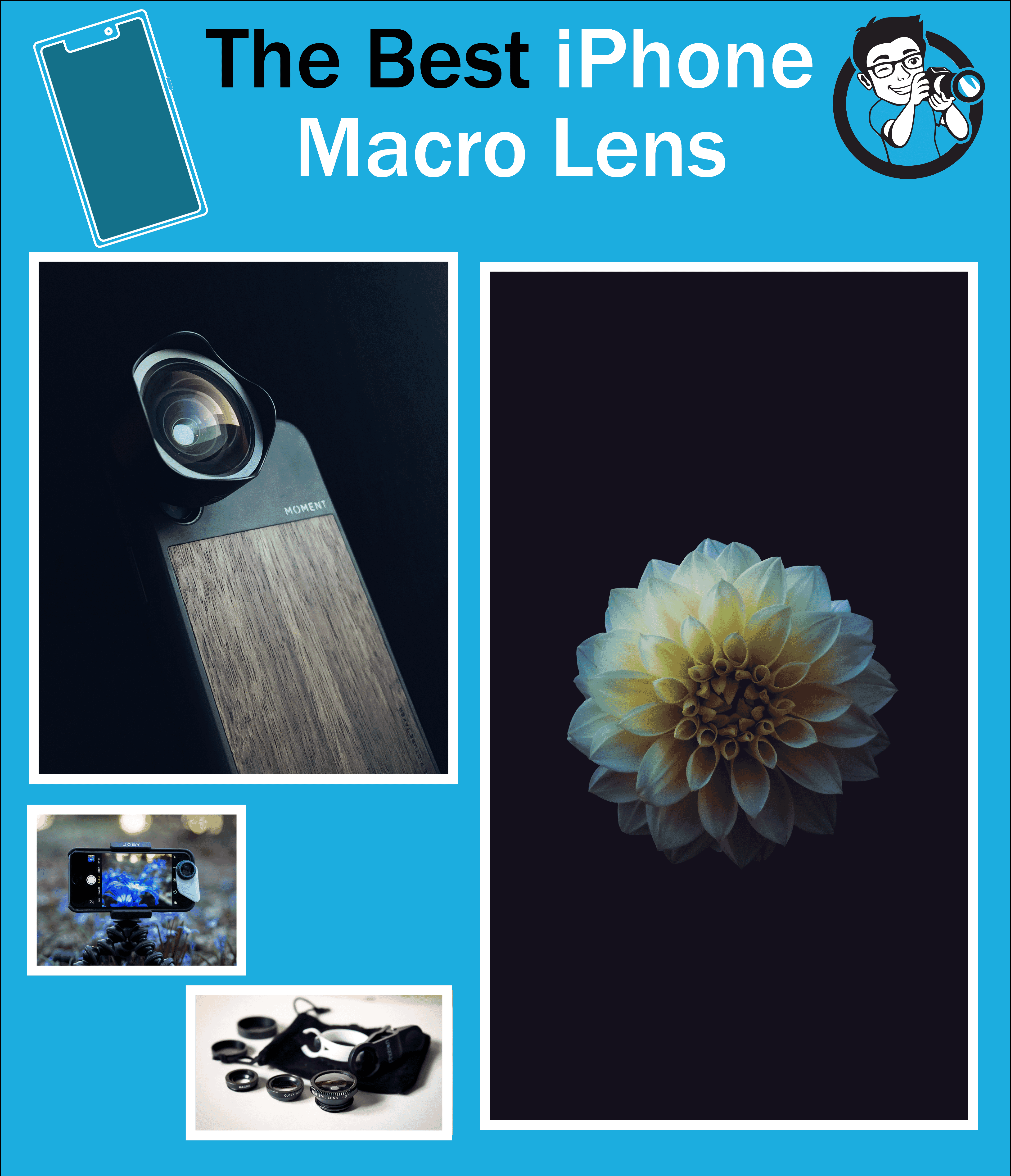 Choosing an iPhone macro lens is hard.
But there are a few macro lenses that rise above the rest. These provide the best optical quality (often at a bargain price).
So pick out one of the macro lenses on this list, then go out and practice.
A whole world of detail awaits!
What is the best iPhone macro lens?
The best iPhone macro lens depends on your budget and your requirements. The Apexel Professional Macro Photography lens is excellent for more serious macro photographers, as it gives you a lot of flexibility and decent optics. On the other hand, the AiKEGlobal iPhone 4 in 1 kit or the Leknes 3 in 1 kit are great budget choices, and you can still get strong macro images at a low price.
Should I purchase an iPhone macro lens?
You should purchase an iPhone macro lens if you want to capture close-up shots of plants, flowers, jewelry, and more, but you don't want to purchase a DSLR and a dedicated macro lens. While a dedicated macro setup will undoubtedly provide you with better image quality, an iPhone external lens can do a good job.
Will a macro lens work on my iPhone?
There are macro lenses for every iPhone out there, including the newest iPhone 12 Pro. However, you want to be careful; some macro lenses are meant for specific iPhones, and will only work when attached to the proper model. You should always check the product description before purchasing a macro lens.
What is the best budget iPhone macro lens?
If you're on a budget, the best macro lens is the AiKEGlobal iPhone 4 in 1 kit, which is ultra-cheap but offers very good performance. The Leknes kit is another great option, and is even cheaper than the AiKEGlobal iPhone 4 in 1 kit.
Who needs a macro lens for their iPhone?
You should get a macro lens for your iPhone if you want to capture close-up photos without much hassle. You can clip on an external lens and start taking macro shots immediately!
---
Disclosure/Disclaimer: As an Amazon Associate, we earn from qualifying purchases. Certain content was provided "as is" from Amazon and is subject to change or removal at any time. Product prices and availability: Amazon prices are updated daily or are accurate as of the date/time indicated and are subject to change. Any price and availability information displayed on Amazon.com at the time of purchase will apply to the purchase of this product.