Today, smartphones have advanced cameras with larger sensors than ever before, which ensures better image quality and more flexibility when shooting. However, the lenses are still relatively basic, and that can seriously hold back your creativity when doing smartphone photography.
Fortunately, there's an easy solution: To get the most out of your Android smartphone camera, you can use external phone lenses. These are typically clip-on devices that attach over the main phone lens and provide some type of enhancement, such as wide angle, macro, or telephoto capabilities.
There are a slew of these external lenses on the market, so without proper guidance, it's easy to end up with a low-quality product. That's where I can help. I've handpicked eight of the best lenses for Android phones currently available so you can effectively expand your smartphone's photography capabilities instead of investing in a dedicated camera!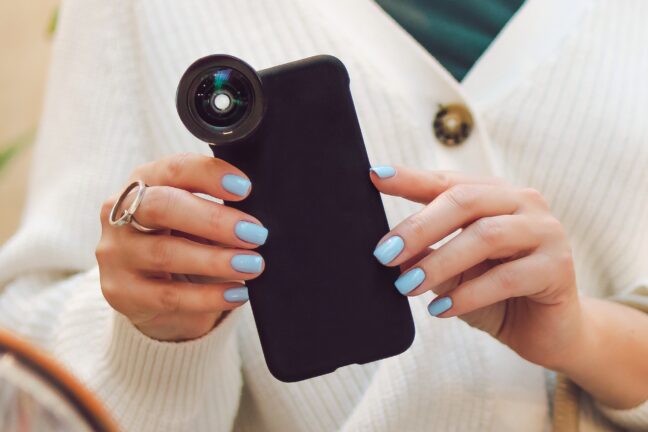 The 8 Best Android Smartphone Lenses in 2023:
When you buy through links on our site, we may earn a commission at no cost to you. We evaluate products independently. Commissions do not affect our evaluations.
1. Xenvo Pro Lens Kit
Our Pick
Great for ease of use
The Xenvo Pro Lens Kit can be attached to your Android smartphone in seconds so you can start capturing beautiful wide angle and macro photos.
Pros
High-quality optics
Included LED light clip to illuminate macro subjects
Made from aircraft-grade aluminum
Compatible with most Android smartphones
Cons
The lens does cover up the other lenses on a tri-lens smartphone
Limited macro working distance
My top pick is the Xenvo Pro Lens Kit; it's undoubtedly one of the best options for Android devices due to the solid construction, impressive optics, and usability. You actually get two lenses: a 0.45x wide angle lens and a 15x macro lens, which gives you plenty of flexibility.
I personally prefer the wide angle lens – it has the potential to revolutionize your photography! You can experiment with different smartphone compositions and angles and just make your shots stand out, especially if you like to do landscape, cityscape, or street shooting.
The optical construction of the lens glass means you get virtually no vignetting or distortion, and the external aluminum shell means the lenses are fine for outdoor use. The macro lens works well, but you do have to be around half an inch from your subject. Therefore, it can be difficult to photograph insects without disturbing them.
You also get a clip-on LED light, which makes it easier to capture bright macro images. Additionally, the kit lenses are just a breeze to work with – all you have to do is screw a lens onto the clip, then secure that over your main phone camera. Bear in mind that these external units will cover your native phone lenses if you have a tri-camera system, but that shouldn't be an issue for most folks. After all, when you're working with a clip-on lens, it should be your main focus!
2. APEXEL HD 100mm Macro Lens
Also Great
Great for flower macro photography
The APEXEL HD 100mm Macro Lens is easy to use and offers excellent macro capabilities for detail shots of flowers and insects.
Pros
Easy to use
Good optics
Great close-up capabilities
Cons
Must be close to the subject
If you want to get into close-up photography but you don't want to invest in a dedicated macro camera, the APEXEL HD 100mm Macro Lens is the model for you. It's got a great array of features, including a durable build and excellent magnification capabilities. The optics are also excellent; you can capture sharp images that include plenty of beautiful detail, whether you're photographing the petals of a flower or the wings of an insect.
This Android phone lens takes seconds to set up. All you have to do is attach the clip, align it with your primary lens, and screw the external lens into the clip. After that, you can open your Android phone camera app and start shooting.
While this is a durable lens that works great for macro subjects, the only downside is that you have to get very close to your subject to capture in-focus images. As a result, while it's great for creating gorgeous macro flower photos and close-up product shots, I wouldn't recommend this lens for moving subjects such as insects. For that, you'll want to choose a smartphone tele lens, or you'll want to invest in a dedicated macro lens that attaches to a mirrorless camera.
3. RuiGE Phone Camera Lens 3-in-1 Kit
Great for versatility
The RuiGE Phone Camera lens 3-in-1 Kit has three lenses: a wide angle, a fisheye, and macro model. If you're just looking to boost your smartphone camera's flexibility, it's a great choice.
Pros
Quality glass
Easy to attach to various smartphone models
Lens caps and carry bag included
Durable aluminum construction with protective paint
Cons
The position of the clip can be knocked
The fisheye lens results in a black frame around your photos
If you want a more versatile product that still offers excellent image quality, consider the RuiGE Phone Camera Lens 3-in-1 Kit. The package includes a 120-degree wide angle lens, a 20x macro lens, and a 198-degree fisheye lens. As a result, you can enjoy different types of photography simply by screwing the different lenses onto the clip.
You do have to be careful with these lenses, as I've found the front element to be quite exposed. Fortunately, you do get lens caps to protect the glass when you're not photographing. Regardless, the optical quality is great, and the impressive design helps reduce ghosting and other imperfections so you can always get sharp images.
While the lenses are designed for Android phones, they do work on iPhones, and the length of the clip lets you position all three models over nearly any smartphone camera without difficulty. Each of the three lenses performs well, but I prefer the 20x macro lens; it allows you to get excellent close-up shots of tiny subjects. The 120-degree wide-angle lens works great, too, and I love how it expands the camera's perspective for landscapes and street photography.
4. iOgrapher 37mm Wide Angle Lens
Great for landscape photography
The iOgrapher 37mm Wide Angle Lens is great for landscape and street photography, plus it's protected when not in use by a carry pouch and lens cap.
Pros
Premium construction
Lens cap and carry pouch included
Excellent optics
37mm focal length for amazing wide angle shots
Cons
There may be a little lens distortion
The phone clip must be bought separately
I know from personal experience that the wide angle capabilities are often frustratingly limited on smartphone cameras. That's where the iOgrapher 37mm Wide Angle Lens can make a big difference. This Android-compatible lens attaches easily to your smartphone and gives you a 37mm focal length, which is perfect for both landscape and street photography.
Compared to many other smartphone lenses, the construction of this unit feels impressively premium. It includes a lens cap, too, so you can protect the glass when not in use. I like how easy the lens is to work with – all you have to do is screw it onto the clip and then attach that over your main Android phone camera.
At the end of the day, a lens like this ensures that you can get better perspectives when shooting with your smartphone. I especially recommend it to anyone who likes to travel or who enjoys taking amazing landscape shots while exploring.
I like that you get a carry pouch and a lens cap; that way, when you aren't using the lens, your unit will remain protected. Just be aware that the package doesn't include the iOgrapher phone clip – that's something you have to buy separately.
5. Movo SmartCine-W1 Wireless Smartphone Video Kit
Great for content creation
The Movo SmartCine-W1 Wireless Smartphone Video Kit includes two lenses and is a great starting point if you want to get into vlogging and content creation on platforms like YouTube and TikTok.
Pros
Versatile kit for video recording
Two lenses
Works with any Android smartphone
The phone rig and lenses are well made
Added LED light
Cons
The phone rig screws can be difficult to tighten
A bit expensive
The Movo SmartCine-W1 Wireless Smartphone Video Kit offers something completely different, so I've included it for any would-be vloggers and content creators. This is a great starter kit that allows you to delve into vlogging and create excellent video content using your smartphone.
The best part of the kit is the two lenses: one 180-degree fisheye lens and one wide angle lens. These both fit onto the included universal phone rig instead of directly onto your Android device. The build quality is decent and the lenses each give you a different perspective for recording. I love the fisheye lens and the unusual angle it gives – of course, there is distortion, but that's just how fisheye lenses work. In my experience, a lens like that can work great for selfies and vlogging where you want to ensure you're the center of attention!
Aside from the lenses, you get the universal phone rig, a nice lavalier mic system, a tabletop tripod, a carry case, and an LED ring light. You basically get everything you need to start vlogging, and I really do think this is perfect for anyone looking to make YouTube videos or TikTok content without spending a fortune.
6. MIAO LAB 11-in-1 Phone Camera Lens Kit
Great for beginners
The MIAO LAB 11-in-1 Phone Camera Lens Kit is excellent for beginner photographers who just want to try out different focal lengths and effects.
Pros
11 lenses included in the set
Great range of filters for creative photo effects
Robust lens construction
Cons
Not really suitable for professional use
The clip can block your native camera lenses
For anyone just getting into smartphone photography, the MIAO LAB 11-in-1 Phone Camera Lens Kit is an absolute no-brainer. In this extensive kit, you get 11 different lens attachments that allow for amazing creativity.
The three standard lenses are wide angle, macro, and fisheye units, all of which offer decent build quality and work fine with most Android smartphones. Then there are plenty of creative lenses. Honestly, I love the range of options you get, including the ND filter, CPL filter, Kaleidoscope effect lens, orange filter, and yellow filter.
These different filters give you excellent options, and you can certainly get creative with your photography. I especially like the ND filter; it ensures that you can capture long exposure images even when the light is strong.
Each of the lenses screws onto the lens clip, which simply locks over the main camera on your Android smartphone. The clip has a strong hinge and forms a solid lock so the lens should always stay in position – that way, you don't have to worry about knocking the setup when you're out and about.
7. Boysinglens Fisheye Lens Kit
Great for city photography
The Boysinglens Fisheye Lens Kit boasts a 235-degree viewing angle that allows you to produce some unique photos of skyscrapers and other buildings.
Pros
Amazing fisheye effect
Durable aluminum construction
The universal clip is easy to use
Lens cleaning cloth is included
Cons
May not work on all Android phones
You'll need to crop to remove the black border
Fisheye lenses produce a pretty radical effect that's not to everyone's tastes, but I must admit: I love some intense distortion! If you're like me, the Boysinglens Fisheye Lens Kit is definitely worth your time. As the name suggests, you get a dedicated fisheye lens, and it gives you a magnificent viewing angle of 235 degrees.
The fisheye effect really does look superb, and it's great for unusual city photos that feature skyscrapers and buildings from below. This affordable lens is beautifully designed, and it has advanced optics with multiple lens elements for the sharpest possible results. I like the construction – the lens body is made from industrial-grade aluminum so you don't have to baby it while traveling.
In terms of compatibility, this fisheye model works with most Android smartphones, though bear in mind that the main camera must be less than 0.87 in (2.2 cm) from the phone's edge.
8. APEXEL Classic Phone Camera 36X Telephoto Lens
Great for wildlife shots
The APEXEL Classic Phone Camera 36X Telephoto Lens is great if you want to try out wildlife photography; not only does it offer incredible reach, but it also includes excellent optics for sharp images.
Pros
Durable aluminum construction
Includes a mounting bracket and tripod
36x magnification
Compatible with most Android smartphones
Cons
The mounting bracket and tripod can be difficult to set up
The lens is huge
A little pricey
There aren't many good smartphone telephoto lenses out there. However, the APEXEL Classic Phone Camera 36X Telephoto Lens is one of the few models that I recommend – it's great if you're looking to try your hand at wildlife or sports photography, and while it won't have the same speed or sharpness as dedicated setups, it's a great place to start.
The lens offers a 36x zoom, which ensures you can capture quality shots of subjects far off in the distance, such as birds preening or football players running. I like that the lens has a built-in focus ring, as hardly any external smartphone lenses have these! It lets you make manual focus adjustments so you can get sharp photos of the subjects you're tracking.
Because this telephoto lens is heavier, it includes a mounting bracket and tabletop tripod. Although it can be a little fiddly and time-consuming to set up, the results are definitely worth it. And the lens construction is durable thanks to the aircraft-grade aluminum build, so you can comfortably use it outdoors.
Enhance Your Smartphone Photography with an Amazing External Lens for Android
Although DSLR and mirrorless cameras are great, the best lenses for Android phones allow you to take amazing images and develop your skills without breaking the bank. So which model should you buy?
My absolute favorite option is the Xenvo Pro Lens Kit. It offers quality construction, great optics, and impressive versatility thanks to the two lenses. However, if you want even more flexibility from your smartphone camera, the RuiGE Phone Camera Lens 3-in-1 Kit is probably the better choice and will allow you to experiment with different photography techniques and creative effects.
Alternatively, you can opt for a specialist lens! The Boysinglens Fisheye Lens Kit, the APEXEL Classic Phone Camera 36X Telephoto Lens, and the iOgrapher 37mm Wide Angle Lens are all great choices – you just have to know which type of photography you prefer.
---
Disclosure/Disclaimer: As an Amazon Associate, we earn from qualifying purchases. Certain content was provided "as is" from Amazon and is subject to change or removal at any time. Product prices and availability: Amazon prices are updated daily or are accurate as of the date/time indicated and are subject to change. Any price and availability information displayed on Amazon.com at the time of purchase will apply to the purchase of this product.