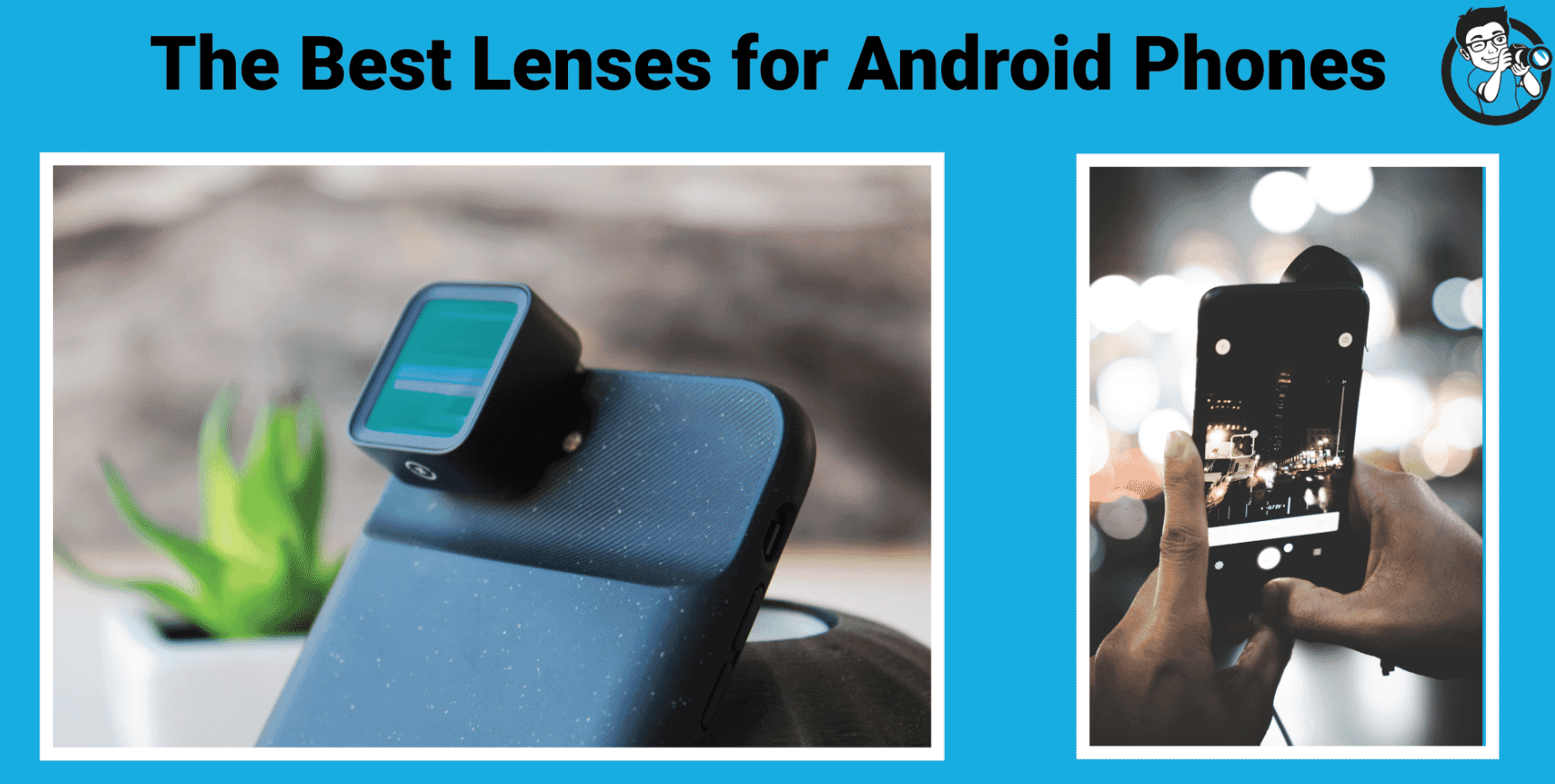 The Android market is getting bigger and better. And with that, comes some more powerful mobile phone cameras. However, we all know that these cameras can only take you so far. You can't change the lenses your Android phone has, but you can add some of the best lenses for Android phones. These will offer you more flexibility and the chance to get some even more impressive shots on your phone. Not only that, these lenses are still very portable, meaning you won't feel like you're slugging around excess gear.
The Best Lenses for Android Phones:
1. Xenvo Pro lens Kit
A single kit for all practical photography purposes. The Xenvo Pro lens kit contains a TruView 0.45x wide-angle lens, a Clarus 15x macro lens, TruGrip lens clip, GloClip mini, plus rechargeable LED lights and other accessories.
For those of you who may worry about the quality of these lenses, they come with a lifetime warranty so you can rest assured that you'll get good quality gear that is durable.
Now let's take a look at the lenses in this kit. The 0.45x wide-angle lens is perfect for capturing a wider field of view. You might want to use it for architecture or landscapes. This lens will give you a greater scene coverage from a closer distance than you would have to be to get the same coverage with your standard phone lens.
The 15x macro lens adds some real fun and a new dimension to your smartphone photography. It's this kind of lens that you really can't get on a smartphone, even with the latest models. And macro photography is really fun and creative. With this lens you can enlarge subjects and get stunning close-ups.
Related Post: Best Macro Lenses for iPhone
Xenvo Pro Lens Kit for iPhone, Samsung, Pixel, Macro and Wide Angle Lens with LED...
✔ COMPATIBLE WITH ALL SINGLE AND DUAL-CAMERA PHONES including ALL iPhone models, Samsung Galaxy and Note, Google Pixel,...
✔ TRUVIEW 0.45x WIDE ANGLE LENS - CAPTURE 45% MORE PICTURE WITH EVERY SNAP: Shoot stunning photos of people, pets, travel...
✔ CLARUS 15x MACRO LENS - MARVEL YOUR SENSES. MAGNIFY NEARBY SUBJECTS FOR BREATHTAKING, SUPER CLOSE-UP PHOTOS: Capture all...
✔ GLOWCLIP RECHARGEABLE LED FILL LIGHT - The GlowClip LED light clips ANYWHERE on your phone to instantly illuminate your...
✔ QUICK-RELEASE LANYARD AND TRAVEL CASE - TRANSPORT AND PROTECT YOUR LENS KIT: Perfect for taking your Xenvo lenses with...
2. Angfly Camera Lens Pro Kit
If you're looking for another highly-rated smartphone clip-on lens, the Angfly lens kit is exactly that. Similar to the above kit, this kit also contains both a wide-angle lens as well as a macro lens. And another great thing is that this lens is compatible with most smartphones on the market.
The overall quality of the lens is very good. The lens glass is of high quality and contains an aspherical element to suppress aberrations. This gives your images enhanced clarity, reduced glare, and higher contrast.
The wide-angle lens captures 100% extra when composing. That means you get to capture a lot more than what you would be with the traditional built-in lens.
As with the Xenvo lens kit discussed above, the real fun in shooting with a clip-on lens is using the macro attachment. And the Angfly lens kit does not disappoint in that regard. The macro lens is able to capture a life-size reproduction of small subjects, which is a big thing.
When it comes to macro photography the ability to focus from a close distance and the ability to produce life-sized reproductions on an imaging sensor is what differentiates true macro lenses from the wannabes. And in that regard, the Angfly macro lens focuses from a distance of only an inch.
Phone Camera Lens Pro - ANGFLY 4K HD 2 in 1 Aspherical Wide Angle Lens & Super Macro...
✔ DSLR QUALITY DESIGN : Differed from normal spherical lens on the market,our phone camera lens adopted with world advanced...
✔ EXPAND YOUR VIEW AND NO DARK CORNERS : The ANGFLY Wide is rated the highest quality attachment lens on the market.This...
✔ MARVEL YOUR SENSES : The ANGFLY Macro captures life sized images of the smallest objects at the highest quality....
✔ UNIVERSAL COMPATIBILITY AND 2 IN 1 WIDE ANGLE & MACRO LENSES : This cell phone camera lens can fit most popular types and...
✔ 100% SATISFACTION GUARANTEE : 45-Day Money Back Guarantee,12-Month Product Replacement Warranty and Lifetime Online Email...
3. Mactrem Phone Camera Lens Kit
For those of you who want lots of options when it comes to your Android phone lenses, the Mactrem camera lens will not disappoint. Offering a total of 9 lens variations in the set, this really is the best lens kit in terms of its versatility.
The 20x telephoto lens takes the optical capacity of your lens and gets it beyond the standard zoom boundary. It greatly enhances the capacity of your lens to shoot distant objects with precision manual focusing.
The build quality of the lens is also above par. Instead of plastic, the lens is made out of aluminum alloy.
There are two reasons to feel happy about buying this kit. The first one is the macro lens, and the second one is the fisheye lens.
The 205-degree fisheye lens gives you an amazing view of the world around. With this lens alone you would be able to make some really interesting images.
Then you have the 25x super macro lens. If you ever wanted to get close to your subject and capture really stunning unique perspectives of your subject this is the lens that does it.
In terms of compatibility, this lens should work with most of the latest Android phones as well as some slightly older models.
MACTREM Phone Camera Lens Phone Lens Kit 9 in 1, 20X Telephoto Lens, 205° Fisheye...
[HD DSLR Camera & Telescope 2 in 1] MACTREM Phone Camera Lens kit includes 20X telephoto lens, 205° fisheye lens, 0.5X ultra...
[Enable Your Phone To Take Varied Pictures] 25X macro lens can realize 25 times magnification target, shooting fantastic...
[Well-built Construction & Premium Materials ] Each lens has 10-layer green coating on both sides of the lens. Unlike other...
[Compatible Devices] The lens kit works on 99% popular cell phones on the market. If the distance from the center of the...
[100% meet your satisfaction on both products and service] MACTREM devotes itself to provide the best in class products and...
4. CoPedvic Phone Camera Lens Kit
This is yet another smartphone lens kit option. This one comes with a 22x telephoto lens, a 0.67x super wide-angle lens, a 25x macro shooter and a 205-degree fish-eye lens. The fun comes when you use the 25x macro lens because that's when the true potential of the lens is realized. You can get literally within just a few inches and make stunning compositions.
The 205° fish-eye lens is impressive and produces that stunning rounded look that you would normally associate with a proper DSLR fish-eye lens.
Build quality is quite impressive. Aircraft-grade aluminum has been used to manufacture this lens and it is capable of surviving some amount of rough handling.
The lenses in this kit are all compatible with the latest smartphones.
CoPedvic Phone Camera Lens Phone Lens for iPhone Samsung Pixel Android, 22X Telephoto...
【Phone Photography and Videography Like a Pro】Designed for enthusiasts and professionals, CoPedvic phone camera lens is...
【Industry-leading 4 in 1 Phone Lens Kit, Works as Monocular/Telescope】 The phone camera lens kit includes a 22X telephoto...
【Expand Your Phone's Picture-taking Capabilities】 22X telephoto camera lens - Magnify distant subjects and zoom in for...
Works on Front/Rear Camera, Single-camera/Multi-camera Phone】 The lens screw ring on the clip is slidable so you can slide...
【Best Gift Choice & 100% satisfaction】 A phone lens kit that will provide you an extraordinary experience to capture...
5. Todi Phone Camera Lens
Sometimes you don't want too many lenses or too many units that keep tumbling inside your bag and you never use them. One or two versatile lenses is more than enough. For those minimalist shooters, this kit comprising of just two lenses is the answer. One is a 120-degree wide-angle lens and the other is a 20x macro lens.
The 120-degree lens allows you to capture scenes like sweepings vistas, architecture, the interior or homes, and so on. It is, however, not a true fish-eye lens. But the effect is no doubt very interesting.
The construction of the lens is very nice indeed. Aspherical elements have been used in the construction which takes care of spherical aberrations, improves contrast, and enhances color saturation.
The wide-angle lens as the name suggests is for shooting architecture, landscape, and stuff which requires a large field of view to capture the scene. A major issue with a large number of wide-angle lenses, and that includes even DSLR lenses is that they tend to display signs of vignetting. The Todi phone camera lens has very little vignette, if any.
The super macro lens that you get focuses from an extremely close distance of only ½ inch. And with the 20x zoom you can produce stunning images of all things around you with a completely different perspective.
Related Post: Best Post-Processing Apps for Smartphone Photography
Phone Camera Lens,TODI 4K HD 2 in 1 120° Wide Angle Lens, 20X Macro Lens,Clip-On...
✔️ Superior Quality Design : Differed from normal spherical lens on the market,our phone camera lens adopted with world...
✔️ 4K HD Wide Angle Lens : Shoot stunning photos of people, pets, travel scenery, landscapes, architecture, selfies and...
✔️ Super Macro Lens : Magnify Nearby Subjects For Breathtaking, Super Close-up Photos, Capture all the intricacies and...
✔️ Universal Compatibility & Use Guide : Universal detachable clamps design for easy install,remove and storage, the wide...
✔️ Customer Satisfaction Guaranteed : 45 Days Money Back Guarantee and Lifetime Warranty. Please clean the camera lens...
6. Anazalea Lens Kit
This smartphone lens is designed by Schott Optical Glass which is a German-based company. The design mimics that of a flower bud. There are actually two lenses in this kit. One is a 0.45x super-wide-angle and the other is a 15x macro unit. As you can imagine the macro lens is not as powerful as some of the other macro units we have listed here. But it sure does the job. The fun bit is the super wide-angle lens.
Taking a closer look at the 0.45x super wide-angle lens, this can really work as your go-to lens for shooting wide landscapes, panoramic scenes, and even group photos. Optically, the performance is stellar with little distortion and vignetting.
A quick word about the macro lens. This lens is designed to work from a minimum distance of 1 to 1.8 inches and gives superb close-up shots of small stuff, like the typical creepy crawlies that abound in the backyard, rings, watches, coins, etc.
In regards to compatibility, the Anazalea lens fits on most of the recent smartphone models. Always make sure to double-check it will work with yours before ordering!
Phone Camera Lens for iPhone and Android, Wide Angle & Macro Lens (Screwed Together)...
【High Quality Cell Phone Lens】- Creative design from flower bud and made of Germany Schott Optical Glass for durability...
【0.45X Super Wide Angle Lens】- It can help largely expand the field of view and enable you capture the entire family or a...
【15X HD Macro Lens】- Enables you to shoot photos at a distance of 1-1.8in from your object. More convenient and powerful...
【Universal Compatibility】- Anazalea phone lens can fit most popular models of smartphones and iPad, for iPhone XS MAX XR...
【What You Get】- 5K HD Wide Angle Lens, 15X Macro Lens, Lens Clip, Lens Ccloth Bag, Cleaning Cloth,Travel Case, User's...
7. Viewnow 4K HD 7 Camera lens kit
Viewnow's kit is made for macro and landscape shooters who shoot with smartphones as their primary camera system. The 15x macro lens allows you to get close to your subject while the wide-angle lens shoots almost distortion-free landscapes, architecture and interior shots among others.
The construction of the lens is composed of aircraft-grade aluminum. This gives the lens unit increased strength. 7 coated optical glasses have been used. This is done to prevent ghosting, reflections, and flares that plague most other lenses including wide-angle DSLR lenses. The lens also has a suppressed corner blackening (vignette). In other words, you wouldn't face the issues of the corners of your frame getting dark.
But the best thing about the kit is the LED macro light. This is probably the most interesting thing about this kit. As a macro photographer, you would often encounter a situation where the source of light is behind you and that means you are likely going to block the light. The LED light comes in very handy in such situations. And to make things sweeter the LED light comes with 6 different brightness settings.
Related Post: Light & Exposure in Smartphone Photography
Cell Phone Camera Lens Kit – VIEWOW 4K HD 7 Optical Glasses 15X Macro 0.45X Wide...
【Upgraded 7 ANTI-REFLECTION GLASSES & 0.45X WIDE ANGLE LENS】Crafted with upgraded aircraft-grade aluminum for high...
【RECHARGEABLE LED FILL LIGHT】 Easily clip the LED light ANYWHERE on your phone to instantly illuminate your subject and...
【15X MACRO LENS】Take sharp, detailed, close-up photos of small subject such as flowers, plants, insects, products, and...
【WIDE COMPATIBILITY】Perfectly compatible with ALL phones' camera including Phone models, Samsung Galaxy and Note,...
【QUICK-RELEASE LANYARD AND TRAVEL CASE】 Along with tons of travel accessories. Durable case stores and protects all phone...
---
As an Amazon Associate we earn from qualifying purchases. Certain content that appears on PhotoWorkout.com comes from Amazon. This content is provided 'as is' and is subject to change or removal at any time.