Are you looking to purchase an outstanding iPhone tele lens? One that will get you excellent-quality images of distant subjects?
If so, then you're in the right place.
Because this article is dedicated to breaking down the best iPhone telephoto lenses on the market. I'll tell you exactly what you need to know before buying your lens — and then I'll help you determine the best tele lens for your needs.
Sound good? Let's dive right in.
Sirui 3-in-1 Lens Kit
Our Pick
Includes a 60mm telephoto lens with great optics and a beautiful build.
Sevenka 6-in-1 Lens Kit
Budget Pick
A powerful super-telephoto for beginners on a budget.
Moment 58mm Tele Lens
Also Great
Well built, sharp, and exceptional for telephoto portrait and street photography.
Voongeek iPhone Camera Lens Kit
An inexpensive lens kit for those hoping to get started with telephoto shooting.
Apexel HD 20-40X Zoom Lens
The most versatile super-telephoto smartphone lens on the market today.
Apexel 36X HD Telephoto Lens
At 36X, you can photograph distant wildlife, birds, and even the moon.
iPhone 12 Pro Max
A top-notch smartphone offering impressive low-light capabilities and three cameras.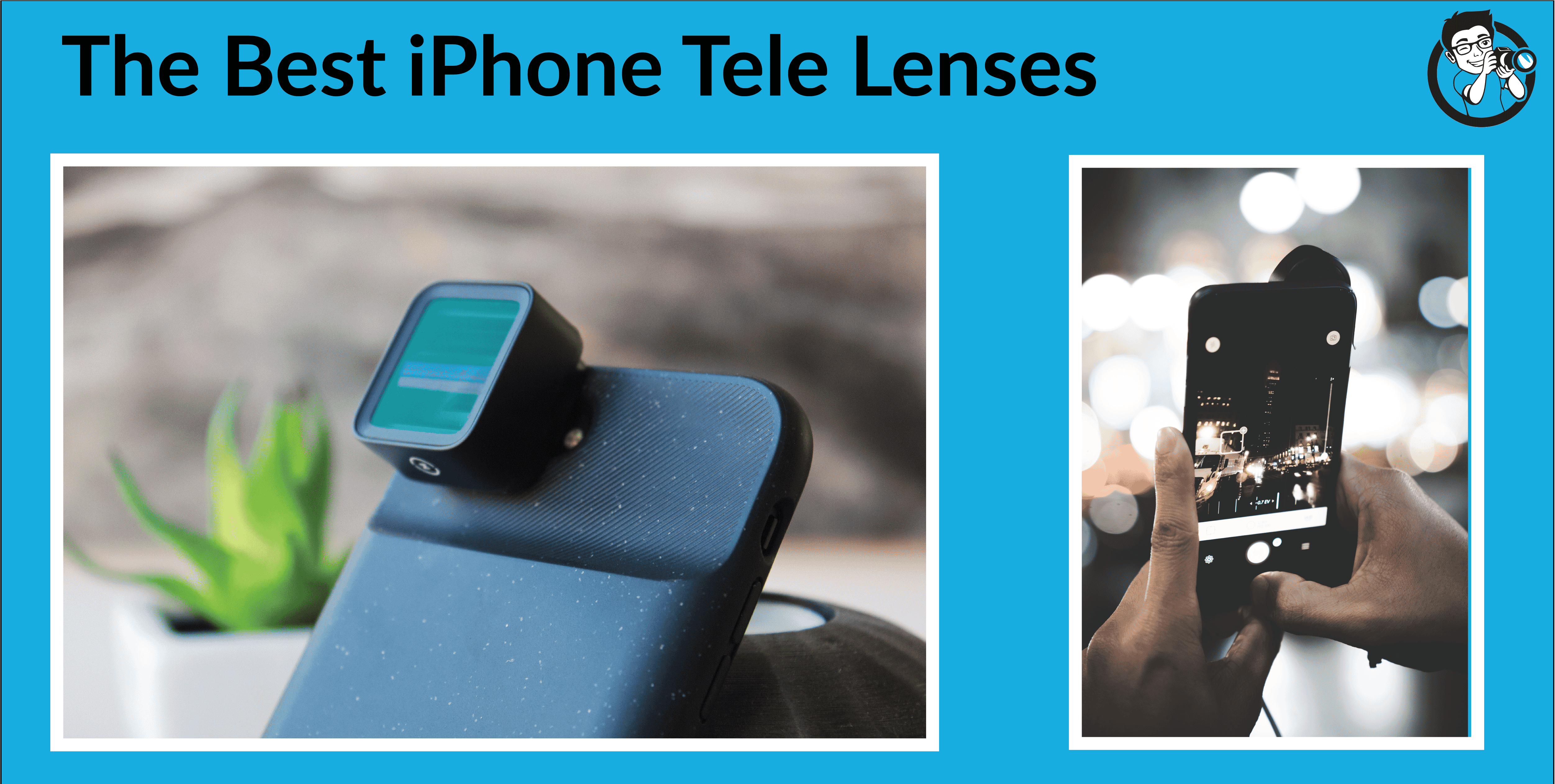 1. Sirui 3-in-1 Lens Kit
Our Pick
The best iPhone tele lens in 2022
Sirui's 60mm portrait lens offers stunning images in a well-built package, perfect for portraits and casual photography. And you get two other great lenses!
Stunning optics
Great minimalist design
Nice short-telephoto focal length
Too short for wildlife and sports
Looking for an iPhone tele lens that'll capture beautiful portraits, street photos, and more? The Sirui 3-in-1 lens kit packs a gorgeous 60mm portrait lens, one that offers both outstanding image quality and a robust build. The kit contains two other class-leading lenses – a fisheye lens and a wide-angle lens – so the price is on the higher side, but if you care about quality, then the Sirui 3-in-1 is worth the investment. Plus, you can use the additional lenses for plenty of photo fun; they're great for landscapes, creative portraits, and even night-sky photography.
Really, when it comes to smartphone tele lenses, here's the truth:
Most of them are just bad. They're plasticky. Image quality is subpar. And they suffer from compatibility issues nonstop.
But not the Sirui lens kit.
Somehow, Sirui has managed to create three lenses that look great, feel great, and take stellar images. Telephoto shots are sharp from corner to corner. There's no significant vignetting or chromatic aberration. If you're a serious photographer in search of a top-quality iPhone lens, then this is quite possibly your best option.
And if you're a fan of hiking, biking, or bad-weather photography, you'll love how durable these lenses are. According to Sirui, the bodies are constructed from aircraft-grade aluminum, so they should hold up under significant stress.
It's worth noting that the Sirui Portrait lens doesn't offer a ton of zoom. The focal length equates to 60mm on a full-frame camera, which is great for portraits and street shooting but won't get you close enough for sports, wildlife, or birds.
Really, it all depends on what you're after. If you like the idea of capturing high-quality portraits, this little lens kit is a great buy. But if you're looking to shoot distant subjects, such as birds, I'd highly recommend you check out the Sirui 20-40X telephoto (also on this list, below).
2. Sevenka 6-in-1 Lens Kit (Including an 18X Telephoto Zoom Lens)
Budget Pick
Best for sports and wildlife on a budget
The Sevenka lens kit offers a well-built set of lenses for a great price. You get an 18X telephoto lens (which doubles as a monocular!).
18X telephoto magnification
Great price
Easy to use
If you're after a budget-priced tele lens for iPhone, look no further than the Sevenka Lens Kit, which offers a whopping six lenses for under $30 USD.
The crown jewel of this lens set is the zoom telephoto; with its 18x magnification, you can capture detailed photos of distant birds, wildlife, and more. Image quality is decent, though you will notice some slight fringing, especially around the corners of the frame (fortunately, this can be minimized in post-processing, or you can just roll with it for a bit of artistic flair!).
While the lenses are plastic, the build quality is very solid. And handling the telephoto is pretty easy – just clip it to your iPhone, turn the rings to focus, and you'll have a sharp image in no time at all.
My main gripe with the Sevenka telephoto lens (as with all iPhone super-tele lenses) is its size. When mounted to your iPhone, it pokes out rather far, but as long as you have a bit of room to maneuver, you should be fine.
And there's a little bonus, too: the telephoto lens doubles as a monocular. Just add the soft cap, and you've got yourself a serviceable setup for bird watching or viewing sports from a distance.
The Sevenka lens kit also packs several other useful lenses, including a fisheye lens (for an ultra-wide, circular effect), a wide-angle lens (for capturing stunning landscapes), and a macro lens (for detailed close-up photography).
As for compatibility, Sevenka claims that its lenses work on "almost all smartphones," including plenty of iPhones and Samsung models. Check out Sevenka's list of compatible phones or – if your phone isn't listed – you can always contact Sevenka directly.
Bottom line: If you're after a bargain-priced lens kit that can do it all, the Sevenka lens kit is a great purchase.
3. Moment 58mm Tele Lens for iPhones
Also Great
An excellent alternative to Sirui's Portrait lens
Moment's high-quality tele lens is perfect for beginners and experienced photographers alike, thanks to its top-notch image quality and build.
Beautiful image quality
Durable build
Useful short-telephoto focal length
Requires a case (sold separately)
Note: The Moment 58mm is not always available on Amazon, but you can buy the lens directly from the Moment Shop.
Moment is a heavy-hitter in the smartphone lens department, offering a several well-regarded options: a wide-angle lens, a macro lens, and this telephoto lens.
Because Moment is known for their smartphone optics, I was hoping that the Moment tele lens would hold up under scrutiny, and I wasn't disappointed.
Let's start with the focal length: 58mm. The Moment telephoto is a relatively short lens, especially compared to other lenses on this list. It won't get you close enough for photos of distant birds or even for action sports scenes, but the Moment lens will effectively double your focal length when shooting with the standard lens on iPhones. This gives you a perfect level of magnification for tighter portrait shots and more distant scenic shots. You can use it to photograph your kids on a beach, then turn and snap some shots of the distant horizon.
Note that you can also use the Moment telephoto lens on an iPhone telephoto lens, giving you an effective focal length of around 120mm. At this focal length, you'll be in the ballpark for headshots, images of people from a distance (e.g., for street photography), and sports photography.
Optically, Moment's tele lens performs well. The center of the frame is impressively sharp, only becoming soft as you move out toward the corners. Colors look good, though some chromatic aberration is present toward the outside of the frame. If the fringing irks you, you shouldn't have much trouble removing this in a program like Lightroom.
As for build quality, the Moment lenses are some of the best on the market. The telephoto lens is manufactured from aerospace-grade metal and feels strong, like it'll last.
While the Moment telephoto lens is compatible with many smartphones (including most iPhone models), you cannot use it without the Moment smartphone case which is sold separately. The case allows the lens to attach to your iPhone camera, so make sure you get it along with the lens.
4. Voongeek iPhone Camera Lens Kit (Including a 22X Telephoto Lens)
Best for beginners
The Voongeek iPhone Camera Lens Kit is perfect for beginners looking to have some fun with a telephoto lens (and the quality is good, too!).
22X magnification
Surprisingly good build quality
Great price
The Voongeek iPhone Camera Lens Kit features a well-priced, powerful 22X telephoto lens – a great pick for beginner telephoto photographers, especially those aiming to shoot wildlife and birds. The focal length is on the longer end, which is exactly what you need if you're working with small and distant subjects. Plus, the Voongeek 22X can double as a sports photography lens if you find yourself high up in the stands. The kit also contains three more lenses: a macro lens for close-up photography, a wide-angle lens for scenic shots, and a fisheye lens for creative distortion.
Like pretty much every other long telephoto lens for iPhones, you'll need to get used to some big optics. For one, it'll be tough to find your subjects at such high magnifications; you'll need to do a lot of hunting before you can lock onto anything. And the lens body itself is long and a bit unwieldy.
Fortunately, this telephoto lens comes with an upside: Build-quality and handling are impressive, especially for a budget-quality smartphone option. The lens itself is made of aircraft aluminum, plus it comes with a handy eyecup accessory so you can use it as a monocular.
You'll be pleased to know that the Voongeek 22X also comes with a handy accessory, a small tripod that'll help you balance your iPhone when shooting with a hefty tele lens attached.
The Voongeek tele lens clips straight onto your smartphone, so you don't have to worry about purchasing accessories. Nor should you have compatibility issues; the entire lens kit works well with iPhones.
Image quality is good but not great. The lens displays significant distortion and softness, especially around the edges (giving an admittedly artistic look). But the center performs well, and should be able to satisfy beginners looking for a first telephoto lens at a great price.
5. Apexel HD 20-40X Zoom Lens
Best for sports and wildlife photography
The Apexel HD 20-40X is the sharpest and most versatile long tele lens on the market. If you want to shoot sports or wildlife with your smartphone, it's the best lens you can buy.
Excellent sharpness
Focal length matches (or exceeds) pro-level super-telephoto lenses
Robust build
If you're after a long telephoto lens for wildlife, distant sports, and birds, the Apexel HD 20-40X Zoom Lens is a capable – and well-priced – pick.
For less than $75 USD, here's what you get:
A 20-40X zoom lens
A tabletop tripod (for added stability)
A nifty little eyecup (the lens can be used as a monocular)
A compact storage bag
The Apexel 20-40X lens is unlike any smartphone super-telephoto I've encountered. It offers a whopping 20X to 40X zoom range, which is certainly powerful enough to capture sports and wildlife. And it delivers beautiful image quality, with zero vignetting and fringing at 20X and only limited fringing at 40X, even around the edges. You're also helped by the tabletop tripod, which will keep the lens stable in low-light conditions.
Build quality is excellent, thanks to an aluminum body, but what really impresses me is the Apexel's versatility; at the wide end, you can shoot distant animals and people, while at the long end, you can shoot birds, plus pretty much anything that looks impossibly far. In fact, this is the only smartphone zoom lens that combines such incredible reach with stellar optics, which is why I highly recommend it for the budding bird/wildlife photographer.
Honestly, the Apexel 20-40X is, without a doubt, the best super-telephoto iPhone lens I've encountered. And the price is quite affordable – sub-$70 USD isn't bad at all, especially in the realm of smartphone lenses – so if you're set on capturing distant subjects with your smartphone and you love the idea of a powerful zoom, it's the perfect choice.
6. Apexel High Power 36X HD Telephoto Lens (With a Tripod)
Best for long-distance telephoto shooting
The Apexel High Power lens offers unprecedented power; with 36X zoom, you can photograph wildlife, birds, and even the moon.
36X zoom
Tripod included
Well designed
Tough to focus
Subpar sharpness
The Apexel telephoto lens is for specialty shooters:
Those who need massive amounts of reach, primarily for bird and wildlife photography, though it's also worth testing this out as an astrophotography lens.
Obviously, 36X is an impressive focal length, far greater than anything else on this list. You can use it to snap photos of tiny birds on trees, distant flowers in a field, and more. While such a long lens performs well in terms of reach, it comes with some drawbacks; namely, it's tough to focus, and even tougher to track a subject in the field.
To this end, Apexel has included a manual focus ring, which lets you alter focus on the lens body itself. But at 36X, you should be aware that you cannot technically zoom in and out, only change the point of focus. This means that, if you find yourself cutting off parts of your subject, your only move is to back up a few steps.
On the other hand, 36X magnification on an iPhone is astonishing, and will allow you to capture shots that most smartphone photographers have never even dreamed of. You'll be able to capture some beautiful photos of the moon.
No, it's not a light, convenient telephoto. If you want one of those, grab the Moment 58mm (discussed above). The Apexel is quite lengthy, which is why it comes with a tripod collar and a mini tripod — once you've attached these, you'll be able to take sharp images without worrying about camera shake. It's also made of high-quality aluminum, which should keep you from worrying about it breaking after a bit of use.
As for compatibility, you can use this lens on many (but not all!) iPhones, so make sure to check compatibility before buying. You can choose to attach it to your iPhone via a clip, or as part of a case setup (though the case is an accessory that doesn't come with the lens).
And optically?
This isn't the best telephoto lens out there. The center is barely sharp and displays some notable fringing; both the fringing and the softness become worse as you move toward the edges.
However, if you want to shoot at 36X on your iPhone, you don't have many options. So for the beginner who wants a lens for bird, wildlife, or astrophotography, the Apexel High Power 36X HD telephoto lens is a good way to go.
7. iPhone 12 Pro Max
Best if you're looking for a new phone
The iPhone 12 Pro Max offers a 65mm telephoto lens plus two additional cameras. If you're willing to pay $1000+, you'll walk away with a very capable system.
Excellent image quality
Convenient
65mm focal length equivalent is perfect for portraits
Before you go out and buy an external telephoto lens, it's worth asking:
Should you buy a new iPhone, instead?
You see, several iPhones offer built-in telephoto capabilities, including the iPhone 7 Plus, iPhone 8 Plus, iPhone X, iPhone XS, iPhone 11 Pro, iPhone 12 Pro, and iPhone 12 Pro Max. While the focal length isn't particularly long (around 65mm on iPhone 12 Pro Max), the telephoto lens offers you the ability to capture tighter portraits and street photos. So if you're looking for just a bit of extra reach, consider an iPhone.
The iPhone 12 Pro Max has debuted just recently to general acclaim, which makes its 3-camera setup (which includes a telephoto lens) very appealing. Of course, a new iPhone has its downsides, including the huge price tag, but it also comes with some benefits.
For instance, an iPhone tele lens offers something that most external telephoto lenses cannot match: sharpness.
Simply put, any iPhone with an external lens just won't be as sharp as the iPhone without that lens. The more glass you have in front of the native camera, the lower the overall sharpness.
Sometimes, this drop in sharpness is worth it, such as when you're shooting distant wildlife that you can't possibly get close enough to photograph with just the native camera.
But sometimes it makes sense to maintain image quality, and that's where the telephoto lens of an iPhone 12 Pro Max comes in. Native telephoto lenses also offer less color fringing and limited vignetting.
Plus, a built-in telephoto lens saves you from having to worry about your external lens breaking or getting lost, nor do you have to consider lens compatibility issues when upgrading phones.
And the iPhone 12 Pro Max's camera setup is just all-around great; you get the 12 MP 65mm tele lens (with optical image stabilization for sharper shots in low light), along with a very nice ultra-wide lens (for stunning landscapes and architectural shots), and of course, a powerful main camera (with a 26mm-equivalent focal length).
So if you're looking for a small telephoto lens, check out the newest iPhone!
The Best iPhone Tele Lens: Key Things to Consider
When it comes to picking a telephoto lens for your iPhone, you don't want to go out and grab the first working lens you come across. Because there are plenty of low-quality iPhone lenses out there — which will give you blurry, poorly-rendered images of your subject.
Instead, you want to find the lens that accommodates your needs while ensuring you capture some beautiful smartphone photos.
There are a few factors that go into this equation:
Focal Length
Before you choose a telephoto lens for your iPhone, ask yourself:
What do I want to photograph?
If you're simply looking for a lens that gets you slightly closer to your subjects than the native iPhone lens — so that you can capture half-body portraits or headshots, for instance — you'll only need a telephoto lens with a small amount of zoom, such as 5x (or even 2x).
However, if you want to capture photos of distant players at a football game, you'll need something longer. A 10x telephoto lens would be a good start.
And if you want to photograph birds in distant trees, you'll need something even longer, such as a 15x or 20x telephoto lens.
Unfortunately, most iPhone tele lenses don't offer a range of focal lengths. In other words, you can't shoot at 5x and then zoom in to 10x. Instead, you're stuck with a single focal length. This limits your flexibility as a photographer, but you'll learn to make it work with some practice.
Related Post: Light and Exposure in Smartphone Photography
Image Quality
Even if you have a tele lens with a good focal length, you also want to make sure it offers excellent optical quality.
What does this involve?
First, the best iPhone tele lenses should be sharp in the center. It's a bit too much to expect corner sharpness, but you want to take photos that aren't noticeably blurry in the middle of the frame.
The best tele lenses should also have limited chromatic aberration and vignetting. Chromatic aberration refers to fringing, often on high-contrast edges. Vignetting refers to a darkening at the edges of the frame. In tele lenses, chromatic aberration is something to watch out for due to optical imperfections. Vignetting, on the other hand, is often a compatibility problem, where the external tele lens obscures part of the internal iPhone lens.
Regardless, these are both optical issues you should avoid if possible. A lack of fringing and vignetting will make your photos look far more professional.
Related Post: The Ultimate Guide to Sharp Smartphone Photography
Build Quality
When it comes to tele lenses for iPhones, manufacturers often skimp on build quality to keep the price down.
Unfortunately, this results in cheap lenses that will last for a few weeks before breaking.
That's why it's key that you recognize which lenses will stand the test of time and which lenses won't. The best lenses are made of metal, not plastic. And they have a good, solid feel to them when you hold them in your hands.
Compatibility
Some iPhone lenses are made to work on pretty much any smartphone, Apple or Android.
Other iPhone lenses are made to work on only iPhones.
Still others only work on single iPhone models.
Before you purchase an iPhone telephoto lens, you want to make sure it's compatible with your smartphone. And there are advantages to purchasing lenses that are compatible with additional iPhones and Android devices: If you end up buying a new iPhone or purchasing a Google Pixel, you'll be able to use your tele lens without a problem, which will save you money in the long run.
And speaking of money:
Price
You can't evaluate the best iPhone telephoto lenses without considering price.
Fortunately, even the best tele lenses are fairly cheap — and for those who don't have the budget for these, you'll be able to grab a budget tele lens for bargain prices.
Do budget tele lenses perform worse than the pricey ones?
Generally speaking, yes. But there are some impressive budget lenses, which give a whole lot of power for a low price.
The Best iPhone Tele Lenses: Conclusion
Hopefully, you now have a sense of the best iPhone tele lens for your needs.
Just remember that there are plenty of great options out there, most of them offered at excellent prices. Whether you get the Sirui 3-in-1 lens kit for some portrait and street shooting, the Apexel telephoto lens, or even an iPhone 12 Pro Max with its telephoto lens, you'll end up with a lens that can take some impressive photos.
So get your lens, get out, and start shooting.
Amazing images await.
Related Post: Best Post-Processing Apps for Smartphone Photography
iPhone Tele Lens FAQs
What are the best iPhone tele lenses?
Our pick for the best iPhone tele lens is the Sirui 3-in-1 lens kit, which offers a 60mm portrait lens with decent zoom, good image quality, and a rugged build.

However, those who are looking for a lower-priced option should check out the Sevenka 6-in-1 kit, which includes an 18X lens. Though it doesn't offer as strong image quality as the Sirui kit, the price is far lower, and the optics are decent for the price. Plus, you'll get several other fun lenses as part of the package.
What is the best focal length for iPhone telephoto lenses?
There is no one best iPhone telephoto focal length; it all depends on your needs! If you want to shoot portrait photography or street photography, a 2X telephoto lens (around 50mm-60mm) should work well. However, if you want to shoot distant sports, aim for a lens around 10X (or even 15X, if you're dealing with large distances). And for those who want to shoot birds or the moon, even greater distances (20X, or even 36X) will be best.
What is the best iPhone telephoto lens on a budget?
If you're on a budget, I recommend the Sevenka 6-in-1 kit, which offers a 20X lens and decent image quality.
Is the Moment 58mm telephoto lens a good option?
The Moment 58mm telephoto lens is a great option. It balances image quality (which is good, especially in the center), build quality (which is amazing, through and through), and price (which is reasonable, though not cheap).

Of course, the 2X optical zoom isn't for everybody. If you're hoping to do portrait, street, or casual walkaround photography, 2X is great. But for those looking to shoot distant wildlife, you'll want significantly more reach.
Why should I purchase an iPhone telephoto lens?
You should purchase an iPhone telephoto lens if you're looking to expand your reach. iPhones only offer around 25mm of reach (which jumps to around 60mm on the iPhone 7 Plus, 8 Plus, X, XS, 11 Pro, and 12 Pro/12 Pro Max). While the common 25mm lens is nice for landscape shots, sometimes you just want to zoom in more. And that's where iPhone telephoto lenses come in. They'll get you much closer to the scene, sometimes as much as 40X closer, and will allow you to capture details that you wouldn't have been able to otherwise.

Another cool thing is that most of these telephoto iPhone lenses double as monoculars. So you can always slip them off your iPhone and watch birds or a sports game through them!
---
As an Amazon Associate we earn from qualifying purchases. Certain content that appears on PhotoWorkout.com comes from Amazon. This content is provided 'as is' and is subject to change or removal at any time.