Are you struggling to choose a Nikon telephoto lens? Don't worry.
In this guide, I share the 10 best telephoto lenses for Nikon on the market – including options for plenty of genres and for every budget. I also explain everything you need to know about picking the right lens for your needs.
Let's get started.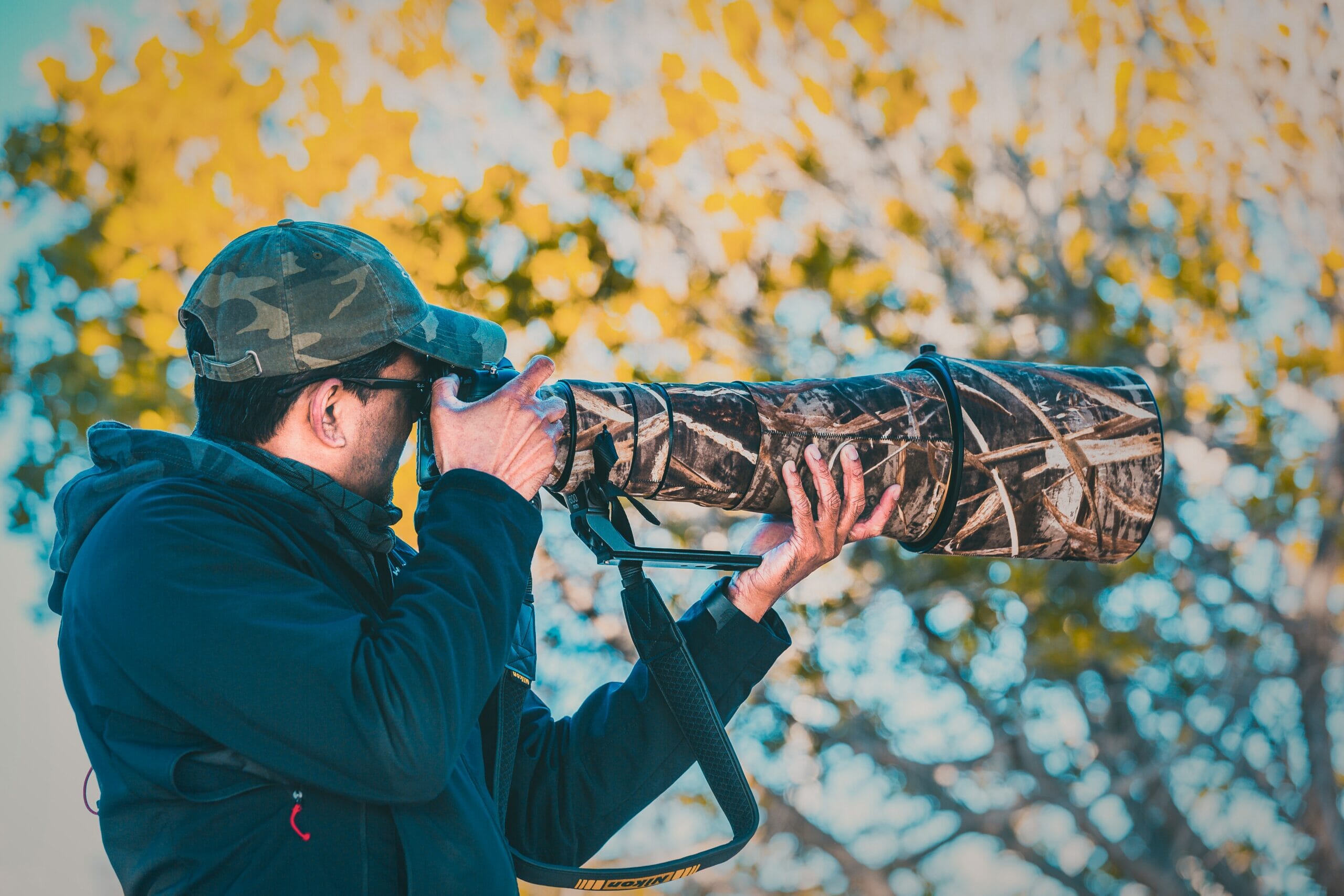 Best Telephoto Lenses for Nikon:
When you buy through links on our site, we may earn a commission at no cost to you. We evaluate products independently. Commissions do not affect our evaluations.
The Best Mirrorless Telephoto Lenses for Nikon
Mirrorless photography is the future, but Nikon only offers three telephoto lenses for their Z-mount (mirrorless) cameras. And they aren't sharing the proprietary connection data with other companies, so you won't find any third-party Z-mount lenses.
Below, I've shared Nikon's three telephoto lenses for Z cameras – though if these three lenses don't strike your fancy, Nikon does make a converter that will adapt their DSLR lenses to Z cameras.
1. Nikon Z 70-200mm f/2.8 VR S
Our Pick
A popular focal length reimagined
You'll struggle to find a photographer who won't recommend a 70-200mm lens, and this version is made exclusively for Nikon's mirrorless system.
Pros
Great improvements on a classic lens
Ultra sharp
Image stabilization
Fast autofocus
Cons
On the large side
Very expensive
You won't find a "best lenses" article without at least one 70-200mm option. This focal length is the staple of any photographer's kit, whether you are shooting portraits, adventuring in the Swiss Alps for wildlife, or capturing dramatic sports photographs. These are the best of the best telephoto lenses, created for quality (but not necessarily for convenience).
Reimagined for mirrorless systems, the new Nikon Z 70-200mm f/2.8 VR S combines all of the things that longtime Nikon users loved about this lens into a slightly smaller package.
The Nikon Z 70-200mm f/2.8 is silent but accurate. Noise is minimal when focusing to help you capture photos without disturbing your subjects. The construction is top notch, and you'll struggle to find a better mirrorless lens at this focal length.
2. Nikon Z MC 105mm f/2.8 VR S
Also Great
A great medium-telephoto prime
Although 105mm is an often-ignored focal length, this lens is full of power and shouldn't be overlooked.
Pros
Superb image quality
Unique OLED screen on the lens shows you vital information
Great for close-up shots
Next up is the Nikon Z MC 105mm f/2.8 VR S. This is a fixed focal length lens that is ultra sharp and ultra powerful, though it's far from the longest telephoto option on the market.
The 105mm focal length is often overshadowed by the more popular 135mm, but 105mm lets you focus closer than some of the other telephoto primes, and the shorter reach prevents you from needing to stay far back when shooting.
The Nikon 105mm f/2.8 is also notable for its image stabilization. Many Nikon lenses offer this in some form, but the tech offered by the 105mm f/2.8 is especially impressive; pair it with the bright maximum aperture, and you can capture quite a lot.
An added feature is the on-lens display, which shows you vital lens information you may want to view when shooting. The OLED screen will show you the lens's current f-stop, focal length, and magnification factor (pretty convenient for more complex photo sessions).
Finally, because the Nikon 105mm f/2.8 can focus so close, a helpful focus-limiter switch ensures you can easily go from shooting more distant subjects to capturing magnified close-ups.
3. Nikon Z 85mm f/1.8 S
Budget Pick
A fusion of beauty, power, and price
This shorter lens provides exceptional quality at a less painful price.
Pros
Great price
Ultra sharp
Beautiful colors
Cons
Missing a lot of pro features
Many don't know that 85mm is a telephoto focal length, but it is! Known for its superb portrait capabilities, the Nikon Z 85mm f/1.8 S is teeny but mighty. While it's on the short side, it can be used as for action photography or to achieve beautiful portrait subject compression.
This specific 85mm option builds upon its classic DSLR predecessor. Nikon retained the best aspects of the lens and heavily improved upon the rest.
Although the lens doesn't offer as many fancy features as the two options listed above (there's no image stabilization system, for instance), it does include outstanding optics. Images are sharp, clear, and full of punchy colors; what more do you need? The autofocus communicates perfectly with Nikon's mirrorless cameras, and no matter your subject, it's easy to lock focus.
And as the price tag is under $1000, the lens is also quite affordable!
The Best DSLR Telephoto Lenses for Nikon
If you're a DSLR user or are willing to pair your Nikon mirrorless camera with a converter, these are your best options!
4. Tamron SP 70-200mm f/2.8 Di VC USD G2
Our Pick
A third-party lens to rule them all
With so many 70-200mm lenses on the market, it can be hard to determine which to buy. This one offers exceptional performance (and at a great price!).
Pros
Communicates with camera body like a native lens
Superb image quality
Fast autofocus
Highly versatile focal length range
Cons
Expensive
Heavy and bulky in size
We're starting off our list of DSLR telephoto lenses for Nikon with the classic 70-200mm, but with a twist: This one is made by a third-party company. It's the Tamron SP 70-200mm f/2.8 Di VC USD G2, and it's a superb performer in pretty much every way.
First, sharpness is professional quality. This lens is tack-sharp at every focal length, and you can achieve great results even at f/2.8.
The focal length range doesn't offer the convenience of a walkaround telephoto zoom, but this lens is made for photographers who don't mind sacrificing convenience for amazing optical quality. I'd recommend this lens for landscape photography, portrait photography, and more. You could also use it for sports, especially with the fast (f/2.8) maximum aperture, which will allow you to crank up the shutter speed for action shots.
There are two cons, however. For one, the lens is somewhat bulky (you wouldn't want to hang it around your neck during casual outings), and it's also pricey.
But this size is what you get when you work with a fast zoom, and you won't find a better telephoto option in this price range.
5. Sigma 135mm f/1.8 DG HSM Art
Also Great
An outstanding prime telephoto option
The 135mm focal length is highly versatile, and this version is loved by photographers across the globe.
Pros
Incredible sharpness
Fantastic shallow depth of field with f/1.8 aperture
Weather-sealed, all-metal construction
Cons
Expensive
Heavy and bulky for its focal length
A personal favorite of many animal photographers, the Sigma 135mm f/1.8 DG HSM Art is sharp, wicked fast when focusing, and features a glorious f/1.8 maximum aperture. Pair great subject compression with a very shallow depth of field, and you get dreamlike images with a wonderfully sharp subject.
In fact, the Sigma 135mm f/1.8 is one of the sharpest lenses on the market today. You can render tons of detail throughout the entire frame.
Yes, the lens is bulky, but that's the cost of such a wide maximum aperture. It's also very well built and features an all-metal body, not to mention weather sealing (perfect for shooting events in rainy weather).
And while the lens is on the pricier side, you get a lot for what you pay.
6. Nikon AF-P 70-300mm f/4.5-5.6E ED VR
Great for wildlife
For those looking to capture distant subjects without breaking the bank, this lens is a great choice.
Pros
Very good price
Long focal length
Sharp throughout its zoom range
Cons
Not the fastest focuser
Narrow maximum aperture
For the most part, photographers tend to gravitate toward shorter telephoto options, which are perfect for portraiture and event photography. But what about longer telephoto options?
That's where the Nikon AF-P 70-300mm f/4.5-5.6E ED VR comes in.
It's what you want to have on your camera when doing more serious long-distance shooting – for instance, when photographing large wildlife or distant sports players.
The 70-300mm offers excellent image quality for the price. It's very sharp on the wide end (from 70-200mm), and it manages to perform well even past 200mm, especially when stopped down. Color fringing is present in high-contrast situations, especially on the long end, but it's relatively manageable.
Autofocus isn't lightning fast, but it's not slow, either; you won't have difficulties with focusing in most situations. And the image stabilization is a nice touch, which you'll appreciate in low-light situations.
7. Nikon AF-S DX 55-200mm f/4-5.6G ED VR II
A great walkaround option
Versatile and easy to carry, this lens is excellent for the travel and adventure photographer.
Pros
Excellent walkaround focal length
Inexpensive
Surprisingly fast autofocus
Cons
Only compatible with APS-C cameras
The Nikon AF-S DX 55-200mm f/4-5.6G ED VR II offers a classic telephoto focal length for a fantastic price. It's a walkaround lens through and through, one that you can count on when shooting portraits, events, or street scenes.
The optical quality is impressive for the price. No, it's not the sharpest lens out there, but it'll give you decent performance, especially on the wider end. And you can always improve sharpness by stopping down to f/7.1 or f/8.
Autofocus is fairly fast, so you won't be afraid to use the Nikon 55-200mm in action-packed situations. I don't recommend it as a serious sports lens, but it should be okay for fast-paced street photography and event photography.
The Nikon 55-200mm also sports Nikon's image stabilization technology, which will help you shoot handheld in low light. Combine that with the lens's light body, and you'll appreciate it in all situations.
It is a DX lens, which restricts it to APS-C cameras – but that also means the effective focal length extends to 300mm, so you'll have a bit more reach in case you need it.
All in all, this is a lens for shooters looking for their first telephoto zoom lens. It won't get you top-of-the-line image quality, but it'll do a good job for a great price.
8. Nikon AF-S 70-200mm f/2.8G ED VR II
Nikon's flagship 70-200mm option
The Nikon 70-200mm f/2.8 is pricey, but its blazing-fast autofocus and stunning optics are hard to beat.
Pros
One of Nikon's most famous lenses
Edge-to-edge sharpness throughout the zoom range
Extremely sturdy construction
Fast autofocus
Cons
Very expensive
Bulky and heavy
This is Nikon's very own 70-200mm lens for DSLRs. Many of the features offered by this lens overlap with other 70-200mm lenses our list, but what makes this Nikon 70-200mm f/2.8 special is the edge-to-edge sharpness throughout its entire zoom range. Whether you are shooting at 70mm or 200mm, you can expect tack-sharp results.
The sturdy, pro-level build was created with the working photographer in mind, and the lens is able to handle bumps, tumbles, and whatever weather conditions you might face. The lens barrel sports plenty of control switches, which make it easy to adjust settings and adapt the lens to your needs.
Despite the bulky size, the benefits of the Nikon 70-200mm f/2.8 make it a useful tool worth carrying around.
9. Sigma 100-400mm f/5-6.3 DG OS HSM Contemporary
An affordable super-telephoto option
The Sigma 100-400mm isn't the flashiest lens, but the price is tough to beat.
Pros
Good price
Very durable
Image stabilization
Cons
Narrower maximum aperture
Looking for an affordable and versatile long lens? The Sigma 100-400mm f/5-6.3 DG OS HSM Contemporary may be exactly what you need! This lens is on the smaller side, making it easy to take with you wherever you go, and it's not too heavy, either.
The 100-400mm range is great for a wide array of genres, from action to wildlife. The optical performance is excellent, especially when you consider the sub-$1000 price.
This lens does come in a variety of mounts, and the Nikon version works very well with all of Nikon's DSLR cameras. The communication between the lens and Nikon cameras is outstanding and produces highly accurate autofocus. The lens even offers image stabilization, which will help you shoot handheld in low light.
10. Sigma 150-600mm f/5-6.3 DG OS HSM Contemporary
Great for bird and wildlife photography
If you need super-telephoto reach, then the Sigma 150-600mm is the way to go.
Pros
Extremely long focal length
Amazing price for the perks
Amazing image stabilization system
Cons
Large, long, and uncomfortable to use
Narrow maximum aperture
If 400mm isn't quite enough for you, then 600mm should do the trick! The Sigma 150-600mm f/5-6.3 DG OS HSM Contemporary has an impressive focal length range that's perfect for bird photography, wildlife photography, and even telephoto landscape photography.
This does come at a cost: The lens looks more like a weapon than a camera optic. You'll probably do best when working with a monopod or a tripod. However, for those who like to shoot handheld, the Sigma 150-600mm F/5-6.3 DG OS HSM Contemporary does have an absolutely fantastic image stabilization system that'll ensure your shaky hands don't impact your photographs.
Optics are impressively sharp, and you can expect the lens to focus quickly, especially in good light. The lens is also surprisingly affordable for what it is (it generally costs around $1000).
Telephoto Lens Buying Guide
When it comes to purchasing a telephoto lens for Nikon cameras, there are a few factors you need to consider:
Focal length
Optical quality
Size and weight
Image stabilization
Price
Focal Length
Before you purchase a Nikon telephoto lens, you should pinpoint exactly what it is you want to shoot. Telephoto lenses have many uses, and different telephoto focal length ranges are better for different subjects.
Do you want an all-purpose, walkaround telephoto lens? If so, then I recommend choosing a lens with a large zoom range – one that starts wide, at around 50mm, and goes all the way to 200mm or 300mm. This will ensure you're prepared for every situation.
Do you want to capture photos of birds and wildlife? Then you're going to need a telephoto lens that stretches into the super-telephoto range. Unless your wildlife is big and comfortable around humans, even 300mm is going to frequently fall short, so 400mm is probably the minimum you'll need. If you're looking to shoot small birds, then 500mm is definitely a good idea.
Do you want to capture tight portraits? Then you should grab a lens that starts with a standard focal length (i.e., 50mm) and zooms to 200mm or so. This will give you a nice range for shooting headshots without overdoing it.
Do you want to photography sports? If so, then a medium-telephoto lens is probably best, one that spans from around 70mm to 200mm. This range can handle pretty much any sports situations – unless you're shooting from extreme distances, in which case a longer telephoto lens might be helpful.
Finally, do you want to photograph tight landscapes? Then you'll need to grab a lens in the 70-200mm range. This will get you tight shots but won't force you to deal with an excess 100mm or so on the long end.
Of course, while you should choose your lens based on your anticipated subjects, you can shoot other subjects once you obtain the lens. But you should always start by making sure the lens fits your main purpose. That way, you won't have to buy another lens a few months down the line.
Optical Quality
This one might seem obvious, but you absolutely want to make sure you purchase a lens offering acceptable optical quality. There are some questionable lenses out there, and if you buy one without thinking it through, you may find yourself with blurry photos and unpleasant fringing.
The best lenses are sharp at every focal length, from the widest part of their range all the way to the end. However, it's rare to find telephoto zooms that are truly that impressive. Most telephoto lenses will lose sharpness toward the end of their focal length range, so you should always be on the lookout for that possibility. It can be especially problematic if you plan to use the lens for small, distant subjects, where the 200mm-600mm end is going to be your most used focal length.
So just be careful.
Size and Weight
As a general rule, telephoto lenses are larger than their wide-angle counterparts. But telephoto zooms do vary in size and can be pretty compact relative to telephotos such as 200mm or 300mm primes.
So I recommend you ask yourself: Do I need a lens that's lightweight so I can carry it around with me all the time? Or am I okay with a longer, heavier lens?
If you're looking for a walkaround option, a light, compact lens is essential. But if you'll be shooting birds with a great heavy-duty tripod, you may not mind something a little (or a lot) heavier.
Note that heavier lenses tend to have better build quality; this is important if you plan to go all out when using your Nikon telephoto lens. Outdoor photographers, in particular, should be aware of the importance of rugged equipment. You don't want to get caught in a downpour and return home only to find your lens has stopped working.
Image Stabilization/Vibration Reduction
These days, many telephoto lenses come with image stabilization or, as Nikon calls it, Vibration Reduction (VR).
Vibration Reduction uses technology to stabilize your lens, which allows you to handhold at slow shutter speeds and still capture sharp photos.
So if you plan to do low-light photography without a tripod, Vibration Reduction is a great feature to have. It's especially important if you're using a big lens at its longest focal length. The bigger the lens, the more prone it'll be to camera shake. And the longer the focal length, the more it will magnify camera shake.
Grab Your Nikon Telephoto Lens!
You should now have a good sense of the best Nikon telephoto lens for your needs.
In the mirrorless category, our absolute favorite is the Nikon Z 70-200mm f/2.8. This classic focal length is one of the most useful, and the mirrorless version is absolutely superb. But budget-conscious photographers should consider the Nikon Z 85mm f/1.8, which offers excellent features at a great price.
In the DSLR realm, our overall favorite is the Tamron 70-200mm f/2.8, a third-party lens that can compete with far more expensive options. The Sigma 135mm f/1.8 Art is another great third-party lens, and its features, quality, and sharpness beat out Nikon's own lens offerings.
---
Disclosure/Disclaimer: As an Amazon Associate, we earn from qualifying purchases. Certain content was provided "as is" from Amazon and is subject to change or removal at any time.