When it comes to photo storage, it goes without saying that you need a lot of space. Whether you shoot for fun or for professional purposes, you're likely to produce quite a few files over the years. And having the best laptop for storing photos can make handling your image library much easier.
In this article, we've selected a range of laptops that are perfect for image storage. Laptops really do work well for this purpose; they're portable and can handle post-processing needs while doubling as a file-management system.
It's worth noting, however, that you should always have a robust strategy in place that uses backup methods in addition to a laptop.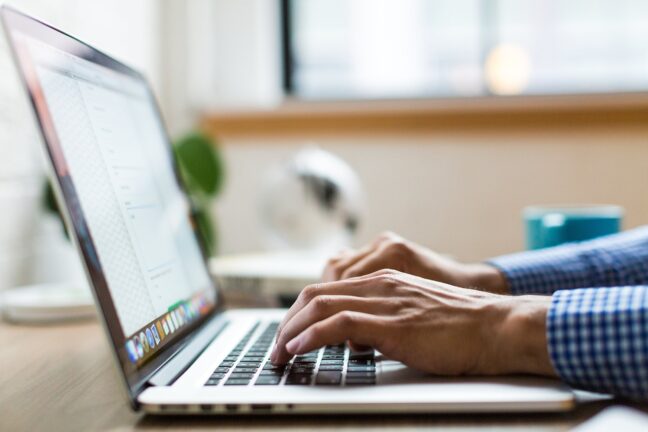 Best Laptop for Storing Photos
When you buy through links on our site, we may earn a commission at no cost to you. We evaluate products independently. Commissions do not affect our evaluations.
1. Dell Inspiron 15 (2022)
Our Pick
A top choice if you want to partition your drive
The Dell Inspiron 15 is an excellent all-around laptop with good storage specs at a reasonable price.
Pros
Various storage configuration options
High-quality touchscreen display
Includes Windows 11 Home
Cons
May not have the best GPU
Our top pick is the Dell Inspiron 15 (2022). Dell is a reliable laptop manufacturer, and the Inspiron model remains a popular choice. It's a versatile laptop that has a solid set of specifications, yet it doesn't cost thousands of dollars.
The standard configuration of this laptop is equipped with a 1 TB PCIe SSD. You can also choose to upgrade your purchase to a different configuration; options include a 512 GB SSD and 1 TB HDD or a 2 TB PCIe SSD. Therefore, the Inspiron 15 offers plenty of flexibility and allows you to consider what will best meet your photo storage needs.
Other system specs include 16 GB of DDR4 RAM and an Intel Core i7-1165G7 processor. The processor has 4 cores, each with potential speeds of up to 4.70 GHz. This means that the laptop will still work well when running resource-intensive programs.
The 15.6" IPS touchscreen screen also makes managing photos simple. The display looks great, and you can expect excellent clarity and colors when viewing your photos.
2. Lenovo IdeaPad 3 (15", 2022)
Also Great
Great for photo management
It may not cost much, but the Lenovo Ideapad 3 has an ultra-fast NVMe PCIe SSD, various USB ports, and an SD card slot for superb photo management.
Pros
Fast NVMe PCIe SSD
High-quality 15.6" touchscreen display
Multiple USB ports
Cons
The storage drive could be larger
If you want a combination of touchscreen capabilities, an ultra-fast storage drive, and superior processing power, the Lenovo IdeaPad 3 (15'', 2022) is a great option. The 256 GB NVMe PCIe SSD will enable you to quickly transfer large numbers of photos either from external devices or from within your folder hierarchy on the laptop.
Additionally, you can import RAW files directly from your camera – either via the various USB ports or using the dedicated multi-format SD card reader. Essentially, the laptop gives everything you need to manage your images. The only downside is that the 256 GB SSD is a little small; we would have liked to see a 512 GB or 1 TB option for those who need a little more space.
This 15.6" laptop allows you to run a range of photo-editing and photo-organization programs due to its 8 GB of DDR4 RAM and 11th-gen Intel Core i3-1115G4 processor. You may struggle to use some power-hungry programs like ON1 Photo RAW, but the laptop should do just fine when running more basic software.
3. Gigabyte Aorus 17 XE4 (2021)
Unavailable
Great for gaming and photos
The Gigabyte Aorus 17 XE4 is a powerful laptop with an incredible set of specs; it may be a gaming computer, but it's perfect for photo management and editing.
Pros
1 TB SSD
Stylish case with RGB keyboard
Includes a copy of Windows 11 Home
Cons
It is quite expensive
The Gigabyte Aorus 17 XE4 (2021) is primarily a gaming laptop due to its impressive specs, but it's also suitable for storing photos. Therefore, if you want a device for gaming that can also handle photo editing and image organization, it's a great pick.
Stylish individuals will love the sleek black case, the MSI logo, and the backlit RGB fusion keyboard. These features add a little flair to the device and give it more character.
It's not just flashy, though; the specs are excellent, and to store your photo collection, there is a Gen 4 1 TB NVMe SSD. The 1 TB capacity should be more than enough even if you have a large archive of RAW photos, and the NVMe SSD technology will give you superb file transfer speeds. You should be able to easily navigate through folder hierarchies and move images in seconds.
Other important specs include a whopping 32 GB of RAM, an NVIDIA GeForce RTX 3070 TI GPU, and an Intel Core i7-12700H processor. You should easily be able to play high-end Steam games, and you can also run pretty much any photo-management or editing program.
4. Lenovo Legion 7 (16", 2022)
Great for USB connectivity
The Lenovo Legion 7 can support fast external file transfers with 6x USB ports and a huge 2 TB NVMe PCIe SSD storage drive.
Pros
6x USB ports including USB 3.2 Gen 2
32 GB of DDR4 high-bandwidth RAM
2 TB storage drive
The Lenovo Legion 7 (16'', 2022) replaces the Legion 5 that we featured on this list; we feel it's a solid upgrade with more capabilities for storing and managing photos. This is primarily due to the huge 2 TB NVMe PCIe SSD. With this device, photo storage should give you no problems, and you should be able to work with large video files, too.
We like the connectivity this laptop offers as it has a staggering 6 USB ports. These include 2x USB 3.2 Gen 1 and 1x USB-C 3.2 Gen 2 ports. They allow for faster data transfer rates that can keep up with the speed of your SSD. Therefore, you can connect external devices like a camera or smartphone and still import images quickly.
The Legion 7 also has a high-quality 16" QHD display that supports 100% sRGB. As a result, you can expect accurate color representation in your photos. Photo- and video-editing software will also run smoothly due to the 32 GB DDR4 RAM and AMD 8-Core Ryzen 7 5800H processor.
5. HP Pavilion (15", 2022)
Great for basic home and work use
The HP Pavilion is a solid all-around laptop that is suitable for basic photo storage and management.
Pros
1 TB SSD
Includes a Windows 11 license
High-quality 15.6" display screen
Cons
The Celeron processor is not that powerful
The HP Pavilion (15'', 2022) is the latest model in the reliable and popular Pavilion range and is an excellent mid-tier budget option. If you don't want to spend a fortune and need a device that can be used for work and basic photo storage, it's certainly worth a look.
Its main drawback is the Intel Celeron Quad-Core processor; it's adequate, but it can't compete with Core i5 and Core i7 units. However, the laptop does have 16 GB of DDR4 RAM, so you can still import photos, organize your image collection, and use basic photo-editing software.
This HP Pavilion has a nice 1 TB SSD for storing image files. It's not an NVMe PCIe model, but you can still expect incredibly fast file transfers. And you should have no issue handling large photo albums and unprocessed RAW files.
This laptop also looks great and has a tactile keyboard and large trackpad for easy operation. And the wireless connectivity means you can link up a wireless mouse. The package also includes a license for Windows Home 11.
6. Microsoft Surface Pro 8 (13", 2021)
Unavailable
Versatile and portable
The Microsoft Surface Pro 8 is great if you prefer to manage your photos via touchscreen controls.
Pros
Premium design and display
Has a powerful Intel Core i7 processor
Comfortable and ergonomic to use
Cons
The detachable keyboard must be bought separately
The Microsoft Surface Pro 8 (13'', 2021) is another great option for photo storage, and it's also one of the best laptops for photo editing thanks to its powerful system specs.
The Surface Pro 8 is the latest model in this popular series. At its core, it's a tablet; to make it a laptop, you must purchase a detachable keyboard. You can also grab an optional tablet pen that can be used in conjunction with the touchscreen display.
The Microsoft Surface Pro 8 has a 512 GB SSD to store your photos. And if you want to upgrade, there are 1 TB configurations available. It also has 16 GB of DDR4 memory and an Intel Core i7 processor so you can confidently run resource-intensive programs without issue.
The Surface Pro 8 is one of the more stylish and functional laptops on the market. It looks great, and the touchscreen display is one of the best you'll find in 2022.
7. Apple MacBook Pro (13", 2022)
Great for high-end work
The Apple MacBook Pro gives you the latest M2 chip and a 512 GB SSD, which offer amazing photo-management and editing capabilities.
Pros
M2 chip with an 8-core CPU and 10-core GPU
16 GB of unified memory
13.2" retina display
Cons
512 GB storage capacity
MacBooks have certainly come a long way, and the latest computers – including the Apple MacBook Pro (13'', 2022) – have some incredible technology that makes them a great option for professional photographers, digital marketers, and videographers.
This is primarily due to the next-gen M2 chip. The M1 chip represented a huge leap in technology, but the M2 offers even better speed and processing power. This particular model has an 8-core CPU, a 10-core GPU, and 16 GB of unified memory. These combine to give you unrivaled power and speeds for photo storage, editing, and importing.
Operating Mac photo-management software, transferring files, and importing images will be a breeze due to the 512 GB SSD. If you feel your photo collection may ultimately outgrow the basic drive, there is a 1 TB option available.
We love the 13" retina display, which will render your photos in incredible detail. You'll be able to see realistic colors, great contrast, and brightness, which makes this MacBook Pro perfect for high-end editing and management of large photo collections.
8. ASUS Vivobook 17 X712 (2022)
Best for those seeking a beautiful display
The ASUS Vivobook 17 X712 has a vivid display with excellent color accuracy, and it also has a 1 TB NVMe PCIe SSD for effective photo storage.
Pros
20 GB of DDR4 RAM
Quality keyboard and trackpad
1 TB PCIe NVMe SSD
Cons
The graphics card is not the best
I own an ASUS Vivobook and can attest to the quality and performance of these laptops. The ASUS Vivobook 17 X712 (2022) has a slightly larger display than my model, but the specs are the same. The screen is one of the best features of this laptop, and you will be amazed at the brightness, detail, and colors with which it displays your photos.
The basic device comes with a 1 TB PCIe NVMe M.2 SSD. This should give more than enough storage to cope with your photo collection, plus it offers fast file transfer speeds. If you think you'll quickly fill up a 1 TB storage drive, consider buying the 2 TB version instead.
The Vivobook 17 has 20 GB of DDR4 RAM, an Intel Core i5 quad-core processor, and Intel UHD graphics; that way, you can use photo-organization and photo-editing software without issue. The on-board GPU cannot compare to dedicated NVIDIA and AMD units, but that shouldn't limit your photo editing and management.
I like the quality of the keyboard and trackpad. They both feel robust, and you get great feedback when typing. Additionally, this model has a range of USB ports and a microSD card reader so you can easily import images from external devices. And the reasonable price makes it a great budget laptop for photo editing and storage, too.
9. HP Envy 17t (2022)
Great for touchscreen use
The HP Envy 17t has a 17.3" full HD touchscreen display to reduce wear and tear on the keyboard and wireless mouse.
Pros
Ultra-fast 1 TB PCIe NVMe SSD
16 GB of DDR4 RAM
It includes either a Windows 11 Home or Pro license
Cons
The Intel Iris GPU cannot compare to NVIDIA or AMD models
Our last pick is the HP Envy 17t (2022), which has some fantastic features for photo editing, photo management, and general home use. The latest model comes with Windows 11 Pro, but you can save a little and opt for Windows 11 Home instead (and for home use, we would recommend the latter).
This laptop has an Intel Core i7 1195G7 quad-core processor, 16 GB of DDR4 RAM, and an Intel Iris Xe graphics card. Sure, the GPU could be better, but the processor and RAM mean you can run most photo-editing and dedicated photo-management programs.
To handle your photography collection, there is a 1 TB PCIe NVMe SSD. These ultra-fast storage drives represent the latest in drive technology and allow for smooth file transfers, quick folder changes, and the importing of RAW photos in seconds. This is complemented by a range of external ports, including a microSD card reader and a super-fast Thunderbolt 4 port.
If you prefer to use a touchscreen instead of a mouse and a keyboard, this laptop has a 17.3" full HD touchscreen display. The responsiveness is excellent, and it'll certainly allow you to work with your photo collection effectively.
Pick the Perfect Laptop to Store Your Photos
As you can see, there is an incredible range of laptops that will help you import, manage, and organize your photo collection. But which laptop for storing photos is right for you?
If you want a device that offers amazing specs for high-end photo editing together with solid storage capabilities, models like the Apple MacBook Pro (13'', 2022), the Gigabyte Aorus 17 XE4 (2021), and the Lenovo Legion 7 (16'', 2022) are all great choices.
But if you just need a well-rounded laptop that can cope with photo-organization software and some editing programs, devices like the Dell Inspiron 15 (2022), the HP Pavilion (15'', 2022), and the ASUS Vivobook 17 X712 (2022) are fantastic options.
---
As an Amazon Associate, we earn from qualifying purchases. Certain content was provided "as is" from Amazon daily and is subject to change or removal at any time.