When it comes to photo storage, it goes without saying that you need a lot of space. Whether you shoot for fun or for professional purposes, you're likely to produce quite a few files over the years. And having the best laptop for storing photos can make handling your image library much easier.
In this article, we've selected a range of laptops that are perfect for image storage. Laptops really do work well for this purpose; they're portable and can handle post-processing needs while doubling as file repositories. Our selections all have at least 1 TB of storage space, and they also feature hardware capable of running plenty of top organizing and editing programs!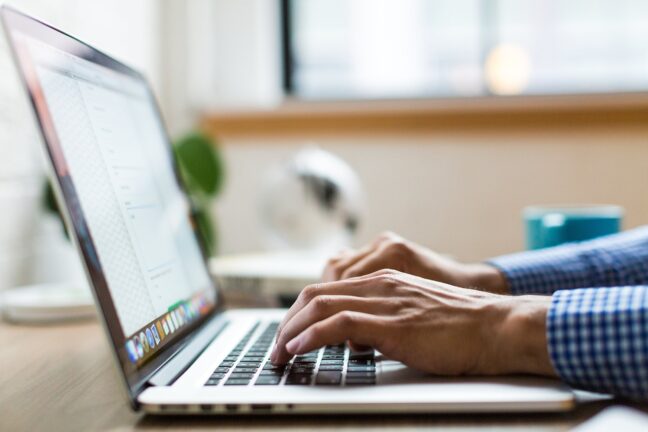 The Best Photo Storage Laptops:
When you buy through links on our site, we may earn a commission at no cost to you. We evaluate products independently. Commissions do not affect our evaluations.
1. Dell Inspiron 15
Our Pick
A top choice if you want to partition your drive
The Dell Inspiron 15 is an excellent all-around laptop with good storage specs at a reasonable price.
Pros
Various storage configuration options
High-quality touchscreen display
Includes Windows 11 Home
Reasonable price
Cons
May not have the best GPU
Our top pick is the Dell Inspiron 15. Dell is a reliable laptop manufacturer, and the Inspiron model remains a popular choice. It's a versatile unit that has a solid set of specifications, yet it doesn't cost thousands of dollars.
The standard configuration of this laptop is equipped with a 1 TB PCIe SSD. You can also choose to upgrade your purchase to a different configuration; options include a 512 GB SSD and 1 TB HDD or a 2 TB PCIe SSD. Therefore, the Inspiron 15 offers plenty of flexibility and allows you to consider what will best meet your photo storage needs.
Other system specs include 16 GB of DDR4 RAM and an Intel Core i7-1165G7 processor. The processor has four cores, each with potential speeds of up to 4.70 GHz. This means that the laptop will still work well when running resource-intensive PC editing programs.
The 15.6" IPS touchscreen screen also makes managing photos simple. The display looks great, and you can expect excellent clarity and colors when viewing your photos.
2. Lenovo IdeaPad 3
Budget Pick
Great for first-time photographers
The Lenovo IdeaPad 3 is a great choice if you are just starting out with photography and want to manage your growing photo collection without spending a fortune.
Pros
20 GB of RAM
Ultra-fast PCIe NVMe SSD
Great price
1 TB of storage space
Cons
The Intel i3 processor is on the older side
The Lenovo IdeaPad 3 is our top budget pick; for around $500, you get a superb laptop for storing photos, capable of managing all your collections.
Despite the budget price, the IdeaPad 3 boasts 20 GB of RAM and an Intel Core i3 processor. Although an i5 or i7 would be better, the i3 still gives plenty of power, and you should be able to run basic photo editing software without any problems. Additionally, the 20 GB of RAM and 1 TB SSD mean that you can transfer large image files quickly.
The laptop itself also looks great. The full-size keyboard is incredibly slim and the body is lightweight and easy to carry. You could use it as a portable laptop for travel, which should come in handy if you usually manage and edit your photos on the go.
If you can't get comfortable using the trackpad, the 15.6″ display is also a touchscreen, and the responsiveness is superb. You can easily move folders and images around on the screen, and it's perfect for photographers who are more at home using a tablet or phone than a dedicated computer.
3. Lenovo Legion 7 16IAX7
Also Great
Great for professional work
The Lenovo Legion 7 is an incredibly powerful laptop that can easily run any photo organizing or photo editing program.
Pros
64 GB of RAM
Huge 3 TB SSD
Great connectivity
Cons
Incredibly expensive
Some laptops easily outclass desktop computers and give you all-around great performance for gaming, work, photo editing, and photo organizing. The Lenovo Legion 7 16IAX7 is one such device.
This laptop offers multiple configurations, but the one linked above is top of the line thanks to a whopping 64 GB of RAM and an 11th Gen Intel Core i7 processor. The 64 GB of RAM is far more than you'll ever need to run photo organizing software; in fact, you should be able to run powerful video editing software without issue.
The best part of this device, however, is the 3 TB SSD. This is a PCIe NVMe drive, so when you combine it with the class-leading RAM and processor, you'll be able to move, rename, and edit photos instantly. You should also have no issues storing large photo collections and adjusting your folder hierarchies as needed.
This is easily one of the best laptops for photo editing, too. Plus, you can quickly connect external devices as it has a USB-C port, 4x USB ports, and an HDMI port. Just bear in mind the price tag – the Legion 7 isn't a budget laptop. Rather, it's ideal if you need a device for regular professional use.
4. HP Pavilion 15
Great for beginners
The HP Pavilion 15 is a great budget option that still gives you plenty of RAM and storage space to manage your photos.
Pros
2 TB SSD for large photo collections
Wi-Fi and Bluetooth connectivity
32 GB of RAM
Cons
Only has an Intel Pentium processor
Limited connectivity
If you don't want to spend a fortune but still need one of the best laptops for storing pictures, the HP Pavilion 15 is an outstanding choice. For less than $700, you get an incredible unit that rivals many desktop computers in terms of sheer processing power and performance.
This version has 32 GB of RAM and a 2 TB SSD, so it's capable of easily running photo organizing software and transferring large files. It doesn't have an Intel i5 or i7 processor, but the Pentium Silver that it does have is more than enough for running power-hungry software.
Regardless of how long you need to use this laptop, it should do just fine thanks to the all-day battery life. You also get Windows 11 Home installed so you can start using the laptop immediately.
The HP Pavilion 15 doesn't quite have the port range as some of the other options on this list, but you do get 2x USB 3.1 Type-C ports, an RJ45 port, and an HDMI port. This means you can efficiently connect external devices such as additional storage drives, your phone, and your camera.
5. Microsoft Surface Pro 9
Great for travel use
The Microsoft Surface Pro 9 has a slimline and compact design for travel but still gives excellent performance for managing and editing photos.
Pros
Edge-to-edge PixelSense touchscreen
1 TB SSD storage
16 GB of RAM
Cons
Doesn't include the detachable keyboard
Expensive
If you're looking for a versatile device that can be used for photo management, photo editing, and video editing, the Microsoft Surface Pro 9 is hugely capable. While it's primarily a tablet, it has an optional keyboard and makes for a superb laptop, too.
I highly recommend the Surface Pro 9 for photographers who frequently go on business trips or vacations as it packs away neatly and won't take up too much room. Despite the portable size, you still get a 13″ screen and specs that are essentially the same as many powerful photo editing desktops.
The basic features include 16 GB of RAM and an Intel Evo i7 processor. This processor is specifically developed for Microsoft tablets and gives you smooth performance and fast navigation. You can upgrade your device to 32 GB of RAM, but the price increases significantly and most photo organization software doesn't even need 16 GB of RAM to run effectively.
The storage drive is 1 TB, which is enough to store thousands of RAW files. You should be able to manage things easily due to the high-quality PixelSense touchscreen. This offers great control for those who don't want to pay extra for the keyboard and mouse combo.
6. Apple MacBook Pro (14″, 2023)
Great for security
The Apple MacBook Pro has some excellent security features so you can keep your photo collections and clients' work safe.
Pros
Powerful M2 Pro chip
Fast 1 TB SSD
All-day battery life
Cons
Extremely expensive
16 GB of RAM could be better
The Apple MacBook Pro (14'', 2023) is an incredibly powerful device that can be used for photo editing, video editing, gaming, and more. This is due to the next-gen Apple M2 Pro Chip, which effectively gives you a 12-core CPU and a 19-core GPU. The processing power and 16 GB of memory mean that software runs smoothly and file reorganization is virtually instant.
When you combine that with the 1 TB SSD, you have a laptop capable of managing professional photo collections. You can use any of the top photo organizing programs for Macs, and if you feel that you don't need 1 TB of storage, there is a 512 GB version that's significantly cheaper.
You can also easily access and transfer your files. This is because the MacBook Pro has an SDXC card slot, 1x HDMI port, and various Thunderbolt 4 ports. As a result, you can connect DSLR and mirrorless cameras and external storage drives, or you can just directly insert your camera memory card.
Don't worry about security, either, as this device includes the special Apple Touch ID functionality where you can unlock it using your fingerprint. This means you can use the laptop in a professional capacity and not worry about a client's data being stolen.
7. ASUS Vivobook 17
Great for multitasking
The ASUS Vivobook 17 allows you to work quickly with multiple programs running at once due to the high-bandwidth RAM and multi-core processor.
Pros
2 TB PCIe NVMe SSD
Includes Windows 11 Home
36 GB of high-bandwidth RAM
Sleek design
Cons
Only has Intel UHD Graphics
If you need to work fast and use multiple applications at once, the ASUS Vivobook 17 is a top choice due to its fantastic specifications and processing power. The 36 GB of high-bandwidth RAM allows you to work with your favorite Windows photo organizing and photo editing software open at the same time.
You should never run out of space as this model includes a 2 TB SSD. It's a PCIe NVMe M.2 drive, which is one of the best types for large file transfers and for managing large photo collections. When you're moving photos within your collection or working with files in organizing software, there should be no delay.
The Intel Core i5-1035G1 processor bolsters the multi-tasking capabilities as it has four cores, each with seven threads. This means that you can open Windows File Explorer, Lightroom, and Photoshop, then switch between and use them seamlessly.
While the laptop offers incredible performance, it also looks great. It has a slimline casing and a high-quality 17.3″ screen with HD+ resolution. As a result, your photos will look fantastic with accurate colors and contrast.
8. Acer Aspire 5
Great for connectivity
The Acer Aspire 5 features 1x USB Type-C and 3x USB Type-A ports so you can connect your camera and other external devices with ease.
Pros
36 GB of RAM
Fingerprint reader for excellent security
2 TB storage
Good price
Cons
It only has basic Intel Xe graphics
Another superb budget option is the Acer Aspire 5. This powerful device has 36 GB of RAM and an Intel Core i7 processor so you can run photo-organizing software with ease. It can also handle resource-intensive editing software like Luminar Neo and Affinity Photo 2.
For storage, you get a 2 TB SSD, which features the latest technology and will ensure you can transfer large RAW files from external devices or between folder locations on your laptop.
If you're concerned about the security of your photos and personal data, this Acer laptop includes a fingerprint reader, which can be used to unlock the device. We like that it includes Windows 11 Home and has multiple USB ports so you can connect your camera, smartphone, and external drives.
9. HP ENVY 17
Great for business use
The HP ENVY 17 is a smart laptop with a high-quality touchscreen and powerful specs; it works great for folks in need of a device for business and pleasure.
Pros
Full HD touchscreen display
Excellent connectivity
2 TB PCIe NVMe SSD
Cons
Only has Intel Iris integrated graphics
Somewhat bulky
If you need a durable and robust laptop primarily for business use but also for storing photos, the HP ENVY 17 is a solid choice. It boasts some excellent specs and allows you to manage your files easily thanks to the high-quality touchscreen with an HD display.
You should be able to move files and organize images easily using the touchscreen. To ensure you can store thousands of large RAW files, this model has a 2 TB SSD, which even serious shooters will struggle to fill. The read and write speeds are impressive and will allow you to manage large catalogs without any lag.
The ENVY 17's ease of use is aided by the various connection ports, including 1x HDMI, 2x Thunderbolt 4, and an SDXC card reader slot. Basically, you can quickly connect external devices and transfer photos at high speeds.
This laptop is also a great choice if you want to do some editing as it has 16 GB of RAM and an Intel Core i7 processor, which is more than enough to run high-end processing software like Lightroom and ON1 Photo RAW.
Pick the Perfect Laptop for Storing Photos
As you can see, there are quite a few excellent laptops for storing photos. However, it can be tricky knowing which is the best for you, so make sure you consider your budget, how often you intend to use the laptop, and whether you also need the laptop for other purposes, like photo editing and gaming. This should allow you to narrow down your choices.
If you're on a budget or just starting to build your photo collection, affordable options like the Acer Aspire 5, the Lenovo IdeaPad 3, and the HP Pavilion 15 are fantastic picks.
On the other hand, if you need the best specs and plenty of storage specs, consider a high-end device such as the Dell Inspiron 15, the Lenovo Legion 7 16IAX7, or the Apple MacBook Pro (14'', 2023).
---
Disclosure/Disclaimer: As an Amazon Associate, we earn from qualifying purchases. Certain content was provided "as is" from Amazon and is subject to change or removal at any time. Product prices and availability: Amazon prices are updated daily or are accurate as of the date/time indicated and are subject to change. Any price and availability information displayed on Amazon.com at the time of purchase will apply to the purchase of this product.