These days, we have access to amazing digital cameras that let us easily transfer photos to computers, phones, and external hard drives, but that wasn't always the case. If you've ever used a film camera, you understand how difficult it is to view, transfer, and store analog images – and you know how far technology has come.
Therefore, if you have a dusty old collection of slides and no longer possess a projector, or you have reels of 35mm film, you probably think that the photos will never see the light of day. Fortunately, that isn't true, thanks to modern slide scanners.
Slide scanners use top-tier optics and powerful scanning technology to digitize your old slides and camera film. These devices are typically compact and allow you to transfer the scanned images to an SD card, which can then be accessed by a computer or laptop. If that sounds like something that could help you view, store, and share your photo collection, you'll love my list of the eight best slide scanners available in 2023!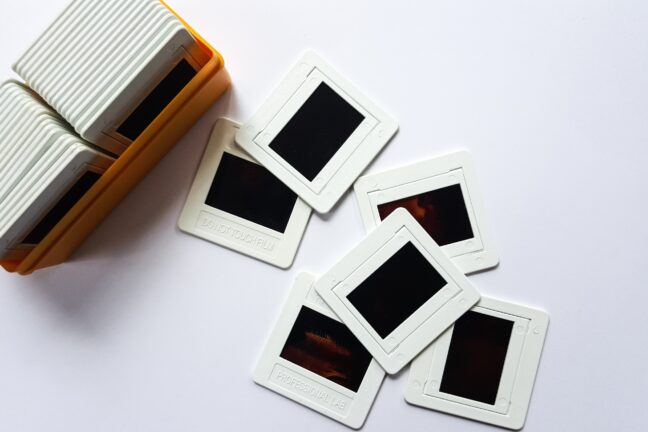 8 Best Film and Slide Scanners:
When you buy through links on our site, we may earn a commission at no cost to you. We evaluate products independently. Commissions do not affect our evaluations.
1. KODAK SLIDE N SCAN
Our Pick
Great for basic editing
The KODAK SLIDE N SCAN offers some basic pre-export editing and can even assign metadata like the date and time.
Pros
14 MP and 22 MP output resolution
High-quality LCD screen
Supports multiple slide types
Simple scan controls
Cons
The insert tray can be a little fiddly
My favorite slide scanner on the market today is the KODAK SLIDE N SCAN; it's a well-rounded product that offers scanning flexibility, great output quality, and relatively simple and straightforward operation.
I like the flexibility this device offers, and you can scan 50mm, 110, 135, and 126 slides as well as a range of film. Even if you are a novice, the scanning is easy – all you have to do is turn the device on, load your slides via the attachment and side slot, and hit the Scan button!
The LCD screen really gives you a great preview of your slides, and I appreciate how you can see the slide moving across the screen as you insert it! If you don't want to immediately export your photos, you can always connect the scanner to a TV via the HDMI cable.
Although using photo editing software or at least a nice post-processing app is a great idea, you can edit some basic parameters before exporting, including color and brightness, and you can also assign a date and time to the file metadata.
2. Plustek OpticFilm 8200i SE
Also Great
Great for professional scan quality
The Plustek OpticFilm 8200i SE offers 69 MP scanning resolutions for slides and film, which makes it ideal for professional work where you need to do detailed editing.
Pros
69 MP scan resolution
Straight-to-computer scanning
Simple control panel and scanning process
Infrared channel to remove dust and scratches
Cons
The included scanning software is dated
The device does not have an LCD screen
If you intend to use your slides and film in a professional capacity, the Plustek OpticFilm 8200i SE is a fantastic option due to its 69 MP scanning output. This means that you should be able to edit the photos afterward with plenty of detail and crop as needed in your favorite photo editing software.
I also love that the scanner includes an infrared channel that detects scratches and dust; as a result, any imperfections can be removed before the scanning process. This is perfect if your slide collection has been kept in a box in your attic for years (and let's face it, that's probably true for most of us!).
The controls couldn't be easier to use – it's a simple case of slotting your slide or film in the provided attachments and pressing the scan button. The scans are transferred directly to your computer as the device has a USB cable, so there is no need to transfer the files to an SD card first.
The only real drawback is the lack of fancy features; for instance, there's no LCD screen on the device. You have to control it from a computer or laptop, and the included scanning software is a little dated. But the image quality really is outstanding, and while the price is high, you do get what you pay for.
3. ClearClick Virtuoso 3.0
Great for live previews
The ClearClick Virtuoso 3.0 has a 7-inch LCD screen that shows a live preview as you insert the slides. It also allows you to make color and brightness adjustments prior to exporting.
Pros
Large 7-inch display screen for live previews
Support for multiple slide and film types
Manual color and brightness adjustments
Can connect to a TV for previews via the mini HDMI cable
Cons
It only supports one slide size: 35mm
The slides can sometimes move around in the holder
The ClearClick Virtuoso 3.0 is the best slide scanner if you want to preview your scans before exporting the files. That's thanks to a huge LCD screen; I really like the screen quality and how the 7-inch display allows me to carefully check each scanned image (so I can make sure the result is perfect!).
If you just want to show off your slides or film and have a viewing session with your family, you'll appreciate the mini HDMI cable that'll let you connect the device to a TV. For actually exporting the photos, it takes standard SD cards (though the card can only be a maximum of 32 GB).
There are two scanning options – 14 MP or 22 MP – and both look great. In other words, you can digitize your old slides and film with excellent detail. In terms of functionality, this device can scan 35mm slides as well as 35mm, 110, and 126 film negatives, and it comes with all the required plate attachments.
The device is relatively easy to use with its handy top control panel. All you have to do is slide in your materials, then press the "OK" button on top. I like the additional controls that allow you to adjust the color and brightness, plus you get a live preview of any adjustments via the LCD screen.
4. KODAK Mini Digital Film Scanner
Great for portability
The KODAK Mini Digital Film Scanner is highly portable and great if you need to help family or clients scan their slides at a variety of locations.
Pros
Lightweight and compact design
Supports multiple slide and film types
Simple controls and a clear LCD screen
Up to 22 MP
Cons
No direct-to-computer connectivity
Has limited color and brightness correction
If portability is your priority, then the KODAK Mini Digital Film Scanner is my top choice. It can easily fit in the palm of your hand, and as a result, it's perfect for use while traveling. It also works great for anyone who wants to scan images at the houses of friends and family.
Although it's incredibly small, this slide scanner is still highly functional and has an output resolution of either 14 MP or 22 MP for film and slides. You have some basic control over the slide quality, too, as you can adjust the brightness and color beforehand.
I like the versatility this slide scanner has; it can handle 35mm, 110, and 126 slides as well as 35mm, 110, 126, and Super 8 film. Sometimes, I insert slides incorrectly, but this doesn't matter – the KODAK Mini automatically flips or inverts items placed the wrong way onto the scanning bed!
You get all the adapters you need to fit the various slide sizes, though in terms of exporting, you'll have to purchase an SD card with a maximum capacity of 32 GB. Unfortunately, the KODAK Mini doesn't have any direct-to-computer functionality, so you won't be able to transfer files straight to a PC or external hard drive.
5. Minolta Revive 5
Great for versatility
Have lots of different slide and film formats to scan? The Minolta Revive 5 will have you covered!
Pros
Universal power with 2-pin and 3-pin plugs
No software required
16 GB SD card included
22 MP photo resolution
Cons
The design does look a little dated
No clear indication of where to insert the SD card
Doesn't have any dust or scratch reduction
If you have a wide-ranging collection of slides and film, the Minolta Revive 5 is an outstanding choice. This nifty little device can scan both color and B&W 35mm, 110, and 126 film and slides – all at a resolution of 22 MP, which is better than some beginner mirrorless cameras.
It's quite compact, too, and I find it easy to use on flat surfaces due to the wide base, tilted screen, and control panel. You get a decent-sized LCD screen for previews, and the scan process couldn't be smoother thanks to the six simple buttons.
Just want to preview your slides or wish to avoid installing programs on your computer? The Revive 5 requires no software to use and as soon as you turn it on, you can get straight to scanning! Unlike most slide scanners, this device actually includes a 16 GB SD card, so you can start using it as soon as you unbox it.
It's classed as a worldwide scanner, and Minolta has thought of everything: you get a two-pin and three-pin plug adapter as well as all the attachments you need to scan both slides and film.
6. Magnasonic All-In-One 24 MP Film Scanner
Great for temporary memory
The Magnasonic All-In-One 24 MP Film Scanner has a built-in memory of 128 MB, which gives you some flexibility before you must export to an SD card.
Pros
24 MP scan output resolution
No software needed for exporting
Supports various slide types including 110, 126, and 135
You can preview images on a TV with the HDMI cable
Cons
The preview loading can be a little slow
Limited to a 6×4 scanning output ratio
The Magnasonic All-In-One 24 MP Film Scanner is a favorite of mine for those who don't want to immediately export scans – it has 128 MB of built-in memory, which gives you some buffer before needing to save your files to an SD card or photo storage laptop.
This compact device is easy to use, and I like the large insert slot for slides and film. It certainly makes scanning quick! In terms of support, you can scan 35mm, 110, 126, and 135 slides, and it also supports a range of standard film formats, including 126.
The output quality is a pretty impressive 24 MP, which puts it above most other slide scanners on this list in terms of raw quality. If you don't have much computer knowledge, don't worry, as the device doesn't require you to install any software prior to use. Finally, the 5-inch LCD screen offers a clear preview of your scans before exporting to an SD card, which is a great feature that ensures a smooth workflow.
7. KODAK SCANZA
Great for SD-card exporting
The KODAK SCANZA supports SD cards up to 128 GB in size, so if you prefer working with larger cards, it's one of the top options.
Pros
High-quality LCD screen
Great connectivity to PCs and TVs via the USB and HDMI cables
14 MP and 22 MP scans
Supports 35mm, 110, and 126 slides
Cons
The design is quite bulky and heavy
The 22 MP resolution involves rescaling
The KODAK SCANZA is a larger device, but I definitely recommend it if you want a stationary scanner to use in your home office. I like the large circular base; it makes the device stable and ensures that it's incredibly easy to insert slides and film.
The LCD screen on the top folds out, and although it's not very large, the image quality is fantastic. I appreciate how easy the controls are to use, and the scanner has a simple panel of just six buttons – so even if you've never used a slide scanner before, you should be able to get to grips with it pretty quickly.
It's compatible with both Macs and PCs – including our favorite iMacs for photo editing – plus you get a USB cable and an HDMI cable included for easy connectivity and power.
Alternatively, you can export the scanned slides directly to an SD card. While no memory cards are included in the package, it's worth mentioning that the KODAK SCANZA does support cards of up to 128 GB, whereas most of the other scanners I've encountered have a maximum card capacity of 32 GB. As a result, you can get far more slides and film scans on one card before having to export them and format the card to use again.
8. Wolverine Titan
Great for a fast workflow
The Wolverine Titan can process a 35mm slide in three seconds and has special speed attachments so you can get through large numbers of slides and film in no time.
Pros
Output either to a PC or SD card
20 MP scans
Supports various slide and film formats
Large LCD screen for live previews
Cons
The design is a little odd
No cables are included
The adjustment tools can be clunky
If you have a huge backlog of slides and film, the Wolverine Titan offers the speed you need. It works with 35mm, 127, 126, 110, and Advantix slides and can process an image in just three seconds. This means you can churn through your old slides remarkably quickly.
I find the speed-load adapters really help this process; they make it incredibly easy to slot in slides or film and maintain a consistent scanning process. Once you get into a groove, it's even kind of fun. In terms of previewing files, the 4.3-inch color screen looks great, and you can also connect the scanner to a photo editing TV via an HDMI cable (although the cable is not included).
The output is a 20 MP file, and it exports the images as JPEGs to an SD card or directly to your computer. The result is close in quality to most budget mirrorless and DSLR cameras, and you don't need any software to run the scanner. Plus, it works with a simple plug-and-play process, so you can get started right away.
The design of this slide scanner is okay, but it is a little cumbersome compared to the other great slide scanners on this list, and the screen positioned on top can make the whole unit a little heavy.
Get Your Precious Photos Back with the Best Slide Scanners!
As you can see, your old slides and film don't have to remain sealed up in a cardboard box in your attic or basement! Instead, you can use a slide scanner to digitize your treasured memories from eras past – but which product is the best choice for you?
If you want versatile scanning features in a great all-around product, the KODAK SLIDE N SCAN is my top pick. It offers great functionality, support for multiple slide types, and a high-quality display.
If you're a professional and high-resolution files are an essential end goal, the Plustek OpticFilm 8200i SE with its advanced 69 MP output is ideal; it'll allow you to edit your exported slides in far greater detail.
Lastly, if you require portability and intend to scan slides at several locations, both the KODAK Mini Digital Film Scanner and the Minolta Revive 5 are incredibly compact and lightweight.
---
Disclosure/Disclaimer: As an Amazon Associate, we earn from qualifying purchases. Certain content was provided "as is" from Amazon and is subject to change or removal at any time.