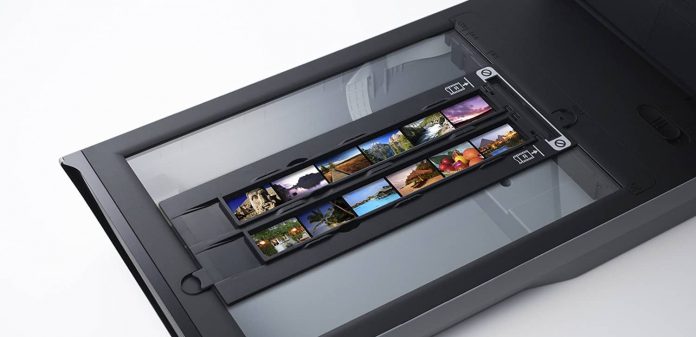 With a world that has decisively moved away from the 'hassles' of shooting in film, with the odd exception of a few tiny pockets of resistance – avid film photographers still practicing their craft, film has become sort of an old-school thing. Old timers, people who have shot in film their entire youth are now finding boxes of their 35mm film and slides lying unattended.
As a photographer who started young and started in film, the medium still entices me. I feel really sad when I find 150-year-old processing labs like the Bourne & Shepherd stops processing film and then completely go out of business. It is probably the same sad story elsewhere in the world. But having said that, the same technology that pushed film out of business, ironically brought in a new lease of life too. Technology has brought in a plethora of new tools to at least preserve the work that you have already done. One of these technologies is the slide scanner.
7 Great Slides Scanners You Can Buy in 2018
1. Veho VFS-014-SF Smartfix 14 megapixel Portable Film Scanner
The Veho scans 135 slides, as well as 13, 110and 126 films. It comes with a manual feed tray. The optical resolution of the Veho is 3200 DPI with a color depth of 24-bit. A single image takes about 1 to 2 seconds to be scanned and digitized. The Veho VFS-014-SF Smartfix runs on Li-ion batteries of 1050 mAh capacity. The scanner has 3 built-in white LED lights that power the scanning process.
No computers are necessary for scanning and digitizing the images. There is a built-in memory which takes care of the temporary storage. The scanner comes with a charging cable that allows you to both charge the device as well as transfer images to a computer. The scanner is compatible with both Windows and Mac operating systems.
Optionally, you can plug the scanner via the cable to a TV and watch all your scanned images on a large screen. The fact that the device weighs just 12.8 oz means you can take it outdoors to a location/party and scan basically anywhere you want to.
Not needing a computer to scan does not mean that you cannot review the images you are scanning. The scanner comes with a 2.4″ LCD display. You can review the images prior to scanning to perfect the alignment. After the images are scanned you can review the images with this screen. Beyond just scanning a slide film the Veho VFS-014-SF Smartfix also comes with the much-needed options to correct exposure and color balance. This is done automatically. However, you also have manual options to correct exposure up to +/- 2 EV.
Veho Smartfix Portable Stand Alone 14 Megapixel Negative Film & Slide Scanner with...
Convert 135 slides and 135/110/126 negatives into digital images
Stand-alone portable design with no computer or software required
Small/lightweight with built-in 2.4" TFT LCD screen, one touch scanning and Tacton rubber touch finish
Instant preview and built-in auto-exposure, colour balance and other image enhancements
Optional USB connection compatible with Mac/PC for easy file transfer
Related Post: Photomyne  Review (Photo Scanning App)
2. Canon CanoScan 9000F MKII Flatbed Photo, Film and Negative Scanner
The Canon CanoScan 9000F MKII Photo, Film, and Negative Scanner does it all, that is scans photos, film and negatives and does it with a resolution of 9600 x 9600 maximum color DPI. Add with that a 48-bit color depth and you get yourself a formidable machine for scanning your 35mm slides. That said this is an all-purpose scanner and not just for 35mm slides. It would scan documents as well as 35mm slides as well as prints. Promising to produce exceptional details in whatever it scans.
A 35mm film can be scanned in about 18 seconds. Speed, unfortunately, is not its forte. We are not too concerned about the other media types as those would be beyond the purview of this review.
The scanner comes with low power consuming LED lights which are extremely energy efficient. The built-in Fare Level 3 software ensure that the scanner is able to remove dust, scratches and other artefacts which are normal with older 35mm slides and which other scanners are unable to. Along with these, the scanner is also able to correct grains and incredibly, even correct exposure for backlit photos. Additionally, the CanoScan 9000F MKII comes with an auto detect mechanism that detects the kind of medium you have loaded to automatically adjust the scanning settings.
Canon CanoScan 9000F MKII Photo, Film and Negative Scanner, Flatbed
My Image Garden Software handles photo and document scanning and organizes your files in a simple and friendly way so...
FARE (Film Automatic Retouching and Enhancement) Level 3: This built-in retouching technology delivers automatic...
Zero warm-up time and offers lower power consumption with super-efficient white LEDs
Auto Scan Mode automatically adjusts settings by detecting what you're scanning
OS Compatibility : Windows 8, Windows RT, Windows 7, Windows Vista, Windows XP and Mac OS X v10.6.8 to 10.7
3. Wolverine F2D20 20 megapixels 35mm to Digital Converter
The Wolverine is a dedicated scanner for 35mm slides and film. It produces high-resolution 20-megapixel files (5472 x 3648 pixels).
Just like any standalone slide scanner, the Wolverine F2D20 also scans 35mm slides and negatives without the need to use a computer or additional software.
Unlike the CanoScan 9000F MKII and like the Veho VFS-014-SF Smartfix, the Wolverine F2D20 scan a film/slide very quickly. It takes only about 3 seconds flat to digitize an image/film and create 20-megapixel files.
When we say no computer is required, it is true as the Wolverine F2D20 comes with built-in memory. That means you don't need to rely on a computer or external drive to store after the films/slides are scanned.
That said, there is the option to plug in an SD / SDHC card as well which extends the total storage capacity of the scanner. Further, there is an option to plug in a cable connecting the scanner with a TV and view the scanned images on a large screen. The box does not contain a cable though.
As an additional option, you can buy a 110 film tray and that would allow you to scan 110mm film as well. Now, you have an option to scan and archive even your very old negatives.
Wolverine F2D20 20 MegaPixels 35mm to Digital Converter
Convert 35mm NEGATIVES and SLIDES, to 20 Mega Pixels (5472_3648 Pixels) Digital (JPEG) image with just a push a button
Unique stand-alone operation, no computer or software required to operate
Extremely Fast, takes less than 3 seconds to convert an image
Saves images to internal memory or optional SD/SDHC memory card
Video-Out to TV connection (cable not included), Mac and PC Compatible
Related Post: The Best Epson Photo Scanners
4. Pacific Image PowerSlide X Automated 35mm Slide Scanner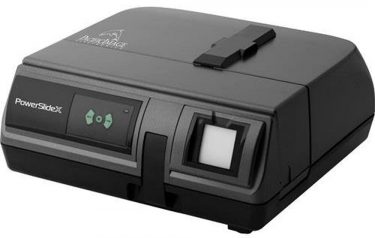 The Pacific Image PowerSlide X is an automated slide scanner capable of batch scanning of mounted 35m slides.
The optical resolution of the scanner is a whopping 10,000 DPI. Add to that a color depth of 48-bit and you have yourself a phenomenal dedicated slide scanner that can batch scan up to 50 slides on its own. This is the ideal sort of scanner for heavy duty work.
One of the problem that older (and cheaper) slide and negative scanners had was the inability to remove dust and scratches from the scans.
The Pacific Image PowerSlide X comes with what is known as the Magic Touch Technology. This technology removes any and all scratches and dust marks from the scans. This saves you from editing these images later on or multiple scanning runs.
Then there is the interesting technology of Multipass Xposure. This technology scans thrice to ensure that maximum information is extracted. As well as there is the Multiple Sampling technology that would scan an individual image several times to better the accuracy of the scan as well as the sharpness.
The scanner comes with the option to connect to a Windows computer or a Mac via a USB cable for transferring images. At 5 kilos the device is quite heavy and therefore this is ideal if you prefer to scan outdoors. Additionally, you will need an external power source (AC) as well to run the device.
Sale
5. Pyle Media Instant Film & Slide Digitizer Scanner
The Pyle Media Instant Film and Slide Digitizer Scanner scans both 35mm film 135mm film, slides as well as negatives. The versatile slide controller allows an array of negative and print sizes. As an added feature the scanner will also scan prints of varying sizes. The device has an array of buttons at the front that takes care of scanning, save, sharing as well as transferring of the files.
The scanner comes with its own 2.4″ digital LCD screen. You can take advantage of it, align the media before scanning and preview the images after they are scanned. You don't need a computer system to scan and or to preview the images.
Additionally, the scanner comes with an SD memory card slot which ensures that you can save your images without any issues right into your scanner. The scanner comes with an automated image adjustment feature as well.
Pyle Media Instant Film & Slide Digitizer Scanner - Format Size 35mm 135 mm Negative...
FAST SCANNING POTENTIAL: Effortlessly convert your 35mm film, 135 mm film, slide and negatives into premium photo JPEG...
DIGITAL LCD DISPLAY: View your scanned slides and films with the vibrant full color, 2.4 inch LCD screen with 5.1...
VERSATILE SLIDE COMPATIBLE: Save time and effort with the fast-loading film holder. Scannable photo sizes 3.5" x 5", 4"...
SAVE AND TRANSFER FILES: Photos can be saved into any SD memory card. Simply plug the USB connection cable into any USB...
3 in 1 SCANNER: This portable scanner has software CD for file management and an automatic image adjustment processing...
6. Wolverine SNAP20 – 20 megapixels 35mm Slide, Negative and Photo Scanner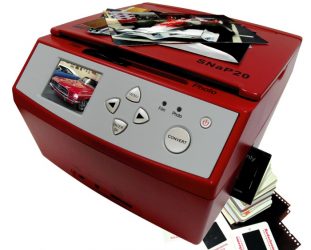 The Wolverine SNAP20 is yet another versatile scanner, with the ability to scan both 35mm slides, negatives as well as photo prints into a digital format with equal élan.
All you need is just a push of a button. The scanner is capable of producing 20 megapixels files of the resolution 5472 x 3648 pixels. The only problem is the Wolverine SNAP20 is more on the slower side.
It takes about 5 seconds to convert an image into a digital format. If you have a large bunch of negatives or 35mm slides to scan, it might take a bit longer than some of the other slide scanner / versatile scanners that we have discussed here.
The box packing comes with a 35mm slides tray, a 35mm negatives tray, alignment brackets for 3×4, 4×6 and 5×7 prints, and the associated cable and accessories for charging etc. The device does not require a computer or any additional software for digitizing the negatives, films, and prints.
The Wolverine SNAP20 comes with a 2.4″ LCD LTPS display that works as the main reviewing and adjustment window before and after the scans. You don't need a computer either for scanning or for reviewing the images. Plus, the scanner comes with an internal memory of about 100 MB.
You can store about 40 images. For extended storage, the device accepts 32 GB of SD memory card. That extends the device's storage by 400 images per GB of storage on the memory card.
Sale
Wolverine SNAP20 20 Megapixels 35mm Slides Negatives and Photo to Digital Image...
Converts 35mm Slides, Negatives and Photos into digital images with just a push of a button.External Memory: SD or SDHC...
20 Megapixels Digital Image Output (5472 x 3648 pixels)
Extremely fast, takes less than 5 seconds to convert an image
Unique stand-alone operation, no computer or software required
All Mac and PC Compatible (plug and play, no drivers or software required)
7. Jumbl 22 megapixel all-in-1 Film and Slide Scanner with Speed Load Adapters
The Jumbl is an all-purpose scanner. It scans 35mm negatives, slides, 110, 126 and Super 8 films. The box packing comes with all sorts of adapters to enable you to scan all the above types of film. This is one of the most versatile scanners that you will find for the purpose of scanning and digitizing your negative and slides archive.
The included speed loaders/adapters are what makes it possible to scan and digitize a bunch of slides, negatives, and prints in a small amount of time. Saves a considerable amount of time not having load each individual slide/negative.
Normally, the scans are 20 megapixels each. The Jumbl comes with a built-in software for interpolation and that can improve the quality of the images to up to 22 megapixels.
The scanner comes with an internal memory that saves a few images. But for extended memory capacity, there is a provision for inserting an optional memory card. The scanner also has a video out (with cable provided) that ensures that you can watch your images on a large screen. The Jumbl is Mac and PC compatible and that makes it platform independent when it comes to downloading your scans to your computer.
Sale
Jumbl 22MP All-in-1 Film & Slide Scanner w/Speed-Load Adapters for 35mm Negative &...
Scans & Digitizes 35mm Slides & Negatives, 110, 126 KPK, and Super 8 Slides & Negative
Included Speed Loaders Means No Reload for Each Slide/Negative
Built-In Software Interpolation Can Improve Quality to 22 Megapixels
No Computer Required; Saves to Internal Memory or Optional Memory Card
Video Out for TV Connection (Cable Included); Mac & PC Compatible
---
Note: Last Amazon.com Price Update: 2019-01-19 | Refer to our Affiliate Disclosure and Disclaimer.
Recommended Software Apps