As a professional photographer or hobbyist, you will undoubtedly take hundreds of photos. In today's modern world, we are no longer constrained by camera film – we have SD memory cards that can hold vast numbers of high-quality photos.
While this promotes creativity and improves redundancy, it can also be an absolute nightmare for cataloging and indexing your photos.
We all know how tiresome it can be to trawl through a seemingly never-ending folder of photos to find what we are looking for or try and organize them using Windows File Explorer. There must be an easier way?
Well, there is! As camera memory capacity has improved, so has the complementary technology known as photo organizing software. Today, we can use a myriad of different software programs that are built specifically to catalog and organize photos. This guide looks at what to look for in a Windows photo organizer, and the best software to organize your photos on a Windows PC – enjoy!
For 🖥️ Mac users: Please see 👉 The Best Photo Organizing Software for MAC
Best Photo Organizing Software for Windows 10 – Our Top 8 Picks
What to Look for in a Digital Photo Organizer
Before we look at the top eight photo organizer software packages for Windows it is first important to understand what to look for and why a photo organizer is important.
The following are some of the main benefits of using a photo organizer on your PC:
Categorize your photos into separate folders
Batch rename photos to find/identify them more easily
Batch delete and move photos
Add tags to photos to make specific categories/slideshows
Rate photos to make editing easier
As you can see the benefits are numerous but aside from all the above, using a photo organizer just makes managing your photography that much easier. This is essential if you are a professional photographer and have to deal with hundreds and thousands of photos on a weekly basis. So what features should a Windows photo organizer have?
The following are some of the main things you should be able to do:
Ability to easily move photos to new folders/locations
Ability to create a complex folder system with subfolders
Ability to bulk rename photos and use numbered naming schemes
Ability to rate photos using a star rating or colors
Ability to add tags and categories to photos to index them easier
Search function to find photos easily
Ability to export these photos or use in conjunction with editing software
Aside from the above, the software should ideally be fast, and able to process a large number of high-quality photos. There is no point using a piece of software if it is slow and takes forever to load thumbnail previews for example.
Now that you understand why a photo organizer for Windows is beneficial, we can look at our top eight choices! This list features both paid and free software and is ranked in no particular order. Without further ado, let's get into the best software to organize your photos on a windows PC!
1. Adobe Photoshop Lightroom Classic
Our Pick
Great for professional editing and file management
Adobe Photoshop Lightroom Classic is the best choice if you want a professional photo editor that also has extensive photo organizing tools.
Excellent keyword search capabilities
Full file management options
Can rate and color highlight your images
Does require a relatively expensive monthly subscription
It may not be suitable for beginners
Our top pick for professional work is Adobe Photoshop Lightroom Classic. This is the best choice if you want a combined workflow. That is, advanced photo editing combined with advanced photo organization.
Lightroom requires a monthly subscription which may put some people off. However, the minimum subscription grants access to Lightroom Classic, Lightroom CC, and Adobe Photoshop 2022. You also get cloud storage and access to other Adobe software.
The photo management features of Lightroom are fantastic. Primarily, you can fully manage your photo folder hierarchies. This includes creating, moving, deleting, and renaming folders. You can also freely move the photos inside these folders.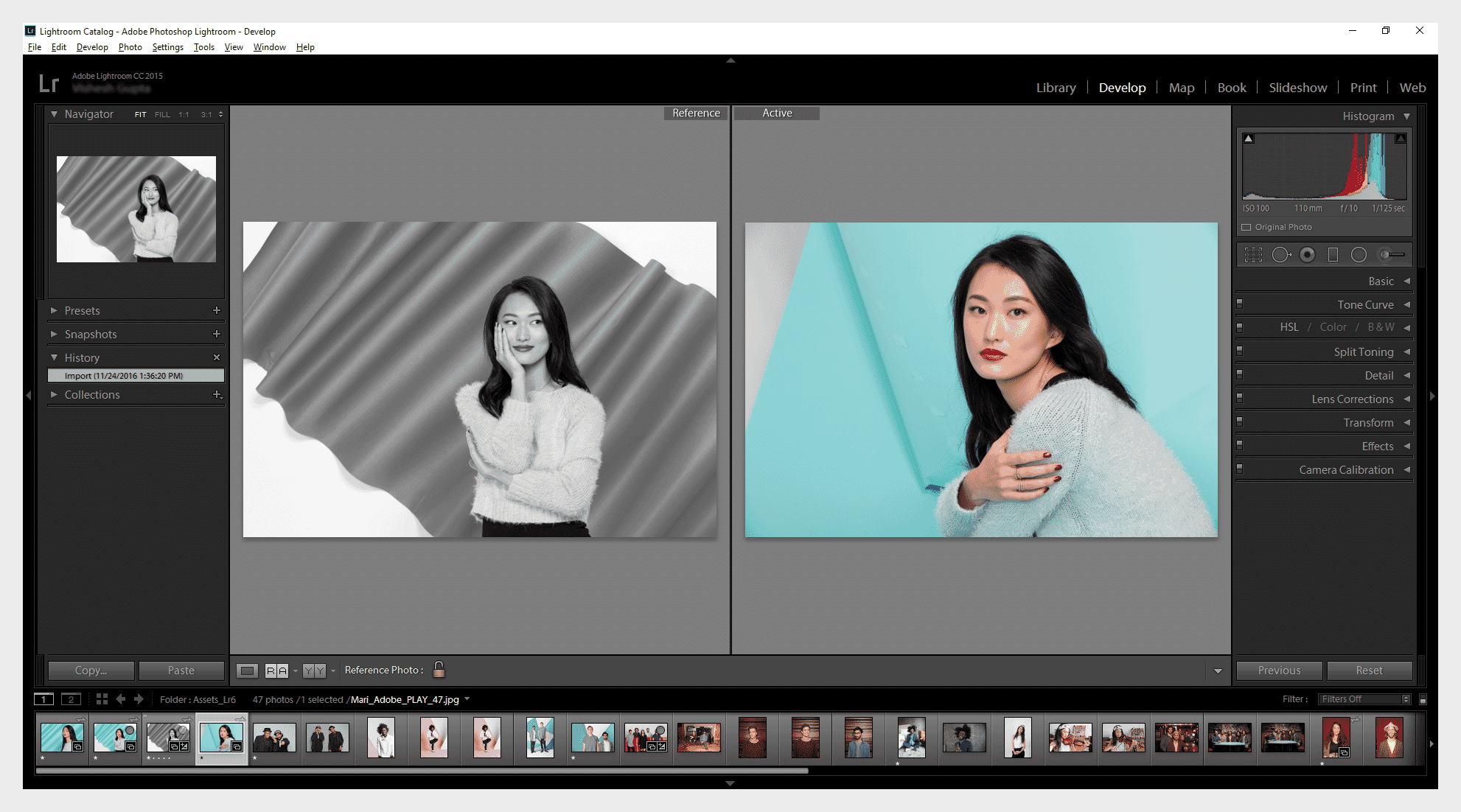 Lightroom Classic offers much more, however. You can assign keywords to photos and change the META data. You can then search for photos using the advanced search options. This includes filtering by keywords, the camera used, and the date taken, for example.
We also like that you can add star ratings to your photos, and color highlights. The ability to create separate collections is also extremely useful. Collections are virtual folders that bring together images from different physical folder locations. They mean you can create specific collections without disrupting your underlying folder structure.
2. ON1 Photo RAW
Also Great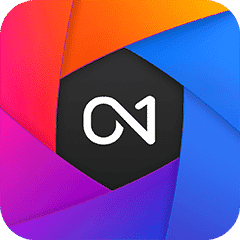 Great for high-end editing and photo organization
ON1 Photo RAW 2022.1 is another premum editing software like Lightroom that also has a brilliant photo management suite.
Extensive Browse module for file management
Advanced search options
Can fully edit your folder hierarchy
Can have performance issues on lower-spec devices
ON1 Photo RAW 2022.1 is a similar software to Lightroom Classic. It has an extensive range of photo editing tools but also has the ON1 Browse Module. The Browse Module is dedicated to file management and organization.
As one of the best photo organizing software for Windows 10, ON1 Photo RAW 2022.1 is available as a one-off license fee or a subscription. The subscription – ON1 Everything is good value. It gives cloud storage, and access to the other ON1 software including ON1 Resize.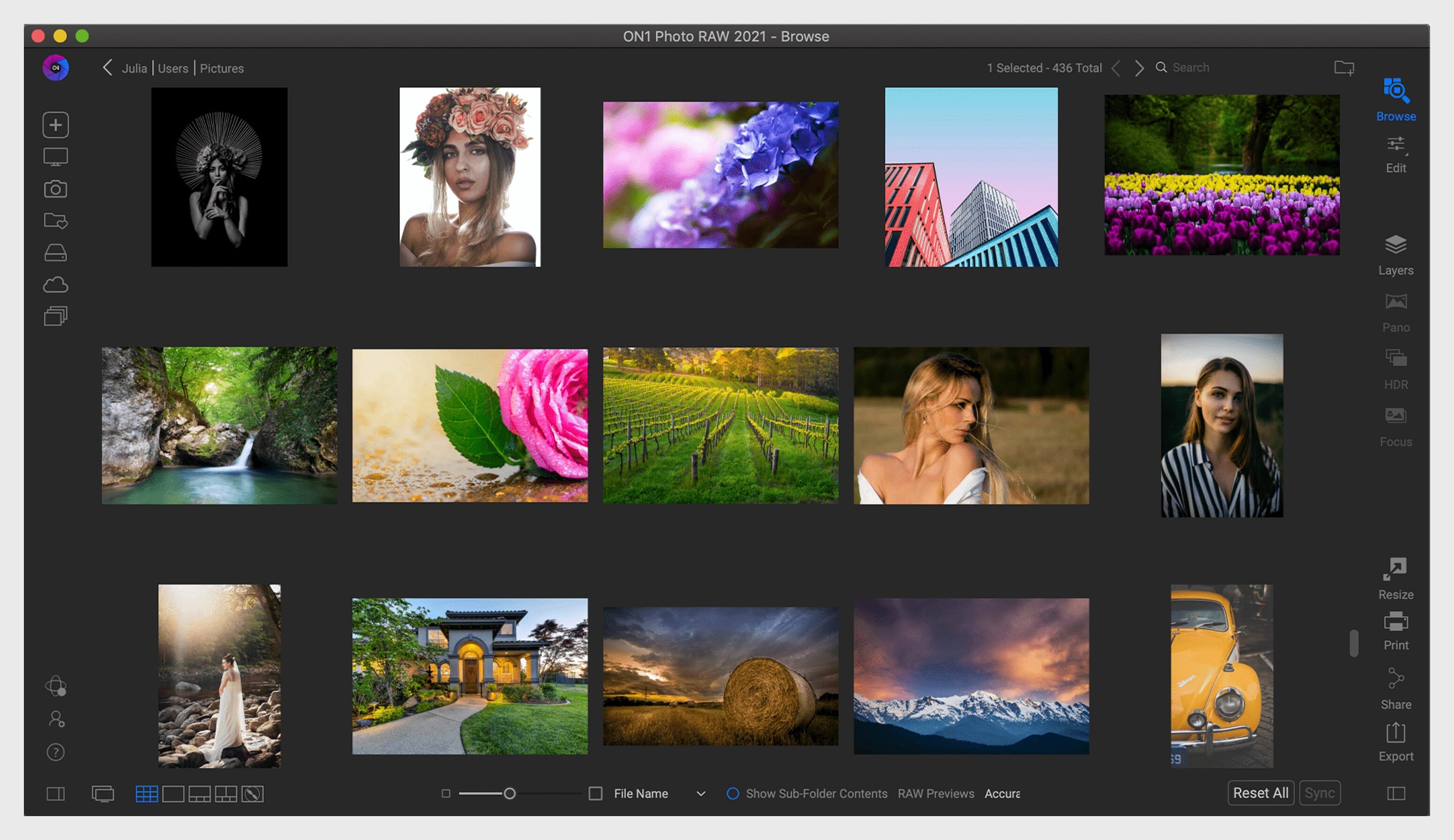 The ON1 Browse Module is a comprehensive file management system. At its core, it allows for complete file and folder management within the software. Like Lightroom Classic, you can also give photos ratings and assign keywords. EXIF META data is also viewable and editable.
Aside from this, the latest version of ON1 Photo RAW 2022 also introduces an advanced search option. This is a powerful tool that allows you to search for specific photos using multiple search criteria. You can also save your search preferences to streamline your file management.
3. Excire Foto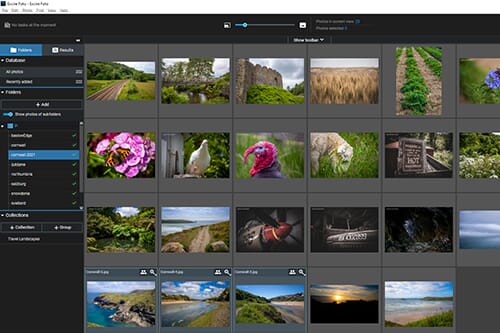 Great for organizing large photo collections
Excire Foto excels at the management of large photo collections. This is aided by it's simple interface, fast performance, and AI-powered search tools.
Detailed AI search tools
Can create photo collections from multiple locations
Fast performance
Does not have any photo editing tools
If you want a dedicated photo organizing software, Excire Foto is one of the best options. This software does not have any photo editing tools, so you would need additional software for this task. However, its photo management and organizing tools are superior.
This software is available for a one-off license fee. It is relatively affordable and a great budget option. It is also available for both macOS and Windows 10 devices.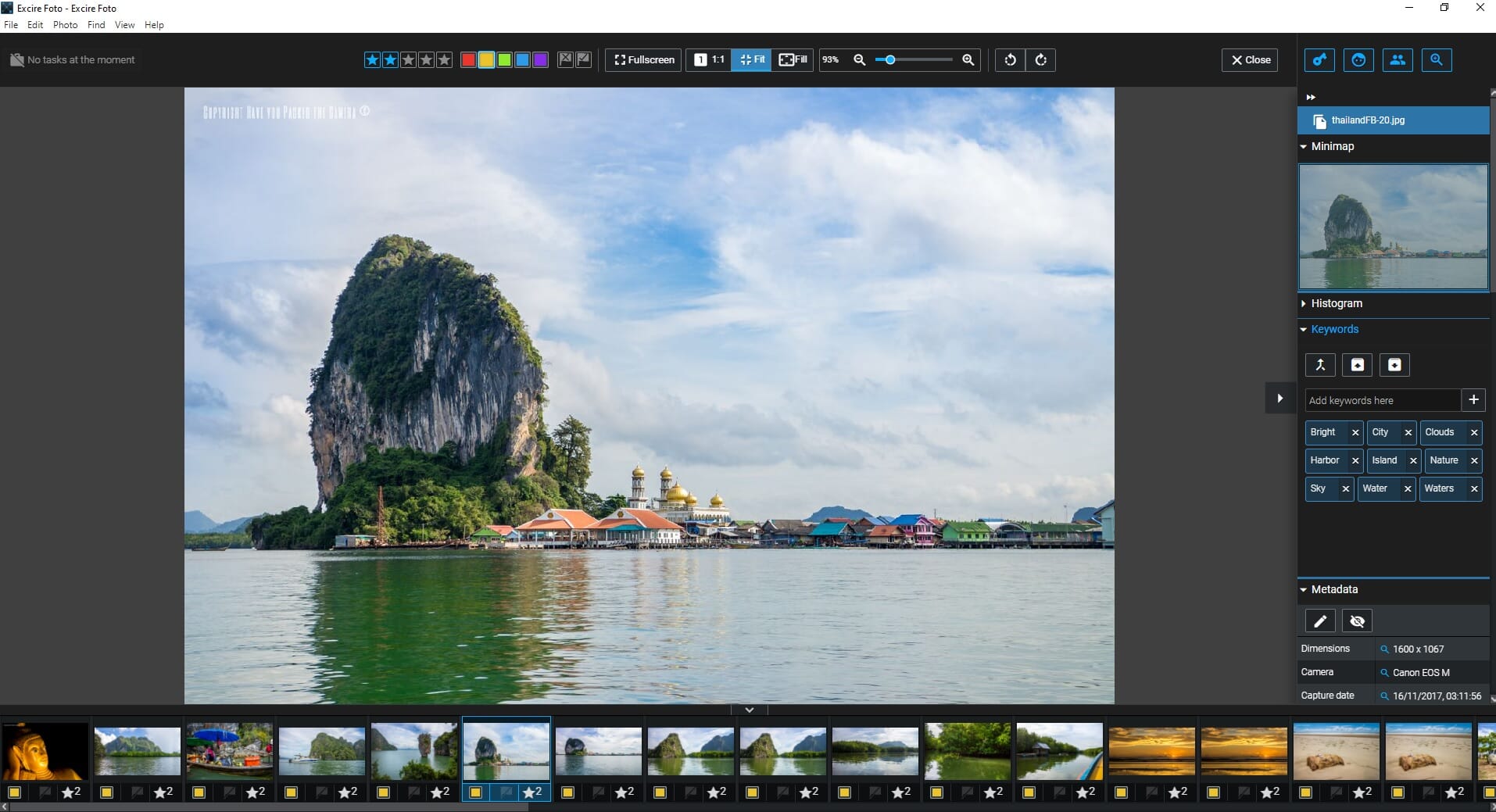 Using Excire Foto you can import entire photo collections and databases from other sources easily. You can then edit the folder hierarchy using a basic file manager screen.
Finding, organizing, and rating photos is also easy using this software. It has a host of rating options, and an extensive keyword management system. One of the best features is the AI-enhanced search tools. Tools like "Find Faces", and "Find Similar Photos" using AI technology to analyze your photos and find similar matching results.
If you are not concerned with photo editing, Excire Foto is the best photo organizing software for Windows 10. You can read our full Excire Foto review for more information.
4. ACDSee PhotoStudio Home 2022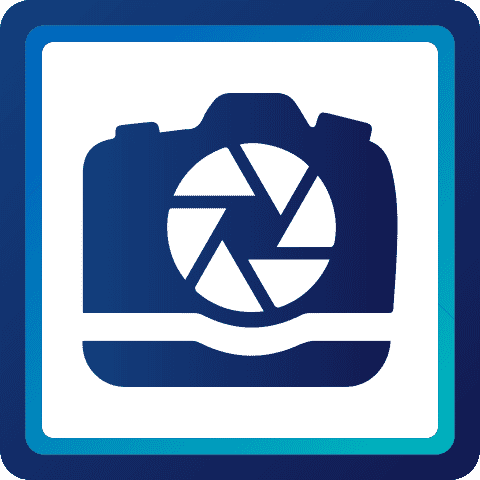 Great for advanced file management
ACDSee Photo Studio Home 2022 is one of the most comprehensive photo organizing software available for Windows 10 devices.
Great photo organization system
Multiple import and integration options
Plenty of batch processing tools
Some of the features at first can be difficult to learn
ACDSee Photo Studio Home 2022 is one of the best-recognized photo management software available. The current version has a great deal to offer and the price is reasonable too.
To start with, ACDSee has an epic organization system involving ratings, tags, categories, color labeling, and keywords. The organization tools arguably trump those of Adobe Lightroom Classic and the layout and panes are easy to use and uncluttered too.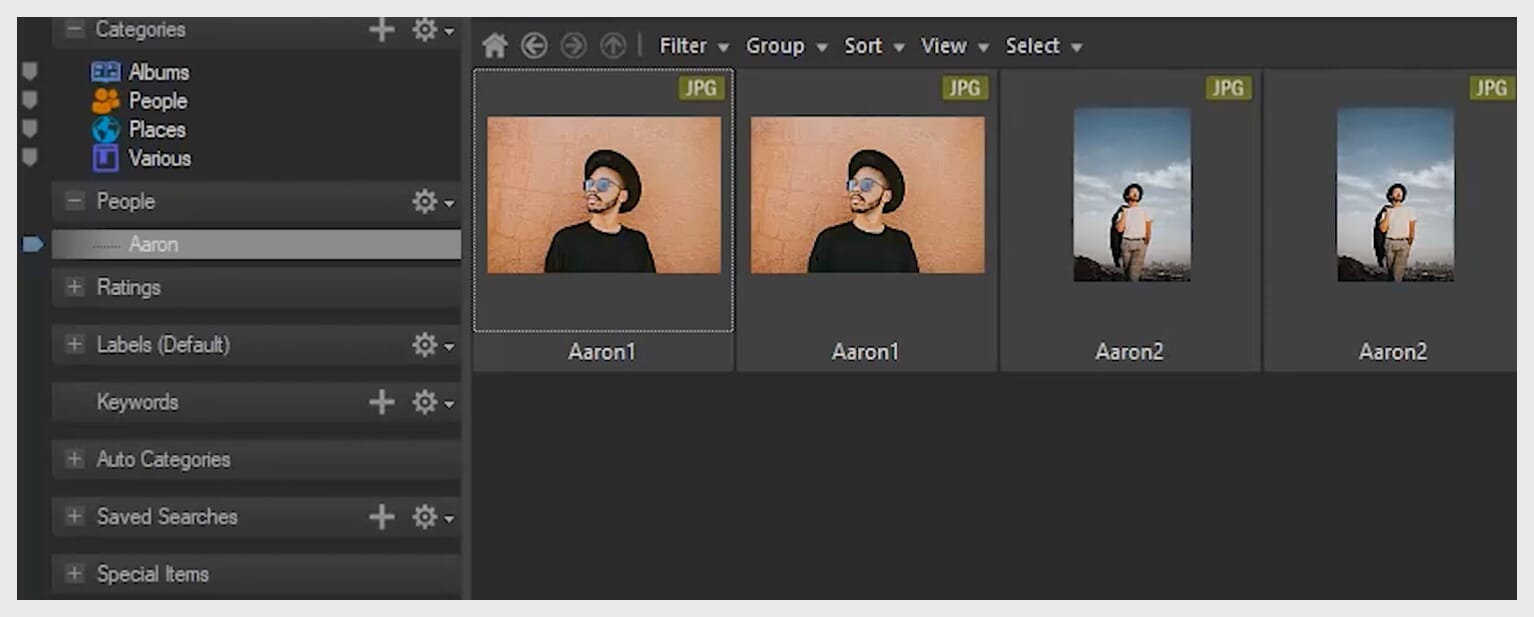 Apart from the organization, this program also has fantastic integration and import features. Firstly you can sync your mobile device with ACDSee and transfer your smartphone pics to the program easily. Secondly, it has a built-in Facebook upload feature and advanced import functionality. Finally, this program also has some awesome batch editing functions including rotation, resizing, exposure adjustment, and file renaming. In short, ACDSee basically has everything that a professional photographer would need to catalog and organize their work.
You can also read our in-depth ACDSee Review for more details about the Photo Studio Standard Edition.
5. Magix Photo Manager Deluxe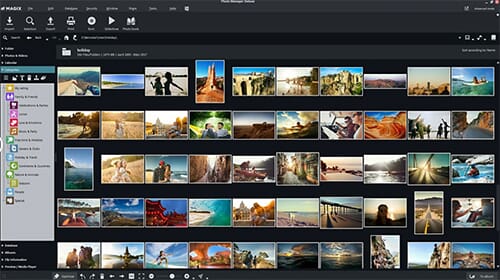 Great for facial recognition searches
Magix Photo Manager Deluxe has one of the best facial recognition tools to easily find photos containing certain people.
Excellent facial recognition tools
Streamlined interface
Support for importing from various sources
The interface may look at little outdated
Magix Photo Manager Deluxe is a simple and effective organizing software. It is also one of the best budget options available. You can buy this software for a cheap one-off license fee, or upgrade from a previous version.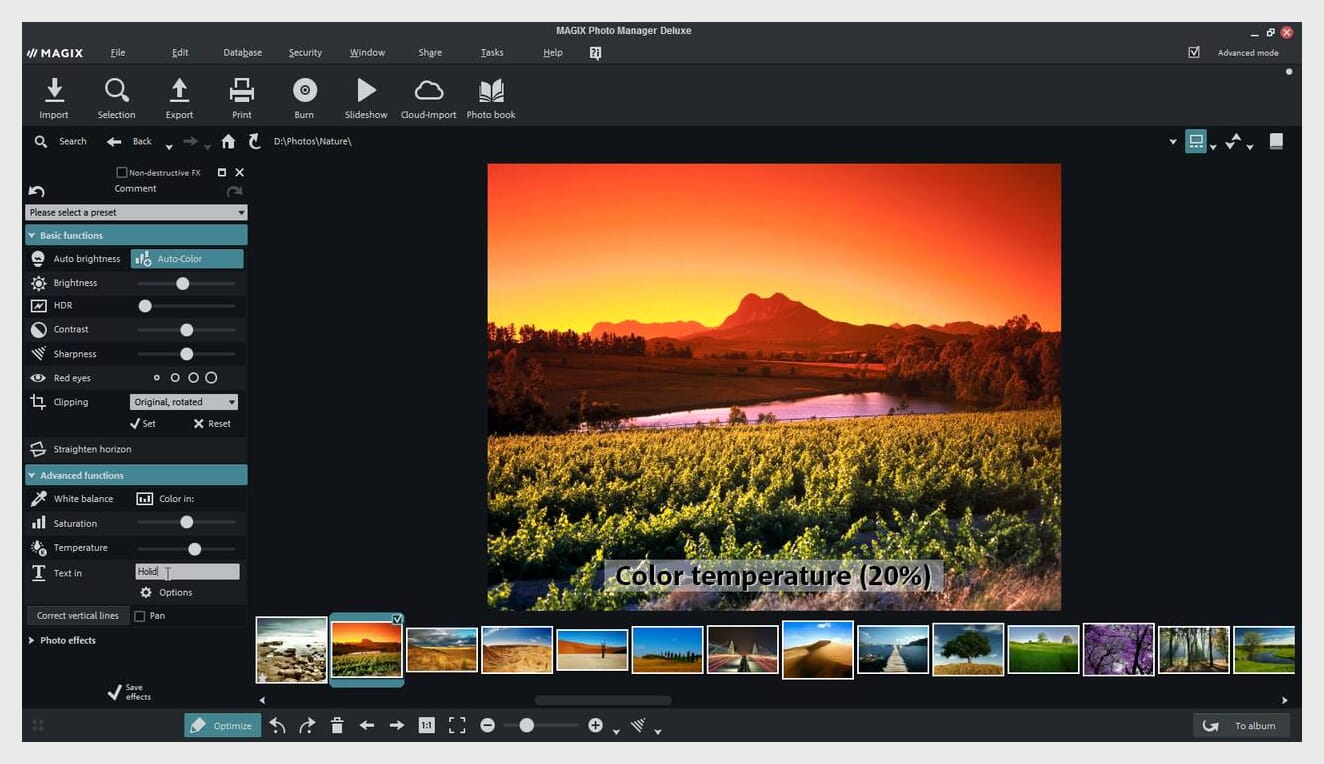 We should first mention the facial recognition feature which allows you to find photos containing certain people – this technology is advanced and really helps to find photos of your friends and family quickly.
Related Post: Best Slideshow Software
Magix Photo Manager is not just about facial recognition, however – it also has brilliant organization tools including a star rating system and you can even categorize photos by certain themes such as "night scenes" or "sunsets" for example. This program also has support for cloud importing, and also importing from your smartphone or tablet.
6. FastStone Image Viewer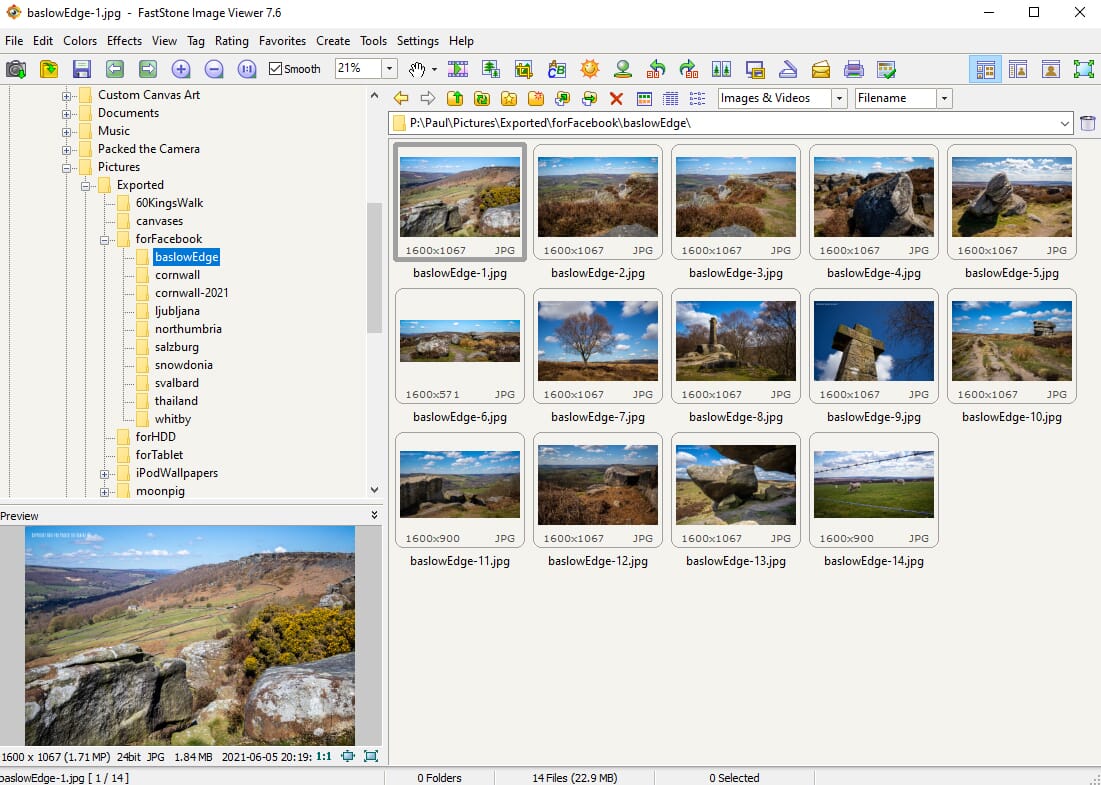 Great as a free option
FastStone Image Viewer is a basic software but arguably the best free photo organizing software for Windows available.
Low minimum spec requirements
Free!
Simple and clean interface
Does not have as many features as some other options
FastStone Image Viewer is one of the best and most well-known free photo organizers available for Windows PCs. This photo organizer has a simple interface but it runs smoothly. You can look at thumbnails and previews in an instant without any noticeable delay.
As with most organization tools, FastStone has an advanced batch processing feature that allows you to easily rename multiple photos at once. You can also convert your images to a number of different formats including JPEG, GIF, PNG, and even PDF.
Related Post: Best HDR Software
This program also features an extensive tagging system where you can add tags to your photos to categorize them easily – you can then use these tags to help search for your pics. Finally, FastStone also has some preset resizing tools that allow you to resize your images to common resolutions – this makes it easy if you need a specific image format for a particular job etc.
The latest version of FastStone Image Viewer released in March 2022 has some important updates too. This includes a new rating system for images, more file sorting options, and general performance improvements.
While FastStone may not have as many features as ACDSee or Lightroom, for example, it is certainly a fantastic free image organization tool for those on a tight budget.
7. DigiKam Photo Manager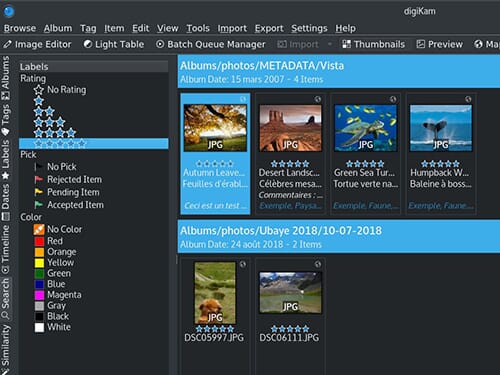 Great for comprehensive file management
DigiKam Photo Manager is another excellent free option that excels at file and folder management.
Great folder management tools
Extensive photo sorting functions
Ability to add comments to photos
Some may not like the basic interface
Digikam Photo Manager is one of the best software to organize your photos on a Windows PC for free. As Digikam is open source this means that the source code is readily available and anyone can develop it – this gives it fantastic support and means that you can also tailor the program to your needs.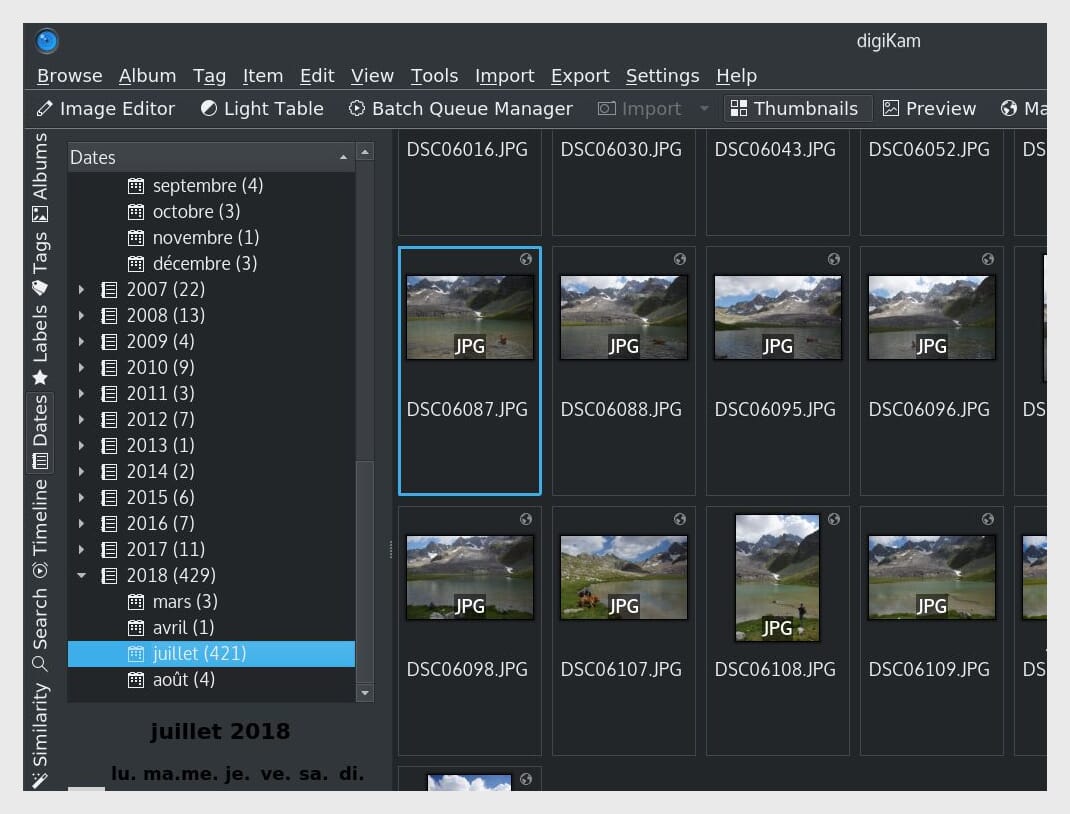 DigiKam offers all the basic organization functionality you need – you can upload, delete and move images in a few clicks. Furthermore, you can rename and rotate photos during the importing process.
In terms of actual organization and cataloging features, Dijikam allows you to create a comprehensive folder system with parent and subfolders. Furthermore, you can add comments to your photos which is useful if you need reminders such as editing a certain aspect or marking a photo for further processing.
There is also an extensive sorting function – it is possible to sort your photos by name, file size, date or title, etc. As far as free photo organization tools go, Dijikam is right up there with the best.
8. Adobe Bridge CC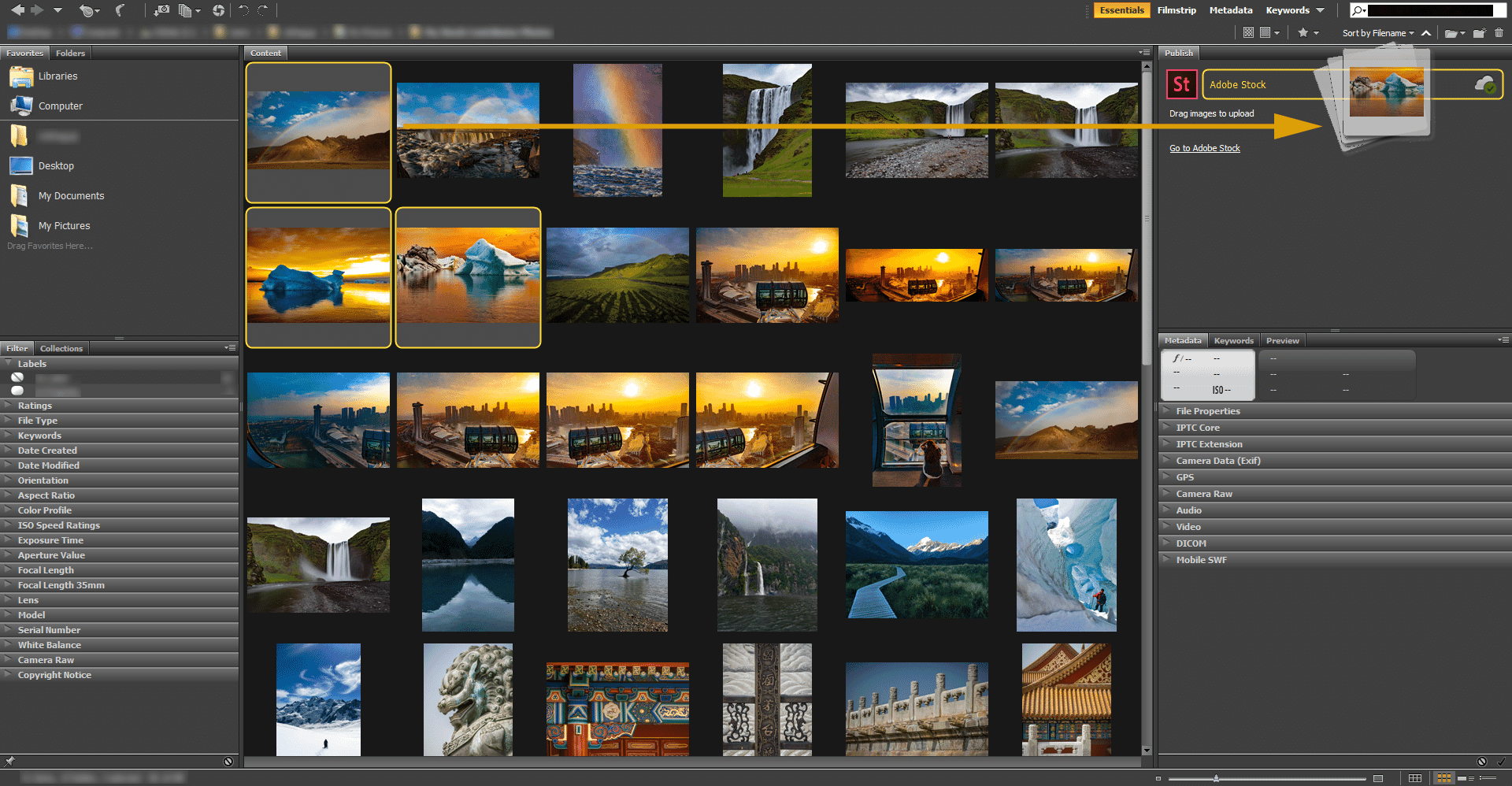 Great if you already have an Adobe CC subscription
Adobe Bridge CC is a solid organizing program that allows for effective file management and the import of new images.
Has an extensive import tool
Free as part of an Adobe CC subscription
Good selection of batch processing tools
Can feel redundant if you already have other Adobe software
Many people forget about Adobe Bridge and fail to remember that it is actually a fully-fledged program with a great deal to offer. How many times have you been using Photoshop or Lightroom and opened Bridge by accident only to close it seconds later in frustration?
Well, Bridge shouldn't be overlooked anymore! If people actually took the time to review this program, they would see that it has fantastic image organization tools and is really easy to use too.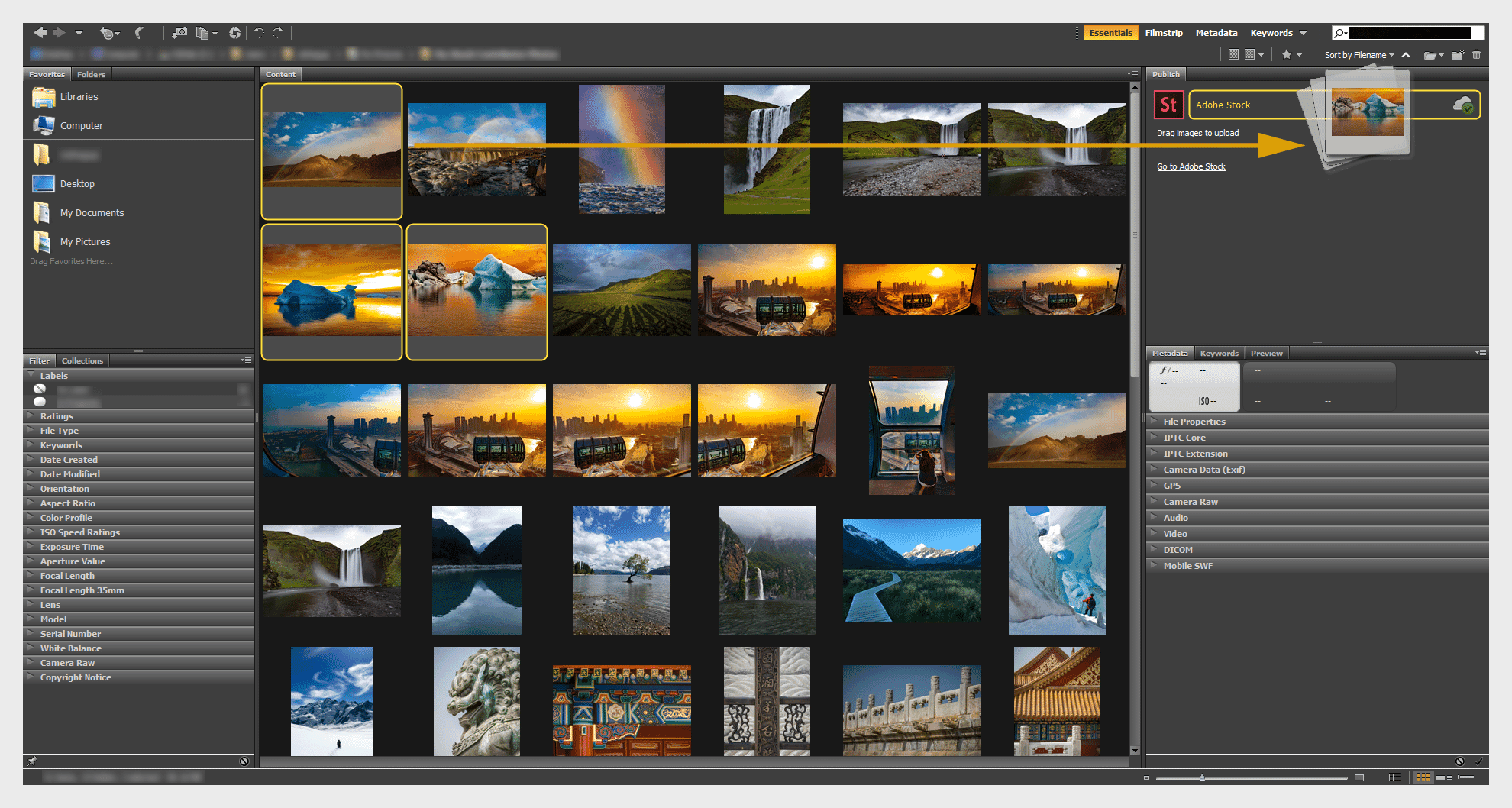 Adobe Bridge allows you to easily manage your images and create detailed folder hierarchies in a few clicks. Furthermore, Bridge has a superb importing facility that allows you to import photos from your camera or smartphone. You can select advanced importing functions such as file rename and adding keywords, and you can quickly import your pics into new or existing folders.
Bridge also has a great variety of batch processing tools and you can, of course, use the program in conjunction with any of the other Adobe Creative Cloud programs.
Best Photo Organizer: FAQs