Back in 2017, we made a list of the best portable photo printers that you could buy. It has nearly been two years since then. A number of new portable photo printers have been released. Some of these are really good. They are worthy of being placed on this list. An updated version of the best portable photo printer systems in 2019. But are the new ones good enough to beat the old ones? Let's find out.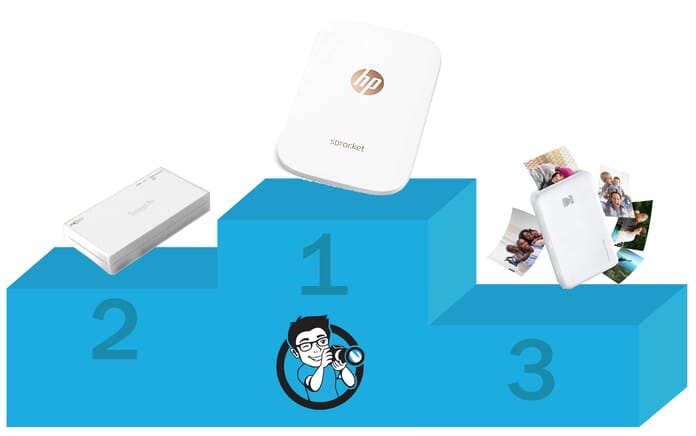 So, without further ado, here is the selection of the best portable photo printer systems:

💡 If you don't care about size and portability, you may want to check out the best overall photo printers.
🙌 Make sure to check the price of the HP Sprocket on Ebay.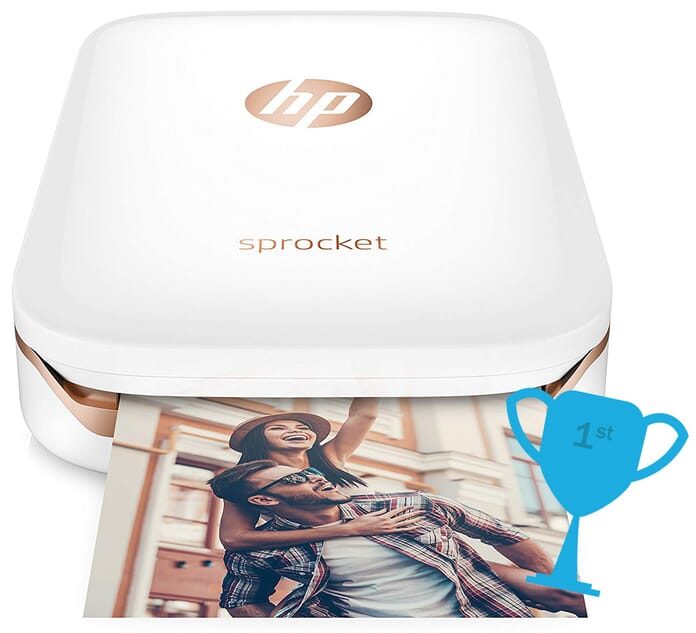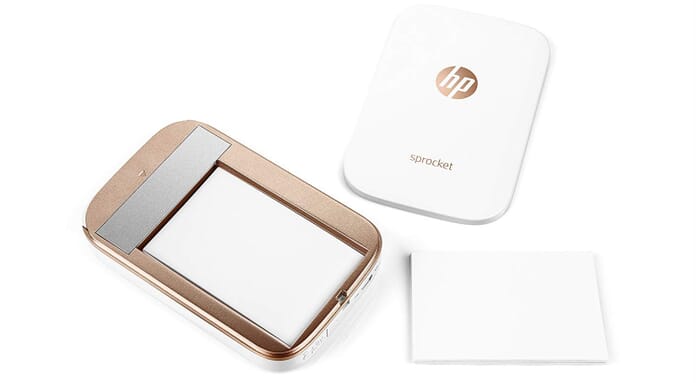 The HP Sprocket is one of the best portable photo printers in the business. It is designed to print social media photos on 2 x 3″ stick backed photo paper. The printer is designed to ideally work with smartphones and tablets. All you have to do is connect your social media account via the Sprocket App and make prints.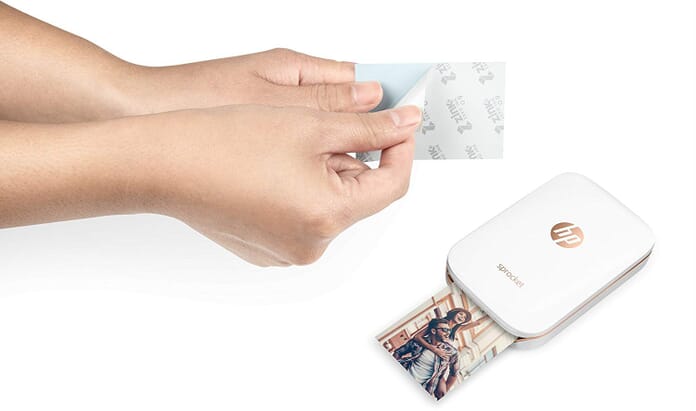 This is a very compact printer. As a matter of fact, it fits perfectly inside a small bag. It weighs just 6.1 ounces. A lithium polymer battery powers the device making it truly mobile. It uses HP ZINK photo paper which means you never have to change cartridges ever. These papers are smudge free, water resistant and extremely durable. The fact that they have a peel-off back means you don't need irritating glue-sticks to affix your photos. This makes it perfect for school projects or scrapbooks.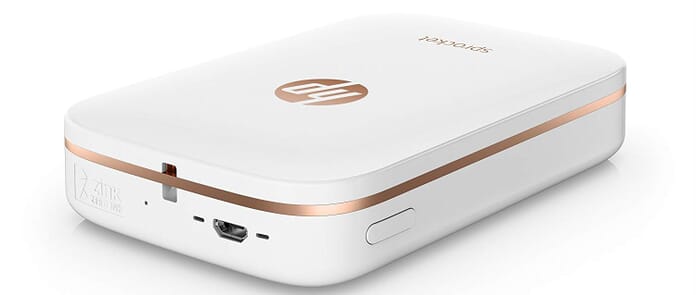 You don't have to print plain vanilla prints though; the Sprocket app comes with a full package of image embellishments including emojis, borders, fun text styles and much more to spice up your photos before you print them.
Sprocket supports Bluetooth connectivity. Thus, connecting to it and setting it up anywhere at home, at the office or even a party is very easy. The fact that connecting to it is so easy everyone can use it to print images on demand. Set it up at a party and everyone can print their favorite moments.
HP Sprocket Portable Photo Printer, X7N07A, Print Social Media Photos on 2x3...
Live it - Love it - Print it: Printing off social media photos has never been easier from your smartphone. Connect your...
A Social on-the-go portable printer: Sprocket uses seamless Bluetooth connectivity, so you can set it up at parties and...
Have fun - be creative: Customize your photos before you print with the HP Sprocket App to add fun text, borders,...
Instant snapshots anywhere: This compact photo printer was made to go wherever you do. It easily fits into any bag, so...
How to print: Connect the Sprocket Photo Printer to your mobile device via Bluetooth. Download the free and easy-to-use...
Related Post: Best Professional Photo Printers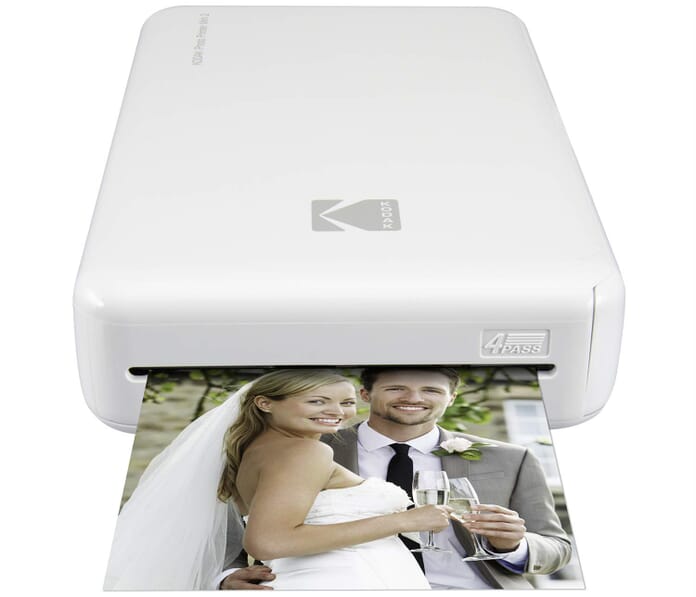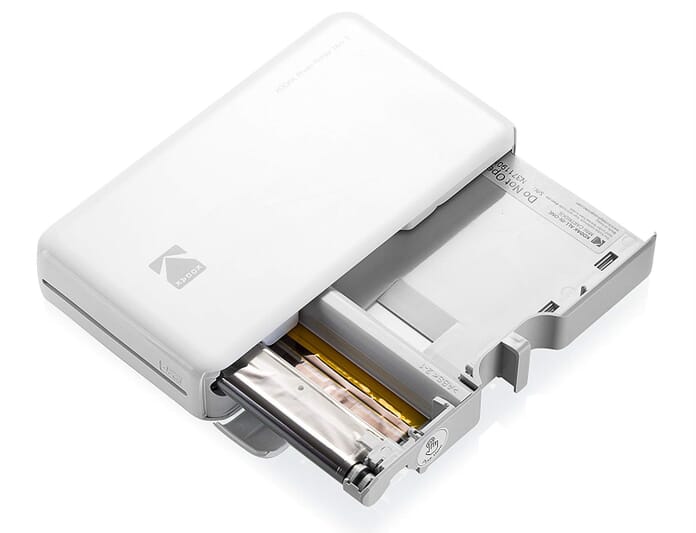 The Kodak Mini 2 comes highly rated and it has a novel technology. It does not use instant film technology. Nor does it use Zero Ink paper technology that some of the other competitors do. Instead, it uses a single cartridge mechanism which houses both the paper and the ink.
Kodak uses what they call a 4-pass technology. This is a form of thermal transfer technology. The way it actually works in real life is interesting to watch. The paper will pop in and out a total of four times during the printing process. Each time the printer will add one layer. The final layer is a clear coat which increases the storage life of the print. That said it could get a bit boring to watch after a while.
The actual print is no larger than a credit card. The size is 2.1 x 3.4". Once the print comes out of the printer it is ready to be handled. The ink dries instantaneously.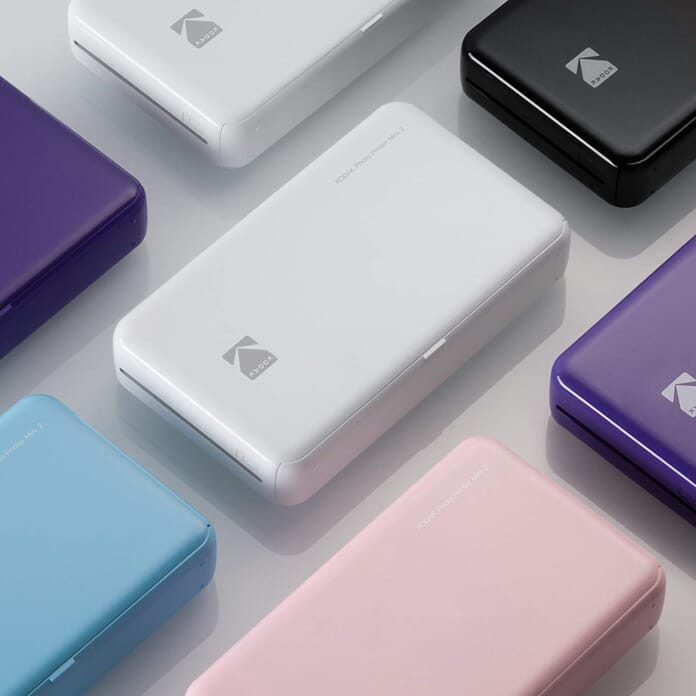 The best thing about the printer is it is lightweight. Add to that the low running cost. If you buy a 50 sheet cartridge pack your per print cost comes down to about 70 cents.
The printer works with smartphones. The paired smartphone app is designed to work with both Android and iOS platforms. It even has a neat power indicator icon. Once the battery comes down to a low level the printer won't print any further.
Kodak Mini 2 HD Wireless Portable Mobile Instant Photo Printer, Print Social Media...
Easy print technology - mini smartphone printer lets you print 2. 1 x 3. 4" photos direct from Android or iOS device; No...
Wireless convenience - NFC one touch for Android Launches Kodak app to print in seconds; also compatible with...
HIGH QUALITY PHOTOS - Innovative 4 PASS D2T2 Dye Transfer Method Produces Beautiful, Detailed Black/White or Color...
All-in-one Convenience - innovative Kodak MC Cartridges combine paper & color ink for easy maintenance; purchase Refills...
Free companion app - download the Kodak photo Printer app for filters, Cropping, stickers, card Templates, ID photo...
This is a sleek and elegant looking portable printing solution for photo prints. The SereneLife Portable lets you print from most of Apple's smartphones and tablets as well as Android devices.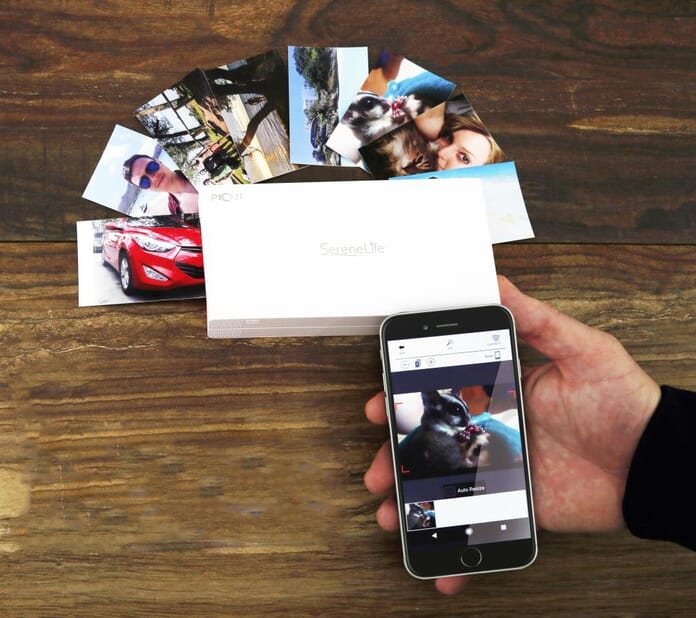 Built-in wireless connectivity ensures that you can print without having to manually connect a laptop or a camera to the printer. Simply connect to the printer's Wi-Fi network to do that.
The device comes with a built-in battery. This battery lasts for a full 25 prints. So you can take it practically anywhere you want to and print without any electricity or internet connectivity.
Related Post: How to Directly Print from Your iPhone
Print quality is great. An average print has a resolution of 291 DPI which is almost the same as the printing industry standard of 300 DPI. The paper is glossy in quality.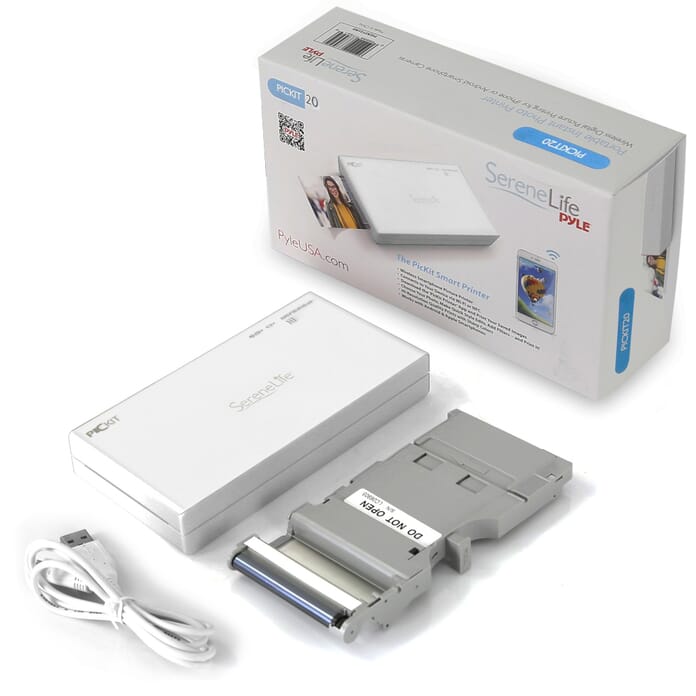 A completely green design, the SereneLife portable printer comes with a cartridge that loads up enough paper and ink for about 10 prints. Just about enough of both to ensure that it prints the full number of prints as the paper loaded into it and so that there is no wastage. The whole cartridge gets changed after the ink and the paper is used up. You don't have to handle individual ink cartridges. So, there is no smudging or leakage in the fingers and so on.
A separate mobile app PICKIT is available for Android and iOS platforms. Download and install the app and set-up your printer. The app also works as a basic photo retouching tool as well. You can crop images, add a different color scheme or filters before finally selecting the ones for print.
Portable Instant Mobile Photo Printer - Wireless Color Picture Printing from Apple...
INSTANTLY PRINT FROM SMARTPHONES: Connects with all Apple iPhone 4s, 5, 6, 7 and Later, iPad, Android Smartphones and...
PORTABLE DESIGN: This portable printer is comes with a built in battery that lets you take it anywhere. Print up to 25...
NO PAPER NO INK: Inkless self contained cartridges contain both paper and ink, enough for 10 prints. Easy to change. No...
COLOR & COMPATIBILITY: This mobile phone printer produces high quality fully laminated 291dpi glossy images. Prints are...
PICKIT MOBILE APP: To use this mobile printer, download the PICKIT app and choose digital photos from your camera roll....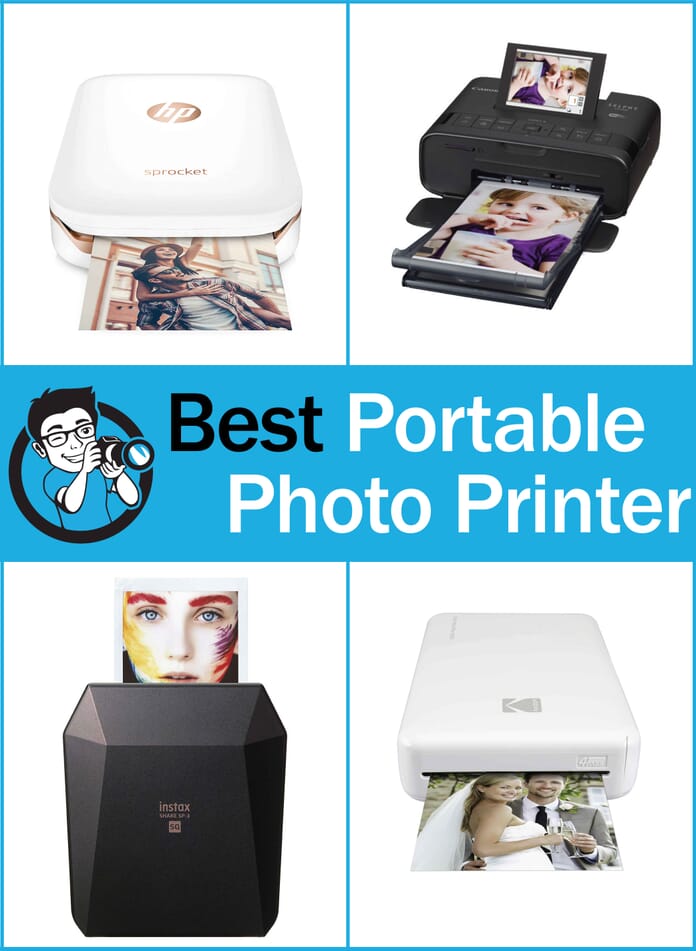 The Fujifilm Instax Share SP-3 is a mobile printer. Just like the Kodak Mini 2 HD we read about above.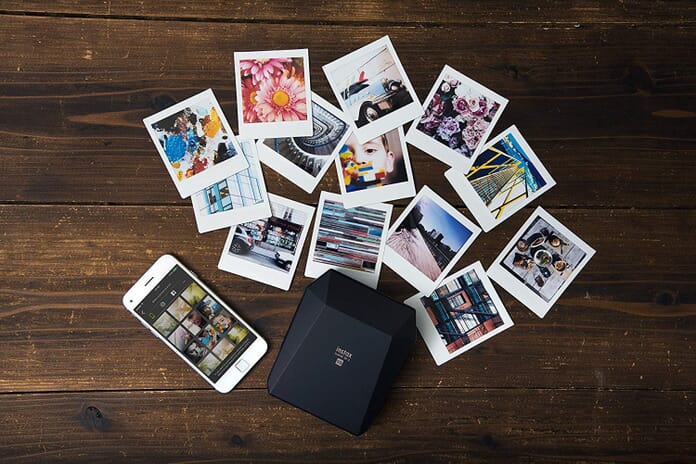 The print size is 2.4" x 2.4". A square shape which is a little odd considering the other prints sizes. But for those of you familiar with Polaroid instant film this would not be new. The printer uses the instant film type – Instax Square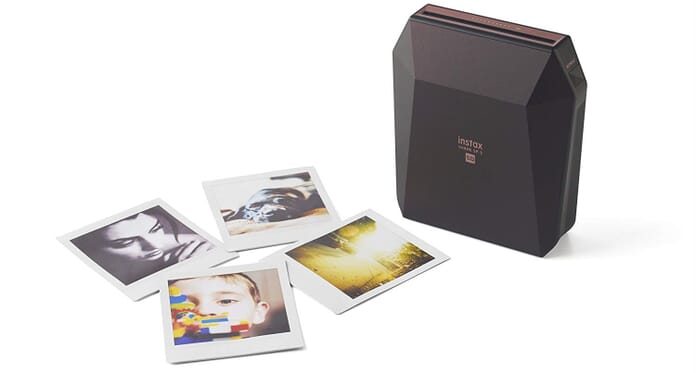 The printing technology uses a 3-color OLED exposure mechanism. This system uses an interesting technology. It delivers light directly to the pigments. It produces a chemical reaction in the process. The end result is a long lasting print.
The resolution of the prints is 800 dots by 800 dots and 318 dpi.
You can add dozens of effects to your images. Mimic different film stock and/or different Instagram effects.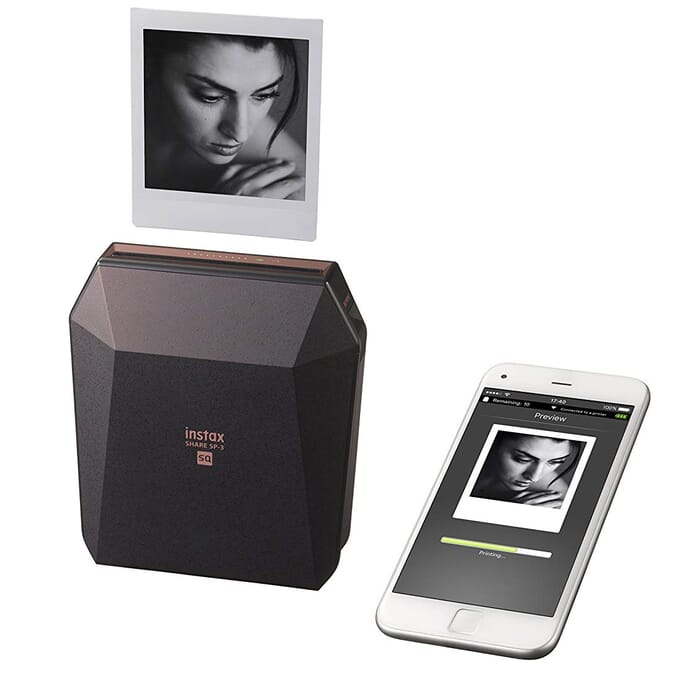 Just like the Kodak the Fujifilm Instax also comes with an accompanying smartphone app. But this app does more than just print photos from your smartphone. It can connect to your social media accounts (password protected) and make prints out of those.
The printer comes integrated with an NP-50 rechargeable battery pack.
Fujifilm Instax SP-3 Mobile Printer - Black
NEW larger SQUARE INSTAX Film (2.4" x 2.4") is ideal for Instagram prints
Print real photos wirelessly from your Smartphone or Tablet. Mobile printer can be used anywhere - perfect for parties,...
Easy access to social media photos from Facebook, Instagram, Google, Pinterest, Snapchat, Weibo, etc
Add text to your photos to make images with special messages and #Tag Print mode allows you to search and print photos...
Rechargeable battery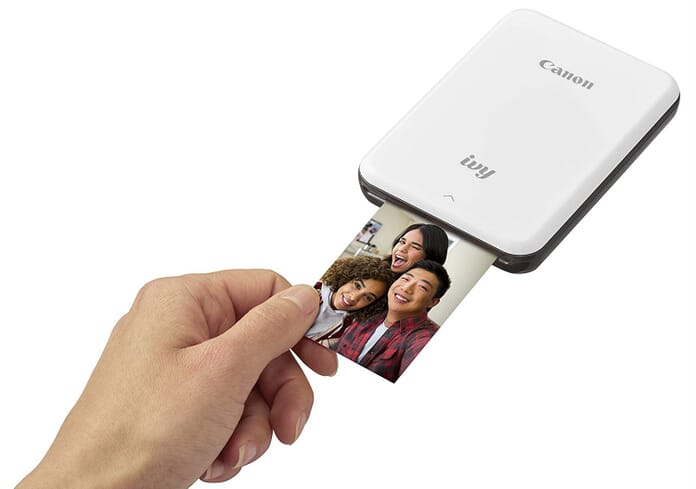 The Canon IVY is yet another highly rated portable photo printer. The IVY uses a similar ZINK (Zero Ink) technology that some of the other printers use. The technology uses a thermal transfer process. This process simply applies heat to the printing paper. The paper already holds different colored dyes in it. The heat just brings out the pigment and transfers the image. The actual print sizes are 2 x 3".
Related Post: Best Photo Software (for Windows)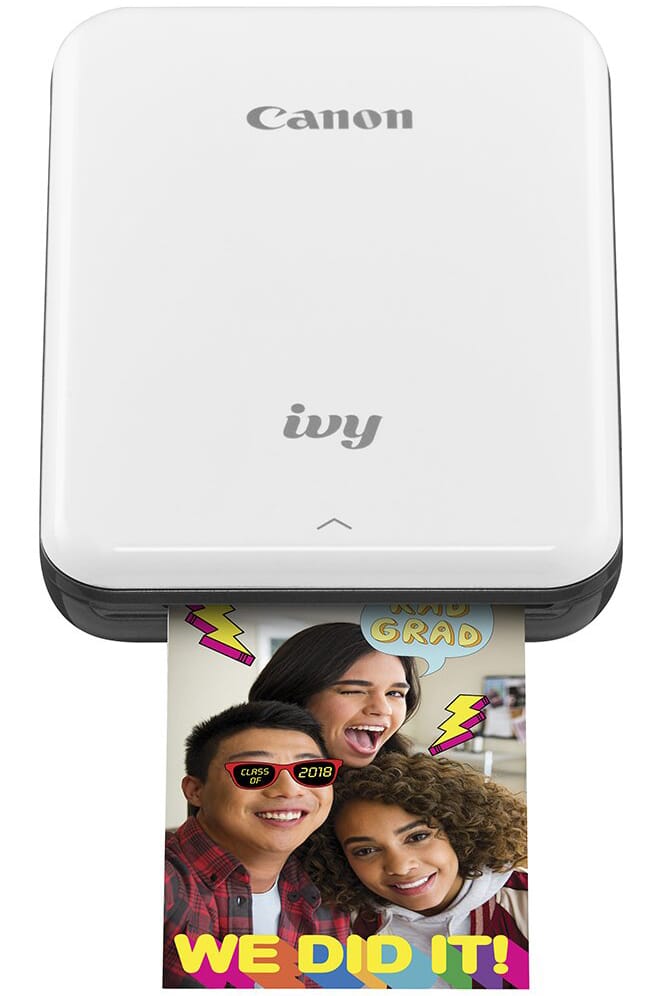 The maximum paper size is 2 x 3". The resolution of the prints is 314 x 400 dpi.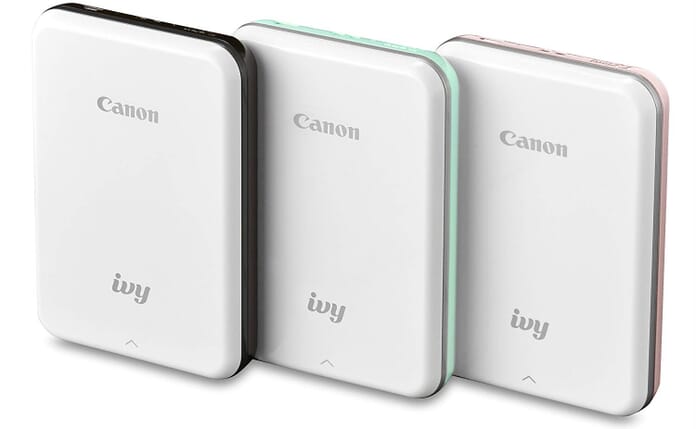 The printer comes with a smartphone app that works on both Android and iOS platforms. The app can be downloaded from the respective app stores.
The system comes with a rechargeable battery which will last for about 20 prints on a full charge.
The Polaroid ZIP Mobile with ZINK is one of the best portable photo printers around. Why? Because Polaroid has been synonymous with the term instant photo prints and more so because of the ZINK technology.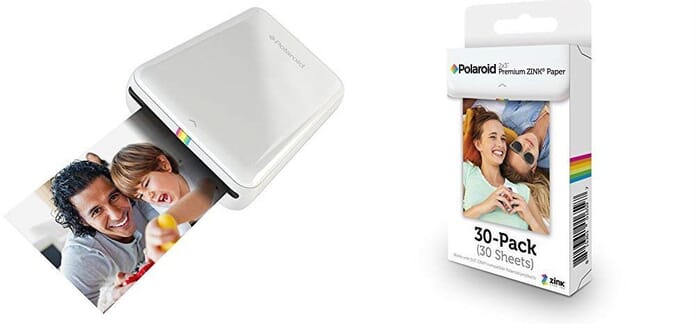 The Polaroid Zip Mobile is capable of making 2 x 3″ full color and smudges free prints. The Polaroid Premium ZINK papers also have a peel-back sticky back side. The sort of that is perfect for school projects and for printing a quick print for decorating your workplace.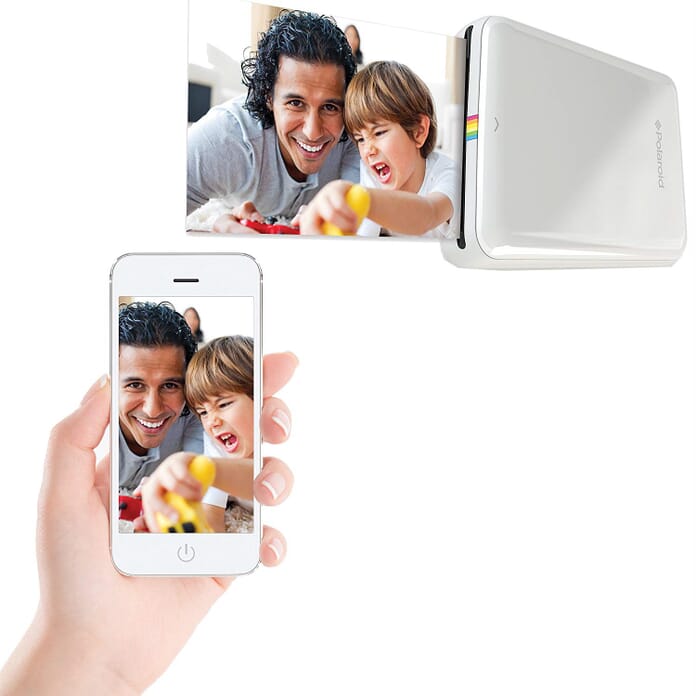 The ZINK technology uses a unique color forming molecular structure. These molecules get activated when you subjected to heat inside the printer. Absolutely no external ink is used. These results in stunningly deep and vibrant colors that are smudge proof. The papers are resistant to water, are tear resistant and also dry to touch ensuring absolutely smudge-free results straight out of the printer.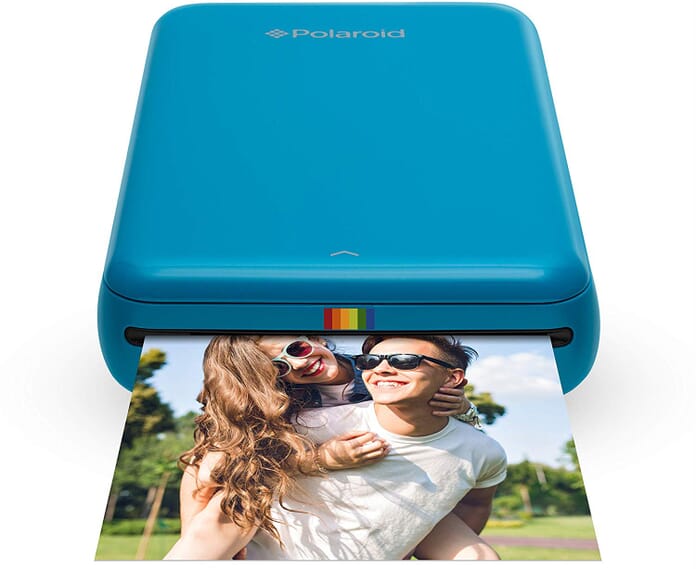 The fact that the printer is Bluetooth and NFC capable means it is capable of printing directly from your smartphone/tablet. You don't even need a wireless network to print. Along with the printer, you can also get the Polaroid ZIP app for both iOS and Android platforms. Using this app you can make some casual retouching and corrections before selecting the images for print.
The best thing about the Polaroid ZIP Mobile is its portable sleek design. It is designed as a mobile printer and its dimensions give it away. It measures 2.9 x 4.7 x 0.9″ and weighs just about 6.6 ounces. This, and the fact that it has its own rechargeable battery is why you can pretty much take it with you anywhere you want to. Just slip it in your bag and you are ready to go. The built-in battery charges in about 1.5 hours. On a full charge, you can print about 25 sheets. It takes less than a minute to print one photo.
Polaroid ZIP Wireless Mobile Photo Mini Printer (Blue) Compatible w/ iOS & Android,...
SMARTPHONE MEMORIES MADE REAL - Using the Polaroid ZIP is fast and easy! Just connect a smart phone or tablet via Wi-Fi...
STUNNINGLY VIBRANT PRINTS - ZINK ZERO INK printing technology eliminates the need for film, ink, toners, cartridges, and...
FREE POLAROID MOBILE APP - Take your photography to the next level by downloading the FREE Polaroid app, compatible with...
TRAVEL-READY DESIGN - The mini and pocket sized design is compact, super portable and perfect for anyone who loves to...
SHOP WITH CONFIDENCE - Only Polaroid products offered by authorized dealers are covered by its manufacturer's warranty....
Related Post: The Best Photo Editing Software
Notable Omission
We left out the Polaroid Mint. It is an instant camera that uses ZINK technology to shoot and print an image. So, technically, it is not a stand-alone printer. Despite the fact we loved the design and the functionality, we kept it outside this list.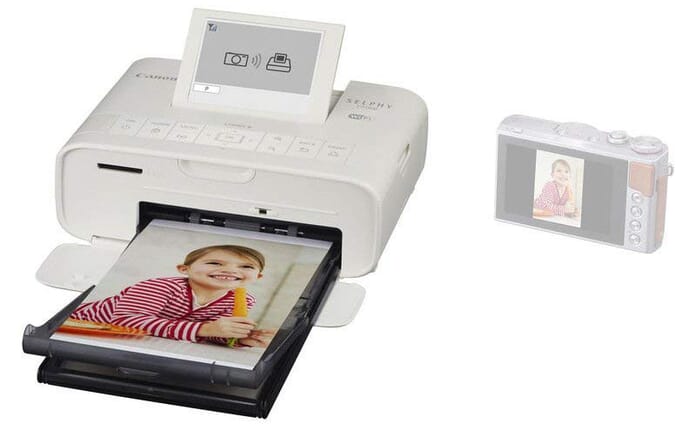 The Canon SELPHY CP1300 is the updated version of the CP1200. It is one of the best portable photo printer units you can buy right now. The system uses dye sublimation/thermal transfer technology to print the images.
The system is compatible with Canon's PRINT mobile app technology as well as Apple's AirPrint. This ensures that you can wirelessly print from a large number of devices.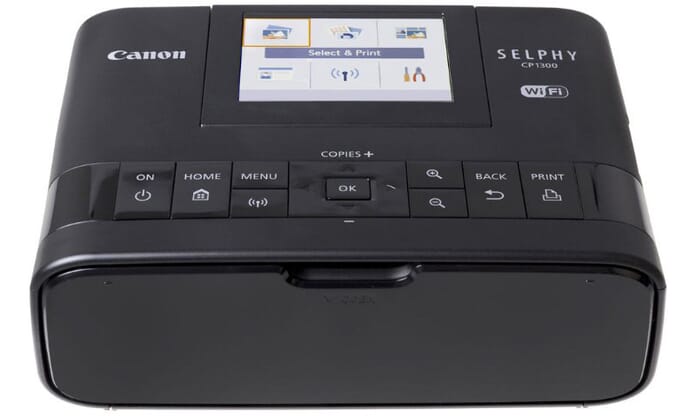 Speaking of wireless printing, there is a new party Shuffle Print. This mode allows a number of users to connect at the same time and produce a collage. The system also supports PictBridge. USB support is also available. So you would be able to print using a computer just as easily.
The highest resolution that the printer is able to print in is 300 dpi. With the maximum print size being 4 x 6". Of course, you can use other media as well.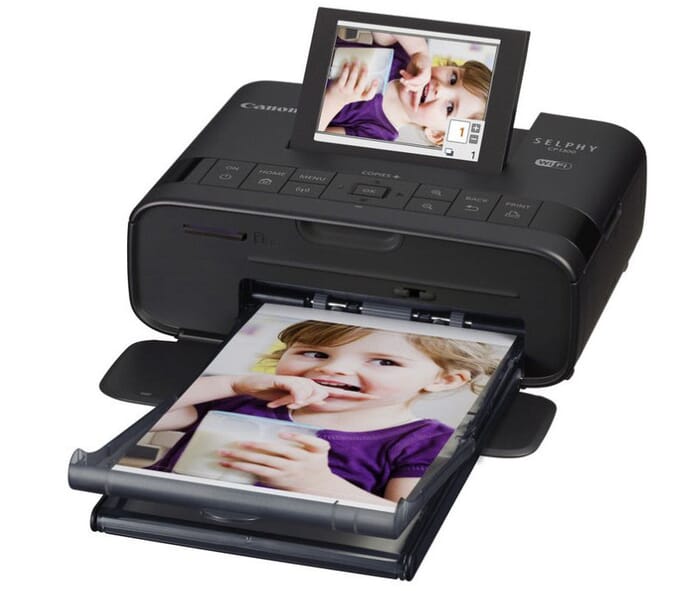 The printer has a 3.2" tilting LCD screen. This screen allows you to do some light changes to your photos and review them before printing.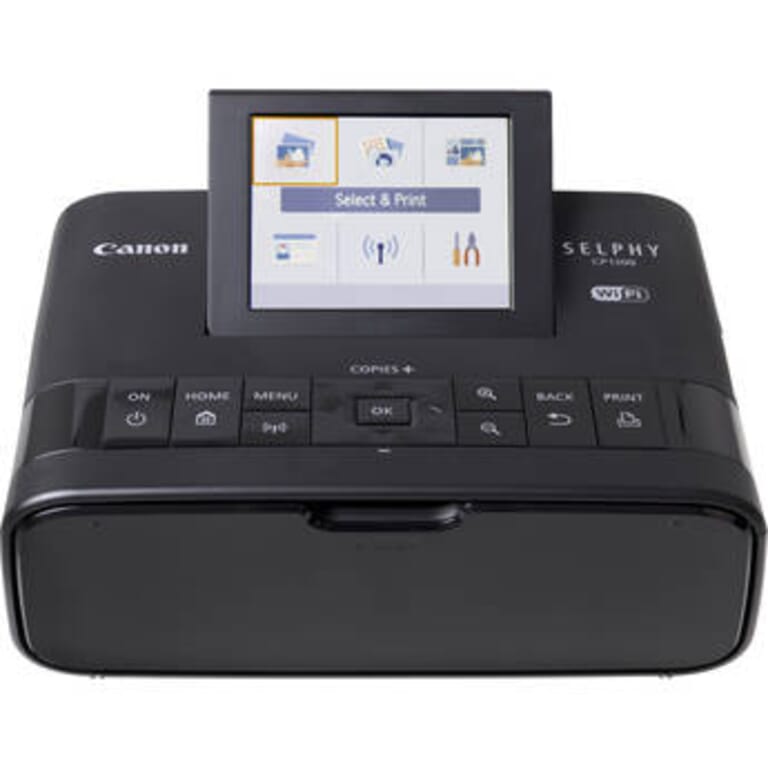 Dye Sublimation / Thermal Transfer
Max Resolution: 300 dpi
Print Sizes: 2.1 x 2.1" to 4 x 6"
Print Speed: 47 Seconds for 4 x 6" Photo
Apple AirPrint & Canon PRINT Mobile App
3.2" Tilting LCD Screen
Party Shuffle Print; USB Host Port
Wireless PictBridge & SD Card Slot
USB 2.0 and Wi-Fi Connectivity
AC Power or Optional Battery Pack
B&H price as of 2019-09-18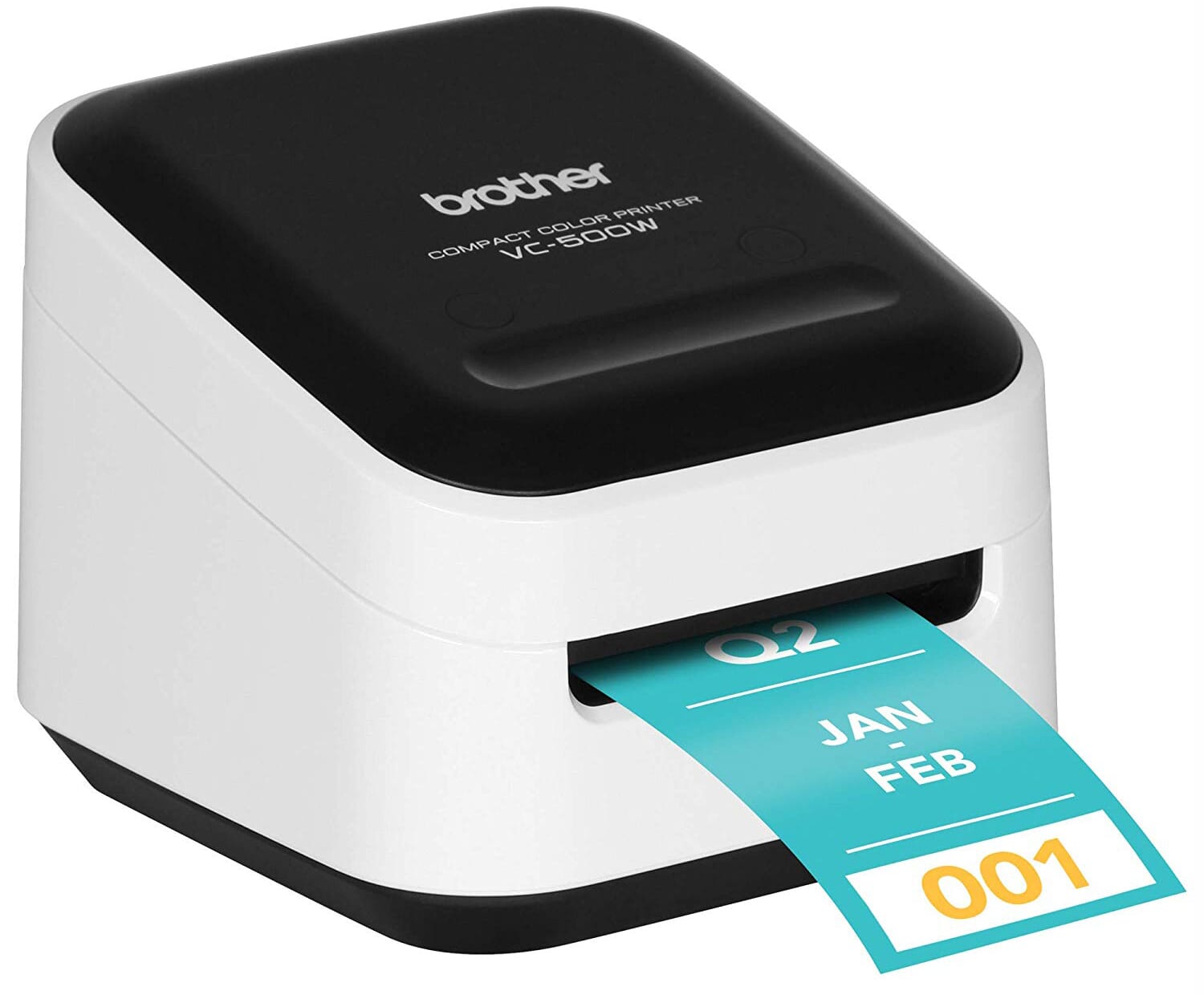 The Brother VC-500W uses a Zero Ink technology, there is no dye used inside it.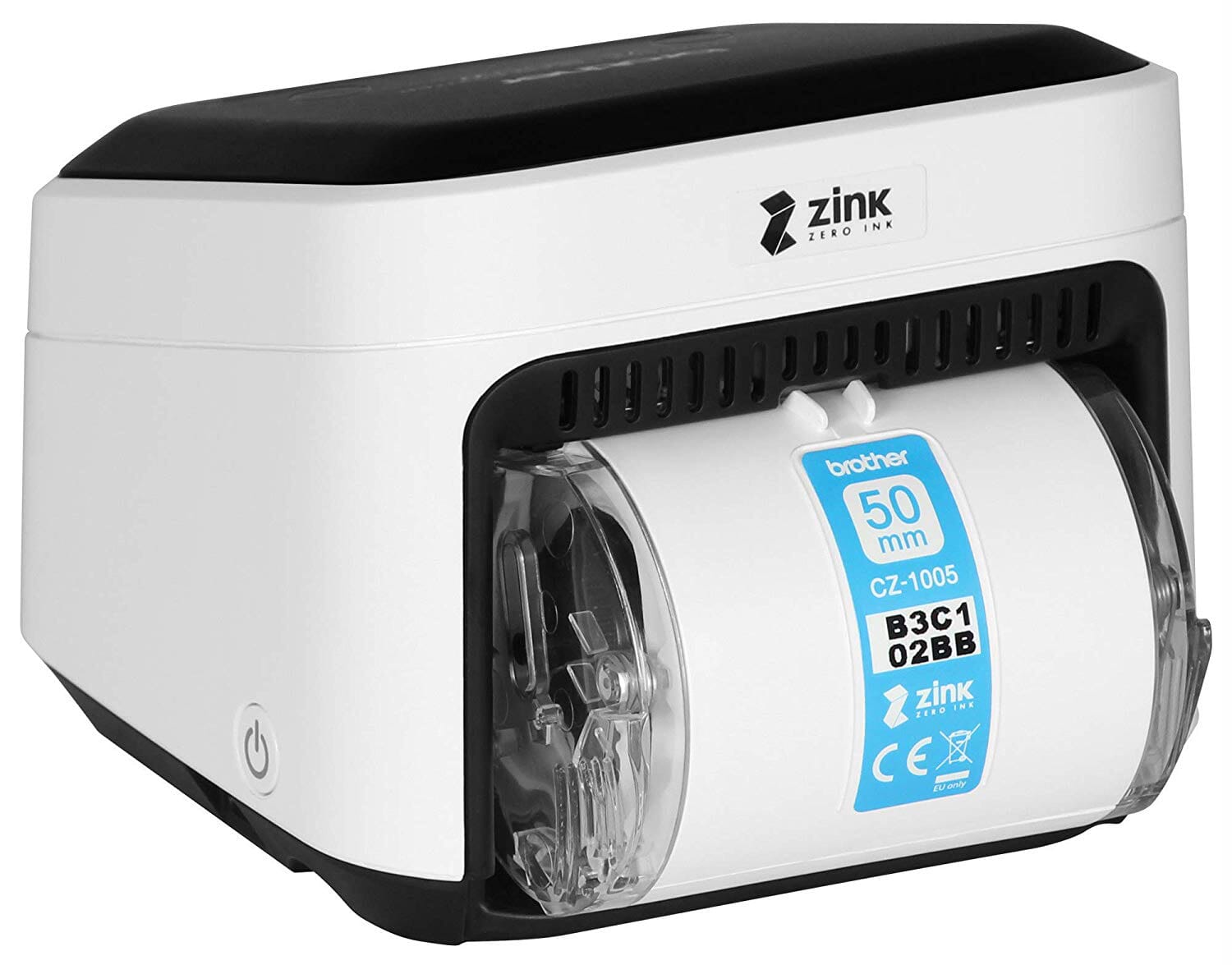 The ZINK paper used in the printer comes with an adhesive back. After printing all you need to do is peel off the protective paper. Your prints are ready to be stuck on to any surface. The paper is smudge-free, tear-free and can withstand some amount of wear and tear.
The printer is compatible with Apple AirPrint technology. It is also compatible with Android. Printing wirelessly using a host of compatible devices is thus very easy.
Brother VC-500W Versatile Compact Color Label and Photo Printer with Wireless...
PRINT WITHOUT INK: The Brother VC-500W compact color printer uses ZINK Zero Ink Technology to deliver rich, vivid full...
VERSATILE PRINTING FOR UNLIMITED USES: Create and print labels, photos, stickers and more to decorate, personalize...
EASY TO CONNECT AND USE: Wi-Fi/Wireless direct lets you connect to print wirelessly from virtually anywhere or share on...
FREE LABEL EDITOR APP LETS YOU GET CREATIVE: The FREE Color Label Editor app includes thousands of elements, including...
REPLACEMENT CZ AND CK ROLLS FOR THE VC-500W: The VC-500W uses Brother CZ and CK replacement rolls CZ-1001, CZ-1002,...
---
Note: As an Amazon Associate we earn from qualifying purchases. Certain content that appears on PhotoWorkout.com comes from Amazon. This content is provided 'as is' and is subject to change or removal at any time.