The Best Portable Photo Printers
A portable photo printer is a very useful thing to have and if you are looking for the best portable photo printer currently on the market, you have come to the right place :-).
Unlike a larger full-fledged all-in-one behemoth, something that is wirelessly available to everyone at home or office, a portable photo printer is a personal thing. Let's imagine that you want to print a couple of photos from your last fishing trip with your son, or a picture of the boy's group from high school, or a photo of the girls night out, a portable photo printer is probably what you would want to print.
Just like there is something personal about a laptop and a smartphone, so are portable photo printers.
In this review, we shall look at a few portable photo printers that you can currently buy. If you are looking for a compact printer that dedicatedly prints photos but not necessarily of professional quality then this review is for you.
If however, you need a regular home printer, something that can print leave applications, charts, diagrams and presentations and of course the occasional color photo, then you need an all-in-one printer.
Another thing that you need to know is that these printers have a limited document size. They are often limited to something like 2″ to 7″. That pretty much leaves out anything but small 4″ x 6″ photo papers and peel-off sticky-back papers that you could print and use as stickers and a few other options.
The Best Portable Photo Printers
1. HP Sprocket Portable Photo Printer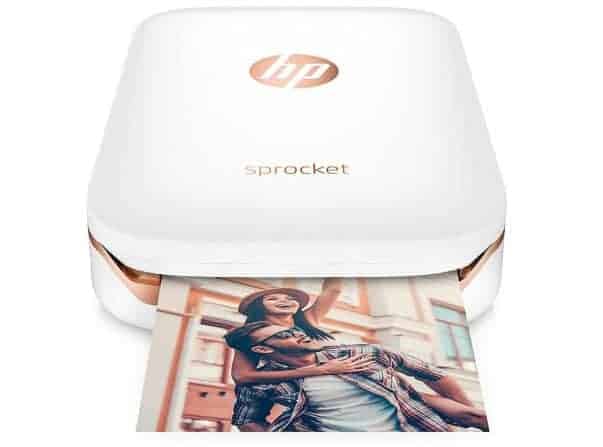 Sale
HP Sprocket Portable Photo Printer, X7N07A, Print Social Media Photos on 2x3 Sticky-Backed Paper - White
Live it - Love it - Print it: Printing off social media photos has never been easier from your smartphone. Connect your social media accounts to the free-to-download HP Sprocket App and instantly turn those photos into colorful prints
A Social on-the-go portable printer: Sprocket uses seamless Bluetooth connectivity, so you can set it up at parties and events, and everyone can print their favorite moments from their smartphones or tablets
Have fun - be creative: Customize your photos before you print with the HP Sprocket App to add fun text, borders, emojis, and more. Add a pop of personality for snapshots and stickers that are totally and uniquely you
Instant snapshots anywhere: This compact photo printer was made to go wherever you do. It easily fits into any bag, so you can create 2x3-inch stickable snapshots whenever the moment strikes
How to print: Connect the Sprocket Photo Printer to your mobile device via Bluetooth. Download the free and easy-to-use HP Sprocket App and enjoy fun portable printing
The HP Sprocket is one of the best portable photo printers in the business. It is designed to print social media photos on 2 x 3″ stick backed photo papers. The printer is designed to ideally work with smartphones and tablets. All you have to do is connect your social media account via the Sprocket App and make prints.
This is a very compact printer. As a matter of fact, it fits perfectly inside a small bag. It weighs just 6.1 ounces. A lithium polymer battery powers the device making it truly mobile. It uses HP ZINK photo paper which means you never have to change cartridges ever. These papers are smudge free, water resistant and extremely durable. The fact that they have a peel-off back means you don't need irritating glue-sticks to work with. Perfect for school projects.
You don't have to print plain vanilla prints though; the Sprocket app comes with a full package of image embellishments including emojis, borders, fun text styles and much more to spice up your photos before you print them.
Sprocket supports Bluetooth connectivity. Thus, connecting to it and setting it up anywhere at home, at the office or even a party is very easy. The fact that connecting to it is so easy everyone can use it to print images on demand. Set it up at a party and everyone can print their favorite moments.
2. Epson PictureMate Charm Photo Printer
Epson PictureMate Charm Photo Printer (C11CA56203)
Print your favorite photos, PC-free ¿ print photos directly from any digital camera
Get pro quality photos, fast! print vibrant, 4 x 6 inch photos in as fast as 37 seconds¿
Portable printing grab the handle and take PictureMate Charm to parties, events, the office, even your vacation getaway!
Smudge, scratch, water and fade resistant prints mean durable photos that last longer than traditional, film-processed photo
Get your photos, your way ¿ print popular photo sizes, black-and-white or sepia
A major reason you would want to buy portable photo printers is that you can print without having to download your images to a computer. The best portable photo printers don't need a computer in the equation. Just like the Epson PictureMate Charm.
You can print directly from your digital camera by connecting it to the printer. Or else you can also insert an SD card and print directly from that. An optional Bluetooth adapter allows you to connect your camera/smartphone wirelessly. Even better!
There is a 2.5″ color screen which you can use to review the images on. In fact, you can do much more than just review the images. You can remove red eye, do a bit of color enhancement as well. Once the adjustments are done and you have reviewed them on the screen, simply hit the print option. The Epson PictureMate Charm can print on 4 x 6″ postcard sized prints in as less as 37 seconds flat.
There are several printing options to print, using the same media. You can convert your images to black and white on the fly, even print 8 images per page in a collage, print small wallet size prints, with classic borders and even edge to edge. There are also options to transform your images to sepia. There is a contact sheet (proof sheet) printing option as well, where the printer will print sheets containing thumbnails of the images on the card/camera.
A built-in battery allows you to take the Epson PictureMate Charm anywhere you go and print sitting anywhere. Each print is water-resistant and smudge proof and ready to be handed out. Meaning you can print an image and then immediately share with family and friends adding to the excitement. Even in the 21st century, there is something irresistible about being able to share a printed photo.
The dimensions of the Epson PictureMate Charm is reasonable 9.1″ x 13.5″ x 10.5″. It weighs 7.9 pounds.  An initial photo cartridge and paper to print 20 4 x 6″ prints is provided with the printer.
3. Canon SELPHY CP1200 Black Wireless Color Photo printer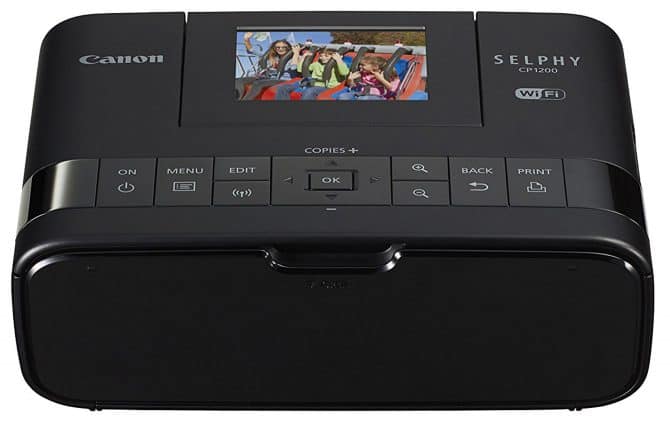 Sale
Canon Selphy CP1200 Black Wireless Color Photo Printer
Dedicated Wi-Fi button to easily connect to and Print from your Wireless network.
Airprint enabled! Print wirelessly and effortlessly from your Compatible iPhone, iPad; 47 seconds for borderless 4 x 6" photo or iPod touch.
Just the Perfect combination. Each selphy ink and paper kit comes with exactly enough of each to Print 18, 36, or 54 photos. No waste, no worries.
Easily Print your favorite Facebook and Instagram memories right from your smartphone or tablet with the Canon Print inkjet/selphy app.
Enjoy portable printing with a stylish compact design and optional battery pack - up to 54 prints from a single charge!
The Canon Selphy CP1200 is one of the best wireless color portable photo printers available in the market. It comes with a dedicated Wi-Fi button. Pressing it activates Wi-Fi and connects the device to any available network at your home/office.
It is compatible with PictBridge and Canon PRINT. The device is also compatible with AirPrint. That means you can print without issues from all of your apple devices. As a bonus, the printer comes with an Access Point mode as well. This ensures that even in the event you are somewhere without a wireless network you can still make prints.
There is a Canon PRINT app for both Android and iOS which allows you to print directly from your smartphone. You can use the same app to set up the device the first time you use it.
There is an optional battery. This allows you to take this printer practically everywhere. At a party, at school or even an outdoor event. Allows you to make images and hand out prints as souvenirs as marketing material and so on. On a full charge the battery stores enough power to make up to 54 prints.
There is a flash drive and an SD card slot as well. Just in case you prefer to plug in your camera / SD card to the device to print. Additionally, there is a 2.7″ tilting LCD screen that ensures that works as your reviewing window. You can also do some light editing work before finalizing everything to print.
The Canon Selphy CP1200 can print up to a maximum size of 4 x 6″.  But that is just one of the sizes you can print. You can print label sizes, squares and small stickers 8 at a time. So, this is not your typical home/home office printer. But if you love printing photos from time to time you would love this printer.
The device uses a special paper type and ink. The interesting thing is the amount of ink the printer comes with just the right amount for the number of paper loaded into the device. That can be 18, 36 or 54. The idea is to minimize wastage of paper and ink as much as possible. Canon calls this the Dye Sublimation technology. This technology ensures that the images you print will remain smudge free and fade free for decades. Undoubtedly, the Selphy CP1200 is one of the best portable photo printers in the business.
4. SereneLife Portable Instant Mobile Photo printer
Sale
Portable Instant Mobile Photo Printer - Wireless Color Picture Printing from Apple iPhone, iPad or Android Smartphone Camera - Mini Compact Pocket Size Easy for Travel - SereneLife PICKIT20 White
INSTANTLY PRINT FROM SMARTPHONES: Connects with all Apple iPhone 4s, 5, 6, 7 and Later, iPad, Android Smartphones and Tablets. Wirelessly transfer pictures using the printer's fast WiFi and print in an instant. Does not need to connect to DSL or 4g data.
PORTABLE DESIGN: This portable printer comes with a built in battery that lets you take it anywhere. Print up to 25 images on a single charge. Compact mini size fits in your bag or pocket for travel.
NO PAPER NO INK: Inkless self contained cartridges contain both paper and ink, enough for 10 prints. Easy to change. No fingerprints or hassle with cleaning and maintenance. When the cartridge is depleted simply eject it from the printer and replace with a new one.
COLOR & COMPATIBILITY: This mobile phone printer produces high quality fully laminated 291dpi glossy images. Prints are 2" x 3.5" and completely borderless. Ideal for quick card and ID prints.
PICKIT MOBILE APP: To use this mobile printer, download the PICKIT app and choose digital photos from your camera roll. Make quick small edits by cropping, changing color or adding filters before sending to the iPhone printer. Make collages with multiple pictures or add sticker and text to spice up pictures.
This is a sleek and elegant looking portable printing solution for photo prints. The SereneLife Portable lets you print from most of Apple's smartphone and tabs as well as Android devices.
Built-in wireless connectivity ensures that you can print without having to manually connect a laptop or a camera to the printer. Simply connect to the printer's Wi-Fi network to do that.
The device comes with a built-in battery. This battery lasts for a full 25 prints. You can thus take it practically anywhere you want to and print without any electricity or wireless / internet connectivity.
Print quality is great. An average print has a resolution of 291 DPI which is almost the same as the printing industry standard of 300 DPI. The paper is glossy in quality.
A completely green design, the SereneLife portable printer comes with a cartridge that loads up enough paper and ink for about 10 prints. Just about enough of both to ensure that it prints the full number of prints as paper loaded into it and so that there is wastage. The whole cartridge gets changed after the 'ink' and the paper is exhausted. You don't have to handle individual ink cartridges. So, there is no smudging or leakage in the fingers and so on.
A separate mobile app PICKIT is available for Android and iOS platforms. Download and install the app and set-up your printer. The app also works as a basic photo retouching tool as well. You can crop images, add different color scheme or filters before finally selecting the ones for print.
5. Polaroid ZIP Mobile with ZINK
Sale
The Polaroid ZIP Mobile with ZIN or Zero Ink is one of the best portable photo printers around. Why? Because Polaroid has been synonymous with the term instant photo prints and more so because of the Zero Ink (ZINK) technology.
The Polaroid Zip Mobile is capable making 2 x 3″ full color and smudge free prints. The Polaroid Premium Zink (Zero Ink) papers also have a peel-back sticky back side. The sort of that is perfect for school projects and for printing a quick print for decorating your work place.
The ZINK technology uses a unique color forming molecular structure. These molecules get activated when you subjected to heat inside the printer. Absolutely no external ink is used. These results in stunningly deep and vibrant colors that are smudge proof. The papers are resistant to water, are tear resistant and also dry to touch ensuring absolutely smudge proof results straight out of the printer.
The fact that the printer is Bluetooth and NFC capable, it is capable of printing directly from your smartphone/tablet. You don't even need a wireless network to print. Along with the printer, you also get the Polaroid ZIP app for both iOS and Android platforms. Using this app you can make some casual retouching and corrections before selecting the images for print.
The best thing about the Polaroid ZIP Mobile is its portable sleek design. It is designed as a mobile printer and its dimensions give it away. It measures 2.9 x 4.7 x 0.9″ and weighs just about 6.6 ounces. This, and the fact that it has its own rechargeable battery is why you can pretty much take it with you anywhere you want to. Just slip it in your bag and you are ready to go. The built-in battery charges in about 1.5 hours. On a full charge, you can print about 25 sheets. It takes less than a minute to print one photo.
6. Photobee Portable Photo Printer
Photobee Portable Photo Printer - Pink (12 sheets of sticky-backed photo paper are included)
High-resolution: PhotoBee offers 310DPI resolution, which is the best quality among current mobile photo printers.
Fastest printing speed: PhotoBee printer only takes 45seconds to print a photo, which is the fastest speed among current mobile photo printers.
Long lasting color: PhotoBee photo has a high-technique coating after printing. It prevents color fading and fingerprints, and also it's waterproof.
It's mobile!: You can take PhotoBee Photo printer to desired places such as parties, trips, picnics and even class rooms to print photos from your phone.
Sticker photo: PhotoBee uses the kind of photo paper include sticker. Peel off the backing and your photos become instant stickers (size of 2.3in x 3.5in).
Among this great looking and portable photo printers, you have something like the Photobee.
'Cute' is how you would likely be defining it. But don't go by its looks alone. It is a useful photo printer. The Photobee can print at 2.3″ x 3.5″ special Photobee stick back paper at a resolution of 310 DPI. That being the highest in the business.
With its built-in Wi-Fi connectivity, you can connect any number of smartphone or tablet with it. Inside there is a rechargeable battery which charges itself via a micro USB cable.
The printer will work only when you insert this special paper. Want a sticker of your favorite photo? Want a series of emojis for your school project? The Photobee is the answer for you. A full page print in four steps and in just 45 seconds.
A single cartridge contains enough photo paper for 12 prints. Three of these cartridges are bundled together. In other words, that means you can make 36 prints with a single pack.
The prints are smudge-free straight out of the printer, water proof and tear resistant. As a matter of the fact, the fourth step of the printing process uses a weather proof coating that will also prevent damage due to exposure to the sun. Want to stick these print on a wall or for a school project book? Simply peel off the sticky back and they become stickers.
The overall dimensions of the printer are 5.8″ x 3.8″ x 1″ and it weighs 12.8 ounces.
FREE eBook:
10 Photography Beginner Mistakes & How to Avoid Them