Photo scanners are a wonderful way to digitize your old prints and negatives as well as archive your film photography portfolio. If you are serious about scanning your photos, go for the best photos scanners that you can afford. This is because the best photo scanners offer the highest resolution as well as the maximum bit depth, both of which you need.
When you buy through links on our site, we may earn a commission at no cost to you. We evaluate products independently. Commissions do not affect our evaluations.
The Best Photo Scanners
Doxie Flip Mobile Flatbed Scanner (Discontinued)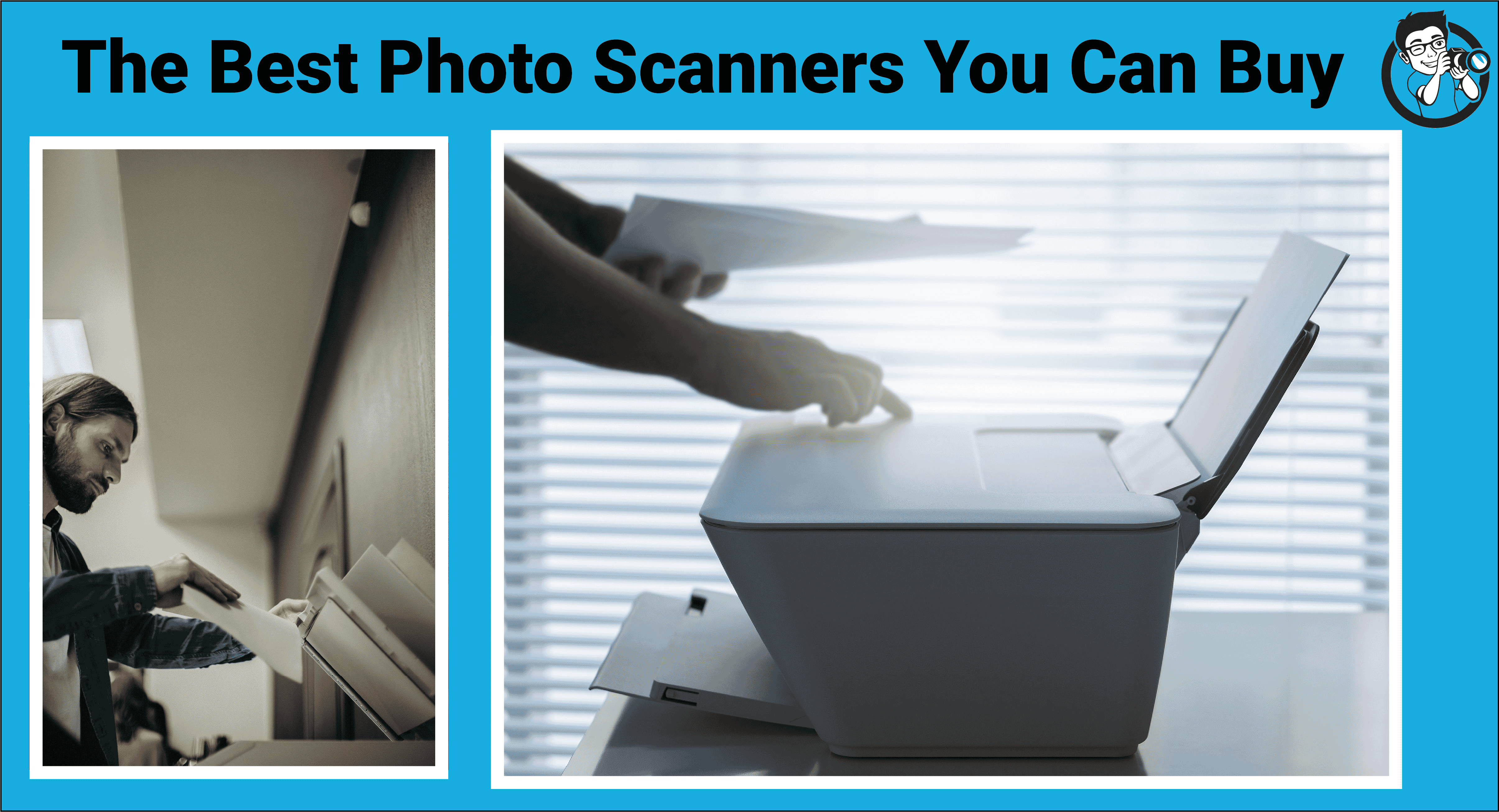 The Epson Perfection V850 has enjoyed a fantastic fan following for many years. To this day, it still holds the following. This is a powerful flatbed scanner perfect for scanning full-color prints and black and white renditions. The optical resolution of the scanner is 6400 dpi.
The scanner is capable of scanning at 48-Bit color depth. A wide variety of file formats can be scanned using this scanner. There are two scanning surfaces. One is the reflective scanning area and the other is the transparency scanning area. The transparency scanning area can scan 35mm mounted slides, 35mm film strips, 8 x 10" film, and medium format strips among others.
The reflective scanning area is capable of scanning a maximum size of 8.5" x 11.7". And that would easily accommodate a range of print dimensions for accurate color scans.
But the biggest plus point about the Perfection V850 is its ICE technology. That automatically takes care of any scratches, dust, hair or any other kind of external imperfections using this proprietary technology.
Epson Perfection V850 Pro scanner
Pro quality color & detail - get unparalleled scans W/ 6400 dpi resolution & Adv
Remarkable tonal range - 4.0 Dmax for smooth gradations & fine Shadow detail
Exclusive dual lens system - selects from 2 lenses for optimum results
Operating systems: Windows 8.1, Windows 8, Windows 7, Windows Vista, Windows XP, Windows XP professional x64 Edition and Mac...
The Plustek OpticFilm 8200i SE is a film scanner. It scans your 35 negatives and mounted slides into digital copies. The maximum color depth that is possible on the scanner is 48-bit. That should ensure very rich colors and excellent blacks in the final scans.
The maximum resolution offered by the sensor of the scanner is 7200 dpi.
The OpticFilm 8200i SE has a built-in dust and scratch removal system. This does basically the same thing as the ICE technology used by the Epson photo scanners we have listed here does. It will remove blemishes (scratches, hairs, dust, dents etc.) from photos and make them smooth and presentable.
The Epson Perfection V39 is another flatbed scanner that we're a big fan of.
The V39 has a maximum scan area of 8.5" x 11.7". The optical resolution of the scanner is 4800 dpi. The color depth is 48-bit. Higher the color depth the more realistic the colors will be in the final scan. Additionally, the 300 dpi scan resolution ensures that the details are retained from the original print.
Just like the V850 Pro the V39 also has an advanced dust correction and scratch removal tool built-in. It is the Advanced Digital Dust Correction and Easy Photo Fixing technology. Quite a mouthful really. But in reality, what it does is that it takes the imperfections on a printed image or a negative and to remove them from the scanned image.
Epson Perfection V39 Color Photo & Document Scanner with Scan-To-Cloud & 4800 Optical Resolution, Black
High quality scanning for photos and documents : 4800 dpi optical resolution (1) for amazing clarity and detail
Preserve priceless memories: Restore, archive and share family photos for generations to come
Scan to Google Drive and other cloud services (2): Epson Document Capture Pro and Easy Photo Scan software included
Convenient: Easy to use buttons for scan jobs, plus a space saving built in kickstand for vertical placement
Scan over sized prints, documents and artwork : ArcSoft Scan n Stitch Deluxe 2 included (3)
The Epson V800 is yet another excellent choice if you routinely scan photos or digitally archive your prints/negatives.
The optical resolution of the scanner is 6400 dpi and the color depth possible is 48-bit. You are assured of high-quality color reproduction with this scanner.
The V800 scans digital prints, negatives, slides and everything in between. Both the V850 and the V800 come with a dust and scratch correction mechanism. In the case of the V800, it is the same ICE technology that the V850 has.
Epson Perfection V800 Photo scanner
Precise color and detail - get extraordinary scans with 6400 dpi resolution. Grayscale Bit Depth: 16-bits per pixel internal...
Remarkable tonal range - 4.0 Dmax for smooth gradations & fine shadow detail
Exclusive Dual Lens System - selects from 2 lenses for optimum results
Operating Systems: Windows 8.1, Windows 8, Windows 7, Windows Vista, Windows XP, Windows XP Professional x64 Edition and Mac...
Refer to the PDF attached below in Technical Specification for User Manual
Epson dominates the photo scanning market. Though there are a few photo scanners from the competition that mean that the playing field is not completely skewed in favor of Epson. Scanners like the Fujitsu fi-65F.
The largest document that you could scan using the Fujitsu fi-65F is A6 or 4.1" x 5.8". The optical resolution of the scanner is 600 dpi. But the thing that probably works against the Fujitsu, and takes it sub-par with some of the other best photo scanners we have listed, is the bit depth.
The bit depth of the Fujitsu fi-65F is only 24-bit when you consider color and only 256 grayscale levels when you consider black and grey. Compare that to the other scanners, offering 48-bit and you can see why you might be disappointed with the quality of this scanner.
Fujitsu fi-65F Mini Flatbed Scanner for ID Card and Passport
Compact A6 flatbed is ideal for front office, reception, patient intake, and retail environments - quickly scan all driver's...
Fast scanning at 300 dpi in just 1 second with coverless option
Automatic deskewing, cropping, and rotating functionalities ensures that documents are scanned accurately
Easy, one button touch scanning with USB power for portability
Included PaperStream ClickScan software delivers scanning simplicity and works alongside of any workflow to meet your imaging...
6. Doxie Flip Scanner – Portable Option (
Discontinued

)

The Doxie Flip Scanner is a very sleekly designed scanner, perfect for scanning photos on the go. The transparent scanning area is 4" x 6", so it will cover most standard prints.

An area where this has the upper hand is based upon the fact it is battery operated. It is a truly wireless device that you can carry with you wherever you go. It runs on 4 AA batteries and is capable of scanning directly on documents and sketches and other media.

Despite the reduced power, the scanner is able to scan around 700 images before the battery needs recharging. We wouldn't recommend the Doxie for heavy-duty work but it is one of the best photo scanners you can buy if you need a scanning solution when on the move.
Photo Scanners FAQs
What are Photo Scanners?
Image scanners are designed to specifically work with images and to some extent documents. They are essentially flatbed scanners. They offer a greater bit depth and higher resolution for results that are truly similar to the originals they are scanned from.
What should I consider when deciding what resolution of a scanner is right for me?
The higher the resolution the more the amount of detail that is going to be in the final scanned image. But after a while higher resolution simply adds to the file size without any further addition to detail. So, you need to strike a balance between file size and resolution.
What is bit depth and why is it important?
Bit depth directly affects the colors in a photo and how they are represented in the final scan. Higher the bit depth the higher is the number of colors that the scan will be able to pick. But on the downside, it will also increase the file size.
What is the difference between a flatbed and a feeder scanner?
Flatbed scanners are the best when it comes to scanning images. Especially when scanning old images which are fragile. The document feeder can and often do damage fragile old prints. So, it is given that the best photo scanners that we are going to recommend are all flatbed items.
Which are the Best Photo Scanners?
Evidently, the best photo scanners are flatbed units with a high bit depth and optimal resolution.
---
As an Amazon Associate, we earn from qualifying purchases. Certain content was provided "as is" from Amazon daily and is subject to change or removal at any time.