If you're like me, you have a huge collection of photo albums and prints just sitting around the house. Keeping these images organized and protected can feel impossible, but a high-resolution photo scanner is an amazing solution. These scanners work fast and contain outstanding scanning technology so that the original details and colors of your photos are retained when converted to digital files.
Photo scanners are perfect for digitizing old print collections. They're also great for film photographers who work with slides or negatives and even for non-photographers who create paintings, drawings, and sketches. Once your work is scanned, you'll have a folder full of flexible digital files that you can edit and share.
Over the past few weeks, I've researched dozens of scanners to find you the most impressive models available in 2023. Below, I share the eight best high-resolution photo scanners you can buy, including larger flatbed options for A3 materials as well as specialized photo scanners that can process hundreds of images in no time at all.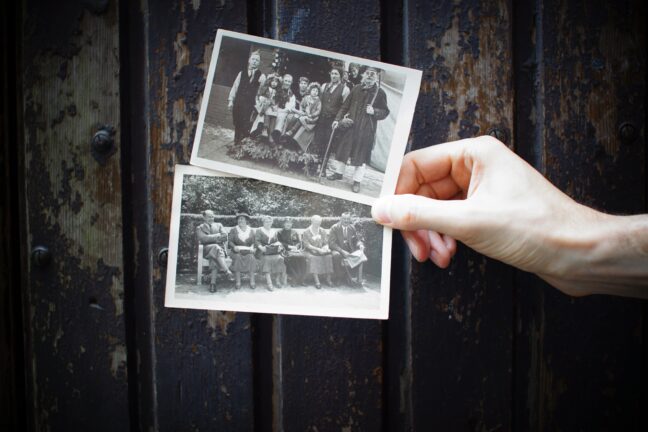 Top High-Resolution Photo Scanners:
When you buy through links on our site, we may earn a commission at no cost to you. We evaluate products independently. Commissions do not affect our evaluations.
1. Epson Perfection V39 Scanner
Our Pick
Great for flexibility
The Epson Perfection V39 Scanner is easy to use, gives you fantastic scans at 4800×4800 DPI, and offers multiple scan options, such as scanning directly to Google Drive.
Pros
It can be used horizontally or vertically
Easy Photo Fix technology to correct faded colors
High-rise lid to scan thicker paper or books
Great price
Compact design
Cons
The Epson software has a steeper learning curve
My absolute favorite option is the Epson Perfection V39 Scanner, which offers an excellent combination of quality, usability, and features. It's just a solid general scanner that you can use for scanning photos, documents, textbooks, and more.
Epson has done a great job updating its scanners, and I appreciate the relatively short flatbed style of this model. While it takes up a decent amount of space, the short design means it can easily fit under a shelf for storage.
When scanning images, you can achieve a maximum resolution of 4800×4800 DPI to preserve each photo's original clarity and detail. In my experience, the scan often looks better than the original photo print! The Easy Photo Fix technology is wonderful, allowing you to restore faded photos and enhance their colors with a single click.
You'll find a range of one-touch features, and you can scan directly to cloud storage services and photo portfolio websites. If you're limited for space, there's a kickstand on the back so you can use the scanner vertically.
2. Canon CanoScan LIDE 400
Also Great
Great for beginners
The Canon CanoScan LIDE 400 is simple to use with its one-touch scan features, making it a great option for folks who have never scanned photos before.
Pros
It can be used vertically or horizontally
Slimline and stylish scanner design
4800×4800 DPI photo scan quality
Cons
The initial installation can be a little tricky
The included scanning software has limitations
Canon has some impressive photo scanners that rival Epson's products, and the CanoScan LIDE 400 is one of the best for beginners. I love the design of this scanner – I initially thought it was a monitor because of how slimline it is. You can use it both horizontally and vertically thanks to the adjustable stand.
It scans photos at 4800×4800 DPI, so all the original detail from your images should be retained. The scans are incredibly clear, and sometimes older photos look better when digitized compared to the original print. The process is fairly quick, with a color scan taking around eight seconds.
The scanner also includes subtle but vital enhancement features like color restoration and dust removal. So even if your photos are a bit faded or have been gathering dust for decades, they'll look great when digitized.
I especially like how easy the scanner is to operate. Everything can be done with a single button, whether it's scanning to a PDF, auto scanning, making copies, or scanning to cloud storage. Therefore, it's super easy to digitize your photos and ensure they're uploaded to the right location.
3. Canon CanoScan LIDE 220
Great for thicker documents
The Canon CanoScan LIDE 220 has an expanding lid so you can scan from photobooks without a reduction in quality.
Pros
4800×4800 DPI
Auto Document Fix feature to improve scan quality
Simple EZ buttons for one-touch use
Auto scan mode that automatically recognizes the input format
Cons
No Wi-Fi
Relatively heavy and bulky
If you're not particularly tech-savvy or simply want to be as efficient as possible, the automatic features of the Canon CanoScan LIDE 220 will really help. Though I'm no stranger to scanning, I found the Auto Document Fix feature truly useful. It analyzes your photos and corrects imperfections, delivering realistic photo scans with great color depth.
The LIDE 220 scans at a maximum resolution of 4800×4800 DPI; that way, the photos will retain their original details. You don't have to struggle with complicated software or controls, either, since this scanner has five one-touch buttons.
For example, you can scan in prints as PDFs or send them to photography cloud storage services instantly. This simplifies the process, allowing you to handle large volumes of photos quickly. In terms of speed, the scanner is adequate, scanning a color photo in around 10 seconds.
If you need to scan thicker items like photobooks, you'll appreciate the z-lid that expands while keeping the top flat, ensuring no unnecessary light or shadows appear on your scans. The biggest downside is the lack of Wi-Fi; the scanner relies solely on a USB connection.
4. Epson Perfection V600 Photo Scanner
Great for varied photo collections
The Epson Perfection V600 can scan color photos, negatives, and 35mm film with a maximum resolution of 6400×9600 DPI.
Pros
Versatile scanning functionality
One-touch controls for ease of use
Can scan directly to cloud storage locations
Optical Character Recognition for editable text
Cons
Not the smallest or lightest device
The Epson Perfection V600 Photo Scanner is a versatile model capable of handling color photos, 35mm film, negatives, and medium-format panoramic film. If you have a diverse collection of old photographic media that you want to digitize, it's a great option.
It can scan at resolutions up to 6400×9600 DPI, although this isn't applicable for all mediums. Photos scan at 4800×4800 DPI to ensure superior clarity and vivid colors.
I appreciate how the scanner requires no warmup time – you just turn it on and can start scanning right away. The front control panel provides decent one-touch options, making scanning large quantities of photos more manageable.
If you want to scan film and negatives, a 35mm film holder and mounted slides for negatives are included, so positioning them on the scanning bed won't be a problem. This is one of the best photo scanners if you have specialized collections, and it includes access to Epson's image correction software to help remove imperfections and restore colors.
5. Epson FastFoto FF-680W
Great for large photo collections
If you have thousands of old photos, the Epson FastFoto FF-680W will get through them quickly without sacrificing quality.
Pros
Capable of scanning photos up to 1200×1200 DPI
You can stack multiple photos into the feeder
Wireless design for easy connectivity
OCR to automatically recognize text
Cons
Quite expensive compared to other scanners
Requires more space
The Epson FastFoto FF-680W offers a unique solution, and I recommend it if you have a massive backlog of photo albums to digitize. I have around five albums of old snapshots, so for me, this wouldn't be worth it. But if you have thousands of photos, the scanner's impressive processing capabilities will be a huge help when organizing your images.
This small desktop unit is built for speed. It can process photos at a rate of 1 per second at 300 DPI. However, for high-resolution scans, there are 600 DPI and 1200 DPI options that produce flawless re-creations of your cherished photos. I prefer the 600 DPI option, which offers good resolutions but can still process a large number of scans swiftly.
I also appreciate that the scanner works with various predefined sizes. You can adjust the rulers on the input tray to easily slot in a batch of photos. The device is wireless, too, so you can easily connect it to your desktop computer without a mess of wires.
The only drawbacks are the cost and the size. It's one of the pricier photo scanners, but if you have thousands of photos to scan, it's worth it. And it's not a flatbed, so it requires dedicated space on your desk.
6. Epson Perfection V19 Scanner
Great for photo restoration
The Epson Perfection V19 has an excellent 4800×4800 DPI scan resolution and uses Easy Photo Fix technology to help remove scan imperfections.
Pros
Stylish and sleek flatbed design
Excellent color scan resolution of 4800×4800 DPI
Simple controls with one-touch scanning
Suitable for both photos and general paper documents
Cons
Cloud scanning is limited in functionality
Heavier than other Epson models
Epson's photo scanner lineup is impressive, and the Perfection V19 unit is another excellent option. It has a sleek flatbed design and fantastic features.
This might be my top choice if you have old photos that look faded or have degraded over time. First, the 4800×4800 DPI resolution ensures that original details and colors are preserved. Remember, however, that you're only scanning what's on the photo, so if there are imperfections, they'll be scanned, too.
That's where the Easy Photo Fix technology shines. It helps automatically correct imperfections and enhances the underlying quality of old photos. If you're not tech-savvy, the simple control panel is another plus. There are just four control buttons, and the scanner is set up for one-touch scanning to ensure a quick workflow.
I've had years of experience with scanners, and I always disliked the dreaded warm-up time. Well, the V19 has none of that. As soon as you power it up, you can scan photos immediately. The design looks great, and I love the short flatbed shape, which allows it to slide easily onto a shelf.
7. Epson Perfection V850 Pro Photo Scanner
Great for historical archiving
The Epson Perfection V850 is suitable for professional uses such as archiving historical photos and cataloging huge volumes of photos.
Pros
Superb scan resolution at 6400 DPI
Multiple scan bed plates for different photo sizes
Various image correction and enhancement tools
Cons
Incredibly expensive
Not really suitable for casual use
For professionals who need to do daily scanning of photos and other documents, the Epson Perfection V850 Pro Photo Scanner is a wise investment. It's pricey, but the technology ensures a rapid workflow and guarantees incredible detail in your digitized photos.
It can scan at 6400 DPI and boasts an outstanding tonal range. All the image colors are depicted accurately and with fantastic depth. I was amazed by the fine details in shadows and gradients, and there are no noticeable lines or transitions, just smooth color blends that match the original prints.
You don't have to fret about the condition of your photos, either. This scanner automatically removes dust, scratch marks, tears, and folds. Your digitized images will look as if they were freshly developed!
For precision, you get several inserts that fit onto the scan bed. These allow accurate scanning of smaller items like Polaroids and photo strips. If you plan to do photo restoration, mass scanning, or historical photo archiving, this is the scanner to buy.
8. VIISAN VF3120
Great for large-format art
The VIISAN VF3120 is capable of A3 scans at 1200×1200 DPI, so it's fantastic for artwork of all kinds.
Pros
Simple control panel that is easy to use
Can scan directly to emails
Stylish flatbed design
Multi-language OCR support
Cons
It is quite noisy
It can be tricky to set up on Macs
If you need to scan larger prints or even paintings, the VIISAN VF3120 is definitely worth considering. It can scan A3 documents, making it perfect for large photos, graphic design work, CAD drawings, and so much more.
The scanner boasts high-quality results and offers a maximum resolution of 1200×1200 DPI. This means that the colors and depth of your photos should be retained, including things like color gradients and shadows.
I like the relatively compact design. Even though the scanner does require a large surface area, the sleek flatbed shape means it can easily fit onto a shelf or table. You can also select the output file type for your document scan, including image formats like BMP, JPG, PNG, and GIF.
The control panel is user-friendly with just five buttons. And I'm a big fan of the scan-to-email option, as it lets you send photos as file attachments with minimal effort. Lastly, the VF3120 is compatible with Windows computers and macOS devices, so anyone can use it regardless of their system.
Digitize Your Photos with Plenty of Detail!
All of the high-resolution photo scanners listed above are very capable, but certain models are ideal for different purposes and budgets.
If you want to scan lots of old family photo albums, the Epson Perfection V39 Scanner, the Canon CanoScan LIDE 400, and the Epson FastFoto FF-680W are excellent choices.
On the other hand, if you need the best in quality for scanning negatives, slides, prints, and other artwork, the Epson Perfection V600 Photo Scanner, the Canon CanoScan LIDE 220, and the Epson Perfection V19 Scanner all offer high-resolution scans and pro-level features.
---
Disclosure/Disclaimer: As an Amazon Associate, we earn from qualifying purchases. Certain content was provided "as is" from Amazon and is subject to change or removal at any time.