Buying used Nikon lenses can be a great way to save money whilst still getting the best kit. Sometimes it is the case that discontinued lenses are better than their newer counterparts (which can sometimes cost you more), or you can make a saving equivalent to buying a lower quality lens brand new for the price of a used better quality lens. Whatever it is you're looking for, our selection of used Nikon lenses is a great place to find some of the best options on the used market.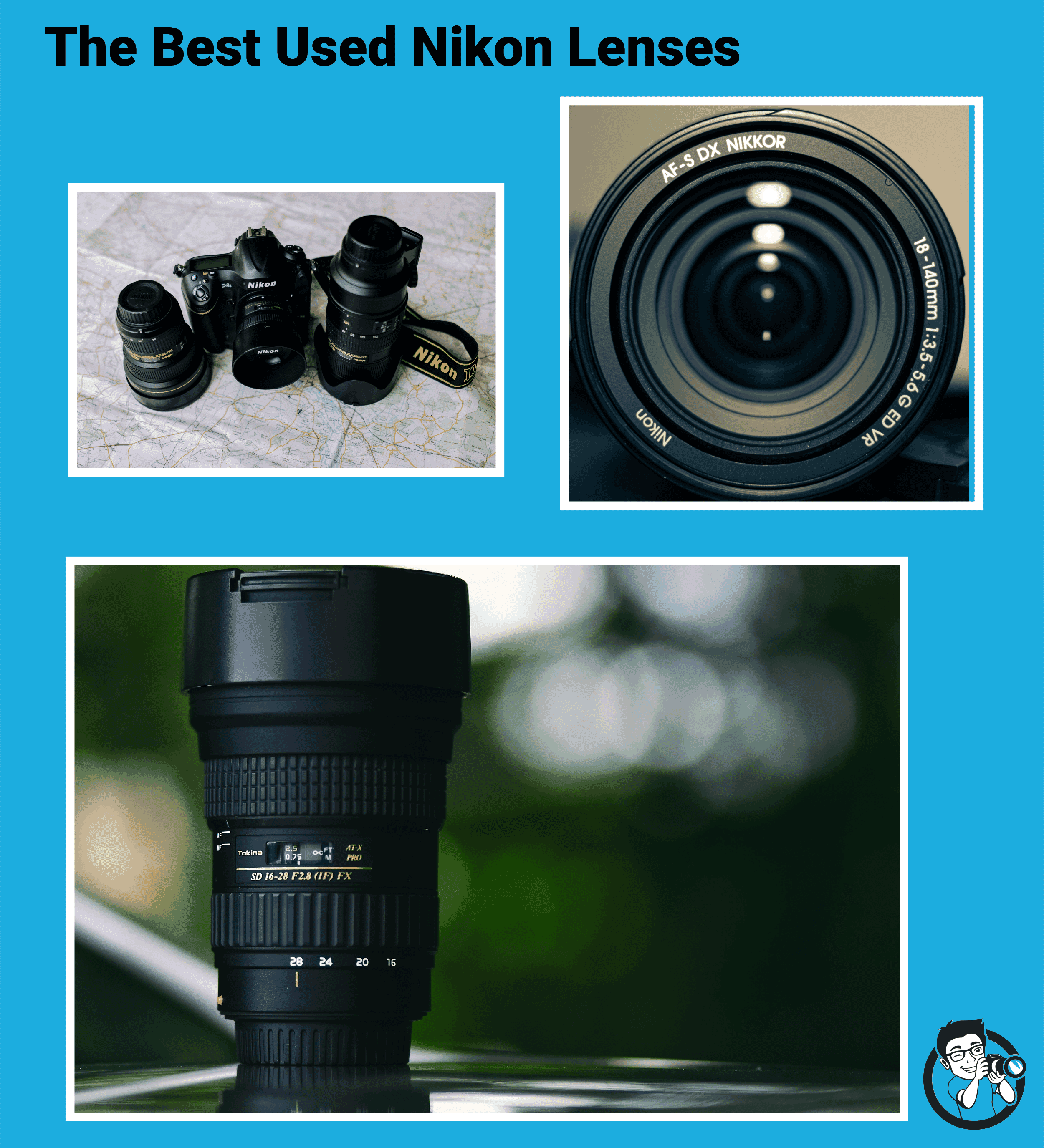 When you buy through links on our site, we may earn a commission at no cost to you. We evaluate products independently. Commissions do not affect our evaluations.
Now, if you're looking for a bargain, the 18-55mm is exactly that. If you don't have this standard kit lens, you might want to seriously consider getting one.
Not only is this lens cheap, but it is also incredibly versatile and will offer you a decent working range as an entry-level photographer. Thanks to the added VR, you can be safe in the knowledge that your images should be blur-free without the constant need for a tripod.
You can use this lens for all sorts of photography genres! It'll get you far in portraiture, street photography, landscape photography, and even architectural photography.
While this lens isn't stellar, we recommend it because of its versatility, you can use this for pretty much anything, making it an essential in your kit bag.
You can buy this lens brand new, but you'll find yourself some great savings if you opt for a used model.
When it comes to used Nikon lenses, you might not be expecting third-party options too. But we selected this Tamron lens for one reason: it's perfect for those starting out in bird photography.
Sure, this lens isn't on par with some of the high-end super-telephoto lenses but for the price, you're going to get shots that you're happy with. And like we said, if you want to try out bird photography this is one of the best Nikon used lenses.
Because this lens is a Di lens, you can use it with new and old models alike – no need to worry about compatibility here!
The main downside to this lens is that its aperture range can really limit the performance in low-light. You'll struggle to get good pictures when using it in poorly lit situations. That being said, if you can work around the restriction, you should have no problems using the lens.
Related Post: Best Low Light Cameras
Another issue for less experienced photographers will be the lack of a focusing motor. With DX Cameras that don't have internal focus motors, you'll have to manage manual focusing, which can prove a challenge if you're not used to using manual focus.
This is another lens that is still in production but can be bought with significant savings when used.
This Nikon 28mm lens is unfortunately no longer in production, which is why we recommend it as a used Nikon lens option. Despite its age, this is one of Nikon's best-designed lenses.
Some features that were dropped in later models, that we particularly like, include an aperture ring and focus-distance indicator. Both of these are highly useful mechanisms to have.
It is worth noting that this lens does require a trained hand – with such a wide aperture, it's incredibly easy to misfocus which will seriously compromise your shot.
This is both a well-designed and well-constructed lens. With some of the best glass you can get your hands on, you get incredible optical quality. And the overall build is astonishing. This lens can withstand some significant wear. This means that even a well-used lens will have a long life ahead of it.
The only downside to such a great design is the bulk that comes with it. You're looking at a heavy lens when compared to the newer models. However, if you can deal with the added weight, this lens is definitely worth it.
For portrait photographers, an 85mm is practically a must-have. When it comes to the Nikon used lenses, the Nikon 85mm f/1.4 AI-S is the best lens you can get.
Nikon has produced a number of 85mm lenses, though none of them are quite comparable to the 85mm f/1.4 AI-S. This is a lens that is much better in terms of optical quality than some of the other 85mm lenses.
The biggest downside to this lens is one which you will find with many of the Nikon used lenses on the market that are older. The lens is a manual focusing lens. This means that if you're not used to manual focusing, you're going to have to spend a lot of time working out how to manual focus correctly. It takes time and effort to do this and it might not be something you're interested in committing to.
Not only that, thanks to the wide aperture (which is great in some ways) you'll have a very small margin of error. That said, if you can get it right, you will get some stunning portraits with beautiful background blur.
This lens is best used with a Nikon full-frame camera and it is compatible with most of the current models.
For those photographers interested in macro photography, a used Nikon 70-180mm Micro lens would be a perfect option for getting impressive macro shots. An added bonus of using this lens is that you can also use it as a standard telephoto lens.
When it comes to the actual quality of this lens, the lens is the epitome of quality. Both optical quality and handling are incredible which is why this lens, even though it is used, is quite pricey.
There's one area where photographers might struggle with this lens, and that is with the aperture range, which is rather narrow in the scheme of things. This means that you're going to struggle with low light situations and may require some artificial lighting when shooting. A nice element relating to the aperture is the added bonus of an aperture control ring.
Unlike many of the other used Nikon lenses we have listed, this lens comes with a built-in focusing motor which means that you can utilize autofocusing regardless of your camera choice.
Overall, this lens isn't perfect but it is a good lens if you're looking to shoot a wide range of subjects whilst also wanting to get onto the macro scale.
The Nikon 135mm f/2D AF DC is a fantastic lens for shooting portraits and wildlife. As long as you keep the Shutter Speed to a minimum of 1/135 or more – this is because there is no image stabilization built-in. But, at the end of the day, this is a killer portrait lens and really shines when you put it to use.
The build of this lens is tank-like. Meaning it is sure to have a long life, even with some stress and strain. The internal elements are engineered to perfection, giving you the sharpest image possible whilst still offering some handy functions like autofocusing.
When it comes to the essential portrait background blur, this lens does an incredible job of producing creamy bokeh. However, if you want to alter the bokeh, the defocus control (DC) allows you to do just that!
So if you're looking for the perfect used Nikon portrait lens, look no further! This lens is still in production but buying used will shave around $500 off the price!
The Best Used Nikon Lenses: Closing Thoughts
After reading this article, we hope you've found some used Nikon lenses that you'll love and that will serve whatever purpose you're looking for.
If you have a favorite Nikon lens that you can get a good deal on used, why not share it with us in the comments?
---
Disclosure/Disclaimer: As an Amazon Associate, we earn from qualifying purchases. Certain content was provided "as is" from Amazon and is subject to change or removal at any time.