Nikon's hasn't sat quietly after launching the Z-mount system and the initial set of lenses that came with the Z6 and the Z7 cameras. They have been silently filling the shelves with new and interesting glass to woo all types of photographers to switch over. Sometimes though, at the detriment of their own well established DSLR line-up. But going forward everyone knows that mirrorless systems are going to pip DSLRs as the most dominant camera type (haven't they already?). Here we round up the best Z-mount lenses.
Best For
This lens would suit someone looking for one lens that does it all. The lens is composed of a number of aspherical and ED elements. Plus, the engineers at Nikon have applied ARNEO and nanocrystal coating as well. ARNEO coating is helpful in combating the effects of ghosting and flares.
Should I Buy It?
There are many reasons to own the Z 24-200mm f/4-6.3 VR. The lens features an impressive five stops of vibration reduction. The other features include a full-time manual focusing override and a programmable control ring to control Exposure Compensation and other exposure settings.
Another impressive thing about the lens is the new AF-P motor. This is Nikon's version of a stepper motor that drives the auto-focusing mechanism using micro pulses instead of the jerky movements of the traditional SWM motor.
The only thing that probably does not go in favor of this lens is the maximum aperture range. At 24mm you can only use a maximum of f/4 and when you zoom in all the way to 200mm the widest available aperture is f/6.3. So, if you plan on using an all-purpose lens for indoor and low light shooting then this is definitely not the right lens. This is best used outdoors in good light.
That said if you are looking for better optical quality in with a comparable zoom range, check out the next lens on this list.
An all-in-one lens for outdoor shooters
The range of this lens is perfect for those looking to upgrade from a kit lens but still keep a comprehensive focal length range. Kitted with advanced technology, this is a lens anyone would be happy with!
Related Post: Nikon Z6 vs Z7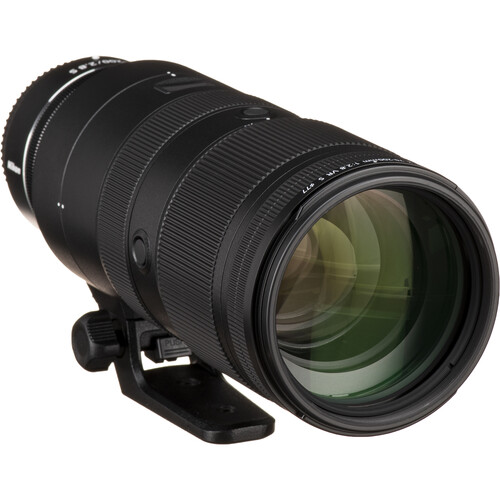 Best For
If you have a bit more money to spare then the Z 70-200mm f/2.8 VR S is your best bet by far. The 70-200mm is a great lens for everything that cannot be captured by a wide-angle lens. I.e., better portraits, action, sports and a little bit of wildlife and birding. So, unless you want one lens to cover all your bases, the Z 70-200mm f/2.8 VR S is a better choice. Albeit at a higher price tag.
Related Post: Best Cameras for Wildlife Photography
Should I Buy It?
There are many reasons why you should buy this lens. The revamped auto-focusing system is just one of them. But the new ARNEO and nanocrystal coatings are a very important selling point. Not to mention the fixed f/2.8 aperture and the superior image quality. With this lens, you'll always have an advantage over other cheaper lenses. Plus there is a programmable control ring on the lens barrel. The default setting is manual focus adjustment. However, you can set this to control aperture or adjust exposure compensation.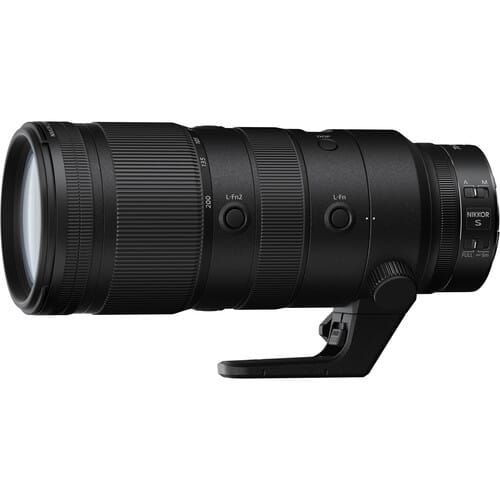 A new lens that fits the bill for many photographers
This lens can do everything and a little bit more. If you're looking for a highly comprehensive lens to add to your Nikon Z series kit, this is a great lens!
Best For
This 85mm prime is the best Z mount lens for shooting portraits. Nikon's Z-mount 85mm prime has a fast aperture of f/1.8. Perfect for those blurry background portrait shots. And the 9-blade diaphragm makes getting that blur a breeze.
The lens features a nanocrystal coating. But there is no ARNEO coating like the previous two lenses that we had discussed above. That said the lens features a Super Integrated Coating.
Nikon has used stepper motor technology in the design of the auto-focusing mechanism of the lens. This is a precise pulsing technology that ensures that the lens moves the focusing elements much more smoothly when locking focus. The lens features a full-time manual focusing override.
The Z 85mm f/1.8 S has a programmable control ring. By default, it is set to manual focusing. But then you can change it and set it to control exposure compensation or manually adjust the aperture.
Should I Buy It?
Overall the optical quality of the lens is fantastic. The weight of the lens is a shade over 1 pound, so it's not too heavy that you're unable able to hand-hold for long periods of time. The 85mm fixed focal length plus the f/1.8 aperture and the new stepper motor makes a beautiful combination. This is a great lens if you are shooting stills or movies.
A portrait prime
This 85mm lens is perfect for portrait photographers. Thanks to its build, it is not too heavy and can be handheld. The optical quality is incredible.
The 35mm f/1.8 is a standard prime designed to be the mainstay of street and journalistic style photographers. A prime lens has a fixed focal length, which can be limiting for some photographers.
The construction of the lens includes ED elements along with aspherical elements and nanocrystal coating.
Best For
Being a standard focal length you can use this lens for a lot of everyday photography requirements. Street photography is a specialty genre that works well with a 35mm prime. In addition to street photography, you can use the lens to shoot indoors, architecture, a bit of environmental portraiture, as well, along with group shots and weddings.
Just like the other S lenses in this series, the Z 35mm f/1.8 S comes with a programmable physical control ring. And of course, you can set it to control exposure compensation and aperture instead of focus.
Should I Buy It?
We keep discussing the many advantages of Nikon's Z-mount camera system. The greatest advantage being the versatility of the lenses. And apart from the different genres that we discussed at the top the lens is also suitable for shooting movies. Thanks to the stepper motor technology implemented.
The Nikkor Z 35mm f/1.8 S the fast wide aperture is perfect for capturing a lot of light in any lighting situation.
A lens that checks all boxes
This 35mm lens is perfect for most photography needs. It is optically stunning and the 1.8 aperture is perfect for creating background blur in your images.
Best For
There are two prime lenses in this range that caught our attention. This 50mm and the 35mm. We selected both of these lenses as two of the best Z-mount lenses based on their individual merits.
Ever heard the phrase "nifty-fifty"? It's a classic focal length!
The 50mm f/1.8 S is fast and accurate. It produces great images in the right hands. Being a standard prime you can shoot a wide range of different genres with this lens.
But there's a catch, the lens is hefty…
It's more than twice the weight of the F-mount standard prime. The F-mount version of this lens weighs just 0.04-pounds. The Z-mount? Well, it clocks in at 0.09-pounds.
In terms of handling the lens is good. The main difference is in its optics. There are a number of new elements including a second aspherical element which suppresses spherical aberrations quite well.
Additionally, there are two Extra-low Dispersion (ED) elements which take care of chromatic aberrations.
Should I Buy It?
We were pleasantly surprised when we compared this lens with some of its more illustrious competitors. The quality of this lens is a lot higher than we expected. Even when shooting wide open, aberrations and distortions are well suppressed. For a lens that performs well across the board, this is definitely a good buy.
A Z-mount nifty fifty
50mm lenses are excellent all-rounders, this lens is no exception to that rule. The lens is optically sound, giving you amazing shots no matter what.
Best For
Wide-angle lenses such as these come into their own when we take them to shoot interiors, architecture and vast sweeping vistas. They are equally good for shooting cityscapes.
There is a bit of vignette at the corners when shooting at the wide focal length. Stopping down the lens or zooming in changes that. In any case, you can always adjust the vignette during post-processing.
Just like other S lenses the Z 14-30mm f/4 S comes with a programmable physical ring. The lens uses the new stepper motor technology auto-focusing mechanism. The lens also features a full-time manual focusing override.
Should I Buy It?
The construction of the lens ensures that the lens is able to resist moisture and dust and dirt. Additionally, a fluorine coating has been added to ensure that the lens front element is able to resist dirt and fingerprints.
The maximum aperture of the lens is f/4 and the lens has only seven diaphragm blades. Please note this is a landscape lens and so you would ideally be using this lens at a much smaller aperture than f/4.
A comprehensive wide-angle zoom
This is a perfect option for landscape photographers looking for a versatile set of focal lengths for all landscape scenarios.
Best For
This is a great landscape lens. You can also use it for architecture and interiors. This would also serve as a good video lens because it is very sharp even at f/1.8. Plus the out of focus effects that you could get with this lens is also great.
Should I Buy It?
The only problem with lenses like this is the lack of versatility. While you know it is a great lens for shooting certain genres, you might hesitate to take it to a concert or an indoor event. The reason is you cannot zoom in or out. You need something like a fast 24-70mm or a 16-35mm if you are going to photograph at a concert.
Also, the Z 24mm f/1.8 S suffers from some amount of vignette especially when shot wide open. This is, however, not a major issue as you can easily remove it in Photoshop or Lightroom using lens profile correction.
If you need just one fast wide-angle lens to take care of all your needs, then the Z 24mm f/1.8 is not ideal for you. It would probably be a good second choice lens for photographers who already own a wide-angle zoom lens and can't resist the temptation of f/1.8 aperture.
A wide angle prime with a wide aperture
This is a fantastic lens for casual photography, be it street, family, or landscape!
---
As an Amazon Associate we earn from qualifying purchases. Certain content that appears on PhotoWorkout.com comes from Amazon. This content is provided 'as is' and is subject to change or removal at any time.