As imaging technology bounds forward, smartphones have become important tools for pro photographers. In turn, there's been an influx of accessories to enhance our smartphone cameras. Finding a good-quality, reliable option can be a challenge. But there's one company that always checks the boxes when it comes to looking for a quality smartphone accessory: Sandmarc. In today's article, we're going to look at the Sandmarc wide-angle iPhone lens in a hands-on, in-depth review.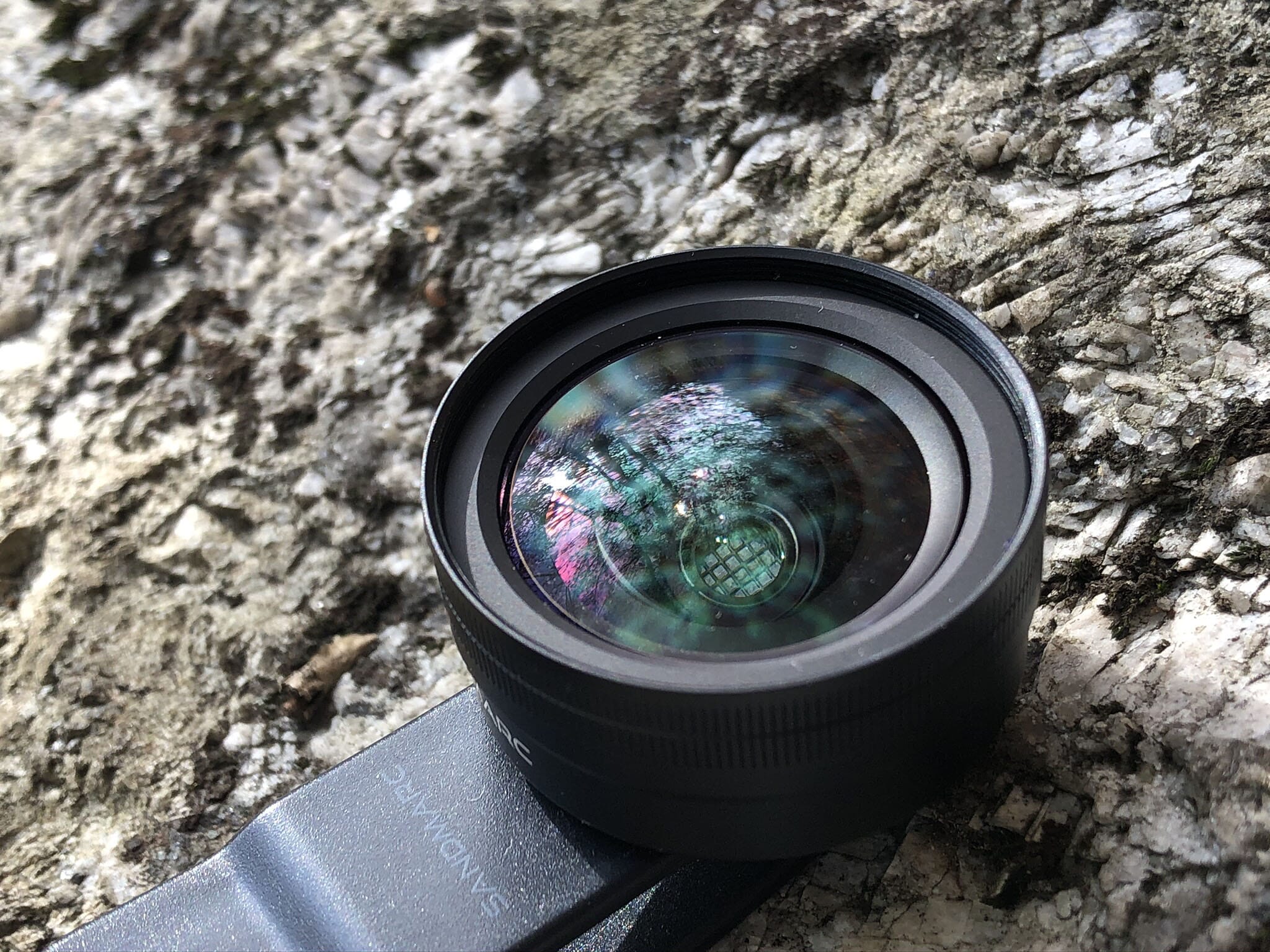 When you buy through links on our site, we may earn a commission at no cost to you. We evaluate products independently. Commissions do not affect our evaluations.
About the Lens
Weighing in at just 71g and measuring 40.5mm across, the Sandmarc wide angle may not seem like much. However, there's more to this small piece of glass than initially meets the eye.
The 16mm lens is best suited for stretching out your camera's scope. With 0.56x magnification and a 110° field of view, it immediately creates a wider frame for photographers to work with.
The multi-element lens is also multi-coated, adding protection from dust, scratches, and weather. The lens is also compatible with select Sandmarc filters. These features combine to create a product with plenty of potential for creative photographers.
Related Article: Sandmarc Macro Lens Review
What You'll Get
The 16mm wide-angle iPhone lens doesn't come without a few helpful care accessories. Bundled in a small cloth carrying pouch, you'll find lens caps and a cleaning cloth to protect your glass from damage.
Also in the box are two means of attaching the lens to your phone. As with my macro lens, Sandmarc sent a fitted iPhone case with a socket that holds the lens piece directly in front of the camera. Because the lens is a little large, I recommend sticking to the case if possible for added security.
However, if you'd prefer to keep your existing case in place, there's also an adjustable clip-on mount. The threaded glass eyepiece screws directly into the mount, making it easy to set up and secure in seconds. Since I used the case to test out Sandmarc's macro lens, I decided to give the clip mount a try for this particular review.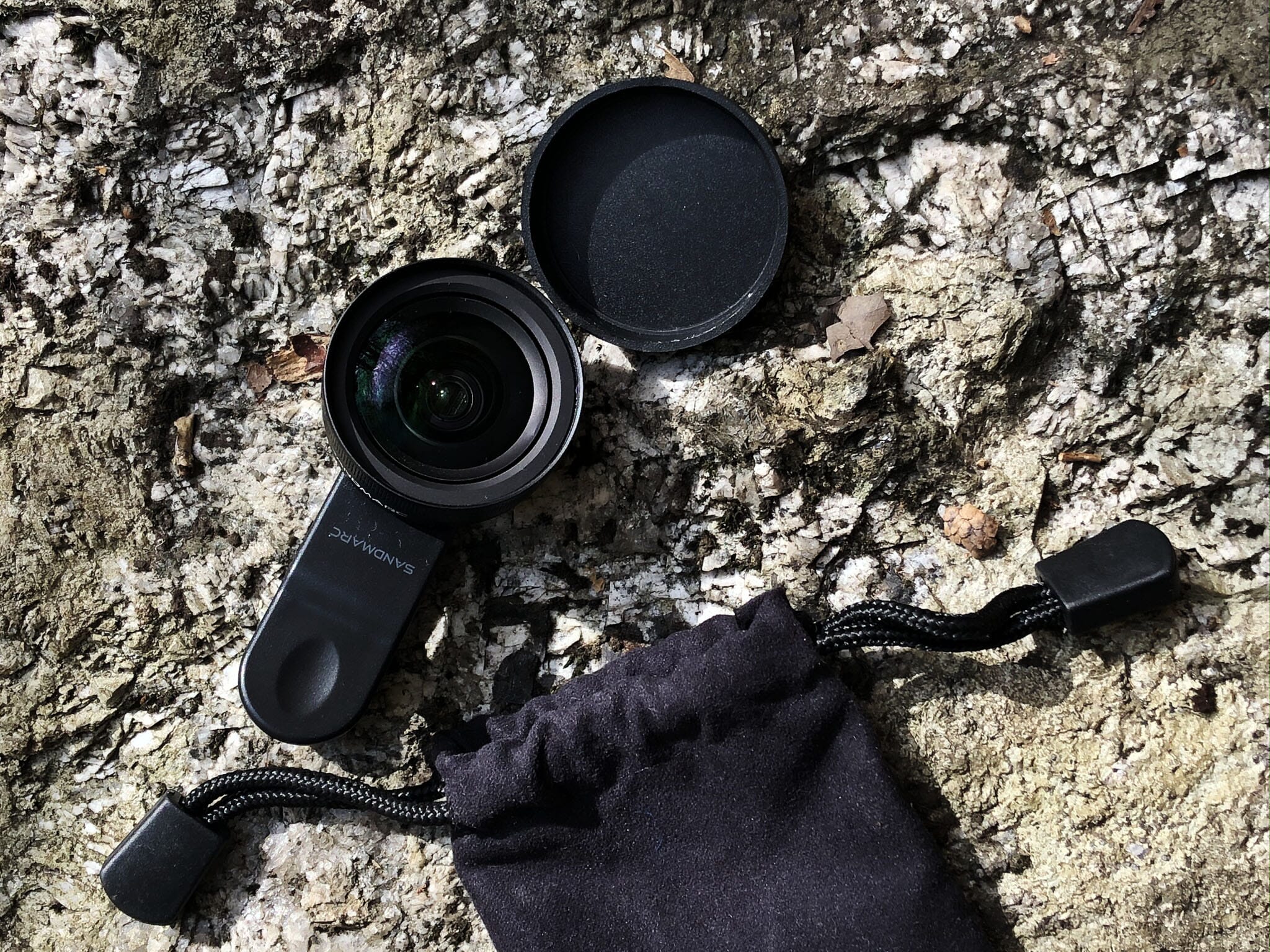 Unlike the macro lens, the wide-angle lens bundle doesn't include any sort of lens hood. Luckily, it's not as necessary. Personally, I'd like it if there was some sort of protection to help preserve the lens itself. However, the wide-angle lens doesn't need a rack focusing tool the way the macro does.
Related Article: Best iPhone Telelenses
Lens Compatibility
For this particular review, I used the iPhone X compatible wide-angle lens. If you're not working with an X, don't panic. Sandmarc sells lenses compatible with the following iPhone models:
iPhone 7/8
iPhone 7+/8+
iPhone X
iPhone XR
iPhone XS
iPhone XS Max
iPhone 11
iPhone 11 Pro
iPhone 11 Pro Max
iPhone 12 Mini
iPhone 12
iPhone 12 Pro
iPhone 12 Pro Max
The wide-angle mount is available for the same price ($99.99 USD). Should you upgrade your phone, just purchase a corresponding case from Sandmarc (they cost $29.99 each). Your existing lens will continue to function perfectly well with the new model.
Hands-On Testing of the Sandmarc Wide Angle Lens
One of the greatest draws of smartphone photography is its convenience. Any photographer will tell you that lugging around a small army of lenses and a DSLR can be irritating. For me, Sandmarc's lenses function as a solution for the times that I'd like to take stunning shots but find that bringing all my gear isn't really an option.
That said, I decided to test out the Sandmarc wide-angle lens on a rocky hike up Mt. Wachusett. With some steep slopes and an occasional unsteady stone underfoot, it's the sort of place I'd worry about damaging a full-sized camera body or lens. However, with my Sandmarc lens safely tucked into my pocket, I was able to get around without carrying around extra weight.
With autumn colors in full force, I was happy to have a little backup on hand for my humble iPhone camera. Without leaning into the fisheye territory, the wide-angle lens captured the towering trees along the path without significant distortion.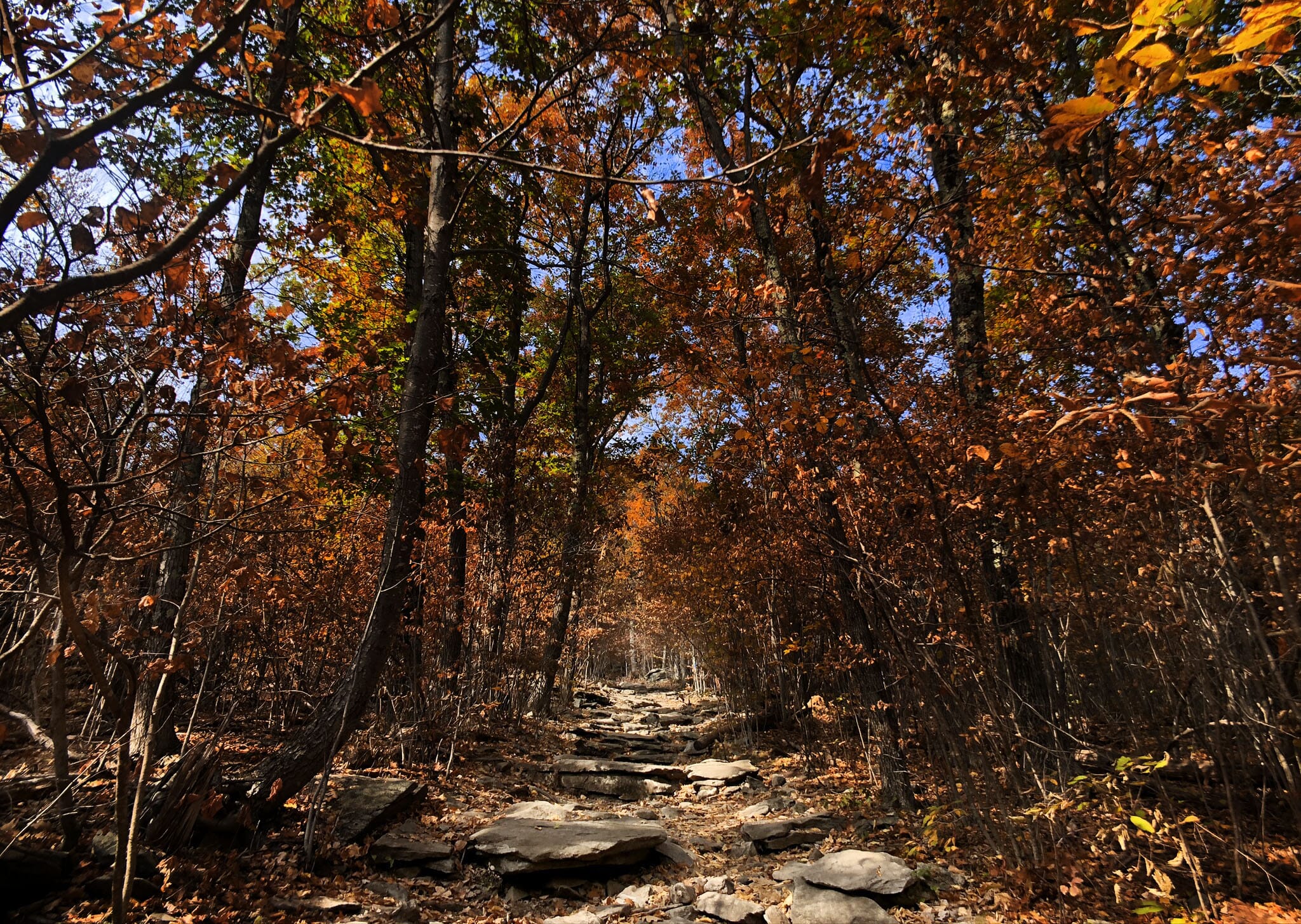 As I mentioned above, I chose to utilize Sandmarc's clip mount rather than switch out phone cases. Though the Sandmarc case is a perfect fit for its lenses, it's a bit fragile for long term use. Overall, the clip got the job done – however, there are some distortions that photographers should watch out for.
Related Article: Best Wide Angle Lenses for iPhone
When using the clip, make sure that your lens is properly aligned with your camera. Otherwise, you may end up with vignetted edges. Also, be sure to check that your focus is consistent throughout your frame. If you're not careful, you may end up with blurred out details on one end of your frame and super sharp details on the other. These aberrations are easy enough to rectify but can be subtle enough to miss on a small smartphone screen.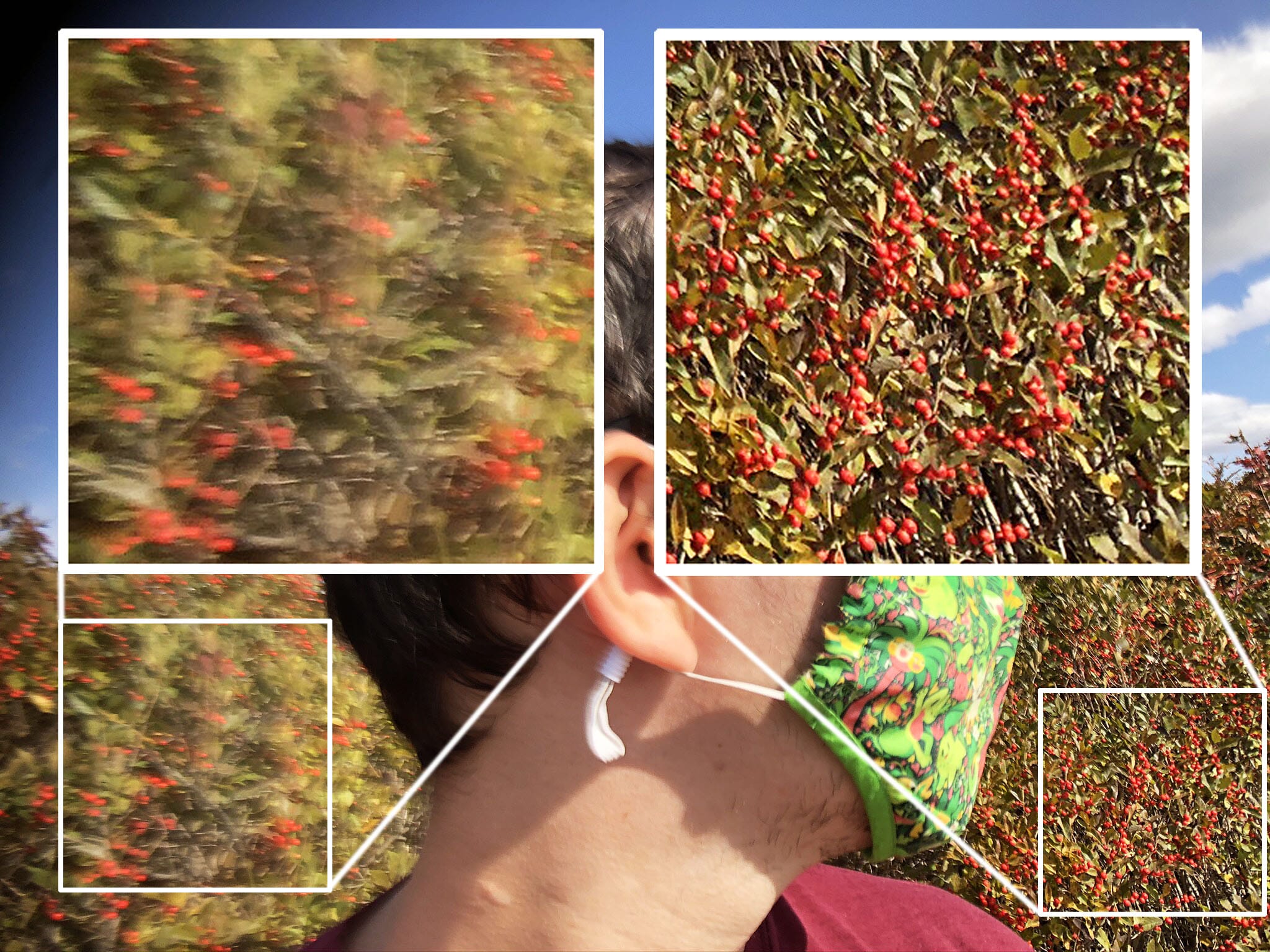 Overall, the Sandmarc wide angle lens was easy to install and certainly capable of capturing broad views. But just how different of a view does this lens provide?
Compare and Contrast
Without a doubt, the field of view significantly expands as soon as you attach this lens.
The initial image I took from Wachusett's peak wasn't bad per se – I was able to capture red and orange treetops and a few puffy clouds overhead. However, the addition of the Sandmarc lens allowed me to go far beyond that. With the 16mm lens, I was able to capture some of the greener trees growing at a lower altitude. Likewise, it allowed me to see the rich blue sky hanging just above the top of the clouds.


Here's another series of shots, featuring a couple of my hiking buddies. The picture I snapped of them really didn't do much for me, but Sandmarc's wide-angle lens made a drastic difference without having to reposition.


As my friends rested on this sloped boulder, two tilted trees framing the scene caught my attention. Unfortunately, I wasn't able to capture them with my iPhone alone. The Sandmarc lens, on the other hand, allowed me to frame my subjects between these two peculiar tree trunks. Better yet, it includes more detail of the surrounding bright yellow leaves.
Related Article: Tripods for Stunning Smartphone Selfies
Our Recommendation
Good things come in small packages, and this Sandmarc wide-angle lens is no exception. While it's not entirely foolproof, it can really enhance the look and feel of your images when used properly.
Like any wide-angle lens, it won't do much for close-up details or intimate portraiture. But, in any situation that requires capturing as much of your surroundings as possible, it excels. Without effort, it expands dramatic landscapes and paints richer pictures for environmental portraits.
Sandmarc's lenses are excellent for those that want to pack light (without a hefty camera) but don't want to sacrifice creativity. For active outdoor shutterbugs hesitant to risk their main camera on harrowing adventures, the wide-angle lens is the solution you've been waiting for.
It may not be the most high-tech solution, but this little piece of glass is super-effective in the right hands. For anyone looking to take their iPhone photos to the next level, Sandmarc is the place to start.
Sandmarc Wide Angle iPhone Lens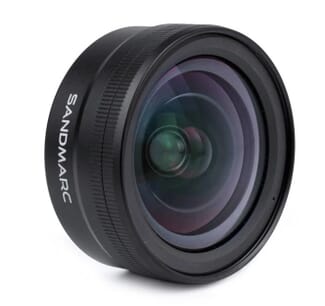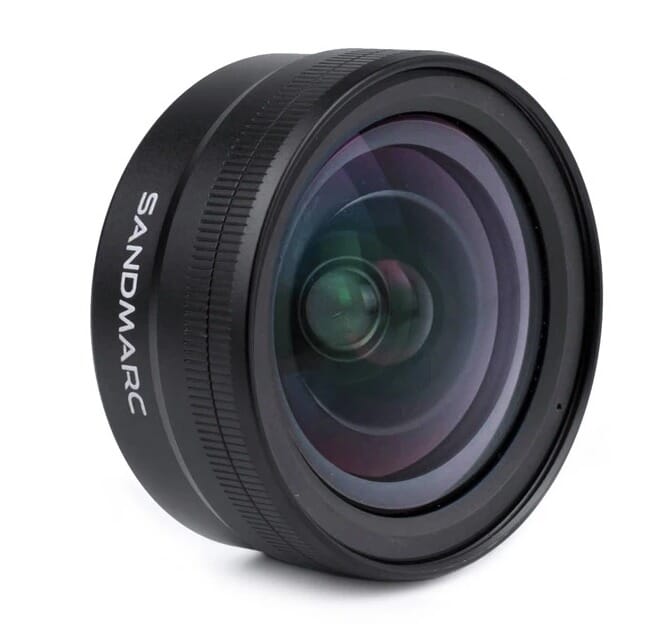 Product Name: 16mm Wide Angle Lens
Product Description: Capture better low light ultra wide photography using iPhone 11's night mode. SANDMARC Wide Lens helps you capture ultra wide sharp photos and videos both in the front and rear iPhone camera.
Brand: Sandmarc
Offer price: 99.99
Currency: USD
Design

Compatibility

Portability

Angle of View

Image quality
Sandmarc Wide Angle iPhone Lens Review Summary
Easy to store and quick to install, the Sandmarc 16mm wide angle iPhone lens is a must-have for avid smartphone photographers. With a 110° field or view, it excels at capturing landscapes and environmental portraits. While the lens itself does not directly connect to the iPhone, Sandmarc's multi-mount solutions make this glass usable across devices. Aligning the lens with the camera can take a little bit of extra effort, but the expansive view offered by the 16mm makes it worth your while.