Introducing a Set of Revolutionary Tripods
Being a professional photographer takes a lot more than having a good camera in hand. Any serious image maker will confess that there's a slew tools and gear that need to be at play behind the scenes to get a great photograph.
Though you may not be familiar with their name, Sirui is a rising company dedicated to providing customers with the photographic equipment each of us needs to the succeed. Since their inception in 2001, they've stocked a number of products designed for professionals and enthusiasts alike.
Currently, their inventory contains everything from filters to phone lenses, backpacks to humidity-controlled cabinets. However, they've managed to garner a great deal of international attention thanks to their specialized lines of tripods.
This month, the new Sirui SR Series was released to the general public. Representatives boast that the three recent additions to Sirui's collection of professional-grade tripods are designed specifically to bring jet-set photographers the best of both worlds.
The SR Series utilizes lightweight materials designed for easy transport, a godsend for those used to lugging around heavy bags of gear. Yet, simultaneously, each is capable of holding its own in the field. Taking on weights up to 55 lbs, these tripods fare well even in the testiest scenarios.
Available throughout Europe, North and South America, Asia, and beyond, professional photographers based around the world can take advantage of all that this series has to offer. Today, we'll be going over some of what you can expect to see out of this state-of-the-art series.
Related Post: Best Tripods for Real Estate Photography
Featured in the Sirui SR Series
New Sirui SR Tripods
Each series put out by Sirui is meant to cater to a specific niche within the photographic community. The SR series, specifically, is a great fit for versatile photographers that are always on the move. As such, the team responsible for designing the Sirui SR series prioritized flexibility as well as durability.
When you get your hands on an SR tripod, there are a few points on which you can confidently rely:
Reaches heights over 80 inches. A removable two-stage center column is available and can increase the height of any SR tripod by nearly 2 whole feet. With the extension, it's possible to secure cameras a whopping 6.5 feet off of the ground.
Superior structure. Rather than utilizing traditional casting methods, all Sirui tripods are forged together. This compacts and further welds together the metals in use. As a result, each tripod's strength-to-weight ratio dramatically increases
Twist leg locks. With a simple half turn, it's easy and efficient to set up or collapse each tripod. The legs themselves are easy to maneuver in and out thanks to interior grooved channels. This prevents parts from twisting and provides even more stability for equipment in play.
Leader in quality and satisfaction. Sirui employs stringent quality control standards, and their SR Series is no exception. They don't stop short by merely providing customer support to clients worldwide. Instead, they go the extra mile and tack on an incredible 6 year warranty to most purchases.
Convert for video. Each of the tripods included in the SR series has a removable flat top plate. Beneath each plate, the tripods have an integrated 75mm bowl, designed to accommodate videographers in need of fluid mobility.
Accessories to get you ahead. Every Sirui SR tripod comes complete with a number of accessories to even further improve your photography. An internal bubble level keeps the tripod itself level. The spider also comes complete with a hook strong enough to hold weights and increase tripod stability. Also included are anti-slip leg warmers, a padded carrying case, and interchangeable stainless steel spiked feet.
Reviewing the Sirui SR Series Collection
As of now, there are three tripods available in the Sirui SR Series. Though each has their own set of unique attributes, across the board they share a number of characteristics. Here, we'll compare and contrast the features each individual option has to offer.
1. Sirui SUSR-3203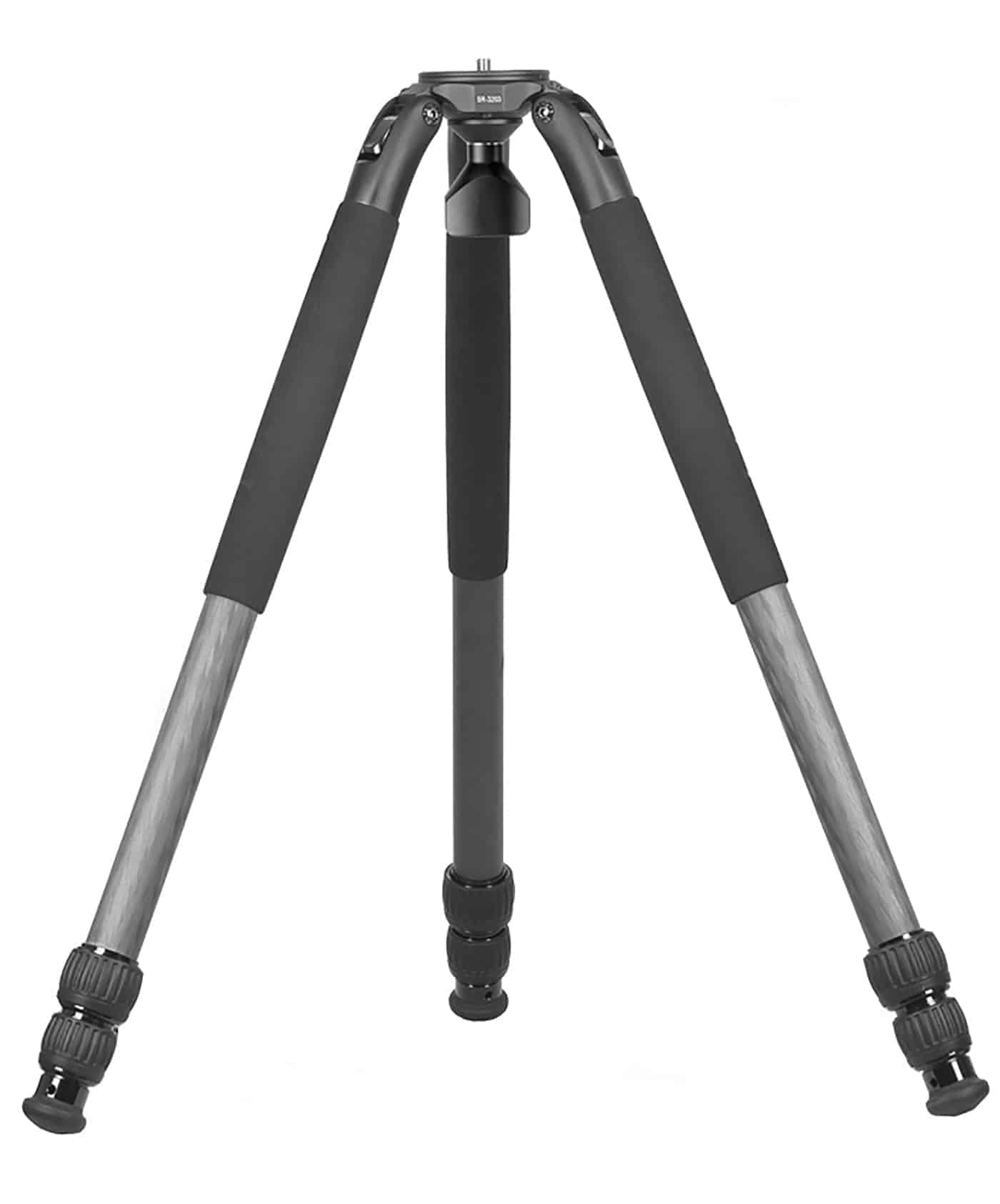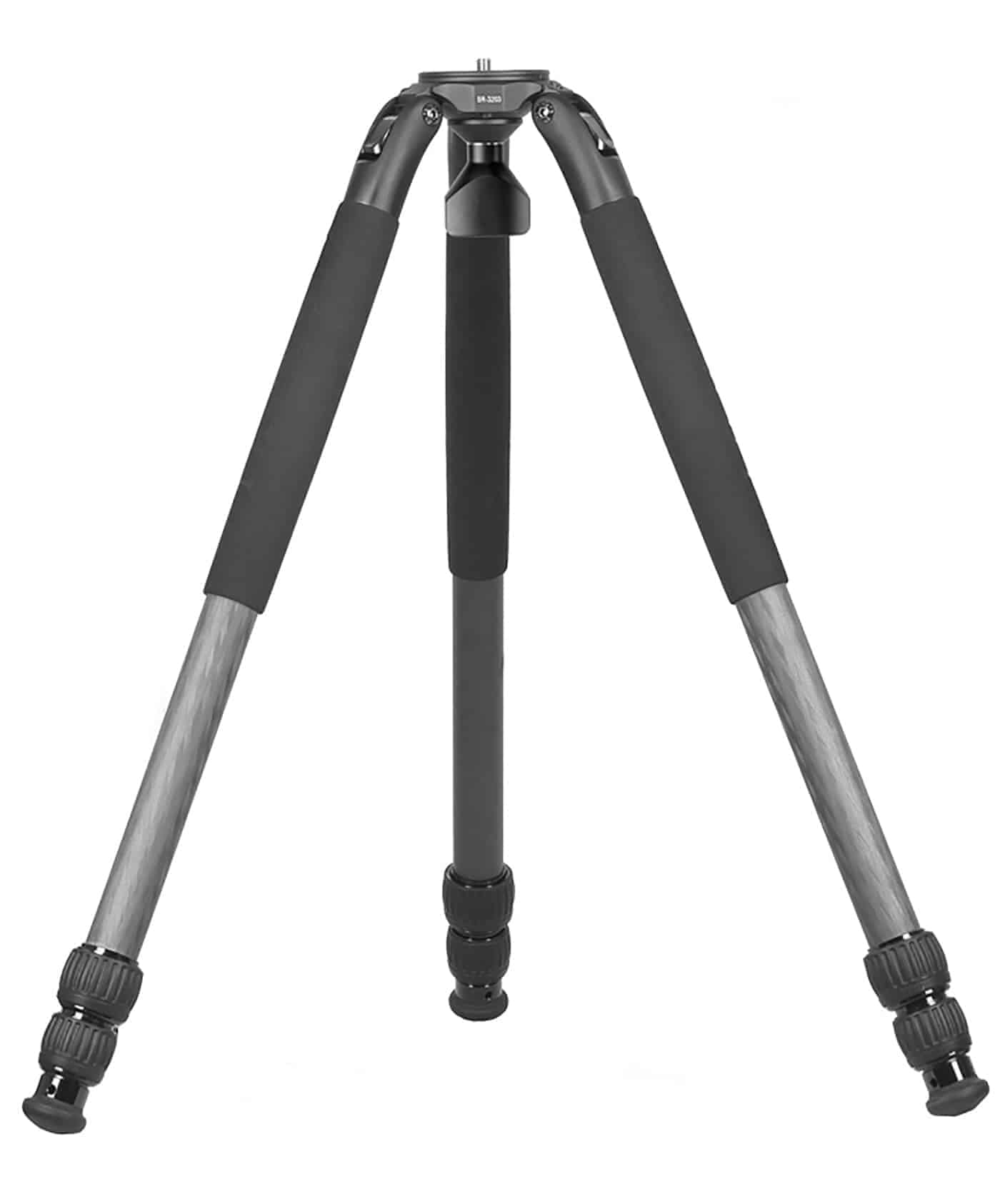 SR 3203

Material Used

Carbon Fiber

Sections

Three

Max. Diameter

1.3 inches

Min. Diameter

1.0 inches

Max. Height

59 inches

Min. Height

5.5 inches

Retracted Height

25.5 inches

Weight

4.4 lbs

Load

55 lbs
Unlike the other tripods in this series, the SR 3203 is composed of three sections rather than four. As a result, it's a bit bulkier than its brothers. But thanks to its strong yet lightweight carbon fiber build, it manages to keep its overall weight down to 4.4 lbs. And although other tripods in the series can go down to more compact sizes, its retracted height still just barely surpasses two feet tall.
2. Sirui SUSR-3204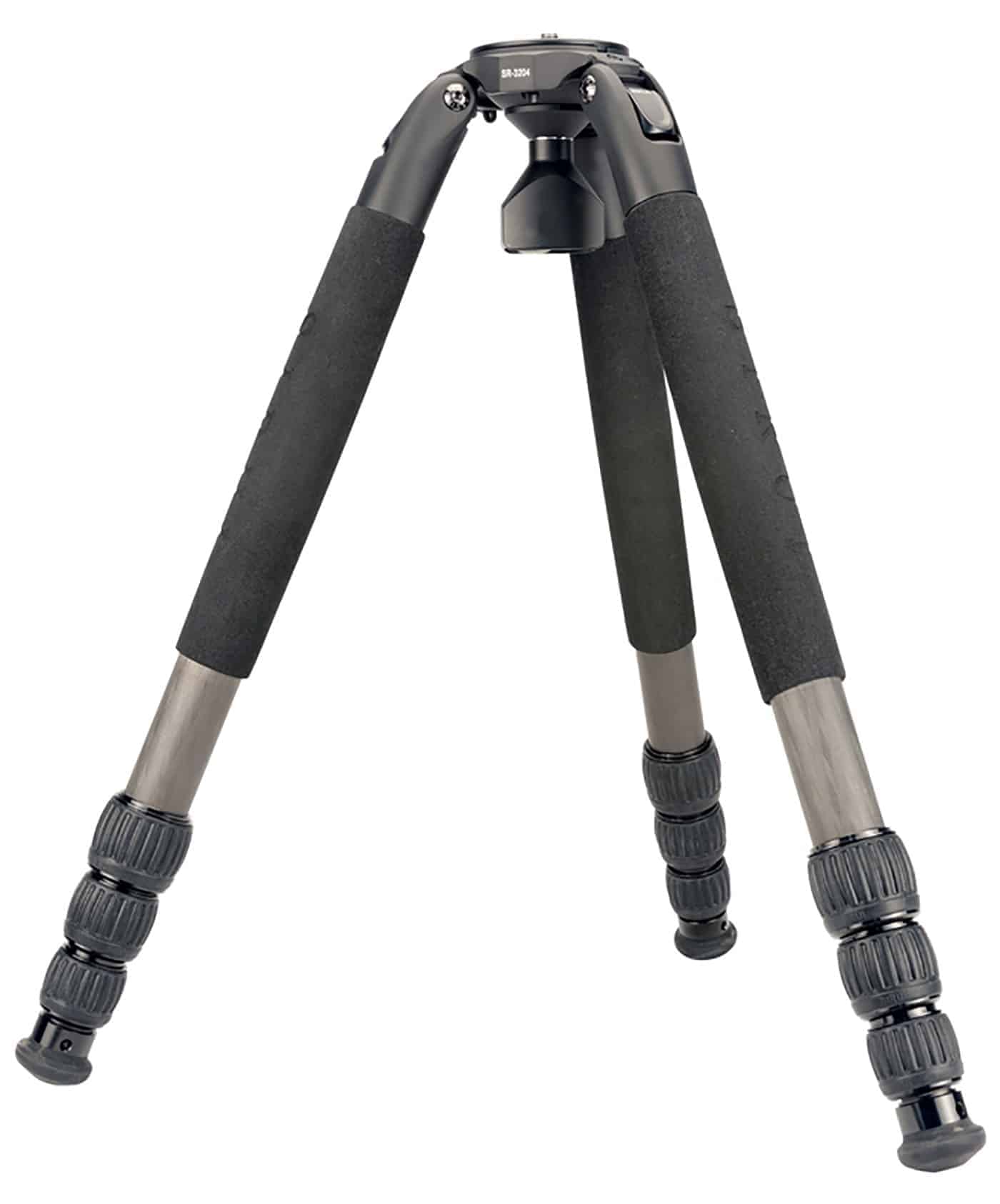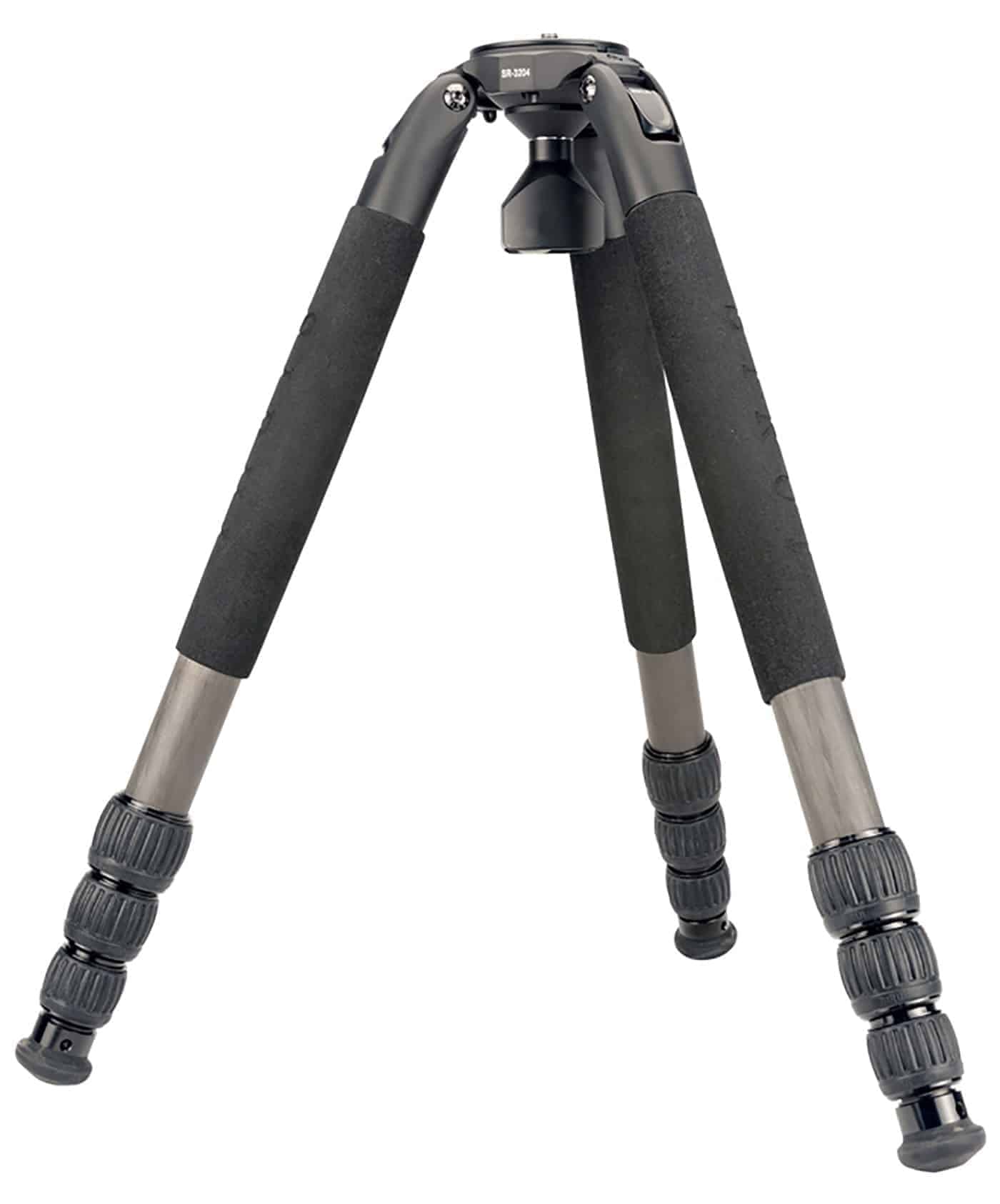 SR 3204

Material Used

Carbon Fiber

Sections

Four

Max. Diameter

1.3 inches

Min. Diameter

0.9 inches

Max. Height

59 inches

Min. Height

4.7 inches

Retracted Height

21.4 inches

Weight

4.4 lbs

Load

55 lbs
The carbon fiber SR 3204 has some impressive specs that are hard to ignore. It's easy to fit into virtually any backpack or carrying case as it sports a portable minimum size of 4.7 inches. But don't be fooled by size. Its small (yet strong) body can withstand just as much weight as the rest of the models in the SR line. Although it's the priciest option of the bunch, it's well worth the cost for the quality of materials being used, its lightness, and its potential to fold down to a travel-friendly size.
Related Post: Best Travel Tripods
3. Sirui SUSR-3004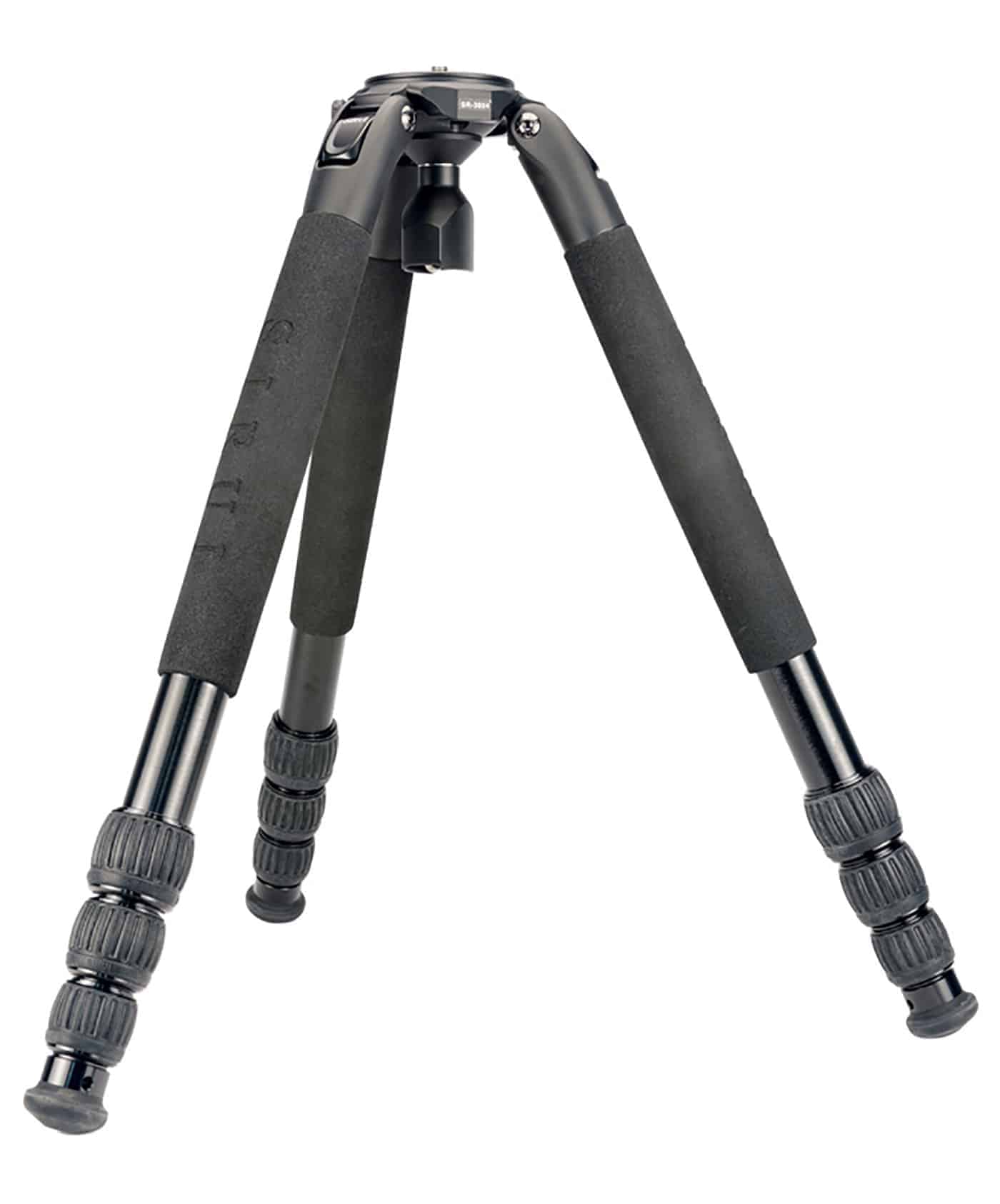 SR 3004

Material Used

Aluminum

Sections

Four

Max. Diameter

1.3 inches

Min. Diameter

0.9 inches

Max. Height

59 inches

Min. Height

4.7 inches

Retracted Height

21.4 inches

Weight

5.5 lbs

Load

55 lbs
The only aluminum model of the bunch, the SR 3004 is the heaviest choice available. However, it's also the most affordable option Sirui offers. If you're willing to endure a few extra ounces of weight and risk a dent here or there, the 3004 is worth taking into consideration. It has the full range of height and diameter as the SR 3204, and is able to bear the same weight as its companions.
Related Post: Best Manfrotto Tripods
---
As an Amazon Associate we earn from qualifying purchases. Certain content that appears on PhotoWorkout.com comes from Amazon. This content is provided 'as is' and is subject to change or removal at any time.