Whether you regularly shoot with a large lens or you're looking for the most versatile tripod, finding the best tripod for heavy lenses isn't an easy feat. There are so many options out there and various factors to consider.
In this article, we take a look at the best tripods out there for those who have a heavier rig to work with. Whether you're an absolute beginner or someone looking for a more premium option, we've got you covered with our comprehensive list!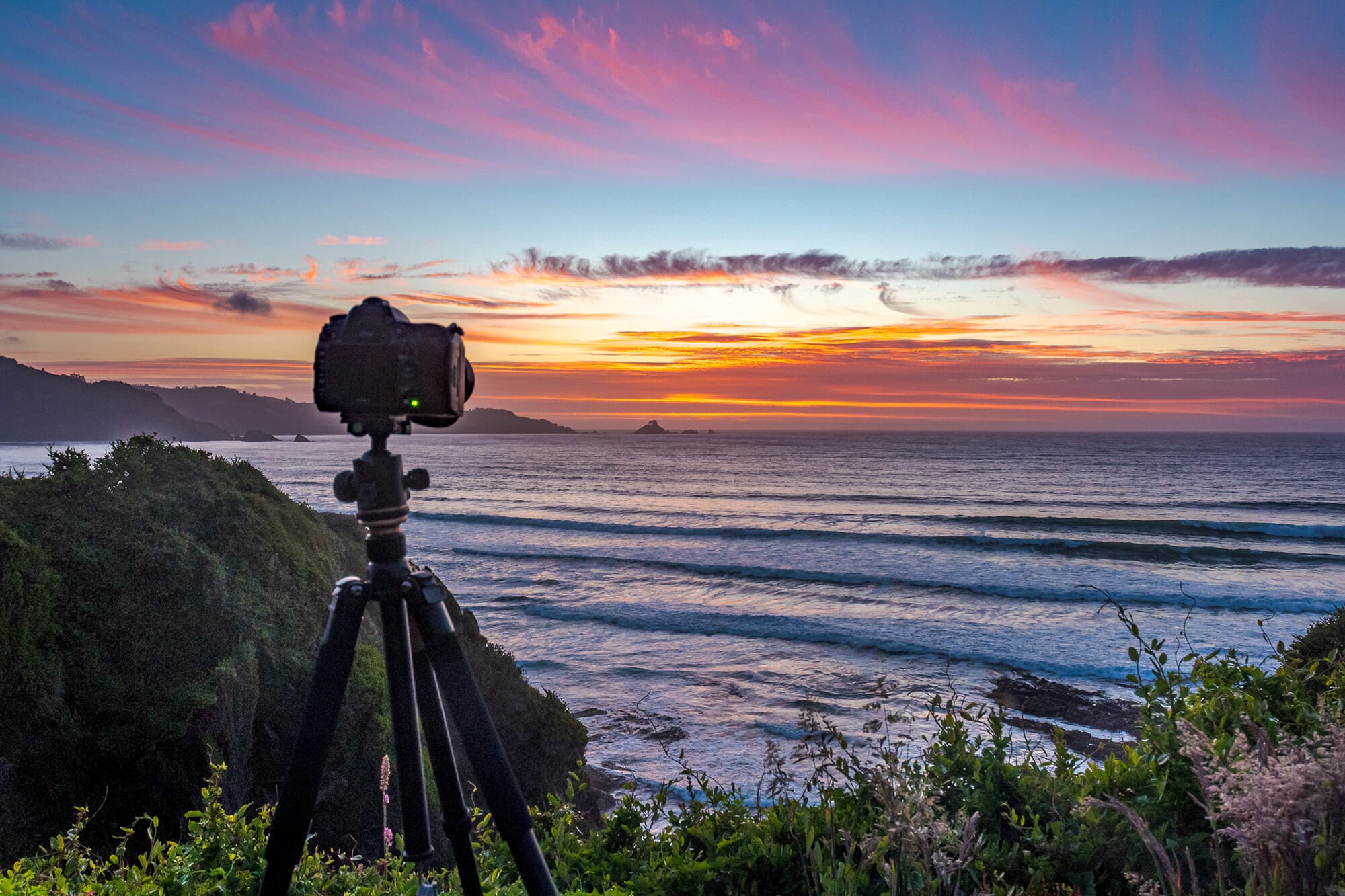 Best Tripod for Heavy Lenses:
When you buy through links on our site, we may earn a commission at no cost to you. We evaluate products independently. Commissions do not affect our evaluations.
1. Manfrotto MK190xPro4
Our Pick
Premium features and utility
The MK190xPro4 is a durable tripod with a high load capacity and useful features.
Pros
High load capacity of 13.2lbs / 6000g.
Quick clip leg mechanisms.
Made from durable aluminum.
Manfrotto are well-known makers of premium tripods. One of their best heavy-duty models is the Manfrotto MK190XPRO4. This durable tripod certainly can't be considered a budget option, but it is the best tripod for heavy lenses and large cameras.
The MK190 can carry 13.2lbs/6kg. This is more than enough to cope with a large DSLR camera with a heavy telephoto lens, for example. The legs also extend up to a maximum of 68.1 inches/173cm giving excellent versatility in the positioning of your camera and how you use it.
This tripod also features a quick power lock system, meaning you can unclip the legs and extend them in a matter of seconds. Building on the functionality, the head also has a quick-release plate system so you can attach your camera with ease. You also get pan and tilt functionality thanks to a retractable handle on the head. This makes it ideal for cinematic videos and tracking subjects. This is an excellent tripod and can easily offer a stable platform for larger camera/lens setups.
Related Post: Best Manfrotto Tripods
2. Benro Mach 3
Also Great
Compact but heavy duty
The Benro Mach 3 is a great mix of durability and utility with a great load capacity.
Pros
Incredible load capacity.
Durable carbon fiber frame.
Quick twist-lock leg mechanism.
Benro is another popular tripod manufacturer. The Benro Mach 3 is one of their best tripods for heavy lenses. This tripod offers a great combination of compactness and durability. It weighs just 4.5lbs/2kg yet has an amazing load capacity of 35.3lbs/16kg. There probably isn't a camera/lens combination that comes close to this!
Despite being a compact tripod, its three legs can still be extended from 14 inches/35cm to a maximum of 69.7 inches/177cm. This gives you great flexibility in your tripod setup. We also like the twist-lock mechanisms of the legs. To extend them, simply twist the locking mechanism and tighten them up when you're happy with the length.
The head has a simple universal tripod mount that should be compatible with any camera or lens. It also features screw-in rubber feet to provide extra stability on uneven surfaces. Alternatively, you can make use of the stainless steel spiked feet if you want to push the tripod into softer ground. Made from carbon fiber, this tripod is also incredibly durable for outdoor use.
3. MeFOTO Globetrotter
Durable carbon fiber build
The Globetrotter has a high carrying capacity and excellent lock mechanisms.
Pros
Twist-lock leg clamps.
A large load capacity.
Made from durable but light carbon fiber.
The MeFOTO GlobeTrotter tripod is another fantastic model that has a heavy-duty build that can support large lenses. The frame and legs are made from carbon fiber which makes it robust but also lightweight at just 3.7lbs/1670g. It is also highly compact as the legs fold up inversely.
The head offers a 360-degree panning action and it can also be tilted. It also has a simple connection so you can quickly attach your camera. The head is highly secure, and you should not notice any sagging when the camera is locked. We also like the twist mechanism of the legs. Each leg extends into four sections, and these can be quickly unlocked with a simple twist of your hand. Two of the legs can also be used in an independent position so you can use the tripod at different angles.
For extension, this tripod has a height range of 16-64 inches/41-163cm. Finally, in terms of weight capacity, this tripod can carry up to 26.4lbs/11kg. There should be no issue here with any large DSLR and heavy lens combination.
4. Gitzo Lightweight Series 1 Traveler
A high-quality carbon fiber tripod
The Series 1 Traveler offers the ultimate in quality and design with a great load capacity.
Pros
Durable carbon fiber legs and head.
Detachable ball-head.
Lightweight but incredibly strong.
The Gitzo Lightweight Series 1 Traveler is one of the most durable and well-built tripods you will find. However, it comes with a large price tag. This is certainly not a beginner tripod, but for those who will make regular use of it.
It is made from lightweight carbon fiber including the ball head. The extension tubes are also made from carbon fiber which makes the legs durable and provides excellent stability. Each leg can be extended three times and they use a simple and effective G-lock leg system.
For carrying large lenses the Series 1 Traveler has a maximum load capacity of 22lbs/10kg. The carbon fiber head should also help keep any heavy-duty lens stable without any rogue movement. The ball head can be detached easily using the included safety pin. You can then attach another compatible head if you wish. This is a premium tripod, but it is one of the best you will find for heavy lenses, and it will last for years too.
5. Neewer Professional Heavy Duty Tripod 76-inch
A great beginner option
This Neewer Tripod is easy to use and gives great stability.
Pros
Excellent head attachment for fluid movements.
Aluminum construction for durability.
Easy to use.
Cons
Not the most compact design.
Moving on to a slightly cheaper model, the Neewer Professional Heavy Duty Tripod offers excellent features at a cheaper price compared to the models above. It still isn't the cheapest available, but it makes for a great beginner tripod for those just getting into photography.
The legs and head are made from aluminum which makes the tripod lightweight and strong. Also, the legs can be extended to a maximum height of 85 inches/193cm which makes it one of the tallest tripods on this list. It is not the most compact design when folded, but the legs do fold and extend easily.
We also like the ball-head attachment. This allows for fluid movement and great control over your angles. You can rotate the head 360-degrees and tilt it using the panning handle. The locking mechanism for the head and the plate are also simple to use and keep your camera secure. There is also a spirit bubble on the head that ensures you can align your camera properly for horizon shots, for example. Finally, it can carry a maximum load of 26.5lbs/12kg.
6. Manfrotto 055 Aluminum 3-Section Tripod
Compact and easy to use
The Manfrotto 055 is a versatile tripod with excellent features and utility.
Pros
Simple lock mechanism for the legs.
Made from high-quality aluminum.
Extends to a maximum height of 140cm / 55 inches.
Cons
Basic model doesn't have a ball head.
If you still want a Manfrotto tripod but don't want to spend a fortune, the Manfrotto 055 could be an excellent option. This is the best tripod for heavy lenses for travel photos and use on the go. This is because it is compact and the legs fold up neatly to reduce the required storage space.
The legs can be extended three times, although it does use the older G-clamp system for locking the legs. Although this is slower, it will still keep the legs secure. The complete aluminum design makes the tripod lightweight but strong.
For movement, the head has a center column, so you can rotate it however, it does not have any tilt functionality. The center column can be extended though, which can improve the maximum height of the tripod. For load capacity, the Manfrotto 055 can support 19.84lbs/9kg.
7. ZOMEI Aluminum Portable Tripod
Budget Pick
Affordable and highly usable
This ZOMEI tripod is perfect for those starting out in photography.
Pros
Excellent leg extension.
High maximum load capacity.
Easy to use and setup.
Cons
Only has a simple ball-head.
Our last pick is the ZOMEI Aluminum Portable Tripod. This is our top budget option and is excellent for beginners who simply want to experiment with a tripod. For this budget price, you get a compact and durable tripod that has a maximum load capacity of 26.5lbs/12kg.
The leg tubes are made from aluminum, and it also has a simple ball head attachment. This is only a basic ball head, but it still allows for 360-degree panning, and tilting actions. It also secures easily using a simple twist dial.
We also like that this tripod can be converted into a monopod by using the removable center column. Each leg can also be extended 4 times, and the legs use a convenient twist-lock mechanism.
Which Tripod for Heavy Lenses is Right for You?
As you can see, there are a wide range of heavy-duty tripods available. Which you choose depends on exactly what you want to achieve with your tripod and your circumstance. For example, if you simply want a cheap but durable tripod for your travels, something like the ZOMEI Aluminum Portable Tripod is a good option.
Alternatively, if you want the ultimate in quality and durability, premium options like the Manfrotto MK190XPRO4 or the Gitzo Lightweight Series 1 Traveler make for great investments. Whichever you choose, it is advisable to check the maximum load capacity, and the tripod mount system, to make sure your camera and lens are compatible.
---
Disclosure/Disclaimer: As an Amazon Associate, we earn from qualifying purchases. Certain content was provided "as is" from Amazon and is subject to change or removal at any time.