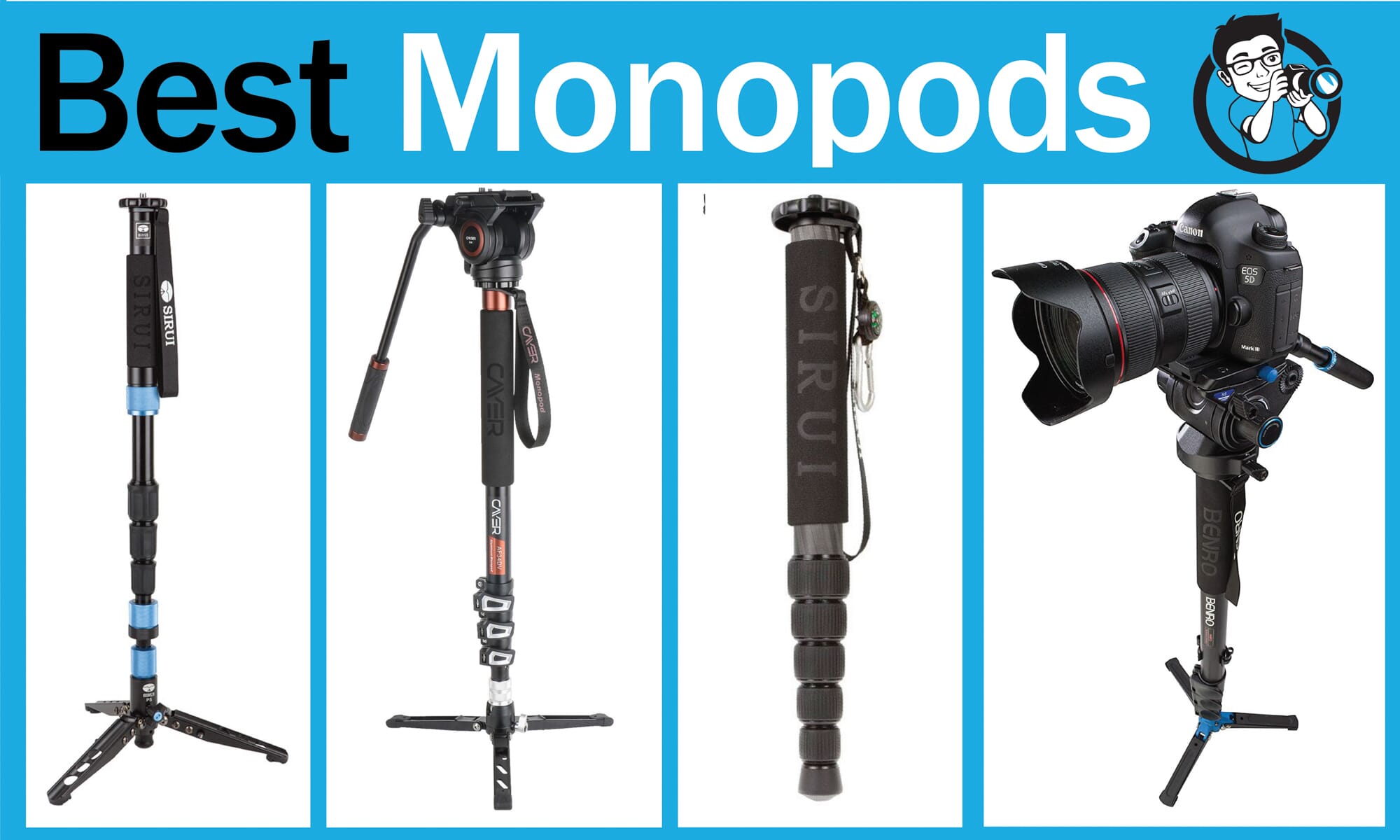 Like most things, the design and usability of the best monopods have improved over recent years. There are new, excellent options popping up on Amazon all the time! Which is exactly why we're taking another look and compiling a list of the best monopods available.
What Do The Best Monopods Have In Common?
Before we dive into which is the best monopod, let's take a quick look at what makes a monopod great.
First, carbon fiber is by far the most popular choice. Especially, for travelers looking for a sturdy and lightweight camera support system when they are on the move.
RELATED POST: Essential Travel Photography Gear
The best options also have reversible 3/8" – 16 and 1/4″ – 20 screw mounts. This allows photographers and videographers to use several types of cameras. The best ones also have a decent weight supporting capability. Although, this is becoming less of an issue as our cameras become lighter and more compact such as the new mirrorless options taking over the market.
Another cool feature that's gaining in popularity are monopods with feet. Specifically, the type with three folding feet that add stability. This is very useful, especially, if you are using heavier DSLRs or video cameras.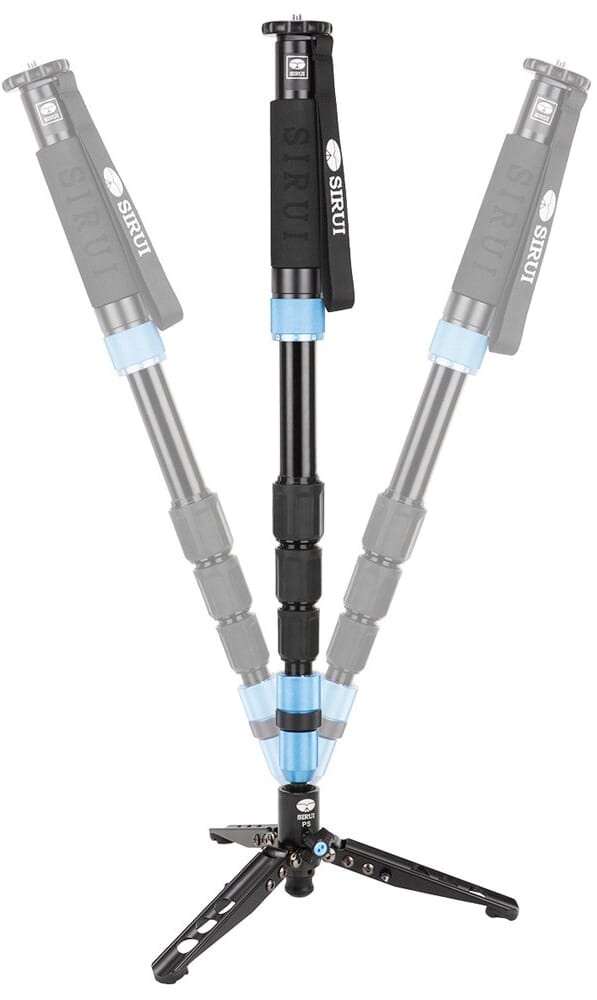 Here Are The Best Monopods For Video And Photography
A quick word before we dive in… Just in case you're looking for the best tripods, there's a separate discussion where we have recommended some items. You can check that article here. If you are looking for video tripods you can learn more here.
Otherwise, let's get started with a look at the 6 best monopods we found:
This Series 4 Aluminum A48FD monopod comes with a 3-leg base locking mechanism for a secure grip. Additionally, the monopod comes with S6 video head to complete the package. This S6 head allows for a 360 ◦ panning movement with the camera mounted on top of it.
The A48FD comes with extendable locking legs which increase the working height of the monopod to a maximum of 69.1".
Related Post: Best Gimbals for Mirrorless and DSLR Videographers
The head comes with reversible 1/4" -20 and 3/8"-16 threaded mounts to facilitate mounting of video heads. That said you can also use most DSLR and film cameras as well (thanks to the popular 1/4" -20 thread).
This monopod is ideal for both video and still work. The maximum weight supported by the unit is 39-pounds. But heavier video cameras might be a bit of a problem to stabilize.
Benro Aluminum 4 Series Flip-Lock Video Monopod Kit w/ 3-Foot Articulating Base and...
Combine the Series 4 Aluminum Monopod with the 3-Leg Locking Base and S6 Video Head for a complete camera mount set-up that...
The S6 Video Head allows 360 degree panning rotation and the A48FD Monopod with 3-Leg Locking Base features 4x aluminum tubes...
Features a mounting plate with a reversible 1/4"-20 and 3/8"-16 threaded mount for attaching a video head directly to the...
The 3-Leg Locking Base comes with a 3/8"-16 female threaded foot for easy attachment to monopod.
Limited 3-Year Warranty (Extended to 5-Years with Online Registration).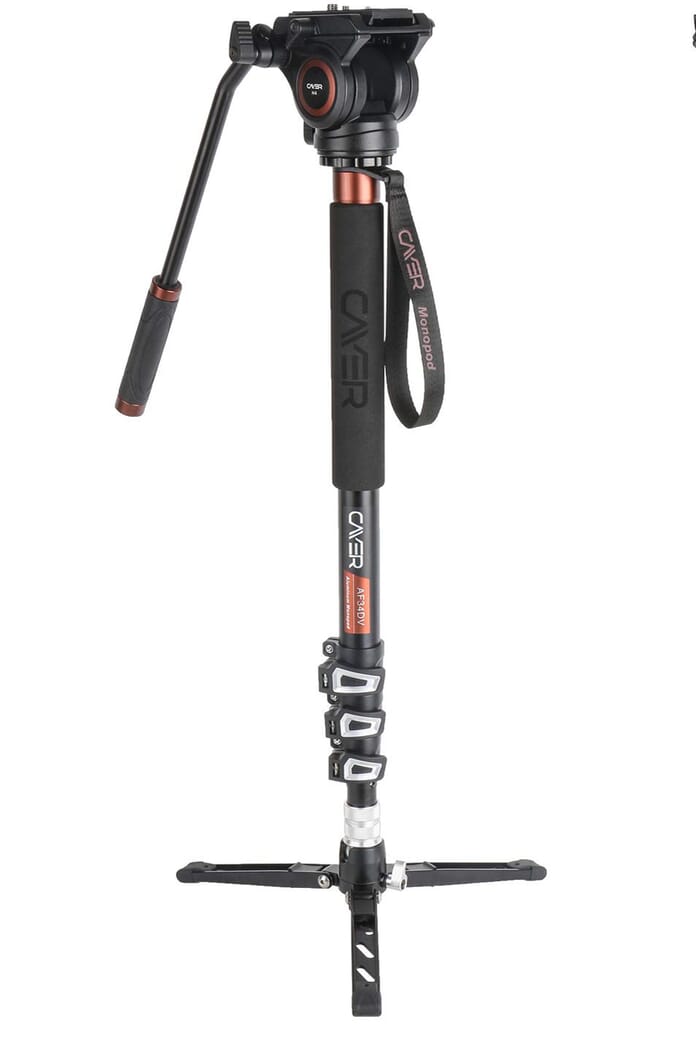 This monopod is designed specifically for video work. Notice the panning handle? Just like the Series 4 Aluminum A48FDS6 this one too comes with a 360 ◦ swiveling option.
The Cayer AF34 also has a three-legged stabilization base.
The model is made from aluminum. It could be improved if it were made from carbon fiber, adding better strength and durability. And would have also made it lighter. Not that it is not light already. It weighs only 4.1-pounds and supports up to 13.2-pounds.
That means heavier video cameras would be a problem to work with. But you can certainly use lighter cameras with lenses. This tripod would be best for DSLR or mirrorless video shooters. Though, there isn't much reason you couldn't use it for still photography as well.
The 3/8-16" thread ensures that you can use the head with a wide variety of accessories.
Cayer FP34 Professional Video Monopod Kit 71 inch Aluminum Telescopic Camera Monopod...
【Compact but Durable】 a folded length of 27.7", weighing only 4.3 lb and max load 13.2 lb , this video monopod kit is...
【Pan Tilt Head】 features pre-set counterbalance, pan/tilt locking with 3/8" easy link connector for accessories, offers...
【Easy Set Up】 the 4-section aluminum monopod leg extends to 71.2" fully, equipped with ergonomic flip lock providing fast...
【Pivoting Foot with Mini Tripod Option】 locked down into 2 positions, it enables 360° swiveling, 45° tilting in all...
【Specifications】 Adjustable Height: 27.7" to 71.2" | Tilt Range: -70° to +90° | Pan Range: 360° | Max Load: 13.2 LB |...

The load capacity of the Sirui P-204SR P is about 22-pounds. Not the best, but not the lowest either. Overall, that's a suitable capacity for most shooters.
RELATED POST: Announcing the SIRUI SR Series
The maximum height the monopod reaches to is 61.4" by extending the 6 sections. The best thing is the head comes with reversible 1/4" – 20 and 3/8" – 16 screws. That means you can use both regular DSLR and film cameras, as well as video cameras and other accessories.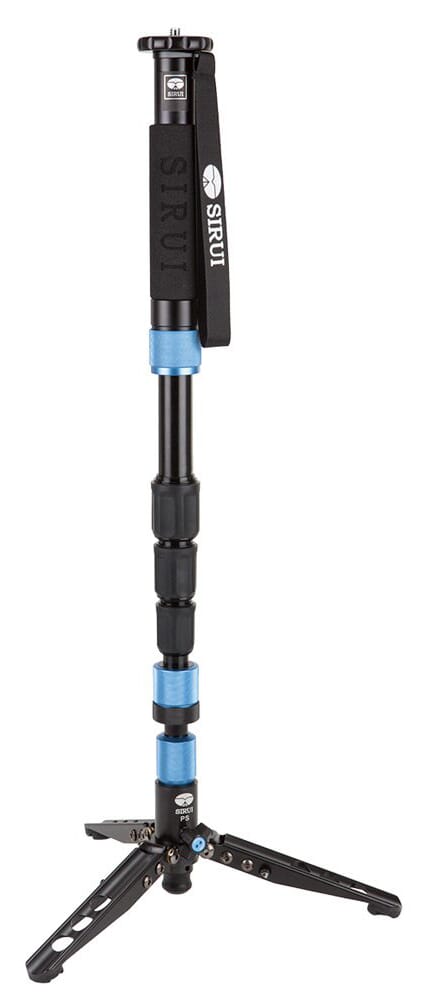 This is a carbon fiber variety and that has its own advantages. It's lightweight but still handles a maximum weight of up to 22-pounds.
The feet are spiked and are retractable, giving you the freedom to choose when to deploy them for additional traction.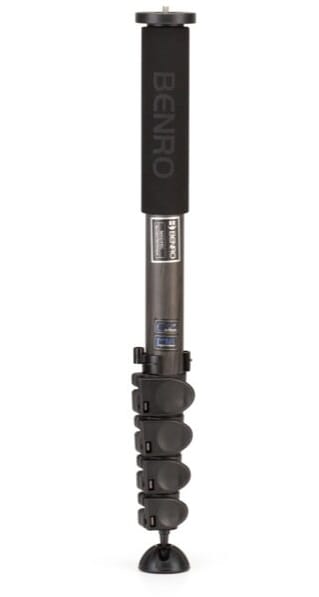 This is yet another Benro option. The Benro Adventure 4 Series Monopod is crafted out of carbon fiber with the obvious advantages that come with it.
The maximum working height of this model is 72". The maximum weight it can support is 39.7-pounds. This is one of the more beastly options on our list for those looking for something heavy-duty.

Just like the other better quality units the MAD49C too comes with a reversible 1/4″ – 20 and 3/8" – 16 threaded screw. This is easily one of the best monopods you could buy.
Benro Adventure 4 Series Carbon Fiber Monopod (MAD49C)
The Adventure Series 4 Aluminum Monopod combines classic design with advanced materials and incorporates flip lever locks for...
The 5 section carbon fiber tubes extends to a maximum height of 72" and weighs only 1.37 lbs., but can support 39.7 lbs.
Features a mounting plate with a highly functional reversible 1/4"-20 and 3/8"-16 threaded mount for attaching a video head...
Ideal for location shooting or for studio use.
Limited 3-Year Warranty (Extended to 5-Years with Online Registration).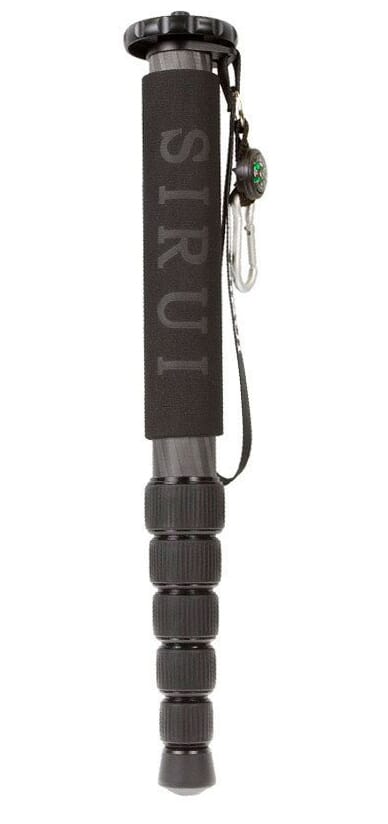 The Sirui P-326 is a 6 section carbon fiber unit which comes with a reversible ¼"-20 and 3/8"-16 screw on the mounting adapters.
However, this unit does not come with feet. That means despite the 3/8"-16 screw you would struggle to keep the pitch correct with a video camera. It's safe to say that this is a monopod designed for still cameras.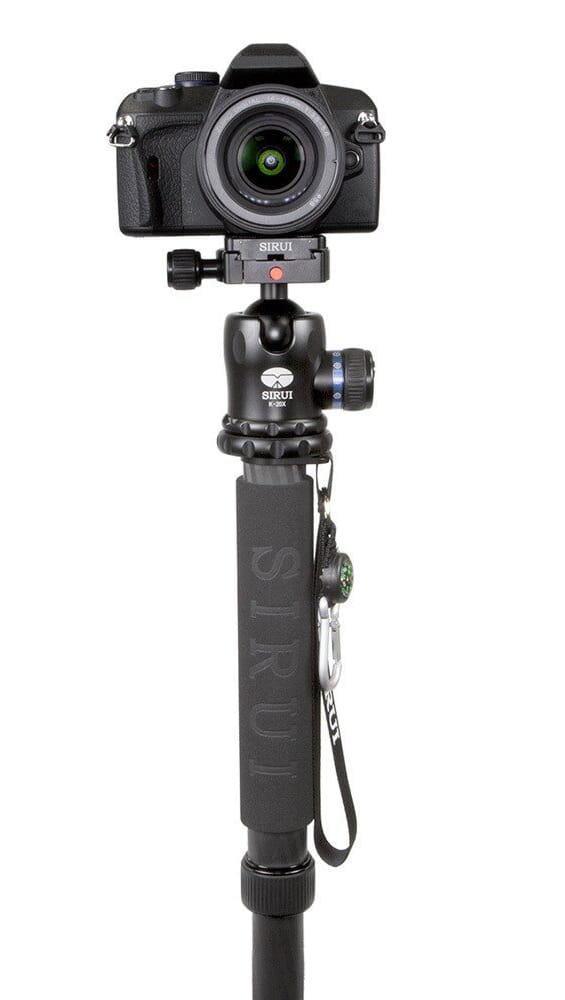 The maximum height is 61.4". There are 6 leg sections with twist lock options.
The maximum weight supporting capacity is 22-pounds.
SIRUI P-326 6 Section Carbon Fiber Monopod
Light-weight 8X carbon fiber in 6 sections
Reversible 1/4"-20 & 3/8"-16 screw on the mounting plate
Wrist strap and hand grip for comfortable hold and insulation
Silicon twist lock enhances durability
The Manfrotto 290 is a carbon fiber 4 section monopod perfect for lighter cameras. For example, a DSLR or mirrorless with a mid-range telephoto. But anything heavier and you'll have slight bending problems.

The flip-lock 4-section leg reaches to a maximum working height of 59.4" and supports a maximum weight of 11-pounds. The leg does not have a three feet support mechanism and there is no retractable spike option either.
It comes with 1/4″ – 20 and 3/8" -16 screw options.
Did You Find The Best Option For You?
There you have it! Our pick for the best monopods on the market today. Did you find what you were looking for? Tell us about your top pick in the comments below!
---
As an Amazon Associate we earn from qualifying purchases. Certain content that appears on PhotoWorkout.com comes from Amazon. This content is provided 'as is' and is subject to change or removal at any time.