If you're a vlogger, a product photographer, a travel photographer, or a still life photographer, tabletop tripods can be highly useful. But which tripod is right for you? Here is our guide to the best tabletop tripods in 2023 so you can narrow down your search!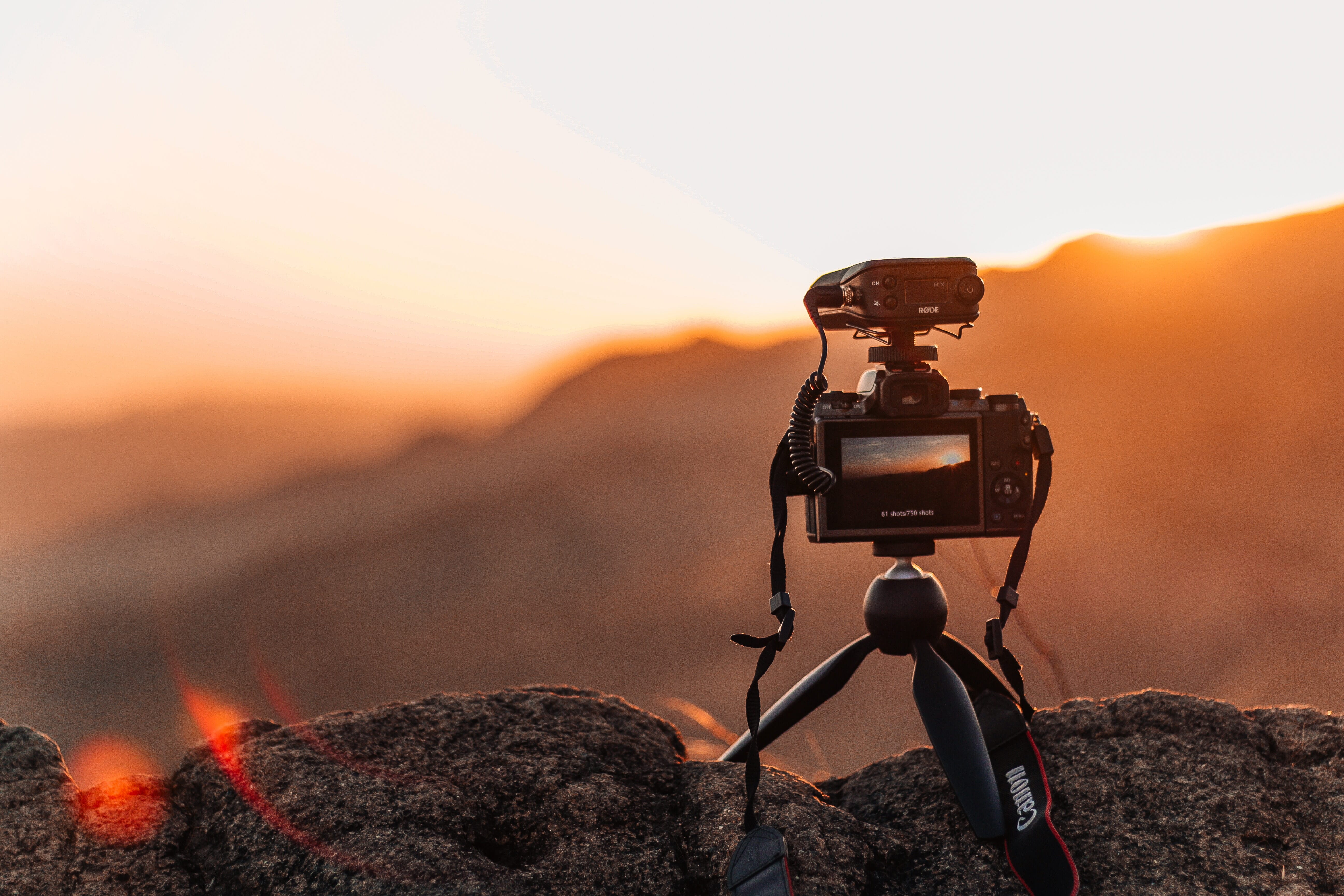 When you buy through links on our site, we may earn a commission at no cost to you. We evaluate products independently. Commissions do not affect our evaluations.
1. Manfrotto PIXI EVO 2
Our Pick
A stable tripod for all kinds of photography
If you're looking for a good-quality tripod from a brand you can trust, the Manfrotto PIXI EVO 2 is a great choice.
Pros
Very compact and sturdy
Fantastic construction and intuitive design
Comfortable to hold and use
Attractive
Cons
Not the cheapest out there
The Manfrotto PIXI EVO 2 is a fantastic tripod for tabletop photography. It occupies very little space and yet has a tremendous load-bearing capacity.
The PIXI can carry up to 5.5 lb (2.5 kg), so it can support an entry-level DSLR or a mirrorless camera with a kit lens. It's built out of stainless steel and adapted polymer, and it includes a nice little ball head.
The design of the tripod legs is unique: They are rounded on the outer side (perhaps for extra stability?). And the rubber feet ensure that the legs will not slip when in use. You can comfortably use the PIXI in outdoor situations (for instance, when shooting a sunrise or sunset), or you can perch it in the studio for product photoshoots.
2. Joby GorillaPod 3K Pro
Also Great
Offers lots of flexibility
No matter the location, this tripod will be able to hold your camera in place!
Pros
Durable construction
Multiple arms to twist and turn around anything you need
A rotating ball head
When talking about high-quality tabletop tripods, the Joby GorillaPod 3K Pro immediately comes to mind. The stand-out feature of the Joby Gorillapod is its extreme maneuverability. If you want to make a career out of tabletop photography, you've got to have one of these in your arsenal.
The GorillaPod 3K Pro comes with flexible joints. They can turn and twist in any number of directions – for instance, you can twist the legs to wrap around a tree branch. Of course, you can also use the GorillaPod as a standard tabletop tripod.
Capable of bearing loads up to 6.6 lb (3 kg), the Joby GorillaPod also boasts a matching ball head and quick release plates for maximum flexibility.
3. Pgytech MantisPod Pro
Great for versatile photographers
If you do everything, then your tripod needs to do everything, too, and that's where the MantisPod Pro comes in handy.
Pros
7 different configurations
Great construction
Ball head rotates into any direction
Cons
Can only carry 5 lb (2.5 kg)
Built for smaller systems
If you need one tripod that can handle all your handheld production needs, the ultra-versatile Pgytech MantisPod Pro is the way to go.
This nifty tripod offers so many different configurations! Officially, this tripod has seven modes:
Extended Mode
Lowered View Mode
Elevated Tripod Mode
Mantis Mode
Mobile Vlogging Mode
Vertical Shooting Mode
Handheld Mode
And although the high number of configurations means that the load-bearing weight isn't all that high (it's a little over 5 lb/2.5 kg), the Pgytech MantisPod Pro is great for smaller camera systems and will certainly work well when supporting a smartphone. The tripod features a ball head that helps rotate your setup in any direction, and there's even a handy locking system to hold the camera in place.
4. Neewer Portable Mini
Great for photographers on a budget
Neewer makes an affordable tripod that is plenty durable. It can hold a lot of weight, too!
Pros
Premium features for less than some of the premium options
Incredible load-bearing capacity of 17 lb (7.7 kg)
Lots of neat features
Cons
Not as cheap as it could be
Neewer is a well-respected brand known for creating inexpensive products that offer surprisingly good quality, and the Neewer Portable Mini is a great entry-level tripod for those interested in photography but who aren't yet ready to dish out hundreds of dollars for a professional option.
The Portable Mini is a budget-friendly miniature tripod that still has many of the fancy characteristics you would expect from a much more expensive model. It's also one of the strongest tripods on our list, capable of supporting a magnificent 17 lb (7.7 kg)! Therefore, this tripod can handle most camera-and-lens setups and maybe even an on-camera flash attachment.
5. Sirui 3T-35
Great for outdoor photographers
If you need a tough tripod that's also adaptable, the Sirui 3T-35 is an outstanding choice.
Pros
Fantastic construction
Able to turn into a selfie stick
The head and center can be removed or modified
Cons
On the heavier side
For those who need versatility and strong construction, the Sirui 3T-35 is worth a look. It may even become your greatest asset (alongside your camera and lens, of course!).
The 3T-35 is highly configurable. It can turn from a standard tripod into a selfie-style stick, which is perfect if you plan to do a mix of vlogging and photography. And if you feel the tripod is too tall in the tabletop position, the center can actually be removed so you can work with the head joint attached directly to the legs. Pretty neat!
This tripod features metal construction, so you can definitely expect premium build quality. That said, the metal does add to the 3T-35's weight, so it's not as light as competitors.
The package includes a movable ball head, which lets you choose from pretty much any camera angle. And the tripod can hold a weight of almost 9 lb (4 kg), so you can easily pair your camera with a 24-70mm lens.
6. Oben TT-100
A robust option for serious shooters
You want your tripod to last a good chunk of time? This mighty (but tiny) guy is built like a tank!
Pros
Durable all-metal construction
6 lb (2.7 kg) carry weight
Great movement on the ball head
Cons
Competitor tripods at this price point can carry heavier weights
The Oben TT-100 tabletop tripod can carry 6 lb (2.7 kg), which is ideal for medium-sized DSLRs combined with lenses and accessories. It's a robust, all-metal tripod that's perfect for outdoor, travel, and tabletop photography.
The TT-100 comes with an integrated ball head. Therefore, you can set up your camera in various ways as you point and compose, something that many tripod heads just can't match.
7. Vanguard VS-82
Good for slick surfaces
Tend to place your gear on slippery surfaces? This tripod's rubber feet will keep everything from sliding around.
Pros
Rubber feet
Ball head has true freedom of movement
Good price
Cons
Only 5 lb (2.5 kg) of support
With a 5 lb weight capacity, the Vanguard VS-82 isn't the sturdiest tripod on this list, but it does have a handful of nifty features that make it a great purchase.
For starters, the Vanguard VS-82 has rubber feet to help keep everything steady. This is especially useful if you're someone who uses your tripods on mini tripods on slippery surfaces (such as glass)!
The head is also rather nifty; it offers all sorts of movements thanks to the three-way pan-and-tilt technology, and it can even rotate 90 degrees so you can shoot in portrait orientation. With this tripod, you can achieve practically any camera angle!
8. Gitzo Mini Traveler
Great for adventures
If you're an outdoorsy shooter who needs a small tripod, the Gitzo Mini Traveler is small yet amazingly robust.
Pros
Easy to carry
Will keep your gear supported
Great on unstable surfaces
Cons
Weight capacity could be higher
The Gitzo Mini Traveler wants to be your adventure buddy! It may be small, but it's constructed with premium carbon tubing to help keep all of your precious cargo stable. And the ball head is made of aluminum, so you won't need to worry about any stability issues there, either!
Although the load capacity isn't as impressive as some of the other tripods on our list, the security of the legs and the rugged construction make this travel-ready tabletop tripod a worthy option. The Gitzo Mini Traveler will even remain upright when placed on unstable surfaces (such as rocks along a hiking trail).
The tripod is somewhat modular, too, as you can replace the head with something a bit larger (and the weight capacity will immediately increase)!
9. Velbon EX-Macro
A traditional tripod in a tiny package
This tripod features a standard design, but it's very, very small.
Pros
Conventional tripod design
Legs are highly adjustable
Tiny body
Cons
Made of plastic rather than metal
Although the Velbon EX-Macro is one of the clunkier options on our list, it does have some good qualities that help it stand out. The construction of this tripod is like that of traditional-sized tripods, so you can be confident in the security of the legs and head.
The construction is plastic rather than metal, but the versatile legs make up for it. You're able to significantly adjust the leg length and spread, just like you can on a full-size tripod. For some photographers, this could well be worth all of the other little shortcomings.
10. Amazon Basics 50-Inch
Cheap and reliable
The Amazon Basics tripod isn't a low-quality knock-off; it's a solid product that really works.
Pros
Gets the job done
Aesthetically pleasing design
Great price
Cons
Taller than other tabletop tripods
When in doubt, look to Amazon Basics! From hardtop cases to smartphone covers, Amazon Basics has a fantastic array of products that work exactly as intended. So don't forget about the Amazon Basics 50-Inch tripod; no, it's not flashy, but it's certainly worth checking out.
The tripod features a simple, aesthetically pleasing design, and it's ready to do exactly what a tripod is supposed to do: hold your camera. You won't find anything overly fancy, but it does have a three-way pan head, locking mechanisms, and a quick-release plate for your camera. Its load-bearing weight is only 4 lbs, but for under $15, it's a steal!
Grab a Tabletop Tripod!
There are plenty of excellent tabletop tripods to choose from, but which should you buy?
If you're a vlogger who values versatility over stability, the Pgytech MantisPod Pro is the way to go. If you're in need of quality, grab the Manfrotto PIXI EVO 2.
The Joby GorillaPod 3K Pro is also a great buy thanks to its strong, bendable legs. Finally, for those on a budget, the Neewer Portable Mini offers a solid combination of function and value for money.
---
Disclosure/Disclaimer: As an Amazon Associate, we earn from qualifying purchases. Certain content was provided "as is" from Amazon and is subject to change or removal at any time.