A tripod is an essential item for photographers and one of the first accessories beginners should buy. It allows you to overcome things like motion blur and shaky hands, and it's also essential if you want to delve into more advanced photography techniques.
Some tripods are difficult to handle and can be overwhelming for first-time users. However, there is also a great range of simple models that anyone can operate. In this article, we share nine of the best beginner tripods, including basic and higher-end options for first-time shooters.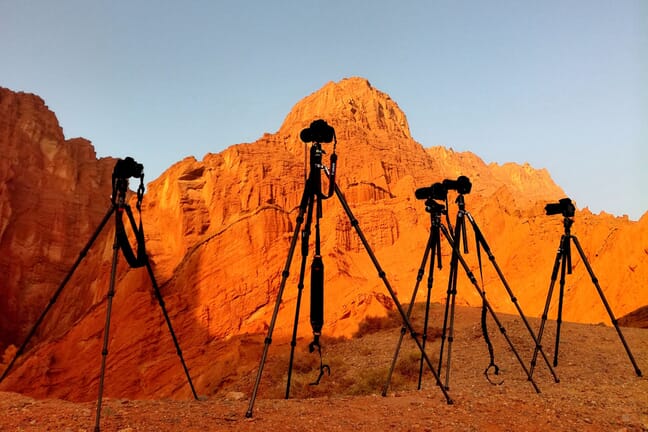 When you buy through links on our site, we may earn a commission at no cost to you. We evaluate products independently. Commissions do not affect our evaluations.
1. Manfrotto Compact Action Aluminum Tripod
Our Pick
Great for beginners
The Manfrotto Compact Action Aluminum model gives you an easy introduction to tripods with its simple mechanisms, versatile head, and durable but lightweight construction.
Pros
Light and easy to carry
Quick-clip leg extensions
Hybrid head with flexible movements
Cons
The head doesn't have a spirit bubble
Manfrotto is at the forefront of tripod technology and boasts a fantastic range of models for both beginners and advanced users. One of the best starter tripods Manfrotto offers is the Compact Action Aluminum, which offers easy operation, a hybrid head design, and impressive durability.
If you want to dive straight into tripod photography, it's an especially good choice. You can easily adjust your camera once it's mounted to the hybrid head, which offers pan, tilt, and swivel movements so you can effectively turn your camera without constantly readjusting the tripod.
The mechanisms and clips are also well-designed and not difficult to figure out. You can make quick height adjustments as each leg has four durable plastic clips that hold it in place.
This tripod has a maximum height of 60 in/153 cm and weighs very little, and you can easily carry it to different locations as it comes with a padded bag.
2. Joby GorillaPod 3K Tripod
Budget Model
The perfect portable tripod
The Joby GorillaPod 3K is incredibly easy to use and is a great option for smaller cameras and smartphones.
Pros
Fully adjustable tripod legs
A simple and compact design
Works with all Joby accessories
Cons
Not as stable as other tripods
Joby specializes in compact tripods, and the Joby GorillaPod 3K is a great first-time option. Unlike a traditional tripod, it has fully flexible legs that are made from multiple rotatable ball joints. This means you can wrap the legs around objects and mount your camera in various unique positions.
Despite the flexible legs, the tripod is sturdy and offers great support for mirrorless and compact cameras, though you may struggle to support a full-frame DSLR with a large lens. We also like the simple head attachment, which is secured in place by a single locking screw, can be rotated 360 degrees, and can be used at various angles.
If you don't want to pay a fortune but need a simple travel tripod to carry on your adventures, the GorillaPod 3K is a top choice.
3. Neewer 2-in-1 Aluminum Tripod
Also Great
A stable tripod and monopod
This Neewer tripod doubles as a monopod and is great for vlogging and taking selfies.
Pros
Made from finely crafted aluminum
Offers a quick monopod conversion
Includes a bubble level for precise camera positioning
Cons
The pan feature of the head can be stiff
For those looking for something a little larger and sturdier, the Neewer 2-in-1 Aluminum tripod is a good option. This 71.2 in/180 cm tripod has a durable aluminum frame and head and is great for supporting mirrorless cameras and even full-frame DSLRs.
The tripod head has a range of features that make it easy and quick to use, including a simple release knob that allows you to pan and rotate it 360 degrees. The head also has a long panning handle so you can easily reposition your camera with a high degree of accuracy.
The height with the legs retracted is 24.4 in/62 cm. Using the leg adjustment clips, you can extend the three legs to a maximum height of 70.9 in/180 cm. The tripod can also be used as a sturdy monopod, and the monopod tube can be set at two different heights for extra flexibility. The only downside is that this Neewer tripod is heavier than some of the other options on this list.
4. MACTREM Professional Tripod
A stable option for entry-level DSLRs
This MACTREM tripod offers plenty of support and has a monopod attachment.
Pros
Center column can be flipped for macro shots
Fully rotatable tripod head
Uses quick-release leg locks
Cons
May not be suitable for larger telephoto lenses
The MACTREM Professional tripod is a great model for beginners thanks to its simple ball head and sturdy design. It can carry a maximum load of 33 lb/15 kg, so it should be able to support even larger full-frame cameras, but despite the robust build, it weighs just 1.3 lb/589 g.
The legs fold easily and make the tripod quite compact when packed away. The minimum height is 16.5 in/42 cm, and the maximum height is 63.8 in/162 cm. You can extend the legs in three stages for plenty of shooting options.
The legs are secured via strong plastic locking clasps and have rubber feet for extra stability. I like how the ball head can be rotated 360 degrees, and I'm also a fan of the simple mechanism for adjusting the angle of your camera. Overall, this is a nice beginner option that is very reasonably priced.
5. Neewer 72.4″ Aluminum Tripod
Great for versatile photography
The Neewer 72.4″ Aluminum tripod boasts outstanding versatility; for instance, you can easily convert it to a monopod for sports and travel photography.
Pros
Durable and thick aluminum construction
Simple twisting leg locks
Multiple angles and head positions
Cons
Some of the features could initially be tricky to use
The Neewer 72.4'' Aluminum tripod has plenty of features, yet it doesn't cost an arm and a leg.
This Neewer tripod is constructed from durable aluminum but it weighs only 60.32 oz/1710 g, so you can comfortably carry it anywhere. And despite the lightweight build, you can use it to support a wide range of cameras, including beginner point-and-shoot models all the way up to professional DSLRs.
You'll enjoy the simple twist mechanisms on the legs that allow for fast height adjustments, and the tripod boasts a very nice maximum height of 72 in/182 cm.
Impressively, you can convert the tripod into a monopod and adjust the center column as needed. It is this flexibility and range of uses that make it one of the best tripods for photographers who haven't yet decided on an area of specialization.
6. Amazon Basics 50″ Tripod
A stellar first pick
The Amazon Basics 50″ tripod isn't exactly fancy, but it offers easy-to-use features for an affordable price.
Pros
Flexible head with pan movements
Durable aluminum construction
Includes a carry case
Cons
May not be able to support larger and heavier lenses
If you want a cheap option that allows you to see how tripods work before you spend hundreds on a high-end model, the Amazon Basics 50'' tripod is the way to go. It's a no-frills tripod that is easy to use and affordable but can support a variety of cameras and lenses.
This Amazon Basics tripod extends to a reasonably good 50 in/127 cm; when retracted, it is just 16.5 in/42 cm tall, so you can easily transport it if you're traveling or exploring a city. Each of the legs has three extensions that are locked in place by convenient plastic clips. The legs also have rubber feet to give you a more stable base.
This tripod has a flexible head that can be rotated and tilted, and a built-in spirit level makes it easy to see if your camera is crooked. All of the mechanisms are quick to adjust via clips or knobs, so you should have no problems getting started.
7. Manfrotto PIXI EVO Mini Tripod
Great for portable use
The Manfrotto PIXI EVO Mini tripod is highly durable and can support large cameras despite its small size.
Pros
Simple design
Surprisingly robust
Compact and portable design
Cons
It doesn't offer much in terms of height adjustments
If you aren't interested in height extensions or advanced features, the Manfrotto PIXI EVO Mini is an amazing pick. It's a small and compact device that is ideal for capturing photos indoors (assuming you have something to balance it on). The device is incredibly easy to use and feels very durable despite its small size.
You can extend the three legs simply by pushing the lock button. We also like that the legs move independently and can be pushed down almost flat to give you a (limited) range of angles and heights. Although the tripod may look fragile, it can support up to 5.5 lb/2.5 g, which should be more than enough for entry-level mirrorless and DSLR cameras with decent-sized lenses.
The head locks in place easily, and once you've tightened the knob on the side, it won't move! Plus, the diminutive size ensures fantastic portability; this tripod could potentially fit in a pocket, a backpack, or even a handbag, which makes it ideal for traveling.
8. K&F Concept 78″ Tripod
Great for heavier cameras
The K&F Concept 78″ tripod can support virtually any type of camera and lens due to its impressive weight capacity.
Pros
Superbly robust
Versatile pan head with simple controls
Can be converted into a monopod
Cons
Doesn't have a pan handle for movement
The K&F Concept 78'' tripod is another superb model that offers a host of features for an affordable price. It's a great option for beginners who plan to really delve into tripod-based photography and try out different long-exposure techniques.
You can lengthen this tripod to a maximum height of 78 in/198 cm, which makes it perfect for taller users. The legs end in rubber feet that are angled and can pivot as the legs move. Therefore, you can always expect to have a stable base regardless of the ground!
Additionally, this model features a maximum load capacity of 22 lb/10 kg, which is enough for pretty much every DSLR and makes it a great tripod for heavy telephoto setups. And if you need a bit more flexibility, you can always convert the tripod into a monopod!
9. Joby Compact Action Tripod
Impressively easy to use
The Joby Compact Action tripod offers a no-fuss approach thanks to simple controls that anyone can operate.
Pros
Decent maximum weight capacity
Durable aluminum construction
Pistol-grip head for smooth panning
Cons
Could struggle with some larger setups
Joby may be famous for its GorillaPod products, but the company also offers several standard tripods, and the Compact Action model is one of our favorites. It has the same stylish design as a GorillaPod but is significantly more robust.
The ball-head mount means you can actually use other Joby heads as needed, though the Compact Action includes a high-quality head with a large handle for smooth camera movements as well as a spirit bubble so you can easily align your shots.
The tripod has a decent maximum weight capacity of 3.3 lb/1500 g, which should be enough to support most mirrorless and DSLR setups. However, it may struggle to handle larger telephoto lenses.
You can also easily extend the legs; they pull out into four different sections and are secured using simple plastic clips. Finally, you get a nice carry bag so you can store the tripod while on the move.
Capture Sharp Photos with the Best Beginner Tripods
A tripod is a great accessory that'll allow you to experiment with different techniques such as long-exposure photography. If you'd prefer a simple, small model, the Joby GorillaPod 3K tripod is an excellent choice.
Alternatively, if you want a sturdy yet compact tripod for your mirrorless camera, the Manfrotto Compact Action Aluminum tripod is the way to go. Finally, if you can afford a little more, why not grab the durable Neewer 72.4'' Aluminum tripod?
---
Disclosure/Disclaimer: As an Amazon Associate, we earn from qualifying purchases. Certain content was provided "as is" from Amazon and is subject to change or removal at any time. Product prices and availability: Amazon prices are updated daily or are accurate as of the date/time indicated and are subject to change. Any price and availability information displayed on Amazon.com at the time of purchase will apply to the purchase of this product.