Finding the perfect tripod for your outdoor pursuits is no easy task. There are numerous fcators to consider from size and weight, to overall functionality. If you're wanting to get that prized self-portrait at the top of Mt. Everest, a regular tripod just won't do: you'll need a backpacking tripod to be your ultimate travel companion. In this article, we look at the best backpacking tripods available on the market today – helping you bring back the coolest photographs from your world adventures.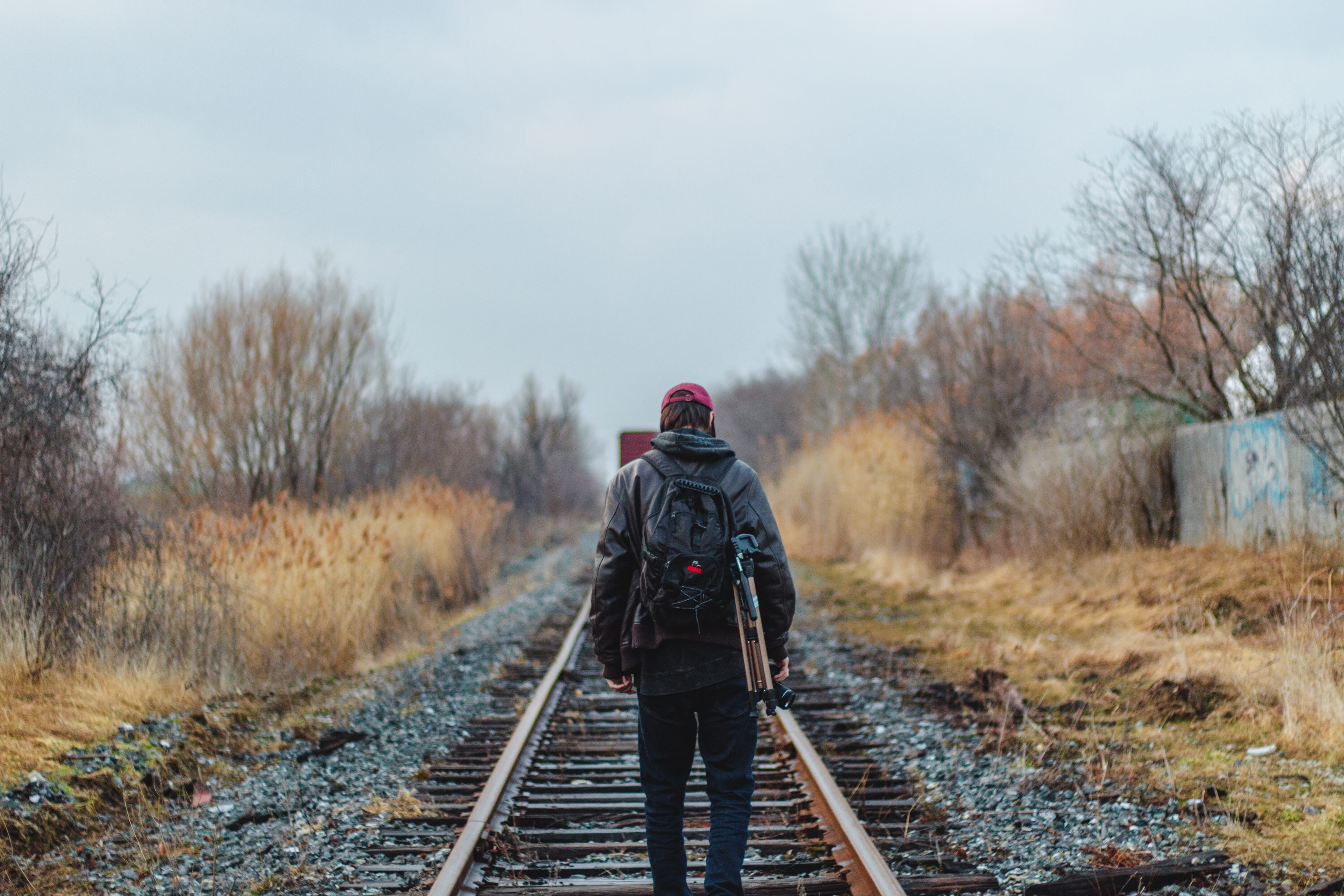 When you buy through links on our site, we may earn a commission at no cost to you. We evaluate products independently. Commissions do not affect our evaluations.
1. Gitzo Lightweight Traveler Series 2 Carbon Fiber Tripod
Best of the Best
The Rolls Royce of Backpacking Tripods
If you are looking for the ultimate backpacking tripod to brag to your friends, then you've certainly found it in this Gitzo model.
Pros
Sturdy enough to last a lifetime
Made of premium material
Easy to use with secure holds
Cons
Extremely expensive
Ball head sold separately
Fun to say and well named, Gitzo is a brand that sweeps the travel photography community time and time again. Known for their quality gear (at a whopping premium price, however), you can trust that the Gitzo Lightweight Traveler Series 2 Carbon Fiber Tripod will last you through even your toughest trails and terrains.
Often noted as the 'Rolls Royce' of travel gear, this tripod combines exceptional size, weight, and ease of use. Its collapsed size sits at 14.4 inches and its weight is only 2 lbs, making it easy to fit into a large variety of backpacks and carrying devices.
It is worth noting that the tripod doesn't come with a head to mount your camera onto. But if you purchase Gitzo's model, it'll only add about 0.8 lbs to the weight.
The tripod can hold up to 22 lbs securely, more than enough weight for the majority of camera lens combos. And it can comfortably hold this weight at its max height of 4 ft.
If you're serious about your escapades, then you can spare no expense with this guy.
2. Three Legged Thing Leo
Our Pick
Powerful and Compact
For those who want it all, the Three Legged Thing Leo delivers! Can bear the heaviest weight on our list and still folds down small, there is nothing this guy can't do.
Pros
Able to carry up to 66 lbs
Extends to a height of 55 inches, making it quite tall
Folds compact at 13 inches and light at under 4 lbs
My favorite name on this entire list, the Three Legged Thing Leo is another wonderful option on our list. Named just the way you would describe a tripod, the Three Legged Thing Leo is the strongest tripod on our list, able to carry a whopping 66 lbs. At 55 inches when extended to its maximum length, it's quite tall as well.
Dressed up in a snazzy orange color, you won't lose this in the wilderness any time soon. When not in use, this tripod folds down to a nice 13 or so inches with a weight of 3.87 lbs (technically below 4 lbs, but can still be considered heavy by backpacking tripod standards). If you're a backpacking photographer who insists on bringing a large telephoto lens with you, this is absolutely the tripod you need (and at that point, an extra pound in weight doesn't make a difference)!
Another awesome fact about this company is that it has a slew of accessories available for this specific model, making your customization choices fairly endless. Build the Leo up into whatever it is that you need, and let it become your absolute best friend on the road.
3. Manfrotto Befree 3-Way Live Advanced Tripod
An Industry Name that Commands Attention
Manfrotto is a long beloved company in the photography world, and their Befree model is no exception.
Pros
Well known brand name with great quality
Incredible three-way tripod head
Premium quality
Cons
Expensive
Heavier and larger than comparable models
Go be free with the Manfrotto Befree 3-Way Live Advanced tripod. Manfrotto is another industry standard name, producing a large variety of tools for photographers! With their tripods pairing along nicely with all of the other accessories, Manfrotto having a traveling model is a given.
The reason that the Manfrotto Befree 3-Way Live Advanced tripod is specifically noted as a backpacking tripod is thanks to its weight and size. It comes in at only 2.75 lbs and collapsible size of 16 inches. Although not the smallest on our list, the versatility of the Manfrotto Befree 3-Way Live Advanced tripod is what landed it a place on our list.
Intended for both video and still photo users, this tripod has a three-way head, as noted in its name. You can independently adjust the tilt of the head, the pan, and its tension. The head itself uses a hydraulic system which makes its movements very smooth. This feature alone is excellent for those making adjustments while filming! Plus, it feels satisfying when something moves as fluidly as this head.
For those looking at versatility, this will be a great asset.
4. Sirui A1205 Carbon Fiber Tripod with Y-11 Ball Head
Best Budget Option
A Good Financial Decision
A good bang for your buck tripod, it's not cheap by accessory standars but is very relative to the $600 Gitzo model at a fraction of the cost.
Pros
Very comparable in size, weight, and function to the more expensive Gitzo model
Ball head included
Excellent value for what you get
Cons
No tension knob on ball head
Stands at 10 inches at its lowest height
If cost is of the utmost importance, the Sirui A1205 Carbon Fiber Tripod with Y-11 Ball Head is an option to take note of. Weighing in at exactly 2lbs, this one is also likely the lightest on our list, making travel much easier!
The Sirui A1205 Carbon Fiber Tripod with Y-11 Ball Head has relatively the same dimensions as the Gitzo Lightweight Traveler Series 2 Carbon Fiber Tripod but stands at 10 inches at its lowest height (rather than 7.9 inches) which may or may not make a difference to you depending on the kind of photographer that you are.
The downside however is that the ball head on this model doesn't have a tension knob, which means that it can wear over time (or be unable to hold certain types of gear). However, with its maximum weight load of 22 lbs, the majority of camera equipment shouldn't be cause for worry!
5. Benro Rhino
One of the Smallest Full Size Tripods
If you're looking for small when folded down, the Benro Rhino is a great option.
Pros
Collapses at 13.7 inches with legs that fold into the center
Good textured grips
Sturdy head
Cons
Not as easy to use as comparable models
Pricey
With a collapsible size of 13.7 inches, the Benro Rhino is one of the smallest full-size tripod options! With a nice textured grip and quite a professional aesthetic, the Benro Rhino is a great choice all around. Although it does fall a bit flat in certain departments compared to other models, the Benro Rhino is sturdy and solid enough to make up for its downfalls.
The legs on this tripod fold up against its center, helping the Benro Rhino remain tiny and easy to carry in any backpack! However, this does make the setup time a wee bit longer than some of the other tripods – requiring a bit more effort.
The ball head included at the top of this tripod is top-notch, with great rigidity when necessary. There is absolutely no worry about your camera flying off of this bad boy! That being said, the sturdiness can make adjusting the ball head a bit tougher than on other tripods as it's pretty firm to begin with. That's a small price to pay for the added confidence, however.
6. MeFoto Roadtrip Carbon Fiber Tripod
Super Tall Tripod for Wow Photos
If height is what you need, this tripod stands at over 5.1 feet!
Pros
Tall extension at over 5 feet
Triple action ball head mount
Lots of fun colors to choose from
Cons
Larger than comparable models
Standing tall at over 5 feet when extended to its maximum, the MeFoto Roadtrip Carbon Fiber Tripod ensures that you capture every angle you need on your various travels. Although this results in the tripod folding down to a slightly longer length than others on our list, the added height definitely balances that aspect out! For those embarking on tall mountain escapades hoping for an incredible self-portrait to wow friends, the 5+ foot height is so worth it.
With a triple action ball head mount, you can go ahead and adjust your vantage point in any which way you need, the sky's the limit! It even has a bubble level built-in so you can always make sure that your horizons are perfectly straight. There is a recessed hook in the center column to combat wind, so reasonably tumultuous weather won't end your entire photographic endeavor.
For color lovers, the MeFoto Roadtrip Carbon Fiber Tripod has various colors to choose from. There is even a premium leather version for those that want to be a bit fancier.
7. MeFoto BackPacker S Aluminum Tripod Kit
A True Backpacking Tripod
If you're looking for a tripod that was designed exclusively for backpacking, you found it here.
Pros
Affordable
Sturdy legs
Cons
Aluminum instead of carbon fiber
Heavy
Light camera use only
If the MeFoto Roadtrip Carbon Fiber Tripod is too tall for you, you can consider the MeFoto BackPacker S Aluminum Tripod Kit which is a true backpacking tripod (rather than just a great traveler). Intended for those using lighter and smaller gear, such as mirrorless systems, cell phones, and GoPros – the MeFoto BackPacker S Aluminum Tripod Kit is for you.
Made up of a less expensive material than its higher-end cousin, the cost is also lower for this model (great for the wallet)! Many of the nifty features are still included, but its load-bearing weight is solely 13 lbs, which makes it pretty exclusive to only smaller and lighter gear. That being said, it has a great leg locking mechanism to still keep all of your precious gear protected.
8. Peak Design Travel Tripod
Style and Function Meet Here
Peak Design is known for their functional and stylish products, and their travel tripod falls right alongside this.
Pros
Great folding design
Comes in either aluminum or carbon fiber options
Stylish and aesthetically pleasing
Cons
Small carry load at only 20 lbs
Not as sturdy as comparable models
Camera bags, straps, and clips may be what comes to mind when you think of Peak Design, but the company also has a slew of tripods up for grabs! With two options of the same product available, photographers can choose either the Peak Design Carbon Fiber Travel Tripod or the Peak Design Aluminum Travel Tripod. The aluminum model costs less but adds a bit of weight, the carbon fiber version weighs less and is sturdier but costs an additional $250.
The design of this tripod doesn't even make it look like a tripod, it's more like a baton or something of the sort (probably good for warding off unwelcome visitors on your travels).
Weighing at only 2.8 lbs and collapsing to 15 inches, this model is exceptionally lightweight and compact for backpacking around the world. The Peak Design Travel Tripod extends to 51.6 inches and stands at a minimum of 5 inches, giving you a ton of shooting versatility. However, its carry load is only 20 lbs, so this is definitely aimed more towards mirrorless users than those with full-fledged DSLR cameras.
However, this option is not as sturdy on its legs as the others are, so you will want to take advantage of the load-bearing hook and add some weight to it.
9. Joby GorillaPod 5K Flexible Tripod
Best for Cell Phones
Wrap Around Anything
If you're looking for cool and fun, you can wrap this tripod's legs around most anything.
Pros
Bendy legs that can wrap around almost anything
Designed with content creators in mind
Small and inobtrusive
Cons
Designed for cell phones and small cameras only
What if you're not a photography buff backpacker – what if you're a content creator, armed with an iPhone, a GoPro, or one of Sony's newest advanced point and shoot cameras? You probably don't need the large tripod listed above. Fear not, for there is something specifically for you, and it's by a little company named Joby.
The Joby GorillaPod 5K Flexible Tripod is a fun tripod if not just for entertainment purposes alone! The legs are not your traditional tripod legs here, instead, they are made up of a slew of bendy sections; allowing this tripod to be wrapped around almost anything! Or, of course, flexed at the height you need when bending those legs.
Because this isn't your typical tripod listed above, this tripod only stands at a height of 15.16 inches, so don't expect it to stand tall on the ground. It really is intended to be mounted on something to get that height, or under something to nab that cool vantage point. Weighing only a pound, you can pretty much stick this tripod in your pocket without a second thought. With a maximum load of 8.8 lbs, this little guy really is just intended for portable content creation.
10. Joby RangePod Smart
For the Advanced Cell Phone Users
If you're a content creator who needs a full size tripod, this cell phone inspired model is for you!
Pros
Able to clip cell phone in any orientation with ease
Quick release plate
Fairly tall and lightweight
Cons
For cell phone use only
But, if you're a content creator who doesn't want to wrap the tripod around anything, you can pick up the Joby RangePod Smart instead. The brand's first full-size tripod, this option is still only intended for cell phone users as its attachment is pretty specific to phone shapes. But, because of this, the phone clamp can be turned in any direction, allowing creators to take videos in any orientation!
Sparing no expense on quality even for cell use, the Joby RangePod Smart boasts an Arca-Swiss plate that allows quick in and out of your phone. It is also quite a tall extension for a tripod of this caliber, hitting a maximum height of 5.2 feet – great for talking into the camera!
Why a Backpacking Tripod?
You may be wondering why it's ideal to invest in a tripod meant for exploration rather than throwing the one from your studio into your bag… and the answer is simple: size, weight, and stability.
Besides the obvious facts covered in our travel tripod list, tripods intended for backpacks have their own added bonuses.
Size Matters
You see, there are many types of backpacks on the market for photographers that have tripod clips or holders – but not all tripods fit into them. There are also many backpacks out there that cater to the wildest explorers but they're not fit for photography at all.
In either case, you need a tripod that was designed to fit in either of these scenarios; one that easily slides into whatever tripod fastener a camera bag has, and one that can fit into a non-camera bag and still leave plenty of room for your other essentials. How backpacking tripods differ from others is their ability to fold quite small, leaving plenty of room for everything else.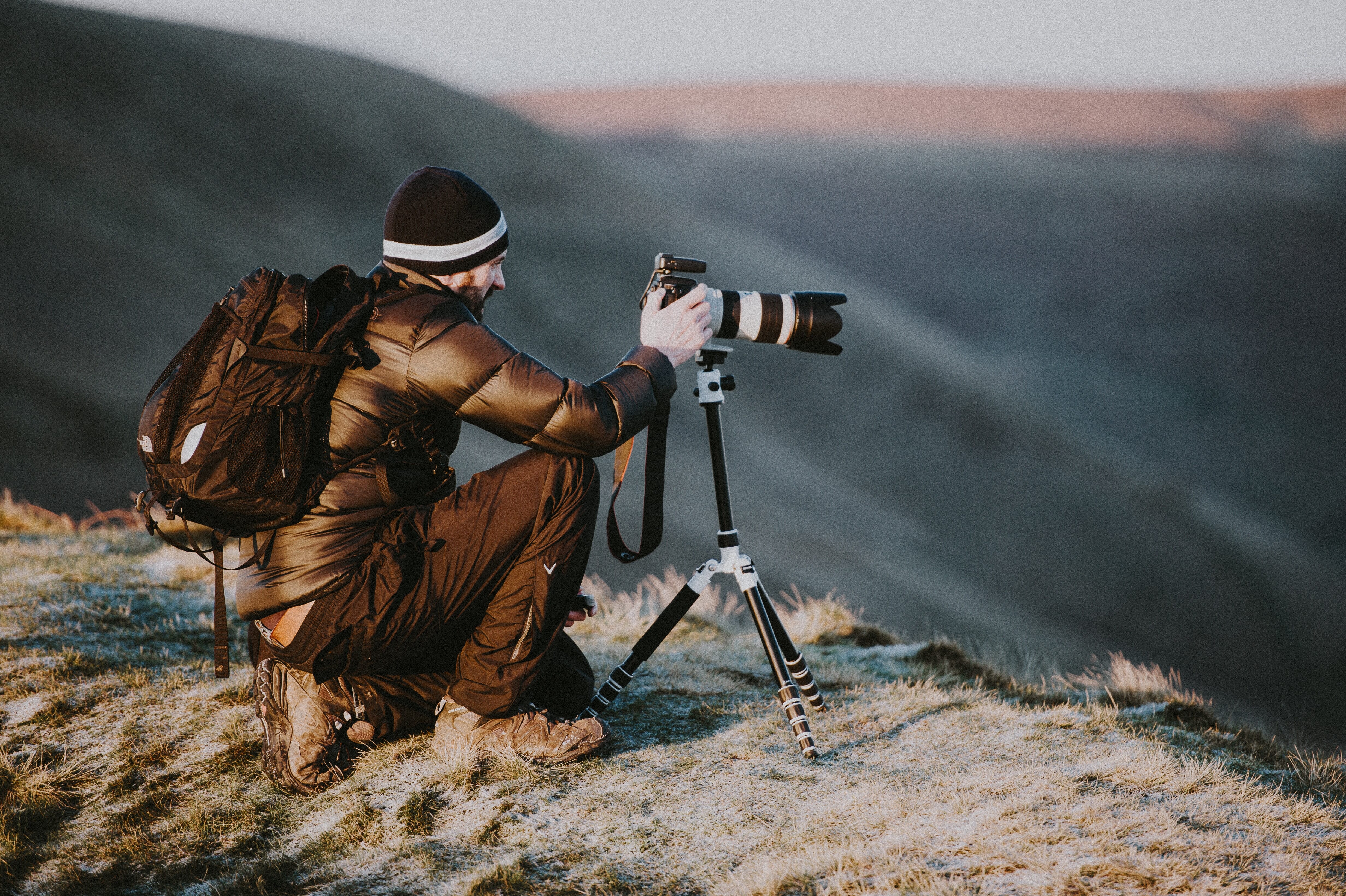 Keep it Light!
Once you've got the tripod secured in the bag, weight becomes another caveat. Tripod weight differs tremendously based on their use. As a general rule of thumb, a backpacking tripod should weigh in at under 4 lbs.
Backpacking tripods are almost exclusively made of either aluminum or carbon fiber. Both materials are sturdy and lighter in weight, but carbon fiber tends to be the most durable of the options. Aluminum is less expensive though, making it more of a budget-friendly option.
Will It Perform Well in the Open?
Backpacking tripods are often used on uneven and difficult surfaces, therefore they tend to be sturdy with great leg locking mechanisms. Many backpacking tripods have twist locks, which are the preferred method because of their ease of use.
Which Backpacking Tripod Is Best for You?
Now the tough part… which of the best backpacking tripods is right for you? Well, it really depends on what fits your specific travels!
Our pick for all-around greatness is the Three Legged Thing Leo, offering a slew of features for all adventures. If you're looking for the best of the best and have the budget for it, the Gitzo Lightweight Traveler Series 2 Carbon Fiber Tripod can survive anything. If budget is a top priority, the Sirui A1205 Carbon Fiber Tripod with Y-11 Ball Head is a very comparable model at a much lower cost! For the content creators reading this, the fun Joby GorillaPod 5K Flexible Tripod can wrap around any vantage point you desire.
---
As an Amazon Associate, we earn from qualifying purchases. Certain content was provided "as is" from Amazon daily and is subject to change or removal at any time.