Whether you're a photographer or videographer, you always want to capture the most creative shots. If you're looking for a tool that can help you steady your equipment while shooting unique and captivating angles, then consider buying one of the best gimbals of 2023 for your next project.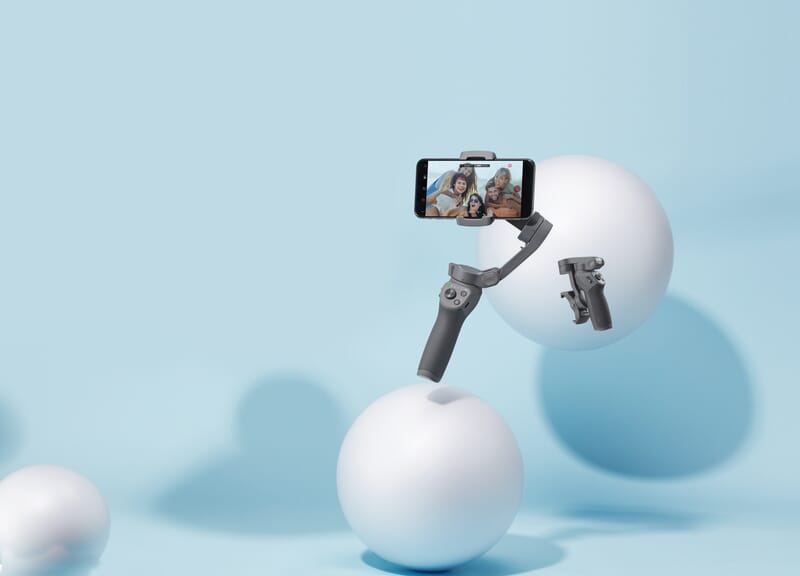 Using a gimbal is an easy and effective way to capture quality images or videos. Though popular among filmmakers, gimbals can also be used by photographers for the production of still images.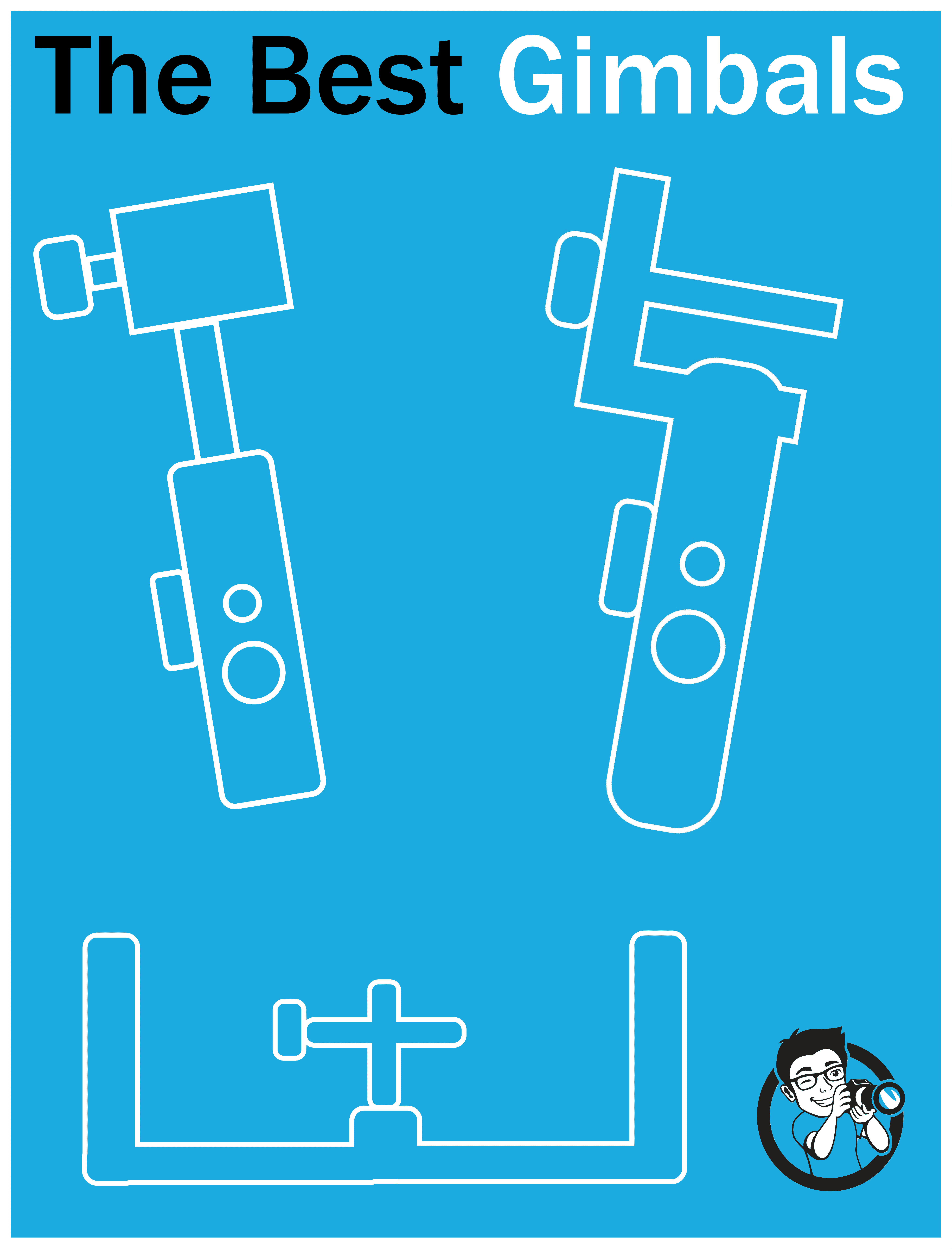 If you're looking for the best gimbals on the market but aren't sure where to start, we have compiled a comprehensive list.
When you buy through links on our site, we may earn a commission at no cost to you. We evaluate products independently. Commissions do not affect our evaluations.
Best Gimbals for DSLR/Mirrorless Cameras
To support a DSLR or mirrorless camera, you need a gimbal that has a large payload capacity. It also requires a powerful motor to ensure smooth movements for the larger camera body. Here are some of the best options available for these heavier cameras:
1. Zhiyun WEEBILL S
Our Pick
Fantastic control and versatility
The WEEBILL S offers the ultimate in camera controls and freedom of movement with it's smart OLED and focus/zoom wheel.
Pros
3-axis stabilization, and each axis has separate controls.
Fantastic zoom controls.
Sturdy design with an ergonomic handle.
Cons
Some features must be brought separately.
If you're looking for a gimbal for your DSLR or mirrorless camera that will produce some impressive results, the Zhiyun WEEBILL S is just what you need.
The Zhiyun WEEBILL S is an excellent gimbal for DSLR / mirrorless cameras like the Sony A7 III, and the Canon 5D Mark IV. It has a sturdy frame and is designed so that you can hold the gimbal almost like a speed camera. The underside handle, and the way that the camera is mounted make this incredibly easy to use. It also offers great flexibility and allows you to move freely.
Related Post: What is a gimbal, and why you should get one?
The stability of this gimbal is also great. It has 3-axis stabilization. However, you can adjust the settings and balance of each axis separately. This provides far greater control and allows you to experiment with different video angles easier.
The OLED display on the gimbal also allows you to adjust settings on the go. For example, you can adjust settings like follow speed, smoothness, and motor strength. In terms of maximum payload, the WEEBILL S can support up to 5kg / 11.02lbs which should be more than enough for most DSLRs with a sizeable lens.
2. Moza Air 2 3-Axis Gimbal Stabilizer
Also Great
Large payload capacity and brilliant features
The Moza Air 2 allows for multiple shooting modes and has simple controls with the Moza thumb controller.
Pros
Max payload of up to 4.08 kg/9 lb
Has four power ports for different accessories
Each axis can be controlled separately
Cons
Can be difficult to setup
If you're buying a gimbal and you intend on putting it under extreme stress, the MOZA Air 2 3-Axis Gimbal is a pretty good shout.
It's built with aerospace-grade aluminum, which is incredibly strong, yet lightweight. It can tolerate up to 9 lb/4.08 kg worth of kit which makes it compatible with multiple DSLR or mirrorless setups.
This Moza Air 2 comes with:
Hexahedral Calibration, which allows the Moza App to find parameters based on the weight of your stabilizer
Remote Control
A time-lapse function
8 Operation Settings
Plus, it comes with a dual handle that adapts to your shooting scenario.
For a gimbal that is a true powerhouse, take a look at the Moza Air! Its durable build and advanced control axis are perfect for video shoots that involve lots of movement. For example, if you are tracking an outdoor sporting activity you will find the axis control invaluable, but its lightweight design won't make it too heavy to handle.
3. Feiyu Tech AK4500 3-Axis Gimbal Stabilizer
A lightweight design but large payload
The AK4500 is a great upgrade to previous models and has a simple feature to switch between portrait and landscape modes.
Pros
Can carry up to 10.1 lb/4.5 kg
Standardized tripod mount head
Simple control panel
Cons
Relatively expensive
The Feiyu Tech AK4500 3-Axis Gimbal is an innovative solution with multiple high-quality features. It offers a different holding style than the two previously mentioned gimbals, but it makes for a lightweight, functional design.
The Feiyu Tech AK4500 sports a:
Smart Touch Panel which supports timelapse photography
Trigger button with a range of modes
A strong motor design for more hardy usage
12 hours of battery life
Plus, this gimbal has built-in Wi-Fi technology.
For an affordable and advanced stabilizer, check out the Feiyu AK4500. With its hardy design, this could be a great gimbal for outdoor adventures. For example, if you want to capture some epic sunrise or sunset time-lapses, this could be the perfect option.
4. DJI Ronin-S 3-Axis Gimbal Stabilizer
Excellent performance and great compatibility
The Ronin-S looks great and offers fantastic stability and a range of shooting modes.
Pros
Has a modular design for easy storage
Multiple modes like panoramas, and time-lapse
Support a payload of up to 8 lb/3.6 kg
Cons
The DJI Ronin App can be a little confusing
DJI's Ronin series has really made an impression, which is why our fourth, and final, gimbal for DSLR and Mirrorless cameras is the DJI Ronin-S 3-Axis Gimbal Stabilizer.
The DJI Ronin-S includes accessories that are compatible with any DSLR or mirrorless camera and offers direct camera control.
It is made to withstand up to 8 lb/3.62 kg worth of kit. And if you're shooting with this while in a vehicle, it can withstand up to 46 mph motion.
The built-in battery allows for 12 hours of use, ensuring you can put it to use for a day-long session without worrying about your gimbal failing on you mid-way through the day.
For a gimbal that offers stability and ease of use, the DJI Ronin-S is certainly worth considering. It could be an excellent option for those who want to experiment with advanced videography techniques or shoot from more demanding positions – such as in a moving vehicle. For action shots and fast-paced filming, this is a top product.
Best Gimbals for Action & Compact Cameras
If you love using an action camera for sporting events or extreme adventures, a gimbal could be the perfect accompaniment. Imagine the remarkable footage you can capture with action cameras like the GoPro. The following options are suitable for such small, robust devices:
5. Zhiyun Crane 2 3-Axis Handheld Gimbal Stabilizer
Great for subject tracking
The Crane 2 has responsive controls and up to 18 hours of runtime.
Pros
Intuitive user interface
Relatively low-noise operation
Excellent focus follow capabilities
Cons
The accompanying app is not always updated
For smaller action cameras, you're going to want a smaller gimbal, and the Zhiyun Crane 2 3-Axis Handheld Gimbal Stabilizer is a perfect model for your action camera needs.
It has all-in-one shooting made for your compact camera. Features include:
Compact design
Unique locking pin and latch to prevent access from swinging
Creative modes – Pan following, full following, locking, full-range POV vortex, and Go
Smooth Zoom – Push the slider on the handle and you can zoom in and out to capture your footage
A memory lock saves your settings for your next use
If you're looking for a stabilizer that is easy to use and built with a great design, the Zhiyun Crane 2 is a top choice. Its brilliant controls and array of features give filmmakers great creative options. If you want to learn new techniques and expand your range of shooting skills, the Crane 3 will certainly help.
6. Hohem iSteady Pro 3 Gimbal
A versatile gimbal for GoPro cameras
The iSteady Pro 3 looks great and has a solid set of features to get the most out of your GoPro action camera.
Pros
Supports time lapses and other shooting modes
Up to 12 hours runtime
Waterproof to IP64
Cons
Only suitable for action cameras under 160 g/0.35 lb
Hohem's iSteady gimbals are some of the best out there, the Hohem iSteady Pro3 Action Camera 3-Axis Gimbal is no exception. Made for action cameras, the Hohem iSteady Pro 3 is built for outdoor use.
It has features such as:
iSteady Pro 2 technology makes for stable footage
Creates high-quality, smooth footage
Fantasy 3D Mode: Pan motor rotation for complete 360. While moving fast, it will follow you and record every moment
Motion Time Lapse: 6 Side Calibration, Re-Centering
12 hours runtime and two-way charging support
Splash-proof design
In addition to its high-quality features, this gimbal is under $100, affordable, and easy to use. For watersports, this could be a great option. Its splash-proof design could be perfect for sports like kayaking or paddleboarding – just remember that it's splash-proof, and not fully waterproof! It is not recommended to submerge the gimbal in water completely.
Best Gimbals for Smartphones
A gimbal can also be an excellent product to use with smartphones. Modern smartphones like the iPhone 12 Pro have high-resolution cameras that can be used for quality videography. The following are three high-quality gimbals for smartphones:
7. Hohem 3-Axis Gimbal Stabilizer
High-performance and a intuitive design
The Hohem 3-Axis gimbal for smartphones allows for active usage with its sports mode and different shooting modes.
Pros
Control from smartphone or gimbal
Up to 12 hours of runtime
Durable clip to support multiple smartphones
Cons
Only supports phones with a 6" screen or less
Smartphone users can also utilize the power of gimbals! If you want one for your smartphone, Hohem sets the bar with their Hohem 3-Axis Gimbal Stabilizer. It works for vlogging, creating YouTube content, and live video recording.
It has a 3D inception mode that vertically rotates your phone 360 degrees when filming to give you a top-notch experience.
Other features include:
Sports mode and perfect balance: For active shots and high-speed movement
High-performance motor and axis overlap – Turns shaky footage into smooth, professional shots
Designed with production in mind: Basic zoom, focus control, and pan & tilt modes
Synchronized app for slow-motion recording, retouching, face and object tracking
Time-lapse feature
12-hour run time.
Compatible with smartphones with a screen under 6 in/152 mm
If you want a good deal, without compromising on quality, this Hohem gimbal is perfect for use with your smartphone. If you travel often, or simply enjoy recording your outings and special events, it's a great option. As it is small and compact, you can easily store it in your pocket or bag and have it ready for those special moments.
8. Zhiyun Smooth 4 3-Axis Handheld Gimbal Stabilizer
Simple controls and zoom capabilities
The Smooth 4 is easy to use and offers great balance for your smartphone.
Pros
Sturdy clip to hold your phone
Support for time-lapse shots
Focus pull and zoom capabilities
Cons
Some may not like the ZY Play App
Zhiyun makes a second appearance in this list with their Zhiyun Smooth 4 3-Axis Handheld Gimbal Stabilizer. It is compatible with most major smartphone models. And, it's used for easy and seamless video capturing.
Features include:
Integrated control panel design
Focus pull and zoom capability
PhoneGo Mode for built-in app use
Time lapse expert
Object tracking for smooth footage
Two-way charging and 12 hours of usage
Related Post: Smartphone Photography Composition: A Guide to Stunning Photos
We like the optional tripod legs for stabilizing at the bottom of this gimbal. It could easily be used for recording on-the-go travel footage or creating content for your vlogs. Also, the tripod stand and simple control panel are perfect for recording impressive time-lapse footage.
9. DJI Osmo Mobile 4
Smart and compact
The Osmo Mobile 4 is a smart gimbal that is perfect for travel usage due to its lightweight design, simple controls, and flexibility.
Pros
Simple smartphone attachment.
3-axis stabilization for smooth content.
Gesture control for hands-free usage.
Cons
Can be difficult to attach if your smartphone has a case.
The DJI Osmo Mobile 4, or DJI OM 4 is the latest model of DJI's flagship smartphone gimbal. This is one of the best gimbals for smartphones due to its stylish and functional design. It's relatively small and lightweight but will still hold your smartphone steady. Also, it has a tripod stand mounted to the bottom of the handle so you can easily place it on flat surfaces for moving time-lapses.
In terms of stabilization, the OM 4 has 3-axis stabilization and a powerful motor. These combine to make sure that your recordings will remain smooth, even when moving.
Furthermore, it has a simple magnetic clamping mechanism. This means you can quickly attach your smartphone – it works with a variety of different smartphone sizes and manufacturers.
Finally, this smartphone gimbal has a simple control panel on the handle. It is easy to use, but you can also set it up for gesture controls. This is perfect if you want to use the device hands-free. Overall, this is a high-quality gimbal and great for active smartphone users.
Summing Up the Best Gimbals
Now you've got an idea of the different gimbals for each device, it's time to pick one and get out and shoot! With high-quality features and action capabilities, these stabilizers will allow you to create dynamic and captivating photographs and videos.
Models like the Zhiyun WEEBILL S are excellent for mirrorless cameras, whilst products like the DJI Osmo Mobile 4 perform fantastically for smartphones.
Alternatively, if you have an action camera for outdoor adventures, something like the FeiyuTech G6 Max 4-in-1 Gimbal will help capture those adrenaline-filled moments.
Do you use any of these recommended gimbals for your work? Share with us your recommendations in our comments below!
Gimbal FAQs
Are handheld gimbals heavy to use?
This depends on the weight of the attached camera and lens. In most instances the gimbal rig itself is relatively lightweight and easy to carry.
Are gimbals suitable for photos?
Gimbals are better used for videography. They may be useful for some photography, but a tripod or handheld operation is better-suited for taking photos.
Is it worth buying a gimbal?
If you are really into your videography, or intend to become a professional videographer, certainly!
---
Disclosure/Disclaimer: As an Amazon Associate, we earn from qualifying purchases. Certain content was provided "as is" from Amazon and is subject to change or removal at any time.