Finding the Best DSLR Gimbal for 2018
If you haven't already experimented with one, a stabilizer can be a filmmaker's best friend. So, for aspiring videographers entering the new year, we've assembled the candidates worthy of being named the best DSLR gimbal for 2018.
Put simply, a gimbal is a pivoted support system that uses motors, sensors, and physics to keep an object steady. Equipped with gyroscopes and accelerometers, the gimbals detect motion and respond with an opposite movement to keep the said object in place. For image-makers, this means the ability to move around freely without compromising film with a jarring motions.
Since their inception, the demand for gimbals has grown exponentially. These days, there's something built to cater to just about everyone. But the question remains – which one is best suited to meet your needs?
1. For those Constantly on the Move: Varavon Birdycam Lite 3-Axis Motorized Stabilizer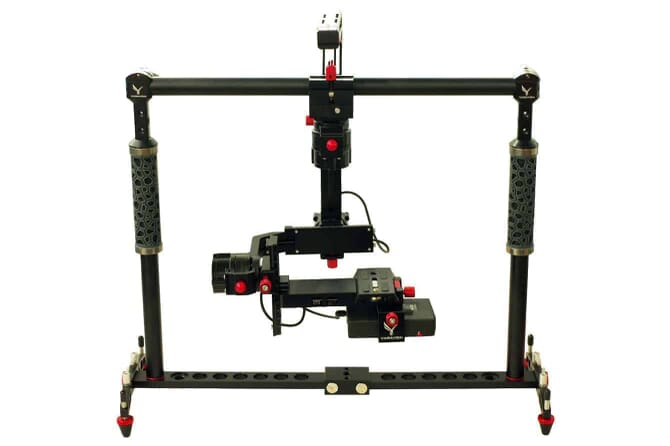 In total, this rig weighs in at just 6 lbs. Considering the stability and size of the Varavon, that's a minor miracle. Believe it or not, the stand's main bar and stand legs are foldable. This makes the entirety of the gimbal small enough to fit into a compact carrying case. For those working on location or frequently traveling, this inclusive setup is a godsend.
The Varavon doesn't skimp out on the latest tech to provide its durability and portability. The gimbal operates using brushless motors, which make for softer, smoother, and quieter shooting experience. Its wireless joystick allows for remote movement. The gimbal also has the ability to be mounted to a tripod or a flat surface, allowing operators some support and rest. However, those manually balancing will have an easier time holding on for long shoots thanks to its innovative anti-slip design.
It takes a little bit of time to get the hang of – while its interchangeable forms are useful, they can be a bit difficult to construct. However, the effort is well worth the results, as most customers are highly satisfied with this product.
2. For Guaranteed Reliability: DJI Ronin-M 3-Axis Gimbal Stabilizer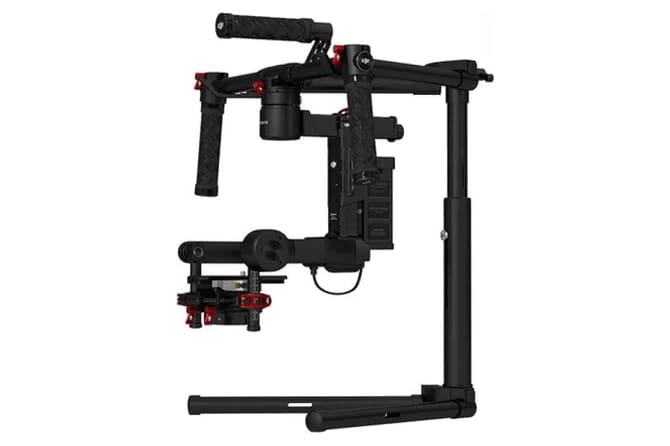 DJI is one of the trailblazers in photographic technology, so it should come as no surprise that they create one of the most desirable gimbals on the market. Living up to their reputation, if there's one word that could be used to describe the Ronin, it has to be dependability.
Though the rig looks rather large, there's no need to feel intimidated. It's actually quite easy to transport. Accompanying iOS and Windows software makes it easy to control via Bluetooth.  Its structure features a magnesium frame, offering a bit of an edge of the typical aluminum and plastic. Perhaps most impressively, the DJI Ronin M 3 Axis can function at temperatures as low as -5°F, and as high as 122°F!
If you're seeking something simple and low-maintenance yet ultra effective, look no further than the Ronin M3. Complete with three handheld operation modes, this efficient piece of equipment is sure to get the shot.
3. For the Dedicated Cinematographer: Freefky Movi Pro Handheld Bundle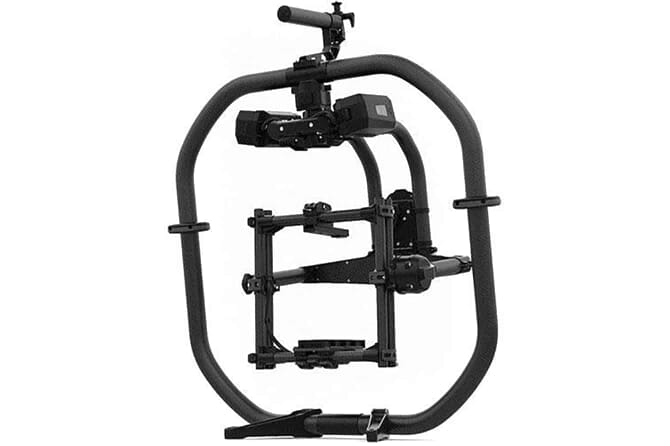 There's no mincing words – the price tag on this gimbal is steep. However, if you're serious about getting into filmmaking, you may not want to write this rig off right away.
The Freefyk Movi Pro offers only the best. It has a strong and secure build that's easy to rely on. But, despite its rather complicated appearances, it's incredibly flexible and portable enough to still be considered convenient. The device's innovative design allows it to be grabbed from nearly any angle, making difficult overhead and ground level shots easier to execute. And, for a bit of added control, the rig has a dual operator configuration. That means that one operator can cover the rig itself while another focuses on the specific movements of the camera.
If that wasn't enough, the Freefyk is praised for being user friendly. Via Bluetooth, its possible to control and communicate with the gimbal using separate devices and accessories. The gimbal is also designed to accommodate anything from a compact mirrorless camera all the way up to a small cinema camera. And, unlike some of the similar options available, the Movi Pro comes with all the chargers, bags, and adapters necessary to get started filming. Talk about getting your money's worth!
Related Content: Advanced Photography Gear Reviews
4. For those Seeking Support: Glide Gear Geranos VII Gyro Motorized Stabilizer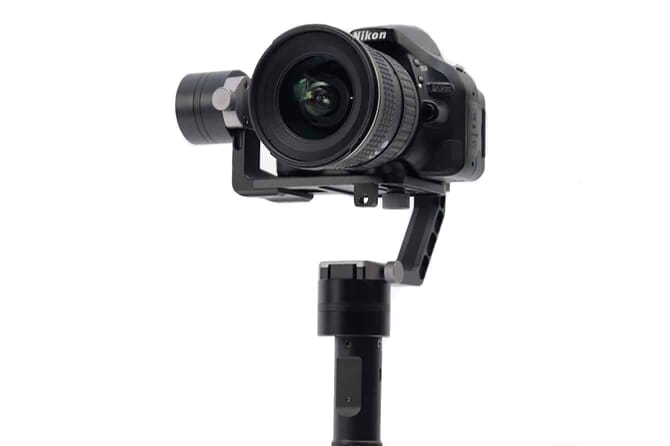 With 360° rotation and tool-less balancing, Glide Gear's Genaros offers just about everything you could want in a gimbal. Working for up to 8 hours on a single charge, it's small enough to fit inside of a backpack. However, all things considered, the comfort and support offered by this stabilizer has to be one of the most tantalizing features the Genaros boasts.
If you've ever held your hand up for more than a few minutes, you can understand how using a single hand gimbal for an extended shoot could be absolutely exhausting. At the very least, tired camera operators are much more prone to trembling and other inadvertent movements. Luckily, the makers of this model had the photographer's comfort in mind when drafting a design. Among the tool's accessories is an additional mountable arm, transforming the single hand gimbal into something a little more stable. Furthermore, it's possible to mount the gimbal directly to a vest or arm piece.
So camera operators can breathe a sigh of relief when faced with a long day on set. Regardless of what makes you feel most comfortable, the Genaros can happily oblige.
Related Post: Best Drones under $400
5. For the Budget Videographer: Beholder DS1 Handheld Brushless Gimbal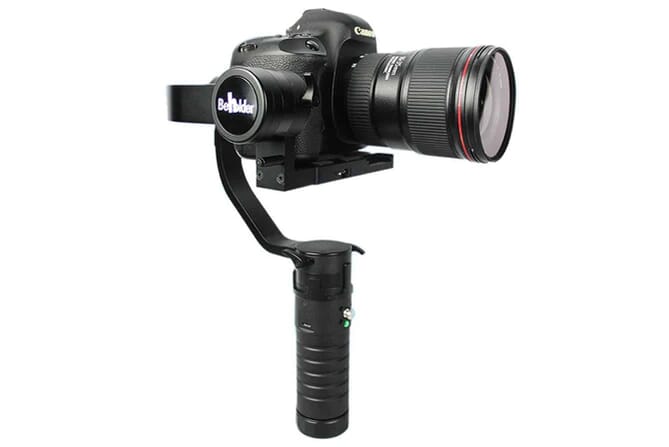 As you may have noticed, gimbals can be very expensive. This holds especially true when dealing with models that are equipped with the latest sensors, stabilizers and remote controls necessary to aid in the recording process. For those not willing to sacrifice technological perks or the contents of their wallet, iKan's Beholder DS1 is a viable solution.
Significantly less expensive when compared to similar gimbals, it comes complete with a 3-axis, 360° gyro stabilizer. Despite being a single hand-held device, it remains stable enough to support most DSLRs and mirrorless cameras. (If you'd like to make sure that you gear is compatible, iKan provides a detailed list on the limitations some common lens/camera bodies may experience.)
That's not to say that this gimbal doesn't come without its quirks – specifically, some customers complain about having a difficult time balancing. Nevertheless, it has all of the essentials a person could want. Tripod mount sockets are included for longer shoots, and it's easy to control using a wired or wireless remote control.
Related Post: EC1 iKan Beholder 3-Axis Stabilizer Review
6. For the Multi Tasker: Zhiyun Crane V2 3-axis Stablizer Handheld Gimbals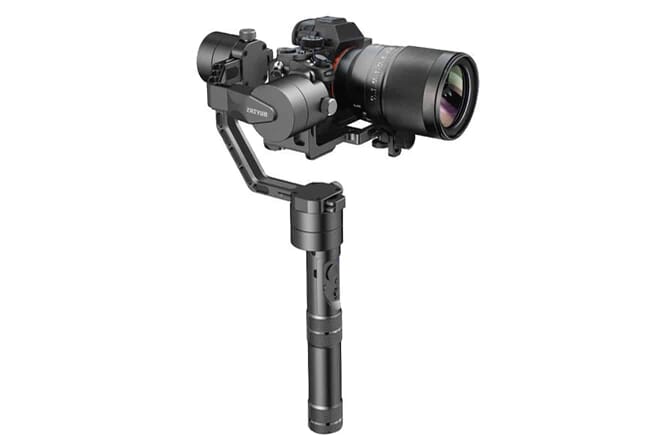 The Zhiyun Crane V2 sets itself apart from the competition with four separate gimbal control modes – pan, lock, following and selfie. In conjunction with a lens support for longer glass, it's easy to see why it's one of the most appealing stabilizers out there. Its versatile and can be adjusted to fit your equipment and your style seamlessly.
And versatility isn't the only thing this option brings to the table. It also happens to be ergonomic and efficient. Using the two lithium-ion batteries included, it can run for 12-18 hours on a single charge. Its aluminum alloy frame offers the perfect balance of security and mobility. And thanks to its brushless motors, it remains quiet regardless of circumstances.
Don't be fooled by the V2's humble appearance – it's worthy of consideration for any DSLR or mirrorless camera owners. For the price of a few hundred dollars, you can receive 360° rotation stability as you capture footage. And if something looks off, hours of fiddling isn't necessary – you can retain wireless control via a smartphone app.
Also great is the Zhiyun Crane V2 with 3 Axis:
Related Post: Best DSLR for Video Shooting
7. For those who Travel Light: Came-TV Optimus 3-Axis Camera Gimbal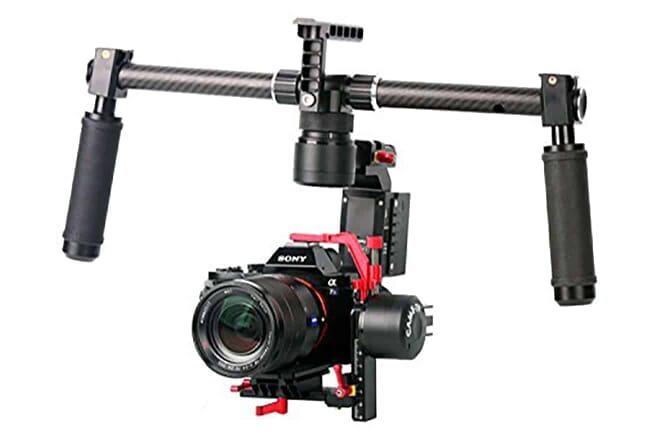 For those working with small gear, it doesn't get much better than the CAME-TV Optimus. Outdoing its predecessor, the CAME-SINGLE gimbal, it can be operated with one hand while still retaining a flex range of 360°. The Optimus also operates in inverted or underslung positions as well.
For some, the fact that the gimbal only supports smaller and medium DSLR and mirrorless cameras is a major detractor. But its small size has some advantages to it. Being lightweight, its one of the easiest to maneuver stabilizers out there. And with a multitude of adaptors available, the CAME-TV can easily accommodate mobile phones in and smaller cameras that may not be well suited to the larger models out there.
Related Post: Best Tripods for Video Shooting
---
Note: Amazon.com prices, reviews, and ratings were updated on 2019-08-23 - Product prices and availability are accurate as of the date indicated and are subject to change. Some product prices may refer to used/refurbished items. Any price and availability information displayed on Amazon sites at the time of purchase will apply to the purchase of the product. As an Amazon Associate we earn from qualifying purchases. Certain content that appears on PhotoWorkout.com comes from Amazon.com. This content is provided "as is" and is subject to change or removal at any time. For more information refer to our Affiliate Disclosure and Disclaimer.